Public Storage Self-Storage Units at 3644 State Route 261, Newburgh, IN
Address
3644 State Route 261 Newburgh, IN 47630
Property Open
Mon-Sun 6:00 AM - 9:00 PM
Storage Facility Features
---

5'x10'

Outside unit

Drive-up access

Outside unit

Drive-up access

Outside unit

Drive-up access

---

10'x20'

Outside unit

Drive-up access

Outside unit

Drive-up access

Outside unit

Drive-up access

Climate Controlled

Inside unit

1st Floor
Nearby Self-Storage Locations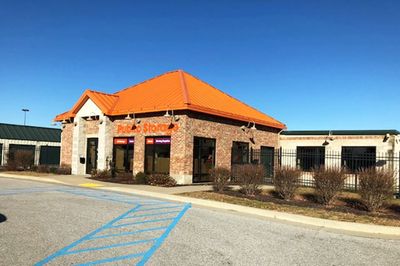 Self Storage Near
7100 E Indiana St
Evansville IN 47715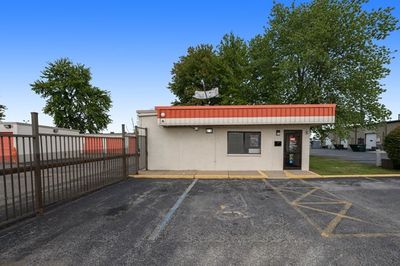 Self Storage Near
1920 N Green River Rd
Evansville IN 47715
Self-Storage Near Newburgh
Resources from the Help Center
See what fits in different storage unit sizes
Newburgh Storage Units Near Highway 66
Downtown Evansville is just 10 miles west if you want to check out Haynie's Corner Art District or Evansville Museum of Arts, History and Science. Angel Mounds State Historic Site is both the archaeological site of a 3,000-year-old city and a nature preserve on the banks of the Ohio River. It's just 6 miles from the storage facility and definitely worth a look.
Newburgh Public Storage has indoor and outdoor storage options to fit your needs.
At Public Storage, You'll Always Find...
Keypad Access

Friendly Staff

Month-to-Month Rent

Moving Supplies Available

Free Parking

Well-Lit Facilities
Reviews
( 108)
Management reached out to help me resolve an issue in a discrepancy in billing for the month after I moved out. More than happy to leave a positive review. Few businesses would have done that. Nice clean facility.
Rita was absolutely awesome! She helped out getting us a good spot to park my camper. She was very pleasant to speak with. Great customer service 10/10 with Rita!
I'm in the Army and signed the contract when it was only like $109 a month. Somehow it's now $194 a month now. If I was there I'd move my stuff to another company. Also, they don't do a military discount. And last time I was there there was water leaking into my unit. Overpriced and don't stand next to their commitments. Btw, my first month wasn't a dollar like it was supposed to be either.
Stevie was awesome 👌. Top notch service!! Best customer service.
1. Stevie made things go so smoothly at move in . 2. Rita is auper helpful her kn
Stevei was very kind and helpful! Made the process very easy and quick for us. Made the our sudden move much easier for us! Thank you so much!!
Wonderful staff, help us thru our application very quickly!
Stevie was so incredibly patient and helpful with everything relating to my unit. I've had alot of ups and downs and she always kept me informed of my unit status in a super polite, non-demeaning way. Even when I had a little hiccup during my checkout/move out, Stevie reached out to another person to get the issue resolved. 10000/10. :) If I HAD to make any kind of constructive criticism, it's that I wish the folks that did their online customer service were as nice and personable as the in office folks here.
Best place ever! Stevie helped us out so much! Nicest employee ever!
Stevie helped us and we love her! We will always choose Public Storage! Thanks!
Awesome! Stevie was huge help! Go here if you want the best help everrr!
Paula at Newburgh Indiana Public Storage was very helpful and knowledgeable. I'm 100 percent satisfied. I will be happy to do business here again.
Paula is Very friendly and helpful, does so much for us and helps out as much as possible
Excellent experience with Paula at your location. Paula has gone above and beyond each time I've talked to her and it always polite and courteous.
Paula was beyond awesome. Quick rental. Very friendly.
Fantastic service by the lady working, Paula. Answered all questions and helped with what size unit we might need. Super friendly and anxious to help.
Paula at the Newburgh store was so helpful! She was able to answer all my question about the temperature controlled units. I highly recommend Public Storage Newburgh. Tell Miss Paula I sent you!😁😁😁
Paula was awesome, rented 2 units, very friendly service.
When I was looking to rent a second unit, I discovered that new rentals were less expensive than what I was paying for my existing rental at a different location. Paula helped me get the new unit and was even able to reduce the cost of my existing unit at the other location. She's a rockstar - y'all need to keep her around for a long time!
Paula was grate she helped me through everything thank you I would give her 10 Star if can
Clean and well maintained
Would definitely recommend. Excellent customer service provided by James Demarco.
We had booked our unit online, got confused and called and talked to Jennifer. She was the best! She helped us out tremendously. She was nice, helpful, and all around made our experience 100x better. If it wasn't for her we would have probably went to a different place.
If you book on line you get a cheaper rate supposedly!! NOT the case! When I inquired about rate being changed nothing done about it! Was only there a few months (6) increase in monthly payment twice! Moved my stuff when my rent was going to be $143. I went to the next town and different facility and paying $90 a month and the unit is twice the size. Will never use public storage again!
Stopped in with some questions regarding storage facilities. Jennifer was so friendly and helpful!
Did everything online, got my gate code and didn't have to spend time in the office getting signed up. Just went straight in to get unloaded and my lock was waiting inside my unit. Now I just need to download the app so I can open the gate without getting out of the big truck.
Jennifer was amazing! Super friendly, and made the process super fast/easy.. she was very personable and I definitely recommend this location with her there!!
Probably the best maintain property I seen. Spacious for big trucks. Friendly staff.
Good clean place. Very nice staff.
Christine is very rude and condescending doesn't work with you on payment date. Have way to much coming out on the first of the month to be paying this to. The price is a lot higher to then when you first do it online.
Great service from Christine. I highly recommend.
I'm not sure if this is cheating or not but..... I have the pleasure of working with Christine and the job is not always easy and sometimes it can get rough. Yet through it all it's always a pleasure to work/talk to Christine awesome manager and friend. My storage was clean and ready to be rented and I walked in to a smiling face!!! Thank u for your help and treating me no different. 😁😁
Christine gave awesome service and was very helpful
Great place for public storage would recommend Christine is awesome
Quick and easy storage available anytime. Christine was very helpful and professional. Found me the right solutions in no time and I moved my stuff right in. Great customer service! Unit was clean and in great repair! Thanks for the awesome experience! (Twice!) A+++
Tricia was very helpful,informative and friendly. Overall great experience.
Awesome service by Tricia. Thanks.
Excellent service. Tricia is amazing. Recommend using this facility.
Tricia was awesome help! Very thorough and very helpful! Highly recommend!
Tricia was very helpful! Great deal and great service.
Tricia was excellent to work with and was very helpful! She was very nice and courteous! I appreciate Public Storage.
How much for a storage unit the size of a small shed
I have a couple of storage units here and the facility is well kept. Recently when I needed assistance with a couple things, Tricia was very helpful and quick. I appreciated her assistance.
Great facility, ran very well, and well lit
Property is super clean and happy this location is now a public storage.
extremely clean, great location. Trisha is fantastic!
Meaghan doing an awesome job here at Public
Very nice Beth was very helpful
VERY clean and GREAT price for the amount of space!
When I purchased a unit they had a special going rent 1st month get 2nd month free. When the first was over I had forgotten about the 2nd month being free and went ahead and removed my belongings and in about 2 days I received an email stating they noticed my stuff was gone and did I remember that I still had my 2nd month free. I really appreciated the fact that the manager was honest about giving me my 2nd month, that really made my day because I didn't know where I was going to put my stuff. Access storage is very clean and well kept. In the future if I need storage I will definitely rent from Access Storage in Newburgh Indiana.
I arrived late at night and was able to rent my space. Everything is automated. This is my first choice for my future needs.
Easy access, facility was always neat and clean. Staff was always helpful.
I had no problems and the price was competitive. I would rent here again if needed.
What size storage unit is right for me?
Do you offer boat storage, RV storage, and vehicle parking?
What is temperature controlled storage?
Do I need a temperature-controlled storage unit?
Do you offer tenant insurance?
When can I access my storage unit?
Are you offering any storage unit specials?
Where is Access Storage Now located?
Awesome storage experience
This facility does not care about you or your property. The fact that Access a has said that they were courteous is simply untrue. Access Storage newburgh DOES have a severe mouse problem and was fully aware of that mouse problem in APRIL as told to us by the assistant manager for this location. We rented a temperature controlled unit for the sole purpose of avoiding this problem. Renter beware save yourself the hassle and rent somewhere else. Access Storage has made it clear that they will be of no more help to us so there is another lie.
Recently rented an indoor unit from this facility. We discovered when moving our items from storage, this facility has a severe mouse problem. All of our belongings were in the unit since we were in the process of moving into our new home. Other renters were there when we were moving our items into a Haul and they were having the same problems. One renter had killed 5 mice in her indoor unit. The company was aware of the problem in April. Access Storage's office has been nothing but rude since we reported this problem. We request for them to pay our cleaning bill to have our furniture cleaned which totaled $300. They stated they weren't responsible even though they knew about the problem before we rented. Incredibly disappointed with the lack of empathy and willingness to help with this company.
This is the first off-site storage I have used. - It is kept clean and clear of chaff. - The temperature is kept within a good range, not much wider than I would keep my home. I have never visited with it being too hot or cold. - A pass code is needed to enter into the locker areas.
Easy access and I've never seen any bad units here!
Easily accessible and affordable. Neat and clean storage area with friendly employees.
Beth has been the nicest and understanding person since i gotvmy storage there and i just recently got another one
Nice facility. Manager very friendly and helpful.
Great place! Very clean, easy to use 24 hour access kiosk. I was able to get a unit at night when all the other places were closed.
Very easy to get around facility. Staff always very friendly and helpful.
we were in a bind and had to rent a storage unit quickly. Beth helped us take care of the problem, courteous, awesome customer service. The place is clean, safe, highly recommend to anyone.
I have been renting an indoor storage unit for a little over two years. The place is always neat, clean and well lit. The property manager is friendly and very helpful.
Cheap and clean. Freshly help. Good space for price.
Very nice staff, very helpful.
Like that my unit is indoors and to get in I have to put in a code. I feel my belongings are safe and secure.
Have a storage unit here, when it was accidentally locked but not latched shut they informed us so we could come fix it and not have our stuff stolen.
Property Manager is Very Nice, Very Clean
Beth is fantastic! Nothing bad to say about this business. They care!
Very helpful staff, got us set up that day. Prices are great.