Public Storage Self-Storage Units at 2820 Mesker Park Dr, Evansville, IN
Address
2820 Mesker Park Dr Evansville, IN 47720
Property Open
Mon-Sun 6:00 AM - 9:00 PM
Storage Facility Features
Boat Storage

Car Storage

Climate Control Storage

Indoor & Outdoor Storage Units

RV Storage

Small, Medium & Large Storage Units
Property Open
Mon-Sun 6:00 AM - 9:00 PM
Storage Facility Features
Boat Storage

Car Storage

Climate Control Storage

Indoor & Outdoor Storage Units

RV Storage

Small, Medium & Large Storage Units
Close Location Details
View Location Details
---

10'x30'

---

5'x5'

Outside unit

Drive-up access

---

5'x5'

---

5'x10'

Outside unit

Drive-up access

---

10'x20'

Outside unit

Drive-up access
Nearby Self-Storage Locations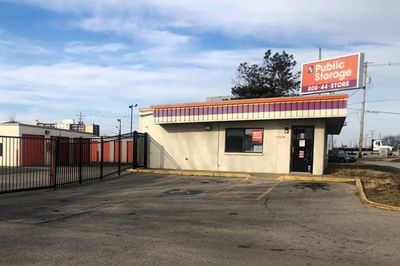 Self Storage Near
2410 N First Ave
Evansville IN 47710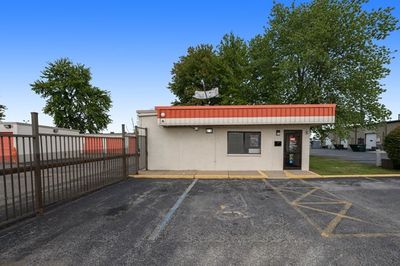 Self Storage Near
1920 N Green River Rd
Evansville IN 47715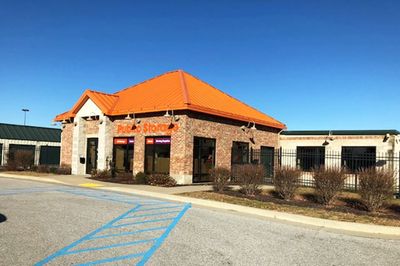 Self Storage Near
7100 E Indiana St
Evansville IN 47715
Resources from the Help Center
See what fits in different storage unit sizes
Evansville Storage Units Near Mesker Park Zoo
Evansville Public Storage near the zoo has storage solutions to fit a range of needs.
At Public Storage, You'll Always Find...
Keypad Access

Friendly Staff

Month-to-Month Rent

Moving Supplies Available

Free Parking

Well-Lit Facilities
Reviews
( 199)
Dawn was very helpful and nice.
Jami is not just a good customer service representative. She went above and beyond and made me feel like I was apart of her own family! If I need to rent again I'll be looking out for her! Thank you Jami!
Dawn was the most helpful PERSON, I repeat, PERSON I have encountered anyplace you expect customer service. She went above and beyond the call of duty. You better keep her on as an employee and not let anyone steal her away from you.
Good storage, mostly taken up. Large things in covered spots are great but also a little tightly fitted if your truck is long.
Highly recommend. Great customer service and follow through. Dawn took great care of us!
Dawn was amazing !!!! Very helpful and I used to be an Public Storage associate. So I know great service!!!!!!!!!
Jami gave me great service.
Paula was amazing, she stayed after to help me get set up with a unit. She even took me out to the unit to check it out. Extremely friendly, and helped me with setting up the app on my phone. Couldn't have asked for more.
Paula is awesome she helped us with our storage needs!
Paula was extremely helpful and friendly. She followed up with phone calls as she said she would and got me into the spaces I needed. The customer service provided by her was fantastic. I highly recommended this facility!
I had an issue with my door coming off the track and was trying to receive help and it was raining very hard that day, and then Paula showed up. She was extremely helpful and fixed the problem immediately. She was very pleasant to talk to, and very professional and I appreciated her help a lot. If anyone could help me, Paulo is the best person overall to solve the problem I highly recommend on calling her to fix any problem on site. Thank you so much Paula you showed up when it was raining really hard and I appreciate your service. Keep up the excellent work. Thanks again Robert C..
After storing a truck for over a year, they call and tell me it has to have current tags. Would have been nice to know that up front. They said it was in the lease but I don't remember it.
Great customer service! I definitely recommend renting your unit here, they truly go above and beyond when you need it.
Paula is awesome. She was extremely helpful and friendly. Highly recommended!! Ask for Paula
Paula, is awesome and very helpful.
Mrs Paula was very sweet and very helpful great service and helped m with all my questions
Thank you Paula for making this move run smoothly! It is so hard to find great customer service! I appreciate the time you took to help and explain everything and anything I needed answered! U Rock! Keep up the great work and being the wonderful person you are!!!! ;)
Paula was great!! Very sweet lady
Paula went above and beyond to meet my needs. Thank you so much. This lady really cares about her customers.
Paula is very knowledgeable and helpful with everything needed on my account. Extremely satisfied.
Paula at Mesker park drive is a Rockstar, thank you so much for your help!
Clean and spacious for the price.
Stevie does a fantastic job. She truly cares about her customers at Public Storage, Mesker Park Drive location. Evansville, IN
I've had a unit here for a long time. I called to dispute a recent charge to my card and Paula was awesome. I was pretty upset but she still treated me with respect and earned mine in return. She took care of my complaint and left me in a better mood for the day. I hope upper management reads these reviews and appreciates what they have in Paula. She's a keeper.
they keep raising the price from $112 to $163 on a 10 x 20 cold unit within a few months
Paula is awesome She drove all the way from Newburgh all the way here to help me She was amazing
Stevie is very courteous, polite, and professional. This storage place is clean, and I would recommend for any storage needs
Stevie was very professional at her job.
Fantastic service. Really polite and friendly.
Huge thanks to Stevie for her help and awesome service!
Stevie went above & beyond to facilitate my needs. Beautiful & clean facility.
That place is always clean. The staff members are always friendly . I needed assistance the staff member Stevie went above and beyond helping me out. She is very friendly and very helpful. Thank you Stevie for all your help and making things much easier for me.
Excellent service to transfer unit and right before office closing. Stevie was very helpful.
I am retired, moved into a 1 level house, had furniture for extra bedroom, and found a 5 by 10 storage unit, plenty of space, temperature control. They made sure I understood all information, showed me the unit, walked me thru code opening gate, getting in and out of storage area. I have hearing issues, and they understood that talking loud and clear enough so that was appreciated of their patience. Clean, paved lot, secure units, highly recommend this storage unit, close to new home I just moved into THANKS again Rick T
Awesome people especially Stevie and jami
Great person to deal with, thanks
Very easy process. Storage unit and property was very neat and clean.
Jennifer went above and beyond to help me out. Had a horrible start where nothing is going well. She completely turned it around with genuine care and attention. All star All the way. Thank you so much Jennifer
Stevie is very nice and helpful. I would recommend this location if near by.
I used Public Storage for several months. Safety security and budget friendly. Enjoyed working with Steve. Very helpful and courteous. Thanks for helping out when needed.
The staff is great very friendly and clean
Worse place ever at Mesker Park Dr Evansville. In said my unit is P013 but there's 20 different buildings they all have a #13 unit .the buildings are not all marked so I picked a #13 unit and put my stuff in.
I was originally a little less than delighted but refrained from an instant negative review because the whole system was automated. That automation was a delight to use save for the lock it automatically sold me. The space is quite a bit smaller than the 5 x 5 marketed but I'm making it work anyway. The place is absolutely one of the cleanest storage places I've ever been to. Stevie was incredibly helpful. I recommend this place for the cleanliness and the customer service. Read your contracts, make your measurements (truly critical if you're storing a specific piece of furniture or need specific dimensions) and nearly all questions can be answered. It's a bit pricey to pay for this AND another storage elsewhere, but I needed this short term (like that next morning) and this was both available, actually worked, and has been less painful than so many other storage options I've endured. Be patient with the staff, extend some understanding and compassion, and you're not likely to leave unhappy. As an update: The contrast of my experience as this location as compared to other locations and my historic experience with this company elevates this place to level of astonishing. This place overcomes what I can only conclude is a company culture of leverage and bullying, but nothing so overt that they'd be in legal trouble for. Limitless kudos and accolades are due this location alone. I'm grateful the other stores were up front about being what they are because I'd have mistakenly given them business just for the experience I have had here. Literally. If only more business were like this...
I've been looking around for a storage unit, I'll be needing one soon, and I stopped in at this location. The lady working, Stevie, was very helpful and got me all the information I needed. I'll definitely be using this facility when I need it.
Public Storage, on Mesker Park dr. is a very clean well organized storage facility.The lay of the land is of that of a well drained field. The engineers that developed that land was on top of there game.
We just rented to store out stuff from the big truck so we can turn in the big truck.
Cori, who checked me in, was awesome. So nice and professional! I just checked out and Stevie already had the process finished and even swept it out for me! Awesome customer service! Thanks, Stevie!
Going to a storage facility is not something that anyone wants to do, it's just something people have to do. I was not looking forward to having to run that errand, but I ended up wanting to go back there every day for the rest of my life simply due to the OUTSTANDING customer service I received while in the facility. Stevie was the most helpful, friendly, and caring person who I have ever had to deal with in a customer service role. She made sure to answer every question I had and took her time explaining things to me. I left without a single unanswered question and I will be referring everyone I know to this location. This woman deserves a raise!
Came and inquired on units and Stevie was very helpful and knowledgeable. I'm moving in a few days and will be back for a storage unit. Keep up the good work
Very pleasant experience, Cory walked me through the whole thing and was very knowledgeable about her job, the details, and didn't leave anything out to my knowledge, she was definitely Thorough which I appreciated very much. Two thumbs up for Cory👍👍
Called to get some pricing on some units and Cori was a big help. Very kind and friendly and gave me all the information I needed. Thank you again!!
Cori gave excellent service!
Cori made my experience amazing
Never had any issue with them of any kind. Very courteous and kind people. Really enjoy Jolie the most. Always makes me laugh and enjoy dealing with her on business matters. Definitely recommend them to anybody needing a storage unit.
Jolie was a wonderful at explaining the whole rental storage process. She made it easy and quick.
Jolie was awesome! Very sweet and helpful. She went above and beyond to meet our expectations! Definitely will use this location in the future!
Very thorough explanation and tour
Jolie was a wonderful person to work with on rental unit. I would suggest that if you are looking for a storage unit contact her.
Jolie was amazing! She explained everything perfectly, made the process easy, and gave me a great rate. I've used other storage companies, but always come back to Public Storage.
Jolie took us on a great tour .explained everything to us in detail answered all our questions super job!!!!!!!!!!!
I could pay for an efficiency apartment for what they charge for a 10x10 unit
Jolie was excellent! Storage unit was very clean. Great place.
Great staff decent prices think I'll be a customer for a while
Jolie did a great job definitely recommend.
Jolie was very nice and extremely helpful.
Why the property manager lied I'll never know. I had agreement to pay on 18th called from California 13 days early with payment in full and was told my locker was auction. I've never been more upset in my life. I just spoke with manager the unit was not abandoned buy any means. As you see I trusted this facility to help after all I was trapped in a presidentially declared disaster. If I hadn't made arrangements so be it, but I did what was I to do 2000 miles away. As far as I'm concerned and you should be to this facility though civil broke the law and haven't done anything to make it right. If you use this facility you support criminal activity everyone in question should be thrown in jail. It's worst than being robbed and I'll never forgive them. I welcome the FBI or any law enforcement agency to look into this and see that there never allowed to get away with doing this again.
Jolie was a great source of help! Excellent customer service at this location.
Jolie was very kind and helpful when I rented a 10 by 15 Thanks Jolie!!!
Jolie was friendly and knowledgeable. Excellent service. Clean units would highly recommend!
Jolie was extremely helpful with a storage unit. She was very knowledgeable and professional. Next board meeting, she should be given a raise!!
Jolie is a delight to work with.
Let me just say I will only have miss jollie as my property manager where ever she goes I go all the way to Cali an back! Miss jollie was very helpful, knowledgeable, welcoming, an enjoyed talking with her. Glad I chose public because now I can say I have a new friend! Thankyou miss jollie
Jolie the cool California lady was very helpful.
Jolie was very knowledgeable and helpful
Went in talked to an amazing lady named Jolie,so very helpful,ty
I spoke to a lady named Jolie she was so very helpful and I will be choosing this location
The staff and customer service we had were great! We appreciate the experience we had while using this location for public storage.
Great service, extremely helpful, will recommend to friends.
Convenient location, easy to access
Great storage units and the staff is always friendly and helpful. Would definitely recommend.
I have never rented a storage unit and was trying to help a family member so I needed a lot of explaining of the details of how this worked. Meaghan at the Mesker Park Drive location was extremely helpful and very knowledgeable. I would highly recommend.
we were very impressed with jolie. nothing gets left out of her very through process. shes an outstanding employee. knowledgeable.and most important her love of helping shines through shes a keeper paul and cheryl coleman.
Thank you, thank you, thank you Jolie for helping me get my unit. The facility is easy to get to and what's most important to me, extremely clean. For some reason their computers would not open up an account for me and everyone else was in and out quickly . I would normally storm out frustrated after ten minutes, instead i spent couple of hrs watching Jolie do everything she can to get it to work. I had to go back the next day and we spent another hour. The only reason I stayed is because of this amazing, professional, patient lady who did not want to give up. Thank you Jolie for caring about customers and the facility .
Great price for a huge unit. And when a problem came up with my overhead door not opening Jolie was quick to get it fixed. Super customer service.
Jolie helped me get all set up, very nice lady, explained everything really good. Excellent service!!
Jolie was very helpful. We lost our keys to our unit and she helped us resolve the issue very quickly on how to remove the old lock and place a new lock on the unit. Thank you so much for your great customer service.
Am always pleased with the cleanliness and the professionalism of this storage unit location. Jolie always is friendly and courteous. I appreciate they have temperature controlled units. Highly recommend!
Easy access and the manager was extremely helpful
Jolie was very helpful and went over everything with us to make sure we knew all our options. Was able to get us in quickly. Property very clean and secure. Great customer service
Jolie was extremely helpful. The staff at public storage took all the time I needed to pick out the right unit for my needs. The facility is secure and clean, I would definitely recommend for storage needs of any kind.
Jolie was very helpful, friendly and professional. She helped me find a unit on the fly as the unit I initially booked was not a good fit for my requirements. She patiently answered all my queries about the facility. Great service and management. I definitely recommend doing business here.
We are very happy with the storage unit we rented. It was in an air quality controlled unit. All of our items were just as we left them. The property is very well kept.
Jolie was very helpful and offered lots of different products to help with our move.
Excellent customer service.
Jolie was very friendly and personable and helped me find a unit that would fit what I needed. She was patient and we had a good time going through the process. Definitely recommend doing business here!
Jolie was really nice and helpful!
Jolie is so helpful and friendly and she always makes sure to go above and beyond!
Large spaces for the same money that you pay for on the Eastside. The manager is always nice and helpful. Had a leaky roof & she was helpful with swapping units. The aisles are wide enough for two vehicles to be on either side. Not the brightest of storage units. But it is sufficient. They do have a small dumpster on site to get rid of trash, boxes if broke down. But no mattresses or large items allowed. All of the doors are able to be opened. Some take more effort than others. I'd recommend having some WD40 with you to keep yours easier to operate.
Public storage is one of the better storage units in the area. Dont agree with all there policies or prices, but staff are always helpful. Jolie was very helpful today! Thanks Jolie!
Jolie gave great customer service!
Jolie was courteous and very helpful
Prompt, helpful, and secure. Will use again
Very Nice place, Wayna was very friendly and knowledgeable!
Very clean and secure facility. Was assisted by Wayna who was very polite and knowledgeable. She was great. Definitely recommend!
Thank you Wayna for all the work you put into helping me with a problems on a storage.
very nice place. The manager Wayna is friendly, and was very helpful.
Came in to pick up a couple mattress covers and was helped by Wayna.. She was courteous and friendly. Nice place, great customer service.
Update: Stopped in to check prices, Wayna was very knowledgable and willing to help. Very clean, secure and the customer service is great! Will definitely recommend this place. Came in with a friend to get a storage unit. Wayna was very helpful and friendly. Made the rainy day more cheerful. Great customer service!
Clean storage areas and Jolie was very helpful.
You guys helped me make moving easy, and Jolie was awesome throughout the whole experience,.. Thanks !!
Stopped in to pay my mom's rent last week. I was helped out by a woman named Wayna. She was very helpful and friendly. The place was really clean and I was able to get in and out quickly.
Jolie was amazing and answered all our questions! She provided excellent customer service!
Jolie gave great customer service, very thorough. Much appreciated!
Great service provided by Jolie. Always.
Just stopped in for information. Renee was very friendly and helpful. The facility looked super clean, well organized and secure. Returned to rent a unit. Jolie was very helpful and friendly.
The facilities inside and outside were very clean! Very nice and wonderful lady named "Rae"(?sp) was extremely polite, friendly, and helpful. I would definitely recommend this place to others needing temporary storage for their belongings! Reasonably priced also.
Jolie was very helpful and patient in helping me find the perfect storage place. Loved her!
Jolie was very helpful and courteous!
On April 6th I come into your facility to ask for information about renting a unit a lady named Jolie waited on me she was so pleasant with me and gave me all the information I need it to make my decision she was very helpful courteous and you have a good customer service lady working for you I will be back to rent a storage
Jolie is a very hardworking, knowledgeable employee from only starting back in October! Clean, friendly environment with great prices!!
Jolie was extremely helpful... very nice lady...
Great Location. Excellent Staff. Thanks Jolie 😊
Wayna was a huge help in picking out a storage unit quickly. The process was easy and took about 20 minutes. I recommend this place to anyone. Plus it's clean, fenced in, and has security cameras throughout.
Recently began purchasing a 5x10 unit. The office manager, Wayna, helped me decide which unit was best for my needs without making me feel pressured to rent a more expensive unit.i chose a climate controlled unit due to having some sensitive items in the unit. The facility seems very secure and reliable for my needs.
The facility is always orderly, and the staff is always friendly and courteous. Wayna has gone out of her way to help several times.
Very satisfied with my experience, and I would highly recommend it.No issues during my 1.5 years of using their property. Renee was very helpful!
Great customer service from Renee and the property is safe and well maintained.
Renee made it simple and easy to rent! Great service.
Very well kept property, Carmen and Renee are very friendly, professional and knowledgeable. Customer service is outstanding. I referred my friend to you so thank you for taking care of his storage needs.
Love how Carmen was every helpful
What a first class operation! Renee was excellent, great customer service. The facility is extremely neat and clean. Very easy access.
Renee was very nice and professional.
Renee helped out so much! She was so accommodating and helped with exactly what I was needing!
Great location, goodnrates and Renee the manager was wonderful and very nice
Went w/ a friend to get her a unit & was assisted by Renee. Renee was super helpful & courteous.
A great place to store. Well maintained very clean. The lady working there was very helpful and made the process simple. Her name is Renee. Great customer service. I was impressed with the customer service the most. It's the people that make the deference in any business. Thanks again Renee you're awesome !!!!!!!.
It started out on the wrong foot but I will say Mr Demarco did go out of his way to make things right an I'm satisfied with the result, an will continue my business there, also Renee was big help through all of the process, and glad to hear she has taken over this location
Its a very nice place and Renee was very helpful when there was a bit of confusion on my account. She helped solve the problem within a few minutes and with a smile.
Convenient, clean, easy to access... Wish it was 24hr, but otherwise great!! The girl who helped us (Felicia, maybe)?! Long brown, curly hair, in a pony tail... Either way, she was awesome, made the experience fun by light-heartedly joking around with us, and was very helpful and friendly!!
Have checked out several storage places and none have compared to Public Storage on Mesker Park Drive - the place is clean, well maintained, secure, and has paved access to all units. Even more importantly, Felica was a HUGE help and took the time to show me several different sized storage units so I could decide which would best fit my needs. She answered all my questions without rushing me and I left there feeling confident my belongings will be in good hands. Public Storage needs to use Felica as an example when hiring! She really is an asset to your company!!
I had a great experience at this location and Jennifer was such a huge help. I went to pay off my moms account she is sick so I'm trying to get thing settled for her. Jennifer helped me get it paid and even showed signs of concern for my mother. She has great customer service and I would return to this location again if I am ever in need of a storage unit. Thank you Jennifer I hope you have a great rest of the week. Bless you!
My storage facility was Mini Storage Depot. Then Public took over. No heads-up, no warning of any kind. The rates went up immediately after they took over and the office personnel are horrid.
I had a great experience at this location. Felica was extremely sweet and went over everything perfectly. I highly recommend!! The units are nice and it's a great business. Go see Felica on Mesker park drive. She'll get you hooked up! :)
Felicia is amazing. She is very professional. She answered every question I had. And helped me with information. I have been with public storage on mesker for a while, and she's by far the best employee I've come across! Thank you so much!
Jennifer was very courtesy and knowledgeable of the business. And I would recommend the store to anybody. And they had clean bathroom which awesome❤❤❤
Renee was very helpful and knowledgeable. Made the rental process very smooth and easy.
Jennifer and Flicka were so knowledgeable and helpful..the nicest ladies
site is close to home, makes moving A to B much easier. on site worker ( Jennifer ) was cordial and explained every thing involved with renting unit in a very professional manner
Most helpful & very friendly!
Just getting out of the military, we had to find storage for our household goods ASAP. Felicia was super helpful and made the process quick and easy! I will definitely be recommending this storage facility! Thanks, Felicia!
I actually store at the 1st ave. location but recently moved closer to the Mesker Park office. The lady there was so nice and friendly, Jennifer I believe was her name. I had some questions about switching renters insurance and she answered them quick with no problem.
Amazing service!!! Thank you Jennifer for helping me with my public storage needs. I will continue to use public storage just because she is there. She was so nice and helpful. I will tell everyone to use public storage and ask for Jennifer.
Awesome service! Jennifer is always helpful and polite!
Felica was very helpful in every way.
Very clean place and secure. Great staff. Felica was a big help.
Be prepared for rate increases about every 6 months. My most recent was over 15%. These 4 & 5 star reviews are quite recent; I'm guessing they have not been hit by multiple rent increases like the rest of us have. Rates vary by season, you may hold off until rates come back down again. Facility is decent but not as well maintained as the previous owners.
My time to check in was fast, Amber was as professional as you can get !! Also very helpful and my storage unit was clean and smelled fresh. Amber went out of her way to make my time very well spent while I was checking in... this place has my business. A++++++ and 5 GOLD STAR SERVICE!!!!!!!!
Amber was great in assisting me with all the storage details. My storage rental was clean and easy to get to, the price was right, with automatic payments available. Would recommend highly!
Great customer service, friendly staff, clean and always able to answer questions.
We had a great experience here. Alisha, the manager at the time of this review, was very helpful, and quite courteous. She was the main reason we went with this storage facility. The property is well maintained, and the customer service is excellent. I have had some less then stellar experiences with the national representatives, or the main office people-however you would define it. But, have been very pleased with this local branch, and everyone I've dealt with there.
Our circumstance were complicated yet Alisha handled everything very professionally. She exceeded my expectations. Highly recommend!!
I recomend this place to anyone. Amber was pleasant today got me in my storage quickly without any problems
The two girls ,Alisha & Jennifer waited on me and helped me choose the correct size I would need. They were very knowledgeable, showed me the unit, suggested what I would need to protect m belonging , making sure I happy and satisfied! Very professional and sweet , great customer service!!! Thanks!
Alisha is great. Always friendly and helpful.
Great facility!!! Extremely friendly and helpful staff....
Friendly customer care, good deals and a very clean facility..