Public Storage Self-Storage Units at 2410 N First Ave, Evansville, IN
Address
2410 N First Ave Evansville, IN 47710
Property Open
Mon-Sun 6:00 AM - 9:00 PM
Storage Facility Features
Indoor & Outdoor Storage Units

Property Manager Lives On-site

Small, Medium & Large Storage Units
---

5'x10'

Outside unit

Drive-up access

Outside unit

Drive-up access
Nearby Self-Storage Locations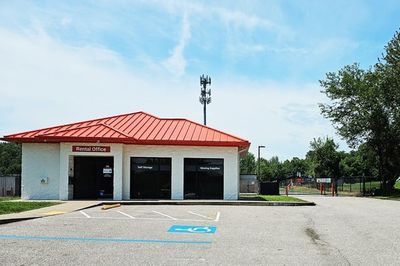 Self Storage Near
2820 Mesker Park Dr
Evansville IN 47720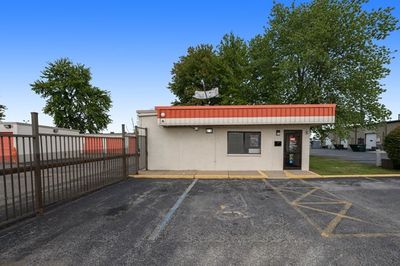 Self Storage Near
1920 N Green River Rd
Evansville IN 47715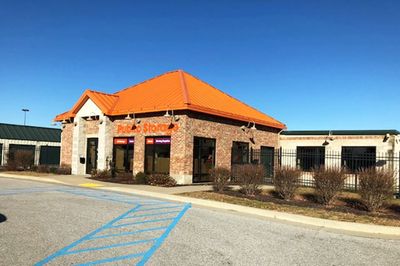 Self Storage Near
7100 E Indiana St
Evansville IN 47715
Resources from the Help Center
See what fits in different storage unit sizes
Evansville Storage Units Near Ivy Tech Community College
Storage units in Evansville are located just off Diamond Avenue a mile south of Ivy Tech Community College. Outdoor storage units in a variety of sizes are available. Just look for our Public Storage Orange rollup doors.
Evansville Public Storage has outdoor storage solutions to fit a range of needs.
At Public Storage, You'll Always Find...
Keypad Access

Friendly Staff

Month-to-Month Rent

Moving Supplies Available

Free Parking

Well-Lit Facilities
Reviews
( 334)
Great place, very welcomed by Jamie!!! She really helped us with everything we needed! She went above and beyond! Thanks 😁
Great place to store your stuff at Jamie was very polite and helped me with any questions I had
Lady at the front desk was friendly and helpful, we got our business done fairly quick.
The process of renting the storage unit went incredibly fast with Jami but she also took enough to be thorough enough that I would understand the contract agreement I was entering into. Jami was marvelous and I highly recommend that people in need of self storage space head down and see her ASAP.
Great service compared to what I was met at one of the other properties she was very kind and happy to show me the property!
Jamie gave me great service.
Public storage is a great place to store your items if you want it secure. Great service by Jamie.
Jami was extremely professional and went more than the extra mile by working thru her lunch to accommodate me. She was the deciding factor in choosing your business! What a Super person!!
Jami is the best person! Just cleaned out my unit here and Jamie has always been great!
Great service with Jamie handling my sisters account.
the office manager was Very nice
Paula,Dawn & Jami provide incredible customer service. They are professional, courteous and exemplary employees who go above and beyond to facilitate any question or need that may arise. In todays world it's quite daunting to hire personnel that exhibit both commitment & competence, and these employees are what makes me a true believer and long time customer of your great company. Kind Regards, Darrell Veach
Very nice people and the storage are nice and love the app where i could go IN and out with.. will definitely use them again if i need a storage unit in the future again.
Jami was very friendly and the unit was good. The only complaint I have is the pricing almost doubling.
Kind and professional work
Great place to rent and awesomeservice by Jami.
Jamie is great. Unit is at Green River but I pay at 1ave.
Very rude customer service hardly ever in the office when needed and when they tell you to come to the office they want to lock the door and sit in their desk and not answer and then tell me to use online when customer service told me to come into the building I would highly suggest you look somewhere else other than public storage on 1st Avenue
Went in to inquire about packing supplies and storage unit jami was very courteous and helpful I will definitely be back ànd pass it on to my associates as well thanks Rick W.
Friendly staff showed me the space, helped me sign up, and answered all of my questions 👍🏻 💯
Jami was so helpful and very friendly I will be recommending to all my friends when they go there to ask for Jami
Very nice staff super easy to attain a unit here!
Jamie is very helpful and has great customer service!
Jamie from the first ave store is always so very sweet and assertive and always makes trips to give my money away a Lil less depressing lol she very good at her job she deserves a raise there should be more people in customer service like her
Super nice staff (Jaime) very clean well kept did I mention super nice staff!! Need. Storage this is the place to go! Ask for Jaime she'll take care of what ever your needs are!!
Very friendly desk clerk. Love the app. I can enter facility with my phone. App opens and closes the gate. Great experience
Jami was fantastic! She is very nice and got us in and out in no time, we weren't sure what size unit we needed so she showed us a couple and got us exactly what we need. She knows her stuff! Thank you for helping us out, Jami is greatly appreciated.
Excellent place to store your stuffI had a great experience here!
I had a great time. Excellent service.
The staff are so polite! I definitely recommend this place!
I rented a storage unit here a few years ago, and currently have one for my workplace. I highly recommend, all customer service reps I have talked to have been super friendly and helpful, the app is great and very user-friendly, and everything was simple to set up, and to close out! Jamie at the North Park location is awesome, a very kind and helpful individual! 5 stars! :)
I have used storage facilities before in the past and sadly wasn't not impressed. However, for not being with Public Storage only for 3 weeks now, they stand above the rest. Public Storage on N 1st Ave in Evansville, IN should be your go-to storage facility for many reasons. From the 24 hr self service via QR code to rent a unit , to the friendly staff (Jami is your go-to personal), to their dedication of security and a clean complex inside and out. Let's be honest though none establishment is perfect. With that being said. If I had provide a con, it would be the hrs of accessibility to your unit. Other that, I recommend Public storage to anyone in need of a safe place to store your items. Thanks for reading. I hope this review helps with your decision. Jeremy Young
Jamie was very helpful and very polite
Jami was very helpful and polite.
Amber and Jamie were awesome to work with and made things very easy.
Amber from the first Ave. Location was super helpful and knowledgeable..
I had great survice from Jami explaining everything about my storage unit.!! I would highly recommend going there for your storage needs!
if you rent a storage does it come with a lock
Great storage place great employee can't wait to come back
Jami is great. Great service.
Paula was extremely helpful and knowledgeable. Definitely an asset.
Hey y'all I have to say Jami from the First Ave Public storage she is Awesome Very Very Helpful and I would Definitely recommend anyone that needs storage it's clean and Jami is Good at what she does Thank You So Much
Great place to put your stuff in
Jami , was a doll! She knew what she was doing & she was very helpful with everything . She got me into a storage that I actually needed right away. If you're reading this & you're her boss! Way to go! She's definitely a keeper 💚 Thank you Jami , for everything
Jamie was super awesome!!! She helped me when I moved out of my unit. Super sweet and I would highly recommend this place
Jami is always great and very helpful. Great place to store. Thanks Jami for all your help.
Jamie has been extremely helpful And advised me that I had left my unit unlocked. Very professional!
Jami was awesome!!! We will be back
Jami was awesome. She didn't know it but I was in a hurry and she was super efficient. I wasnt sure if the unit would be big enough. She showed me my unit came back in filled out the rental agreement. I was in and out within 30 minutes. I was so happy with her service. Thank you so much
PAULA from greenriver rd location was extremely helpful..was given wrong directions and no instructions how to get into unit or where lock was..only given unit # and access code to storage facility..the office was closed and had to call and wait for call back which PAULA did promptly and guided me through the process
I love public storage on 1st.ave.Jamie has been wonderful
She does a amazing job very polite and overall she's just a wonderful person I would definitely recommend this location
This location is great. Jamie the property manager is very helpful and courteous. And I highly recommend this location
I can not thank Paula enough for her excellent customer they have provided. There is nothing wrong with providing service that meets a company's standards. Paula has went above and beyond and helped me complete a task that I simply could not get to because of the Holidays and dealing with the loss of my mother. You want a rep like Paula to look out for your customers everywhere!
Jami Paula did a great job veary helpful and kind
Jami and the new girl were very helpful,professional and took really good care of me.
Nice secure place. Jamie, the office manager tries to address any problems you may have in a timely manner. Easy to make online payments, since the Covid-19 has happened. I prefer to make the online payments.
Did anyoneAuction onlineDid anyone auction onlineOn September 9th Unit D 48Public Storage on 1st AvenueTrying to retrieve my pictures in my mama's ashes
Wonderful experience the young lady was so helpful
Jami is amazing 👏super friendly and very helpful!! Making the moving process that much less stressful with her knowledgeable advice on storage size and pricing. Thanks jami!
Manager at the Greenriver Rd location was very polite and helpful. Would recommend to others.
I was there for Jennifer May's my best friend when I met Jamie and she is one of the most best employees that I ever met! And your business is lucky to have her.
Jamie at your store is one of the most amazing people I have ever met. She is not only good hearted but she puts her all into her work and she make sure her customers are very well taken care of! For this I love her and she deserves everything she can get in life!
Is Jennifer Mays brother and Jamie his workers that you could have at your workplace. Thank you for being so good to her!
This place has fantastic customer service and the people that work are amazing especially jamie. I plan to come back here for all my storage needs.
Very helpful and Jami was delightful!
Probably the best place I've ever seen to store things.
Great service and good location
Nice place and clean. Property manager Jamie is great!
The location is conveniently located where I needed and normal storage pricing. Jami was extremely courteous for my circumstances and understanding. Customer service has been excellent and diligent with my needs as a long distance customer. I highly recommend this location as it's managed by a great manager Jami!
I have had my unit there for almost 2 years. And I must tell you Jamie has been WONDERFUL! And I mean it. I had problems with an X and Jamie did her job above and beyond more than once!! She so nice and always helps any way she can! Value her cause she is a gem! Superior customer service. Thank you Jamie for being the sweet and kind personyou are.
Jami was very helpful, I always store here!
Friendly Manager. Bathrooms on site for those long packing days lol
Came in a couple days ago to inquire about a unit and Jami was incredibly helpful. When we did the rental for my gf she was able to clear up anything we were confused on. Would definitely recommend renting at the public storage on first Ave.
I'm Hoping It's A Good Place To Store
Jami is great. My unit is on Indiana St but I pay here with Jami
Update-Jami is still my go to for questions and issues but I recently (well maybe last month) met Chris. He was very nice and personable. I'm not happy with the adjusted hours as I tend to get out maybe once a week and it's before 2pm. Updating my review--I came in to pay my monthly bill and Jami is great as always. She seemed to be teaching someone the ropes. Ray was her name and she was just a delight. She definitely put a smile on my face in this raining day we were having. Very happy with the service. Jami has been great since I've been storing at public storage. Customer service is great and she's always there to answer all my questions or concerns. I appreciate her and the great service she has provided time after time. Great facility and awesome service from Jami! Updating my review-- Every time I come to make my payment Jami greets me with a smile and already has my account pulled up! She makes it so easy running in and making my payment! Very happy with the service I get from her!
Rented from Public Storage a few months ago and Jami was a big help!
I will be moving next month and have never rented before. Chris was very helpful and knowledgeable and I will for sure be coming back next month when i move
I visited the First Avenue site, as our family had used it from about May 2016 to 2017. We were very satisfied. We had another tour in March on the property with Carli, who was knowledgeable and energetic. Then we visited a Public Storage site closer to where we had settled and decided to do business with them. This PS site is on the East side on Indiana Street. We purchased the site insurance and were dealt with in a very personable, but efficient manner.
Jami was extremly polite and had patience with my needs!
I cant recommend this Public Storage enough! Jami is always so helpful and makes sure to take care of anything I need. I always appreciate her making sure to go the extra mile! Thank you, Jami!!
Jolic was a really good help she explained everything really
A nice storage facility. The only bad thing is that you don't have 24 hour access. Jami is really nice.
Jamie, Kay, CeCe very nice ladys! Highly recommend storing things here!!
Jami was very friendly and was very helpful
Personally security is great, payments are low, and maintenance is great. A lady called me to let me know there was a black smear on the floor coming from my unit and i wouldn't hace
Friendly Property Manager & priced just right!!
Teena does a great job at the front desk. Thanks for good service. It's a reliable place for storage.
Jami was very helpful when I went there to start renting a storage space. My only issue is that the company website doesn't mention, that I saw at least, that insurance is required for the items in storage. They do offer insurance, provided through another company, which can be added to your monthly rent, which I went ahead with. Otherwise, a very pleasant experience.
Jamie was super helpful and got me the perfect size storage
I reserved my unit online. The price quoted was the same when I got there, but then they were making me buy a lock (that I could keep but would have no use for afterwards) and I had to pay for insurance. Upon reserving none of this was noted and I was completely blindsided and unable to rent the storage unit.
21606 thanks jani u was very helpful
Public storage is awesome. Jamie show me all the ropes. She.
Are the gates locked at this location
Jami is great. Awesome service!
Call for information about how to go about getting a storage unit and meaghan was a huge help! She answered all my questions and was very professional. Highly recommend to everyone!
Very nice you are treated like your time is important to you. Meaghan is very nice and helpful.
Jami is great! Great service!
Wonderful people, Jamie is the greatest
Jami was very friendly and helped us get the best deal. She was very personable.
Carli was so sweet and amazing here
Jamie was very helpful in securing a locker for us, Steve & Donna Fonner that fits our needs. We feel she went above and beyond explaining all details regarding leasing a locker. You are lucky to have her.
Always helpful and friendly,! Jami is always smiling and glad to help.
Jamie has been wonderfully awesome
I have rented a few times over the past several years and Jami is great! She's my go to girl! I've also recommend her and the First Avenue location to several friends.
My daughter sofa was damaged because of moisture from the small storage unit, the attendant was helpful with the insurance information, which covered the damage.
I came in to this location to pay in my unit at the green river location and the manager on duty, Jamie I believe was able to help me and made the entire process easy. The stores work together well to help out their customers.
Don't use a credit card pay with cash if you want a one month rental. Read all of the fine print. Talk to the manager. You will have to be on your toes
Great customer service from Jolie and the team!
Got a summer special 50% off...whoop whoop!
Jami was helpful and great
Jami did an amazing job explaining everything to me.
When I was leaving USI for the summer, I went to Public Storage to rent a unit for my stuff. When I got their, Raye, was an absolute delight. She was super helpful and full of information and I really appreciated her attention to detail and making me feel like I was a valued customer. I also received help from Jami and she was also wonderful. She helped us out because the previous location didn't have what we were looking for and gave us extremely satisfactory service. Great place!
On 5/5/2019 I entered this location with a concern regarding a payment issue with my unit in Indy. Jami (property manager) was very attentive, patient, professional, and handled the matter well. She took the time to explain to me how they regulate and she confirmed it with the Indy location, so all was on one accord. My small concern became a no concern thanks to Jami, who delivered a customer service attitude. She went above and beyond. She is an example of how employees should represent their company. Thank you greatly, a satisfied customer.
Rented a unit at the green river location last month and came in today to pay my pro rate at this location. The manager on duty, Jami, found my info easily was professional and courteous. Would recommend both stores.
Very quick and courteous service. Was helped by an organized and knowledgeable staff member named Jami. All around a smooth, affordable experience!
I came in looking to buy supplies, and Jamie was super helpful & polite!
Great prices and great service. Thank you Wayna for all your help!!
I came into the store looking for information, Jamie was so nice and helpful. Thank you so much for all of your help jamie.
Jamie was so helpful and very nice made the experience so easy and stress free thanks jamie
Very courteous impolite. Jolie cares about our customers thank you for all your help Miss Jolie
Great service by Jami. She's the person to see!
Super easy process. Wayna made it even easier. She was really nice and went above and beyond to make sure I got what was needed which is a safe storage unit to store my things until I decide my next move in life. Thank you
Excellant service was provided Jami we always get great friendly service here!
Great coustomer service... Jami was very knowledgeable on size of units, an what would fit ... Prices were a great deal as well .... Deff saved the day... Thank public storage an Jami
Always great service from Jami!!
Jami is great & sweet person. Very helpful
Very friendly and helpful staff the property manager Jolene was awesome
Omg, ill be the happiest girl in the whole USA when I can get ALL my things from here, and move them into 'Rita's lil spot in this big ol world! JS
Jami was very polite and they have good prices!
Jami is amazing and always goes above and beyond to help in every way. She makes moving easier.
Jamie is amazing person ..i will respect her service... She will do what she can to make better
Rayie was very helpful great experience
I did some research on storage units before calling around. After talking with Jami, I knew this would be a location that I could trust, and would enjoy working with!
Great place to deal with!!! The lady at the desk Jamie was a lot of help and very friendly. They treat u great.
I greatly appreciated my experience with coming here for a storage unit. Jami was very nice and able to fill me in on any information I needed quickly without confusion. Would definitely recommend.
The woman who rented the storage ubit was very helpful and professional. Got the unit i needed in a helpful timely fashion.
Jami is very professional and kind. I have used this location several times and it's always very clean inside the units and outside. Thanks again Jami for all your help!!
Jami was wonderful and very helpful. You get what you expect with a storage unit here. Def recommend.
This is an great facility and great people who work here they have awesome services
Easy set up and immediate access!
It's really hard to get my electric wheelchair up the 2 small step ups inside the door. I can't get into the door at the other end at all! What's worse than that is that the door is extremely hard to get open due to a bad doorknob, and it REALLY hurts my hand bad!!! There's not usually any employees that will come and help me and a couple of them have just watched me struggle and offered NO assistance!! An employee who did help me said she's told the manager numerous times that it needs fixing, but quite obviously they don't care or it would be fixed!!! I just hope I don't sprain or break my hand on the knob when I am trying to get in or they will have wished they'd fixed it!!! I didn't like the way they had a special summer deal and then hit me with a number of other charges!!! I also don't like the big gap at the bottom of my storage door!! It's too easy for someone to steal small items through that gap! I have a large storage unit elsewhere and they are straight up honest and don't leave problems for anyone paying them to store their items there!!! If I was physically close to my large unit, I wouldn't waste my money on this very small unit!!! I would also like 24 hour access to my belongings! It is very inconvenient that I can't get into my unit between 9pm and 6am!!! I believe the price should be dropped since I can't access my property any time I need to!
I had an indoor unit that was not climate controlled. The entire indoor area smelled musty and strongly of mildew. When I was shown the space, I was told there could be moisture in the unit. Of course, there are items you can buy to protect your belongings from the moisture (bags of some sort and a moisture absorbing product). There was also a very large hole in the insulation on the ceiling of the unit. I was told it was where two sections of insulation met and came apart, but it looked like a large rip to me. I purchased the unit, but ended up closing the account two days later without using it. It irritates me that instead of fixing the root cause of the moisture, you have to spend more money to keep your items safe (on top of the mandatory insurance that probably doesn't even cover moisture damage). The employee who helped me, Jami, was very nice. This does not reflect on her at all.
Just rented through Jami. She was professional, patient, and helpful. We've used Public Storage before with good results.
First time I ever had to rent a storage unit... Jami was very friendly and explained every detail to me... I would definitely recommend Public storage to anyone needing a storage unit
Jami was very helpful and answered all questions that I had. Customer service great!!!!
Jamie is great! Only person I will deal with!! Thanks Jamie!!!
Felica is a very amazing person loved her I will recommend on this property. She is the nicest person and he office was very clean ... Shes the bomb diggity
Are y'all accessible 24 hours a day?
This is my second time using Public Storage now and just like before the service is great,staff was helpful, units were clean. I would recommend this storage facility to anyone. Thanks
Have always had a great and secure feeling when dealing with this business. Jami, the resident worker is very hands on and honest when it comes to feeling your belongings are safe and secure once you leave the facility. The added security with the access gate and on site employee, help ease me, and calm my mind when worrying whether my property is protected and safe when leaving. Jami goes above and beyond when it comes to customer communication; always keeping in touch and keeping me informed on my units status, financially and security.
Jamie is always so friendly and helpful. She's the only person I like to deal with because I know she will have the right answer when it comes to questions about my unit! Thanks Jamie you're the best!!
Went to help a friend move out of her unit and felica was a big help very clean area and friendly
Excellent service by Felica! She helped us out with a few units and truly made this whole process extremely easy! UPDATE: After being in and out of the unit a few times, the older lady with brown hair has been completely rude and ignorant. They park their cars right in the middle of the main roadway and make it impossible to get our 26ft truck anywhere near our storage unit. After repeated knocks on the door to hopefully get somebody to move their vehicles, nobody would answer and left us high and dry. Extremely unprofessional I thought the point of having somebody live on site was to be available and not get in the way. I highly recommend never using this storage facility.
Jami is awesome. She was very knowledgeable about what my friend needed. She explained the process to her to help ease her anxiety of placing her items in storage. Need more emplyees like her. Great asset to the company
Jennifer was very helpful and got us set up and ready to go thanks so much
I came in today to pay a family members storage bill, there was another customer in there yelling at the worker, Jennifer. Through that and a phone ringing like crazy Jennifer kept her smile and remained professional. Good workers like her are why people will continue to store with you, and tell others to as well!!
I had my account set up to auto-pay, and I specifically asked about timing for getting out of the unit and the staff assured me that I would be reimbursed a prorated amount for the time I paid for that wasn't used. Surprise, joke is on me because I ended up paying $118 to store my stuff for 4 days of the month. If my account wasn't set to auto pay, I wouldn't have had to pay anything at all because I was out by the 4th. I tried to resolve this at the local level but the employees were powerless to issue any refund. After a month of calling I finally reached a regional level manager who said he was mailing me a check WHICH NEVER CAME, and I was unable to ever contact him again after that. This all occurred last summer. I'll never rent through Public Storage again.
Great storage at a great price and awesome staff!!!!!
Hidden fees, administrative fee, you must carry their insurance, and buy their lock.
Jayme is very nice. Like seeing her when I come in
Jamie was so helpful when I came in for moving supplies. Thank you and I will be back
Needed a storage unit due to having the tiniest apt on the planet. They made sure the size I chose would work for me, showed it to me and made sure I knew how to get in and out of the gate. They answered all my questions and were super nice. I chose this place because of the reviews and I'm glad I did. I'd definitely recommend it to others.
Over the last 3 days, I was with family cleaning out their unit. Let me tell you The Store employee Jamie Nally has got to be the most helpful, sweet and not to mention a very very hard worker. i have never seen an employee at other storage facilities out on the lot daily cleaning changing ropes weeding and doing whatever she can to have her lot looking its best. Made me realize right then that i will refer all my clients family and friends to her location. she makes you feel like, your belongings will be safe on her lot. So Great Job Jamie thank you. TJ
Monthly fees are way to high and the interest rates are off the charts. Storage units are just an over priced rip off don't use them unless you absolutely have to.
Clean and and at a very good price
Back again for a 3rd time!!! Jami is awesome as usual but Allison is so sweet!! She is a great addition to the team! You rocked Allison! Keep up the great work! Jami is the best to learn from!!!
Since my first time at the facility (helping family member move in) I have now started using for all my Shipping supplies for my eBay store. All because of a sweet friendly & informative employee Jamie. She Is so helpful and knowledgeable on The exact packaging supplies I'll need When sending out odd shaped or bulky Items. Since dealing with Jamie all my products arrive to there destination, in Perfect condition. Thank you Jamie & Public Storage. Sincerely Journie
Jami is AWESOME! gets me in and out with a great attitude! I ONLY go in when she's working! Thanks Jami ur great!!!
Put a friend's mother stuff in storage pretty nice place.
Jami at the front desk in evansville public storage was rude and very slow! It would be so much better with a nicer person at the desk with more enthusiasm.
High price and they raised the price after 4 or 5 months. Not worth the cost. Unit leaks mold on outside of units
I've had and is still having the best experience with Public Storage; better than U-HAUL easy. I recommend them to any person needing storage for any reason
Jamie was fantastic. She was very helpful on helping me pick the best unit for what I needed. Jamies staff members were very kind and helpful as Well.
Kenneth and Jamie are great, always very helpful and friendly....love them!
Great people to work, alway polite and understanding. Would definitely use them again for my storage needs. Thanks guys!
Too damn expensive and rude
Great prices great staff!!
Jami was great! Ill tell all my friends to come see her!!
Great experience so far. The property manager was very helpful and made sure all questions were answered. I highly recommend making your reservation online to save a few bucks
One of my really good friends has a unit at this location and I've been with her in the office and on the property several times and I am always amazed at how well the young lady Jami takes care of everything. Even when I have went in to pay my friends unit for her she already knew what unit I was paying on. Now that is what I call great customer service!! Thanks Jami!!!
I'm always stopping in at the First Ave. location to buy Everything I need for My packing/Shipping needs. I sell products on Ebay and do consignment. So its perfect for 1 stop shopping. The young lady Jamie in the office is always so helpful, knowledgeable and very sweet. Always has a smile on her face and can get me in and out with exactly what I need. I highly recommend this facility. When storing, moving/packing or needing advice on shipping Thank You Miss Jamie
Very helpful. Rob is the man to ask for
Robb was great, very helpful.
Robb was extremely helpful and made sure I got the right storage unit.
This property was very clean staff was very helpful and I can't wait to tell others about this place thanks guys you are up
Just moved into my new storage unit and I must say that Jami made the process seamless! She ensured that a tedious process was anything but that. I would recommend this storage facility to anyone who is looking for an affordable and secure place to store their goods.
Robb was awesome. Efficient, courteous, and informative.
Robb was excellent. Made my move-in super easy!
Rob was awesome!!! Simple and easy rental.
Robb and Jamie were awesome!
Jami and Robb did a great job got me in and out fast as they can. Very nice people !!
Jami and Kenneth are always great. Very friendly and fast. I love that I can get in and out fairly quickly when I have to run in to the office for something. Best service I ever had from a storage company. As long as these two are around I will keep coming back! Thanks Jami and Kenneth your awesome!
The manager Jami was very helpful in helping us pick the size storage unit we needed. She even stayed over to help us complete the paper work. The unit was very clean & the area was well lit & secure.
Kenneth and Jamie have been the best. Always smiling and entertaining all while maintaining a professional atmosphere and representing Public Storage as a 5 star facility. Thank you
Robb and Jami are really friendly and helpful! It's a pleasure dealing with them and I highly recommend this place based on their service alone.
Robb and Jami are amazing! Very helpful and genuinely nice people to deal with. I highly recommend this place based off of their service alone.
I called in and spoke to Jami about prices, she was as one and answered all my questions. I will for sure be in soon to rent from her!!
The people in this office r very awsome... Fast and kind
You they were very friendly and courteous and help me with all my needs.
The staff is helpful and prompt. They are reliable and will work with you to be sure you get the best option for your needs. I would absolutely rent from them again.
Jamie is a mature adult. He is supportive during a high-stress time.
Kenneth & Jami have been so great! They are very nice and always helpful. I would definitely recommend this location to other people.
Jami & Kenneth were very knowledgable and friendly! Great experience! A+++
I came in today to look at a storage unit, unfortunately the prices were to high, but Kenny was excellent in describing how great public storage is. I would've totally rented but I didn't have the amount needed. In the future I would definitely use this facility.
Kenneth and Jami are great managers. It was a pleasure working with them.
Always nice & courteous. :-) Very helpful...
Jamie was so supportive of our choice of Public Sotrage and made our experience great!
Very nice staff, easy to talk to and gave us all the info needed. We are happy using them for temporary storage.
My experience was awesome... Kenneth was very helpful, and got me into a storage unit I need!! If you go to public storage ask for him!!
Jami is excellent. She is always very friendly and helpful. Definitely an asset to your company. Margo Russ
Kenneth was awesome at getting business done, very knowledgeable and professional! Have rented with public storage in the past and would have to give both Evansville locations the recommendation they deserve! If you have storage needs, go to either location and you will see for yourself!
Kenneth was amazing. Friendly and very informative!!!
Kenneth walked me through it all. Answered all my questions and showed me how it all works and got me started
Great service, Jamie is always helpful and friendly. She always knows what I need to use to protect my antiques
I stop by to pay on a friends unit often and Jamie is always great. Even though it's not my unit she always knows what unit I am coming to pay on, it makes it so easy and fast. She is always so friendly and nice!
Jami was very professional.. She made us feel like we made all the right decisions about the size of the unit and ensure us that our stuff was safe with public storage.. Thanks Jami!!
I came in to rent a unit, but the price just wouldn't work for me. The price wasn't unreasonable i was just in a hard time and couldn't afford it. Kenneth walked me through it all and made me feel very comfortable in the storage process as well as the safety of my stuff. Would rent here in the future if i needed a storage unit.
very professional and Jami was very nice and a great help
I have had 2 very good experiences at public storage with the manager Jamie. The first was the initial touring the facility and setting up everything, she was very knowledgeable and thorough. The 2nd was awesome! I was helping my parents move and they were on a deadline and she made special arrangements for me to the enter the unit, something she absolutely did not have to do!
The staff is wonderful! Especially Jami and Nancy. :)
Jamie and Nancy did a great job showing me units they was nice and polite n very friendly 😊
Very friendly staff. The property Manager Jamie help me find the right storage space that fit my budget. I highly recommend this location.
Although I chose not to rent from Public Storage, I received amazing service from Jami at the desk. She was very knowledgeable and was able to answer the questions I had to determine my needs. I will definitely be recommending this property to others in need.
I came in to get quotes and the lady and gentleman behind the counter were so friendly and nice. The lady was very knowledgeable. Seem very clean.
Awesome experience manager Jami was super in service
Very polite and helpfully
The girl behind the counter is very professional,courteous,and friendly. You are lucky to have an employee like her..,every time I see her it lifts my day.
Outstanding service and attitude!
Jamie has been awesome in the year I've rented from public storage always willing to answer any questions and help in any way she can she has made my experience with public storage great.
Came to the property and spoke to John. The place is great and has fast friendly service. Loved it. Will continue to use them for my storage needs.
Jami is always so nice. Would certainly tell everyone to store here with her .
Nice staff. Jami is very helpful.
Jami knows what good customer service is all about. Jami has always been professional yet friendly. Also, the property is clean, no matter what time of day I may be there. I have an inside unit and the building is always clean inside. I have and will recommend this location because of the management.
Jami has been awesome! Great customer service. I would highly recommend this company and this individual for all of your storage needs. - Chelle Avis
Jami Nally is aplus to your company, she's all about business and friendly at the same time. If you have questions she has the answers. It would be a loss to both the customers and to your company if she was not here at first ave facility.
Incredibly unhappy with this facility. They increased monthly fees often, have a shoddy front gate (on my last visit to remove my belongings, there was a gap large enough for any person to comfortably shimmy through), and all of my fabric items are mildewed due to their inadequate structures. The abundance of mosquitos suggests standing water and/or poor ventilation. Take your things to a nicer place.