Public Storage Self-Storage Units at 8490 Duralee Lane, Douglasville, GA
Address
8490 Duralee Lane Douglasville, GA 30134
Office Hours
Mon-Fri 9:30 AM - 5:00 PM
Sat-Sun 9:30 AM - 5:00 PM
Gate Access Hours
Mon-Sun 6:00 AM - 9:00 PM
Storage Facility Features
Climate Control Storage

Outdoor Storage Units

Property Manager Lives On-site

Small, Medium & Large Storage Units
Office Hours
Mon-Fri 9:30 AM - 5:00 PM
Sat-Sun 9:30 AM - 5:00 PM
Gate Access Hours
Mon-Sun 6:00 AM - 9:00 PM
Storage Facility Features
Climate Control Storage

Outdoor Storage Units

Property Manager Lives On-site

Small, Medium & Large Storage Units
Close Location Details
View Location Details
Outside unit

Drive-up access

---

5'x10'

Outside unit

Drive-up access

---

7'x10'

Outside unit

Drive-up access

---

10'x10'

Outside unit

Drive-up access

---

10'x10'

Climate Controlled

Outside unit

Drive-up access

Outside unit

Drive-up access
Nearby Self-Storage Locations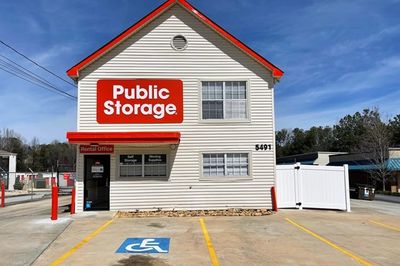 Self Storage Near
5491 Westmoreland Plaza
Douglasville GA 30134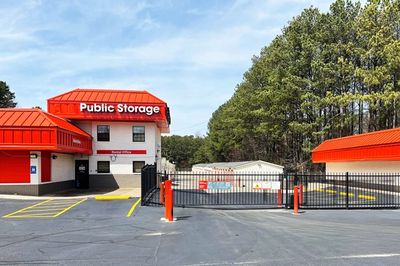 Self Storage Near
3313 Highway 5, Suite F
Douglasville GA 30135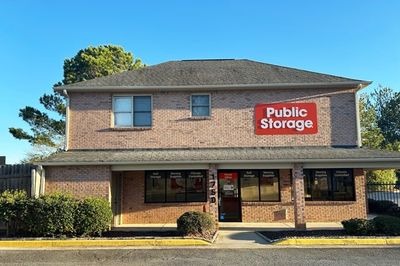 Self Storage Near
1750 Oak Ridge Road
Austell GA 30168
Resources from the Help Center
See what fits in different storage unit sizes
Douglasville Storage Units Near I-20
Douglasville Public Storage, at the intersection of Duralee Lane and Fairburn Road, offers affordable self storage solutions with easy access from Interstate 20.
Douglas County High School families can easily empty out a crowded garage by storing boxes, crates and tools in a handy 5x10 storage unit at this location.
Residents in Lithia Springs can use a 10x20 storage unit to pack up old living room furniture, dining room furniture or bedroom furniture when it's time to update some of the larger home furnishings.
Local businesses near Arbor Place Mall can use a 10x30 storage unit as extra commercial or retail storage space to hold desks, tables, equipment, supplies and boxes of paperwork, all nearby.
Ranging from small to large, the outdoor storage units at this facility provide customers with drive-up accessibility, perfect for easily loading or unloading from a vehicle. There is also the option of climate controlled storage units, as well as enclosed units large enough for car storage, motorcycle storage, truck storage or SUV storage.
For storage-related questions or to buy packing supplies, speak with the staff inside the rental office or the property manager who lives on site.
From historic downtown to the surrounding neighborhoods packed with families, young and old, it's easy to see what makes Douglasville such a special place to call home. With a town motto of "New Growth, Old Charm, Always Home," it's Public Storage's mission to make sure everyone has the space they need in this growing community to always feel right at home.
At Public Storage, You'll Always Find...
Keypad Access

Friendly Staff

Month-to-Month Rent

Moving Supplies Available

Free Parking

Well-Lit Facilities
Reviews
( 299)
Mrs Vita is absolutely amazing she was so helpful withy move in and is such a joy to come in contact with
Ms.Vita's customer service was exceptional! She was extremely helpful and kind to me the whole time!
Ms.Vita is Amazing she needs a major promotion. Awesome Customer Service & Beautiful energy. We Love Ms.Vita
I had the best experience here with this very helpful young lady she went above and beyond to make sure I had what I needed Thanks you so much Viva
This place was everything thank you Ms.Vita for making the process quick and easy and making sure I had clear instructions and understanding of the space
Ms Vita was outstanding. She was very helpful and knowledgeable. Ms Vita has a heart for the people. There is really not enough stars to say how pleased I was.
Ms.vita went above and beyond to help me get the best Storage for my needs .. excellent customer service the best storage place in town. I highly recommend you won't regret it. Great prices great customer service made it very stress free with the moving process the renting process was super easy It was such a delight to have her.
Vita was great! I had a great experience and she really helped me with all that I have going on. She has a great personality and made this transition good.
Vita took care of everything for me and got me into the correct size unit and made the move very simple. I will keep my unit here just because of her professionalism and character. Thank You Vita for all the help!!
It's Ms vita for me!!! I literally felt like God sent her to me. Customer service above and beyond. I will recommend this location, very clean and affordable. Ms vita I want to thank you from the bottom of my heart for speaking encouraging words to me! We need more genuine people like Ms Vita🫶🏽
The best experience/customer service I've had in my life and it was all because of Ms.vita GOD placed her in me and my husband lives not by accident but by faith,not only did she give us exceptional customer service but also gave us a word ,a prayer and she was just so full of love wisdom I would recommend this storage place to anyone just because of Ms.vita …thank you ms.vita for all you do you are greatly appreciated.
Great customer service!! Mrs. Rita was vey patient and knowledgeable.
The main reason I decided to lease a unit with this particular Public Storage was due to the professionalism, kindness and the unprecedented customer service that I experienced with the on-site manager Ms. Vita. Moving already presents its own challenges, however she made this process smooth, efficient and enjoyable. I do hope that the Corporate team and management are aware of these reviews and recognize Ms. Vita for her service and contribution to the Company. Thanks!
THE WORST EXPERIENCE EVER.... 5491 WESTMORELAND PLAZA DOUGLASVILLE, GA 30134 Facility is old,rundown, no numbers on the building, furniture left out in the driving isles, property manager is not available. The company as a whole does not care about customer resolution. IF you must get a storage unit at Public Storage,PLEASE DO NOT go to this location. EVERRRR...
Ms.Vita goes above and beyond for her customers, I would definitely recommend this location to friends and family for all their storage needs.
Ms. Vita was amazing! Great personality! Really good at her job & great with customers!
Ms. Vita has excellent customer service. I'm impressed with her knowledge and personality. She definitely needs a raise for her performance.
Vida the property manager was extremely friendly and helpful. Definitely An Asset To public storage
Excellent service and very helpful management
The Mgr Vita at the DuraLee location provided me with excellent customer service! She took the time out to thoroughly explain Unit rates & sizes to me even though she had other customers waiting. She patiently answered my many questions without making me feel rushed or irrelevant. She was professional, positive & friendly. I was having a hard day & Vita's terrific spirit put me at ease. Because of Vita, I'll definitely refer family & friends to Public Storage.
What A Blessing it was to Work with Ms. Vita, she made this journey a Happy one & was A Great JOY‼️🎉🫶🏽
Ms. Vita is a wonderful being and very helpful. Thank you so much.
I have had a storage unit here at this property for the longest time the staff has always been friendly. They are always on top of the property the manager there, ms Vita has the best customer service. She was able to help me out with my account. She followed up with me and definitely helped me out with all of my inquiries. I definitely recommend this location and if you guys have any issues, definitely talk to ms Vita she is the best !!
Mrs. Vita did a great job helping me with my unit purchase today. Thanks
Ms.Vita was wonderful and a great help . Lovely spirit and overall a great person . She was very helpful . & satisfied my storage needs !
Wonderful hospitality! Great vibes and energy. Ms Vita went over and beyond to satisfy my needs. She would not allow me to leave public storage until I was satisfied. If your looking for a storage space in Georgia area come see Ms Vita at public storage on duralee lane you won't be disappointed!
Ms vita go above and beyond I recommend this storege unit great customer service very detailed about information over all great experience
Mrs. Vita made my day!!! She was extremely helpful to me! Friendly and willing to help me. This is by far the best management I seen at this facility. She is a blessing!!!
Cost: $$ Service: A+ Would I recommend to my friends/family/people?: YES I WOULD This location is decent if you are looking for a place to rent storage. Ms. Vita is a gem. From day one in the times I asked for assistance she was professional and open to giving me helpful answers and advice to any questions that I had. Not only that, she goes out of her way to go above and beyond. If you have a problem she will do her very best to help you find a solution. She is willing to give you a helping hand if she can. She has a warm and friendly demeanor. She is patient and action oriented. She is consistent with the helpful and pleasant customer service that she gives. Good help can be hard to find and I could not ask for anything less or more.
I definitely recommend this place , the staff is excellent, Mrs vita was the best help, thank you so much.
Me Vita was patient with me she help me out with what I need to do I really Thank to her on this Day and Day to come
Miss vita at the front desk provided excellent customer service.
Vita has great customer service, made my experience easy
Vita the best manager I've ever dealt with
My first time doing this and Ms. Vita is sooo helpful. I happy that she was there the time I when there. She was informative and set me up right
5 Stats All around for Public Storage and the Award winning Ms. Vita. Thank you for making this project smooth and served with a smile. #231
Vita, is DA BOMB!! She so sweet and helpful and her customer care is appreciated. Thxxxx💜
I received an email about an increase in my rent space. I called and spoke with Vita. She explained to me what was going on and reached out to the corporate office to see if they will approve for me to keep my normal rate. It was approved in a matter of minutes! Thank you for your help!
Ms Vita at the Duralee Ln location was such a blessing to have encountered. She is definitely the best asset a business can have. She is knowledgeable, professional, friendly and she goes above and beyond for her customers. Thanks and keep being awesome! Customer service smiling faces and professionalism is hard to find and Ms Vita provides it all!
Ms Vita was very helpful. I am glad she was there to help us. She even stay pass her time to make sure we were ok.
Vita was very helpful and helped us to get everything set up! Very good experience :)
This is an awesome store vita is the most sweetest and very helpful.
The customer service here is great. I needed assistance with my unit and she quickly resolved my issue. When we vacated our unit Vita, was once again there to help, props to you Vita. We truly appreciate how easy and comfortable the whole experience was.
Mrs Vita is the sweetest soul, was so kind hearted and friendly. She took time out her day to give a beautiful speech that my husband and I needed to hear. We thank you again for you service and spiritual heart to heart! We love you Mrs. Vita you're the best!
Ms.vita gave superior service
I am very happy to say That Ms Vita Has definitely been a blessing in this time of need. She is very in tune with the customers and Public storage you have received a Angel In The Flesh.
Ms.Vita is so cool full of knowledge I'm glad I was lead to this location this morning I was very pleased with the service and treatment I received I would definitely recommend my people to go to this location if in need of a storage unit
Ms. Vita was very helpful. She answered my questions ( in detail), was pleasant, professional, knowledgeable and all done with good voice and good face. Sometimes a person can be helping you but their voice carries an unpleasant tone along with an annoyed facial expression. Ms.Vita appeared genuinely happy helping me.I appreciate when a business puts emphasis on kindness to their customers. Thank you ms. Vita for a positive experience. I would be more than happy to recommend this location to potential customers. shed
Vita was awesome.. she took her time and explained everything to me. I feel confident renting a unit at this location. I highly recommend!
Ms Vita at the Duralee Ln location is the best asset a business can have. She is knowledgeable, professional, friendly and she goes above and beyond for her customers. She was so helpful I felt compelled to let anyone who looks up the reviews for this location know that. Thanks and keep being awesome! Customer service smiling faces and professionalism is hard to find and Ms Vita provides it all!
Heather was very prompt on helping me with my storage space. She made my visit to the office a breeze I was in and out! Definitely recommend this location !!
The unit we got the light fixture is torn down it is hanging halfway down into the unit the piping is pulled from the wall no light bulb no nothing the turnaround areas are very narrow so if you've got a big vehicle and a trailer don't go here very difficult to move around one way in One Way out for the price it is not worth it
Jordan is the best she will help you out all the time and is so friendly
Thank you Jordan for you help . Your property is very clean and your very nice continue to keep a smile on your face .
Jordan was the best! I needed help trying to figure out what was my best option of sizing in storage and she explained accurately what I needed to do! Keep up the good work jordan.
Mrs. Arnold was great she made sure i left with the unit that i needed ! great job 💙
I had a great experience. Jordan A. did a excellent job with her customer service and providing me with a unit. Thumbs up!
Very nice 👍, great staff. Fun and understanding.
Jordan A. Is Very Helpful and Great At Her Job!! God Bless Her 🥰🙌🏿
No one is ever on the property. Prices change migh monthly. up doors do not function properly. The doors don't seal well. No light bulbs in the light fixtures. Customer service number sucks. No one ever answers.
I needed somewhere to store my Boxes are chose public storage because it was convenient however was convenient however I find it to be false advertisement boss advertisement every day I get an email on my phone email on my phone saying they have $1 for the 1st month dollar for the 1st month but yet when you call them they give you all the yet when you call them they give you all these excuses why they do not honor it honor it but even after I purchase my spot at public purchase my spot at public storage I still get the same emails every day same emails every day saying they do one month for a dollar So my experience with public storage is forced advertisement
The staff is super friendly and knowledgeable. Unfortunately my storage was almost broken into. So grateful that I was promptly moved to a new unit. Would definitely recommend them.
when is anybody ever here to rent a unit
The property manager was very helpful and very professional and the storage unit is just right
Ceddric was absolutely phenomenal with assisting me in my storage wants and needs. He didn't allow me to choose something that wasn't the right fit for my needs, while guiding me for the proper fit. He could have easily over sold me and made a bigger sale for the company, but his love to treat people fairly, out weighted the rest.
Shalonda was very helpful in getting my storage set up
Ceddric was very knowledgeable and helpful and made everything seamless. Thanks again Sir for all the great help!!!
Special shoutout this location. Made the whole process easy & simple, Shalanda was very helpful & informative! Highly recommended!
This Constance King remarkable remarkable customer service experience from Ceddric at this location. He was such a gentleman. He did not show hesitation in helping me. Hey went beyond. I thank you. Keep up the good. You have proven to me and others that customers are your first priority!!!!
Cedric had extremely exceptional customer service and made the process fast and efficient. I highly recommend this company and ask for him. Thanks again Public Storage!
I've always loved this storage facility managers are always great units are kept up
Ceddric is so awesome! He was very attentive and informative. His customer service was amazing.
Cedric was awesome. Got a great rate for the unit I needed.
Great Transparency !!!! No hidden cost!$$$...Friendly customer service...thanks
Cassie was very knowledgable about her units and products. She was very helpful and kept us laughing.
Cassie was wonderful, location needs a good cleaning up.
Decent property, convenient to my house, good price, movie in was a breeze, girl in office, sommer, was really nice
It was great Ms Cassie was the best she help me with all I needed
I just left here and the guy was so respectful and nice and knowledgeable definitely will be doing business here I think his name is Cedrick way to go
The property manger, Ceddric, was super nice and helpful. The storage seemed clean and secure. They helped me at the last minute and I really appreciated it.
Have rented from PS over 3 different states in the past few years. But I must admit, my experience with this Douglasville location has been exceptional. Cedric, the rental agent was extremely knowledgeable and very forthcoming. I was recommend other friends and family to use PS in the future.
Very courteous and professional
Ceddric provided Great Customer Service
Ceddric was such a great help. He was very understanding of my needs and advised me of everything I needed to make my move as smooth as possible. Great customer service will recommend this location to friends and family
The new property manger Trakita Cruse was absolutely amazing. Her customer service was exceptional.
Trakita was very helpful and friendly. Unit was clean and security seems adequate.
Very great location. Trakita was very acknowledgeable and helped make my move in very smooth and easy .
Trakita went above and beyond for me. She has the best customer service. I was having a rough day and she was great
Trakita is great . Great location , very good customer service. Recommend her and location.
I'm a older lady and Trakita was very patient with me. She made sure I understood everything and was very caring . Clean location and very sweet staff !
Trakita has very good customer service. I am a long term customer and I would really recommend her and location. Very clean and safe facility. Feels good knowing my things are safe.
Trakita was very kind, she helped me and did it with a smile. I would recommend her and location. Thank you for caring Trakita
Awesome customer service from Trakita
Trakita she was great and friendly and very helpful she deserves 5 stars
Trakita has very great customer service, recommend her and her location.
Trakita was very professional and nice, she has been great
The isles are to tight. Treat the area for spiders, roaches, and rodents. Allow people to exit out of the other gate.
Trakita stayed late for me. She is very kind and patient. I would recommend her and location
Trakita was great she saved me money and recommended merchandise to protect my things . I would recommend this location and Trakita she was great
Trakita got me taken care of in a professional and timely manner, will definitely recommend this location to friends and family. Thanks Public Storage! 👍🏾
Trakita was wonderful. I came in with several questions and she answered them all. Very knowledgeable and courteous. Great customer service!!!!
Trakita was very professional and courteous! Very helpful and nice!
Treaunda gave great customer service & I was in and out! Five stars given I would definitely recommend this location !
Great location clean and very nice service.
Trakita was very informative, she is very kind and patient. I would recommend her and her location. Very clean and well kept storage facility.
Ms. Trakita the property manager was very helpful and resourceful. She has such a caring and helpful personality. Been storing here for years I love this location and the great customer service I always recieve.
Trakita thanks for the help and your wonderful SMILE :):) keep up the great work !!!!!!!!
Has there been any issues of storage lockers being broken into?
The property Ms. Trakita has very patient and great customer service. After a long drive she helped me and explained everything. I would really recommend this location. Very convienient and clean storage.
The property manager Trakita Thank you for all your help today. You are so professional and personable. helped make my day
Dissatisfied with this company. Their prices have increased within the first few months of service. There are no lights in the units. When I asked about someone repairing them, I was told that Public Storage wasn't required to have lights in the unit. The one I am renting is large. In order to see my items, I have to look with a flash light. It's very difficult & frustrating. There are also holes in the walls where rodents have eaten thru the walls.
Decent price, good location, and units are clean and well-kept. Professional and nice employee.
The property manager Trakita was very nice. Kind and walked through everything with great patience. Wondering conversation. Please come visit soon!
Trakita the new property she has the best customer service I have ever had keep up the good work you are awesome!
Trakita : Excellent Customer Service. Very Patient And Kind. Glad I have a Storage here!!!
Trakita the new property manger is very informative and kind. I would recommend public storage i have been storing here for years
Trakita was very professional and knowledgeable...saved me a bunch a money. Highly recommended
Trakita the property manger She is a grate sealslday.
Trakita was such a wonderful help !!! She made me feel cared for and I loved her bubbly personality
Call to seek prices on storage units
Nice change to management 😎
I visited the public storage on Duralee land and had a great encounter with the property manager Trakita. Excellent customer service
I've been coming here for years. Robin has always been great. Her customer service makes all the difference.
Customer service is excellent- Robin is super helpful!
Robin is a Great Customer Service Rep
Robin is great! She is very knowledgeable at what she does. You can tell that she enjoys helping others and enjoys her job.
Mrs. Trakita was great!! Nice storage great experience!! Will rent again if needed!!
Just rented. Haven't even moved in yet and PS wants a review. Well, so far so good.
The staff at this Durley location is very friendly and helpful location itself posts a wide selection of storage facilities of all sizes to fit most needs be warned however the rate increases every 6 months per corporate policy
The manager Robin is amazing. She is great and so helpful.
Robin is fantastic. She gave me GREAT information and the BEST Hospitality (considering how awful my day started) Her Customer service is the BEST I've encountered since moving Georgia.
Robin is and excellent manager at this location she's kind considerate nice
Robin is great . She always gives me great customer service....
Robin is great. Always so nice and helpful.
Trakita was very professional and gave me great customer service.
Robin is a very good manager i was helped very successful
She had great customer service. She smile at all time she answered all questions I ask her .
Do they have vehicle storage
Robin is the Best Customerservice Representive
Robin was a very informative and courteous representative for Public Storage. She displayed not only knowledge and experience, but what a customer would expect when seeking new business, personality and skill On a scale from 1-10, I rate her a 10.
Great customer service provided by Crystal...The location was easy to find and more than ready to assist...Thanks...(Fields)
Robin is so great, she spend 30 mins explaining everything to me. She is a great asset to public storage
Robin was really friendly and helpful and knowledgeable about our rates!! Great service!
Fast and easy! Did most of my information online before hand so that helped. Crystal was AWESOME! Great help to all y questions!! Thanks again Crystal!
Robin was very professional and answered every question I had. She was very nice and a pleasure to do business with. The units were just as I expected. Prices as well. I would recommend this location over other competitors in the area. Safe, simple, and affordable.
Robin is great. She is always so helpful. I enjoy having my space here just because of her. She is the reason i have a space at this location
Robin was wonderful . Easy to understand when she was expling questions and answers
Got a new space from this location on 10-27-17 , Had excellent customer service from Manager Ms. Robin. She was very detailed and professional during our encounter , rates were great and space is clean.
Robin was very knowledgeable and respectful.
I had a great experience, Crystal is a great customer serve representative.
Im came in this location today and Audrenna was very helpful with all my needs! Greaat location!
Fairly priced but inside of units are ugly
Shannon was professional, helpful, and friendly. Area has been clean and secure each time I have been there
Great customer service!! Shannon was the best!
Shannon is the best property manager of a rental place ever!!!!!!!!
Amazing customer service and staff is very friendly!
I had a very pleasant experience. Shannon was helpful, personable and professional.
The manger was so helpful and friendly I will recommended this location to any friends or family
Immediately after I made my reservations, I received a very pleasant and professional phone call confirming it from Shannon. Moving is a very stressful time but with Shannon's help I have a peaceful mind about this aspect of my move. She truly cares about her customers. I am extremely happy I chose this facility to store my things!
Shannon was very professional and made the process simple for a first time storage renter.
The young lady was so helpfully. I will be using this location again. Thank you
Customer service and the special promotions they have.
Quality service, very knowledgeable of various storage sizes and cost.
Avia was very helpful in assisting me today. We were able to find the best storage unit for my needs. Would recommend Public Storage.
Avia was fantastic. Very helpful. Will use this facility again if ever needed.
Brittany gave great service today.
Brittany provided great customer service!!!...I will be telling all my friends and family about this public storage
Avia was AWESOME! She worked with me on finding a solution with mine and my aunts storage. I would recommend this facility to everyone!!
Very professional and very helpful as well!!
Avia was very professional, polite and helped me choose the right storage unit. Thank you so much!
Chakierra gave me great customer service. Was great helped me with a wonderful unit also me relocating from new york she is a former new yorker. She was beautiful, great spirit.
Staff provided great customer service. They where thorough when explaining their products and services as well the terms and agreements. Thank you for a wonderful experience.
Two young ladies provided an excellent experience. Friendly service as well knowledge of their products service. I would definitely refer my friends and family to this public storage.
Chakierra was excellent helped us in any way possible
Chakierra was very nice and very helpful. I called the 800 number but they weren't too educated about your inventory and prices. I'm very glad I came in because she showed me different types of sizes and prices that very reasonable.
Avia was very helpful very informative.
Avia was a really great help during my stay at public storage...The only thing is the company should post that returns must be done within 30 days. It was no reflection on my service from Avia because she called to see if anything could be done. I do appreciate her efforts and ALL her assistance during the duration of my rental unit. I recommend that she receives recognition for her efforts. She did an outstanding job!
I just wanted to give a shout out to how helpful Avia has been to me while my things have been in storage there. She is awesome! I really appreciate how much she cares, and I'm glad we chose this location and Public Storage. Has been much easier.
Avia has great customer service, and there management staff is the best
ChaKierra provided amazing service in an extremely stressful time. Thank you
Avia was very helpful and maintained a professional input through out the moving process.
Since I been here Avia been so helpful with my payments.
Avia was great and very helpful
I was caught in traffic and Avia stayed after closing and helped me. Best service ever.
Avia. Yesterday, I came in the store and avia help me with my process. She was very wonderful and pleasant. I will recommend her to everybody.
Avia was excellent. Very professional. Happy to be a customer.
Avia Awesome, very helpful and knowledgeable
Avante was very good she showed me everything that had to be done very polite tell me what was needed what wasn't needed the security of the place tell me what I need to put in my head to keep it dry she was very polite to me and showed me make sure everything was clean and make sure I could use a lock and how to unlock it so she's very good very very pleased with the company thank you so much you have a blessed day
Michelle and Avia were incredibly helpful. There understanding of my storage needs exceeded my own. It was so easy to get exactly what what I needed. Try here first.
To whom it may concern I would like to acknowledge Avia for doing a outstanding job on checking me in and being very professional and not only that it was another customer in the office at same time checking in she got us in and out in timely manner ....She was Awesome
She a very respectful person
Good smiling customer service.
Avia is very friendly and respectful...
Great service. Jasmine exceeded my expectations
Avia had a pleasant experience very polite and helpful.
WOW!!!! Jasmine was outstanding her customer service skill is though the roof and i never seen a property so clean inside and out.. Jasmine keep up the good work
Today I pasted by public storage in need of some boxes and tape. The young lady by the name of Jasmine assisted me with my needs she was outstanding her customer service was so great. By her professional characteristics I'll be cancelling my reservation with self storage and will rent with jasmine....
Ms. Jasmine was very helpful through processing all paper work. 5 STARS
Yvonne was excellent. I recommend this particular storage unit to everyone. She knows her job, friendly, courteous & will give you the best deal. Thank you Yvonne...
jasmines service was great
Jasmine was such a great help. She was very understanding of my needs and advised me of everything I needed to make my move as smooth as possible.
When arriving at the facility ms Beverly give great customer service. She was very knowledgeable about the units and merchandise. She was very nice. I would recommend her.
Melissa was awesome!! She needs a raise!!!!
Friendly staff... a few wet spots in a couple of units... looked at 3 before I found one without moisture.
avia has great customer service. she knowledge about the storage unit.
Jasmine had excellent customer service
Jazmine was very helpful, courteous and a pleasure to do business with!! Excellent service from an excellent young lady.
I came in earlier today, explaining to jasmine how I was on a budget. she took that into consideration and was great. she handled me quickly and was thorough ... GREAT CUSTOMER SERVICE
Beverly was very quick, efficient, and professional
Miss Jasmine was very knowledgeable, easy to understand, and down to earth...i encourage everyone to rent from Public Storage. Best affordable rates in the country
Great Service Ask for Jasmine she is great, very professional and polite.
Ava is a very nice person she very respectful and have good Customer service skills.
Jasmine was excellent I came in yesterday and saw the unit came back today and was ready to rent. See was great really nice person with a great attitude!!
Avia was very pleasant and nice to work with.
My person who help me was Avia. She was very nice and friendly. Told me everything about the unit to where I didn't have to ask any questions. Good job Avia.
The clerk was very knowledgeable about the sevices provided and very informative.
I came in yesterday with my dad to rent a storage. Jasmine was the manager that helped us. We were unsure of what we were putting inside but she showed us different sizes after she initially asked us from the beginning what we were storing. She was very patient with us gave us several different options and even waited for my mom to come and look at all the units. My parents and I were pleased with her service that's why we decided to rent from Jasmine.
Jasmine has great customer service..quick and fast
I came in on Monday even and spoke with jasmine about renting a storage. Jasmine was awesome she showed me the space and went over everything in full detail. She was also very perlite. Great customer service
Aviation was very friendly :)
Jasmine service was outstanding sge was so sweet and very professional she help us out just overall a wonderful experience thank you Public Storage
Loved it. Felt like family.
Avia had great customer service.
Avia was awesome and very helpful!
Jasmine ( property manager) was very nice and friendly. I would recommend this storage place to anybody. It's very cheap and affordable.
Jasmine provided me efficient and great customer service. Hats off to her
I came into PS today to rent a unit. I was greeted by Jasmine who showed me excellent customer service. She showed me all my options. She was pleasant and very knowledgeable. I would recommend PS to anyone.
Very knowledgeable great customer service
Its was fast an wonderful jasmine was on her stuff thanks boo
Ms. Jasmine was awesome. Her smile & professionalism captured us when we we're suppose to be @ another facility. So thank u for hiring her
Jasmine Phillips did an excellent job. Showed me the space,did my application & had me out in less than 30 minutes. Excellent service!
Good service the lady at the desk(Jasmine) was a big help
Jasmine was very informative and helpful. She also was quick and precise with making sure we were in and out and made sure we had everything we needed
Very professional and kind. Quick service
Awesome person great personality!!
Jasmine Phillips was great! She was very professional and thorough. I definitely recommend this location.
kevin did a great job showing me around to the units and going over the policy with me. he even called me a few days after to see how everything was going. he did a great job.
My experience with this location was excellent I would never choose to use another storage company. The employee was very polite and informative.
Chelsie. Was awesome! My move in went very well!
Chelsie done a great job. My experience was wonderful.
My experience was very welcoming. Jasmine is very friendly and assurres you if you need anything to give her a call. I would recommend public storage to everyone.
Jasmine and Kevin are Awesome! They both took great care of me and my family's needs during an awful transition time in our lives. I am so appreciative for the service I received from Jasmine when she followed up with me today, Mar 20th, about my storage. I would definitely go back to this location for storage assistance.
Love this place! I've used other places that aren't as clean and disorganized. Kevin is always so friendly and helpful. Best place I've used so far
The employee name Kevin Crooms Has been a great help to me sense I have had my account. He has contact my at times when it was time for me to pay my rental before it was late an he informed me on how easy it would be to have reoccurring payment added to my account. I think he is great asset to your team there.
Very pleased with fast service received after reserving on line . Call back was immediate Kevin is very pleasant and professional and answered all my questions. When went to do paperwork again Kevin was a pleasure to work with and very helpful with our needs He is an asset to your company, shows knowledge of his job and customer service top notch !
My experience is always great when I come into the office. Chelsie is always a big help when I come into the office!
Kevin (property manager) provided excellent customer service to my family and me by staying after hours to make sure we secured a storage unit to store my deceased mother's belonging. I live out-of-state and needed the extra time to complete the rental application while movers were loading the storage unit. In the midst of a very difficult time of juggling funeral arrangements and emptying a house, I found solace in his kindness. It could not have come at a better time. I wish more people were as sensitive as Kevin. Many thanks to him for helping people when they need it the most. Excellent service!!
I came in public storage to get a storage unit and the young man by the name of Kevin was very helpful Thanks... Will be back if need be..
My husband and I were impressed with the professionalism of Kevin when we went in to rent the unit. He was very helpful in answering all our questions and went above and beyond in making sure that we had everything we needed. Jasamine was also very professional when we called with more questions after renting the unit. Very courteous making sure that all our questions were answered to our satisfaction. Highly recommend this unit to anyone in need.
Very good, secure facility with friendly, helpful staff. Jasmine especially was very attentive and helpful while on duty. Would utilize the facility again if necessary!!
Awesome facility with an awesome staff! We love it here and my 4 year old even loves to visit!
I would like to take a moment to recognize Kevin of your 28142 location here in Douglasville Georgia. He is always very professional and willing to go out his way to service your clients. Kevin is AWESOME!!!!!!
Facility if very clean and prices were the lowest I could find. Kevin was awesome. Very friendly and helpful. This is the second time renting space at this location.
I had came into the Public Storage in Douglasville, Ga. and I was in distress when I had met Kevin. I had received a message about my unit that had given me the blues. I had explain my dilemma to Kevin and he was more concerned with putting a smile on face. He was very patient and kind. He had helped me with me problem with ease. Before I had left this property, he was smiling too because my frown had turned into smiling laugh. Customer service includes a little kindness....that really makes a difference. Thanks Kevin, you're the best!!!!!!! You had really made my day! :D
I gave one star for the courtesy stars. Called them back to let them know I would be there (with my things) by 130p to rent a unit.. When me and my family arrived at 130p and proceeded to head in the store the rep was sitting in her car in the front of the store, rolled her window down and said she was going to lunch and would return in 30 minutes......???? I guess we were supposed to wait. Time is money and I assumed she would have known we were paying for that truck by the hour so they lost or sale.. If we shoulda waited 30mins then by all means this is the place for you but there is a uhaul storage place right around the corner with excellent service and outstanding prices GO THERE!!!