Public Storage Self-Storage Units at 3313 Highway 5, Suite F, Douglasville, GA
Address
3313 Highway 5, Suite F Douglasville, GA 30135
Rent and pay for your space online – today.

Move in during gate access hours.
Onsite Manager Hours
Mon-Fri 9:30 AM - 5:00 PM
Sat-Sun 9:30 AM - 5:00 PM
Move-In & Access Hours
Mon-Sun 6:00 AM - 9:00 PM
Storage Facility Features
Boat Storage

Car Storage

Outdoor Storage Units

Property Manager Lives On-site

RV Storage

Small, Medium & Large Storage Units
Onsite Manager Hours
Mon-Fri 9:30 AM - 5:00 PM
Sat-Sun 9:30 AM - 5:00 PM
Move-In & Access Hours
Mon-Sun 6:00 AM - 9:00 PM
Storage Facility Features
Boat Storage

Car Storage

Outdoor Storage Units

Property Manager Lives On-site

RV Storage

Small, Medium & Large Storage Units
Close Location Details
View Location Details
---

5'x5'

Climate Controlled

Inside unit

1st Floor

Outside unit

Drive-up access

Climate Controlled

Inside unit

1st Floor

---

5'x15'

Outside unit

Drive-up access

---

10'x10'

Outside unit

Drive-up access

---

10'x20'

Outside unit

Drive-up access
Nearby Self-Storage Locations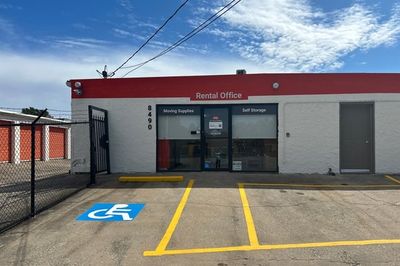 Self Storage Near
8490 Duralee Lane
Douglasville GA 30134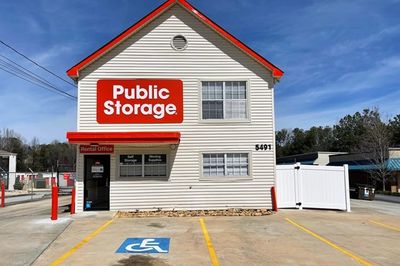 Self Storage Near
5491 Westmoreland Plaza
Douglasville GA 30134
Resources from the Help Center
See what fits in different storage unit sizes
Douglasville Storage Units On State Highway 5
It's easy to spot this Douglasville Public Storage, which is loaded with cheap self storage options on the west side of Georgia Highway 5, one mile south of Interstate 20.
From the batting cages to the tennis courts or the softball fields, keeping the family's sports gear all organized in a 5x10 storage unit for trips to Hunter Park is a smart storage solution for a busy family on the go.
A 10x10 storage unit is big enough to help clear out a messy garage in a home near Yeager Middle School by storing crates of tools, old clothes, bikes and scooters so there's more room to park a vehicle where it belongs.
Local shops, restaurants and businesses along the Douglas Boulevard Corridor can use a 10x25 storage unit to pack up old office furniture and surplus inventory or just as somewhere to keep a bunch of boxes nearby.
The manager of this location lives on site and the facility also offers boat storage, RV storage, car storage and truck storage options.
Douglasville hasn't just attracted new residents and companies over the years, it's also caught the eye of Hollywood. Recent productions that have filmed in Douglasville include Netflix's "Stranger Things" and the "Hunger Games" movie franchise.
Public Storage is proud to be a part of the wonderful Douglasville community.
At Public Storage, You'll Always Find...
Keypad Access

Friendly Staff

Month-to-Month Rent

Moving Supplies Available

Free Parking

Well-Lit Facilities
Reviews
( 306)
Ms. Beverley is WONDERFUL, I really like working with her she helped me out a whole lot.
I had a WONDERFUL experience at the Public Storage on Hwy 5. Beverly was so sweet, personable, helpful, and knew her job very well. I was very impressed! I honestly was sad at that location the size I needed was not available, but I HIGHLY recommend to try this spot and let Ms.Beverly help you!
What an amazing customer service experience. Beverly is a gem. I had a minor maintenance issue with my unit and Beverly was able to solve the problem within seconds. You rarely see customer service like that now a days. Thank You Beverly for being top notch.
After my mother died we storied some of her big things in the storage unit. When I went to get it out rats had eaten it up and they tried to offer me $250 for her things. I couldn't even replace a table with that. Just horrible
Very proffessional service
Beverly at the front desk was kind and professional. Took me to check out a unit. Very clean. Went over all the details and when I encountered a snafu while trying to sign up online, she quickly finished the process with me. Top notch. The owner could freshen up the office.
No free anything here , ad said one thing when you get to office rude old woman say another. Fake ads
Bev is fantastic and I'm so thankful for her help! Great facility and prices are much more reasonable.
Knowledgeable staff and very clean property. Great prices
Very nice and clean property. The manager, Beverly, was exceptionally nice and helpful.
Thank you to Beverly for providing an informative, easy and light hearted experience at the 3313 Hwy 5 location. This is the 2nd time I've been at this public storage location and the staff is always nice and helpful.
Clean, safe and secure facility. The staff are pleasant, professional and VERY helpful. Pricing is more than fair for the area. Highly recommended!
Bev was so awesome and very very helpful. Clean facility. Excellent customer service. Again, BEV WAS WONDERFUL
Easy rental process and clean units. Thank you Bev for showing us the space sizes and making our move easier!
Very understanding and willing to help customers
Great Service today. Keiara got everything done that I asked for and I love the new unit just what I wanted.
I went to rent a storage space on higway 5 in Douglasville and i met Ms. Beverly. She was awesome and helped me find the storage size that would be perfect for my needs. She walked me through the process and made sure that i had all the information i needed before i left the facility.
Bev was great! Very professional, answered all my questions and explained everything thoroughly. Check them out first before you go anywhere else
I've been a customer for a year now. Came in today to transfer to a larger space and Beverly was working. She is always smiling and willing to go the extra mile for her customers! Thank you for everything!
Visited the property today with a friend. Honestly one of the cleanest outside storage facilities I've been to and the inside ones up front still look brand new (not sure how long they've been open, I know it's been a while). Miss Beverly in the office was really sweet and very knowledgeable.
Bev was amazing a down to earth person with a heart and a amazing personality.
Ok, but after 6 month they went up on rent by $70. $262.montj. I'm not happy..
Overall experience, was outstanding! I needed additional space at the last minute. In addition, to the unit I already rented on Sunday. Mrs. Beverly went above and beyond to accomodate me. Beyond the scope of customer service that one often finds in todays society. Kudos Mrs. Beverly!! Public Storage give this woman a Raise, Bonus, Something!!! She's One in a Million!!
Mrs Bev is amazing and wonderful to work with. Well recommended
Great customer service quick and easy a lady by the name of Jam helped me find my storage thanks so much 💪🏾
Jam was great to me. She was just all around awesome && she needs a raise lol. Her customer service was beyond exceptional 💜
Convenient location, well-kept property, and Beverly is a treasure! She is quick to assist, knows what she's doing, and explains everything so this 72-year-old lady can understand!
Miss Beverly is absolutely wonderful. Public Storage is very lucky to have her. Very professional, courteous , and treats customers with respect. She is a great asset. Always willing to help even with the smallest things. Don't lose her!!!
Had a very good experience today with Beverly. She is a very sweet lady. She done an amazing job going over and beyond for me today. Thank you so much for your kindness and help Beverly. Most definitely a 5 star.
Heather gave us excellent and friendly customer service!! 5 stars! Praise God for Heather today she made things easy :)
Excellent customer service Heather provided!! Thank you Heather !!
Heather gave us outstanding service! Best customer service i have seen in a realky long time!!
Heather was attentive,patient and she really listened to my needs!! 100 stars for customer service at the highway 5 location :)
5 stars for this location! Heather was so nice,helpful and knowledgable
Chloe was extremely helpful and efficient! She knew exactly how to handle my problem and got me in and out of the office without a delay.
Heather and Beverly have been so amazing throughout our moving process!
Heather was very nice and so super sweet! She showed me everything i needed to see gave me all the info I needed. So professional and helpful !!!!
Great experience. Heather was was very helpful to me when finding a affordable storage unit.
Heather was great family atmosphere and helped me through the whole process!!
We had such a wonderful experience when we got there. Heather was so helpful, pleasant and professional. My husband spoke with Beverly she was the same. It's a pleasure to patronize a company that seems to value their customers.
Heather very professional beautiful person position attitude
Ms. Beverly is very sweet and helped me and my wife. Great personality and always wears a smile.
Beverly was very helpful and a wonderful person. She went above and beyond her job. Made us feel very welcome. Thank you from Stevie Bailey and Tina Collins
Beverly was professional and courteous. She went above and beyond to take care of my concerns. A pleasure to work with!
Mrs. Bev at property 28143 provided excellent support service, and it be graciously appreciated....
Ms.Beverly, is the greatest! Very polite and attentive. I've used them several ti.es and each time she has taken really good care of me. I will always come back to her if and when I need to.
Thankful that I chose Public Storage for our storage needs. We are new to Georgia and our college son just moved home. I had reserved a 5x10 unit in hopes that would hold his apartment furniture. I pulled up with a 20' Uhaul truck and went inside. There I met Beverly at the front desk. She immediately stopped what she was doing and greeted me. I let her know I had reservations and when she pulled them up she asked if the truck was full. After realizing that our belongings would not fit in the unit we had reserved, she was able to put me in a larger unit same day. In speaking with Beverly, I learned that she has been there for a few decades! That speaks volumes not just about her, but also about Public Storage and how well they treat her. She truly is the face of the company and I'm honored to have met a new Douglasville friend.
UPDATE…..May I add after I was robbed blind. Please never let your insurance laps
If I could add 10 stars I would!!! This is the "go to place" for your storage needs! Beverly has excellent customer service and overall positive energy! She was informative and able to help us greatly with what we were looking for at the last minute! Highly recommend this location!!
Beverly has great customer service, very knowledgable and great energy. She was able to point me in the direction to help my needs. She made my morning a lot better than it was.
I came to Beverly a couple of years ago in need of a place to store furniture and ever since she has always been so helpful, kind and accommodating. This is the best storage facility in Douglasville and people like Beverly elevate the experience ten fold! Huge thanks to her and this place!
Beverly was the nicest & most helpful person. & the gentleman that was there was great too so sweet. I love this public storage
Beverly was amazing, She was customer friendly, knowledgeable about what I wanted to know and efficient with time. My experience was professional and very courteous. Thank you Beverly for your help today.
Great customer service at this location
Beverly was very nice and helpful. She made a reservation and confirm with me for a different location because she had no unit available. When I arrived at that unit, I was not able to get in. She drove to that location and actually took care of it for me because that location was already closed. She definitely went above and beyond!! Thanks so much Beverly!!
BEWARE BEWARE BEWARE!!! I WENT BACK TO MY PAID FOR AC UNIT TO MY SURPISE NO AC!! JUST SMELLS LIKE HUMIDITY AND MILDEW..THIS IS MY 2ND TIME VISITNG IN LESS THAN 30 DAYS AND THE 2ND TIME WITH NO AIR. MY UNIT HAS MOLD EVERYWHERE AND ALL OVER MY ITEMS, NO ONE IS ANSWERING MY CALLS NOR INFORMED ME OF NO AIR BUT CONTINUES TO CHARGE ME EVERY MONTH. YES I WILL BE TAKING FURTHER ACTION AGAINST THIS. IF I WERE YOU TAKE ALL OF YOUR BELONGING S OUT IMMEDIATELY!!
I have used Uhaul and WEST METRO storage before when moving, but This time I decided to go with public storage In DouglasVille GA. the staff are Very nice, The Parking lot is clean, The Unit itself was Clean, no bugs. Spacious I got a 5x5. The Price was just right also. I would Highly Reccomend.
Very nice and helpful people Thanks Beverly and Allen ( I think that was the name of the man that assisted Beverly).
I would recommend this place over any other storage facility in Douglasville. Beverly is so nice and friendly as well as her co-worker. I found out he was a veteran, as well as myself and we just talked the entire time i was there. He even gave me a couple of his rare healing stones. Really nice guy.
We came in on a spur of the moment looking for a storage unit. We got one of the last 2 they had. Beverly was wonderful to work with! She took us to see both units available, gave us thorough information & made the process smooth & quick. We were done in less than 30 minutes start to finish. Thank you Beverly for your exceptional customer service!
Ms Beverly was such a amazing woman. I went in on Sunday to rent a storage unit and I wasn't really having a good day Learn bad news that day. She made me smile and for that short moment I had forgotten all about my problems. She was professional polite ajd caring. She carefully explained everything I needed to know. As this is my first time having to rent a storage unit.
I had a great experience during the time I had with them. The team and management were kind and hard-working. They'll work with you to get you the best deal and situation. They do pest control and they have extra materials that you can get in the front office that can help keep your stuff safe. I highly recommend this storage business.
Thank you for the great customer service that you had provide for us we really appreciate it.
Ms. Beverly was very pleasant and very helpful to my friend Charmaine. It's such a Blessing to have someone who cares and understands and most importantly someone who listens!!! Thanks for having such a business where you are personal as well as professional. Much Success to you and God Bless, Ms. Beverly!!!
Me. Beverly was such a Blessing to me She knew exactly what I needed and explained the process to me. She is such an asset to your company. I'm so grateful for her
Beverly was incredibly nice, and very knowledgeable. Best service I have had in a long time.
Very convenient and climate controlled, easy access to units
Beverly was very helpful and friendly. Process was super quick and easy.
Beverly is terrific! We have rented from her several tines over the years with both the company and our personal needs
The 5 star experience Beverly has amazing customer service.
Upon my arrival, I was greeted by the most wonderful lady,Ms.Beverly,who gave me all the details necessary for a smooth transition to my unit.Ms. Beverly was extremely Professional and curtious. The Storage facility centrally located and has very easy access. Surrounding is very clean. Would give Ms. Beverly and the facility 5 out of 5.Truly great experience.
This was my first time using Public Storage and Bev really help me out. I had an emergency situation and she was nice and resourceful. If you're going to go with anyone, go with this one.
Outstanding service. Ms. Beverly kindly reserved a temperature controlled locker for us. She even got us one with a nice wide door conveniently located near parking. Great facility and great service. Highly recommended :-).
Beverly helped me out and it all went pretty smoothly. There is an additional $15 a month insurance fee and one time $20 for the lock and keys.
I had a wonderful experience today at public storage on highway 5 Miss Beverly was outstanding. The facility was cwas clean. She explained everything detail by detail to me. Courteous and friendly. it's been a long time since I've been to a business and the customer service was as excellent as she was.
Cassie was great! Very smooth and quick service. Thank you
I just moved to Georgia and my experience with Beverly has been Awesome she has been so very helpful to me and and is such an excellent customer service Representative I am very Thankful.
Beverly was awesome. Very personable and courteous. Made the move-in process delightful. Definitely recommend this location. Very clean
The Storage unit I rented was clean, easy to access and reasonably priced. Ms. Beverly's helpfulness was just icing on the cake!
Besides having to pay $20 for their required special lock, the storage unit I rented was clean, easy to access and reasonably priced. Ms. Beverly's helpfulness and honesty about all details was wonderful!
Ms.Beverly was super nice and very helpful. She made sure we got everything that we needed. The unit she showed us was very neat and clean. The whole facility was clean and well kept. I definitely would recommend going to this location for all your storage needs.
Super nice and clean accommodations in an extremely secure facility. Beverly is so hostly. She explained everything carefully and answered my many questions. I'm glad I found this storage facility.
Aaliyah was very welcoming and she was very courteous. She showed me my storage before I purchased it and it was very clean. I feel comfortable storing here and I wanted to pull up a chair and sit down in their climate controlled building. If you need a storage I highly recommend Public Storage at Highway 5.
Clean, great sales rep, great prices, great communication and customer service. I would highly recommend this location.
Professional and friendly service. Clean storage rooms. Beverly is very welcoming and courteous. Explains all the rules and details of he contract throughly. Best Storage Unit Facility in Douglasville. You will not be disappointed.
I couldn't have asked for greater customer service that I got at this location.Beverly is so nice and friendly, also the facility is clean and neat. I do recommend that you give them a try.
The best Public Storage location I have been to! The best rate in town!! I paid $25 for a 5x10 climate controlled! Mrs. Beverly is awesome! So sweet and the best customer service ever! Please stop in a see her ASAP! Wonderful lady! The units are brand spanking new!! Gorgeous property!
I do not recommend. The only thing they have renovated is the locks on the units that you have to pay for . You can't us your own locks. I have tree debris inside my storage from the trees above. They give you a move in special only to raise the price 35 to 40 bucks a couple of months later due to so called inflation in the area. It is a racket. Finally was able to move out this rat and squirrel infested storage. All my belongings were destroyed due to water damage leaking inside and the rat and squirrel poop all over the furniture. Now I'm having to battle with this place claiming I left furniture and they will have to charge me an additional 100 bucks The lady at the front desk is extremely nice and polite but the place is old and infested with rodants
Beverly was extremely pleasant and helpful beyond measure. Best experience that I've ever had at any Public Storage location.
Great all around experience lovely women running the office really helpful and answered all my questions 5 star all the way
Beverly was very friendly and helpful in finding the right storage unit I needed. Highly recommend this location!
I would highly recommend this location, great customer services. Thanks Beverly.
Clean location we had been checking around town. Stop in at this location talk to Ms. Beverly she was AWESOME. They had one unit left she took me to show the property and how to work the gate code. So I decided on a 10x10 reasonable rates. Thank you Ms. Beverly great job.
Beverly was fantastic! She was so easy to deal with and clearly enjoys helping customers. She was ready to help and was very friendly!
Beverly is absolutely amazing and helpful! She will take care of you, and make sure that you have everything you need to make moving a breeze!
Ms. Beverley was such a sweet woman and helped me with getting a nice size storage space for my things. I just enjoyed her initiative with helping me out in such a trying moment. (Douglasville, Ga)
This place needs a check up.. When renting we're not trying to buy the place.. We're just simply wanted to rent it. It goes up every six months Something they should tell you before hand.. Not to mention each time you go to the back where your unit is you're going to pick up something in your car tiers.. OMG that's more money, on top of that you're being made to have insurance on a bunch of Junk, that's just another way to get more money.
Great sales rep, awsome personality, perfect customer service, great prices.
Beverly is very helpful and is quite knowledgeable of whatever questions you might have.
Ms.Beverly was great and helped me with all my moving needs, and had great customer service.
Beverly is always super helpful and keeps the faculty clean. Currently I have items stored at another Public Storage and plan on changing locations because of location and how she keeps the property. She is always pleasant to interact with.
Very nice to deal with ,the young lady was very friendly and helpful.
Ms.Beverly saved me and is an Angel sent. Her service was everything. The unit was clean and the process was quick
The management at this location is excellent! Bev is always joyful and willing to help with any needs you may have. I have rented with them for several months and have been very pleased with the way she takes care of her customers. I definitely recommend this location to anyone who needs additional storage space.
I absolutely love love love Ms Beverly!! She helped me choose the unit that was best for my storage needs and my finances. She answered any and all questions that I had. Ms Beverly is very professional and always greets me with a smile. I recommend this location for all of your storage needs!!
Beverly was great. Kind service and full detail
Beverly was wonderful! I had spoken to her before coming and she was just as sweet as she was over the phone when I arrived! Thank you so much!
I was a little apprehensive about getting a storage unit but because of lifes woes it was necessary. The location is great and the staff is even better. Ms Bev made the process smooth and easy. She took her time to explain all the details to me. Ms Bev even returned to the office to get the supplies I had forgotten on the counter because my toddler was ready very ready for naptime :) Highly recommend!!
She was very nice and helpful.
Bev is very informative & helpful.
How much for a medium size
Bev was so wonderful. So helpful and professional!! It's refreshing to get someone who knows the business they work for. My sister Courtney and I was so stressed with her situation to get moved. Bev made it so easy to get a unit. She even showed us things we may need like a mattress cover. Which she definitely needed since She just bought her new mattress. Were super pleased with the experience here.
Moving is a hard process and especially finding a place to store your stuff in the mean time. I called Public Storage and got connected to Beverly who went above and beyond trying to get me the best deal around town. Her helpfulness and determination made my decision easy and went with Public Storage. Place is clean and easy access and very affordable. So i strongly recommend this place and hope you get the pleasure to work with Beverly.
Great worker that will help you
Ms. Beverly is the most nicest person that I love to deal with her personality and customer service is beyond great. My family and I have been dealing with the company since we've moved and her service is outstanding, so when you go to public storage ask for Beverly to assist you.👍🤗
The guy Workin today was very helpful with the questions I had inquiring about a unit.. I will definitely be renting a until from him soon. Great hiring choice!
Ms.Beverly was very helpful and such a delight to speak to
Needed a storage ASAP and Beverly helped me get one and also helped me save some money. She was amazing and also her personality ROCKS!
Staff was the greatest in helping get set up and going with my experience in using the storage unit.
Great customer service!!! This is my second time working with Beverly she is amazing 😃
Ms. Beverly is so nice , she very fast and to the point which with me is appreciated, I've had a storage twice at her facility and I've never had any issues and they are very understanding people .
Beverly was super friendly and very helpful! Thanks Beverly! 5 Stars! 😊
Beverly was very pleasant to work with & very informative. She knows her job very well and wanted to be sure I was comfortable with my storage size and contract before signing. Its refreshing to have great customer service.
I went to public storage to rent today. I met Beverly. She made renting storage easy. She explained everything, the property was very clean and secure. I will recommend this property to everyone
Miss Beverly was awesome in assisting us and given us all the information we need so we came to a decision on the size of storage that we want.
I went in today to get a storage unit for my car. Beverly made the process quick, easy and painless and a little bit easier on the wallet. She is very personable and was a lovely woman to speak with. I would definitely recommend this facility to anyone based on the customer service alone. There were plenty of units available and I was allowed to pick which unit out of a few that would better suit my needs and space required to move a car out and about the unit.
Jamie made the process so easy and fast. He actually helped me save some money while getting a unit that same day. Very nice and friendly guy, any questions you have he will answer. He's awesome! The whole staff is amazing and I appreciate them and their quick responses and for going above and beyond for me! Amazing experience! Thanks again Jamie!!!
I went in today and met with Beverly who was polite, kind and funny! I was searching for a storage facility for someone else as well but no need to search further. Beverly is AWESOME and the facility is convenient as well!
Beverly provided the best customer service! I would definitely recommend any one I know to this location.
I want to start my review by stating That I am a new customer to public storage and this review will be 100% honest as a new client. Ms Beverly is the most helpful person of all the storage facilities we visited before deciding on public storage. We visited 5 total...She answered all of our questions with honesty and good wit. My concern with storing our belongings while selling both a rental home and our current residence is critters. As a realist I do know there will be possible mice and let's face it..roaches. They freak me out. I sprayed the unit myself from head to toe before we stored some of our things and immediately some came out. Concerning indeed. So I will pack everything as tight as possible and pray for a happy ending here. They do spray outside of containers and have rat trap boxes everywhere so that means they are proactive in the critter department and I find some relief there. I do realize as a normal human being that not everybody is as clean as I am and they're going to bring critters to these units. The facility appears to be very clean, well maintained and Beverly does a sublime job with the property and the customer service end of it and I am a happy camper. Thank you Beverly for all you do.
Will never use this place again and would never recommend this place to anyone, even my worst enemy. Started off with lies about the rates, was one price on the phone and $30 more at the office. Had a larger unit because I had a few big items and they did some "renovations" recently so my large unit had 3 small doors. That would have been ok if I could have used my own locks but they only excepted new "special" locks that you have to buy from them for $20 a piece. Every corner I turned with this place was full of lies. On top of all of that my quoted monthly rate increased by $20 a month. Worst customer service and business practices I have ever experienced. They pretty much extort money from you because they know you need a place to keep your belongings and they take advantage of that fact. Dishonesty doesn't go far with me. DO NOT STORE YOUR BELONGINGS HERE FOR ANY REASON!!!
Great customer service from the property manager, Beverly. Very nice and friendly lady. I would recommend anyone looking for public storage to try this location.
I just signed up for my storage unit. It took a long time to do this because my brother travelled from out of state. Ms. Beverly knew this and waited for us to take care of the paperwork. She made sure no all the information needed was given to my brother and me. Ms Beverly, thank you for your patience and understanding.
I have visited this facility on numerous accounts and I would like to express that this property is always so clean. In addition to the property being clean the staff is always so friendly and inviting. I have encountered two associates on a couple of occasions Jamie and Beverly....they are exceptional nice and Public Storage should be extremely lucky to have such dedicated and customer oriented individuals. I certainly hope that Public Storage will recognize suck valuable employees. When running a business it is important to have employees of this magnitude. I hope they are well compensated for the diligence in providing exceptional customer relations. I have also visited other Public Storage facilities and never received the customer service that I have at the Douglasville, GA. I have to say kudos to Jamie and Beverly as well as whom ever their superior is because they are doing it correctly.
My concern is when I come back to get my belongings , can I get a 26ft truck in there safely
Awful experience all the way around. They quoted me once price and doubled it when I got there. When I expressed my concern, Beverly raised her voice to me. I felt extremely disrespected. If it had not been for my limited time constraints, I would have gone elsewhere.
Ms. Beverly was awesome and has great customer service
Third time I am temporary-storing at this facility: clean grounds, safe for me, secure for my stuff, & best of all the manager Beverly, is professional, helpful and down to earth! Thanks for another no-hassle answer to my moving-crisis question Beverly - you're a rock star!
This is my first time using this company and Ms. Beverly what such an awesome help and her attitude was so up living and she understood how much I had been dealing with due to me moving.
Beverly was helpful and sweet to our 3 year old daughter Malaysia. Excellent customer service. Thanks Beverly!!!
A really great, CLEAN, convenient, storage facility! Really nice office space!
great service from Beverly 👍🏼 Recommend this place and check in with Beverly she helps out a lot 😁
I received the best customer service that I have gotten since I moved here 7 months ago. I was there twice today and both times I left smiling ear to ear.
My property manager Beverly was the best. She got us in and out was super polite!!! Great experience
I really appreciate Beverly for patiently assisting with my billing questions & rental space on a very rainy day. A Great Customer 1st experience. Thank you Ms Beverly 🥇
Wow wow wow the customer service here is exceptional
Went in to buy boxes even though they were a bit out of my budget, Ms.Bev made me feel amazing. Thanks public storage for putting quality people in place to make the moving experience smooth.
Beverly was very genuine and professional.
Great service and very helpful. Jamie and Beverly are very easy to work with.
Ms. Beverly very nice and has a very excellent personality an just a awesome property manager overall.
Beverly has been great to store my stuff with! Great facility to do business with!
Great service from a great lady. Ms. Bev was helpful, informative, and funny too.
I had the pleasure of meeting Beverly. She gave me A1 service. Thank you Beverly for providing great service
Great friendly staff and clean facility. Thanks Beverly!
Beverly gives excellent customer service. Highly recommend this facility!
Wow! Beverly is all that the others said she is... What a very pleasant treat to meet her. She didn't have a space for me but she found a location nearby that could. THANK you so much. Please go see her.
This wasn't just a place to store my stuff, and i was treated as such. I can't remember her name, but the older lady in the front office REALLY saved me. I would definitely rent from here again!
Best customer service from Ms. Beverly. Had an issue with door dealt with issue immediately. Was patience and offered all service available with a smile. Great employee.
Beverly is super nice and made sure that we had the best deal available.
I came to get my reserved storage unit today and was greeted with all smiles by Ms. Beverly. She showed us a unit that fits our needs. We came back to the office and completed the transaction. She answered all our questions.... It was a pleasure to do business here. Will definitely use in the feature!!
Beverly was great!!! Solved all my problems.
Was doing some work in the area, and property manager was very helpful!
Beverly was absolutely wonderful and super helpful
How do you get in after business hours?
I definitely recommend going to this location the customer service is always great today I was assisted buy a young lady Crystal who help me take care of paying my monthly bill with a smile on her face the whole time when I walked in the door she greeted me and when I left she told me to have a great day with the smile on her face now that's what I call Great customer service thanks!! ; )
Beverly is super sweet and fast great service!!!! Awesome personality 😊
Me and my husband went to obtain a small unit, and Ms.Beverly made the experience fast, as well as easy with a family welcoming spirit about her. I can't say how much they work with you, but they have an Awesome employee in Beverly.
I was helped by this nice lady Miss Beverly very pleasant very kind very professional the price was right and a customer service was excellent. I would recommend going to that site but that's storage unit over anyone in the state of Georgia because I stored your lot of stored in my time of life and while storing it always seem like just business but once I came to this location I felt at home so thank you Miss Beverly for making me feel welcome have a good.
Beverly the manager is a gem of a person. She waited for me to get there after her closing time.
I received GREAT Customer Service from Beverly, she was AWESOME. I will recommend this facility location to everyone....
Great location. The facility as well as the storage areas are clean and well maintained. Beverly was so nice and helpful!
Beverly made my day. Had to move some of my mother's furniture to storage after her passing. Beverly was a delight. Place was very nice. A+ in all areas.
Beverly was fantastic and helped us get exactly what we needed! Staff was friendly, and the building was safe and secure. Not only that but the prices are great!
Beverly was very helpful in assisting me with getting the right storage space. She was also quite funny. I would recommend this facility.
Beverly is the best. She is very friendly. Sign up was a breeze. Probably because of the good conversation.
Miss Beverley gave me Superb Customer Service
Beverly was amazing! We talked about our families in the military, since my husband recently deployed. Absolute sweetheart! Loved working with her, and my storage unit was exactly what I was looking for. Easy access to get in and out, definitely would recommend.
Brittany helped us out to get signed up for a storage unit and she was very personable and friendly. She also helped us transfer to a different storage unit. However the day we were coming back and to sign the new lease we spoke with a lady named Tina. We informed Tina that our movers were running late to pick up our furniture and she agreed that she would wait on us about 15 minutes after closing to get there so that we can sign our new lease to the new storage that we transferred into. We arrived 15 minutes after and Tina was nowhere to be found. She left without giving us a courtesy call in all of our furniture was about to be left sitting outside overnight once our movers arrived. My husband and I was beyond pissed off. We just so happen to see Britney they're getting some things out of her own storage and by the grace of God she was there and was able to go back into the bldg after hours and transfer us back over to the unit! Britney was extremely helpful to us and very sympathetic towards our situation! She even follow through with us the next day to let us know that she got in contact with her GM and got all of our paperwork straightened out once Tina left us high and dry! Thank you so much Britney for all of your hard work in helping us out you were very amazing and we honestly think you deserve a promotion !
Because I always get a 1 service from Beverly. I nice rates.
My moms had her stuff here for years. No issues. Good location. Great customer service.
She was very helpful in assisting me in getting a storage unit today ! I definitely reccomend this as a great place to store your stuff !
I came into the office and Ms. Beverly was so friendly and helpful and she kept a smile on her face the whole time of me renting a unit. Thanks public storage/ Ms. Beverly
Beverly was a huge help with renting my unit.
Customer service is wonderful.Would recommend it
Great storage facility. Ms. Beverly is so sweet and helpful! The whole place is very clean and organized. Staff is great and their customer service deserves a A++. I'm very satisfied and happy I chose this specific location to use. I'd recommend it to anyone!
Very friendly staff. So helpful and nice!!!
Ms. Beverly helped us get the best deal on our 10x20 storage unit and had excellent customer service. We look forward to storing at this location.
Servica Ms Beverly you are one amazinh woman. Loved my experience here. Hreat and friendly serviceGreat
Ms Beverly is so friendly and polite. She's been with the company for years. She's very knowledgeable and helpful.
Clean property love the customer service
Beverly has awesome customer service skills. I was totally frustrated that it seem the company nickel-dimed you death with admin fees, required insurance and required to purchase of their lock....I know she had no control of that and should be recognized as an asset to your company! I have rented several units at different locations and Beverly is the best customer service representative of all of them!
The property was very clean. Ms Beverly has awesome customer service. I would refer anyone to this location. Thanks for all your help
Miss beverly was very nice and helpful
This place is Amazing!!! Ms Beverly is Amazing. She looks out for the customers.
I received the best care from Beverly. She was friendly and made my experience very enjoyable. I would recommend public storage to anyone.
Great location for us and friendly staff. Recommended here and glad we did.
Beverly is the best person I ve ever came across in years she's help alot
Ms. Beverly was soooo nice. I love her personality and she has a good sense of humor!!! Great customer service!!
I am helping a friend with a move. He needed a quick storage option and said this facility was neat, clean, orderly and friendly. It gave him (and me) peace of mind to know that he was getting a great space at a great rate just when he needed it. He told me that Ms. Beverly took great care of him!
I've had some pretty awkward experiences with storage places. However, the experience I had with public storage was definitely the best. Miss. Beverly was very kind, courteous and extremely helpful in helping me decide which storage unit would best suite my needs. I will highly recommend this unit to anyone that needs to get one.
I love ms. Beverly she is an amazing woman thats always there when you need a helping hand..
Miss Beverly is the Best very professional and knowledgeable about her facility! She has a great personality and makes people feel special.
Avia did a great job going over the rental process. She was very knowledgeable regarding all my questions. Great job!
Excellent service from Ms. Beverly and Ms. Avia they were very helpful with a pleasant attitude. Really enjoyed them both.
Great service and friendly staff. Clean facility.
Avia was great very friendly and helpful!!!!😀👍👍
Avia give me great customers service. She was very pleasant and had great knowledge on the property.
Avia is very helpful Great Customer service
Avia gave me the best assistance and was very helpful I would recommend her to other
Clean and accessible. The staff is extremely friendly. I've recommended all my friends and family to use public storage. Thank you Avia
Beverly the manager was a great help and a very kind person. She went above and beyond to help in any way possible
I had the pleasure of meeting Miss Beverly yesterday, who gave me an exemplary service by giving me a tour around Public Storage, assuring me that my belongings would be safe and secured. She was also direct and upfront about all fees, and made sure I did not miss any crucial detail of the agreement. It is a nice location, easily accessible, and am confident that Miss Beverly will take good care of my possessions.
Ms. Beverly and her staff is awesome! Clean facility, prompt service, awesome experience.
Beverly is the best. She is my hero. Very helpful and a wonderful experience. Would recommend everybody and there momma to choose this place
Miss beverly was awesome!!!! She helped me and my boyfriend Alvin so fast and was so nice!!! I will surely recommend this storage facility
Avia good customer service
Ms Beverly is a wonderful property manager at Public Storage. She is friendly and knowledgeable about the units.
Avia was excellent in providing service to me. She is very knowledgeable of her work and showed respect.
Avia give me great customer service
Beverly is amazing she is really good at what she does love this location she is awesome
Avia give me great customer service. She was very knowledge on the merchandise and storage.
Great customer service at this location. I am very pleased with the way Ms. Beverly take care of business. Will recommend to family and friends.
Ms. Beverly is very professional and have a great personality. The property is always clean .
Ms. Beverly is the sweetest lady. She ALWAYS provide WONDERFUL customer service EVERY TIME I come to pay my bill. I think that there should be more people like her.
Avia was very helpful in this my first moving experience, she made the transition easy.
Avia gave me five-star customer service
Had a wonderful experience today at public storage. The representative, Avia, was absolutely wonderful. Will definitely recommend her and this location to others!!!!!
Ms. Beverly is a diamond in the ruff. Wish there were more like her. Thank you for a refreshing experience in customer service.
A via had great customers service
Avia was a wonderful help to us...Very friendly and a pleasure to do business with.
When I came in Avia was very professional and helpful. Great customer service.
Rented a unit there last weekend, the service was great, everything was explained to us very well and we are looking forward to doing business with this facility.
I loved the promotion that they had going and was helped by Beverly. She made it quick and easy. So far I'm very happy with the service and location.
Great!! Ms. Beverly was a great help to me!! She made sure I was getting the best unit for me at a price I could afford!!
Jasmine ' s service was excellent. She l waited for me after I told her I would be there close to closing time. Thanks Jasmine for your kindness.
Beverly is awesome. Best customer service I've received this year!!
Beverly walked me through this process and made everything so easy!
EXCELLENT CUSTOMER SERVICE PROVIDED BY BEVERLY DID NOT RENT BUT I LOVED THE SERVICE SHE PROVIDED. THANK YOU BEVERLY
Very friendly and professional seevicr
Great experience would highly recommend this facility to everyone. Customer service from Ms. Beverly was above and beyond my expectations.
Excellent service and friendly manager in Miss Beverly
I have rented from this facility for a long time. They are so pleasant, very nice to work with. Beverly is the best!!
Came in the store and was greeted right way by Jasmine she was really helpful. . I just came in to see how much they were.... I am going to come back when I am ready
Beverly and the Hwy 5 Public Storage staff are extremely helpful. Our experience with them has been superb! I would recommend them to anyone looking for a storage facility. Brighter Image, Inc.
Great experience and very helpful me and my wife
I am so pleased with this Public Storage in Douglasville. Ms. Beverly is always a true pleasure to work with and be around.
Beverly was a great help!!
I have rented from public storage several times in several different cities. This is the first time it has been a pleasant experience. Public storage needs more managers like Beverly. Her knowledge of the storage experience and her customer service are exceptional
I was on a tight schedule when I made an appointment to get a unit. Miss Beverly was extremely helpful when I arrived and even showed me a unit that would be better than the one I originally picked out. If you ever need anything she's always helpful and willing to accommodate you. I really appreciate everything she's done for us!
This storage unit has great property manager Miss Beverly, who cares about the people. We always get great service and her attitude is warm & friendly. I have recommended this property to others.
Miss beverly harris comadate every thing i want n been here for 2 yrs now she been very loyal n comadate every thing i need she is very friendly n profissional on the job is she doing we need more like her on the job
This is the best Public Storage in the world. The manager, Beverly is always kind and friendly. With a smile on her face. Willing to answer any questions I may have or to lend a helping hand. It has made me really like Public Storage!
Excellent service.... Very helpful with answering questions..... Thank you jewel
Did a great job satisfaction
Visit Mrs Beverly @ public storage on hwy 5 in Douglasville, GA. She was professional, courteous & extremely helpful finding me what I needed. I am very pleased with her service. Danielle
Public Storage in Douglasville, GA is a nice property and very conveniently located. The site manager is very nice and very professional. She was eager to help me and made my initial visit to her property a successful visit and had me signed up for a storage unit very quickly. I highly recommend this location.
The young lady(Lorraine) was very helpful and informative about the whole storage process. Actually when I first stopped by they didn't have what I needed. Within a few hours to my surprise I received a phone call, she was calling me to let me know what I needed was now available. She went above and beyond her job duties. Thank you Lorraine!