Public Storage Self-Storage Units at 18191 E Meadow Rd, Tampa, FL
Address
18191 E Meadow Rd Tampa, FL 33647
Office Hours
Mon-Fri 9:30 AM - 6:00 PM
Sat-Sun 9:30 AM - 5:00 PM
Gate Access Hours
Mon-Sun 6:00 AM - 9:00 PM
Storage Facility Features
Boat Storage

Car Storage

Climate Control Storage

Indoor & Outdoor Storage Units

RV Storage

Small, Medium & Large Storage Units
Office Hours
Mon-Fri 9:30 AM - 6:00 PM
Sat-Sun 9:30 AM - 5:00 PM
Gate Access Hours
Mon-Sun 6:00 AM - 9:00 PM
Storage Facility Features
Boat Storage

Car Storage

Climate Control Storage

Indoor & Outdoor Storage Units

RV Storage

Small, Medium & Large Storage Units
Close Location Details
View Location Details
Outside unit

Drive-up access
Nearby Self-Storage Locations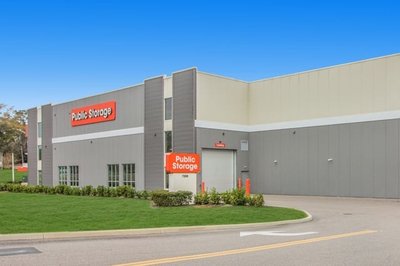 Self Storage Near
7308 E Fowler Ave
Temple Terrace FL 33617
Resources from the Help Center
See what fits in different storage unit sizes
New Tampa Storage Units Near Morris Bridge Rd.
New Tampa Public Storage has a large selection of self storage rentals, with different sizes to help tackle just about any storage need.
Right at the intersection of Cross Creek Boulevard and Morris Bridge Road, indoor storage units and outdoor storage units present multiple choices for customers, as well as the option of climate controlled storage units.
Families looking to remove the clutter from a garage in a home near Heritage Elementary School can use a 5x10 storage unit to store boxes, bikes and tools with extra room to spare.
Packing for frequent daytrips to Hillsborough River State Park can be stress-free when storing canoes, kayaks and fishing gear in a 10x15 storage unit at this property, or bikes, helmets and backpacks for riding the trails at Flatwoods Wilderness Park.
Residents in nearby Pebble Creek can breathe easy during a home remodel when using a 10x30 storage unit to fit the entire contents of a five-bedroom home all in one place.
For folks who love hitting the road or hitting the water, this property also offers great options for RV storage and boat storage on site, as well as car storage or truck storage.
Individual storage lockers are a great rental option for anyone who needs somewhere to store just a few smaller items.
Having experienced rapid growth in recent years, there's no sign of slowing down in New Tampa as more and more folks look for a bit more space out of the crowded Tampa area. As the city continues to grow, this Public Storage on Meadow Road will be here with cheap storage solutions 7 days a week.
At Public Storage, You'll Always Find...
Keypad Access

Friendly Staff

Month-to-Month Rent

Moving Supplies Available

Free Parking

Well-Lit Facilities
Reviews
( 343)
Rich was very helpful and will recommend
Excellent customer service!
Hours says it is open. No one is here and can't get help with renting. Uncalled for.
Rich was great! Excellent customer service, very friendly, clean and safe environment.
Great storage. It has a large space and the price is amazing. It was easy to go in the app and rent the storage. I was able to move and get the keys ON THE SAME DAY. Without going through any other human. Incredible!
Rich was amazing. Super helpful and funny.
Great place to rent from!! Rich is very friendly and knowledgeable. Definitely deserves a 5 star rating for a 5 star service. Will rent from here again.
Wish I could rate higher than 5 stars. Rich made my experience so easy with his friendly demeanor and knowledge. Would definitely rent a unit again.
GE New Tampians, I hope all is well! I want to send a professional shout for Nyssa, Customer Service Representative, Public Storage. Although I am not pleased with the unlisted work hours for the facility, Nyssa reported to work and provided excellent customer service and assistance with my need for a larger space. Nyssa was quite rehearsed in her position and displayed a genuine concern for my circumstance. Two thumbs up! Keep up the good work.
Rich was incredibly nice and very thorough. He made the process easy and am happy he's there to help if any issues!
Wish I could rate higher than 5 stars. Rich made the experience so easy with his friendly demeanor. Would definitely rent a unit again.
I went here a few days ago to open a unit. Rich was very welcoming, patient, friendly, and knowledgeable. He answered all of my word ruins and was very clear on all the information I needed to know regarding the unit.
My experience with the public storage was easy and quick Rich was very knowledgeable and helpful customer service was impeccable he's the best
Rich was very efficient, helpful and friendly. Thanks for a great experience Rich!
I was helped by the manager Rich. He was very helpful and useful, I'd recommend this storage facility to anyone who needs one
I am very happy with my stay here. Sad departure but wonderful experience.
Great experience here! Bibi really helped me out and answered all my questions!! Definitely recommend storing here.
It was great to see a smiling face! Bibi answered all of my questions regarding my account. She was knowledgeable and patient with me. I definitely recommend anyone in the area looking for storage to come here.
Excelente atención al cliente. Gracias Silvina.
Great customer service very polite and helpful
The best woman i know works there
Cross creek public storage is the best one I think with good service and knowledge this place is great, especially Ms Jazmin Soto, truly a pleasure ma'am:
The one girl jazmin Soto was such a help, she is one of a kind and I hope she stays working for this company forever!!!! GO public storage!!!!
Nyssa had help me a great storage unit to fit what I needed
Nyssa was very helpful with giving me information and directions
Staff is very helpful and nice
Jasmine and Silvi were very helpful and informative. Thanks to both of them
Excelente servicio de esta locación empezando por el servicio de las personas que atienden
My experience a public storage was awesome I have no complaints
There's a space for a box truck of 30'?
Ashli she was very helpful and took us to look at the dtorage unit that we wanted and was very patient
Ashli help me download the app and was very helpful
Ashli was amazing and was super helpful. The storage is super clean.
Ashli helped me get a unit. Very nice to be able to talk to someone in person at the store. Units are in a good location.
Ashli was amazing with helping me with the gate access and getting settled in;!
Ashli is amazing, she help me download the app and is a fantastic lady!
Ashli... AWESOME GIRL.. I was elated to find a storage within my budget of $100.00, to find out that it would be more monthly. Am going thru health issues and am depleted financially. Please, honor the $96.00 dollars monthly I was told I would pay. Thank u..
Ashley was AWESOME! I feel very comfortable storing my items here! Thank you!
Ashli helped me with my rental and she was quick and thorough. Highly recommended.
Easy Access and very scentric location. Very good facility and Ashli was really nice and helpful. They do have dolly's for easier unloading of trucks.
Ashli was a big help today! She showed us around and the property was in great shape.
Great service! Clean facilities. Ashli was great.
Ashli was very helpful and kind. Would definitely use Public Storage again.
Ashli was super helpful, and the facilities are very clean. I highly recommend this place
Ashli. Was so sweet and helpful to me when I came in. My smartphone skills are not the greatest and she was patient and helped me through all the steps. We need more people like her👍
Over all experience with Ashley was awesome.
Ashli was very helpful with new account set up and making sure the gate works when you first start up with this place. Very nice service.
We had a great exeperience with this company, especially Ashli in the office offered great customer service. We would use again for any of our moving/storage needs.
Came in today and ASHLI was very helpful with my payment and the gate code. Very fast, clean and friendly.
Ashli was amazing at setting up my digital account for my unit.
Ashli was fantastic to work with! So very helpful! We found a unit right away and she helped us navigate all the technology with ease. Thank you Ashli!!
Ashly she helped me and took care of my units needs greatly.
Sylvie was so nice and very helpful highly recommend this storage
Silvia was great and the transition of our move!
Ashli was very helpful and satisfied my needs to expectation. Very satisfied.
The facility is always impeccably clean! Ashli is the best! She is helpful and very knowledgeable. I highly recommend Public Storage.
Silvi was excellent. Outstanding service, guidance and convenience options suggested.
Ashli did an outstanding job! The business office was clean and my unit was also clean and ready for use..
Ashli the property manager was fantastic and very helpful. The facility is always clean and very well maintained.
Ashli was nice and helpful and it was a fast process
Muchas gracias a Silvina por esa atención tan delicada que me ha dado muchas gracias por el buen trato y por ser tan paciente conmigo muchas gracias por toda la atención por ser tan amable y por ofrecerme toda la información necesaria para poder rentar un espacio le felicito y recomiendo a todo el que quiera que venga a este sitio y hable con Silvina que ella lo va a ayudar como usted se merece
I had a storage unit here for over a year, I never got my refund but it was safe
Felicia is very nice and helpful
If I were able to give Ashli, The Property Manager, 10⭐️'s, I would without hesitation😇❣️ Ashli is knowledgeable, professional, & genuinely caring. She went above and beyond to make sure we got exactly what we needed. Ashli is the reason I chose to rent an additional unit in this location. She has definitely earned my trust🙏🏽❣️ THANK YOU ASHLI🥰 L🧡
Ashli was ver friendly and knowledgeable. I was actually just checking to see prices but she was so nice I just decided to stop looking and use Public storage!
Megan was awesome! Megan did a great job explaining everything and was fast! Thank you!!!
We was well taken care of Megan explained everything really professional every thing was good
Ashli helped me with getting a cheaper rate on line.
Not happy at all, there were no carts on the premises at all and I have a bad leg and had to leave my cane in order to get what i needed and it took a few trips.
Ashli was very professional and efficient Would highly recommend her services
Megan, Thank you for making my move smooth and painless. 5 star service
Megan has always kept the property nice and clean, and she's very professional and always ready to answer questions. Thank you Megan for your assistance. We appreciate you.
Always very clean and the employees are always friendly and helpful
Great service Megan and stuff are always so delightful. Made our storage use easy. Place is kept clean and neat which is great too.
Great storage facility. Extremely clean!
Thank you Megan for the great customer experience.
Excellent service and very helpful with selecting appropriate size! Thanks Megan!!
Been here over 10 years. Rarely had any hiccup. When we do they always work diligently to resolve. Excellent facility. Megan is the best!
Great service from Ashli, I would definitely recommended friends and family to this store
Megan was very helpful and courteous while assisting me with my storage needs. She was well aware of business policies and procedures. It was a smooth transaction!
Customer service was very helpful and patient that make you feel that they really want your business.
Megan was very helpful and knowledgeable. She's a friendly person who answered all my questions and took the time to find me a unit that fit my needs. I'm glad to have someone in the office who cares.Megan continues to give excellent service!
Megan was great Made everything quick and easy and review everything she had to in a very friendly way. Thank you!
Megan is awesome!!! She is friendly, polite and very efficient. Highly recommend this location
Great service and very kind staff.
Megan was extremely helpful and helping me through my billing issues… Very professional and willing to help to the nth degree… Got all the approvals from the management… She's employee worth having
Great experience...Thank you Megan!
I walked in about 20 minutes before closing and Megan was more than happy to help. She never rushed me through the process. She explained everything thoroughly and even toured me around the property showing me my new unit. She was the epitome of professional and extremely kind. Moving can be such a hassle but she really made this part of my process easy and painless. Megan thank you so much for your help I'm so happy that this Public Storage was closest to me and I'm able to have great service and an exceptional facility. Highly recommend to anyone looking for storage to go here. Thank you again!!!! (wish I could give more stars, you guys deserve it)
This storage facility was very flexible with our needs and upon check in, Megan was very helpful! Prices are fair and their carts are very nice to have on property.
I have been with Public Storage for many years, Every since Megan has been there, she has help tremendously. Everytime I ask for her help she goes over and beyond to help me and I greatly appreciate her. She always is professional and positive. Never seen her mad or upset and I request alot. The company should really recognize their awesome employees!!!!!!
Megan has been the best help ever since we moved our stuff into the storage unit. They have great selections of storage units and care about military personnel. It's a really good storage facility.
Megan has always been attentive and friendly. She's a pleasure to deal with.
Public Storage is a nice facility. Megan is the main person who runs this location and she is fantastic. She works so hard shes constantly cleaning the property. She is a pleasure to work with she is very understanding and trys really hard to make her customers happy. She has really went above and beyond for me and I thank her for the effort she always puts in for me.
Megan was absolutely wonderful! She helped so quickly and smoothly get everything setup. Very friendly! And a very clean location
Great location; clean facility; very well lit; thoroughly inspected; experienced staff. Megan was extremely helpful and knowledgeable.
Top notch customer service! I had worked with Megan setting up and moving out of the storage unit. The process was fast and efficient. During the time my items were in storage I didn't have any issues. The location is convenient and maintenance is very clean.
Clean storage units. Megan is wonderful! !!
Fantastic place! Very clean and the property manager Megan is awesome! So happy we went here.
Megan is an awesome employee she remembers my account every time I come in to make a payment. Y'all need more employees like her I appreciate her and her services.
I must say I couldn't be more thankful we chose PS here off CC. Megan was warm and not a pushy salesperson at all. Megan was professional and made us feel at home. The location is easy to get to and kept very clean. I highly recommend this location if you value quality service and a great place to store your items.
Megan was great and most helpful!!! She for sure made our hectic move a smoother process. Site was clean and conveniently located.
Great location, had a unit there for 1 year, no problems.
Great service very polite employees fast and quick serving
Nice, clean location. Highly recommende .
Megan at the public storage on meadows in New Tampa was awesome very helpful quick knows her stuff recommended anyone in the New Tampa area to do business there😊
The property is clean and workers in the office Megan Ashley they're wonderful people they're hard worker's.
Went to pay my bill was treated very well professionals at this
I appreciate the honest and great service from Megan.
Meghan was very nice and helpful. Not just with securing the right size space (and the right price), but also in the moving resources (e.g., boxes, etc). This property is clean, secure and feels safe.
This public storage location is excellent. The personnel are friendly and helpful, and the facilities are clean and safe.
Megan was very helpful and patience and she's explained me everything about the storage rental 👍
Meagan was great!!!she helped me with every thing even with drying out some items that got slightly damp.
Megan was awesome. Very friendly, professional. Excellent.
Megan was great and very helpful, everything is clean and in good condition
Meagan was the best service professional I've ever worked with. Truly OUTSTANDING service!! I cannot overstate how much I appreciate her care and concern and help with my unit!!
Very friendly & helpful :)
Megan made my experience simple and was very pleasant to deal with. I would definitely recommend this location!
This property is very clean and employees are extremely helpful. Megan is always there to help. Would recommend to store here anyday
Megan is wonderful, she helped me with all my storage needs . Property is clean and employees are friendly.
Megan was awesome in helping me transition to a more affordable unit. She made the move easy and she diligently work to make storing my items at Public storage a pleasure. Thank you Megan for your help!!!
Megan was so helpful. She the best!!
I've used Public Storage before and this experience was good. Megan has been very helpful on any questions and assistance we needed. This location is easy access and very clean. I definitely would recommend considering this location if you need temporary storage.
Megan was very helpful and very great at her job. And helped me out very greatly and with great customer Service. Thank You!
I come here to pay my bill. Megan and Ashley are always fast and friendly the place is always clean. I'd recommend to anyone looking to store their stuff to come here.
Awesome service with a friendly staff. It was my first time renting a unit and Ashley V. answered all my questions and made it easy to set up.
Megan was very professional, fast, knowledgeable and extremely helpful.. Thank you ❤️
Great job, Megan was efficient in her job she was to the point with everything we as customer need know. The storage was clean and also the property.
Very helpful and knowledgeable. Made the process easy. Pricing was good as well.
Had this public storage unit for 6 months now and Megan is always kind helpful and friendly! 5 stars , awesome customer service, very convenient and clean.
Public storage is great! Megan and Ashley were very helpful in helping me upgrade my unit!!
Megan was very informative and helpful. Great service. Thank you!
Ashely from Publix Storage was amazing! I never leave reviews but this one is worth it! I called more than 5 times with time changes and unsure of what size unit and she was very helpful, friendly, and refreshing after an exhausting move! Definitely recommend this location!
Megan was a terrific help!
The staff at this Public Storage location are very helpful. Megan goes above and beyond to make sure move in and move out experiences are hassle free!
Megan is great! She provided me with all of the information I needed.
Property is clean office staff is very friendly. Would recommend.
Great communication and information. Megan was helpful, patient and friendly!
Great storage facility. Excellent office staff. Megan is the best!
Megan has been extremely professional and helpful!
Megan was super helpful and nice
Public storage Rocks. Would do business them again. Ask for Megan
Megan was fantastic and provided great and quick service!
Thanks to Megan we were able to save 100 dollars!!
Thank you for your assistance in helping me find the right size unit for my needs.
Great facility, clean, climate contolled, Megan is of great help.
Megan was very friendly and helpful. Process of renting unit was streamlined and efficient. Highly recommend.
Great people, and better service!
Lula has been great and very helpful!
Lula did great!!! Excellent customer service, very warm and friendly!!!
Lula provided great service on my move-in day! Very helpful and informative. Highly recommend this location!
Lula is the most professional person we have delt with in our move. Her attitude is amazing and she made our move in so easy. Thanks for everything!!!
Lula is great and very helpful
Lula was very friendly, helpful. And quick.
Lula was Fabulous, very helpful
Lula is AMAZING! Thank you you soo much!
Lula was fantastic, friendly and made the whole process a breeze.
Lula is your greatest asset at this location. She has been helpful and explained all criteria fully. We have rented here because of her. Carol and terry stefanovich
Lula was amazing very helpful. Nice unit great price!
If I could give a zero star I would. Whatever female employee was working on Mon. 5/27/19 at 1pm at this location is by far the worst employee my family has ever encountered. She was so unbelievably rude because we interrupted her lunch and knocked on the locked door. We made a reservation for my 73 year old grandma and were ready to move in that day, but took our money to Cube Smart instead. Cost us more but we got great customer service which sadly we didn't get at all at Public Storage. The sign on the door said "the manager will be back soon" so if this is the manager then she needs to be trained way more on posing suitable customer service skills in order to manage anything. This employee was extremely unprofessional and a poor reflection on the overall business. Will never consider this location again or recommend to anyone I know.
Great property megan and lula are both very professional and keep the property clean
Awesome! Lula was very nice and and very helpful! Couldn't have asked for a better experience! Thank you!
After a very long day working and getting off to find out my bill had not been paid. Publix storage noticed me 30 days later letting me know I was placed with a double lock! ALL PRAISE TO MS LULA WHO WAS EXTREMELY PATIENT AND UNDERSTANDING. She is always a pleasure to see and is very knowledgeable. I would always recommend this storage place because of ms Lula despite the circumstances
Very nice wonderful people clean and respectful
Excellent service very good 😊
Lula has very impressive customer service skills. She's a pleasure to business with. Very bright future!
Lula was awesome. She helped me quickly and was very friendly. I would definitely recommend this location to anyone looking for a unit.
Megan the manager was awesome and super helpful.
Lula was awesome great customer Service!!! Very knowledgeable and professional!!! Love her!!!
Excellent service and very kind. Checkin was easy and quick. Megan was awesome!!!! Checkout was even better. Lula was great and she was very helpful!!!!!
Very clean property and Megan was super. I will be a customer when the time comes.
Very clean and friendly staff!
Great customer service and location! Safe and clean. Highly recommended!
Awesome service by Megan, accommodating to needs, extremely responsive, very clean and a great location. Was able to take advantage of their special. Will recommend to friends and family. Thank you Megan!
Megan was very professional and helpful while helping me move into my first storage unit. Great service overall!
Great professional service. Megan went way above and beyond to deliver amazing service and make us feel right at home. Clean amazing property with great management and competitive pricing. And Megan rocks!!
Great facility and great staff. Megan was super helpful and went above and beyond with helping us get our storage space.
Megan, was great! She help me with all of my storage needs would definitely recommend this location to anyone who is looking for a clean and helpful place.
I gave 1 star to the corporate, not for this location. They charge $10 If you pay with debit card. Absurd!
Hi do you climate control storage
Walk in with the email of the online price that is offered. Told the unit size is not offered and the online price isnt available. Waste of time.
Megan was very informative on the rental. Would recommend this location.
Megan was courteous , organized, professional, efficient and kind...great location and clean and secure facility...top notch
Megan had great custom service and my experience was great!!!
I had a very easy and smooth move in with the nicest and help lady on sunday thanks for everything
DO YOU RENT PARKING SPACES FOR BOX TRUCKS OR CARGO TRAILERS
Bob customer service is by far the best. I would recommend this location for future reference. Bob did not stop until he meet all of our needs he also went over contract explained how everything works and made sure we had insurance. Bob it should be more people around like you. Bob you Rock!😀.
Bob is patient , professional and likable. He is an asset to your company. Thank you Bob for all of your help!
Treasure was very helpful, knowledgeable and super awesome customer service. I am glad that I walked in rather than go through call center much different experience. Thank you Treasure Best regards Tamara Knight
Treasure has given me amazing customer service from the moment I entered through the door. She explained everything great and I will definitely be sticking with this storage facility from here on out!
Bob manages this facility with a high level of professionalism. He is extremely courteous to clients and keeps the facility clean. Our 4 year experience has been very positive
The staff here is amazing!! I usually deal with BoB and he is very professional and always willing to help you out. He's quick to answer questions and makes sure that you are happy. And the prices are very reasonable!!
Treasure was so sweet and nice. She explain everything I needed to know about my storage and was very professional. Also, she makes you feel comfortable when you walk into the building.
Great location and staff is amazing to work with.
Very nice facility very clean and maintained. Bob and Freddy are always so helpful and cheerful they can always make you smile enjoy conversation with them. The absolute best public storage in Tampa it is obvious they take pride in their location. Other locations should be made to keep the standards of this location and customer service. I would give them 10 star rating.
Bob was a great help with the whole process.
The customer service agent Bob provided outstanding service in helping me get a storage unit. I would recommend Public Storage to anyone needing storage.
The manager there is awesome, has a kind heart and a joy to deal with
Rented a unit from this location before, Bob and Freddy are fantastic they keep the property clean and well maintained. They are very helpful and always smiling very refreshing to talk to positive people. To bad other property owners are not like them. I would definitely give them more than 5 stars if I could they are upbeat and enjoy what they do.
Freddy and Bob were awesome in helping me secure my short term rental needs. Everything here is very professional and clean. I would highly recommend this location.
Customer Service here is outstanding when it comes to the service Bob Moore provides to Public Storage's clients. He is courteous, professional and all around outstanding. I think Bob deserves a promotion without him leaving the New Tampa Public Storage on Cross Creek Blvd. He should be in charge of training all new hires when it comes to customer service. His friendly reminder calls are even upbeat. Part of doing business is great communication when it comes to your product and services and Bob hits it out of the park every time.
Bob was very professional and provided me with all the information I needed. I would reccomend this public storage because, bob went above and beyond.
Needing a temporary storage unit and this one is convenient to where I am staying in the area. Even though it was Freddy's lunch time, he graciously let me in and explained the various units and expenses. We went to see the unit and it was very satisfactory and clean. The facility itself is odor free (I have been in some smelly ones). Hand truck available. Facility has 2 floors, with an elevator, of course. I also noticed covered storage for small rv's, trailers, and cars. Freddy made the sign-up process easy and they do auto billing. No contract, month-to-month. They even supply the lock!! Thanks, Freddy, you are good at what you do.
Rented a unit online then went to the site to sign agreement. No military discount to reservist and retirees.
Needed storage for a few months, and this property was great. Bob is a great property manager, and was always helpful and prompt when needed. I would recommend others to use this facility.
Excellent service and very friendly
Awesome customer service....Bob was the greatest
Bob was super helpful and had great customer service from the first phone call to check in and check out! I'd highly recommend this storage place for anyone looking to store their items safely.
Went to this Public Storage facility today and received excellent customer service from Fred. Fred was very welcoming and friendly. He explained all of the necessary paperwork to me and was very thorough. Fred showed me the storage room I am renting, explained about the lock and access code. He also asked me to call him if I should have any questions in the future. Thank you again Fred for your excellent customer service. Public Storage is very fortunate to have you as an employee.
Property was very nice. Fred was very helpfull
Bob/Facilities Manager was courteous, knowledgeable, and offered to sell extra boxes but no pressure to buy. Overall very nice facility!
Fred was great extremely helpful. Very satisfied with his service. Highly recommend
Bob was super helpful. I came in with an idea of what I wanted but after talking with him and viewing the available spaces he had we were able to finish up very quickly. Just want to say Bob, you are awesome and thank you for your quick and friendly service!
Freddy did AMAAAAAZING JOOOOB! HE WAS VERY THOROUGH and made feel me at ease being that it is my first time renting storage. I appreciate this man! Please give him the recognitionnhe deserves!
Great facility, Helpful staff. Thanks Fred.
Public storage is a secure, clean storage facility. The office manager Bob has been very helpful and always friendly. The facility is well maintained, really clean and safe.
I would highly recommend this storage facility. Clean and well managed. Bob was a extremely helpful in getting everything set up, answered all our questions and walked us thru every step.
I rented a 10' x 10' climate controlled storage unit at this location for 1 year. The facility was well kept and secure. It was convenient to be able to access the unit until 9 PM. Bob, the manager, was particularly friendly and helpful as this was my first experience renting a storage unit. Occasionally, access to carts was limited when several people were there at the same time but I suspect that is to be expected at any storage facility.
This is the cleanest facility in the Tampa Bay Area! No pests. Bob is a great guy! Great customer service!
Perfect! Worked Great for us. Fred and Bobby handles all details better than I expected.
The facility is always nicely kept. Bob is professional and experienced. I would recommend this facility for your storage needs.
Bob is phenomenal! He was great to work with and made the whole process a pleasure to complete. Thank you so much for being awesome Bob!!
Freddy and magean were awesome
Its been a while since I had customer service like this and it was refreshing as well as genuine. Bob took care of us before, during and after the renting process with a smile. Did his job with pride as it was his storage place. I would recommend this facility to anyone
Bob he is a very nice guy , he is soo friendly and helpful and i got the storage that i was looking for 👍👍👍
Freddy was very helpfull. Good customer service.
Clean and updated, Bob is fablous tales really good care of concerns. Bob is the sweetest property manager ever, always smiling and friendly and so helpful. He brightens my day when I come in he is so upbeat and positive. Sept 9, 2017 Bob at Public Storage is amazing when he could have been home prepping for hurricane Irma he was at work making sure people had access to units and offering help if needed, he went above and beyond the scope of his job, he takes great pride in his location and it shows. I was doing last minute prepping at 5:15 pm and Bob was still there doing whatever he could to help and always with an upbeat additude. I can honestly say because of Bob this is the best pubic storage I have ever used. He cares about every single customer there. BOB IS A TOTAL PEOPLE PERSON.
Freddy was such a nice guy. He went out of his way to help me, and I appreciate him making a stressful situation for me otherwise good. Thank you so much!
Property is very nice, clean freddy was helpfull, adressed all my concerns. Pleased with the service.
The staff is very helpful, and the facility is in great shape and well maintained. However, the constant spikes in price increases based on the demand in the area (USF students) quickly make this facility undesirable. Increases as much as $20 per 6-8 months, and the smallest possible space being rented out for $105 per month, confirms that the consumers are being taken advantage off when they store here.
Bob is an incredible property manager! I have used various storage facilities for over 20 years and I can truly say this place is great. From the first time I met Bob, he has has given wonderful guest service. He always helpful and pleasant The facility is clean and easily accessible.
Bob is awesome!!! Please keep him. He is personable and professional I appreciate the time he spent with me, showing the unit and going over the paperwork.
Freddy did awesome job. Very helpfull
Property is clean ver y well maintained. Freddy was very helpfull.
I had a great experience. Bob, the manager, was super professional and service was his number one goal. He certainly met that goal. He worked with me, to put me in a correct size storage space. The facility was real clean and he have a great selection of storage supplies. I am very happy that I chose Public Storage. I would recommend Public Storage to all my family and friends. A great value for your money!!!
Freddy was awesome. He was very professional, thorough and fast. I got the unit I came for at a great price and it was very clean. I recommend this facility to everyone.
Bob is very helpful and has great customer service. I have not had any problems with the facility. The price keeps going up with no explanation but I understand that Bob has nothing to do with that.
I would recommend Public Storage to everyone.I had the best customer service from Bob at the Public Storage property number 25858. He took the time to educate me on things such as insurance, locks, and materials the property offers. He had a great smile on and sweet calm voice that made the atmosphere very enjoyable. I am very happy I had Bob to help me out with things. I appreciate it. Thanks Bob and Public Storage Family!! 04/28/2017
My experience here has been consistently good. Bob is courteous, efficient, attentive and consistently available. Access to the facility is convenient (it is adjacent to a strip mall that provides other services). The grounds and equipment (including the elevators) are clean and well maintained. Although payment can be made through the internet, I don't mind dropping by regularly to pay my bill and say hello. I unconditionally recommend this location if you have storage needs.
Ordered, efficient, clean, professional. Good access.
The place was clean well maintained. Freddy and Bob do a great job.
Freddy did a great job Great customer service.
Great Experience. I would recommend this location to anyone. The site is very clean and well kept. Bob is very friendly and provides great customer service.
Bob was fantastic! He even stayed late to make sure I got what I needed. Thanks for taking care of all my needs and keeping my stuff safe...
Bob has great customer service. He was very helpful.
Bob was very helpful, he made the experience all to easy and painless.
Bob is a wonderful service representative on the phone as well as in person. He takes time to explain everything and doesn't mind repeating for clarity. The best experience I've had at a public storage.
Bob, the facility manager, is awesome to work with! Would recommend the facility just because of the service he provides.
Bob at public storage was very friendly and helpful. He made my experience there great. Overall I would recommend this storage facility to anyone.
He was a great help and very friendly. We enjoyed talking with Bob.
This was my first experience with storage, and Bob was very helpful and professional. The units look very clean and well maintained. Best location near my favorite Publix. Great!
Bob is the greatest guy, he makes everything great, love this place
Great reception. Pleasant experience.
Bob was fantastic to deal with very helpful and friendly
Bob is great very patient knowledgeable and always saves you money with great deals!!!!!
I was amazed that Bob would stay later for me to be able to utilize this wonderful facility..more so that customer service isn't dead...Bob by far went above and beyond what I have ever had to deal with in regards to any storage location. Bob I want to personally thank you for your time and in the manner in which you handled my call and situation. I will continue to use public storage FOREVER! Respectfully, Eric Shaw
I've been using Public Storage on Meadows Road in Tampa for several months now. Bob Moore is without question one of the most helpful and cheerful people I've ever had the pleasure of dealing with, which is particularly gratifying since I'm going through a difficult move and my sense of humor isn't up to par. Thanks Bob, and thanks Public Storage. Joe
Freddy was awesome thank you
Great location. Bob was extremely helpful and very nice. The property is very well maintained.
Great place to store anything, Bob was very nice and kind!
A clean, well maintained, and well managed facility. The two property managers, (Bob M. and Soren) are extremely helpful, knowledgeable, courteous, and professional. They both go the extra mile to provide a great service experience to customers at this Public Storage location.
We've had storage space at this location for years. Facility is clean, and Bob is gracious and very helpful. Highly recommend!
Bob has been very very wonderful and great during my time with the company. I highly recommend and appreciate his support and services that he provided to me and my kids since last year of August.He goes out of his way to listen and reach out and l have also observe him the way he handles and deals with his customers. Excellent Customer Service. A repeat Service,Blessing Bob
Great experience with Bob. Really responsive and helpful in helping me out with questions and concerns. 4 year customer...
I went into the property to inquire about storage as my mom is moving soon and will need a unit. Bob was super friendly and helpful. He answered all my questions and took me on the property to show me different sizes so I could get a better idea of what mom needed. I will be renting here for sure soon. Ask for Bob if you need storage. 5 stars!
I recommend public storage!! Bob is amazing, he made sure that I saw several storage units before I picked the one that met my needs. He made sure I had all the supplies I was going to need to move my things in. And he couldn't have given me a better deal on pricing.
Bob the owner was very kind and polite, so was Soren, the whole place is very clean and professionally kept. Will be returning there in a few months when i need my things stored.
Very clean and Bob was a really big help with my recent move. Thank
Bob is great he is well informed and just perfect :)
Bob was a great help and very polite. I recommend this storage for anyone looking.
Well I have been very stressed out about my move and I spoke with Bob at Public Storage in New Tampa this morning. He was awesome, very personable, professional, and super helpful in helping me with what storage unit that work out best for me.
Customer service provided by the manager there was pathetic. The manager was extremely rude and tempermental. Prices were also very high considering this poor level of service. Would not recommend to my enemy.
Bob was very pleasant and he did a great job explaining the agreement. I am relatively new to the area and Bob took the time to share with me many of the local attractions and hot spots that he thought my family would enjoy. Thanks Bob, you were a real help.
Five Star Experience! We needed a storage unit during our recent move and we found the perfect place with this Public Storage. Bob was knowledgeable, helpful, and just plain nice to be around. I would recommend this facility to anyone!
My experience with Bob couldn't have been better. He answered all my questions immediately and always with a smile. Storage units are clean and very easy to access. I would highly recommend this company to my friends.
BOB IS THE ABSOLUTE BEST!!!!! VERY
Bob is great!!! Awesome service
Being a 1st time user of a public storage facility I found this to be a very nice experience. The facility is clean and easily accessible. Bob with his wonderful personality and being so very helpful made the sign in process very easy. He is definitely an asset to Public Storage, willing to take the time to explain everything to help you and making sure you are settled in. A very knowledgeable individual. Thank you for a positive experience. If needed I would not hesitate to use this facility again.
Bob makes paying in person a pleasure every time,I can honestly say. He has the perfect personality for the job. Its nice to be greeted with a smiling tone and leave with a laugh. Thanks Bob i appreciate yoyr quality service.
Bob is the best. Property is always clean and secure. Recommend storing here for sure. You won't be disapponted with the service here.
Bob is great. Service with a smile! Everytime I come here I'm greeted by his smiling face. The property is clean and the prices are great. Rent here for sure.
Bob was so knowledgeable in his job. Very high recommendation.
Our business venture requires the rental of several units at multiple facilities throughout the tri-county area. The facility at Cross Creek is truly a feather in Public Storage's cap! Bob, the facility manager, is awesome to work with! He goes above and beyond with his customers. The facility is very well maintained, safe and secure! If you are ever in need of storage space in the area then please stop in and meet Bob. I think you'll be as impressed as I am!
Bob was very friendly and knowledgeable in helping me chose the right storage unit for our family's needs. He showed me two different sizes and took inventory of what we would be storing in order to determine the right unit. He also made sure that I was comfortable using the storage unit lock and key pad entry/exit panel before leaving the property. The facility is very clean, well stocked with storage supplies and very easy to locate. I would recommend this site to anyone.
The storage facility is clean, modern, easy to access,and protected. The location was easy to find and the process of renting a storage unit was easy. Bob was very knowledgeable and friendly. He answered every question and was so helpful with everything. I have already recommended this location to my friends and family.
Beware. This is corporate America taking over a local storage. No one matters to these people anymore. They have yanked up their rates by some 30%. I have been with them since 2005 and I started with $73/mo. and I am now at $153. They always would give your 2 free months when you paid for 1 year in advance. This new company prefers to charge you monthly and not get prepaid for 12 months. I have sent 5 of my neighbors to them over the past 7 years. We are all planning to move to another storage in 4 months. They are ignorant and arrogant. I would never give my business to a bully.
I was in a bad move and dealing with Bob made my day...such an upbeat person...very detailed and friendly
I had a very good experience at this location. Bob was so friendly and helpful...it's obvious that he enjoys his job! Facility is clean and has plenty of packing supplies on hand if needed. I would highly recommend this storage facility with it's great location and friendly employees.
Renter Beware, I see all the reviews for renting at the property but its a nightmare when you leave. I informed the owner I would be leaving in January. Was told that if I vacated by the 7th I would receive my January payment back. Vacated with a clear bill on Jan 5th and told to wait 6-8 weeks to receive a refund. After 8 eight weeks I called and was told to call corporate who would refund. Called them and they know nothing about it. Gave me the number for District Manager who finally refunded my payment after leaving numerous messages. I thought end of story. Nope 2 weeks later I get a letter from the collection agency stating I was overdue?????? How in the hell does this company send peoples account to collections when they do not have any debt to them. I was told by District Manager that the local property should have sent them some paperwork. In paperwork hell and my credit rating has been affected!!!!
Bob was super friendly and answered all my questions. The location is super clean and accessible. Bob showed us several units to help us decided the right one for us. It was a good experience.
Property was clean, Freddy was very helpfull. Explained everything to me. Knew I was in a hurry. Got me out quickly. Would recommend him highly.
Bob is one of those people who loves his job and it definitely shows in his customer service skills. I have had great interactions with everyone who works at this Public Storage facility, from the moment I walked in to rent the unit through now. I would recommend this location to anyone looking for a storage facility.
Awesome location. The facility is super clean and a great value for your storage need. The staff takes the time to make sure you get the size you need and to make sure everything goes smoothly. Thanks Public Storage
Went to another storage facility that ended up not being very clean and clerk was pretty rude. Decided to try Public Storage's new facility at Cross Creek. Freddie was very informative, friendly and courteous. Facility was the cleanest I've seen at storage properties (I've rented many storage units with different companies). If I ever need another unit, I'll definitely come back.
Fred was very knowledgeable and customer friendly! Made the moving process quick and easy. Clean property and secure!