Public Storage Self-Storage Units at 3491 Santa Rosa Ave, Santa Rosa, CA
Address
3491 Santa Rosa Ave Santa Rosa, CA 95407
Office Hours
Mon-Fri 9:30 AM - 5:00 PM
Sat-Sun 9:30 AM - 5:00 PM
Gate Access Hours
Mon-Sun 6:00 AM - 9:00 PM
Storage Facility Features
Indoor & Outdoor Storage Units

Property Manager Lives On-site

Small, Medium & Large Storage Units
Office Hours
Mon-Fri 9:30 AM - 5:00 PM
Sat-Sun 9:30 AM - 5:00 PM
Gate Access Hours
Mon-Sun 6:00 AM - 9:00 PM
Storage Facility Features
Indoor & Outdoor Storage Units

Property Manager Lives On-site

Small, Medium & Large Storage Units
Close Location Details
View Location Details
Outside unit

Drive-up access

Outside unit

Drive-up access

Outside unit

Drive-up access

Outside unit

Drive-up access
Nearby Self-Storage Locations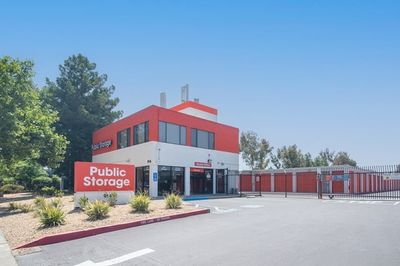 Self Storage Near
914 Hopper Ave
Santa Rosa CA 95403
Self-Storage Near Santa Rosa
Resources from the Help Center
See what fits in different storage unit sizes
Santa Rosa Storage Units Off of U.S. 101
Head over to this Public Storage in Santa Rosa when the need for affordable self storage comes up, whether it's somewhere to keep a small load or a massive haul.
Perched on the east side of Highway 101/Redwood Highway just north of Todd Road, cheap storage units at this location include indoor storage units and outdoor storage units in a handful of different sizes.
A few miles north of Sonoma State University, a 5x10 storage unit is a great way to keep a dorm room or campus-area apartment clutter-free by storing boxes of belongings from home, bikes or other athletic gear from season to season.
Businesses near the Railroad Square Historic District near downtown Santa Rosa can easily clean out boxes that are piling up around the office, along with spare furniture, tables and desks with the help of a 10x15 storage unit at this location.
South Santa Rosa residents will love the space available in a 10x25 storage unit when it's time for a heavy-duty home decluttering or when it's time to pack everything up during a big move.
Questions about storage rentals or need to purchase packing supplies? Check with the great staff on site 7 days a week, or the manager who lives at the facility.
The backdrop for countless movies over the years, from "Cujo" to "Die Hard 2" and "Scream," Santa Rosa attracts new residents and visitors year after year with its gorgeous landscape and quality of life. Vowing to never let a lack of space slow the fine folks of Santa Rosa down, this Public Storage is proud to offer cheap storage rentals every day of the week.
At Public Storage, You'll Always Find...
Keypad Access

Friendly Staff

Month-to-Month Rent

Moving Supplies Available

Free Parking

Well-Lit Facilities
Reviews
( 249)
Alexah was amazing! So helpful and kind. I would definitely recommend this location over any other storage facility in Santa Rosa!!
Very happy with my experience with Stacey. She advised me to transfer which saved me money each month. She is always pleasant to visit with at the desk.
Had a fantastic experience with this storage facility and with the person who ran it. The staff was incredibly understanding of my unfortunate situation and extremely helpful. Getting set up and loaded into my unit was smooth, easy and I was left without any questions due how thorough the staff was. All in all great experience and I would recommend this Public storage location to anyone needing storage in a pinch.
Stacy is very kind, grest customer service.
Clean office, great service and very helpful!
Great place for storage, Sylvia was great and helpful.
Had a good experience today with the new manager Stacey. Highly recommend.
The manager Stacey is great.
Every time we have to open our storage unit, Stacey has always been the most helpful. She is always very informative, has answers to our questions, with outstanding customer service.
The team, Diane Ferris and Sylvia used the rules and guidelines of "Public Storage" to help my friends & I solve a big problem. Patiences and integrity are part of their discipline. The property is clean and orderly with available carts to assist in the removal of the stored items. This made the moving experience easy!! It does my heart good to know that businesses like this exist across the nation. Thank you for helping us. Sincerely, Darrel C. Benoit
Prices have gone up, and it's nothing special.
Darcy was amazing!! She walked me through all of my questions and took the extra time to explain policies. Definitely recommend!
DARCY is great 👍 with her job dutties, friendly and clean place . Had a great experience getting things done . Thank you
Darcy help us get a storage unit today and she was very helpful with answering my questions. Went down the ave to two location and this location has the best staff thank you
Darcy did an amazing job today making my moving experience that much easier! Customer service to it's finest
Darcy was great. Fast and easy process.
MY DAY DIDN'T START THAT GREAT BUT WHEN I CAME TO PUBLIC STORAGE MS. DARCY WAS A WOMDERFUL HELP HER SERVICE WAS FLAWLESS AND SHE WELL ORGANIZED (SOMETHING I NEED) WE NEED MORE LIKE HER
Darcy was amazing and I highly recommend coming here to store your personal belongings, new security system, someone lives on the property, you can't have more security than that! Process was easy and she explained everything to me with detail. Answered all my questions! Do it and I promise you won't regret it! Oh and prices are fair compared to other places.
Darcy was informative & efficient. In and out in no time. Enjoyed her sense of humor.
This place is great been renting here for some time
The staff was amazing I would recommend this and I would come back if I needed place was nice and clean very very friendly staff
Darcy she is so amazing she helps me with everything and it's so on point with good customer service
Ran away from SmartStop because of horrendous service, treated as a human at Public Storage. Darcy is amazing and deserves a raise.
I've been looking for a place to store a few things in late summer-fall because I live in a very high fire risk area. SR Ave is a lot less likely to burn down then where I live. I moved some stuff in a storage unit here to protect it from potential disaster. This place is great, and I am happy with everything!
Get customer service. Darcy was super nice and helpful. Made the whole process very easy and quick.
Such a good deal and the customer service was great!
Darcy at Public Storage was very helpful in arranging for me to not have to pay an extra month at the Novato Public Storage even though I couldn't move my things out of Novato and into the new unit in Santa Rosa until the 1st of the month. She was very communicative about all relevant information, and I would happily recommend this location to anyone!
This is a conveniently located storage facility that I'm happy to have found. Darcy went above and beyond to make the process simple. We are so thankful for her efficiency and professionalism!
Amazing customer service. Couldn't have asked for a better and more efficient visit when renting a new unit! Darcy is a really helpful person and I can't thank her enough for all the help!
Darcy was very helpful great experience!
Anne was so amazing, truly a life saver. I could not recommend this storage space enough.
Darcey is fantastic and has a wonderful personality. The facility is clean well maintained along with friendly customer service!
Darcy was extremely helpful and friendly I don't think we would have been able to get everything do e without her!
Very professional and clean storage facility. Darcy has been helpful and went above and beyond. Highly recommend!
Darcy is great. 😊 Quick and easy process. Clean facility. Will definitely recommend. Thank you.
One of the best storage facilities. Staff have been amazing.
I've had a very pleasant experience renting my unit. Darcy was super helpful and positive from the get go and made the whole process extremely easy. Highly recommend
Alright Darcy was so helpful with everything at my storage facility site he even helps keep the rent at a stable helps for my self-employed business
Darcy is great. Quick and easy process. Clean facility. Darcy deserves a raise. Thank you.
This facility is awesome. Clean, organized and safe. The Manager, Darcy, is a breeze to work with. She's super knowledgeable, efficient and friendly. Highly recommend trusting them with your storage needs!
I made all the arrangements to move in online. I got an email with my unit#, along with my gate code. When I got there my lock and key were waiting for me. Everything went perfectly, the place is clean and secure as a result I didn't have, and still haven't had contact with anybody that works here. Although I gotta say after reading all these rave reviews about Darcy, I'm considering fabricating a problem so that I'll have an excuse to meet her.
This was cap I'm sorry for lying
Melanie was very helpful I highly recomend this storage facility.
Couldn't have been a worse experience Do yourself a favor and go somewhere else
Darcy was very kind and helpful with any service I needed, especially when my account was having troubles! Great service
This facility has stored my belongings for me since 2017. Safety, cleanliness and access convenience have always been excellent as have the staff. A very special mention for the facility manager Darcy, who has always been amenable, professional and extremely nice, even to a chronic late payer such as myself. Much appreciation.
Thank you Darcy for being open and available when other storage places are not!
Darcy has perfect customer service if your looking for a storage ask for her .
Darcy, the woman who runs this location is extremely nice and helpful. The location is convenient, and the hours are good. We have a drive up unit, which has been nice. As everything in life goes, the monthly rent has gotten higher over the years which motivates me to finally go through and clear out the storage unit.
The customer service was excellent! Darcy even saves me some money! Great experience!!
Darcy was very helpful, and the facility was very nice!
Excellent service Darcy was super friendly and helpful
Great service from Darcy.
Darcy.. excellent Service-very kind.
There are a lot of storage places around here. I'm glad I chose to rent here at Public Storage. The manager Darcy is great and you can tell she likes her job. The property is well maintained and clean. Very close to the freeway and easy to access.
Darcy has great customer service very sweet!
When We Moved In We Had To Buy A Circular Lock, We also Paid the Insurance That would Cover up to $3000. Loss, for the low price of $11.50 each month. The prices were decent. I called the Manager there to inquire about holding a "garage Sale" on their property. I was told to Advertise on Craigslist by appointment only. And I had to escort each Browser In and Out Of The Gate. We planned to do this on the Monday coming. On Either Saturday or Sunday Someone Cut The Aluminum Hasp And Defeated the locks on 6 units. Nobody Else's Lockers Items were touched. $5000. Worth of Electronics Some New still in the Box, The Rest in Excellent Condition Was Stolen. No Cameras, No Alarms, The Sheriff Wouldn't Even Dust For Prints. Since I Could Not produce Bills, Serial numbers, Photos, or Proof that We Had Any Of What I Claimed. Their Insurance Settled For $780. We Cleaned the Locker Out That day.
What is your access hours
I rented here for over 5 years and found it very convenient both in location and usability. The manager Darcy was a constant, always available and helpful
Supper friendly and communicative property manager. Darcy is informative and happy to help! Used the online system to make my reservation and she was welcoming when I got in to get me set up. Highly recommend this place for storage!
Darcy is the best easy to work with, and very helpful.
Darcy was so helpful and made the transition into my unit clear and quick. Appreciated the clarity and patience. Much better experience than with other storage facilities.
Fantastic and affective and friendly.thank you darcy
During the fires the move to this location has been stressful however public storage was able to help me with a unit. Darcy the property manager was not only informative but friendly and courteous and explained everything I needed to know. Very helpful!
Lovely facility , would store again.
Came in with my 2 kids who were all over the place and super distracting and had to figure out what size storage unit to rent all while being in a big hurry. The manager, Darcy, was MORE than helpful. She was very accommodating to me and especially my children. She let my toddler sit and color and helped me figure out what unit & price point I needed in a very quick manner. Super easy process! My oldest had to use the bathroom and I was very happy that the restroom was extremely clean! Actually the whole place was very clean and well maintained. We had a great experience signing up for a unit there and the fact that the manager was so nice and great with my kids was really helpful. I would definitely recommend that property!
Great help setting up an account and explaining the process of rentals. Thank you!
Darcy was very helpful. I made same day reservations and was able to check in the same day. I was running 10-15 minutes late and Darcy was understanding and accommodating. The check-in process was quick. Thanks Darcy for being so helpful!
Very efficient, informative and affordable.
Thanks for the assistance Darcy!
Darcy was awesome. She has good customer service skills and was very patient with me. Best service I had in years. Need more people like Darcy and her skills.
Carla was very helpful and made the whole experience very quick and easy.
Darcy was very thorough, and had great customer service and the facility is very nice.
Very easy and good customer service. Darcy was very professional.
I had a great experience here and Darcy was a delight. I got an amazing price 50% off! Would highly recommend to anyone 😁
Hello public storage. My name is Joe. I been using public storage for the Last 2 years. You have a property manager named Darcy. This girl is awesome, understanding, always has my back. Please oh please public storage give this lady a raise and a nice pat on the back for doing a good job.
After speaking with manager she went above and beyond to help and made sure everything was handled properly awesome service
Super clean and easy access
Came in to rent a unit with my boyfriend, the woman that rented to us was very helpful and made sure to answer all of his questions
Great stuff good people fun time
Best storage facility I have ever used. Office manager is a sweetheart and very professional. I will recommend this facility to everyone I know.
Super Nice Friendly Customer Service
Darcy was extremely helpful in getting me set up with a unit, 10/10 would store here again
Darcy was so nice and very helpful. She made everything easy and quick . Very clean and secure place.
Darcy was very accommodating and I appreciate all the help she gave me. She also spilled some tea which my friends and I enjoyed.
Very nice and helpful folkd
The office girl Darcy is friendly and helpful. I always see her walking around cleaning and checking on things. The grounds are tidy. Seems safe enough for Santa Rosa Ave... Nice to be able to get to my stuff till 9:00 at night.
Aishia was very helpful and customer service was great. She's very insightful.
Public storages usuale Are same, just staff are different, would like to say special "thank you" to Aisha for being so patient with my broken english
Diane was such a huge help today while we were figuring out storage needs. She was also very patient and understanding when an unexpected challenge came up and helped us right away. Thank you, Diane! Highly recommend this Public Storage. Their employees really care and it shows. :)
Awesome ladies at this location! Keep up the good work.
Everyone would be happy to rent here! Darcy is great! Thanks for being so helpful!
Easiest storage process that I have been through! And it's all thanks to the manager Darcy! She made my difficult and stressful move a little more easy by offering a quick and clear paperless lease, a happy attitude and helpful suggestions for packing our stuff! Who could ask for more?
Wonderful staff and clean property
Was looking for a storage unit and was impressed with the grounds and Darcy was excellent. Very helpful and answered all of my questions.
I'm not a big fan of Public Storage as a business. But it does have its pros as well as its cons and some of those are as follows. Pros: 1. long gate hours. 6am to 9 pm. Those are above average for convenience. 2. The units I've seen have all been pretty clean. 3. They have lighting you control inside the units. 4. The height of the ceilings is pretty high. 5.There is a restroom available during office hours. 6. There is actually usually a couple wheeled carts & an upright dolly available for use If needed on site that is easy to find. That's about all I can possibly come up with for the pros. Note that at least a couple of those pros are subject to availability. (ie: last visit the restroom had a "sorry, out of order" sign on it) Now the Cons: 1. THE UNITS ARE WAY OVERPRICED for our area. For instance in Jan. Of 2019 they charged $189 a month for a 10'x10' w/ drive up access & a rollup door. In addition to that they required a mandatory purchase of insurance on the stuff in the unit. And dictated the type of lock you had to use. Which they conveniently have on hand to sell you. Just rentwise that's a $100 more per month than a 9'x12' I rent somewhere else nearby. And they don't squeeze you with forced insurance or thier locks. 2. The unit had a damaged door that was bent around the slide bolt lock mechanisim on it. Its a pain in the butt to get it latched. 3. While there may be a gate camera there doesn't appear to be any other security cameras keeping an eye on the rows of units or the fence line. 4. Getting in and out of the place is a bit tight due to narrow drive areas and an oddly placed gate and driveway entrance. Especially when it's busy with people in the units and or you are driving any kind of a large moving truck or van or trailer. 5. The staff I have observed can be judgemental unreasonable, power hungry, busybody controlling tyrants. For instance, while helping straighten out a large unit poorly & hastily filled. After 3 hours of working on it we took a 45 min break to eat lunch and during that the renter took a 20 min cat nap in the truck. The staff saw him sleeping & accused him of living in the unit and slashed his access hours to the hours the office is open only, for "loitering". Or a friend who had brought nonalcoholic beers to drink while loading for himself and 2 laborers he hired. Only to find himself pulled over by police just outside the gate when leaving because the staff had called and claimed they saw them getting drunk before driving. WTF! The driver hadn't drunk alcohol in 18 years. They were all sober. Thats just 2 examples.. Theres more I won't bore you with. 6. They don't wanna just do buisness while minding thier own buisness. 7. Don't get me started on the ridiculousness of the rental contract terms. But most all places have those I guess. My advice. Go rent somewhere else If you have a choice.
The associate Darcy had the best customer service. She was so informative and friendly. I recommend going to this location. Its convenient and secure
Probably the best facility on Santa Rosa Ave - I've recommended this place to family and friends. Darcy is always a pleasure to see , she takes care of the place - its always clean and she always greets you with a smile - much appreciate that kind of person.!!
I just rented a space here and Shavasia helped me through the process in a kind quick manner. Answered all my questions and was very helpful. Overall its Affordable decent clean property with good customer service
Darcy was such a great help!! She was professional and understanding of our needs. Very grateful to have found this Public Storage. We feel very satisfied choosing to store our things here.
Great customer service! Easy paper work process! Love it! Darcy was great, super friendly!
The setup process was very quick. Darcy was helpful, answered all my questions, and made sure to accommodate my storage needs. I look forward to doing business with Public Storage because of the help I received from Darcy.
Darcy is so awesome and helpful! She made our rental experience super easy and found us a great deal! She was able to suggest products that will help with our move and we were able to buy them right here in the office. Public storage is very lucky to have such a helpful/friendly/professional employee! Thanks Darcy!
Darcy was fantastic! She was super nice and very informative. Quick service and made the experience very easy. I would totally recommend renting a unit from Darcy. She's awesome!! Thank you Darcy!
Update: I've had the pleasure of renting with Public Storage and dealing with Darcy for months now. She is always happy and smiling and really seems to enjoy her job!
Darcy had great customer service and she was very helpful! Totally recommend.
great customer service , very happy with pricing ! thank you darcy!
We've been using the Public Storage facility on Santa Rosa Ave for almost three years and couldn't be happier. The facility is conveniently located near the freeway and is always clean and well maintained. Darcy is friendly, organized and extremely helpful. As long as I'm living in Santa Rosa this is the only storage facility I need. I highly recommend it!
Darcy at public storage is courteous enough to call me and give me heads up to let me know that my bill is due plus every time I come in she is very nice and friendly with a smile .I value public storage and feel save with my things being in there.
Darcy is a pleasure to do business with. I will definitely do business with Public Storage again. Thank You!
I highly recommend Public Storage on Santa Rosa Avenue. Darcy has been very helpful and it is a pleasure to do business with her. Thank you!
Lesley was so much help. Thank you
Excellent service! Recommend to everyone! And Darcy is awesome!
Darcy is incredibly gracious, knowledgeable and professional. She has been the manager here for years. I highly recommend this storage company/location. I have used two other Santa Rosa storage facilities in the past and will not use them again. I was so happy with the paperless process, easy & efficient. Thanks Darcy!
Darcy was extremely professional and helpful in telling me about all the features of the property and the unit. I would HIGHLY recommend this location to anyone searching for storage!
Very nice and friendly. Darcy made the process very easy and fast.
This is a very clean and efficiently run storage facility. The property is well lit and managed by a very nice staff. I dealt with DARCY who provided information about policies and facility rules in a direct understandable way. I really appreciated that. I highly recommend them!!
Darcy is extremely helpful.
Moving is always so stressful but Darcy made it super easy and she was very friendly, I'd definitely come here again!
I want to thank you for having such an awesome property manager named Darcy, shes super professional , sweet and very helpful. Give Darcy a raise she deserves it.
My experience @ the Santa Rosa ave. 3491 public storage today made my day. After losing my reservation and being heavily upset and disappointed earlier in the day, I met Darcy and she was able to recapture the reservation which was amazing!!! On top of being completely cordial, kind, and extremely helpful.😁😉 She won my business, she's awesome!!!
Super expensive and you're required to pay their monthly insurance. Clean grounds though and easy to access.
Good service, explained very well and was very helpful
Great experience. Fast and friendly service from Darcy. She's knows her stuff and is very helpful.
Easy process to rent a unit and very affordable. Darcy was great explaining everything clearly. Great customer service.
Love this place always helpful and opened late super convienant... Darcy is the best always happy whenever I see her around showing units or working in the office 🤗
Darcy is a super-dooper property manager! Clean and secure property! Great place!
Just rented a unit here. So far, the highlight was dealing with Darcy, one of the storage property managers. She was thorough, knowledgeable, professional and helpful. She was a real pleasure to work with. The unit itself was clean and easy to use. The property appears to have good security, the access is easy provided you have the gate code, and it is right off the highway.
Darcy was super enthusiastic and friendly. She knows her stuff :)
This is the worst rip-off storage place anywhere! They charged me a whole months' fee because I couldn't get my unit emptied on the 1st of the month - of January! $130 for one day, that was a holiday so they were closed. Greed greed greed! I'll never use them again - & neither should you, if you value your hard-earned money.
Outstanding customer service!! Darcy was so helpful; she answered all my questions, and set me up with the perfect storage unit. I will be recommending this Public Storage facility to everyone I know. Thanx Darcy!!
Excellent customer service and easy access to units
My wife and I needed to get a storage unit on a Sunday and this place had great reviews and opened the earliest so we went in. Darcy made it very simple and easy and got us taken care of. Place was clean and secure and got us up on auto pay and made it painless. Thank you and much appreciated
Went I to public storage a couple days ago inquiring about a unit. I wasn't to sure what to expect but after talking with manager darcy, I'm more confident is what I'm getting myself into! Thanks Darcy! I know where ill be headed when I'm ready to move!
My experience at public storage has been very positive. Darcy is very helpful. She has shown her level of attention to detail for me personally by catching when I locked my unit improperly once. She secured it properly and contacted me about the issue. I would use this location.
Darcy and the friendly staff are beyond awesome. Moving can be stressful and they made everything so easy. I would recommend this storage facility to anyone wanting excellent customer service, cleanliness, and security. You are awesome Darcy thank you!
Carole is always extremely helpful, and made the process of moving 100% less stressful!
Darcy is very informative and very nice. I appreciate the cleanings and maximum security they offer.
Darcy was very helpful and efficient. I'm glad I picked public storage.
Darcy made the process of renting a unit so simple and fast! I highly recommend Public Storage.
Moving in a hurry is always stressful. Darcy made the paperwork really easy, explained everything, and was happy to be there. Great location, well manicured property.
Very clean very helpful and nice people
Darcy was very helpful and lives on site! She made me feel very comfortable with our choice.
Great people working here. Clean site. Good hours of office and gate entry. Darcy in the office is super nice. Recommend for sure.
Willing and flexible, helped us save our family heirlooms
. Easy Pleasant to deal with down to earth
Darcy was very helpful with getting me a storage locker that worked for my needs quickly and with ease!
Darcy made the experience of moving quick and painless. With the recommendation of reserving the unit online, I was able to walk in and get everything squared away within 15 minutes!
Darcy was incredibly helpful and very professional. She made a few recommendations to help protect our belongings in a way that wasn't pushy. In a day and age where people just don't care, I am pleased to say that kindness and professionalism aren't lacking at Public Storage. Thank you Darcy.
Clean facility, nice people!
Darcy worked with me to make sure I was able to get the space and location that I needed. Very happy to rent here!
I have had my belongings at this storage facility for several months and I am consistently impressed with the manager, Darcy. She is friendly, professional and helpful. She seems to remember all of her tenants by name! Public Storage got a great employee when they hired Darcy!
Darcy was really nice and helpful !😊
This was my first storage unit I rented, ever. Darcy was very helpful and knowlagable about products and units. She was very up front and honest with what I needed when it came to supplies and space. Working customer service for years myself she was very friendly and professional, and I appreciate that. I was very comfortable knowing she was helping and with how tidy and safe the property was. Darcy gets all five stars.....I wish I could make them gold!
Darcy was pleasant and friendly. explained everything well and clear. thanks Darcy. x3
I was very pleased with the ease of having to get a storage locker. Darcy was a big help. I travel a lot and feel safe with my belongings here with Public Storage.
I was in desperate need for a quick place to store some very important and sentimental items while dealing with a death in my family. The manager, Darcy was her name, absolutely went above and beyond to help me during this difficult transition. I instantly felt secure with my items, the cleanliness and security was far surperior to other storage facilities I looked into. I recommend Public Storage highly to anyone needing a safe place to store items and a helpful and polite staff.
Darcy just rented us a storage locker here at Public Storage on Santa Rosa Avenue. She was very courteous and professional while showing us around the property. She showed me how to apply the really good lock that she suggested I use. I'm very impressed with her quality of service.
Phenomen. Service was great. Thank you Lucy did a great job
Had a great experience with lucy...very helpful....
Wow! What a team they have here. Jennifer is extremely helpful and courteous in resolving any problems or concerns one might have. Everyone is friendly and professional. Highly recommended.
Jennifer was great helping me get my new storage unit. In one day I got a confirmation call from Jennifer. I really appreciate that she was able to work around my busy work schedule to get me into a unit. They do a great job keeping the area clean. Thanks again Jennifer.
ive used this place for a while now jennifer is great so is the rest of the staff
Jennifer always makes her tenants feel welcomed and comfortable while on site. She delivers professional customer service and should get a raise along with a paid vacation for all her efforts. Signed a very happy customer
Very easy & pleasant experience. Jennifer provided excellent customer service! Definitely recommend this facility.
great experience. Jennifer was very helpful and swet. will definitely recommend this place to more people
Jennifer was very helpful on the phone. She returned my call promptly. When visiting the facility she greeted my with much knowledge and enthusiasm.
Hi yes i was in your facilitly looking at prices on your storage units and a gal named Jennifer was helping me and she was such a great help, she knows whats shes doin and she was able to answer all my ?s about different units you guys have there i was very pleased thanks Jennifer
I could not have asked for better help or friendlier service than I got from Jennifer. If she is an example of Public Storage's training then I'll be a customer for a long time.
Very happy with the processing
Jennifer is awesome! She is great at customer service and always has a smile on her face. We love seeing her at the bank when she comes in to do deposits. She has made friends with all the tellers and is a joy to help out.
Jennifer at the front office was very helpful. She showed me some packaging supply on keeping my stuff safe and secure in the storage unit.
I've been in this facility several times enquiring about the auctions and miscellaneous items for packing. Ms. Jennifer is most helpful and friendly.
I have had a wonderful experience and the staff was very helpful and very professional and able to assist me with many questions and made my move mu H easier. Thank you
I had great experience with Jennifer, She helped with assemble the coat boxes. Very friendly and service oriented. Always finding ways to help us.
Jennifer is totally awesome she always comes into the bank with a huge smile and is always so friendly and always has great advice.
Easy and quick. Friendly staff as well.
Jennifer was very efficient
I recently went by several storage facilities to find a suitable storage unit to put my elderly father's belongings into (he is going into a full-care retirement home); I must say, out of the various places that I visited, I found that Jennifer at Public Storage was by far the most helpful! She was very kind and understanding regarding my father, and went the "extra mile" to take care of my questions and concerns. I was very pleased by the service that I received, and would recommend this storage facility to others. Sincerely, Elizabeth Mesa
Jennifer always makes my experience a good one when I have to deal with my storage, I've had some not so good times with others in the past I don't care to mention names. I can say ill be back she is an awesome host I guess you would call it. I'm not one to write a review but I felt after her turning my not so good trips to storage in to a good one I thought why not same something
Great facility with great onsite personnel help.
Awesome service and freindly staff. I highly recomend this storage facility.
I have a very good experience with Jennifer she has been excellent
Extremely helpful, courteous and friendly staff and exceptionally clean facility. This is the best storage place around!
In the past seven years I have had the displeasure of renting several storage units . With the majority of the units costing more than advedtised ,i.e. not reading the fine print. The manager Jennifer Binder explained to me the process of Billing ,rate increases,hours of business etc. in such easy lamen terms I never even needed to ask questions. She did so in an expedient manner. I have been a customer for going on 2 years. Im not sure even if I found the proper housing to move into that I wouldnt keep a unit with Public Storage just for the friendly smiles and hand shakes from Ms.Binder and her emplyees. Thank You.
Service with a smile! Quick and easy and painless.
The facility is kept up very well and staff is always available for assistance. The facility manager "Jennifer" rented me my unit and made things quick and simple, also around most of the time for help.
This is for all the times I've accidently rated the wrong facility. Crystal and Jennifer are amazing. I've changed units 3 times, and they have brought over a dolly to my unit (I hadn't asked) to help me out. Recently I lost my keys and they were understanding and polite about my mistake and helped me through the whole process. Prices are great, too!
My husband and I had a great experience with public storage. Crystal was extremely helpful and informative with getting us moved in. The property manager Jennifer so so friendly and made moving out literally a two minute process, which was great after a long day. I highly recommend this location!
I would like to commend the Public Storage staff for their costomer service, and easy going attitude ! Thank's again Jennifer for your patience, help, and professionalism!
Public Storge is the best place that ive rented from. Jennifer the property manager is more then helpful and likes to go the extra mile for you and your accommodations. I would recommend this loction to any of my friends and family.
I love the convenient location of this facility and how they have such great prices. Jennifer the manager is so wonderful and helpful with all of the storage needs when you are in a hectic and stressful situation. The property is kept so clean and orderly. Anybody in Santa Rosa I definitely recommend this storage facility!!! :)
Jennifer the property manager is so helpful and polite. The facility is extremely clean and the property is very organized. I would recommend this public storage to anyone.
Without a doubt, this is the best storage location I have ever used. Having used several different storage companies over the years, I can confidently say that Public Storage rates #1 on my list. Additionally, they have at this location the absolute best property manager I've ever known. Jennifer is personable, attentive and a hard-working employee. She regularly checks to make sure that my needs are met. I'll be using this company for all my storage needs from now on.
Jennifer was very informative and very proud of her facility. Very pleasant and very informative with all information and the grounds. I would highly recommend this facility to anyone I know that needs a unit. Thank you Jennifer for your hospitality....
I love my local Public Storage. The manager, Jennifer, is extremely helpful!! The facility is well kept. I feel very secure leaving my belongings there, which, of course, is extremely important to me. I appreciate the professionalism of everyone I've worked with at the facility on Santa Rosa Avenue. If asked, I would most definitely recommend Public Storage.
very nice courteous customer service at public storage. will continue to do business with them for many years.
The location manager Jennifer was very helpful and courteous and answered all questions that we had and got us in and out as quick as possible, thanks for the great service
Jennifer, is a great care-taking inspector because she cleans the grounds herself, and thus notices what is going on. A small damp area, not really a puddle persisted after a rainstorm near the front of my unit. She noticed it because she could, and contacted me immediately to see how my stuff was doing as it could be overflow from an puddle inside. I did and for both our peace of mind, verified the site was minor near the front trickling down from the flashing area and had not gone into the flat floor but stayed on the lower rim. I left her a message back, and she later mentioned how she had inspected the flashing herself. It could have been worse and effected other units and fortunately wasn't, yet action shows me a person who cares about others and cares about doing a good job managing by leading. She then inspected other places where the flashing was in need of repair to make the roofing secure; so I know if the corporation budgets for maintenance what it should, other occupants will not have to worry either. Thanks Jennifer
Our two and half years renting a space at Public Storage was perfect: Now retired, we sold our very large home and downsized to a home 1/3 the size. 2/3s of our valued belongings needed a temporary home as we began to sift through them, and build a storage shed at our new home. The units at the site are clean, the grounds well-kept, and Jennifer was always so warm, friendly and helpful in every way. We would recommend this location to anyone. Our 'stuff' felt very safe there.
Jennifer at Public Storage is so helpful and wonderful. She's knowledgeable, polite and kind. She's helped me with difficulties I've been having (not the storage facilities fault). If she doesn't know the answer to a question, she finds the information quickly and relays it quickly. The property is clean and secure. I've had a storage space here for about 16 yrs. In the past, I had some trouble with employees who didn't know what they were doing. Jennifer's great. She's a real help at a time when I need it.
Terrific staff at this location, where I recently helped some friends move in and move out. Jennifer, Asunta, and Bryan were wonderful to deal with - friendly, kind, helpful, calm even when we were not, and very professional. Moving is such a stressful thing that it was really a gift that we got to be dealing with them.
It was a comfort to know my belongings were safe while I was in transition. Jennifer was always helpful and friendly, I would recommend this facility to anyone!
Jennifer at public storage in santa rosa on santa rosa ave was very helpful and helped us figure out how to open the storage safely and directed us on boxes and tapes for our things that we needed stored for awhile. She was also nice and welcoming and warm as well in every way that she could help us out. I would definitly use that company in the future.
Absolutely the best storage center I have ever been to. Not huge... but the customer service is excellent. She went way above and beyond what she needed to to make sure I was taken care of. I would certainly rent here again
i deliver to two of the storage units there and Jennifer is always there with a smile on her face and a kind word. when the gate code got changed she made sure i had the correct one and i was able to get in and out. i look forward to making my Deliverys there each tuesday because i know Jennifer will be there with a smile and kind word.
Kind and helpful service very professional ill defiantly come back and tell a friend Jeniffer desrves a raise
I have an estate sale and liquidation company hired by my client to liquidate the contents a a storage unit. Jennifer, the manager and staff could not have been more helpful in working with me and my client to get my job accomplished. The facility ewas well organized and clean!! A pleasure to deal with, thank you! Tony Changing Homes Estate Sales, Santa Rosa, CA
The customer service at Public Storage on Santa Rosa Avenue in SR, CA is awesome! I was there this week and, "Jennifer," was working and she is the greatest...and was really helpful. I totally recommend this storage place over any of the others...I've had many. It's just so nice to feel like the people you are dealing with at a time when you need help, are real and honest...and will treat you with respect and kindness! Trish