Public Storage Self-Storage Units at 2356 Sylvan Avenue, Modesto, CA
Address
2356 Sylvan Avenue Modesto, CA 95355
Property Open
Mon-Sun 6:00 AM - 9:00 PM
Storage Facility Features
---

5'x5'

Climate Controlled

Inside unit

1st Floor

---

5'x10'

Climate Controlled

Inside unit

1st Floor

---

10'x10'

Climate Controlled

Inside unit

1st Floor

---

10'x15'

Climate Controlled

Inside unit

1st Floor

---

10'x20'

Climate Controlled

Inside unit

1st Floor

---

10'x25'

Outside unit

Drive-up access
Nearby Self-Storage Locations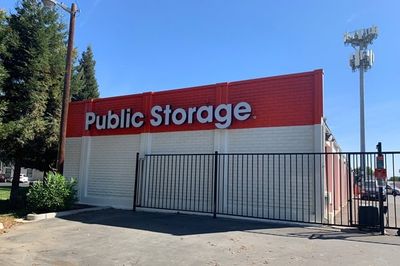 Self Storage Near
2012 West Briggsmore Ave
Modesto CA 95350
Self-Storage Near Modesto
Resources from the Help Center
See what fits in different storage unit sizes
Modesto Climate Controlled Storage Near State Route 108
George Lucas Plaza in the center of town is a tribute to the film director who grew up in Modesto, which inspired his first mega hit: "American Graffiti." Film lovers in town are often seen at the State Theater, which dates back to the twenties (of the 20th century) and currently screens independent and foreign films.
For even larger renovations, or if you are relocating to Modesto, a 10x30 storage unit will hold seven-plus rooms of furnishings.
From Modesto, it's an 80-mile drive east to Yosemite National Park, a must-visit for locals and newcomers alike, and the same distance north along Highway 99 to Sacramento.
Modesto Public Storage has indoor and outdoor storage solutions to meet a variety of needs.
At Public Storage, You'll Always Find...
Keypad Access

Friendly Staff

Month-to-Month Rent

Moving Supplies Available

Free Parking

Well-Lit Facilities
Reviews
( 116)
Thanks to Norma.I Highly appreciate You
Thank You Norma.Great Customer Service.
I want to thank Norma for all her help i had a problem dealing with Kim i appreciate your help and your customer service.
Loved Norma was such a sweet heart AND AWESOME HELP!!! 5+ STARS
Public storage was such a great place to do business. Spoke with Rebekah and Kim. They were so helpful pleasant funny. Made me comfortable they were able to help explain app . Kim went with me and show me where my unit was located. Can't say enough about these two young ladies. If you looking for storage your at the right place. If I could grade higher then 5 it would be 1000
Great customer service. From Norma real helpful.
Norma and Rebecca were super friendly and helpful at the Sylvan Ave location. We weren't sure on storage options and they gave us options. Walked us around to show us what would work for our storage situation. Definitely recommend this place. And super patient and friendly with kids if you have to take them with you. So nice to offer my son water with this heat. Thanks!
Really nice place, the works make its 10x better and have amazing customer service! Thank you!
We had appointment with Norma, she was excellent with us, as a owner you should be so very happy she works for you.
Very clean and staff is patient and kind.
Very unprofessional, aggressive lean practices, and over charging people....
Good prices, and friendly staff.
We had the opportunity to rent a storage unit and had a very good experience with Norma and Rebekah. They both were very helpful and knowledgeable. Very professional and courteous! We are so glad we found this location. Thank you!
Our storage rental experience was overall a positive one. Norma and Rebekah were professional, knowledgeable, helpful and friendly. Thank you so much!
Great help hard workers cleaning keeping place great.
Great service and quick to help!
Great customer service by Norma
Opening a storage unit at public storage was by far the easiest process to do. Norma in the front office is so helpful with a friendly attitude. I mistakenly forgot to lock up my unit and she made sure to give me a call and let me know she secured my unit and my belongings. Very appreciative of her help.
Rebekah, Norma, & Kim are all great workers and have real integrity when it comes to their customers. They are the only beating heart of a stigmatized corporation. I feel for these women who have to brave face & maintain control against the absurd odds that management won't lift a finger to help. Rat infestation, break-ins, lack of security.. budgets so low, they have to buy out of their own paycheck to help better their work environment. I would never make business in the Stanislaus county with Public Storage, but these women are what kept me from rating even lesser. Thank you for your hard work, ladies. God bless and I hope for better days to each of you. 🙏🏼
I enjoyed Norma and Meghan and all their help!
Manager was so helpful getting me in to a new unit
Clean property but not a fan of the people in the office. They're almost impossible to get ahold of, but they sure will call you assuming you didn't use your own access code to get in the gate. My mom had her own unit and always used the app to open the gate/doors and never got called. Didn't like how the phone call started with her assuming I got through the gate without using my own personal access information. What's the purpose of having the app option if we're going to get accused of not using my own information? Glad I only need to rent here for a short time.
Norma is the best!!! All problems were handle very nicely by her.
Excellent customer service. Storage unit is super neat and clean!!!!
My experience here with this location immediately kicked off with a BRIGHT warm welcoming from Rebekah & Norma! These two ladies treated me as if we had known each other for years, Was completely honest up front how to appropriately store & protect my items in storage, Gave me a tour of the spotless facility & how everything works! Very thorough, Very polite, Very AWESOME!!! I will continue to use this facility for further storage needs, Hands down!
Great customer service experience, they were able to help me out and went above and beyond.
Excellent service ! Rebecca from the front desk is amazing !
Rebecca and Norma super friendly and helpful employees here at public storage in modesto. Helped us do a transfer from a 5×10 to a 10×10 unit. Very efficient and kind people, with a place that offers a reasonable price, would definitely recommend this place if you need a place to hold your stuff.
Norma and Rebekah helped me out. Norma was a huge part! We had a 5 x 10 and requested a 10 x 10 instead and Rebekah accommodated with transitioning everything for us in their system. Thank you Norma and Rebekah and I hope you guys get blessed! I appreciate your services and giving me the promo deal for $1.00 (1st month) praise God. I'd recommend this to everyone 😄🙌🏼
Norma was such a great help. There was no stress with signing up and she talked us through each step. Her customer service is beyond amazing and she deserves great recognition for her efforts. I don't recall the name of the other lady that helped but both made my move in a breeze. The storage unit i used was indoor and i loved that they even had the option. I would definitely recommend this place to everyone moving to the area!
today I was helped by Norma, a very nice lady She was very helpful and gave me all the information I needed. I've dealt with many storage companies and Norma was by the most knowledgeable and helpful person. I highly recommend you ask for her if you have any questions :)
Friendly staff who greeted me with a smile and friendly attitude. Yvonne was very kind and went out of her way to be sure my needs were met. All my concerns and questions were all taken care of.
Storage unit was clean, and easily accessible. Love miss Norma! She was so friendly and helped every time I had a question.
Really happy with my dealings with this company so far Norma has been most helpful and informative with all my needs and concerns.
I showed up at 12:30 to inquire about renting a storage unit and the office doors were locked and nobody was inside. I don't know how they expect someone to rent a storage like this. While I sat in my car looking for an answer, several other people drove up and found the doors locked
Norma was very pleasant well knowledge of her job. I was happy to get the storage space. Happy Holidays.
This is my first time purchasing a storage unit. After long research I found Public Storage. I had the most excellent experience with such amazing customer service from Rebekah and Norma. Rebekah made me feel at ease by explaining everything to me in detail. The entire place is very clean and organized. If I could I would give it more than just five stars. I highly recommend Public Storage in Modesto to anyone looking for a clean, safe place to store their belongings.
Norma was amazing when it came to a few hiccups we encountered! She's always fun to interact with and very sweet. Very highly recommend this specific storage place!!
Norma was amazing when it came to a few hiccups we encountered! She's always fun to interact with and very sweet. Very highly recommend this specific storage place!!
Nirma provided great customer service and was very helpful and courteous.
Norma was amazing at her job and helped me with everything that was needed. One happy customer
Came In earlier this week and the young lady Kim at the front desk was very informative and kind explaining everything and going over things . Definitely will be coming back. (:
I was helped by Norma who was absolutely amazing. I was in a rush and Norma helped make sure everything went smoothly and quickly. Amazing customer service! Norma put her full attention on helping me and made sure to cover everything- from the entrance/exit to the locks and the safety of my things inside the storage unit I am renting. Very happy that I have chosen this Public Storage!
Renting a storage space for the first time wouldn't of been as easy going and convenient if it weren't for Norma. Any time I had a question she was right there to help. She helped the process go very smoothly and easy! You could see Norma on the property helping others and making sure things are ship shape! Five stars for Norma!!!
All my questions were answered and I was given excellent customer service by Norma. Storage facility is clean and spacious, easy to get to.
Great customer service 100/10!
Norma was amazing! Super nice and friendly
Norma is the greatest! She's super helpful and super sweet.
awesome customer Service by Norma!!
Norma is an amazing help. Very personable, professional and friendly. The facility is very clean, and easy to navigate.
I'm very please with the quick and attentive service I received from Rebekah (from store#29279 on Sylvan Ave) she was very helpful and really walked me through everything, as well answering all my questions
I was greeted nicely by Norma she had great customer service and was a very friendly and professional woman showed me a few different storage units with no hesitation very welcoming and showed how safe the unit was thank you for have a great person here.
Rebekah & Norma were FANTASTIC!!! They exhibited true professionalism coupled with a kind & caring demeanor. These 2 ladies emanate warmth, kindness, efficiency of which others could emulate. They treat customers like Family.
I just want to thank Norma for the excellent customer service she was helpful explain everything to me I appreciate her time to show me the units and help me decide which one to choose Thanks again Norma
Norma and Rebekah are so helpful and patiently explained everything to me.
Great customer service from Norma. Give her a raise!!!!!
Great, helpful, and friendly service but Norma
Norma the manager there at the public storage goes above and beyond to meet you anytime of all your needs or concerns awesome place to have your stuff stored she deserves a raise!!!
norma was very professional and efficent
Very friendly staff( Thanks to Norma), and reasonable prices. Would recommend to anyone looking for a nice, clean, friendly atmosphere.
Norma was very helpful and friendly!
Norma was so helpful and such a lovely person! I wish all employees were so nice and helpful!! 5 stars!!
Staff is amazing. Only thing is I've never gotten a storage before so I was unaware about them automatically taking prorated amount out of my account so that was a shock but other than that, super clean and my space is right in front so works perfectly for me.
Norma was super awesome and nice helped me out with all of my questions and even went above and beyond with the customer service I will gladly be suggesting people that need a storage facility to use this one
I just wanted to say how impressed I am with this facility. Super secure, super clean, really nice units. We went in the office and Kernesa was wonderful. Knowledgeable about all the products and prices, super friendly and patient. We both really liked her. Thanks for a great experience!
Excellent customer service very clean
I went in to make a payment and received the best customer service from Norma and Rebekah. If you need storage this is the best place to go.
Norma was an awesome help and got me in right away when I had to move in just a couple of days! Ask for Norma she will get you the help you need!!
Great customer service from Norma and Rebecca..
Poor service can't wait to remove my things from this place. Horrible service.
Had a great experience renting out a unit from Public Storage on Sylvan. Norma and Dominique are very friendly and helpful, they answered all my questions and made the process very simple. Would definitely recommend for anyone looking for some extra storage!
Norma was amazing! Super nice and friendly. Extremely helpful!!! The unit was very nice and seemed specific for the items I needed to store. 7/5 stars from me!!!!!!!
Management and personnel have been very helpful and the online site is easy to use.
The storage place is good the service there is great
I had a great experience with dealing with your store manager on Wednesday March 30.She was very helpful and I was totally impressed with her skills. I believe her name was Norma.
I recently purchased a storage unit. I was very expressed on how clean and spacious the units are. I was greeted by Norma whom is very friendly, well spoken and made sure I knew the ins and outs of the storage facility. High five to Norma! Thank you for being you!
Norma was great! Fast efficient! And knew her stuff.
Thank you so much to Rebekah for answering my questions and taking time out of her day to show me the facility. She demonstrated perfect customer service! This is a new storage facility. It looks well maintained and secure. I moved in on the same day! Again, really recommend speaking with Rebekah if you have questions.
Finally got smart here. Every other storage was full!! Crazy!! Thanks to here, got in with $1.00 PLUS the mandatory lock at $20.00...you can change that crazy long auto pass code tho!! The only problem I have is the way they price the units...it's like a spin on the wheel. I got a 10x10 for $98.00. Good price...BUT...my friend got the same size on the same row, just a few away from mine, but is paying $120.00. Great if in an emergency move out, great price online IF you are lucky, employees are very helpful. Not so great on price practices AND I FORGOT...5 stars if it was open 24 hours...they lock you out (or in) at 10 pm...
First time and I had no clue what I was doing or where I needed to go, Norma was super helpful and made me feel at ease. I Had trouble with my lock when I first got there, she was so quick to resolve it for me. I was surprised, she made my experience great. I'll definitely be recommending to friends and family!!
I was helped by Norma, she helped me a lot, she took her time with me and explained everything quite well, she is took care of my needs in space, Thank you Norma Rigoberto Arzate
We were greeted by Norma at the front desk and at first just wanted to compare prices but Norma was excellent and because of her we didn't look any further and decided to rent here because of her. She was helpful, nice and knowledgeable great customer service I highly recommend if your looking for a storage facility go see Norma immediately!
Norma provided great customer service. Very nice and friendly she knew everything about the company. She took us on a tour of the facility and showed us the storage unit. She was awesome! I definitely would recommend renting from this place.
Monica gave me the best customer service and gave me the closest unit for my needs. She definitely deserves a raise. This girl definitely knows what she's doing and very kind.
Monica and Norma at the 2356 Sylvan Ave. Modesto location are wonderful. Monica was able to solve a problem that I was having quickly and easily over the phone. Some of the best customer service I've ever had. Thank you Monica!
The BEST RATES I could find ANYWHERE in Stanislaus County! PLUS IT'S CLIMATE CONTROLLED and BRAND NEW!! No contact CONTRACT! --SIGN UP online !!❤❤👍👍
Excellent Customer Service! Monica was GREAT! The facility is modern, clean, and exactly as advertised.
If you need a unit? Come to public storage on sylvan and request for Monica! She's awesome! She saved me alot of money on my unit I just purchased! She great👌🏼
Norma was the greatest! Today was a difficult one for my husband Craig and I and she made our day 100% better by just helping us through the ruff patch of moving! Such a great person to have at this company! She went above and beyond our expectations and again making our move feel more at ease! Very friendly and she cares about her customers! I recommend this self storage! Ask for Norma!
Monica did an amazing job and gave me the best price and was very welcoming. She deserves a raise for the good job she does. She showed me around the property and I love how clean the property is compared to the storage place I am currently renting. I'm glad I chose public storage to move to.
Muchas gracias a Norma por la ayuda. Todo el proceso fue rápido. Muy claro y fácil de entender. Buena seguridad a bien precio. Excelente servicio al cliente y buena hospitalidad de parte de Norma, Gracias.
Great clean place. Staff is very friendly. And property manager is very nice and very helpful and always willing to answer your questions when you have them. Highly recommend if looking for a storage.
Great place she makes you feel welcomed and is very friendly unlike brigsmore one
Norma was very helpful & informative with my move in. She made it really easy & stress free. Would recommend this place for your storage needs. Facility is nice & clean.
Kim the District Manager was a very helpful and awesome person got the rental space Down pack I am definitely referring other renters
monica was very helpful and guided us by providing an amazing service she deserves a raise we love her
Excellent service! Staff is friendly, fast, and very helpful!
Monica was so helpful and got me the best price for the unit we needed for my family. I am glad we are storing here at public storage because the staff is so helpful and amazing.
Monica did an excellent job showing me everything, I really sincerely appreciate her showing me everything about the rental space.
Norma was extremely helpful and made extra efforts to accommodate all my personal storage needs.
Norma was excellent with showing me different options and going over prices. I booked my rental on the spot as she was able to answer all my questions
Norma was very friendly and very helpful. Moving is never easy , but they made it alot more doable. Public storage is also very clean. I would definitely recommend 👌👍
Great customer services from Norma and Monica thank you ladies for everything