Public Storage Self-Storage Units at 2012 West Briggsmore Ave, Modesto, CA
Address
2012 West Briggsmore Ave Modesto, CA 95350
Property Open
Mon-Fri 6:00 AM - 5:00 PM
Sat-Sun 6:00 AM - 5:00 PM
Storage Facility Features
Indoor & Outdoor Storage Units

Property Manager Lives On-site

Small, Medium & Large Storage Units
Property Open
Mon-Fri 6:00 AM - 5:00 PM
Sat-Sun 6:00 AM - 5:00 PM
Storage Facility Features
Indoor & Outdoor Storage Units

Property Manager Lives On-site

Small, Medium & Large Storage Units
Close Location Details
View Location Details
---

5'x5'

---

10'x5'

---

7.5'x10'

---

10'x10'

---

10'x10'

Outside unit

Drive-up access

---

10'x30'

Outside unit

Drive-up access
Nearby Self-Storage Locations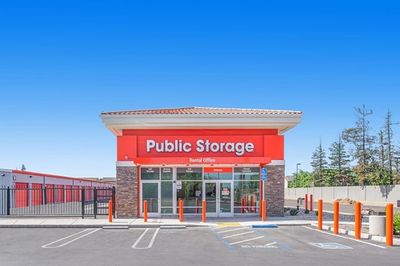 Self Storage Near
2356 Sylvan Avenue
Modesto CA 95355
Self-Storage Near Modesto
Resources from the Help Center
See what fits in different storage unit sizes
Modesto Storage Units near Route 99
Self storage units at our Modesto facility are located on the West Briggsmore Avenue exit of Highway 99, making us one of the most convenient storage options in the Central Valley.
We have over 450 storage units in a variety of sizes to help you get a handle on clutter and reorganize your life. Our storage units can help farmers who need more space for equipment, outdoor enthusiasts who want to store bikes or hunting gear, and homeowners with a need to downsize. There's a great option for just about anyone.
Our 5x5 storage units and 5x10 storage units let you store picnic supplies and barbecue gear for use at Garrison Park, plus books, old clothes, bikes, rollerblades, and more.
Our popular medium-sized 10x10 storage units can fit all of the above, plus they are large enough to fit the equivalent of a one to two-bedroom apartment. If you are in need of packing supplies before your move, we have boxes, bubble wrap, and tape for purchase.
10x20 storage units are large enough for big items like couches and beds, helping you clear out your house quickly. Choose an indoor space down a hall. Or rent one of our outdoor storage units with drive-up access. Just park your car, truck, or van in front of your ground-level storage unit and load or unload with ease.
A manager lives on site at this property to make sure your self storage experience goes smoothly.
At Public Storage, You'll Always Find...
Keypad Access

Friendly Staff

Month-to-Month Rent

Moving Supplies Available

Free Parking

Well-Lit Facilities
Reviews
( 351)
They have rats!! They offer no remedy or compensation for the unsanitary fecal matter the rats leave behind in the units. Choose a different storage facility, there are a handful in town with better rates.
Always a pleasure,thanks to all there staff,they run a tidy ship and I appreciate that.
Bought a unit from auction and couldn't have been any smoother of a process. Thank you Donna!!! You for sure make this location. Would do business here again in a heartbeat.
Price increases every few months. Less than two years our rate has increased by double Paying nearly $300/mo. Shameful. Only if our wages increased as such.
Donna is super friendly and they have great rates
Don't store your belongings here... They shoot dust under the doors and they are not temp controlled. Plus you'll start out paying under $100 but in the end you'll pay up to $200 a month and you don't even have access to a dumpster when moving your stuff out. I'd give a 0 start if possible.
Donna was great! She is informational, professional, and has a great personality. I was able to get a suitable space and a good rate right away, thank you.
Donna was extremely helpful with a very stressful situation. Donna's customer service was wonderful and helpful, she found solutions for our problems. I highly recommend her location she is quick to get back to you with any questions and concerns. Respectful, honest, and kind.
I have been with Public Storage since June 2019. Convenient access to my things, I love my storage is in a climate control area!! And everything is how I left it Everytime I go into it! No bugs or rat damage !! Donna is the best!!
The manager Donna was amazing! I had to move out of my house unexpectedly and the day of our move we had car trouble and we arrived at the storage unit just a couple minutes after closing. She let us in and stayed and waited for us to unload and then let us out. She went above and beyond her duties when she didn't have to and I am so grateful she did! You guys will always have my business!
It's a rip off.. I don't even think they deserve one Star. I'm a widow husband passed away February 2nd. The corners office is backed up so I don't have a death certificate. I'm expected to come up with over 300.00 this place expects me to wait for the death certificate and 45 day's after the death certificate comes in. although I provided proof of death from the corners office. A long with my marriage certificate. So with that being said overall everything I don't have cash to pay for anything. Now the storage is going up for auction. Just remember put a family member on the storage or if you die unexpectedly your stuff will be auctioned if you're family is broke and had to pay for everything else like burial or cremation. Everything you own precious memories gone.
Awesome Facility! The facility manager is super nice and knowledgeable! Definitely recommend..
Donna has excellent customer service. Always helpful. Thank you for all you do.
Donna is outstanding!! Very helpful and friendly!!!
I love this place! Curteous staff, affordBle prices and an app that does damned near everything, i cluding opening the gate for you!
I recently moved from NJ to CA and needed a storage unit. I found public storage on Briggsmore and very greatful. Donna has been super helpful and she is very sweet and a pleasure to talk with. If your looking for a storage facility in modesto, I deff recommend public storage on Briggsmore.
She help me with app and lower my payment wS so hpf her name is donna
Excellent service! Donna is the best! Always been very helpful, and she can always answer ANY questions you have. All of the staff is friendly and it's very clean. I have been doing business here for going on 7 years, and I'm thankful for the help and service they provide!👍
The manager is very helpful as well as staff. Facility is very clean, no pests and is run like it should. Safe, and very businesslike.
The manager Dominique was the most helpful and had a very nice professional attitude. Have recommended this place to multiple people just based on my interaction with her. 10/10!
Dominique gave excellent customer service she showed me a few units and answered all my questions I had. Thank you for the great service!
Storage locker was just the size we needed. The manager Donna was very courteous and helpful through the whole rental process. I had made a mistake with my credit card, and Donna even helped me straighten that out. I would recommend them to anyone looking for affordable storage accommodations.
I need help please how much?
Great manager on site, I've rented storage units at a few places but this place has to be one of the best. Always on site when I've had to visit my unit... and the place is really clean, they keep it up well.
How can I pay my rent online?
Dominique was awesome, attentive, and provided excellent customer service! I highly recommend storing with this company 👌🏽
I just recently went to Public Storage and the customer service was great. Norma was very helpful and considerate towards me when I was there.Great place to go!
Great management and super clean property!
Donna is super helpful and kind- great customer service
Norman gave me Good and quick service and very easy to talk to
Norma is a sweetheart she help me and my husband out alot she gave me good service and I'm satisfied with her ☺️ thx so much Norma Dear for the help.
This is a great place to store your item. The office staff was great. The unit is spacious! Thank you Norma for the assistance with helping me with my storage unit.
I used this facility in Modesto CA for 5 years. I received excellent service, esp from the onsite manager, Donna. I would recommend the Modesto Public Storage to family and friends. Outstanding customer service.
I rented a storage unit to store my belongings after selling my home. On the moving day the unit was not big enough so I had to rent a second unit asap because i had the movers being paid by the hour. Norma helped me with the new unit. She made everything fast and easy. Her customer service was great!!!! Thank you. Facility is nice and clean as well.
Awesome!! Management is amazing and she was so helpful and let us know she was available especially in the crazy heat!!
I was helped by Norma today and had an excellent service. She was super professional and easy to talk to and helped me get signed up today with no hassle. Thank you for your amazing service!
Very pleased with the professionalism of the staff. Quick and easy experience.
Thank you Norma for all your help!
Awesome service received, clean place and staff is courteous and helpful.
Was provided excellent service when I went in to make my payment.
I like this place its away from the street so less stress about someone breaking in at all. I love the service here with Norma. Thank you for all your help.
Always curious. Always helpful and property is always clean.
The lady is nosey ..always asked if I was smoking..told me I came in and out to many times...she knew I was selling items...got fed up and just left..I've not heard anything good about this place..
Great place to store your junk,and the staff is great especially Donna great service.
The lady in the office is very nice and very helpful she explains everything and even shows you to your storage unit
Professional, customer friendly, clean!
Donna was really nice friendly and helpful best customer service experience I had in a long time.
Donna is excellent and has helped me so many times. She has been a blessing to me since I've been here. Bless you JESUS.
Horrible customer service
Friendly and helpful. Helped me through the online signup process. I would recommend this storage.
Wow such a nice experience, my first time renting a storage unit. Ladies and manager were super helpful and provided lots of detailed information. Unit was just as expected, very clean and perfect for my needs.
Customer Service is above and beyond. Thank you Norma you saved my life.
One of the workers, Norma, made the whole experience easy.
Times have been tough and with that come high emotions especially when dealing with belongings but I recently made a payment in which Norma assisted me and she was a breath of fresh air. She's really easy to work with and very nice. I appreciate great customer service and she definitely delivers.
Making a payment was so easy... Thanks Norma for great customer service.. so rare these days!!!
Norma is very professional and great person to speak with
I love this place always friendly I can make a payment fast and quickly no wait time. Its closed to my home.
She was amazing and covered everything. Went above and beyond. Wonderful experience
I went in to make a payment and was greeted by Norma. She was extremely helpful and very polite! We need more people like her!!
I went in too make a payment and received great customer service by Norma she was very helpful and kind.
Thanks for you being able to help me. Thanks Donna.
Donna is a wonderful lady and she answered all our questions and helped us out.
DONNA AT THE FRONT DESK VERY POLITE AND HELPFUL...CONVIENENT AND CLEAN...TRUST MY STUFF BEING THERE....
i LOVE THIS LOCATION. They're super helpful and will adhere to any reasonable accommodations!!
From the second i walked into the office i knew that public storage would be where i was going to store my things. The worker there Norma did a great job in helping me decide which storage space i would need and assured me and made me feel 110 % comfortable that all my personal belongings would be safe. This is the place to choose if u need to store your things and know it will be tooken care of . I give them A 5🌟🌟🌟🌟🌟Star And a two thumbs 👍👍 up!!!
Rented an indoor unit for a year. Right before we moved out, our unit was broken into. Staff were no help in regards to camera footage, saying we needed a warrant. It was the worst experience. Know that people may live in units or other shady things may happen here. Thankfully we had the insurance and got reimbursed for some of our belongings, but it will never replace what was stolen.
Great customer service. Always see the employee with a smile and is super friendly.
I went in to make a payment and i was greeted by Norma she was amazing helping me out she went above and beyond for me. I highly recommend her she'll get you the help you need. She makes eveything easy.
Had a very good experience with the manager Norma, very polite, helpful and courteous! We need more people like her with people skills.
Donna, Norma & Kim have been great to work with during these very tough times. Very Helpful & understanding. I think this is a Great Storage facility to work with.
What's hours is there someone behind the desk for questions..Donna help me sign up
Best Storage Facility in Modesto! Great Rates, Friendly People, Very Helpful an Accommodating, just the Best!
La señora que atiende es muy amable y servicial
Thank you norma for your help and explaining how the facility is ran and locking our storage unit when i didn't lock it right P.s sorry it took me a few weeks to write a review just bin busy
When I went in to get a storage Unit, Worker Norma was very friendly, helpful. Clean place. I would refer them. Good Prices and deals when I can. Thank you Norma Very much.
Norma very sweet and great communication skills
Thank you Norma for all your help! Great customer service and thank you for wearing a mask! I just went in to make a payment for my son and really appreciated the service I was given. If you are needing a place to store your goods ask for Norma.
I came in to the office to make a payment and was helped by your employee Norma. I have come in contact with her a few times now and she has ALWAYS been very friendly and helpful. Thank you Norma for being such a great people person and an excellent employee!
Went in to make a payment and received excellent customer service. Very welcoming and very friendly.
I recently went into location to make a payment and norma assisted me. Norma provides great customer service everytime. I give 5 stars to norma! Great service thank u!
Norma was very helpful and professional and gave Supreme customer service .
Today was my first day moving into my unit. I had some difficulty finding my unit in the maze but one of their ataff members, i believe her name is Norma helpes me navigate and obtain my lock/key. The process to get my unit waa very easy and i did the majority of it online. Thank you!
Norma was a great help helping me prepare and secure my new storage unit. My fiance recently left me and moving has been an extreme difficulty physically and emotionally. I accidently lockes my keys in my car as it waa running and i was exiting the gate of the property, Norma helped me get back into my car. Its great that people are still willing to help out others in this crazy covid time.
I am currently renting a unit at this location and I must say Norma was very professional and helpful. Fantastic customer service! I would definitely recommend this location if you are looking around. Thank you Norma!
Walked into public storage with a list of questions. Luckily I was welcomed with great customer service. All questions were answered, Norma was very welcoming, informative. Great people skills to say the least. Highly recommend this location and their rep Norma.
My experience wonderful, Norma has Great Customer service skills and very professional, respectful and knowledgeable in her work. Thank you Norma! you made opening my storage unit pleasant.
Great wonderful customer service and also very very clean throughout the whole place. If u are not a person who can keep things clean you shouldn't come here go somewhere else
It is expensive 😫 and it has bugs ie. Cockroaches and 🕷️ plus after I paid they only refunded a portion of my money and I never put 1 thing in the unit I opened the door and a cockroach came running out
Excellent customer service and help from Norma. Great job!
Great customer service! I recommend this place. Thanks Norma for helping me today!
Clean, Very nice place, and the customer service is great! Thank you Norma for helping us today🙂
Strongly don't recommend this storage place to anyone my belongings were stolen out of my unit i guess it's normal thing there to get you're stuff robbed someone had use lock cutters to remove my lock. The on property manger Donna was super mellow about the whole the situation like it was normal thing that goes on there there lucky my unit had insurance strongly recommend using another facility.
Site manager Donna was very helpful in assisting me with paying a bill even though I have a Public Storage unit in a different city. She was very knowledgeable and friendly and informed me about how the company was doing to assist their customers through the current hardship the economy is facing. Overall I was very pleased with my Public Storage experience in Modesto & with Donna.
Norma was amazing and super funny! extremely helpful and got all our storage needs and questions answered. :)
Norma and Donna are such a big help they are friendly , I love when they send reminders for my bill monthly. They are like family
Norma helped me out so much I appreciate her kindness and help
I rarely write reviews but given the current state of everything I wanted to write about my experience. I went in on Friday to make a payment on behalf of my parents and Norma was working. Payments are easy to handle but it was her sense of humor and great customer service skills that gave me a much needed break from my current state of mind. Smiles and jokes go a long way now and I'm glad they finally have someone working there who make an easy process stress-free.
Norma was fantastic. She helped us with finding the right storage unit and was very friendly and professional. Thank you.
I only rented for a short time but Norma was am amazing help in the process of me closing my account here. She gave me good information and was very understanding to why I was leaving so soon. Thank you so much. 10/10 would recommend 10/10 would use again!
Donna es una señora muy amable y paciente, me gustó mucho como me atendió. Recomiendo mucho este lugar, además de que está muy limpio. 😀
Norma was very friendly, thorough, helpful and professional!
Donna is a great storage lady the best all looks out for my storge need more like her
Thank you for all your help Donna! Was very friendly and informative of all aspects and needs for renting the storage units.
Thank you, Jesus Christ. I think you Donna. Store manager you have a blessed day.
Who is really awesome I was here 2 1/2 years and Donna was really awesome
Donna and norma were the best they helped me with every question i had live this storage
Worst of the worst!!!! Do NOT!!!! Use this joint!! The insurance is worthless. No cameras on the inside " safer lockers" lost just under $800 00 bucks of stuff in less than 2 DAYS !!!! I grabbed what was left and left, then asked since im leaving way before the first month can my credit card be credited??? Answere... Nope!!! I had a 2 doller bill that was all i had from my mom that past in 86. They took that plus photo album !!! Meth is one HELL OF A DRUG !!!
Great people very nice and kind hearted
Thank you Donna. Your a very nice person.
I think the lady's name was Deborah she was very nice and also they love to the remind you when you don't pay so you don't lose your storage they will call you plenty of times to let you know your bill is due. But very nice people only thing I can complain about is the electric lock on the door next to our unit never worked so we had to walk around the building entire time we rented I was under the impression maybe it would be fixed but no but like I said customer service was great.
I've been a tenant at public storage for 6 years and by far they have the best staff they're so kind they greet you with smiling faces and they always help you with any problem or anything that you need help with Donna's awesome Carol's gone and she was awesome but the new girls are awesome too I haven't met any of them but I'm pretty sure they're awesome. so my advice to you get a unit at public storage because they are the bomb and they're reasonably priced and its a convenient location and they always have deals when you sign up online so try to sign up online and you'll get a great rate.
very helpful and accommodating staff
great friendly staff . very helpful
Very friendly and helpful. Donna explained everything and answered all questions. The price is great location perfect. Thank you for ur help.
Donna the worker there was very friendly and kind and got me what I needed thank you Donna for having such great customer skills.
They took care of me really patiently. Awesome service 🤩🤩
Carol was very helpful and friendly. Quick response to my online reservation . Gave me all the information that I requested. I highly recommend this property.
Carol is awesome!!!!! Super nice and helpful!!!!
Was very impressed with Carol. She was very helpful and friendly. Answered all my questions and has very good poeple skills. Thank you Carol.
Carol is amazing ! Very efficient and professional ! Thank you carol!!!!
Great and quality service provided by Donna!
The ladies in the office are well knowledgeable and great customer service.
Great service. Very thorough and helpful. The manager Donna provides wonderful service!
Donna do you have a 20x10 avail?
Carol and Donna are awesome, great customer service and great prices. The location is very clean. I highly recommend this storage facility :)
Donna was very helpful with all my needs. Thank you for all your help. I would recommend highly
Carol was great and explained everything and made the move easy for us.
great service with friendly and helpful staff. clean environment with good security! was very helpful when we were first moving.🤗
Carol was very friendly and helpful!
Carol was absolutely great we were in and out in less rgan 15 min and got our first months for 1$
Carol was super helpful and answered all the questions we had. Great place to get a storage space!
Carol was great!! So much help
Can I pay a friend storage on line
Glad to get service from them.
Great place to store! Amazing staff and great prices! Thanks for am easy sign up and bieng super honest and with all the questions I asked Carol was so helpful and patient!
I like Darron Storage place.
Carol was very helpful with my needs I would recommended this place to everyone
Had all of my things stolen from here. They weren't helpful at all either. Said there was nothing they could do and their cameras weren't on when it happened. Access to my locked storage was inside another locked facility inside their gated facility and they still accepted no responsibility. They can't provide what they're charging for!!! Never ever ever ever give this place your money.
Professional service, patient with my moving chaos. Carol is my hero! Donna hits every point efficiently and helpfully
Carol gave us amazing service and was ver informative and helpful!
Carol was extremely helpful, patient and knowledgeable.
Thank you Carol for helping us get our storage unit! Very nice and welcoming
Carol was so kind and very and very helpful ! It has been such a stressful time for me and she was so kind. Thank you so much Carol !!! You're the best !
Carol was the greatest and im very satisfied and glad to be a tenant. There the best help I hve recieved in years. Thank You Carol and employees
The place is alwase clean and the employees are alwase nice and willing to help.
Great experience and customer service - Carol was great...
Carol was fast and friendly with a amazing timely response.
A little pricey but never had a problem. It's gated and has security all over. I fill my stuff is safe.
Hi My Name is Jamal Thompson SR and I was liking to know how much is it to rent a 5 X 10 storage and what is the first months Rent and. Does it matter if I'm a first time renter.
Today was a great experience with Carol, she was very informative and very helpful. Thank you so much. Making my transition easy...
Donna was very helpful & explained everything really well. Super nice too , appreciated the help.
I can't say enough about Donna.....she is so helpful and always polite.....the Halls are always kept clean ..never had a problem with security....thanx public storage (briggsmore Ave. In Modesto .CA) . DONNA U R AWESOME. 😁👍👍👍
Donna and Carol are great employees here at public storage. Ive rented here for about 2 years and never had any problems. I'd highly recommend Public Storage to anyone whos looking for a safe and trusted storage company.
Carol is amazing so sweet and helpful.She has always been kind and called me for payment reminder. Donna helped us originally and has always been very helpful and kind especially during financial hardship times.Highly reccomend this storage facility ❤
Got my first ever storage unit today and was assisted by Donna,, she was very helpful and friendly ! I loved my overall experience here .
Public storage is great and Donna always gives great customer service and the place and units are very clean!
Donna was very nice and helpful. I have had a great experience with this public storage and their staff and would definitely recommend them.
Worked on telecommunications tower in facility. Ladies in front office were very kind, respectful, & friendly. Dealing with these wonderful ladies has been a blessing compared to other facilities. Employees went out of their way to allow us use of their on site restroom. Restrooms we're very clean. Employees adamantly clean the entire complex & units from sweeping, picking up trash/debris, and even dusting. Entire complex is a smoke free environment so definitely a benefit. Complex is secure with tall no entry fencing topped with razor wire. Locked access gate at front brings ease of mind to leaving items stored here.
Love this place manager is very nice.
We had our stuff here for a little over 1 month and we followed all of the regulations and rules about no food in the unit, etc...but we had rats come in and eat up almost the entire drain pipe on our washing machine! They didn't get into anything else though, thank goodness. Also, there are a lot of homeless people walking around the facility with their shopping carts, etc. We will never suggest this place to anyone.
Great service!! Great customer service!! Definitely a top 5 rating!!
Very friendly! Very secure. Easy move in and out.
Carol was very attentive and informative.
I love this public storage staff was very nice I recommend this facility to anyone looking to rent
I can not say enough about the service of excellence from the staff. My rental of the storage unit, made me feel that my belongings was safe and secure... I would most definitely refer all of my friends and family to use this facility. Thanks and God Bless
Exactly what I needed. Great price. Carol was very helpful. This is my 2nd time renting a unit here. I would definitely recommend.
Ive used several of the storage facilities in modesto and i gotta say this one is at the very top of my list....Miss Donna is very professional as well as very kind...and i appritiate the monthly courtesy calls. Unlike .Many others there is a public restroom which Miss Donna keeps super clean.🚽🚽😳😀
Great customer service clean and convienant location and they helped me with a discount
This place is amazing! I already knew what size space I needed and Carol was very helpful. The price was fair and vacating the space was an easy process.
Im absolabsol speachless ! This storage is the best investment in my life, and I intend on keeping it that way ! Donna the manager is awesome and her dog you just have to stop by and see him. It's clean, cool and calm.The renters are kind and Donna is always on top of things,running it in a safe and orderly manner. I have seen nothing get out of hand if something needs to be fixdf she is heart felt apologies and gets right on it even though it's not her fault. She cares that much for those who are the renters. I have come to find this place bring me peace of mind from a caotic world out their at times. I bought a laptop and keep my clothing and personal items in my storage until my appartment becomes available. In the end of July. The most precious thing I own is that laptop because it's for my son and I feel so safe keeping it here it brings joy to my heart knowing finally, Mom can present her Son with a gift without it getting lost or stolen. Donna I want to thank you personally you saved my life I'm able to come here get out of the heat and rest while I go through my things. I'm also able to tackle my health and may God bless you with the desires of your heart for what you have done for me. Oh ya let's not leave out the grand finally the price is spectacular.
Excellent location, clean and secure. Very kind staff, facilities are nice and easily accessible! Low volume traffic going in and out, it's great!
great place to store your extra stuff. easy to find and friendly staff. Carol answered all the questions I had. I would definitely recommend this place to everyone I know looking for a storage unit.
Carol is a great worker here I've been here for almost 5yrs and everything is great wouldn't change a thing
Customer service is not up to par.
The customer service reps were cool, helpful and fast and set me up with a unit without any issues. I only have two minor concerns: my unit has kind of a janky door that's tough to operate, and the rain-water drainage is clogged and I'm a bit worried about mosquitoes in the standing water outside my unit. Other than that, everything's great! Update: my tools were stolen from my storage unit and I never found out who did it. This location needs more security cameras.
Whats the monthly rates.?
Been here for over a year. Staff, especially Donna, is friendly and polite. Storage spaces are clean and easy access.
Staff is very friendly my very favorite place. Would have gave 6 starts but only allowed 5
Nice people. Clean place. Will definitely be back!
So far my experience has been positive and I've been renting a storage since June of this year. Reception to make phone calls and internet connection isn't too strong when inside the gates (i have AT&T, maybe that's why lol).
The storage unit was affordable the lady at the counter Donna when she put us in our storage was very helpful and and such a delight. The place is very well kept and secure if you're looking for somewhere to storage your stuff this would be the perfect place just ask for Donna or Carol they will help you. Great customer service all the time.
The process was fast and easy
Awsome staff never had problem it stays clean and I feel my suff is safe because they are alway checking I seen them worth the money in Modesto lot other places get broken in to and rude staff love it
Carol is a great employee. She is very nice and also very helpful.
This place girls Carol and Donna did such a great job
Great customer service Always clean... KEEP IT UP DONNA AND CAROL
The girls there are very professional and attentive. They helped me with all my needs, and were very informative. Carol was also very sweet and made my visit very pleasant. Donna is a really nice person I really like her a lot I have not interacted with the other staff so I can't say very much about them but as for Donna she makes to where you want to come back and rent from public storage again I just want to say thank you for your services very appreciated
Great place to store your personal belongings it really helps you if you need to store anything
The girls there are very professional and attentive. They helped me with all my needs, and were very informative. Carol was also very sweet and made my visit very pleasant.
The night shift lady, after 9 PM, is exceptional! Thank you so much for your excellent customer service and support. We recommend this place, highly!
We rented a storage unit for a short period of time while moving to Modesto from out of state. We were quoted a price over the phone and checked the internet prices. When we went to rent the unit, we were given a higher price than the quotes. The lady told us it was the last unit, saw that we were in a bind (we had a van full of stuff that needed to be dropped off), and told us that the quotes were wrong. It was only a difference of $13, but we were so put off by what felt like dishonesty and a lack of willingness to help us out. We rented at Extra Space last year and had a much better experience there.
Donna is a really nice person I really like her a lot I have not interacted with the other staff so I can't say very much about them but as for Donna she makes to where you want to come back and rent from public storage again I just want to say thank you for your services very appreciated
They are really nice people and the new manager is great
I had a good experience with them. On my moving out of my unit it was after 5 on a Friday I caught Carol as she was leaving told her I need to do my vacate so I would not get charged another day. She was very nice and clocked back in and checked me out. She was very professional.
Had a great experience with help on picking out the right sized unit and also being thoroughly informed on the way the lease is set up. Ask for Carol if you want it done quick and efficiently.
Public storage is the most secure storage in Modesto. I love the atmosphere and the workers. If U want great service and the best customer service ......... COME TO PUBLIC STORAGE it's located behind food maxx
the manager is very friendly and helpful
Friendly​ service but high prices
Loved the staff dona you did a awesome job, and i love my storage unit would recommend it to familey and friends.
Donna and Carol were amazing and I love the facility. The gate hours are super helpful as well.
Great customer service from beginning to end. Donna is awesome! Clean hassle free storage company.
This is Carol my friend Donna and I are still pleased with the superb customer service provided for us. Thanks for the continued awesome service.
This is the best public storage. That is because Donna has the best customer service. She has provided nothing but genuine service. She is very friendly and makes sure I am a haply customer! I am glad she works there. Thank you Donna -JP
Nice place very thorough walk though and explanation of the rules and guidelines, recommended correct space.
My experience here has been excellent, particularly as a result of topnotch customer service provided by manager Donna and assistant manager Carol...from the initial reservation setup to storing advice, monthly payment reminders, etc. They really go 'the extra mile' to be helpful in many ways throughout the whole process, which can be so stressful otherwise. It's hard not to appreciate any business you patronize these days that is genuinely kind, honest and informative. A rare find. Highly recommend.
Donna us the best manager here. She has the prettiest smile when I come through. Good customer service.
Donna is the is best and 5 gold stars for her
Great staff, facility is immaculate & safe!
I loved this storage it's beautiful clean the people are very respectful and loving thank you public storage I'ma keep doing business with you
This is a very nice storage facility, very clean and made me feel like I was storing my items in a safe place. Staff is very helpful and friendly, especially Donna, she was very knowledgeable and had wonderful customer service skills. Happy to have rented from public storage!
The girls in the office Carol and Donna were so sweet and very helpful they welcomed me in and were so professional with setting me up with everything I needed they also do a great job at keeping the place nice and tidy. I would definitely refer my friends and family.
This place is awesome no matter what situation i have they work with me i recommend publuc storage to everyone i know
They are great here.. I loved Carol she was very professional and customer service oriented.. Very flexible and assisted my needs!! Awesome awesome awesome!! Go here and get a storage
Carol was awesome! She was very helpful and patient with me. I would definitely refer a friend to their facility!
My experice at publis storage was a pleasent one. I was helped my a new trainee named Carol. Who was new but learning fast. I would recomnend Public Storage to all my friends and family.
RATS!!! Literally rays.the place was infested. Not ONLY is this facility twice the price as some places but the lure you in with first month dollar rent, they know you are moving and moving is outrageous so you say hey I can afford that, then they rape you come month 2 and so on. Rats destroyed my brand new washing machine they chewed on most everything and now I find that I have to toss out hundreds and hundreds of dollars worth of clothes utensils dishes and most hurtful...my baby girls toys and stuffed animals.this is because if it isn't chews on its POO'D ON ..NASTY RUN RUN FAR FAR AWAY
It was great, the staff was great.
I am a returning customer and I love how donna keeps the place running everything is so clean bathrooms kept up and if have queations she gets back to me quickly. Donna is vey sweet thank you very much sarah and donnie
I have been here a long time and the staff and Donna are awesome. They ha e saved my unit from auction many times. Thank you so much for your help.
I love. Dona. She is so nice in lovely. Thanks Dona
Easy and fast service, convenient location, helpful and friendly .
Everyone treated mevery niceand were very friendly thank you ruben and donna
Public storage on briggsmore in Modesto ca has be very helpful and patient with me... I wm very satisfied with there customer service...
I loved there service it just got to expensive for me.
Donna is great she helped me a lot today while at the property!
Rubens and Donna were very helpful with my transaction at public storage. I had went to my unit n left n thought I locked it. Well I get a call 30 mins later saying while Ruben was doing his rounds to check the units he noticed I didn't lock my storage correctly. So he put an extra lock on til I could get there to fix it. That make me feel so much more safer . They do an awesome job here.. I've been here for 2 years n feel safer than anywhere. .. thank you staff for keeping my precious stuff secured.
Great service, went to look for boxes, the lady working was very helpful. She pointed out the different sizes and I got a discount for getting 10.
I want to say that the girls here in the office are very friendly and kind. They were very thurough with helping with my storage needs. Thank you so much for you help.
Great....Donna is awesome....aside from a lil misunderstanding that occurred she was very helpul and friendly...thank you!!!!
Donna and Theresa were very helpful during our hectic move. They understood how much pressure we were under and thanks to them everything turned out great! We recommend this location for all your storage needs.
Donna she help me out finding the right size for my move she was real helpful
Best Public Storage ever very professional and friendly staff. Best service ever! 😃😘
Customer service is great. Donna and Theresa are fantastic. Very helpful and nice. I recommend this facility to anyone in need of a storage unit. Thanks briggsmore public storage. Ron
I would recommend this Public Storage. Teresa ,who was the person who helped me ,has such a great personality. Teresa knew what she was doing and was a very fun person to deal with and be around! Thank You Teresa, Your Da Bomb Sista!!!
Public Storage is such a welcoming and kind place to be. Public Storage staff are always pleasant to be around and always have a smile. Out off all the Storages i have looked at Public Storage id the best yet.... Keep up the great work Public Storage Staff!!!!
I want to thank Theresa and Donna for helping me in my storage needs. They made my move in very easy. They are very professional at their job. Thank you both.
Excellent Service with wonderful people. Someone is always available and goes the extra mile to help make my experience better. Definitely a place i will recommend and a better storage rental location then I've dealt with in the past. Gotta love the girls they're the best!!!
Awesome Staff in this place! Every time I go in the office people are Always friendly and helpful to my needs. Highly recommend this place to anyone in need of storage. Used this company over the years and NEVER had any problems.
Public Storage is such a clean and good over round place. I have looked at alot of storage places and Public Storage is the best yet. The workers are very nice and very interactive. Keep it up Public Storage, your doing such a great job!!!!
All you ladies are wonderful and I really appreciate all your kindness and customer service". Thanks a lot!! Donny Rotermund
Jess & Theresa were very friendly and extremely professional in helping me with my storage. Thank you ladies you're awesome!
Donna is awesome. Great service and clean, well maintained
I would like to thank Donna and Theresa for all that they had done for me with my move in. I appreciate all of their help. Thanks for being so nice to me and making my move easier. Thank you. Diann
The place was very clean lady name Donna was very nice and showed me everything about public storage .
Wonderful staff...Donna is wonderful!!
Clean and friendly Donna does a great job
The ladies at this site are awesome! Donna and Theresa thanks
Brewer Moving endorses this facility with providing great customer service and providing great value with storage availability and pricing. When you need storage this is the place to go. Ask for Donna and Rachel. They were very helpful when I needed to get a storage unit.
Donna, Theresa, and Rachel are the best, I had zero problems moving in or moving out. The facilities are clean and the upkeep is impeccable. I would rather live there than my own place - Ha! I encourage all to get a storage unit even if you have nothing to store! The experience with the professional staff is worth the price because they make it so nice!
Dona and Theresa were very helpful in my need for storage i had recently found it on the web so i clicked on and i had made arragements for a reservation and went in to ck. it out Dona was not there it was her day off and Theresa told me if i wanted to look at some of them she had gave me a sence of security and i was glad , Dona & Theresa thank you for an outstanding service.
Very nice people and made an unpleasant situation more bearable. Will use them in the future. Nice clean property
Rachel helped me get a unit this past weekend, great service would definitely recommend to others
Dona went on and beyond to helped me out on my storage needs. Very professional and friendly place. Highly recommend for place to store your goods.
Donna was so helpful with updating my account. I'm so glad I found her location. My storage unit is 200 miles away from where I live. It will be so nice to be able to go locally to take of my storage needs.
Donna was great, amazing customer service!
Defintely had a great experience getting a storage unit today. The staff was very friendly and knowledgable in finding me the right storage unit to meet my needs. Would refer them to anyone looking for a safe place to store their belongings . ;)
I've rented here before and it's always great and friendly service! Thank you Shannon!
It was good and I was in and out pretty fast
Excellent service and space!
Always Friendly and Helpful!! Great Place!
They were very pleasant and helpful
I have rented from them several times. Each time was perfect. No hassles, no surprises. Very accommodating. The couple that manage the place represent the company well. Thank You Brian Kelley
Managers very helpful clean & well lit very pleased huge load off of my mind!! Wouldn't Go anywhere else. Decean was courtesy new his job & helpful in getting me the boxes I needed to the size of the storage unit I would need ! Thank U hr is an asset to your company
Friendly and helpful managers. Clean and Well-Lit location. Can't ask for much more.
Needed some boxes for moving and they were very helpful! Friendly service! Would definitely buy from there again.
The property is clean & the managers have always been so helpful!
Friendly, helpful staff. Met all of my needs, and I will continue to use this location as my go-to for moving and storage needs!
I needed to purchase supplies for my move to WA State and knew the PS sold these types of supplies. The manager was extremely helpful and quick (since I was on a lunch hour rush). 5 star service!