Public Storage Self-Storage Units at 3851 N Romero Rd, Tucson, AZ
Address
3851 N Romero Rd Tucson, AZ 85705
Office Hours
Mon-Fri 9:30 AM - 6:00 PM
Sat-Sun 9:30 AM - 5:00 PM
Gate Access Hours
Mon-Sun 6:00 AM - 9:00 PM
Storage Facility Features
Climate Control Storage

Boat Storage

Car Storage

RV Storage

Indoor & Outdoor Storage Units

Property Manager Lives On-site
Office Hours
Mon-Fri 9:30 AM - 6:00 PM
Sat-Sun 9:30 AM - 5:00 PM
Gate Access Hours
Mon-Sun 6:00 AM - 9:00 PM
Storage Facility Features
Climate Control Storage

Boat Storage

Car Storage

RV Storage

Indoor & Outdoor Storage Units

Property Manager Lives On-site
Close Location Details
View Location Details
Outside unit

Drive-up access

---

10'x25'

---

5'x10'

Outside unit

Drive-up access

Outside unit

Drive-up access

Outside unit

Drive-up access

---

10'x16'

Outside unit

Drive-up access

Outside unit

Drive-up access

Outside unit

Drive-up access

---

10'x32'

Outside unit

Drive-up access
Nearby Self-Storage Locations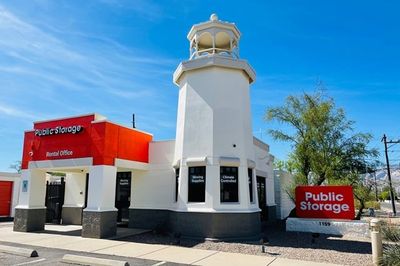 Self Storage Near
1159 N Columbus Blvd
Tucson AZ 85712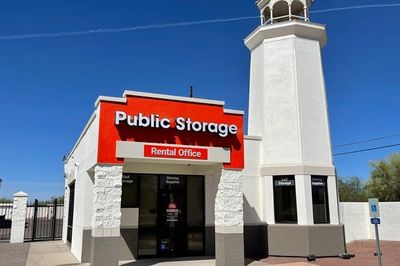 Self Storage Near
11274 N Oracle Rd
Tucson AZ 85737
Resources from the Help Center
See what fits in different storage unit sizes
Northwest Tucson Storage Units Near I-10
This Tucson Public Storage, in the northwest part of town just minutes off of Interstate 10, offers a wide selection of affordable self storage units for local storage customers.
Sitting on the west side of Romero Road between Roger Road and Prince Road, just east of I-10, this location offers outdoor, drive-up storage units in various sizes. There are also cheap storage options for vehicles, boats and RVs.
A 5x10 storage unit is a great way to store recreational gear, including hiking boots, backpacks and supplies for a day spent on the trails of Tucson Mountain Park. A 10x10 storage unit can hold bulky winter clothes during the warm summer months and is the perfect place to stash pool toys and equipment in the winter, to keep the garage clutter-free.
Flowing Wells High School families can store old furniture and appliances in a 10x20 storage unit when it's time to upgrade household items, while businesses getting ready to relocate along Silverbell Road can use a 10x30 storage unit to store inventory, office furniture, equipment and supplies until it's time to reopen the doors.
This is also an ideal location for folks heading back and forth between Phoenix and Tucson as a pick-up/drop-off storage stop on the north side of town.
Easily accessible for customers throughout the Casa Adobes, Flowing Wells and the west side of the Catalina Foothills communities, this Public Storage is open 7 days a week.
At Public Storage, You'll Always Find...
Keypad Access

Friendly Staff

Month-to-Month Rent

Moving Supplies Available

Free Parking

Well-Lit Facilities
Reviews
( 448)
Samantha/Chas where wonderful they helped me with what I needed in a timely fashion and super fun atmosphere.thank u so much. Would come back again.
The Best Service Ever in AZ Thank you Samantha,Chas you Rock
I had problems with a unit I rented and But if they just go to Google cuz look at it they switched to me another the next day. The until was just across from my oth And then the new unit was right across from the other one. Which was great. Thanks Samatha and Chas
Had a great experience they are fun and beautiful Samantha and Chas. Very welcoming and pleasant and professional. They treated me with great respect. Helped me setup autopay I was very pleased coming to this public storage.
Samantha chas both were helpful and very friendly I recommend them to anyone.
Awesome service! Samantha and Chas made it super easy to sign up and explained everything. Highly recommend
Chas ud great she always a answers my questions and is in office or out on property when needed.
I'm very happy with Samantha she has very good customer service. I love her property looked nice. I'm a very satisfied customer. Thank you Samantha. 😊
Completely satisfied with everything
Samantha and Chas are great. Excellent customer service.
rented there for the second time, chas & Sam S were great! property well maintenanced very happy will rent again!
Knowledgeable and friendly. Samantha was very patient and also helpful.
Chas, Sam C, and Sam S have been very helpful providing information for me very courtesy and laugh 😃 at my jokes.
The service was fast and amazing and the employees, Samantha and Chas, were helpful and informative
Chas, and Sam C were awesome and super friendly!
Both Samantha's are very helpful and friendly. Thank you!
Needed a storage unit for a short time close to where I was staying...called to find out the closest location and the gentleman on the phone was very helpful...I was unsure of the date to be there, and Chastity was very helpful in answering questions...showed up to the location earlier than the date reserved, and Samantha signed me in, completed all necessary forms, answered all questions and even took me out to the specific unit I rented...the whole process went smoothly from start to finish...very appreciative to all involved...
Chas is very nice and always helpful. And always there when I have questions
Had a very good experience getting set up with our storage unit. Tina was super helpful and knowledgeable. She went above and beyond to help us out. We certainly appreciate great service like that!
The service was fantastic the ladies Sam and chas was pleasant to talk with and very welcoming. I setup my auto pay and showed me how to use the ps app.
Samantha S Samantha A were absolutely awesome!
Sam and Chas was very helpful and I enjoyed their professionalism. These ladies have great customer service. They helped me with all my questions and how to use the ps app. I'm glad to come here.
Chas and Sam helped my uncle get started and they were very nice. Love this storage place.
Sam and Chas here are awesome. So welcoming and always there to help me when I need it. Great customer service if come here ask for Sam or Chas. Thank you gals :)
This location is great, their customer service is amazing and has helped us immensely. Chas specifically went above and beyond to make sure we got everything we needed done. Couldn't be more grateful!
I was looking for a unit to store my stuff until my new place is ready in a couple weeks. My mom suggested The Public Storage on N Romero because she has rented there before and was really happy with them. So I got a reservation online but I decided to go look at it before I checkout just to make sure itwas going to be what I need. I spoke with Ashlee, who was amazing at helping answer my questions. She walked with me to look at the size so I could decide. It was exactly what I needed and more. Not only the unit but the total security of the place. I won't have to worry about my things being safe. Overall it was fast, friendly and very pleasant. I will definitely call them up if I need future storage. I appreciate how comfortable they made me feel. Their customer service is an A+ for sure. I wish all my customer experiences were this easy and amazing
Samantha and Ashley have great customer service and are amazing
Chas was amazing…very fast and efficient thank you
Samantha has been patient with me every time I call and is the best ever and Ashlee she also helped today they are awesome and very clean property. They gave great customer service if I could give 11 stars I would.
Samantha S and Ashlee were kind, professional, and helped me get into my unit. They gave great customer service and helped me with my lock at the unit. The property was very clean.
Samantha assisted me today. She was so professional & accommodating made me remember what customer service is all about.
Sam and chas, were so great and friendly and welcoming to me and my dad, they walked us through the whole process.
I don't suggest anyone storing their stuff there, they are a rip off, they bumped their heads on their prices! I would go to another one, don't even waste your time with this one!
Samantha was very good explaining end shows me different ways to storage thank you
Chas was great she help me with my access code. And questions i had.
Chaz and Sam has awesome customer service and helped me with my concerns on my account property is really clean and they show they truly care it smelled good in office. If ps can waive my lien fee and late fees due to a funeral I would be even more happy. Great job ladies! There service is what is keeping me here.
Samantha S and now Chaz is the most pleasant workers in the office here. Questions I have they helpful and Chaz helped me download the app walked me through it and showed me how to use it. Public storage should be happy having workers as themselves.
Samantha was very helpful. She answered all of my questions. From start to finish it took about 20 minutes and I was in my unit
Tina was great she really helped me get my account lowered. Thank you.
Tina was a great help and answered all my questions. 5 stars is not enough for her. She deserves 10.
Chas was amazingly awesome....scared of wasps but who isn't lol we both hid for cover they were swarming the front door while Shannon was our captain and flew in to save the day thanks Shannon's saving the day
Tina did an excellent job and very informative and courteous.
Val fue muy atenta en su servicio
Great service from Val thank you very much for your help and guidance
Tina is ama ing and helped me with my questions and situation.
5/5 stars for friendly staff. 1/5 stars for after hours security. Tina the property manager is really nice and welcoming! But they should definitely look into on site security!
Tina was a great she did a wonderful job helpingme out with my unit
I have been using Public Storage for a number of years and once again this property exceeds my expectations. Tina has helped me in the past and has always been very professional, helpful and knowledgeable of the property and product.
Called and got a great rate for a 30' parking space. Got there to put both my vehicles in the space and they totally changed the agreement my wife got in writing. The woman on the phone said it was ok to park 2 vehicles in one space and this woman Tina said we could not. She said the woman on the phone was wrong and would not honor the e rental registration link that was sent to us. I would not recommend this place. They are a bunch of liars. I knew the 1 dollar rental was to good to be true!
Tina helped me locate storage space at a great price! Great customer service!
Tina and Ashlee here in Tucson are amazing! They helped me out with a minor issue with my unit in Texas and got everything squared away for me. Now I can breathe again. Thank you!
Keri and Tina were great and fantastic customer service.
Good storage for the price! Tina at the front desk was a great help. Great customer service!
This is a 5 star storage facility with 2 5 star employees and 2 1 star managers. Every single time we go to the unit we can bet on one of two experiences.:. Either we come in to be welcomed by Veronica or not even acknowledged by the manager and his sidekick; until we are in the unit and working on sorting through donations for the group home we work for. If we are there longer than about 15 min they insist we've been there too long and need to leave. The door can never be open enough for their liking and if we have to hire helpers that day; they are most certainly going to be thrown off the property if they are not on our authorized user list. Even if they are; it's not honored after the 1 visit there. Bottom line is that the rude behavior of the employees in management is the only negative aspect of renting here. Rates are comparable with the competition and units are clean, well kept, lot is spotless and secure. One of the best habits I've noticed is they walk the lot instead of ride around on a cart . I've watched the walk through and they are thoughtful and check each unit for secure locks in place and if they catch anyone behaving in an intoxicated or illegal fashion;!they clear them off the lot. You know, I'd probably never said anything about the rude hateful 1 or 2 staff members but last week my wife was kicked off the lot and had the police called on her for being stranded on the lot due to me being in a car accident omw to pick her up and it's really just left a really bad taste in my mouth. I'll likely be vacating the unit end of the month due to this one situation because who will do anything about it???? Nobody. 5 stars falls short due to staff attitude.
More to come on that later it was a pleasant experience.
How do you operate with no one on site to assist customers? Office always locked and shut down ! I need my unit opened
Lock me out after I payed it's bull
I love this storage place ❤️ Veronica is super awesome and so helpful ☺️ would recommend her to friends and family needed storage space.
Veronica a staff member at public storage is a great and courteous person. If More person like her in the world, the world would be a better place.. Made my day .
Nice person at the front desk. If you're late with your rent they work with you. Real quite and very clean. Also really affordable great place to store.
Veronica was very helpful and answered all of questions in detail manner. 100% recommended getting a storage unit here at Romero
Veronica was really helpful and nice 10/10 would store again
Have to write this review which I ever do. Veronica was so helpful with such a great attitude! Thank you so much I will recommend you to my friends.
Michaela was very helpful.
Veronica is the manager and a great one at that, she goes above and beyond for everyone. Thank you your an all star.
Super easy online rental! And amazing help from Veronica in the office when I went to sign my lease! So happy with my choice on where to store my stuff!
Kevin provided excellent customer service and support. I recommend using this branch for your storage needs.
Chastity has been exceptionally helpful. I've been stressed out because of the move and having to store so much stuff. But she has been extremely helpful and calming. Thank you very much Chasity.
Chas was very helpful in getting my code to the gate to let me in.
My RV was broken into twice while parked at Public Storage, Romero Road, Tucson. The most recent break in was in March, 2022. I filed a police report noting that my drivers side window had been smashed and the stereo and back up camera screen, among other things, had been stolen. The earlier break in resulted in the theft of my power cord for the RV. Management told me that I had to pay for all the damage and repairs (over $2,000.00). Management also did not respond to my request for reimbursement for the balance of the months rent I paid for after I removed my RV permanently from the facility. Other thefts have been reported from Public Storage this year including several batteries. RENT AT YOUR OWN RISK!!!!!
Chaz was a delete to work with very helpful and friendly.
Donielle helped us so much on our visit this past friday, she had such a positive attitude and was patient with us whem we had to get our stuff situated.
Great customer service! Chas had me in and out in no time.
Chas was great in answering all of your questions and was able to make everything work in our favor.
Renting here was so easy! Booked online, but had trouble with the assigned unit when I arrived. Sam was fantastic at helping me out and getting me right into a unit that met my order and my storage needs. Thanks Sam! Access is easy and the place seems well-secured. Based on my experience here so far, this is a place I would recommend for storage.
This location (Romero) was robbed 3-3-22. At least 8 RV batteries were stolen and vandalized. No compensation was offered for to the property owners. Currently no cameras are located in the back. They didn't even know they were robbed.
Storage Units are nice and clean. Closes to early 9pm
Chas and Sam were awesome they have great customer service and great personalities and I enjoyed being here
Easy access. Quick set up and cylinder locks for extra security. I loved it.
Very efficient. Very clean. Nice staff.
Chas was Excellent excellent excellent!!
Chas was great amazing person
Absolutely hands down the most pleasant phone experience when i called to check the particulars. They said that they were closed on Sunday which it was Sunday. The man said someone would meet me at the location so i went there and waited about an hour when an employee of Public Storage came out and locked the door. I told him i was supposed to meet someone there and he said they just closed. Remember i said that the man said they were already closed. So i waited for nothing because no one was coming and now they really were closed. So all that snowballed to cost me about $390 and i list about another $1000 in my property because of this fiasco. So i would like to say i do not recommend Public Storage based on my experience to anyone for any reason.
This place has robbed me for some of my things people that work there . Don't rent from them bottom line
Chas helped me out with my transfer and it went smooth great customer service
We used them to store our trailer. They had outdoor parking at a reasonable rate but they raised the price twice in the 18 months we stored there. They have automated gates but we drove in and out the open gate regularly and never got challenged. Our biggest kick was when we found the last two our our four stabilizer jacks were stolen. The first person we asked said the cameras were down in that area but the second person said they do work but ONLY at night?????? Since we had no idea when they were taken we were out of luck and the TPD was just as useless.
I'm not even a customer at this place but the chick at the counter was the only person around here nice enough to let me use the bathroom it's unbelievable how many so called "businesses" I went to before finding one with some actual human decency 4 hours on the road 4 more to go….good people are hard to come by these days!
The girls were awesome so helpful. Thanks you girls
I have a unit at this place for almost 6 months now and the price just keep going up I need to find a new place for my stuff because they just keep adding more I don't necessarily think I would recommend this place if your looking to store something for more than 3 months
I love Public Storages. I have use them off and on for 20 yrs. I never had any real issues with them but going up on prices ...is getting ridicules. For the size storages I have right now it's way too much and I have 3 of them . should give a value package or reduce people with more than 1.
Chas is great perfect assist to company
Wonderful experience, we arrived right at opening after some our original plans at uhual fell through and the space we were supposed to receive was no longer available. We didn't have any plan but we're able to move in straight away this morning here even without having booked anything in advanced. Such a relief, glad we ended up where we needed to be.
Great prices for get storage units
Solid place no complaints
Excellent customer care the staff was so helpful
Great customer service, quick and easy, got the gate code and was in and out in about 20 min. Great rate for a Class C 26" RV slot ($78).
If your late at all they will drill you out then charge you for a new lock while holding your items hostage
Awesome experience ,I have enjoyed my interactions with the manager,offering nice services
Sam and Chas are stars! My son was able to rent a unit remotely while he was at work so we could move his items straight in for him and still have everything organized in his name. I am very thankful to these gals for saving us hours we would have spent waiting on him! I will be recommending 😎👍
The highest quality service.The feeling that my cargo trailer is now in a safe place and safer hands.PRICELESS ! THANK YOU. STEVEN
Were very kind in helping me to help my parents over the phone today, Sam got us all taken care of.
Store opened over 30 minutes later than was supposed to. I was inquiring about my reserved unit for that day. The lady was very rude and told me I had to buy a $35 lock. Then came to find out that the door on the unit I was supposed to rent wasn't a shipping door it was a regular door for a 10x16 unit. She was very unprofessional and she should be fired for being late opening the store.
Always good talking in the office a favorite stop
Went in for questions I had on renting a unit. Sam and Chas were great in answering all of my questions. They were able to joke around as well and give a very welcoming feeling. Will definitely be renting there when I move.
I'm stuck out of state and haven't been able to travel because I'm high risk, Sam and Chas have been so so helpful through this whole ordeal. I know my stuff is safe and in good hands!
Great service Chas, thanks
Rented many times always get good service!
Office was on point. Called with a bunch of questions and they were able to get me all the information I needed.
Chas was great she had me in and out quik.
My husband and I won a bid on a storage unit from here and was very satisfied with the way the whole deal was managed. When we got there Chas was working. She was very friendly, informative and accomendating. The storage units and surrounding area was very clean. I would not hesitate to make a bid from there again or rent a unit. Thank you Chas for being so helpful and friendly. 😊
Not very happy with the price increase. Will be removed all by the end of the month.
The property is very clean and well maintain,Chas is very helpful answered all my questions I would highly recommend this property.
Chas helped me today and she was so kind and helpful. She made my experience a memorable one.
The front desk lady there was rude and unprofessional .
Only place that could help my parents get a unit from out of state no gimmicks or hassle
The phone cust. Service is just awful! Plain rude and unhelpful. Management onsite is terribly rude as well. Also quite overpriced after the first month promotion ends.
Accidentally arrived before they were supposed to opened but they were willing to help me a little early 😅
Our family has had a unit here for almost a decade and we only have positive things to say.
I have rented from this location for over a year now and would highly recommend them to anyone. CHAS helped me today and she was fantastic! Professional, polite and beyond helpful. I can't say enough good things about her! She's great!
Employees are helpful and friendly. The location where I rent is clean and well secured. BUT I AM not happy with the COST of renting going up after I was there 6 months. I asked about this but never got a answer. This is NOT good business. ? SO WILL PUBLIC STORAGE go up every 6 mons.?
Chas was awesome. Had great customer service. She also answered my questions.
We cleared out my moms stuff today the ladies in the office look like they are cool I want to be friends
They are always so helpful. I left the state, had issues with my key. I called them and they were wonderful. Understood, and eased my mind. When I returned I knew I was in good hands. Thank you for caring. 😄
A short time ago I helped a friend move. We had to get a storage unit and was pressed for time. We headed down the way and located two next to each other. ( Lucky us). We ended up talking to a lady at public storage. I think her name was chaz she was genuinely concerned with helping us given our timeline and was very kind and didn't make us feel rushed at all. My friend ended up getting a unit here at a great price. If these are the people this company hires I can see why they are doing good in business! So ty public storage for a great experience and great storage unit and especially to your worker who made our day! Very grateful costumer!
The staff was totally unhelpful, I just got out of surgery and they wouldn't lead us to our unit in their cart. After I was out of there I took the lock I paid way too much for, swept out the unit removing the spider webs it came with wondering why they didn't inform me that I needed to bring a light bulb, then they tried to charge me for a second month even though I left the place better than I found it 4 days early. No contract no service no like
The lady's in the office were extremely nice and accommodating. The property was clean and well kept. It was a perfect choice and experience.
Chas and Anissa are very helpful ladies that will help you get what you need without a hassle
Sams cool, glad they've remained open through all this.
Just got in there yesterday. Appears very secure. Ill keep you posted.
Great storage really friendly
Chas was very professional and friendly help me to find the right Storage I need highly recommended Thank you chess!
When I first moved my Rv into this storage everyone I encountered was exceptionally nice soon after the turn over happened. The most current employee she had locked out my gate code for 2 full months and refused to give me access. My strorage bill was always paid in full every month. They had no ballance to claim against my storage space. I finally got to remove my property from this storage facility only after they refused to prorate the the remainder of this month so I paid January thr May 5 months at this site and was only able to enter this site 2 months out of the 5 months paid for this 2020 year. I kept paying so that they had no rights to auction off my belongings they did however allow breakins to happen during they time that my entry code was being denied to me and I had no way to check on or secure my property or have knowledge about the theft until I was able to remove my property from this Storage facility I will issue my complaints to the Corporate office.
Boss moved our work shed here a few months back, its way nicer than other places we've had it before. Everyone's really cool.
I pop in every month to pay my grand daughters bill and she's been here for quite a minute. I wasn't impressed for the first stretch but over the last couple years they have far bettered the place and service. If I needed room for myself this would now be my first choice. I've seen several employees over the years but Lacey, Sam, Lisa, and Erica are the golden team here I've truely enjoy every interaction ive had with these kind, funny, hard working women and I am happy to finally give them a little recognition but they deserve much more than a review for how they have turned this place around.
Anissa was a pleasure to do business with she made things very simple. Thank you for your help.
Looks like someone is living in there trailer there
You load it, you lock it. Done
Oh Heather.... I'll miss you
I went in and met with Brianna. I was reluctant at first to rent another storage unit because I had gotten a VERY bad experience from dollar self storage in Tucson. Brianna took the time to go over every part of my contract and make things clear with me and explained it so I understood. Absolutely recommend, Brianna was a great help and an asset to the company! I did end up with a lovely 10x30 that was very reasonable priced and with a dash of excellent customer service!
The lady's at the front were amazing. They let me and my fiance take our time picking out a unit. None pressure sales. Informative.
Charlie was very helpful and pleasant to work with. She was great.
Lots of room for 32 foot truck
Charlie is very nice and helpful, storage looks clean, plus there was a promotion that she explained to me, Sam was there to they are very nice and friendly
UPS delivered a shipment to the wrong storage unit instead of mine and Charlie at my Public Storage location cross-referenced the sign-in sheet in an attempt to determine where my shipment was delivered to. She went far beyond the expected in helping me. She is always friendly and helpful, energetic and extremely competent. What a great employee!!
Charlie and Sam do a great job, very helpful and friendly! Strongly recommend using this location if you're looking for a storage unit!
I went in because I'm Moving and need to store my stuff and Charlie helped me. She was so nice and showed me the space , I will definitely be going back !
Excellent customer service. Jon went out of his way to assist me and made certain my needs were met. When I arrived he was doing a perimeter check of the location, which made me feel safe knowing the grounds were secure and closely monitored. Location and office are very clean. The 17 bus drops off just a few feet away.
Charlie and Jon were amazing, they were straight forward with exactly what to expect and made the process of renting the storage unit we needed so much easier.
Has a lot of hidden costs when you rent
My grandfather rents from here
Got exactly what we needed, and Charlie made it so easy. The rates are great - we're very happy with the service and storage. :)
I love them. The tattoo lady that works the front desk is sweet, friendly and very efficient. I had storage off and on for overv20 years
do you have any move in specials\
Charlie was extremely helpful and very friendly, she answered all our questions clearly and concisely. Excellent service all around.
My store will no longer be needing our storage but the service here is unmatched. Lacey is absolutely sweet, Erica is great, and the manager Sam runs a tight ship. None of my employees have ever had any complaints and neither do I. If we need more space we will be back, if any of my friends need more space I'll send them here.
My mom just got a unit here, its a lot better than I remember it back in the day.
Charlie and her girl are awesome :)
I leave 5 star for Charlie & Samantha good team trust to protect stuff
Charlie and Sam are super friendly and very helpful...
This was a great experience. Charlie was the best representative I've met. She showed me the unit and made sure I got the Labor Day special. Also smelled really good. Got all 3 storages into one. Thanx again.
I'm so pleased with this business I went in and had no idea what I needed Erica helped me and made the process so easy was a delight to work with ! Highly recommend
I didnt talk to the office people personally, but I did help a friend move stuff here and the condition of the newly rented unit was deplorable. There was graffiti on the floor along with a mystery black tar like stain. The walls are cheap drywall that looks horribly deteriorated. But it was quick and cheap so that's something. Main point if your in desperate need of a cheap unit then go for it, but if possible I'd highly recommend anywhere else even if its slightly more expensive.
Lost everything I owned. Firearms, tools, camping equipment, too much to list. Manager who lives on site was not clear about fees, said she would handle it. No emails regarding the auction of my belongings all gone. I need a lawyer.
Myself and my son rented a unit and found out it had a swing door and got a credit, they charged us $184.00 and we recieved a credit for 10, a credit for 15 and another credit for 21, went in and they had no explanation, ONLY EXCUSES. I would strongly suggest against ANYONE renting from here. Darren Medders
I have a Storage unit here. I rely on it for my day to day operations. Reasonably priced
Marissa provides excellent customer service. It's nice to have someone greet me & asking how she can help me. Service like Marissa's is greatly appreciated!!!!
Extortion. We have had a storage room for over 15 years. Our room was broken into a couple years back and they offered nothing of recompense, not $1 off. Prices start out good then go up every couple of months. $200 for a storage room without a/c is ridiculous. People just coming in are paying less than HALF of what we do for the same size room. I'm tired of getting ripped off more and more every couple months they decide we haven't paid enough. Fix it and I'll rerate. It's about to be an episode of storage wars.
Go next door, to A Family. Better prices and service
Liked this place excellent, the people are helpful they know there talking about in and out quickly , easy to get around, friendly staff and good prices👍
Marissa was very helpful & worked very hard to accommodate my needs.
Marissa was very helpful.. She took the time to show me the unit and answered all my questions. Her friendly attitude was genuine. It makes all the difference to me when I get someone that is so kind and knowledgeable, willing to go the extra mile. i got a great unit at a secure location. There's plenty of room on the lot to maneuver the moving trailer. I got everything I needed, and great customer service. Thanks again Marissa.
Service was excellent! Marissa was super helpful.
My wife needed packing boxes and Marissa was a great help in getting her the perfect boxes. Great service and very friendly!
the worst place i have don bissness with seem too stereo type there coustomers i think they have some type of what i call a rappeo machine that becomes beyond brown nose effecect of and with social meida or community and if you belive in magic they got more propel undergrown than one could count on one hand beyond a si fi movie i will bring this too the count of will the real slim shaddy please stand up too tell the truth i am the truth three times . i would not even give them lone star but i had to in order to write this. me spelled backwards things that make you go em.
Lisa is amazing she has always taken care of me the second I walk threw the door and get tats are awesome
There was a leak in my unit (J101) which ruined a few of my sentimental items that I had in there. Went to office to talk about it and the guy told me I can buy a tarp (even though the water damage has already happened) so I talked with the manager and she said I could make a claim on it, I just have to call their insurance line. We called the insurance line and they said they don't have any record of me being there at all. Nice to know how they really feel of their customers and their customer's belongings. Would not recommend.
Wow this place is great. Customer service is awesome. Lisa at the counter was not only very informative and knowledgeable but very nice to myself and family. Place is clean and friendly. Kudos to the manager and staff. Happy to store my belongings there. Thanks again. Lisa
Great property super clean with great people who go out of their way to help. Especially Lisa she was very helpful and kind. 11/10 Would recommend.
Very clean place ! Enjoyed my service , highly recommend going to this location.
Was having a horrible, stressful day with moving and all and was provided with absolutely incredible customer service by Mariah! Thank you so much, you made it little to no hassle! Turned my frown upside down
They worked with me. The wife and I moved down here from a different state, and we needed a place to put all of our stuff until we sold the house in the other state, and found a house down here. They had a VERY large open unit for us, good price, discount with auto pay set up. We are happy, it is gated, and secured with cameras. The tractor trailer truck had enough room to get in there, unload, and then get out with too much trouble. I will use them again if a situation develops and I need storage.
Klein staff great service they help me out putting my dad's trailer in a place where I could store it when nobody else would I definitely give these people of five maybe even a six if I could give him a 6
Its amazing place good friendly people
John in the front office is always very helpful and friendly. Made switching unit sizes hassle free and easy. Thanks so much!
Nice service, excellent work skills, i went into get a storage and was tested with the up most respect by a man can't remember his name but he had a beard and wore glasses very nice gentle man, i would definitely recommend PUBLIC STORAGE to anyone who is in search of a storage this place is great and they work with in any and all situations.
Great place to store any items .. very secure and helpful people at the front desk .. thanks for all the help Lisa ..
Living it and it's people, hey ya
I know an employee name is lisa very professional and helpful
The staff is amazingly friendly! Cleanest property in town! I highly recommend fitness your storage needs!
Friendly Staff thanks Lisa!
John ...who works at the desk...is "Top Drawer" in my book...Ask for him to help you with any issue
Lisa was very friendly and informative. The units are clean and secure and easy access.
Best place ever Lisa great personality and great customer service.
Couldn't be happier, Great Staff with Great Rates. Would recommend to anyone.
Great service and is about the people and good locks love this place
The customer service people here are the best, Jon and Lisa are my favorite.
Lisa was very helpful with information for storage. I recommend this location because they make the whole process simple and quick. I trust having them watch over my property and have no worries about it. Great place!!
Had the best expreience with Lisa! She helped us choose the right storage for our needs. And put my worries at ease about having my belongings in storage. Her customer service is exceptional. Her knowledge of public storage helped make my moving transition that much easier.
Some of the best customer service I have encountered. A really nice staff everyone was very helpful and professional. I've been with them for years and they've always been great. Highly recommended.
Great service clean and very friendly
I've been with public storage for years. They have been very accommodating throughout all these years and a 5 star review was the least I could do. Very dependable and great priced service.
Friendly service and Great management. Lisa was very helpful and it's a great clean facility.
Prompt and friendly service from Lisa & Dominque.
Wish the gate would automatically open when exiting the property. Instead you have to enter pin when entering and once again when leaving. Only complaint!
Amazing property. Clean and very friendly!
This place has no security my camper was broken into and had everything stolen out of it, and Lisa thought it was funny, come to find out they had three other brake in last month not including mine. They even had a trailer stolen that had a power washer attached to it taken right out the gate. There security cameras are only for show, and they offered me no compensation for my camper being broken into even though their fencing has sections missing the Barbed wire on top. The police believe that it had to be an inside job.
Received exceptionally excellent service from Lisa and Linda on July 21st 2018 in regards to securing my unit. Both representatives were curteous and helpful in ensuring that I chose the unit that worked best for me and my situation in a timely and effective manor. 5 stars. Will be staying with this location for time to come...
Lisa was very helpful in finding the right size storage for my personal things I was very hesitant on stopping in but she made the whole transaction a breeze...... Kudos Lisa
Stopped by to get some prices and see the storage units for my daughter. I have to say the place is nice and clean. Lisa was very help and pleasant. She wasn't annoyed with all my questions. Definitely will recommend!
The service was real good,the property was very clean Lisa was awesome very friendly and helpful I would definitely recommend this
Great experience here property is always very well clean and kept up, rented at other storage facilities and they were always a mess! Lisa is always so friendly and always ask if there's anything I need to just let her know, I truly appreciate the excellent customer service and kindness! I would recommended this storage facility to anyone, Thanks as always Lisa
Lisa is amazing and the place is clean and I would definitely recommend it!
Lisa is great friendly and got me what I wanted I would really recommend
i have used different facilities for convienence over the years but most recently have been really pleased with the facilities, ease of getting in and out and most importantly the staff. Lisa really helps with her ability to not only explain the process and policies but gives you the comfort to know you belongings are safe! Thats a relief! Lisa is great to talk to takes that time that you don't feel she is rushing you through! Storage locations can be found everywhere but the staff and professionalism is a reason to comfortably store here! Thanks!!
Lisa is the best customer service rep ive ever had. Thank u lisa
MY WIFE AND I WERE GREETED WITH A WELCOMING SMILE AND SERVICE FROM LISA AT THE ROMERO LOCATION. LISA WAS GREAT AND VERY HELFUL!!! SHE WAS VERY FRIENDLY AND PROFESSIONAL. I WILL NEVER USE ANOTHER COMPANY THAN PUBLIC STORAGE DUE TO LISA AND HER FRIENDLY HELP...THANKS LISA!!!!!
Was told i had balance but yet i had empty unit and returned key before my due date. Then got email staying thanks for using them no balance. Then another showing even more due..
Do to previous review i got a call from them they let me know i done right and zero balance. Thanks for clearing things up
Friendly staff a very nice clean facility
Great place, super friendly and helped me out a lot. Highly recommended! Lisa who worked the front is outstanding!
Service unconcerned about customers needs. Commercial client business owner was told by management while unpacking and arranging storage shelfs that can not hang out and be on property more than 15 mins to pack or unpack my vehicle only. Or i am loitering on the property. More concerned about what im doing than thete own job... Paper strewn over property ect... You would think as much money it costs to rent large unit that i would not have to time myself and not do the things needed to accomplish while at the unit. Mananagement seems to forget wherethe money is comming from and who is feeding them and their family. Maybe than they will understand me the negitive impact of their ad hoc managrment decisions on a small business owner who has no time to just sit around their storage unit and "hang out".
Good place to store your belongings
I will never use PS again.
The 1$ first month rent is deceptive. They then add $24 administrative fee and then force you to buy one of their locks for another $25. I assume that they have a pass key and don't feel like my property is secure. Lisa was friendly and professional but the policies of Public Storage are not consumer friendly.
Lisa was awesome. Helped us get everything we needed and was super friendly and courteous!
Great customer service, very helpful & knowledgeable about services.
It sucks when you have overflow
Special shout out to Debra! Had an awesome experience here. Staff were friendly and helpful, property was clean and unit rent affordable. Definitely recommend this place
Chastity did a wonderful job of checking us in, even though the computer was not working well that day. She went out of her way to make sure we got the discount we were offered. Nice clean facility with easy access even for a big 18 wheeler moving van.
The young Lady who helped me was so good at getting me into a unit and set up so I could get things done.
Chas & Deborah were amazing help! Helped me with every question and concern I had I recommend there customer service and help!! Above and Beyond !!
Had to move unexpectedly and put items in storage. Krystyn and Chas were so helpful and made the process so quick. I will never choose another storage ever again.
I have had a horrible time in moving- so to help manage the stress I decided to rent a storage. I visited the Public Storage online to reserve a unit and get an idea of pricing and size. Once I completed the "research" Debra and I had a great conversation. She made me feel comfortable. I went down to the Public Storage on Romero- saw the unit- and completed the paperwork quickly and efficiently. Debra made the process simple and easy-- unlike moving. I will never again hesitate to rent from the fantastic gals here. They made a horrible situation bearable and took a lot of the stress off my shoulders. Thanks!!
Awesome customer service very friendly fast Chas was awesome
Chas was extremely helpful & it took almost no time at all to complete the transaction. Thanks Chas!
Chas is an amazing and efficient lady who makes a storage visit not your average storage property interaction. Shes super helpful, funny and efficient. She made the rental process fast and accessible for my handicapped grandmother. The property manager was a super nice guy and very welcoming, too bad Public Storage doesn't have home or apt rentals.
she's real helpful real nice personality
The gate entrance system is set up to where you need to get out of your vehicle just to access the storage
I meant the office manager Chas and she was so nice to me. She took me to my unit and showed it to me so professionally and got me the right size unit at the price I could afford and a secure lock at a competitive price also I could double lock my unit and by my lock right there on the spot with boxes to. We talked for a bit and she was so professional and everything went quickly and well and I was in and out with no problems everything was on surveillance and she kept a good eye on everything while we did our business. Definitely come here best deal in town I shopped forever!
I only go in to pay my friend's bill but Chas is always super friendly. If I needed a storage unit I would rent one just because of her
Chas is the nicest front desk person, very pleasant to do business with. Thank you for everything, Chas.
The help here was unbelievable and amazing I would recommend PS to any of my friends and family thx for the awesome service Lisa and Nicole
I went to Public Storage asking for help with my storage solutions and got all my questions answered. The staff on hand was Jesse and he was very professional and insightful, I will be recommending Public Storage in the future.
Definitely would recommend this location. Jesse was very courteous and answered all of my questions. Great customer service!
The. The security is the worst
Advertised specials have catches.....Like you have to purchase their lock at $20...And an office/clerical charge of $25. And I've seen the night time activity and was worried the entire month my stuff was stored there... Thanks
Chas is amazing... She really helped my husband and I find the perfect unit for an Amazing price
Really friendly and super helpful! Update : Just moved out, they let me prorate a couple days past the 1st of the month, and Chastity (Chas') went above and beyond in helping me with everything! Really nice!
Went there to pay my bill at another location. Chas made it a simple, quick transaction. Thanks!
Sace place to put your goods
Very nice people and sweet lady named Hayley
Went to get a unit very friendly and very help full.Really appreciate her help and explain everything with excellence. Thank u very much Chas.
Public Storage on N . Romero is a great place. It is always clean and Chas is very helpful and ready to answer any questions. All employees are very nice. Jack And I will recommend this place.
Chas was a great help today! She helped me find the perfect unit! We have used this facility in the past and came back because it was so nice. Very clean, friendly people and a great location!
I had to find a space to store my vehicle for a month and I found this location to be perfect. It's secure, safe and I like the location. The manager I talked to was really helpful and professional. I feel confident knowing that my things will be safe here.. Good service!
Positive experience. Chas was there and she worked the agreement quickly and with those personal touches. Thank you dear! As well, the site is easy to get to, laid out well. I was caught off guard with the door size. The smaller units have a single wide door. Not the roll-up. Had to move some stuff that had to be turned to get through the door. Still worked and I'm happy.
My experience at Public Storage was great was welcome and greeted by a wonderful employee named Chas who was very helpful and considerate not to mention polite was very presentable i would recommend Public Storage to anyone looking for a place to store your belongings i would personally return to Public Storage my self in the future thanks to there environment and great employees
My first impression was negative. The person who helped me get my unit was not the friendliness. They were advertising $1.00 for the first month, but I never saw that! When I moved in, the employees there were much nicer. There are hidden prices that are not advertised - you must have renters insurance.
Thank you Chas at Public Storage! :-) Great friendly and affordable safe storage actually relieved my stress and worries during my move over the holidays. I would recommend you and Public Storage to anyone moving or in need of an excellent clean, safe storage. Chris L.
Chas was INCREDIBLE and AWESOME! Customer service example of the year. Best of the rest. She put a smile on my face! Definitely an asset to the company. Should get a raise!
Estelle is the best manager ever and gave me a great deal at a great price
Great please staff friendly
Chas and mike did a great job helping me in to my new space and how everything works
Chas and Mike are very nice and helpful
Girls at public storage are the best
Chas was great with setting up my storage unit. While I did not know about certain things relating to getting a storage unit (mandatory insurance and very specific locks), the way she handled the situation made what could have been an unpleasant situation, much better. With respect to the unit/place, it's great as far as proximity to the freeway and it's clean.
I got taken care of promptly and got a FREE golf cart ride at no extra cost. Ask for Chas.
Chas Estelle are awesome come in and get a unit
This place is awesome. The staff is great especially estelle... this is the only lyrics place I use
The renting went very smooth, Estelle was great in showing us the different spaces she had available and was awesome with my daughters. Also helped us try our gate code which was very nice of her. Very friendly and made us feal comfortable, very good customer service! Great job, i really enojed the time we where there, i wish we had more Estelle's through out tucson, your customer service is really awesome as well as your patience!!! Thank you for taking care of us!
Chas and Caryn are great. Those girls had me laughing the whole time.
Been storing here for years always receive great customer service especially estelle and Chas. Always a pleasure.
The ladies at this location lity are great, Estelle, Ashleigh and Chas are the best. Great customer service!
The place is nice and save. The staff is really friendly and accommodating. I loved my experience here. I've worked with Mike and Wes and they helped me with all my needs. You should try this place if you ever needed a storage.
Great location, and prices. Estelle the manager is the best, moving last minute is stressful and she made that part easy and (dare I say it..). ENJOYABLE. Thanks!
Rented a couple weeks ago, estelle was really helpful. I bought a starter-up moving pack that she showed me and i loved it, i even went back to buy a second one. I like that it was compacted into one larger box that was a added bonus which i did end up using for my tv like suggested. The property is well maintained, the manager is friendly and professional , they have any suppl you might need in a pinch with lots of savings available. Definitely recommend the facility
Edit: The manager, Mr. Taylor, personally reached out to me to address my concerns to my satisfaction. Great customer service! Original: I'll update this review once I get some answers, but I haven't been able to reach anyone via the listed phone numbers. The number to their office always go to voicemail, and the number for the district manager is invalid. Tried leaving a voicemail but never got a call back. I had a few questions about the space I'm currently renting from them but no one will take my call. This concerns me a lot.
Estelle was great I loved her service. She makes me want to store all my packages with her!
Estelle went above and beyond w/ stellar customer service. She is a delight and deserves a raise!
Great customer service from Mike and Estelle! Thanks a bunch
Estelle is very sweet. Awesome customer service. I would definitely rent from here again.
Estelle been renting here for a couple months and the service has been great. Highly recommend!
It was so awesome amazing service from Estelle thank you so very much
Estelle was very helpful.. new property manager is awesome.. got me in and out when I did my lease... great customer service
She is very helpful and answer any questions about the storage unit
Mike was great. He made sure we understood everything.
Friendly staff. Mike has exceptional customer service.:)
Wonderful people, thinking long term! Thank you Mike
Nola is as sweet as pie! She has treated us with the best customer service I have experienced in a long time. I would highly recommend Public Storage on Romero and ask for Nola to handle your account!! :)
Mike and Luis where very helpful, friendly and informative. Thanks guys!
We are as national account Solis, the care provided is amazing Estelle and Luis are always willing to go the extra mile. Units are amazing we have 5 units and will continue our business for a long time
Quick and easy. Very nice people in the front. Very confident everything will go smoothly. Definitely would recommend!
By far the staff members were by far the most amazing aspect of my experience with public storage. Estelle was the one who signed me up and was extremely helpful and pleasant. I a had weird situation and she was very calm, understanding, and solution focused. She was also thorough and made sure I understood everything from how to use the gate to how payments and insurance worked. When I checked out, public storage was quick and even let me keep the key and lock (which I didn't realize I technically purchased), so that was a nice surprise. Luis handled my check out process and he was very professional, welcoming, and ensured I have everything I needed! The prices were competitive from the local area, and despite the floods and extreme heat (which I worried would destroy my belongings), the units were safe, clean, and did not allow the weather to ruin anything. Overall a great experience.
Estelle was really good gave me a break down on everything
I searched multiple storage facilities in the Tucson and surrounding areas. I walked into public storage and I couldn't have asked for a better experience. ESTELLE was fabulous. She helped me find the right unit needed for what I needed to store. Took me to multiple units because I'm picky. Finally found one I liked and explained everything I needed to know. Also pointed out the packing supplies and we found what was needed. She's very nice and patient and I couldn't have asked for a better experience. I would recommend this place to anyone and of course ask for ESTELLE
The woman working in the office was short-tempered, and rude. How do you expect to sell something to somebody while being so disrespectful? I declined they're "limited-time deal", and will happily take my business elsewhere. Public Storage is a good company; I will probably rent with another branch, but definitely not this one.
Great staff, very friendly and extremely helpful with needs or questions. Would recommend this location to anyone!
This is the most professional, warm and welcoming storage facility I have ever encountered. The property manager, Stephanie, is so sweet and very knowledgeable and friendly. I have recommended this facility to everyone I know, Ive lived all over the country and this is by far the best one out there.
The employees at this location are wonderful! Easy going & friendly! Customer service goes a long way, in my opinion... Thank you, Ricky & Stephanie!!
Wife and i were a little lost, seen a girl so we asked for help. She gave us great direction to walmart. Ended up taking some good advice (food was great Stephany)..thanks . Everyone should have this caliber people.
new staff, under new management. Doesn't look like they wanna help...Looks fake. The old staff was way better. its a shame
I have rented a few storage units to say the least over the last few years but renting from this public storage has been a great experience. Stephanie is top notch, knows her job, knows her customers, has always been great to work with. I know I'm a pain on the ass but Stephanie is professional and maintains a level of enthusiasm that is rivaled by no other. Great place. Go rent a unit. You'll see. Its a great deal. 1st month free. Go talk to Stephanie today
Great experience with Jennifer/Ricky at this location :-)
The property manager Stephanie ,at Romero in Tucson, went out of her way to help us with a problem that occurred with our storage unit. She took time out of her busy schedule to drive to another P.S.storage location and replace a broken lock on our door. We live out of state and were unable to take care of the problem that needed to be addressed immediately. Thank you so much for you help. Mr and Mrs. Stack
emailed unit size request Friday evening and received early Saturday morning phone call from Stephanie to arrange meeting for access to newly rented storage space. She completed the paperwork quickly and helped me open the unit door for inspection. Security gate works easily for entry and exit. Right size storage for a reasonable price. Thanks, Stephanie!
I have rented storage from this location for 3 years and never had any issues. Recently, I flew in for the day to empty my storage unit and drive cross country. Stephanie was extremely helpful especially since I had some extenuating circumstances which made things difficult (including tight timelines, lost keys, and not being local). Wes, the District Manager went above and beyond to meet me before the office opened so I get on the road quickly. They both provided exceptional and friendly service and I would highly recommend them and the facility.
they seem pretty friendly first you get a quote on the phone from an operator that's not really the price of the unit it's really misleading the public not to mention they don't care about the customers but try to scam you best joke it's really a scam Moneywise I do not have no problems where my stuff but the way they do business it's not the right way you'll see what I'm talking about if you go with you guys but I think you're better off somewhere else do you really need to work in customer service
Went in a few weeks ago for some moving materials - Stephanie was a great help!! While I did not rent a unit, the property was well maintained and the customer service was so great, I would recommend to anyone looking for a storage site or packing materials!
Thank you very much, Stephanie, for your hospitality and friendliness! The wife and I currently live in Colorado, but it became necessary for us to find a good storage in the Tucson area. My wife's sister had been keeping our stuff in her place for the last six months, and it became obvious that we would need somewhere to store our belongings until we make our move to Arizona in the near future. We feel very comfortable in having our stuff at your Public Storage...thanks again....Isaac
Wonderful Stephanie G very helpful friendly She got us into perfect unit. We recommend Romero. To All
The two Stephanies at Romero location are so helpful and full of life. Just a pleasure to recieve such great. Customer service
Definitely the best place you could go to store your things! Stephanie did a great job of telling us about their property and why we should choose them. The friendly atmosphere also made us feel that our items would be safe and secure! Not to mention the secure gate system! Love this place!
Chas is awesome and made this super easy!!
The girls working at Romero. Nothing but friendly and willingness to go extra mile
Had to find a storage place fast and came across PS. Told them my issue and they helped me with a decent price and the correct size unit. The property was clean and the units where very well taken care of. I felt comfortable storing my things there. The girls there were awesome and when I had questions they knew the answers.I would definitely use them again. The only thing I didn't like but worked around it was when I was clearing out the locker it was dark and even though they had light on the sides of the buildings they never came on. Just a small issue and not worth taking a star away.
I recently went into the office to update my personal information. Nola and Lana were very cheerful and helped me with my request. Great job!
She was great helped out alot
Stephanie was very helpful and her service was great I will come back to public storage because of her.
Friendly helpful and knowledge was great Thanks Stephanie
Chas was very helpful. She was very thorough in responding to all my questions. I was satisfied with the customer service rendered and will recommend this place to anyone. With employee like Chas......you'll get lots of customers. But as much as I wanted to, I can't give a 5 star rating because there's always room for improvement. Good work Chas.
Came in to get a unit for two months, I didn't want to pay much and was worried. The ladies here were so helpful and got me a great rate! I'm so happy and recommend this place to anyone looking for a storage place!
This was the first time I'd looked into storage so I started on the internet. By the time I reached the Public Storage (PS) site I was so frustrated by the information missing from the other sites I was ready to give up. Simple information like room size, door size, truck accessibility, current availability and price were either incomplete or missing all together. When I finally found the PS site I was elated. It had all the information I needed. Chas and Luis were excellent to work with. They were very helpful and explained the entire process clearly and concisely. When they found out my items were on pallets they suggested a better room than I reserved and worked with me to minimize the cost of switching rooms. I will use PS for all my future storage needs and will recommend them to anyone.
I came in not knowing quite what it was that I wanted. Lana was very nice, patient and helpful. Together we came up with the perfect size of unit. The price was great, for the storage unit itself. But...I wasn't too happy with having to buy a special lock at the price of almost $20.00. I think the customer should have the option to sell the lock back to Public Storage when they are done with the unit. Lana, you were awesome. Thank You !
Chas was SO nice and helpful...definitely gonna recommend to others. :)
Lana and C has are great people and vary organized
Lana and Chas are amazing people. Excellent customer service. Would recommend this location to anyone needing storage.
We rented a unit and were treated great. We recommend this place
Lana & Chas are awesome!!! They are very helpful and personable. I highly recommend doing business with them!!!
Chas and Lana always work with me and make storing my property very easy and are always willing to help anyway they can. Keep up the good work
Chas Lana were amazing people. Fast friendly and very knowledgeable. Helpful about size unit that i needed. If any of my friends need a storage unit i know where top send them. Thank you ladies for all your help
Chas is the best, had to change units. She found us one across the aisle, so we didn't have far to move. Didn't like the fact we had to buy a different lock though. Michael
I will never go anywhere else. Public storage was always secure and reliable. The staff was amazing Chas was fabulous. She was very professional and helpful.
La chas and lana treated me and my family with the utmost respect and hospitality that you don't usually get from other storages, the complex is safe and quiet and I feel happy to leave my stuff here with peace of mind.
I was searching online to find a good price on a storage unit. I was amazed at the low cost for such a large unit. Comparable units in my area were going for at least double the price of this Public Storage location. The ladies working in the office are always great to deal with. I would recommend this facility to anyone. The units are clean, and I was also impressed by the generous amount of room between the buildings. So many other places are really cramped if more than one vehicle is trying to access their units. The only downside is having to get out your vehicle to put in your access code, both entering and leaving the property.
great experience very friendly staff
Lana and chas are great, my rental was quick and painless. They recognized me when I drove up and had my account ready when I walked in. Thanks ladies!
Wonderful staff easy to talk to fantastic service very nice Alanna and Chas were very pleasant
Lana and chas are great! The property is always clean and they are very professional I would recommend them to any one.
Customer service is great! Lana and Chas are always so helpful with any questions or concerns I may have.
Paper work was done quick and grils were Really friendly and funny, I recommend this place
I personally have been using this facility for many years and I can say since they appointed the New manager, she has been very helpful and resourceful in getting things done for me. Chas does s great job of offering her assistance when she's touring the grounds and always there when you need her. The company is very fortunate to have her.
Chas at public storage on romero rd was very nice and worked very well with me. She is a wonderful employee
This location is the best!! Chas is one of the front office ladies she was so helpful and went out of her way to accommodate me and my family.I would recommend this facility to anyone who needs a place to hold your belongings. Great people and Great service!!