Public Storage Self-Storage Units at 23150 Airpark Dr, North Dinwiddie, VA
Address
23150 Airpark Dr North Dinwiddie, VA 23803
Office Hours
Mon-Fri 9:30 AM - 5:00 PM
Sat-Sun 9:30 AM - 5:00 PM
Gate Access Hours
Mon-Sun 6:00 AM - 9:00 PM
Storage Facility Features
---

15'x30'

---

5'x10'

Outside unit

Drive-up access

---

10'x10'

Outside unit

Drive-up access

---

10'x15'

Outside unit

Drive-up access

---

10'x20'

Outside unit

Drive-up access

---

10'x30'

Outside unit

Drive-up access
Nearby Self-Storage Locations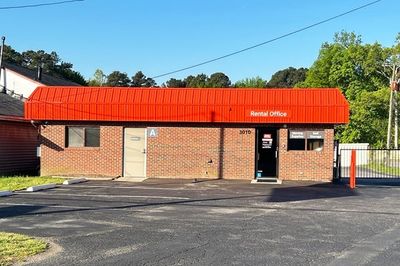 Self Storage Near
3010 S Crater Road
Petersburg VA 23805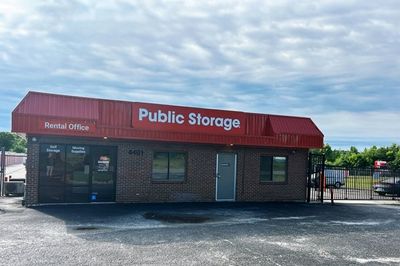 Self Storage Near
4401 Puddledock Road
Prince George VA 23875
Resources from the Help Center
See what fits in different storage unit sizes
North Dinwiddie Storage Units Near I-85
Small North Dinwiddie Storage Units
A
5x5 storage unit
makes for a great seasonal storage locker for holiday decor, winter coats, and craft supplies.
Store motocross gear (Virginia Motorsports Park BMX is just down the road), camping equipment, and bikes in a
5x10 storage unit
.
Medium North Dinwiddie Storage Units
Need to make some room for a new addition to the family? A
10x10 storage unit
can help get a couch, armchair, desk, and bed frame out of the way.
Large North Dinwiddie Storage Units
A
10x20 storage unit
is one of our largest options, and the perfect tool to stay organized during a move or renovation.
North Dinwiddie Vehicle Storage
If your storage needs extend to your driveway and you need somewhere to keep a car, RV, boat, or truck, take advantage of one of the vehicle storage options at this location.
At Public Storage, You'll Always Find...
Keypad Access

Friendly Staff

Month-to-Month Rent

Moving Supplies Available

Free Parking

Well-Lit Facilities
Reviews
( 59)
Lizzy was good with her customers services ✅. She also made her customers comfortable and also issued out water bottles.
Lizzy provided awesome service! She explained our options in great detail.
Public Storage is a great facility. Our price went up but the facility ic super secure and super clean. The manager lizzy is such a sweetheart.
Great facility. Excellent customer service. Manager Liszt is superb. Very secure and very clean. Love it
The manager Lizzy was very nice…excellent customer service!!! Thank you!!!
Lizzy was wonderful.. explained everything very well and so helpful with everything too!
Lizzy the manager was so amazing, she helped us and made sure we was ok with our moving experience she was just the greatest and my whole family appreciates her and she even offered us water.
Facility super clean , very secure and the manager Lizzy is so helpful and professional. Way to go Public Storage.
Ms. Lizzy has been very helpful and if it were place I would actually stay. She brought me water and a broom when I needed most. More people should be like her and maybe the would wouldn't be so bad. She's a keeper.
Great experience! Haley was awesome! At the store on air park drive
Lizzy was very great and helpful she has a wonderful personality
Lizzy was very helpful and so great to deal with. Recommended
Workers are always helpful with a great attitude and they never disappoint. I highly recommend coming here.
This location has really served us well as Lizzy has been a great help getting us the perfect storage unit that we needed
Friendly staff who worked diligently to get a stuck unit door fixed. Thanks so much!
My visit at Public Storage with manager Lizzy today was a fantastic experience. She is a superb manager and what a change in the cleanliness since it was Chesdin Storage. Way to go manager Lizzy
Lizzy is very professional and knowledgeable. She went above and beyond to assure that I was comfortable and making the best choices for me! It was a pleasure to work with Lizzy!
I came in on labor day weekend not long before close in a pretty much emergency situation. Immediately I was greeted by a lovely smile and warm hello from a wonderful woman! Lizzy was her name and she made the experience super easy, she was super helpful and she was beyond pleasant to work with! No wonder she is the property manager! They definitely have the right person in that position! The storage facility and the grounds are very clean and seem very secure. The elevators inside are a wonderful feature. Keep up the good job Public Storage! And I so look forward to seeing you coming and going Lizzy!
Very clean place and Lizzy is a great manager!!!
Very caring and professional service Felt this rental experience will be a great one Property manager presents a very clean and well managed facility
The facility was very clean. The staff very helpful.
Manager Lizzy is so kind , she gave us a bottle of water and the facility is so tidy. Way to go Lizzy your the best
Super clean facilities, and awesome management with Lizzie, she is the best. Can't say enough good things about them. Always there to help when needed.
thanks Lizzie for your great customer service. i don't know what you clean your lobby with but it smelled great and was very clean and welcoming.
Nice clean facility. Safe and secure and gated. No leaks or mice! Friendly staff. Elizabeth Hoyt is amazing. Highly recommend.
Stopped by here late in the day real quick to look into storage for my staging business and Elizabeth was very helpful and patient even though it was the end of the day.
I was very impressed with how nice and clean the grounds were and how knowledgeable, professional and delightful the manager Elizabeth is! I didn't get to rent today because the unit I needed wasn't available, but I am definitely coming back as soon as my space becomes available. She was very patient with me even after all of my questions and she even offered me a bottle of water. I found two other facilities that were a bit cheaper but they were not very friendly. Not really the type of people I would want to deal with if I had to. At no point did I feel that way at this public storage location. Definitely going to rent here!
Great facility and even better staff!!
My experience with Elizabeth has been wonderful. She is knowledgeable and goes beyond her duties. Eager to assist. Thank you for everything Elizabeth. You will not be forgotten.
Liz did an amazing job explaining and answering any questions we had. Very personable and knowledgeable! The facility itself is very clean and well maintained
My experience with Elizabeth has been very rewarding. She has been extremely helpful. She goes beyond the call of duty.. she is personable. Professional, Always cheerful., and ready to help. This is my first time using Public storage but not my last. Thank you Elizabeth.
Very nice facility, staff member Elizabeth was very kind. She keeps the place extremely clean. Everytime my fiancee and I came by she was always cleaning. Very personable easy to talk to.
Excellent experience, the staff are great
I would refer our help center person Isabel at the Dinwiddie Airpark location she is amazing
Excellent place staff is very friendly. Great place to store your goods. Highly recommend
Friendly and are very clean. I love that you can access 24 hours 7 days a week.
Decent pricing for storage. Not bad of a location if you live in the area.
Best self storage location in the area. Very reasonable prices!
Nice clean facility the manager is great if you are in need of a storage stop by you won't be disappointed
Well maintained, local business. Nice people.
Very happy with the unit and security . The owner is very good to work with .