Public Storage Self-Storage Units at 1350 W Hundred Rd, Chester, VA
Address
1350 W Hundred Rd Chester, VA 23836
Office Hours
Mon-Fri 9:30 AM - 6:00 PM
Sat-Sun 9:30 AM - 5:00 PM
Gate Access Hours
Mon-Sun 6:00 AM - 9:00 PM
Storage Facility Features
Climate Control Storage

Indoor & Outdoor Storage Units

Small, Medium & Large Storage Units
Office Hours
Mon-Fri 9:30 AM - 6:00 PM
Sat-Sun 9:30 AM - 5:00 PM
Gate Access Hours
Mon-Sun 6:00 AM - 9:00 PM
Storage Facility Features
Climate Control Storage

Indoor & Outdoor Storage Units

Small, Medium & Large Storage Units
Close Location Details
View Location Details
---

5'x10'

Climate Controlled

Inside unit

1st Floor

---

14'x20'

Climate Controlled

Inside unit

1st Floor

---

14'x44'
Nearby Self-Storage Locations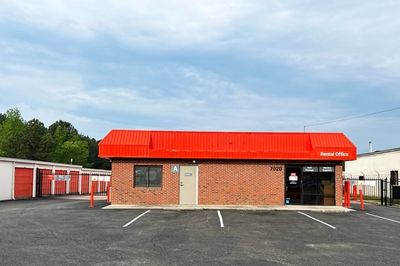 Self Storage Near
7020 Route 1
Richmond VA 23237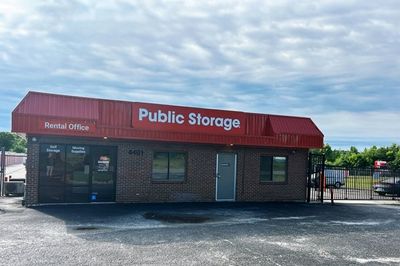 Self Storage Near
4401 Puddledock Road
Prince George VA 23875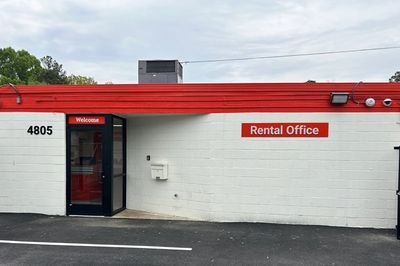 Self Storage Near
4805 Jefferson Davis Highway
Richmond VA 23234
Self-Storage Near Chester
Resources from the Help Center
See what fits in different storage unit sizes
Chester Storage Units Near Route 10 and I-95
Storage units in Chester can be found near Route and I-95 for convenient storage whether you're staying put or need to hit the road.
When you're done storing, it's easy to head up to Richmond and enjoy the best of the capital city, including the Children's Museum of Richmond and William Byrd Park.
At Public Storage, You'll Always Find...
Keypad Access

Friendly Staff

Month-to-Month Rent

Moving Supplies Available

Free Parking

Well-Lit Facilities
Reviews
( 173)
Rented a unit for my daughter. I chose the location because I know it is clean and safe as I was PM here a few years ago. I got there on Tuesday, August 29 in the early afternoon. As it has been a while since I was on the property, I didn't remember exactly where the unit # was. Young lady that works there was walking across the parking lot, I asked her where it was. She pointed to a building and said "somewhere in there". I found my unit, tried to find a cart, finally went to the office to ask for help. She was talking with a gentleman, seemed to be a friend. She said " there is one in one of the buildings". All I can say is that is not the same customer service that was the standard when I was employed by PS.
Monay, was the best customer service I experienced in a long time. She went to long mile to find me a second unit.
AC for unit never worked and neither did the magnet to the doors to hold them open. Also constantly raising the price of our unit.
I forgot to lock my storage unit before going out of town and I called Patrick to help me out and he secured my storage for me when he didn't have too. A+ for customer service.
Haley is fantastic! She worked with me to change my space to one better suited for my needs. It was quick and easy and Haley ensured I kept the promotional pricing! She's the best.
I had the pleasure of working with Patrick. Patrick was professional and knowledgeable. I recieved quick service and with a smile. Also, this was the cleanest storage facility I've been to inside and out. Thank you Patrick 😀
Patrick is a true gem of a person. He's easy to communicate with, compassionate, went the extra mile for my family. Rock star is an understatement. If there were just a couple more people in the world like him, it would be a better place. Thank you, Public Storage for allowing him to help your business be wonderful!
First time using the facility and I will say it was a great experience. Patrick was great, he let me know if everythng and how it works and was fast
very friendly, and helpful
Patrick was wonderful. He made the renting experience concise, while being informative, and outgoing! He represents himself and the company very well! Loved the experience.
My first time ever renting a storage unit and Patrick has been the absolute best at getting me started. He showed me how to work the gate, got me a Cart and showed me how to use the lock and key. And he loves his job you can tell. Thank you so much Patrick for your stellar customer service. ❤️
Great place to deal with. I am disabled and they were very accommodating to my needs .
Great facility! Very friendly service and clean units! Highly recommended!
Very helpful and informative
Super easy to set up and April was very professional, helpful, and kind.
Chris and Pat were very friendly and made everything easy to understand!
I called Public Storage during non business hours and Myra called me back when they opened. She was polite and professional. Such a nice young lady. When I arrived she showed me what was available to ensure that I would have adequate space for storage before I started my paperwork. I have to say it was a pleasant experience and the place was clean. Moving can be such a headache, but Myra certainly took a load off my shoulder with her welcoming customer service and reassuring me that my belongings were in good hands. Thank you Myra.
Patrick gave awesome service!! Glad my move was made so easy☺️
Mr. Patrick and Team provided excellent customer service, professionalism, and superb communication throughout the entire relocation process. This storage facility is clean, safe, and convenient!!!
Chris was extremely helpful. We had a bad lock that wouldn't work at all no matter how many times we tried. He fixed the issue and then helped us transfer to a larger unit - which we definitely needed. Five stars for Chris!
Thank you so much Patrick you made my move so much easier clean facilities awesome customer service I highly recommend this public storage
Very helpful attendee. Got us in real quick
The customer service by Patrick and Monay was the best! A quick and easy process to get a unit. Great work
Patrick was very helper explained everything in full detail very clean environment highly recommended ⭐️ ⭐️⭐️⭐️⭐️
Pat was extremely helpful, informative, and transparent! Both he and Danielle cheerfully greeted me as soon as I walked through the door! The storage facility was extremely clean and I was very satisfied with their service. Pat ensured that I knew how to use the key as well as ensured that my code worked before I left. Of course I rented a unit!!! With people so polite, cheery, and helpful how could I not! I highly recommend renting a unit from this location if ever you need to store your things!
Patrick was amazing! Super helpful and made the process fast and easy. 10/10 Would definitely recommend. Ask for Patrick he's the best.
Great customer service from Patrick today! After reserving a unit online early this morning, Patrick followed up with a call to see if we required further assistance with anything. He welcomed me to see the site at my convenience and was ready to assist when we arrived. The office and site is clean, organized, and just off the interstate. After touring this Public Storage site I was sold. Thanks again Patrick for the help!
Patrick had excellent customer service explained everything Very well great guy
I just recently became homeless (F 23) and I have been trying to get my storage rent lowered but I keep getting denied. Every public storage place I have gone to the employees have been rude and never want to help. Today I went to this location and a nice lady named April helped me an went out of her way to try to get my rent lowered. She did not know my situation and still went outta her way more than anybody else has. Please public storage lower my rent back to $60 instead of $95 I want my stuff but I don't wanna stay homeless paying for a unit that's as big as a closet.
I happy with my storage good attention I recomen it ♥️
Patrick is very professional and a wonderful communicator. He answered all my questions without me having to ask them. The process was quick and easy. Great customer service! Thank you
Patrick was incredibly helpful and super friendly! Service was quick and location was very accessible. Facility was super clean with easy layout. Saved us so much money and trouble!
Nice location! Pat was a great help!
Patrick is definitely a great guy and has amazing customer service
Patrick was extraordinary and exceptionally professional and gave the best customer service ever! He keeps this property very clean and I am so grateful to find a place I can trust to store my things. He follows up to ensure the customer's need are met and that's what every customer appreciates knowing they are not just a number but a truly valued customer. We need more Patricks in management positions!!!
I would like to thank Pat again for the OUTSTANDING customer service(even during the holidays) I want you to know how much I appreciate the excellent service you've provided!!! Your attention to detail, great communication skills, and ready smile made the experience even better than I expected.
Pat was so helpful, and I appreciate him so much!!
Patrick is an excellent Property Manager. He erudited us on the functionality of Public Storage's climate controlled units vs outdoor units and tips on management of inventory within your personal unit. This facility provides indoor and outdoor restrooms for their clients and excellent customer service. I would recommend this facility to all professionals looking to secure their assets.
Would recommend to anyone. Patrick is amazing, goes that extra mile for his customers/clients. I've had a very rough few last months with my health. Patrick was and is very understanding. He made sure our unit stayed secured and worked with us. Thank you Patrick for all that you do for your loyal customers.
Patrick was amazing! Super great service! Def recommend.
This was my first experience with public storage or storage of any kind. Patrick was amazing he did a wonderful job making me feel safe, comfortable and at home. Surprisingly the space that I reserved they were out of but they were able to actually give me an upgrade for the same price excellent service.
I have been using the place for about 3 year and there always amazing friendly. There is guy there by the name of Patrick that is very helpful and respectful, I highly recommend working with him.
Patrick, was very professional and friendly. He made it so easy to understand the process, he was always available to answers our questions. Great job Patrick!!!
Excellent customer service!!! Patrick was THE BEST he was so polite and really provided A+ customer service. Also, the facility and storage units are very clean.
Patrick was a delight to work with, I'll be recommending this facility to family and friends! Thank you so much Patrick!
I honestly cannot say enough great things about this Public Storage location. Patrick was THE. BEST. I had tried to rent a unit online, only to discover that I had accidentally rented a parking spot rather than a unit. I had movers scheduled for the next day to move my grandmother's things out of her apartment, and I was desperate and crazed and acting like a nut due to the storage unit shortage. Patrick worked SO HARD to help me figure things out; he went completely above and beyond what most folks would have done. None of the units available was going to be large enough, but he managed to find a larger unit that was out of commission for maintenance, spend extra time TO FIX IT FOR ME so that I could rent it the morning of my move. He flawlessly managed all of the paperwork, he was friendly and delightful, and he TOTALLY SAVED MY BUTT. I still can't even believe that he managed to get me out of the mess I made ahead of a stressful move. An enormous thanks to Patrick and Public Storage, get that man a raise!!!
Location #: 26694 Property Manager: Patrick Patrick was very helpful with ensuring I understood all the terms. He helped me identify the best size for my move. Thanks so much
I was in need of a storage immediately. I reserved the unit online ( which was very easy) and called the location to see if I could view the unit before completing the rental. Patrick was awesome!! He showed me two units and explained everything to me. Thanks to Patrick I was able to complete the transaction at the office. I left Public Storage a happy customer!! Keep up the excellent work Patrick 😁👍
Excellent storage facility. Clean & well organized. Patrick was very kind and helpful. He answered all my questions and walked me through the process of gate code & locks being very patient with me. Highly recommend them.
The service was excellent and easy from Margie. Explained very well definitely a good spot
This property is very clean and Margie in the office has been wonderful to work with. Definitely would recommend.
Margie was such a big help to my dilemma. Always helpful when I come into the store.
Margie gave us a good service here today. Well taken care of
Great Customer Services. Ms. Margie was so sweet and helpful. Storage area was clean!!
I really enjoy coming to this storage place. It's so important to feel safe while loading your Rv from your car and getting your Handicap daughter and Service Dog on the Rv. Anytime we've needed help Margie in the office has instantly taken care of what we need. I've had friends move to this location too. Thanks for what you do.
We were looking for a clean, safe, and local facility to store some extra household goods and found just what we needed at Public Storage. The on-site manager, Margie, was extremely helpful and just a very nice person to work with. If you are in the search for a decent storage place, look no further than Public Storage in Chester. You can thank me later....
Margie gave me the best service. You rock Margie!
Margie helped me complete my e rental. Thank you Margie
Mrs.Margie is amazing and very helpful, sweet and kind. She will answer any questions you have and give you a honest answer. She is very knowledgeable of public storage deals and saving. So please if you are looking for a storage place, GO VISIT Mrs.Margie @ Public Storage in chester va.
Lorraine and margie are unbelievably great individuals. I'm always getting superb quality service and what I was mainly happy about when I was being assisted with the app opening the gate through my phone I was very excited for something so little and I appreciate them for that 100%
Go see Margie at the Chester Va location, she will take good care of you!!!!
We have been looking for some time to store our camping trailer. This place was very secured, clean and the customer service was great! Shanequa was very patient and took her time with us to make sure we found just what we were looking for, Margie, the manager was so nice and welcoming. By the time we left there I felt like we made 2 new friends. Thank you Shanequa for your time .
Ms. Margie was awesome. Great and friendly service. She was a delight. Will definitely enjoy talking to her when I stop in.
I met Marge at Public Storage. Oh my goodness! Marge was so extremely helpful and accommodating. Rated 100%! She made everything so easy. I wish all experiences in life could be that good.
Excellent customer service!!! The property manager was so polite and really provided A+ customer service. Also, the facility and storage units are very clean.
This is a great an secure place it's one of the best places here please don't look any further they'll take care of you with the friendly face Margie to guide you an help plus answer any questions you may have so if your in need to store your valuables in a place where you won't have to worry if they are safe here you go contact them an ask all about them an their amazing app features an insurance to even put your worries to rest, thank you so much for having me
Always accommodating with my needs for multiple storage units
Customer service is excellent ms shanenequa and the store manager are out checking the lot daily and constantly interacting with customers.
I inadvertently reserved the wrong storage space online and attempted to change once I arrived. I was not only charged an additional processing fee, but could not get the new customer discount. Left in disgust and went down to AAAA storage.
I have dealt with Public Storage for a few years and have always been very satisfied with their facilities and service. Margie is wonderful. An absolute fabulous person. I would recommend this location to everyone.
Margie was absolutely wonderful, pleasant, friendly, GREAT customer service! The storage facility is very nice, large, and well kept. Our unit was very clean, and the price is very reasonable for the size we are renting. I highly recommend!
I was very impressed with their customer service. We were looking for a secure place to store our RV. Rachel was extremely helpful and knowledgeable. She is a definite asset to this company. I would highly recommend this place to anyone looking for a clean, secure storage facility.
I am very pleased with my encounter with this location. I was helped today by Rachel who was very friendly, understanding and answered all of my questions. She was very patient and went above and beyond to make sure all my questions were answered. I will definitely be referring anybody to this location. Thanks Rachel!
Very professional and polite Margie was very helpful.
Margie was great help us alot
Awesome customer service, outstanding managers, Lorraine and Margie! Polite, very helpful. Made sure I was fully informed before moving on to the next step. Both Margie and Lorraine seemed to thoroughly enjoy their job and helping customers. Need more businesses with that type of work ethic.
Margie was super kind and helpful. This was the most welcoming service I've received in a while!! Would recommend to all my friends to use this storage facility if they ever needed it.
Margie is very friendly and helpful. Keeps the facility clean and makes you feel comfortable of renting a unit. She provided excellent customer service
Rachel helped me yesterday to get a unit big enough for all of my items. I originally reserved a smaller unit but she assured me that it would not be large enough after I listed everything I would be storing and she was correct. She also convinced me to buy merchandise which I totally thought I would not do lol. Before I left, Rachel revealed to me that it was her first day on the job after training and I definitely could not tell. She barely needed any assistance from the other associate. She was great, very friendly and helpful.
Ms. Lorraine has been the only one at this facility that has listened and tried to help since I had explained before to a previous staff member who had a nasty attitude that I had been furloughed and was not getting full work hours for COVID and she didn't help or try too. Ms. Lorraine does customer service the right way. Update: Ms. Lorraine, still was the only one helpful at this location but my daughter was going back to college and I just started back working and I asked if the late fees could at least be removed since we are moving out 16 days early and we still had to pay the full amount, I wasn't asking for anything unreasonable but yet they would not help at all I will NEVER USE THIS PLACE AGAIN, CUSTOMER SERVICE IS NOT HELPFUL OR A PRIORITY ESPECIALLY DURING THIS TRYING TIME OF COVID.
A great place to store your things (Cars, Boats, Campers etc..) I don't know all the ladies names that work there, but they are always friendly helpful and always smiling and have time for you. I have been there for 3 years and the grounds are always clean and neat. They sweep out the inside storage areas and are always making rounds. I have recommended this location to several military families in my neighborhood who are only here for a year or less. A must see location.
Margie has been very helpful with letting me see the size of the unit I needed before proceeding to the next phase of renting the unit. She made the process so smooth. Thank you! Excellent customer service.
I would like to say Thank you to Lorraine who went above and beyond to provide Excellent customer service on 7/11/20. Upon my arrival I opt to upgrade from a 10×15 to 10×20. She completed the transfer but in the process my access code was deleted from the system. Lorraine worked constantly until the situation was resolved while manually letting in the gate several times in order to utilize the unit. Her Amazing customer service prevented a Potential Frustrating experience to an enjoyable and pleasant exchange. Thank you Lorraine for a Job Well Done!
Ms. Lorraine was the absolute best. Her customer service was the best I have experienced in a long time. Her knowledge regarding what we were looking for was right on time. She did not hesitate to take the time to show us the size of the storage to make to make the most economical decision. She was a breath of fresh air to work with. Thanks for everything!
Very engaging young lady. She made me smile
I was in need of a storage quick, Dana was so helpful and nice!! She explained everything well, walked me to different units to view the sizes to be sure of what I needed, and helped save me a few dollars thank you so much Dana!!!! I'll also add the office and units were very clean!
Ashley a was amazing! Great customer service thank you for Making it easy
The rate for uncovered lot storage is what brought me here. Everything prior to physically coming here went well... appointment set up,etc. I came fifteen minutes early to appointment and was greeted my a gentleman, he claimed that Ashley ran to the bank and will be back shortly. I thought "why would she leave offsite to run an errand when she was an appointment set. "Anyways I patiently waited in my car.After some time, I went back in and asked for an eta. He said a few minutes however, the gentleman went ahead and squared me away. Before starting I claimed I forgot my registration for the camper and asked if that would be an issue, He said no. So we continued to register, about 20 minutes went by and the system wouldn't let him get passed the process of scanning in the proof of ownership(registration). So I went ahead and made another appointment later so I can bring the registration. At its core the customer service is okay. It would be better if the representatives would plan their time management better and also have true clarification if proof of ownership is needed at the time of registration. I dedicated an hour to get nothing done than just setting up an appointment for someone else's mistake.
Thank you Dana and Ashley for your help!! We had to move our daughter out of her dorms quickly and you all made this such an easy transition. Stay healthy and blessed. The William's Family.
Ashley was amazing really professional
Amazing service Ashley Smith us awesome
The service was great and very friendly
Ashley smith was amazing super nice
Ashley S. Was so sweet , patient &inviting! Highly recommend!!
Ashley s was amazing made this super easy Will recommend awesome customer service
Nice friendly people. However I was only there to install a gate
Ashley s was amazing great customer service will recommend
Ashley W. provided excellent service & i love how informative she was. I would recommend this location !
Ashley W was fantastic and explained everything completely
The facility is clean, service was quick, and I got exactly what I needed. Ashley S. and Jason provided excellent customer service!!!
Ashley gave me fantastic service today!
Ashley W was absolutely amazing!!!!
Ashley S was amazing she made this process super easy. Very professional
Ashley s was really great made this process super easy
Ashley S and Ashley W a winning team. Ashley S mam seed her calling she should have been a Preacher great customer service hands down
Ashley s was amazing even with what happened before me great professionalisms
Very professional and communication was exceptional. Thank you very much...Ashley W.
Ashley made our process informative, quick and smooth. Definitely deserves a 5 star review
They were very helpful, friendly, knowledgeable, courteous, and affordable. I highly recommend.
Ashley S was extremely helpful with my move, she was clear and concise as she went over the procedures regarding the storage facility.
Ashley s was great moved me in fast and I loved the cldan facility
Great facility! Very Professional!
Rates are much higher than Happy Box.
Ashley W. Helped me and she was so pleasant and answered all my questions. She made me feel secure about my belongings and assisted me with what size storage unit I would believe. She's also super friendly and helpful!
wonderful facilities , one of the greatest staff experiences iv had anyplace , Ashley was absolutely fantastic!
After Contacting the Regional Manager Phillip Aquilina the problem was solved and I must Admit you get things accomplished by being rational . Nice Guy and couldn't be happier with the outcome . Thanks Phillip
Ashley W did an excellent job. Called and set up an appointment before I got here. Very very quick and efficient. This is my choice of storage places and definitely return to the this one in Chester Virginia.
Ashley and Kearra were very professional and efficient and fun...I would highly recommend the Public Store
To the ladies at the Chester office they were Mrs. Ashley W and Ashley S make sure you come see them the service is Amazing
My experience started with waiting in the parking lot, and I'm glad I did! Ashley W. was professional, friendly, and extremely helpful with everything I needed to reserve a unit.
Ashley W. was the best!!!! Quick in and out!
Ashley W. Was awesome and a consummate professional. She was very knowledgeable and promoted up charges like the damp check and insurance. Ashley is truly an asset to your company and a role model for other employees. Thank you for allowing me to store my home items here.
❤ Ashley and Public Storage friendly customer care
Ashley s was amazing she kept it professional and made my move in smooth
Ashley S. Was amazing she helped me and my husband move in smoothly
Very personable and excellent customer service!
Public Storage took over my unit that was previously with Happy Boxes. I've had the unit for a while and have endured several rate hikes over the years including one in the last 6 months when it was Happy Boxes. It's the same unit, same location, same size but because Public Storage took over, changed the name and the signs, I guess it was necessary for them to jack the rent up 25%. I'll be moving my stuff as soon as I can figure out where to take it. To pay an additional $240 per year for the same unit that I having already endured a rate hike less than 6 months ago is ridiculous. I understand that costs go up but to stick it to the existing customer's who already had a rate hike in the last year is just plain wrong.
Ashley W. was a great help to us when we went to rent storage space for some furniture that had belonged to my parents. Ashley was pleasant, thorough in her explanations, and went the second mile in seeing to it that our needs were met. Thank you, Public Storage. And a special thank you to Ashley.
Ashley was very helpful and so cheerful. Awesome customer service. Helped my daughter find a unit after all day of trying to get one. The other two ladies in there were pleasant as well.
Ashley was amazing kept the process really smooth will rent again
hate public storage. took over my old unit.
❤️👏👏👏 Ashley and staff thank you for your time and caring for your customers, kudos!
Thanks so much for your help, Ashley! We appreciate your service.
Excellent assistance given by Ashley. She answered all my questions and gave me a tour. I was impressed with the variety of options this facility has to offer and how well maintained it is. The application for rental was smooth and easy. Looking forward to doing business with Public Storage.
Very professional down-to-earth people. Willing to save you money, and make your move as easy as possible
Ashley was amazing I will be gone for 6 months and she made this so smooth
Thanks Marquita for all your help.
Ashley was amazing made the experience one too never forget
Excellent service with Kanita !
Ashley was great made this experience wonderful
Kanita provided excellent customer service that was fast, easy and it's an extremely clean facility. It was my first time renting a storage unit and she made it very pleasant.
kanitawas very helpful with her services...offered available options as well as thimgs we may have needed....super friendly amd professional
Marquita is awesome great customer service skills.
Thanks Marquita for all your help great experience with her as always.
Ashley was great made move in super easy
Place was clean good service from Ashley first time renting a public storage!