Public Storage Self-Storage Units at 1143 N Guignard Dr, Sumter, SC
Address
1143 N Guignard Dr Sumter, SC 29150
Office Hours
Mon-Fri 9:30 AM - 5:00 PM
Sat-Sun 9:30 AM - 5:00 PM
Gate Access Hours
Mon-Sun 6:00 AM - 9:00 PM
Storage Facility Features
Climate Control Storage

Indoor & Outdoor Storage Units

Small, Medium & Large Storage Units
Office Hours
Mon-Fri 9:30 AM - 5:00 PM
Sat-Sun 9:30 AM - 5:00 PM
Gate Access Hours
Mon-Sun 6:00 AM - 9:00 PM
Storage Facility Features
Climate Control Storage

Indoor & Outdoor Storage Units

Small, Medium & Large Storage Units
Close Location Details
View Location Details
Outside unit

Drive-up access
Nearby Self-Storage Locations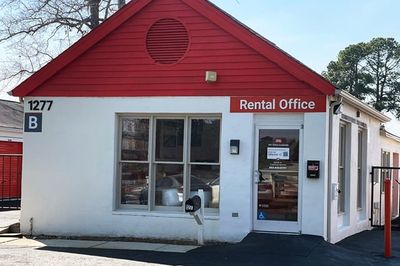 Self Storage Near
1277 Camden Hwy
Sumter SC 29153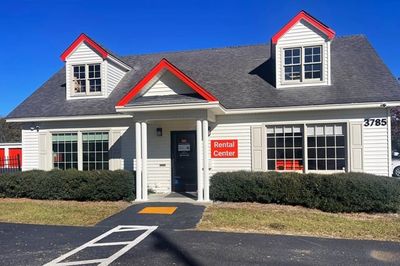 Self Storage Near
3785 Broad St
Sumter SC 29154
Resources from the Help Center
See what fits in different storage unit sizes
At Public Storage, You'll Always Find...
Keypad Access

Friendly Staff

Month-to-Month Rent

Moving Supplies Available

Free Parking

Well-Lit Facilities
Reviews
( 321)
Linda was so kind to take the time to come talk with me I'm moving some items out and she took the time to show me a smaller space so I can save some money on rent . Most just want money but she willing to help you save money . I would tell anyone to go see her she is a sweet lady .
Go see Linda she's the best
Fulton was very attentive and professional. Got me squared away after a slight reservation error. Thousand ⭐️'s
Came to public storage and Pauline was so much help in upgrading my storage space for a bigger unit when. I had such a hectic move she was a breath of fresh air, and I would definitely recommend this storage locations to anyone amazing customers service.
Pauline was very helpful in my time of need. She is amazing.
Pauline was great! She got me the right size unit for my belongings.
I came to Public Storage to look for a space for my box spring and got exactly that the process was easy and quick ! Pauline was a great a help, she's so nice and sweet! it will always be my pleasure working w her !!
Great service from the moment I walked in, to the minute I walked out.
Fulton and Pauline are awesome. The customer service was above and beyond. I feel confident in leaving my valuables under their watch. George
Service was very good, Ms. Pauline was very helpful and informative!!!
Pauline was very helpful. I had rented the wrong size unit online but Pauline helped me get the correct size unit that I needed. Very respectful and courteous. Probably my best experience with Public Storage.
Pauline was absolutely phenomenal in not only explaining everything in the kind of detail I needed but also her overall personality and customer service skills. I will definitely be recommending this facility!
Gloria and Pauline thank you for your help , very kind and helpful. I got the storage I need quickly and everything went smoothly definitely recommend this place to others.
I talked with both Gloria and Pauline both ladies were great.
Pauline is awesome. She patiently answered all my questions. Made sure I was happy with my space and protection of my belongings. She even cracked a few jokes. Great customer service.
Only 1 person working but they were kind and helpful.
Ashley was great! Very helpful & understanding.
Pauline was super friendly and helpful.
Pauline was excellent with assisting me today. Thank you.
Pauline was very helpful and nice. I love working with her.
Knowledgeable and clean. Great place for storage
Pauline has excellent customer service skills will definitely recommend
Pauline is awesome! Very friendly and takes you to all the lockers you requested. Express interest in you and does not see you as a customer but a friend.
Very professional, Pauline went above and beyond to meet my need!
Pauline was very friendly and helpful highly recommended
Pauline was very helpful.
Pauline was AMAZING!!! I would highly recommend this place 10/10 STARS!!!
Pauline was very helpful! Great customer service!
Pauline from public storage in Sumter sc was so nice her customer is awesome 👏🏾
Pauline was so patient and very knowledgeable. She walked us through the different unit sizes and helped us decid which unit would best suit our needs. I would definitely recommend Pauline and PUblic Storage on N. Guignard Dr.
A HUGE THANK YOU to Ms. Pauline for the great customer service in-person and telephone follow-up. Love your sense of humor!! Shout out to Linda for assisting me as well.
I absolutely LOVE Pauline! I reserved a rental and it ended up not being big enough. She didn't have the size so I had to go to a sister property. I would love to have stayed with Pauline. She was so friendly and helpful and explained everything perfectly! I feel absolutely confident in renting from this company.
Service here was great! Ms Pauline helped me out with all the questions I needed and took her time and assisted me!! She's great
Pauline was absolutely the best in helping us get set up with a storage unit. She deserves a raise and a certificate for a nice meal or something. The property looked nice and secure. Very glad to be using this location.
Pauline helped us set up our first storage unit. Super friendly and informative about all our questions and concerns. Amazing service and the units and area were clean and well kept as well.
Very informative, helpful and patient! Love the customer service
Best Storage place in town contact Mrs.Pauline for your public storage needs.
I wish I could give Pauline 10 stars because she is awesome!!! She was very courteous, professional and informative.
Pauline and all Front Office Associate @ store#25924 has provided exceptional customer support.
Great experience! Pauline was awesome and very helpful!
Pauline was very helpful and nice I honestly recommend anyone whose looking for storage to check this location out.
Tamia at the N. Guignard Public Storage location was awesome. She was friendly , neat and professional in appearance , her demeanor was warm and welcoming as she greeted me. She was knowledgeable , not pushy and very helpful. She made sure to explain everything to me as we went thru the application process. She showed me the unit that best suited my needs and it was very clean. The location was very neat and clean, not only in the office and lobby area but the outside storage unit area and parking lot as well. She made the process quick and easy. She thanked me and offered to assist me with the moible app or any other needs I may have . If you are in need of a storage unit please go see Tamia she will do her best to help you and actually mean it. Thank you Tamia. Sonya Lacey
I came by this storage and was privileged to Ms. Pauline. She was extremely friendly, knowledgeable and helpful. Please come by and see her when you get a unit! Would give more stars if possible
very convenient, no contact(unless you have inquiries, or otherwise need to see someone personally) rental and access, highly reccomend.
Pauline is so awesome! She was very patient, informative, and willing to help on short notice in any way she could. Definitely recommend!
Pauline truly help us through the all process and was very informative about the rental services. Excellent customer service. Thank you mrs. Pauline.
Pauline was awesome she helped with all my questions and concerns. Great customer service.
Pauline was great! She helped us get a couple of storage units! She showed us the storage units and they were super clean.
Ms Pauline and MsGloria were amazing they made my experience easy throughout the whole time i appreciate all they did ! No issues
The rental process here was super easy! Pauline answered all of my questions and was quite knowledgeable when it came to the company. I would definitely recommend this location to others based on customer service!
Hello, I would like to know the cost of a 10 x 10 storage unit! Thanks very much! Will need one next week!
Pauline was a great help in renting our unit! Couldn't have asked for better service 10/10
Graham was very helpful and knowable. Great customer service
Pauline was great. We moved to Sumter from WV and needed to put our things in storage due to living in our RV for a while. Pauline went the extra mile to help us. Thanks so much Pauline for everything you did.
I have had the pleasure of being a storage renter since 2018. I have nothing but good things to say about the upkeep of this property and the storage units. I specifically had the best customer service experience with PAULINE! She makes sure the property is secure, the renters are treated well, and her service is superb. She went over and beyond to make sure switching units for me was smooth and painless. Even with my time crunch she displayed efficiency. Thank you PAULINE for your awesome work at this Public Storage location!
Pauline is the greatest worker there. She helped me find a unit in little to no time. It was also fun talking to her. She tries to know you on a personal level to help you find what you're looking for.
Pauline was very helpful and knowledgeable. She assisted my son with the best unit for his belongings since he is active military. She was very personable, I enjoyed the experience.
A good place to storage your stuff.
Facility was very clean inside and out. We checked in with a few problems and Pauline straightened everything out in less twenty minutes. She helped relieve a lot of tension from our move from Florida to South of Carolina. The least we can say is thank you very much for your help. We most certainly recommend this facility.
Wha are the starting prices?
The facility manager, Ms. Pauline, responded to my request quickly and made renting the storage unit easy. I was in and out in like 30 minutes. That included a quick tour! She's awesome and this Public Storage is well-kept, clean, and secure. Definitely recommend keeping your stuff there! :)
Tamia was extremely helpful, I received information and the space I wanted.
Ms. Pauline response and service was excellent. Efficiently guided me through the property services and items available. Terrific customer service.
Good place if you need storage
Unfortunately we had some problems when we first rented our unit. But, Pauline got everything taken care of, and all of our issues fixed. Thanks for your help, and wonderful customer service
Pauline was very nice and helpful when it came to finding a storage unit that fit our needs.
Great facility and clean. Easy to find but also tucked away from the road. Employees are friendly.
Even though I wasnt able to keep my storage unit with you guys i was able to get alot of my personal items back, thanks to the kindness and generosity of its employees. Big shout out to Kianna! Deff recommend them over any place in town!
Kianna was very helpful and had great customer service. Would recommend to all my friends
Kianna was great, customer service was awesome and very detailed explaining everything.
Kianna was very helpful with getting me into a unit. The one I reserved was unavailable and she made sure I was able to book one today.
Signed up online, it was super easy. Got a storage unit same day. Had some trouble figuring out the lock, but Pauline was super helpful.
Kianna was very helpful, she showed me the unit and walk me through every step and was very kind and courteous!
The facility was very clean and well maintained. Pauline was exceptional and went above and beyond to make sure my needs were met.
Our business has been using PS on Guignard Drive for many years now. The property and units have always stayed in good repair, even after the 2015 flood that affected that location. The front office staff have always been helpful and professional. Overall, this PS location is well-run and customer-focused.
On behalf of Becky Davis - I have been very happy with the service and attention I have received from this location. Pauline has been a tremendous help, especially during this time of social distancing. We are so satisfied that we have rented a second climate control unit. Sincerest thanks from our family. Highly recommend.
Pauline was very helpful and assisted me with all my questions and concerns
This was my first time renting a storage unit. When I went in the office Pauline was very friendly and helpful. She explained the process and showed me a unit the size I was looking for. Needless to say before leaving I felt comfortable enough with the company and Pauline to rent the unit. Thanks for everything Pauline.
I went to Public Storage just to inquiry about the units. I'm having to move and I just wanted to see my options. There was a woman named Pauline behind the counter and she answered all my questions without hesitation. She also took me out to view the size of an empty unit. She was noticeably polite and even though I didn't confirm a unit that day she still gave a smile and assured me that the option would always be available. She was there by herself but obviously she was more than suitable for the job at hand. Five stars is appropriate for my experience. I will be back.
I came told rent amd there was a sogn on the door for 9:30 and I called and some how i got Phylocia who told me sje waa on her way and sje vame and rented to me with a smile and every thing was great!!! Would recommend to anyone
Everything was really organized and done in a timely manner. No long dreaded process. Definitely recommend.
Pauline showed great customer service.
Very professional, Pauline has great customer service and helps me with any of my questions! Thank you!
Pauline was extremely helpful!!!! My husband and I were having a rough time finding a storage unit and she went above and beyond to make sure that we had what we needed. Thanks Pauline!!!!!!
I came into rent and Tiara and Phylicia was very helpful and polite. I was very pleased with the customer service I received
I love public storage!Mrs.Pauline is very kindly and she's a people person like me and when I first rented out my she went through everything with me throughly and she's very nice I will definitely refer anybody to them!
Pauline was very pleasant, helpful and thorough.
They've repaired the electronic entry gate and now when you arrive you have to enter your access code to gain emtry to the premises. This was one of my biggest concerns when i started using the facility but the issue has been rectified.
Excellent storage and excellent service love it here
Came in to rent and Phykicia was very helpful and friendly to me she answered all my questions professionally Great customer service
As soon as I walked in I was greeted with a smile. Phylicia was very friendly and h eww loved me in every way she could. I would recommend Public Storage to all my family and friends
I visit Public Storage to purchase at last minute moving and Pauline was Great. She took her time and went over every detail and got us in the correct unit. Very pleased with the service and will use again.
Awesome storage facility. Pauline is exceptional, knowledgeable, and helpful. She made my move so easy. Thanks Pauline!!!
Ms. Phylicia was very helpful and most of all professional. She explain everything that I needed to know about the storage I will be getting and what would be perfect for my belongings. Great service
My husband's decision to Rent with Public Storage on N. Guignard Dr of Sumter,SC...Was and Is a very Good decision.The Place both inside and outside is very clean and well maintained...The Property Manager named Pauline...has the MOST pleasant personality.She was very thorough in taking us to look at units as well as explaining the stay of this unit/site. I would HIGHLY recommend this facility as well as Paulina...because this place is extremely clean and well kept....and Safe..!! Thank you for all that you do...Mr. and Mr. Melvin Bell JR.
Pauline is always helpful each time I call or come by. Their website is user friendly when making payments online. The property is clean and I feel safe having the gate locked when I'm there.
Mrs. Pauline was amazing with helping my husband and I find a suitable storage unit. She's very funny and kind. Definitely recommend this spot!
Phylicia was great and very helpful. Thank you !
Pauline was very informative and helpful. The establishment is neat and secure.
Pauline helped me out immensely. I am deploying and needed a unit on short notice. She accommodated my needs and was very helpful. Great service!
Pauline and Tiara were wonderful and helpful and awesome !!! Thanks
Mrs. Pauline thank you so much for the GREAT customer service we received. You were filled with so much joy and laughter. My boyfriend and I greatly appreciate you so much !!! Thank you once again !!!
Went to get a unit to store all my furniture in. Asked the girl how much for the unit which she replied it was $124 for a month.......$209 later they prorated 2 days which she didnt tell me about till she ran my card. They leave off the admin fee and the $20 lock fee. Lack of info up front
Pauline has been great to work with. She is always friendly and helpful when I go in there. Thanks
Very well managed storage facility. Thank you for your professionalism
Pauline was very helpful! Thank you so much!
Pauline is not just awesome. She is awesomesauce.
I rented a unit last month from Pauline and came in today to make a payment. Every time Pauline is always friendly with a smile on her face. Would recommend this location and look for Pauline She is outstanding with great customer service.
Highly recommend this facility to any one needing storage
Mrs. Pauline is the best woman there. She done helped me out in life. I done told her bout my struggles and that women done know what to say. She even got me the right size unit and the right boxes. 10/10 would come back and talk to her
Nice and friendly staff, building kept very clean and professional.
Mrs pauline from this facility was of great help to me and even stayed longer after clocked out and showed great integrity and selflessness during my visit truly and exquisite example of customer service would recommend and definitely come again
My family and I had a fantastic experience! Between the late hour assistance, strong customer service and the extra mile she took to stay behind late for our family made all so hard not to have me considering this very location for our future rentals. Thank you Paulina!
Ms. Pauline was AMAZING, great Customer Service took her time with details made sure EVERYTHING was to accommodate me. Such a happy & jolly person to be around. Definitely keep her MS PAULINE you are definitely a WONDERFUL person. Keep it up!!!!!!!
Great staff, very helpful. Thank you for everything Pauline!
Zoinks, this property was just the quick fix solution I needed! Manager I worked with was extremely informative and helpful!
Great property! Staff is helpful.
Ms. Kim and Felisha were really nice and caring. They were very helpful they made me feel like they were concerned about me storing my furniture the best way to keep it from getting damaged.
Pauline was very helpful, nice and clean place
Pauline was so helpful. I went in and she made it very easy. Especially for me to have never rented a storage unit before. She reassured me. I felt that I made the best decision renting a space here. Please come see her if you need a storage unit. Highly recommended. *Edited* We moved out of this storage unit after a month because our house was ready. The day I started moving out Mrs. Pauline was out doing her daily walk around & we spoke a little. I did ask what we needed to do after the unit was emptied out and she informed me that if it was after hours that she would see it was empty & just make it open again. I thought that was perfect because on top of everything I had to do with moving that was one less thing I had to worry about. I didnt want the lock so I thought they would just take that back & dispose of it. I got a call the other day saying we needed to make our storage payment. We have not been there since mid March. Mrs. Pauline makes daily rounds & didnt think to call to say if the lock is left on we would still be charged. Even if the unit is EMPTY!! I honestly feel as though she withheld information that should have been stated on the day we spoke while I was getting boxes out. You know? Since I asked what I needed to do?
Very good service and Pauline was very sweet went over everything very well.
Came in to make a payment and Kierra was great!
Moving can be really stressful but staff here are extremely friendly and willing to work with your accommodations. They find just the right amount of space you need at a very decent price for which I will add made my experience a whole lot comfortable.
It's serving it's purpose thus far.
Pauline is a very knowledgeable employee, I left with no questions (thorough). Customer service was great, a professional and puts customers at ease throughout the process, in fact, she answers your questions before you ask them (customer first mentality).
Kierra was very helpful when I came to Public Storage. She has a friendly attitude, very knowledgeable because she answer all my questions throughly. I enjoyed my experience here. I will recommend this facility to anyone that I know that is in need this type of service.
Pauline made this process easier than it could have been. She saw the frustration in my face and figured out how to make everything work in my favor. I was pleased upon leaving and everything worked out just right.
Miss Pauline was so helpful, friendly and professional.
Thanks Pauline. I came in a few days ago to buy boxes and I was not sure what I needed or how many. Pauline was able to help me with that. She is friendly and very knowledgeable.
Pauline was very patient and answered all of our questions and concerns. She put our minds at ease during a very difficult time. Would highly recommend this public storage.
Clean property and great service
Pauline was knowledgeable and provided excellent customer service. She made the process easier than expected and I left feeling good about my storage choice. I have been back to the office at least two more times for support and she was just as patient and kind as the first time!
Great customer service from beginning to end. Both Kim and Pauline were great. Kim called and confirmed my reservation and made sure that I would be able to view it. Pauline was great with the paperwork and assisting me with additional purchases and merchandise that could be offered.
I was very happy with the Service I recieved from This property. Pauline and Kim was very Amazing and Very Excited about Assisting me. Thanks for your support and efforts. I Truly Thank You and would Reccomend this Storage Property to everyone!!
I was very pleased with my experience at Public Storage located in Sumter on 1143 N. Guignard Drive. The service that was provided by Pauline was excellent. I just purchased a unit and the door to the unit came off the track. I left a message for the office to address my concern and Pauline called me first thing in the next morning to better assist me with a solution. I arrived to the store and Pauline had provided me with a new unit and walked with me to view the new unit. I was impressed with Pauline's service, which she also made sure that I received the appropriate rate and discounts that I qualified for. I commend Pauline for her service and her exceptional customer service that is an asset to the company! Courtney Wilson
Pauline was polite, helpful, and answered all of our questions. Public Storage itself is clean, safe, and is easy to access. We would definitely use them again.
Kim is very polite and helpful! Really enjoy doing bussiness because of her!
Pauline provided very friendly service and explains everything very well. Keep up the good work.
Excellent customer service! Especially Kim!
Came here needed a last minute unit. Kim was extremely helpful, friendly and quick. Would recommend this facility to anyone.
Came here for a unit I reserved today. Pauline is awesome, very professional! She showed me the unit I reserved as well as another that was available. Really did a great job and gave me an ample amount of time to inspect both units to help me decide which one I would get. Overall experience, I'm really glad I stopped by here for my storage needs.
I had excellent service and professionalism form one of their employees named Kim, she was able to help me with absolute ease. Couldn't find someone better to help me. A+
Good service & very informative!
Pauline was awesome sauce!!
Gloria was very nice and pleasant to buy products from.
I spoke with Pauline and she is so enjoyable to work with. She helped me pick the best size unit for my items and answered all of my questions with no hesitation. If you ever need storage go here and as for her!
Pauline is a wonderful associate and was so nice and sweet. She was so helpful and professional and definitely made me and my Fiance feel at ease about leaving our belongings. THANK YOU PAULINE!!
Pauline was awesome !! This is the second storage unit that I've rented. My first experience with Pauline and public storage was last month. Pauline is very efficient she works very well with understanding what the customer needs.She is very personable and relatable. She understood what I needed and pointed in the right direction. I'm very happy with my experience with public storage and definitely with my experience with Pauline!
Pauline was very nice and helpful with getting me set up with boxes and supplies needed for moving!
Very great service I was help by ms Pauline.
Pauline was and is very nice and helpful. She showed me the property and was helpful with what boxes I needed to pack my aunt's home. She is an awesome employee and although my aunt chose another storage facility she was still very nice and understanding. I went back to purchase more boxes and she assisted with placing them in the car. Nice and clean facility and awesome staff. Pauline deserves an A+.
Pauline was great! Really nice and professional. Thanks
Very nice facilty. Very clean and in order. They count with a professional and experienced staff, Vashonda helped us with the rental very smoothly.
Love them they are great.. Vashonda is awsome
She was very nice and helpful.
My visit was amazing.Leslie was very nice and a pleasure very clean space..loved it
Erica's customer service was great
Erica provided excellent customer service while helping me to choose a unit.
I had a very pleasant experience in securing my rental. Erica was very professional, with a vibrant personality. She made the entie process very easy! I would highly recommend her, and her facility to anyone looking to rent storage space!
The place was Awesome very clean, the Manager was very professional she did a Outstanding explain everthing which I had the pleasure of dealing with them before, I would recommend anyone to this Public Storage..Erica was very nice to Me, I'm very happy with my unit..
Great customer service here. Erica is the lady to go to. She has a great personality and very helpful.
Clean units and great costumer service from Erica.
Erica was so kind and helpful, great customer service
This is a gated storage facility. Be prepared to buy one of their locks or call before visiting regarding the name of approved locks. Thanks customer service is phenomenal, but there is one thing to prepare for since a policy change in November. There are no more prorated days. So if you plan to pick up your storage on the 1st or any day of the month thereafter, the price is still the same as if you used the facility for an entire month. So it would seem to leave your items until the very last day of the month because you would have paid for it anyways. Also, pay on time. They do have monthly auctions and I know you would not want to lose any thing of value.
Latisha was the rock star of my day! Thanks!
On my first visit there, a young lady by the name of Latisha, that was working that day was awesome!!! She has excellent customer service skills, very knowledgeable of the job in itself and what public storage has to offer their costumers! I would highly recommend this place and Ms. Latisha for all their storage needs!!!!
Amazing help from Latisha, she went above and beyond to help us! Thank you
Needed some extra temporary storage. Stopped by on my way home and checked availability and rates. Very clean operation with a friendly staff. They had just what I needed.
LATISHA DID AN EXCELLENT JOB OF GETTING US SIGNED UP FOR A STORAGE LOCKER. IT WAS A BUSY AFTERNOON AND SHE TOOK CARE OF ALL OF US WITH NO TROUBLE.
Received excellent service. Latisha was especially helpful , and patient!
The location is very good, and the Staff were exceptionally helpful, making the entire transaction pleasant, and easy to complete. I'm very please with everything about Public Storage, and will recommend to others looking for a great place for storage!
I toured the facility today and it was very clean and secure. Latisha did an excellent job of explaining the processes and answering questions.
Latisha was amazing and did her job very well. She the best. Come see her
Latisha was extremely helpful, she very polite she took here time and walk through everything you needed to know....she was well spoken and here smile proceed her.
Friendly and professional associates. Latisha is a very helpful and professional person. I highly recommend this location for any storage you may need.
Latisha was very helpful and patient as I explained to her what I needed very polite and she explains everything to you so that you can understand it correctly. Thanks latisha also for not minding having to stay a few after closing!!
I came across this place with google and what attracted me to it was the great reviews. When I went it was just as I expected. The place was very clean. I was helped by a lady named Latisha and she was very nice. She explained everything to me and even helped me pick out some packing materials. When Im ready to store I know where im going.
Brandy was excellent with her knowledge and experience; getting me all checked in, showing me around and answering all my questions!
Pauline has great service
Oustanding group of ladies. Pauline and Erin have been amazing. Highly recommend to others. Service with a smile.
This place is very well kept and I just love Jenny & Michael.
Jenny was awesome. Always a pleasant person
Customer service and customer care both via phone and onsite, was excellent. The professional courtesy extended before, during and after rental warrants a five star rating. Property is cleaned, safe and secured. Highly recommend for personal or business use.
Great customer service. Very friendly. Angie has made this a great experience
Angie and Michael were AMAZING. Made my rental experience very easy and they were very helpful. I recommend this company and property to everyone.
Angie provided great customer service.
I found out that my daughter was not even close to being ready to move out of her apartment and she had 3 days left. My wife and I went to help. We were so busy packing, we didn't watch the time. It was late Sunday afternoon when I made my reservation. I got to the office 5 minutes before closing. I felt bad about coming so late, but Angie didn't seem to mind. She was very friendly and helpful. She didn't try to rush through and took time to answer my questions. I have rented with Public Storage before in another state. I made the right decisions to use them again.
I went in just to get information and prices. Even though the manager knew I would not be renting, she was very helpful. She asked a few questions and showed me a space that will be great for my needs. When I'm ready, this is the storage place I will be using.
Had a family emergency and had to get storage fast. Andrale was so helpful. She made my day. Would recommend to anyone needing storage.
I received a short-notice tasking for deployment and had to quickly move all of my household belongings into storage. Andrale provided some of the best customer service I've ever experienced. She answered all of my questions thoroughly and gave me the most convenient, easy to access, climate-controlled unit. Also, the rates coupled with storage insurance are unbeatable.
Excellent... Angie and Andrale's customer service skills were superb and very helpful. I would recommend this place to everyone
This place was awesome! The Manager answered all my questions quickly and she was very friendly and helpful. Would definitely use this place again! Two Thumbs Up!
The customer service was second to none. Manager was very helpful with finding the best option for our needs. Great bang for your buck!
Great environment ! The employees are great and very friendly, I would definitely go back !
Excellent... Shekina was very helpful and courteous. She took her time explaining how everything works and also advised me of the hours of operation if I were to have any further questions.
Angie was a great help in setting up my move to this storage facility from the size of the units i needed to my packing supplies thanks for your support
I would recommend this to all my friends and family. We were treated with great hospitality, like family. Angie made sure we had all the accommodation we needed to store our families belongings until we got into our house.
We reserved a storage space at this location today. Candace was very knowledgable and showed us the unit that we reserved. Unfortunately it was too small. She found us a unit to meet our needs at another location, she called to make sure someone was available, and gave us her card for future needs. This was a very clean and well kept facility with super friendly staff. Will definitely recommend Public Storage to friends and family.
The facility was clean and secure. Candace was professional and courteous. Overall, a very good experience. I would recommend this property to my friends
Candice is very knowledgeable and made me feel welcome. As all of the employees that has been at this location & i will refer this storage company to anyone that's in need of a clean & well kept storage 😍
Shekina helped with my storage needs today... Thanks
Nice clean storage facility. Will recommend this location
Shekina was great today her customer service skills was excellent thank you!
Victoria was absolutely wonderful and answer all my questions.. Thank you Victoria
Wasn't interested in this property, $1 pays first month got my attention, was curious to the "catch". Went in, spoke with Shekina along with her Regional Manager. They were both helpful and knowledgeable of property and systems. There was no "catch" and the sense that my future valuables would be safe at this location was amidst. Shekina was very well versed in knowledge of the computer system and even with a glitch and having to use a manual receipt, we we were able to get my transaction completed in a timely manner. Very happy with my decision. Will highly recommend.
Shekina was great today helping me with my storage space thank you
SHEKINA WAS TOTALLY AWESOME. HER KNOWLEDGE OF THE INFORMATION WAS GREAT. EXCELLENT CUSTOMER SERVICE.MY WIFE AND I APPRECIATE PUBLIC STORAGE.
Just rented a storage space here. Shekina was great with her customer service!
Shekina was great today. She stayed late to do my rental thanks again!
Shekina was awesome! !!!!! Thanks for all your help l!
Shekina was very friendly and helpful, great service!!!
Shekina and Victoria was a huge help today with my storage building. Thank you!
shekina is a great customer service Rep. thanks again for all your help
I went in this facility for boxes to proceed with my move. shekina was very professional and informative on which boxes I should get. thank you very much I'll be back for more!
Thanks Shekina for the excellent customer service!
Shekina great service provided very friendly
Shekina was an awesome customer service representative!!! She mentioned all of their services, especially 5 Star.
Great experience at this location. Diedra W. was exceptional at her job and explained the process and procedures clearly. She helped me with everything I needed and answered my questions without hesitation.
Shekina was excellent! She told me about all of the services upfront. Live the five star treatment....lol! I would definitely use public storage again.
Shekina was an angel. She was very helpful. Thanks
Shekina was right on target with her customer service. Thank you !!!!!
Shekina is the best! She helped with my storage today.
Shekina was great today. Thanks
Awesome service provided by Shekina!!!! Thank you!
Shekina was very helpful when it came to helping me choose the unit that was most accommodating for what I needed. I greatly enjoyed the cheerful and pleasant customer service that came along with the rental process!
Ms. Shekina is so sweet and we got great service in a timely fashion. I love this storage
Shekina has help a great deal with payments and storage needs
Shekina was very pleasant and I received great service today
Shekina was friendly and efficient! I stopped there originally only to buy packing supplies for a up-coming move, but found her service and demeanor very professional. So I decided to choose this location for my storage needs. It was solely her actions that prompted me to do business at this location. When I returned to rent a unit, she was courteous and informative of all transactions. It is a pleasure to see someone working in public relations that goes beyond what is expected. If I could, I would give her a pay raise! Thank you Shekina!!!
shekina was a big help with my storage needs. thanks
shekina has been helpful to us and exceeded over her customer service which was a awsome help....thank you and please give her an awsome award...
Shakina is AWESOME! I recommend this business to everyone!
Although my visit was several days ago, I feel it is very important to recognize good customer service when it occurs since it is missing in so many businesses. Shekina was very helpful and knowable of the services that PB has to offer; that coupled with her smile and sense of humor made my discussion and transactions with paying on and obtaining another storage unit very pleasant. Her attitude and personality was consistent during all of my visits. If Shekina maintains these excellent CS skills she will continue to be an asset as a PS employee.
shekina was helpful, polite and answered any questions i had to ask
Shekina was very helpful and polite
Shekina is very knowledgeable and courteous. She answered all my questions with ease. It has been my pleasure and look forward to during business.
Shekina was a great customer service representative. she helped me get started in right direction with my moving process Very helpful!
shekina was very helpful and she made my trip pleasant she rocks
Shekina was a great sales person today. She was very helpful and knowledgeable . Thank you
shekina has really help me with my choice in choosing a storage space. Thank you very friendly and helpful
Victoria and all other associates with whom I dealt were tops! Nice, professional, knowledgeable & so helpful. Many thanks!
Shekina Braxton was a great help, she help me find the right size boxes. Great costumer services!!!
Shekina has been a very helpful person courteous and knowledgable and my sister vicki canty first time renter is highly pleased
Shekina was very efficient and helpful. :)
Shekina was very sweet and very helpful. She made it a simple and smooth process. Thanks!
Shekina helped me out today, great customer service skills will be back for any other merchandise
Gloria is very very great when it come to service
Gloria provided an excellent customer service. When, I have trouble opening my storage using the old type of key, she offered to assist me to open it even if she don't have to. She also answered all my question in timely manner. Good job Gloria:)
Ms. Gloria was very professional and she answered all of our questions in a timely manner...Good customer service is hard to come by and she does a wonderful job!
Gloria was a tremendous help and was able to answer all of my questions.
I would use a different facility. First of all, the manager. While she was giving me the tour of the lot, she instructed me to pull out my phone, locate this place on the Google Maps app, and then give her a rating. You don't get to suggest that. I'll rate you when I've determined what I want to give you. So, short black woman whose name I can't remember, keep that in mind next time you order someone to rate your store. Second, this same manager seemed to take an attitude with me when I said I wasn't going to use their crummy insurance policies, and I would use USAA instead. THEN, I was denied the "$1 for your first month" deal, seemingly because I had denied their insurance. Very professional. The customer service was off-putting. In addition to this, the fence on the east side of the lot has a part where it is peeled back and even a very large person could crawl underneath it to get onto the lot. Despite their security cameras and "off site security" this is unsettling. I noticed some guys watching me unpack my things into my unit and that made the whole experience that much more uncomfortable. Basically, if you can find somewhere else to go, go there. This place isn't worth the money or the awkward interaction with a demanding manager.
As a happy customer, I would like to outspeak my "Thank You". Thank You to Gloria Stone for the tour of the location, it really helped me with a better uplook to the site. With her help, I ultimately choose to rent a property to store my items. As a person newer to the world of public storage site, I felt right at home using the area, couldn't have asked for a better person to help you.
Staff is awesome! They help with whatever they can. They unlocked my storage unit in minutes!
Gloria took her time to show me several available storage options to choose from on the property so I could decide what would accommodate my needs best. The process was quick and efficient. I recently needed help, stopped by the office, and Gloria took care of my situation quickly. I appreciated her effort and customer service.
Gloria was beyond helpful with our recent quick move. She was so nice and very patient with our changing needs! Thank you public storage!!
You have a nice group of folks here at this location. Always friendly and willing to help you with any of your questions. Highly recommend to anyone in need of storage.
Gloria is a fantastic lady. Very professional and polite. Always a pleasure to see her smiling face.
Great job, Gloria!!! Great sale. Love it!
Gloria and Chalene treated us really nice. We werr there for a storage war I enjoyed myself
Quick and easy to get into, staff was pleasant, they have a coded gate and security cameras, not to mention you get your own heavy duty lock with 2 keys. They require you get insurance, $11-$15/month depending on the amount of insurance you want, which is a FANTASTIC policy to make sure everything stays flowing smoothly despite any potential disasters.
Unit was clean while the staff was very helpful and made the problems go away...This will be my home away from home for my goods from now on. Thank u ladies for the laughs and conversation.
Charlene was very helpful. She hooked me up on every thing i needed to get my items in storage in a timely manner. She also quickly helped a few other customers while i was here. And very personable!
I needed to purchase a lock for a friend's storage unit and got great customer service. Niki and Gloria were helpful, polite and helped me out. I was taken to the unit and treated more like a friend, than a customer. I would recommend this business to anyone that needed storage.
I would like to thank Gloria and the other young lady for their assistance. Not only were they friendly, but they put my mind at ease during a most trying time in my life. You never know when you may be in need of and God sends angels to help you along the way. Thank you and may God continue to bless and keep you both. Forever grateful.
Great example of an effective, efficient business. Customer service is second to none.
Great place. Very helpful and courteous staff!