Public Storage Self-Storage Units at 1277 Camden Hwy, Sumter, SC
Address
1277 Camden Hwy Sumter, SC 29153
Office Hours
Mon-Fri 9:30 AM - 6:00 PM
Sat-Sun 9:30 AM - 5:00 PM
Gate Access Hours
Mon-Sun 6:00 AM - 9:00 PM
Storage Facility Features
Car Storage

Climate Control Storage

Outdoor Storage Units

Small, Medium & Large Storage Units
Office Hours
Mon-Fri 9:30 AM - 6:00 PM
Sat-Sun 9:30 AM - 5:00 PM
Gate Access Hours
Mon-Sun 6:00 AM - 9:00 PM
Storage Facility Features
Car Storage

Climate Control Storage

Outdoor Storage Units

Small, Medium & Large Storage Units
Close Location Details
View Location Details
Outside unit

Drive-up access

Outside unit

Drive-up access

Outside unit

Drive-up access

Climate Controlled

Outside unit

Drive-up access

Outside unit

Drive-up access

Outside unit

Drive-up access

Outside unit

24 Hour access

Outside unit

Drive-up access

Outside unit

24 Hour access
Nearby Self-Storage Locations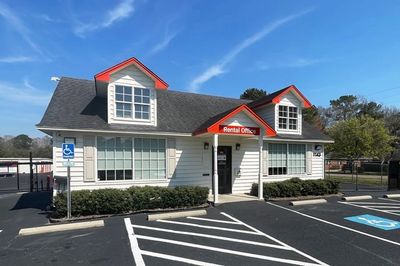 Self Storage Near
1143 N Guignard Dr
Sumter SC 29150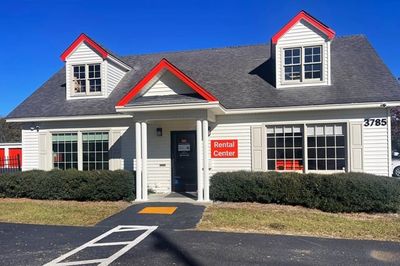 Self Storage Near
3785 Broad St
Sumter SC 29154
Resources from the Help Center
See what fits in different storage unit sizes
At Public Storage, You'll Always Find...
Keypad Access

Friendly Staff

Month-to-Month Rent

Moving Supplies Available

Free Parking

Well-Lit Facilities
Reviews
( 393)
Thanks Ashley for your good customer service. I know it was Hot I really appreciate you. Showing me around the storage. Lo
Ms Gloria was awesome and quick fast service ‼️
Gloria was so nice with me thanks
Gloria is an wonderful person. She is very knowledgeable about her job. I enjoy seeing her when I make my payment, she calls me by my name and makes me feel like Public Storage Family. Please keep her around.
Gloria help me wonderful. She is nice person
Mrs Gloria has outstanding customer service. Made my storage renting experience smooth as possible. She was not only very helpful with getting a storage but also helpful using the mobile app. Highly recommend!
Great service and nice lady Gloria
Tamia and gloria was very helpful...
Thank you Ms. Ashley for helping me get a storage
Taneya was very nice when giving me prices for the storage unit and very helpful and knowledgeable about the facility.
Taneya was very helpful finding the correct boxes needed.
I recently went to your location to buy some boxes to prepare to move and Taneya was extremely courteous and helpful.
I came in to purchase some moving supplies and had the pleasure of working with Ms.Taneya! She was super nice and willing to answer all the questions I had that day! Great customer service!
Taneya was very professional she helped me update my email,address,and phone number.
Taneya and Gloria was professional and nice
Taneya was great! Very friendly and she work hard to me the space I needed.
Gloria and Tanyea was very professional and very polite. It was Tanyea first day and Gloria was being a great trainer. Both are very nice ladies.
Gloria was very nice and professional.
Thank you Ashley for helping me get this storage. She is very respectful and kind.
Thank you Ms. Ashley for helping me get in the gate
Ms. Ashley was on point with the answers to my questions on today! Her customer service was over 10 & made me felt comfortable & at ease. I am well satisfied with the results of how things turned out today. If you're looking for a place to store your belongings, see Ms. Ashley at this Public Storage!
Gloria was very nice and wonderful and so so helpful 💕
Ms. Glory was very patient and kind with me. Very nice lady
Thank you, Ms. Ashley, for helping my grandma with picking out boxes. The service was excellent!
Ashley and Gloria was able to help with the right size space
Gloria was very helpful and was willing to help
Gloria did an awesome job preparing me for my unit ... Thank you Gloria.
Ashley had great customer service and the process was fast.
Glory she was great at helping me with everything i need i would refer her to anyone
Thank you Ashley. Great service, description of services and super friendly.
Ashley and Gloria was great in helping me get my storage unit today.
Thank you Ashley and Gloria for helping me download the public storage app and getting into my unit! You both are wonderful!!
Very courteous, efficient, and nice units very excited
Ashley was the best help I ever had. Help me with packaging and other stuff!!
Ashley was a great help with setting up my PS app. THANK YOU!
Ashley was very helpful. She helped me download the app so that I can access the property!
Great ladies, they are always helpful
The representative Gloria was amazing and very helpful!
Ms.Gloria was spectacular in helping me find the best unit for my needs. It is rare to find those exceptional people that go above and beyond for customer satisfaction.
Gloria was so wonderful with us today
The ladies there are incredibly sweet and always so helpful. Very welcoming as well. There was one in particular lady, wish I could remember her name, but she was extremely helpful. Very sweet! If I ever need help again, I know I can count on them!!! Mrs. Waker
Ms.Gloria was very helpful and polite
Gloria & Barbara provided excellent customer service with my rental.. Very professional & courteous.
Gloria did a real good job on my rental and explained as she went along
Where my aunt has her stuff stored and they just went up higher she is not happy. Security is good though.
Abby Abby took my payment with a smile
Gloria she was very helpful
Glory was very helpful in finding me a great size storage for all my needs.
Gloria made my move in seem so easy
Thank you Gloria made my move in great
Gloria was nice she stayed after 6 pm and rented me 2 spaces
Gloria was awesome and helped me to get what I needed. She's an important amd excellent asset here at Public Storage.
I suddenly had to place my belongings in storage around 2018. At the time this location was the only one available. I believe Jennifer was the manager at sign-up. The prices were on the high end but the problem has been it's steadily increasing along with inflation and diminishing paychecks. To pay storage someone undoubtedly has to go without especially post covid which is now in its third year. Storage businesses are booming because of need and little competition which drives the price point. I noticed a few more storage units are popping up in the area. Hopefully the fees will decrease. The government needs to regulate the fees. I never understood why they are so expensive. These businesses have some of the lowest overhead cost but are among the most expensive from my experience. I live out of state and had to return due to the flood damages at this location. At my own expense of course. I live in California so I took an additional financial hit. No one would give information over the phone. Had they done so, I could have saved that additional $2000 + dollars. Luckily my unit was spared. Others were not so lucky. A month credit for tenets fear alone and my expense to return would have been a really nice customer service tool especially to those like my husband and I who stayed and had been long time paying customers. Although units of comparable size are less expensive in California, paying to move acoss the county would have been pointless. The prices have steadily increased which is troublesome. My husband also had a unit and he just escaped another increase, which made his unit soar to over $300 😳. His unit was a 15X? 😒The military just moved us out. Glory to God. We never missed our payments. The only bright spot has been the manager Gloria. She is the reason I gave four stars. She is always professional and ready to assist. Having her around made it easier to swallow the bitter pill of monthly storage cost so thank you Gloria but owners please reconsider making storing units at your facility more reasonable. Thank you
Gloria she was very helpful
Gloria did an excellent job
I appreciate Mrs Gloria to the fullest, however I wouldn't recommend this storage place to anyone. There are too many fees. Since the payout to renters due to water damage the fees/ rentals increased has made my experience the worse. Yea I will admit be late being on a fix income. But today I have to $572 in storage $231 of that is fees. If I'm only 2 months behind how did I accumulated late fees of $231.00? Nobody had given me an acceptable response or one that makes since. I was told the late is $28.00 a month. Do the math
Gloria is the absolute best great customer care
Gloria took my money with a smile
Gloria was able to make my move in great
Excellent service provided by Gloria.
Phylicia and Gloria was awesome… I appreciate their assistance…
Gloria was the best service
Just wanna thank Ms. GLORIA and Bill for the fantastic service very professional
Great service! AAA+++ Gloria was a great help in getting me all set up. Definatly will use again! Thank you!
Gloria and Phylicia was a great help very friendly ladies
Gloria is wonderful! Super quick and easy!
Public storage employees were very helpful and informative. Tamia and Mrs. Gloria.
Gloria has been exceptionally patience showing the different sizes. She has excellent customer service.
Phylicia and Gloria was a great help
Gloria and Phylicia was a wonderful help. Thank you ladies for a job well done
Wonderful and professional service from Gloria, every time I come in. She is definitely an asset to your business.
Gloria was very helpful she stayed puberty to rent my space
Tamia and Gloria is great they help and was able to answer all questions
Tamia and Gloria were very helpful. Helped me with the amazing PS app as well. Highly recommend come store here!!!! ✅✅✅✅
Rented a big storage unit for about 4yrs..the first year they increased the rent 25% and continued to increase till finally it was twice as much from when I started. I recently decided just to move out. So I gave notice online and then cleared what could and even spoke to the clerk...a month later after about 3 emails with the manager, I get my vacant email along with a fee and another months rent due. my suggestion is if you plan to use this place make sure it is for short term and get your final notice letter the same day.
10/10 place service is nice and easy and fast too
Tamia was a very good help.
Thank you too Graham for helping my elderly mother.
Gloria took good care of me and made my transition nice and smooth
Gloria was very helpful. Thanks she helped on a tight situation
Linda did an awesome job.
Tamia was amazing and very helpful!!!
Very helpful. Answered all of our questions and gave us exactly what we needed!
Gloria helped me today and was helpful.
When I first called to reserve a storage unit, I spoke with Tammy. She was super helpful, kind, and a great listener. When I called back on the day of rental, I spoke with Gloria who was equally amazing and helpful. Wonderful experience all around. Highly recommend.
It's a good place to storage your stuff but please go before it closes time or you be lock in there.
Graham & Gloria provided excellent customer service when I went in to pay my bill this morning. I recommend Public Storage to anyone who has to store their personal items.
Gloria was very helpful and informative great employee
This was an awesome experience. Gloria helped me step by step to on the process. Everything was smooth
Superb Customer Service!!! From the beginning to the very end of my moving experience....Gloria was an amazing help in the process. Relocating to another state was stressful and I had so many questions....Gloria had answers and solutions which made my moving experience so much easier....I was truly gratefully and satisfied with choosing this location for my storage needs.
Gloria was able to get me in a space she was very helpful
Gloria was so helpful ! Such a sweet person & made everything easy!
Did great service and was very polite
So far so good. Young lady in office extremely helpful. Just wants some information I will be moving soon.
Excellent Customer service, Ms Gloria kept in contact with me when the units was available to me I needed. she is an Asset to the company, Keep up the great work.
Gloria is a great helper. We love her
Gloria is an amazing help she explains everything down to a T
Gloria made renting very easy for me . She provided me with a nice clean well kept unit and she was very polite while assisting me . She has very great customer service skills and keeps a smile on her face .
Super nice people in the office. Great service. Driveways narrow and only one way in/out. Also drainage issues made it prone to flooding my unit. Nice people even called when it flooded to have me come check my stuff.
Check in was good, Gloria was very helpful and friendly!
I love the customer service. I had a problem with my lock and the young lady Tamia was a wonderful hope i would love to speak with her manger just let them know how sweet and helpful she is, amazing job.
The young lady Tamia was so professional she was able to help me get settled in she was polite and so sweet definitely loved her vibes
Great experience with Gloria she did a great job.
Tamia was very helpful and professional on my visit. She thoroughly explained what I had and what I had to do which caused minimum to no stress. Would very much recommend to a friend/family member. Great quality service! 👍🏾
Tamia was amazing and very professional !!
Gloria is a very nice lady and took care of my needs when I needed a storage. She is very helpful and has the right personality.
Me.Gloria was really helpful , she directed me to my storage unit , sold me supplies and a lock . She was very helpful and polite . I will be back to store there
GLORIA!!..ABSOLUTELY AMAZING EMPLOYEE..AND UP TO DATE ON COVID GUIDLINES..THANK YOU FOR BEING SO DILIGENT IN YOUR SERVICES...
(SHAW MILITARY STAY AWAY!) This site regularly floods and the owners haven't done enough to fix the problem.
The young lady at the Camden Highway location was so accommodating & professional! I love her attention to ensuring my requests were met with zero issues. Her customer service is 2nd to none. Thank you so much!!
Phylicia was so helpful and professional she help me with all my needs i highly recommend Public Storage to anyone looking for storage
Gloria was nice and helpful in time Thanks Gloria for Your help David Ballard.
Gloria, was a professional employee who helped me out with the moving process. Great personality. Wonderful attitude in setting arrangements.
Tamia was very professional and took her time to make sure everyone was helped even when there were a lot of people here. Just wanted some information about a storage space and they have good prices. Will b back
Gloria was absolutely amazing during my time at the facility. She has gone over and beyond to ensure that my mother's unit was well taken care of! She also maintained her professionalism in a situation with another whose behavior could only be described as unprofessionally antagonizing. Way to go Gloria!😊
Great customer service & very clean environment ... Thanks Kianna
It floods. Broke my heart. We should treat each other better.
Great people, very secure. Will definitely take care of you. Highly recommend.
Tamia and Gloria were amazing!!!!!
Tamia was amazing with me! She took her time and had amazing customer service! 11/10 would recommend. Great prices for military!
Barbara Sparks did a fantastic job of helping me find the perfect size unit for me and my family. Thank you Barbara!!!
Charged for a full month, moved out in the middle of the month no refund. Was not told until after I followed up with them about the refund that they do not prorate. No one took the time to say you can keep it until the end of the month since there is no refund. All they said was that I can keep the lock and key. So now they have my money, and the next person's money for the same in unit in the same month.. This made an experience that started out as a good one turned terrible...
Absolute true professionals. Ms. Philicia, Barbara, and Gloria. They were extremely helpful from ensuring I was at the best location to accommodate the distance I needed to travel to making sure I had right size storage needed to store my valuable items. They made this difficult decision seamless for me. Amazing Customer Service!!! Thank you ladies!
Barbara is a awesome with customer service. Will recommend this place 👌
Barbara has been a great help and really good at her job.
Friendly and helpful staff
Harmon is very pleasant and professional.
Gloria helped me out in a tight spot thanks
I went to this location today and met Ms. Gloria. She provided excellent customer service, answered all my questions. It was a nice experience
Harmon and Gloria took great care of me I loved using this unit the people here actually care about you
Gloria is a very sweet sales representative that takes her time to make sure things are professional. She makes sure all of our locks are secured and that's important to me. Thank you again Gloria!
I went in there today I reserved a unit online and couldn't get into the payment part. The young lady Gloria was amazing she helped me get through the whole process even though it was my fault for getting locked out of the payment process. I will definitely keep going to this business she treated me kind and help me with my mistake thank you again for making my day easier.
I came to property today and Sam helps me and he has good customer service skills
Typical storage facility. Locked gates going in and out. Their prices are a little high imo and they apparently don't clean up debris on the rows.
I came in to look at a space and was greeted by Phylicia after telling her what o was looking for she took me to the perfect space that would work for me. She help me set up my reservation and with the help of Ms. Gloria they got me right I was very pleased and can't wait to see them again
Kianna showed excellent customer service and was very friendly with helping my uncle when he needed help with a last minute situation. She was a life saver, stayed beyond her shift and made sure everything was taken care of. Blessings we really appreciate what you did🙏🏽
Ki was very helpful showing the join the storage I'll recognize all my friends to come to get a storage here
Ki and Mrs. Gloria were extremely nice and friendly. would highly recommend this storage and staff any day of the week
Ki showed great customer service.
Great service Key was very welcoming and everything I needed was met 😏
Phylicia was very helpful and greeted me with a smile that was the main key. Thanks for your help
I came in with my cousin to rent and Phylicia was very helpful. She was smiling and stayed engaging with us from the time we walked in until we left. Great customer service
Gloria was extremely kind and helpful. Would definitely reccomend this loca😁😁.......Now down to business......Bring your own lock or pay the ridiculous $19 like I did because it was almost closing time and I couldn't grab one and be back in time(btw the lock wasnt even new😳). Also the price quote given on the phone does not mention the mandatory Insurance you MUST buy (I have my own. But still had to buy theirs (smh). Anyway Gloria gets 5 stars for her customer service, but the business part drops the 5 down to 3(not her fault tho)! If you didn't know now u know.... have a nice day😁
Excellent service, Gloria is an excellent customer service service.
Always cool. Only down side is my storage unit has a broken bulb inside. So I have no light if I go in the evenings.
Very helpful and friendly employees,reasonable price all around wonderful place to store your personal things
Ms. Gloria did a awesome job providing me the service I needed !
Gloria is very knowledgeable with the job
Ms. Gloria was so nice and helpful with a smile when I had problem with my gate code.
Ms Gloria was very helpful and nice. She answered all questions I had and had a smile on her face from the time I walked in until the time I left. Great customer service
Gloria was very nice and informing with helping me make decision to get a unit.
Had a great experience with Gloria and Teresa... showed me my property well and made me feel comfortable with my experience... really great place
Tiara an Ms. gloria was very nice an helpful. This is my second time coming to public storage an im never disappointed.
Tiara was very helpful today
Gloria was excellent and very helpful...
Gloria is very knowledgeable thank you
Miss Gloria was very nice and professional. I highly recommend for business
1277 Camden Highway is awesome! Very friendly and kind. Gloria and Phylica are the best!
Gloria and Phylicia were very helpful. Customer service was great. Would recommend
I came into the property to make my monthly payment and Phylicia and Gloria greeted me and made me felt at home I appreciate everything they done for me this far.
Ms. Phylicia gave me very good service and very fast service
Phylicia was very knowledgeable with her job and friendly. Please get a golf cart for these ladies, they have one but it needs to be repaired. My legs was hurting and I didn't feel like walking.
I came by the office and told Phylicia that I needed packing supplies and that I would be back to get them on November 1st. She told me she would put the items that o chose up for me and when I return today she did just that. Great customer service
Gloria and Phylicia make it easy to make payments. The units are clean and well maintained.
These two ladies are great to work with... Keep it up!!!
Phylicia and Gloria was very helpful and gave me great customer service. They greeted and welcomed me as I walked in and made me felt like home in an instant. I would reccomend public storage to any family and friends
Horrendous management. Doesn't follow corporate rules and regulations. Always trying to cheat people into losing their storage units. Horrible customer service..
My name is Tiffany and I had the pleasure of working with Tiara. My experiences was great. Tiara was very friendly and professional. She really knows her job responsibility and was really a joy to work with.
Tiara was extremely helpful and informative when my husband and I went to get our units. She answered all our questions and was very professional. Customer service was great!
mrs Gloria was very sweet and have good spirit
My mother an I had a great experience at this location! Tiara was very friendly and helped answer all of our questions. She made our experience very pleasant and smooth. I highly recommend this Public Storage location!
Gloria and Tiara gave the best customer service i could ask for, their professionalism and willingness to aid in any manner they are able was such a delight. The only reason i didn't give 5 stars is due to the fact the company does not prorate your storage when you depart meaning if you only have storage for 1 day you will still have to pay for a full month, other than that i was satisfied with my storage for the duration of time i had it. Thank you Gloria and Tiara keep up the amazing work and fun personalities 🙌🏿
Great experience there! The wonderful lady Gloria working there went out of her way to make sure I was taken care of. Recommend!
Tiara/Gloria was very helpful with the move in
They were very friendly ladies.(Tiara/Gloria) Helped us get a storage unit. It was super fast and easy.
Phylicia,Gloria, and Tiara was awesome!!! I came in to make my payment and I was greeted with great customer service. I would recommend them to all my family and friends Great job ladies!!!
Staff - Phylicia, Gloria, Tiara, was great and very helpful. I took their advice on the which items to purchase. I would recommend this storage to others.
Tiara,Gloria,Phylicia was very wonderful, and the customer service was beyond amazing, thank you ladies for a smooth move in...
Tiara and miss Gloria and phylicia were very helpful and assisted me with everything I needed
Great service and very fast.
Gloria is a super friendly and helpful person and made our experience easy and fun.
The customer service was great.Stacie at the Sumter location was awesome! Go see her!
Tiara/Gloria/Stacie were very accommodating with a display of great customer service
The ladies have been nothing more but outstanding in their services .....Ms Tiara Mrs Gloria Ms Stacie....thank you soooooooooooooooo much for services....I been very happy with everything.
Tiara,Stacie and Gloria was very helpful at move in
Tiara Gloria and Satcie was very friendly great customer service, I had an amazing experience filled with laughter
Good, friendly, and courteous staff. A pleasurable experience to a necessary use of service.
Good Customer Service Good Greeters Ms. Gloria & Ms. Tiara
I had a great experience renting a unit. Tiara was very helpful and nice!
Valencia and Gloria were wonderful.. Valencia's energy makes you feel like she's known you forever. Her and Gloria both will do what they can to ensure you get what you need. I had to go back a few days later and i met Tiara.. she is awesome. I just love the energy they give. They are nice and strive to make your experience perfect.. thanks ladies
Very friendly, funny staff. Ms. Gloria and Ms. Kierra were very welcoming. Business with a smile.
The staff Valencia and Gloria were very friendly and informative and the storage unit was always clean and free of debris and no problems with bugs. i will recommend Public Storage to all my friends an I will definitely use them again. Thank you for your wonderful service.
Gloria and Valencia were awesome
Great prices and very professional staff. Thanks Phylicia!
Thanks Gloria.Always willing to help
Friendly staff, location was clean and close to Shaw; biggest issue, this is the most ridiculously expensive self storage I have ever come across after 20 years of service and several states.
First my unit was broken into and I had to pay to replace the lock. I got my place on May 30 and went that afternoon to start moving everything out of storage to it. When I got there, I was told that they were closing that day and the next at 6 PM and that you couldn't get onto the property after that either day. I got what I could that day but had to work an hour away the next day until 5 so didn't even try since I was told they'd be closed. I went back first thing Saturday morning June 1st and got everything out by 10am. I went inside where they tried to charge me for the month. I'm not the kind of person that would normally argue but I mentioned that I would of had everything out before the 1st if they had been open and they said no we were open yesterday. She was rather rude about it but eventually said she would put it in as a problem...I'm still getting emails about owing them money. I will never use this storage place again and will not recommend it. I watched them act rude towards customers every time I was inside and when the units were broken into, they acted very unsympathetic and laughed it off like it wasn't their problem. Not to mention when I rented my unit, I was told I get a month free but had a payment due every month...rude, uncaring people.
Gloria and Phylicia was wonderful and a joy to work with. They kept me smiling from the time I walked in to the time I walked out. Now that's what I call GREAT customer service
Never available on site 😡
Phylicia was very helpful and a wonderful sales person
Phylicia helped me today with my storage needs.
Phylicia made the move quick and easy!
Recently needed a temporary storage space for a month. Eddonia & Gloria were both fabulous to work with. Their service could not have been better. Gloria was very thorough and I greatly appreciated her knowledge , professionalism, and customer service in a world where I often experience way too much incompetence and ineptness and terrible customer service when dealing with people at their jobs. It was so refreshing to have such a professional helping me. She was training Eddonia when I was there and she seemed to be a great on the job trainer, as well ... Thanks, ladies. Great to meet you both and the space was just what I needed at the time. And super convenient !
Ms Gloria was awesome.. very very helpful and kind... She rocks!!! Will recommend future customers to this storage..
Eddonia and Gloria were very very kind and Friendly Great Customer service
Eddonia and Gloria were very pleasant I'm very satisfied with the customer services
Eddonia and Gloria was very helpful. My door was stuck and they helped to repair it.
Eddonia and Gloria are amazing. They are very friendly and patient everytime i come in. LOVE THESE LADIES!
Gloria was a joy to work with.
Gloria is great. I went in to make my payment.
Kiem was super helpful storage units are clean and large. Pleasure doing business with them.
Keke and Gloria took my payment and were nice to me--made me smile.
Miss Gloria was so helpful and friendly as well as professional.
GLORIA IS EXCELLENT SERVICE
Gloria is the best. She is super nice, knows what she is doing, and goes out of her way to help! If ur looking for great please to store your stuff, with people that care and understand life happens, then come talk to Gloria!
Great customer service and awesome job assisting you with vacating! Ms Gloria!
Ms Gloria was very polite, she answered all of my questions and the office was clean and well organized!
Excellent services, willing to work with you And met Ms Gloria n she is so nice and just as short as I am 😆
Great customer customer service Gloria
Gloria was really helpful thank you
Jenny and Johanna were very helpful and friendly. They made this an easy process glad I came here
Johanna and Jenny were amazing and helped me out in a timely but professional manner . I highly recommend them.
High prices but good service and plenty of options
Jenny the property manager was fast and efficient. She walked me through the entire process step by step. Jenny did a great job.
Excellent Customer Service!!!! Thanks Johanna!!!
Jenny and Johanna are super friendly, they answered all the questions I asked, and when I'm ready for a storage unit I will be coming to this Public Storage because of these two wonderful ladies!!
Johanna was very professional when I called in to see what the price was for a 5x10 unit. She was very helpful and nice. She was very knowledgeable about everything I asked for. She's a great employee!!
I had a wonderful experience, Jenny and Johanna were very pleasant, professional and courteous. I would recommend this storage place to anyone. If I could, I would give them 10 Stars. Thank you so much ladies.
Jenny was very friendly and very helpful.a true asset to your company
Jenny, is great she is super sweet and very friendly she is a great employee if Public Storage loses her they will lose a good person!
I unfortunately am unemployed at this time and Miss Jenny who works for the one on 521 has been extremely helpful in helping me to avoid late fees by encouraging me to make partial payments so i don't lose my items that are special and very sentimental to me!! Customer service with her has been AMAZING!!!!
So I finally finished cleaning out my storage unit at PUBLIC STORAGE on Camden Hwy.......I ended up having to throw away a few boxes of stuff. Apparently my unit had gotten wet at some time or another. When I first started pulling boxes out, several months ago, I noticed lots of debris in my unit. I called the Management to ask why my stuff was covered in dirt & debris. She told me that they had recently had the roof replaced and that it must be from the roofers tearing the old roof off. I did NOT make a big deal out of it, even though most of my stuff was COVERED in dirt. But apparently....I guess that was a lie. I wish now that I had not been honest & paid them last month. I could have just hauled the rest of my stuff & skipped that $99 payment. Oh and the kicker? They say that I owe them for July's rent. Ha! My stuff has not been in there for even one minute during the month of July! Michelle Kolb
Jenny is really great! Always nice and friendly and she keeps the storage place nice and clean! Thanks for always being wonderful Jenny!
Great service and great price! Same day move in! No hassle! Jenny was awesome!
I had great experience here, storage looks good ,great prices and they do offer insurance 💪🏾💪🏾 Thanks Jenny for the help🤑🤑
Ms. Jenny was very friendly and helpful! Today was my third time renting with Public Storage and it's the only place I will go. The units are always nice and clean.
Very professional and helpful staff. Fabulous clean and well maintained facility. Jenny is awesome, a real people person!!
Jenny excellent service and real friend!
Such an awesome and nice lady! Jenny is the best!
Mrs. Jenny has always been my favorite from day one she deserves a raise. She takes her job seriously and cares about her customers.
She was very friendly and nice and knew what she is doing!!!!!!!!! Keep it up :)
Customer Service was great, and staff was very helpful
Jenny Friendly, helpful, and serviced all my needs
Jenny and Vashonda are really great! They are really friendly and I really enjoy talking with them every time I come in!
I had a pleasant with Amy questions I had a bout units and pricing, and the lady(Jenny) was very helpful and informative. I would definitely refer my friends to come in if ever need storage unit, or moving supplies.
Didn't have any problems until I missed a payment while overseas upon return I learned that my lock had been cut and I had to pay for another lock that only fits their doors. The lock was around $17 which was frustrating and the fact the lock only fits their doors also. I'm curious to see if they expect to keep the lock or will I get my money back for it. The issue is they had no problem getting in touch with me for the payment so why was only notified by postal mail when it came to cutting the lock.
I rented a unit a few weeks back at the location 1277 Camden Hwy in Sumter, SC. I notified property management about my door not working properly immediately. I was told this would be fixed the next day. It has now been weeks and there is still no resolution. I've asked multiple times what is going on and still no answer from anyone. I received a phone call on 12/3/2017 about my payment, I asked about my door and the lady was clueless. Again no return phone call. I call property management on 12/5/2017 and asked about my door again, still no answer. Then the property manager (Jenny) hangs up on me. Most unprofessional property manager I've come in contact with in a while.
Jenny was very polite. She had great manner and handled all my storage needs. We are military and we greatly appreciate all you do. Thanks for your assistance.
I have to say that Vashonda is the young lady that took care of me and I have had no issues with her since I have using public storage to store my things, I just want to thank her for her assistance from day one till now.
Jenny was very helpful with helping me get boxes I needed for moving. She's very friendly. Would highly recommend using public storage.
FRIENDLY CUSTOMER SERVICE AND VERY CLEAN UNITS.
Easy access in and out. Offer very small to large storage units.
Jenny is great, very friendly as can be!
Jenny was very helpful with everything i needed,had great customer service,polite,and told me how the company function.
It is a great place to rent a storage unit. Miss Jenny was very helpful. Great customer service. I would recommend this location to everyone for their storage needs.
Jenny is great, makes me glad I chose Public Storage!
Pauline is amazing!!! She helped me so much. If I wasn't moving, I'd go back all the time!! If you need anything, ask for Pauline and she'll take care of you!
Jenny is really nice and friendly answered all my questions!
Really nice clean storage Jenny was so nice and helpful thank you
Jenny was great very friendly, answered all the questions I had and is the reason I will be choosing public Storage when I move and need to rent a unit.
Friendly/helpful staff. Assisted in picking the right size unit for our needs and went over the different options available to suit our storage requirements. Storage unit was clean and ready to move in.
Pauline is a good work she had help me found a good storage for my stuff thank you so much 💞💗😘😀😀😀
Just got a unit in a rush and Micheal was excellent at renting me a unit. After i no longer needed it than Pauline was excellent at hassle free closing of the unit. Will def return if i ever need to and would recommened this location to anyone!
Pauline was the best!!!! She made sure my experience was great she was so nice and friendly. She help made things alot easier for me. It's people like her that makes customer service great!!!! I can't wait to tell all my friends and family to come to public storage.
Enjoy customers service nice and friendly link highly recommend
I just rented a 10×10 storage unit here today. It seems like a clean and secure place. Andrelle was very helpful and nice to deal with. She is really familiar with the property and the services they offer. She made great suggestions, but was not pushy. I was able to take advantage of the Memorial Day sale in which the prices are half the normal yea
Very helpful friendly staff, took very good care of me. Would recommend to anyone looking for storage.
Working with Andrale was great. Setting up the contract was easy and the storage unit fit our needs. Great customer service and competent staff.
Any business can suffer a lost. It's all about how you recover that determines the future. And this location is resilient. This property has come a long way since the historic October 2015 flood in South Carolina. The renovation crews are working swiftly to bring the units back into service. The staff continues to be friendly and efficient. Located in the heart of Sumter, this Public Storage is on its way to a full recovery.
Fantastic Customer Service! Rep Mike Brooks was incredibly helpful!!!
Great service. Andrale was kind, informative and very helpful. I feel my things in the unit are secure and the cost is decent. I searched google to find a good place based on reviews so I understand trying to find a place. All my questions were answered and made our transition a bit smoother.
Very helpful manager, was able to address all my needs with a smile!
Candace displayed great customer service! It was a pleasure working with her. She is very professional and provided me with detailed information about my storage unit. She also shared helpful advice about storing mattresses, which I really appreciated. I am so glad that I chose this location!
Candace was very pleasant and helpful to my sister Alma Kennedy. Very happy with the unit that she selected. Great Service, storage unit very clean also surrounding areas. Very secure location.
Had a fantastic experience here. Special thanks to employee, Pauline. I'd recommend this Establishment to anyone.
I walked into this location to simply make a payment, and left feeling like I was the only person that matters. Candace was simply wonderful, definitely made my afternoon better after traveling all day to come visit family, stopping to make my son's payment and left with a smile! She is definitely a very personable young lady! Even told her I may stop in to say goodbye on our way out of town. Out of 10, I'd rate her a 20!
Great Service ! The employees are very helpful and the facility is very clean !
I've been in helping a friend that is deployed to Kuwait. The staff has been very helpful to myself, and his family that's been in going through his belongings. Candace has gone over and beyond being helpful to us. I want to give recognition where it is more than due. I would recommend this property and it's employees to anyone I know. Kindness in a difficult situation shows what type of people they really are.
Wonderful experience! The Manager had exceptional customer skills; he went above and beyond to help me. Definitely recommend this location for all storage needs. They truly care about their customers!
Wonderful, friendly service. Very thoughtful of my needs. I would rate Pauline and her facility 15 stars if possible!!! Facility in good repair. Some signage indicating which row leads to exit would be the only improvement!
Pauline is the best! She is patient and considerate. I was not sure what size storage I needed so Pauline helped me explore my options. Pauline is very knowledgeable of the facility and products. I appreciate her charming personality and sharing of her time to assist me.
The staff was very helpful with answering all my questions. I appreciate the great customer service. I would recommend this location for your storage needs.
Public storage associate Pauline was very helpful . She explain everything so i could understand the process with them. She was very friendly and very professional. She made me feel welcome. Thank you Ms.Pauline for your professionalism and for be very helpful
This was the most awesome experience I've ever had with any storage facilities ever thank you so much pauline for all your help
Received service from Pauline, she explained the monthly payment and gave me my break down. Show me the storage I reserved and gave me options to look at others if the first one wasn't acceptable. Excellent customer service, very knowledgeable- feel safe and secure. Definitely recommend this place!
Manager was very helpful, knowledgeable about products and what would suit my needs. Highly recommended to anyone needing storage.
Friendly, knowledgable staff. Very concerned about your storage needs. Highly recommend using them for all your storage needs!
very competent staff who answered all of my storage questions. clean facility.
Great service. Pauline was friendly and knowledgeable.
Public Storage Excellent Customer Service. Location: 1277 Camden Highway, Sumter SC 29153 On April 8th 2015, after a long exhausting trip driving a loaded Penske Moving Van from San Diego CA to Sumter SC, Victoria made my personal storage rental a very pleasant experience. Victoria promptly and thoroughly completed the required documents, and my family didn't have to stand around wasting valuable time. I especially appreciated Victoria's effort to find a unit that was included in their latest promotion; which not only saved me money, but allowed me to get a bigger unit at a reduced price. Victoria also promised to give us a call if a future promotion would benefit us. Victoria Rocks!
Victoria was amazing I was so frustrated and aggravated with finding the right space. She made it very easy and was very friendly. thank you again!
great customer service and very friendly staff!!!! Pauline was great
Pleasant staff, clean storage space and very useful. Victoria was a joy to work with.
Pauline is sweet beautiful lady who is always pleasant to deal with. Highly recommend for anyone needing storage.
Psuline was super helpful and very informative today while I was at the property. I could not have asked for a better representative from this company.
I had a wonderful experience here with Ms. Pauline! She was really helpful and extremely courteous and I would recommend this location 100%! Stephanie
I was recently in need of a storage unit for my elderly parents who were moving in with me from a 3 bedroom home. After comparing other storage facilities in Sumter, I chose this Public Storage. Its location, prices, security and office hours made my decision easy when deciding to rent a unit here. After meeting Pauline, and discussing all my concerns with her, she was able to choose a unit that would fit my parents needs perfectly. Not only was Pauline a great help with the rental process, but she also took the time to discuss the boxes and other moving supplies that you can buy at the office. The one stop shopping, friendless of the office personal, and ease of the whole rental process is why I would recommend anyone in need of storage to come see Pauline at Public Storage on Camden Hwy. You won't be sorry.
Me and my wife recently rented a unit at this property. Pauline was very professional and helpful. She asked many questions to get us in the right size unit. She was very patient with the many questions we had. I would highly recommend going to this public storage and speaking with Pauline about your storage needs.
Pauline was very helpful and courteous. She helped me with my billing concerns. Fantastic customer service skills.
Victoria was absolutely awesome it was fast I was in and out!!! Definitely recommend!!
I had a wonderful experience with Victoria, shes very friendly and competent! she was a joy to work with, and I wouldn't mind working with her once again!
I had a wonderful experience with Pauline. I had absolutely no idea what I was doing, I needed to move my husband's motorcycle because he had to PCS(military). She made this so simple, and helped me understand everything. I would definitely recommend this Public Storage to anyone and suggest they talk to Pauline!
Ladies were extremely helpful and answered all my questions.
I had a great experience with Victoria she was very knowledgeable as well as courtesy! Great job!
Great experience with Gloria. She was very professional and courteous.
Diedra, Pauline and Paul are great! Very helpful! Clean units! Best service I've found!
Freda was very helpful with my move in
Ive been with public storage for the past few months and they have been nothing but nice to me and very helpful. If you need to store anything they are the go to place!!!!
Arve was a great help moving in. .
It was amazing. The clerk Avery/Arve or something of that sort, was very kind! She helped me quickly. Even though my 2year old twins were trying to tear down the place she remained calm and courteous! Me and my husband recently moved here and with her being one of the first people we met she gave Sumter a really good first impression! We look forward to bringing you more business when friends who will be stationed here as well! I love her, she's the best!
The girls were very nice and worked well with my mom, especially Arve. Pauline was also very helpful with showing us to the storage.
I have lived in Sumter all of my life. My fiancé and I recently moved in our place and when bringing together two individuals you have double everything. Stressed out of control, Arve came to the rescue. She reassured me that our things would be safe. She was very excited to help us, we even found out that we have many things in common. She brings an undeniable spark to the company. If anyone needs storage assistance choose Public Storage and ask for Arve. Tell her I sent ya.
Pleasant staff; great service.
Arve' is key for this company's success. I witnessed her keep her calm while dealing with some very challenging people. She also went over and above to accommodate out storage needs.
Pauline was a wonderful help in picking out the correct size unit for my current needs. In fact it is because of her I also rented a second unit, and would highly recommend this public storage facility to any one.
Pauline was wonderful in helping us check in and complete our process. Arve' has also been very helpful during our moving in.
Arve was very sweet. I just stopped in for boxes and she was very friendly and helpful. I recommend everyone to visit this location.
She gave me great customer severe... TYLESHA
Pauline at this location was very helpful. She went over the sizes and price of each unit available. She also helped me with deciding on the correct size for my needs.