Public Storage Self-Storage Units at 8307 E 81st St, Tulsa, OK
Address
8307 E 81st St Tulsa, OK 74133
Office Hours
Mon-Fri 9:30 AM - 6:00 PM
Sat-Sun 9:30 AM - 5:00 PM
Gate Access Hours
Mon-Sun 6:00 AM - 9:00 PM
Storage Facility Features
Climate Control Storage

Car Storage

Small, Medium & Large Storage Units

Indoor & Outdoor Storage Units

Property Manager Lives On-site
Office Hours
Mon-Fri 9:30 AM - 6:00 PM
Sat-Sun 9:30 AM - 5:00 PM
Gate Access Hours
Mon-Sun 6:00 AM - 9:00 PM
Storage Facility Features
Climate Control Storage

Car Storage

Small, Medium & Large Storage Units

Indoor & Outdoor Storage Units

Property Manager Lives On-site
Close Location Details
View Location Details
---

10'x20'

Outside unit

Drive-up access

Climate Controlled

Inside unit

1st Floor

---

10'x10'

Outside unit

Drive-up access

Climate Controlled

Upstairs/elevator

Climate Controlled

Upstairs/elevator

Outside unit

Drive-up access

---

10'x25'

Outside unit

Drive-up access

Outside unit

Drive-up access
Nearby Self-Storage Locations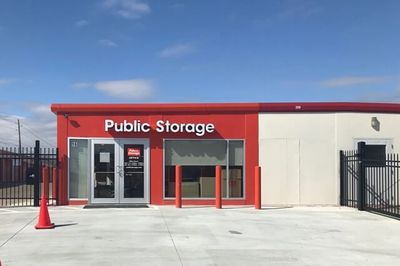 Self Storage Near
1650 N 9th St
Broken Arrow OK 74012
Resources from the Help Center
See what fits in different storage unit sizes
Tulsa Storage Units Near I-44 and Creek Turnpike
The storage facility is just 15 miles to downtown Tulsa for a day exploring the Gathering Place, seeing exhibitions at the Philbrook Museum of Art or wandering among the unique architecture of the Deco District.
Tulsa Public Storage has a wide range of storage options for whatever you need stowed.
At Public Storage, You'll Always Find...
Keypad Access

Friendly Staff

Month-to-Month Rent

Moving Supplies Available

Free Parking

Well-Lit Facilities
Reviews
( 158)
Most times they are closed early which makes making payments on time difficult. Recently they told me I was a month ahead, which after receiving notice I paid but will be finding a new place to store my things after never missing a payment for 3 years. The office always smells like smoke, an the man that works there always makes my wife feel really uncomfortable. Update: once again both attendants leave the office right as I walk up and do a routine walk around the entire building while I wait to make payment. All the while no room to park in front of establishment as they have a ton of rock… terrible customer service and increasing rates… 🤦‍♂️
I was impressed with Public Storage and took advantage of the sale going on, so the pricing was great. Also, Lynda was so efficient & pleasant to deal with - she answered all my questions.
I had an Amazing experience. I'm in a transition to moving to Oklahoma and Mr Cam was very helpful with helping me get a storage. I will recommend this store to anyone 😊
Smells of cigarettes in office...
Lynda and Ken were very helpful during my rental at public storage. They were courteous and took the time to answer all of my questions. Very good experience..thank you!
Kim (Ken?) helped me out and the process was extremely easy! Thank you
Ken was very helpful and kind. Good location in town, convenient, and very secure.
Lynda has given me the absolute best service out of anyone that I've spoken to at multiple public storage locations. I've been dealing with my deceased brother's unit that's in another state and she has been so helpful and brightened my day even though I was going through so much heartache. She's a really kindhearted and helpful person. She even remembered me when I came back to make another payment!
Secure property and clean, Lynda is amazing!
Served my needs for many years without a problem!
Lynda was so kind and helpful.. was a great experience…
Lynda knows her stuff. Very nice and polite.
Is this a safe storage facility?
Samantha is the best!!!! I will never rent at another storage facility again!!! Thank you Samantha
Lynda was awesome. She's great at customer service and helped me navigate some questions i had about my bill. Storage unit is clean, well lit, safe.
Great staff, friendly and professional. Facility is well cared for and maintained.
Lynda was fantastic !! She explained everything very clearly and was most pleasant to deal with. She is a great asset for Public Storage.
Anna was great. Thank you for making this process so easy.
Been there about a month, great facility and seems very secure. Lynda is great and always very helpful.
Pam always has a smile on her face whether on the phone or face to face and always willing to help! Especially, right now with the way the world is, we need much more of this! Come store your things here!
Lynda and her staff are absolutely amazing! Professional and genuine, best experience i have EVER had!!
Great location and sweet staff Lynda was full of knowledge and super helpful.love ya Lynda thank you for all the help
Great experience, quick and easy. Nothing like a streamline process when you gotta get stuff done. Probably the easiest time I've ever had getting a unit and getting on my way :)
Lynda was great, quick to help and asked the right questions to get me and the family exactly what we needed.
I don't live in Tulsa but have a storage there,Lynda has been a great asset to this company with her personality and cheerfulness which is what I need every time I speak to her,I have my storage there because 3 years ago my brother passed and his entire house is in storage.When I'm able to finally deal with removing this stuff I'm sure Lynda and staff will be there to wish me well. She's amazing!!!!
Lynda was a great help solving my problem with my unit. So glad she was here.
Lynda was soooo much help! She let me and my husband use a dolly, gave us lots of water to stay hydrated, and helped direct my husband out of the storage unit safely in our trailer!!! Best storage unit ever!!!
Linda amazing employee that I had the pleasure to work with
Very knowledgeable and helpful!
Helpful staff, easy process, quick in and out.
Lynda was such a great help and very knowledgeable about her job.
I've been waiting outside of the public storage on 81st & memorial, no manager or employee, I called the number on the door it's a call center in California that doesn't care, I was transferred over 10times to the same 3 departments, called the district manager and left a voicemail, which is no help because I needed a storage today, I spoke to someone this morning who told me I can put my cash deposit down, but no one I mean no one has been here. So I take it that Public Storage, pays employees for no reason, no note on the door left for lunch no nothing. If I could take a picture of the door I would. But I'm sure the employee & manager on duty is getting paid for not doing anything. DO NOT USE PUBLIC STORAGE
Mgr. Linda was great in setting my new Acct up with Public storage she was very patient making sure all worked for me online before leavingc site and that I understood .
Rose and Veronica were fantastic!!!
Very helpful and knowledgeable staff and clean storage in the heart of the city.
They are fabulous, especially Lynda!!!
very nice, not crowded at all. came here with my grandma to try to retrieve items from our unit. passcode entry/exit, and what i saw of the staff they were wearing masks. i also assume the people that own this location live here as well.
Lynda showed great customer service and was super helpful.
Website said excess 24/7. Paid online. Cost me over $65.00. Should of known the 1 rental was NOT true. I never got to pull in the gate, let alone put anything in this waste of money storage unit. Now the Manager won't refund my money. So I'm out 46.69 still bec there lock cost 25 bucks. I wouldn't even give them 1 star but it won't let me.
Jarvis the Manager, was great to me. I popped in on Sunday and helped me find the size unit I wanted and gave me all of the needed details and costs. His experience at multiple locations was helpful too.
Lady at the front desk was very helpful and patient in explaining everything to me and the gentleman on the phone was helpful and polite in helping me get my reservation set up
Lynda is awesome very helpful and informative will recommend people go talk to her about the units
They were very awesome to me and so kind
Not happy at all with being price gouged. Also had to sign a multitude of times. Would like my money back.
Linda and Jarvis were very helpful and made me feel at home at their clean, safe property.
Jarvis helped out ver much appreciation it thanks
Have there been any break ins at this facility? How safe is it?
Love the lady Linda and the customer services
They are the best I was lost and depress with other storages places but know I feel better
Mr. Jarvis, as well as the supporting staff on the phones, have been more than helpful. Kind, knows their stuff, and thorough. The location is well kept and professional. If you need a place to store some possessions, this is your place!
No one answers the phone when needing to speak with an manager. Customer service is horrible. Will never do business with them again.
Lynda was nice and helpful
I just went in looking for information on a very small unit and ended up renting from Jarvis. He was helpful, friendly and knowledgeable. He took me to tour the indoor facility and made sure I knew how to turn on the lights, find the restroom and use the access key pad. It was a very pleasant experience.
Incredible service by Lynda!
Lynda was extraordinarily helpful!
Very helpful and friendly staff, great customer service! And the units are very affordable
My latch came loose and she was immediately responsive to fix it for me! SHE'S GREAT!
Thanks to Lynda for helping me in my time of need and providing me with excellent customer service. Keep up the good work!
Jarvis helped me to select a unit. He was very professional and easy to work with to find something that would fit me. When I didn't need the unit anymore, he helped me again to close the account with the unit. I'd recommend them to anyone looking for a safe, clean storage space and awesome customer service folks at the ready to help!
Lynda was great with helping us pick a unit and showing us around. She evenlet us use a screwdriver to disassemble our furniture! After getting exhausted she gave us complimentary water to help us make it through loading the rest of our furniture. Best storage service and facilities ever. Thanks again!
Nice lady,,informative and helpful
Wonderful place and Lynda is awesome and so friendly and incredibly helpful!👍😁
I've been to alot of storage facilities, this one at 81st and memorial is the best!! Lynda is incredibly amazing she worked with us (even tho we were pains) we were working out in the heat and she brought us bottles of water. The facility is clean! I will tell everyone about this place.
Amazing customer services and great property..
My reservation changed about 3 times and they never hesitated to work with me and help! Great service and very clean.
Awesome place! Climate control, elevators, dollys for use. Friendly manager!
Great customer service! You can tell they take pride in their work!
Lynda was so helpful in finding the size unit I needed, the right size boxes for what I'm storing, and making suggestions about how to stack my items in my unit to maximize the space. Definitely recommending this place to my friends.
Jarvis was very nice and helpful in arranging for the unit and fully explained policy and hours
I cannot give enough praise to Lynda at Public Storage (close to 81st & Memorial in Tulsa). Lynda was extremely helpful and courteous in directing me to the PERFECT space a fair price. I highly recommend calling or visiting with Lynda at Public Storage (81st & Memorial, Tulsa) for exceptional customer service and to select a storage solution that will make you wish you had stopped there first!
Have spent lots of money with Public Storage through the years... NO MORE! Darlene at Public Storage did not enter my email address correctly on the account. When it came time to pay, she could not take payment over the phone and told me to go online to set up an account. I made 5 phone calls to Public Storage in 24 hours trying to figure out why I could not set up an account trying to avoid a late fee. Even though I was on the account, the email was my email, they refused to give me access to pay online because my husband set up the account. (I could see refusing to let me go into the unit, but to pay the bill????) NO ONE, NOT ONCE EVER TOLD ME I COULD GO IN PERSON TO ANY PUBLIC STORAGE AND PAY. Then to come and find out AFTER THE LATE FEE APPLIED, Darlene entered my email incorrectly and I received an email from Public Storage that it was corrected AFTER THE LATE FEE WAS APPLIED. Public Storage caused the inability for me to set up the online account to pay in a timely manner which I diligently tried to do. On those five phone calls I made to Public Storage, Public Storage failed to inform me (I am seven hours away from the actual unit and they were told that) I could go into my local PS to pay on time. Then Linda, the district manager refused to waive the $20 late fee that they caused me by Darlene entering my email incorrectly. The amount of money is not the problem. LACK OF RESPECT FOR THE PAYING CUSTOMER IS. I was bending over backwards to try and pay and made 5 phone calls to try and resolve why my email was not working to set up an account. THEY ARE AT FAULT AND FAILED TO TAKE RESPONSIBILITY FOR THE MISTAKE THEY MADE. I will never do business with PUblic Storage again. BEWARE!
Very clean indoor facility, but the air conditioning was broken
Darlene in the office is amazing. The facility is very clean and convenient. Fast service while reserving.
Darlene is so awesome at what she does thank you!!
Darlene and Lynda go above and beyond to make things work for you. Unbelievably helpful staff. Thank you so much
Darlene was amazing! Moving is such a pain, but she helped me find the right size unit and all of the things I needed to keep my stuff safe from this crazy Oklahoma weather. :)
Lynda and Darlene go above and beyond for their customers and make moving in a breeze! Great location
Awesome property and Lynda was very helpful
Darlene was exceptionally nice and helpful. Thanks so much!
Despite me running a little late for the appointment, they were very accommodating, and made sure the entire move-in process ran smoothly. Jarvis was very helpful, and explained all of the terms of the rental agreement clearly.
Just picked up some things there
Worked with two representatives and both were so helpful, and professional. After visiting a few storage facilities so nice to see two people who actually take pride in their job and understand how customer service really works. Public Storage very lucky to have these two ladies.
Quick & Easy.. Same day storage! Always Keeping clients aware and updated. Lynda 4.5 stars!
Darlene was very courteous and very helpful she went over all I needed to know and it was a very good experience.
Darlene is super nice! Very helpful! No problems ever with our storage unit!!
Darlene is the best! Always welcoming and has been an absolute help at the storage facility. Always calls with any issues or just to give me a heads up on something. Love it here.
Quick and easy, Darlene was very professional and they have various spaces available.
I had excellent experience from start to finish and highly recommend this location specifically.
Easy to set up, fairly priced, clean storage
Lynda was wonderful she was very knowledgeable and polite great prices..... highly recommend
Javis made the whole experience quick and easy. He made sure to go over all my options in order to ensure I paid for the correct space for all my belongings. The online experience was quick and super simple to use and understand along with great online discount. Completely happy with the entire process!!
Lynda gave me 5 star experience! Can't wait to move in.
Darlene was awesome!!!!!!!!!
Great service this is the best storage place around and the staff is awsome couldnt ask for a better place to store my stuff shout out to Darlene for doing the best job and providing excellent service
This place is great. Great prices and customer service. Darlene and Lynda make a great team. They answered all my questions.
I used to think this was a good place, but ever since Public Storage bought it, not so much. First, the dumpster was locked up. I don't need it much, but it was nice to have access to it. Second, I just got notified of a $12 (14%) increase in my rates. I also just got a call that I have to come in to "update" my info. I tried to get her to do it over the phone, but nope, nothing doing. I asked her why do I have to do this, when I'm still getting the emails, they are still charging my account, and she called me on my phone? Time to find another storage location.
Very nice establishment. Great hours, friendly staff. Jarvis had great customer service, give him a raise!
Great customer service and products.
Clean and Professional service
Friendly service great location
Darlene gave me great service amazing job I love coming here!!!!
Great customer service!!!!!
Customer service very good
Fast, professional and very informative!