Public Storage Self-Storage Units at 602 SW 82nd St, Lawton, OK
Address
602 SW 82nd St Lawton, OK 73505
Office Hours
Mon-Fri 9:30 AM - 5:00 PM
Sat-Sun 9:30 AM - 5:00 PM
Gate Access Hours
Mon-Sun 6:00 AM - 9:00 PM
Storage Facility Features
Climate Control Storage

Indoor & Outdoor Storage Units

Small, Medium & Large Storage Units
Office Hours
Mon-Fri 9:30 AM - 5:00 PM
Sat-Sun 9:30 AM - 5:00 PM
Gate Access Hours
Mon-Sun 6:00 AM - 9:00 PM
Storage Facility Features
Climate Control Storage

Indoor & Outdoor Storage Units

Small, Medium & Large Storage Units
Close Location Details
View Location Details
---

5'x10'

---

5'x10'

Outside unit

Drive-up access

---

10'x10'

---

10'x5'

Climate Controlled

Inside unit

1st Floor

---

10'x10'

Outside unit

Drive-up access

Outside unit

Drive-up access

---

10'x10'

Climate Controlled

Inside unit

1st Floor

Outside unit

Drive-up access

---

10'x20'

Climate Controlled

Inside unit

1st Floor
Nearby Self-Storage Locations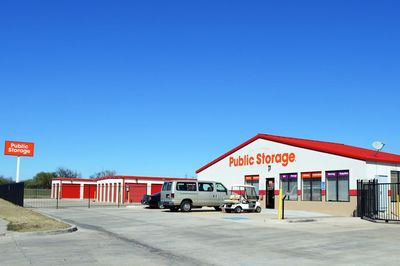 Self Storage Near
2701 NW 38th St
Lawton OK 73505
Resources from the Help Center
See what fits in different storage unit sizes
At Public Storage, You'll Always Find...
Keypad Access

Friendly Staff

Month-to-Month Rent

Moving Supplies Available

Free Parking

Well-Lit Facilities
Reviews
( 199)
Excellent service from lady in office. I'm disabled and she went out if her way to make transactions easy and accommodate my issues. Thanks for making it so easy.
I have a 10 x 20 unit that I've had since 2014. Barry Switzer used to own this facility. My rent was $108 per month. That's reasonable. When Public Storage bought this facility, they have increased my rent every year. My rental is now $180 per month. Are there any other customers that have experienced this as well? Their answer is for me to move my items into another unit the same size. I've paid this facility more than $10K. I would not recommend Public Storage. Update: As of today, 9/25/23... They've raised my monthly rent to $225. I am going to do some research. If they are charging others less, I will file a lawsuit against them...
Very nice place. Jimmy helped me when I really needed it and was absolutely amazing and kind. He was calm and helped me with everything I needed! Definitely recommend.
Great!!!!! Customer service!!!
I had a great experience with public storage yesterday. I was able to reserve, pay for, and get access to the unit 100% online prior to arrival. Unfortunately, upon arrival we quickly realized we would need a larger unit. Although nobody was in the office, I was able to leave a voice-mail, and Jimmy came quickly even though the office was about to close. He took the extra time to help me switch at the last minute and I was very grateful.
I was wanting to rent a unit and the service here was amazing the employee Anthony was the best he made me feel welcome and my belongings where safe
I just rented my first space with this business and I can't believe the outstanding customer service I received! The suggested storage space was perfect for my needs! Some information about the whole process that I didn't understand was thoroughly explained to me in detail and the things I couldn't accomplish by using the app was a breeze for them to handle! Mr. Anthony was a blast to work with and he handled everything quickly! I think I'm going to be a longtime client!
Came to this place twice both times no one was there. Was told they only open by appointment only. Not doing business with a company that don't keep anyone at store. Absolutely not once something happens your never hear from them. . Do Not use. Seem very fishy no one is every here
Jimmy and Kandi have been very helpful. Would recommend Public Storage at 602 SW 82nd St in Lawton.
Jimmy is awesome! Very professional, helpful and friendly. He deserves a pay raise! Thank you for all you do, Jimmy. Facility is super clean and well maintained. I highly recommend.
Great place. Clean and friendly
Amazing staff and service! Always helpful and the best storage place I've ever used. Will recommend to my friends and family and will come back if I need to in the future!
Awesome, the facility is very clean, the clerk was very professional, knowledgeable, and polite. She explained everything in details and took the time to show me on my phone how the app is used to open the gates. I enjoyed talking and laughing with her, and recommended Public Storage to everyone,
Great service, I'm deploying in short notice and was under a lot of stress with moving and storage. Mr.Jimmy took his time and was patient even when I told him I wanted to check around and compare prices and units, I checked and this was the best option in Lawton when I googled best storage with climate control this place came up. Thank you Public Storage and what you do for us as soldiers wish you nothing but the best Mr. Jimmy and I pray God continue to bless you! #armystrong @benzo_trill (via Instagram)
Excellent service. Friendly staff. Very clean 10 out of 10 would recommend.
Very unprofessional employee
Very friendly and professional. We needed climate controlled and we've used their services for years. Reliable and always courteous. All the people that work there are amazing.
The office, and units are kept very clean! Staff is super helpful and friendly. Kandi made the setup process super easy for me, explaining everything along the way. All comes with a great price! If you need any storage units would highly recommend!
Very friendly, knew his job well. Explained everything in detail. Great experience,especially when your stressed with moving.
We needed a climate controlled storage unit immediately. Kandi helped us out, big time! She was professional, knowledgeable, friendly, and wonderful. Would recommend her and Public Storage to all.
Very easy, simple and reasonable. Both moving in, and out was very easy. Highly reccomend!
Been renting a space for over a year now. Solid security and very friendly staff that always says hello as they're walking the area. Grounds are always clean and very easy to get to your storage space.
What more can I say ...Excellent Customer service..The lady that's always there has been very helpful an accommodating to all of my needs..Building is clean well organized an she cute an friendly...
The young lady that works in the office is phenomenal,she has a pleasing attitude and great communication skills I want to say she's the only one that works there if I'm not mistaken,She took time out in explaining and helping with all my needs and accommodated me very well. The office is very organized very clean.
I only selected one star because it doesn't let you select zero. I have a family member moving out of town and the policy will not allow me to take over the storage unit. Thus, if anything is to happen to them there property is stuck in storage. There option was to move it from one unit to other. This is the dumbest thing I have heard of. Specially in a military town. God forbid if our Soldiers would lose the life and their property now because another stressor for the family!
Customer service is a A+. The older gentleman Jimmy was very helpful and answered all of my questions and concerns. He broke everything down and made the process very easy for me.
I'd rented here for so long I'd forgotten my gate code. Jimmy was quick to find my account and helped me out with a smile. Great service.
Ty for quick and easy check in and last minute reservation.
Customer for 6 years. Friendly staff, clean property, great experience!
Jimmy Brock was very professional, courteous and helpful at getting me fixed up with storage building.
I have a unit at this location with climate control. I really do like it I've been having it for almost 3months . I haven't had any problems with this storage unit so far thank god . Candy helped me get all set up when I was looking she's sweet in I would recommend this place to anyone who asks 😊
Kandi is friendly and professional. Great customer service and building always clean and secured.
kandi is great ppl to work with. Very informative. Spaces and parking lot are clean. If you need a storage this is the best place!!! Kandi Stephens was the best at helping me get the right size storage space that I needed in a hurry. I wasn't able to get to the location due to being out of town during their business hours and she went above and beyond to help me get everything that I needed and was able to access my space after hours. If you ever need a storage space Kandi is the lady to help on 82nd Street in Lawton, Okla..Thanks Kandi for all your help it was greatly appreciated..
Clean units and great service for an affordable price.
Kandi Stephens was the best at helping me get the right size storage space that I needed in a hurry. I wasn't able to get to the location due to being out of town during their business hours and she went above and beyond to help me get everything that I needed and was able to access my space after hours. If you ever need a storage space Kandi is the lady to help on 82nd Street in Lawton, Okla..Thanks Kandi for all your help it was greatly appreciated..
Public storage is the best storage facility in Lawton. Last time I had storage at another place I had bug and mice damage to my items after one year. Same stuff in this place for over 2 years, next to a field, and have yet to find any type of damage. 10/10 fully recommend this place.
The staff was super helpful and friendly, great location, the facilities were kept very clean, all for a great price!
Clean, serviceable, and safe units. They do lock checks and will call you if something looks out of place. This is a very good outfit.
Convenient location and access hours are good. Very easy to rent a unit and size selection is good. Pricing for units is comparable to other facilities. Overall a decent storage facility that meets my needs very well.
Jimmy was very helpful, courteous and polite! Today has been rough with everything going wrong but he was very calm and patient and it made this portion so much better, thanks jimmy!
Service was excellent. Jimmy at the front desk was very helpful.
Great place and great customer service
Staff is helpful, friendly, and professionally! The property is clean and kept free of trash and litter, and the prices are very reasonable. The only critiques I have overall are 1) you had to call an 800 number if you needed to get into your unit late at night or early in the morning (my access code didn't work 24/7) and 2) I checked out on the 2nd of the month, and I still had to pay for the entirety of the month, no pro-rated price. However I think both of these policies are general Public Storage policies not specific to this property. Overall I would absolutely choose this Public Storage location again!
Great staff!! Very clean and great price!!!
Kandi was very professional and helpful when she guided me through in getting my storage unit. She explained everything in detail and she answered any questions that I had.
Great location, great customer service!! It was my first time using Public Storage and everything was so accommodating and quick. The unit looked great and is exactly what I needed
Had an awesome experience at this place. Very clean and well organized. Kandi is extremely helpful and cares very much about her work! I highly reccomend using this storage unit for all of your storage needs!
Excellent service, very friendly. Kandi was a great help and made everything super easy. Buildings were very clean and orangized.
Excellent service. Very clean and organized. Kandi was an excellent help.
Great service and awesome location
Three staff was real friendly and answered of the questions I asked
Kandi was extremely friendly and helpful while helping us with our units. The facility is clean, prices are better than others in town, and customer service was great.
They go out of their way to be helpful
Kandi, was very kind and the place and its units are clean and well lit.
Friendly Staff that helps your move easy. Make sure you need everything you need to move. Very knowledgeable and courteous staff. Recommend this place for storage needs.
From seeing another military spouse's experience with Candy and Rebecca, i know for sure i will not be coming to this facility for anything. However, if you're looking to have your items stolen, please feel free to rent!
The employees there are very helpful and sweet!
Judy was very pleasant and helpful. I love people who are super nice and respectful.
Judy was so sweet and helpful! She explained everything very well!😊
The girls there are very helpful and awesome. They got me what I was looking for and the rates are very reasonable. The office and units are clean and it was very easy to start the rental. I would recommend them to anyone.
Clean, great price and location. Judy and Kandi were very friendly and helpful. Would highly recommend.
Super happy with the service!
Judy was awesome..very helpful.
great and fast service with plenty of options. Thanks Judy and Candy!
Simple and fast service. I was in and out with a rented unit in less than 20 min. I would definitely recommend this facility to anyone needing a storage facility
Absolutely wonderful. The ladies were so nice and helpful. Excellent place.
Judy and Rebecca are awesome and very detailed with going over everything i need
They were very helpful. Kandi and Judy were the bomb....
Kandi and Judy helped me with renting a new unit definitely recommend these two when it comes to renting a storage unit.
The staff is friendly and very very helpful
Judy was very nice and helpful. Fast and easy service.
Excellent customer service! Enjoy the fact that they remembered my husband and I and are always so helpful!
Judy and Kandi were so sweet and very helpful ladies. Highly reccomend!!!
Kandy and Judy were very nice
Nice environment with great customer service. It was like walking in and dealing with family very friendly 🥇👆
Super helpful, fast and easy!
Judy and Kandi are very professional and the store is the cleanest I have seen in town ! The ladies can answer any questions you have and will solve any problem they need to.
Good service and great price
Great prices and awesome customer service
Candy and Judy where great!
Really nice facilities at a great price. Judy was awesome. She was very helpful. Would definitely recommend.
Did a good hitch install but it took almost twice as long as they said.
Staff is very helpful and friendly. The units are clean with easy access.
Informative, helpful team. Property is well kept and clean. This is a great option if you need a decent storage unit.
They not kidding better be out the by 9pm or you are stuck there for the night. Tried to get out the gate at 9:02pm and was stuck my vehicle is still there, lesson learned.
Very rude customer service. Would not recommend.
This place is amazing when we had a storage here everyone was friendly and they answered every questions we had best place to have a storage
Judy and Kandi are very helpful and the store is very clean and answered every question I had I give them 5 stars all the way around .best place to store your things and awesome staff Judy is amazing
Public Storage in Lawton is a clean, well maintained facility with a friendly and professional staff. One downside is-policy states(I am told) that the longer you rent, the more expensive your monthly dues become. I opened my unit with Public Storage in Lawton on 82 street in January 2019 and have been pleasantly satisfied with the level of security and service. The entire facility is protected by 24 hour surveillance, and the management and staff conduct frequent inspections to ensure area cleanliness and security. I once locked my unit in the open bolt position and I received a call within a few hours to return and properly secure the unit. When I arrived, all my storage items were still protected and in place Thank you.
Love those wemon but my wife is the best
I moved all my things out of the Storage, my Storage payment was due on the first of every month, NOW, what I would like to know is: will I get some of that patient back? Payment was due on the first and I moved everything out on the 8th
This place is honest about their property ms. Judy was quite helpful and knew exactly what size storage I needed once I told her what I needed she helped me getting all my packing stuff that I would need to accomplish my move. Thanks ms Judy it was nice chatting with you . Awesome customer service.
Clean facility, helpful staff.
Friendly staff very helpful
Judy and Kandi were incredibly helpful! Great location!
The best part of Public Storage is Judy and Kandi. Their knowledge and helpfulness makes this good storage place great!
Facility is clean, secure and easy to access — just what you want from a storage unit. But well beyond the quality of the facility is the professionalism and personable ways of the staff, Kandi and Judy. They are incredibly helpful and a pleasure to work with.
Judy and Kandi are great employees, they are very helpful and saved me many trips and stops by suggesting their merchandise and it being readily available. The space and parking lot were both the cleanest I have ever seen in Lawton. I would recommend Public Storage to anyone in the market. Go see these 2 Ladies on 82nd St.
Staff was very patient and helpful with getting me set up. Also lovely personalities and very accommodating.
Kandi and Judy were very helpful with my rental.
Kandi and Judy and pretty good.
Enjoyed dealing with Kandi and Judy. They assisted me greatly not only in the correct storage unit I needed but was both very helpful in pointing the correct supplies I needed for packing and moving everything onto storage. Prices were very competitive as well. 2nd time I've used public storage and I'm a happy customer.
Judy was very professional & helpful. Quick service, clean facility, and recently priced units.
You DO NOT NEED THEIR INSURANCE OR $20 LOCK. Fine facilities but shady sales tactics. First of all, if you have homeowners insurance you probably do not need to buy any insurance offered by Public Storage. Second, get your own round lock. Theirs will cost $20, its unwrapped, used, and you assume you get the only keys (who knows). You can get a lock meeting the specifications at Walmart for $12-$15. Fill out your online account on your own after you leave. Otherwise, the sales rep can see all of your information as you type it onto the iPad (Username/password, etc.). The entire experience felt like I was buying a used car and getting force-fed a lot of unnecessary stuff. We sped through the process way too quickly. Updated on 2 Feb: they will not refund you for their used lock either. Their logic for selling it without the packaging is because they have put their stickers on it. So, you're just supposed take their word for it that it is new and you have the only keys. That's just bad business.
This company is one of the best companies I have had the opportunity of renting through. I have tried many different companies for storage rentals but this one has the best customer service and they are very welcoming. I have been with this company for over a year now and I wouldn't change it. Kandi has been very helpful and now that they have just included Judy they have been nothing but the best! They both deserve a pay raise for what they do! Thank you guys!!!
Clean building, very helpful staff, Kandi helped with getting everything set up, made sure we had the right lock and insurance since we have USAA they cover storage units.
Worked with Jimmy to get our storage unit set up and he was extremely friendly! Great customer service and I would recommend this location to anyone! Facility is also very clean and well maintained!
Friendly people and very easy to rent from.
Very friendly staff cheap price too
Great staff. Clean, efficient and good location for west side.
Kandi and Jordan were very helpful and professional and made me feel comfortable throught the whlo prcess.
The customer service is amazing! Kandi and Jordan are the nicest people I ever met!
I have rented here a little better than a year. Kandi has Always been very kind and courteous to us. This location is always clean. I recommend this location for your storage needs.
Jimmy was great. Made sure my needs were met! Clean and safe.
Great location, helpful staff, VERY CLEAN, easy set up and move out process!
Good staff! But when we canceled out storage, we were suppose to get that months pay as a refund to our account. It's been 4 weeks and still havnt received anything in the mail. Terriable!
Christy and Kandi were great. They answered all of my questions about storing and made the lease process very quick and smooth. I would recommend them to anyone!
The office area was clean and well setup with open space. The front desk attendant was professional and answered all my questions. The storage area was clean and it was reasonably priced. There are security cameras onsite and a manager onsite at my visit. My only concern was the surprise requirement to have insurance. I was not informed that it was needed by the team who setup my reservation. After renting the unit I called the sale to find out what gives. I was told that the local facility decided if insurance was required. Beyond this complaint I am happy with the service I received. I must point out the my attend Christy offered to assist me with offloading some of my boxes. That was great extra service.
Staff is nice and friendly.
What time does gate close
Friendly staff, very helpful, great people to rent storage space from."If you need a spacious storage place at a reasonable price, check them out.
The women here are very professional and extremely helpful. Getting a storage unit was a quick and simple process. Everything was explained thoroughly and the promotional price made me even happier.
Clean property and storage units. If you want excellent customer service see Kandi she is GREAT!!
Christy was very helpful today! She did a great job walking me through renting a unit and answering all of my questions I had.
Super friendly staff! Thank you Christy!
Great place, great explanations about any questions, christy and kandi were very helpful when it came to my storage needs, found the right size unit at the right price. Thank you
I have had a wonderful experience storing my possession here, been on deployment for 11 months and they work with you to make sure everything and anything goes extra smooth. Highly recommended!!
Kandi helped me get a store unit in no time and was ver professional.
Kandi did a great job in helping me, made the sign in and move in process very easy.
Kandi was very helpful and courtious. Showed me my unit amd had me in and out in a tiely manner
If you need a good storage place at a reasonable price, check them out.
Kandi is great goes above and beyond in service.
Mrs. Kandi was really nice and explained all the details of the rental agreement well. The entire process went smoothly, and I am very pleased with my storage unit.
Nice place for storage my car, great costumer service, special thanks to Ana for help me and find a great deal while i was deploy thank you public storage
I got a great deal (I thought!) Online for a 10×20. Around 3 months in, my rate almost doubled! When I called, was told, sorry that's the way it is. I had no idea it would change or I would not have gone there to begin with. If I were not buying a house in the next month or 2, I would move my stuff somewhere else. I will certainly not ever use them again! And I highly recommend using any other storage company than these guys.
Ana help me out wonderfully very friendly explain everything to made sure i knew about everything, so helpful
Awesome, clean, and adequate storage facility! Friendly staff!
Amazing staff!! They are so patient and profrssional! I love how the units maintained and the store is so clean and well organized. The reason I choose to use these units is becauae it was very obvious that it is the only well maintained one with professional staff. Every other storage company in Lawton looked like a haunted house to me.
If you're looking for a great storage facility in Lawton, OK - look no further! This place is super clean, has very nice storage units, all at a great price! Most importantly, they have an amazing staff! Kandi and Ana have been so wonderful in helping me any way they can, and I am so thankful! 5 stars!!!
I'm a little over a month doing this review because it's been hectic but public storage is awesome! I used them in Fort Worth and also Lawton recently. I rented a storage on a Sunday in Sept and the lady was wonderful. It was 4:20 and they aren't supposed to do paperwork after 4:30 but the lady waited for me to drive across town. I'm sure she left late because the paperwork took a little bit. Her attitude was awesome the whole time. Had she not waited for me I would not have been able to get in anywhere until the next day and would of had to pay for the uhaul another day. Always 5 stars from me!!
Had the lock on my unit cut and all the clerk worried about was trying to sell me one of their locks for $20. Went to Wal-Mart and found the same lock for $12. All she and they care about is $$.
Visited this facility to store extra summer stuff, Ana showed us the property and a perfect sizec unit.she was very helpful. Best prices in town ,
I have rented from this storage for the last 3 years. It changed store owners and I believe in my opinion is gone downhill. I was being charged $63 a month for the last 3 years because I was in a unit that was supposed to be climate-controlled but it wasn't finished. Public Storage bought out this company and raised the rent the $75 a month. Why would anyone want to pay more rent for unit that's not finished. I moved my storage out and I get a tacky email saying that I owe them $7 or they will report it to the credit bureau. You would think that a business that just lost your business would be sending a nicer email to find out what the problem was or how they could fix it but instead they send a threatening email I'll pay them their $7 but I suggest no one rent from them.
pd $43 a month as i was force 2 pay an extra $11 a month in addition 2 the monthly unit rental for a 5' x 10' outside drive up. unit was clean & met my needs.
Great customer service and fast service. Very helpful and clean facilities.
Good staff, Ana and Lez. Secure facility.
I filled out an online application and saw that the first months rent was one dollar, and then when I finished my reservation it added a $24 administrative fee. I called to discuss my reservation with Ana, and she told me to come in by 4:30. I showed up at 3 and had to wait outside until 3:30 because she failed to mention that she would be out of the office. We left and went to Meadowbrook instead.
Love the location and cant beat the price. Very clean location as well.
Staff is very friendly and helpful and you can't beat the prices!
I received Excellent professional service from Lindsey. She explained everything very thoroughly. I would recommend this facility to anyone who needs to store their property.