Public Storage Self-Storage Units at 2701 NW 38th St, Lawton, OK
Address
2701 NW 38th St Lawton, OK 73505
Office Hours
Mon-Fri 9:30 AM - 6:00 PM
Sat-Sun 9:30 AM - 5:00 PM
Gate Access Hours
Mon-Sun 6:00 AM - 9:00 PM
Storage Facility Features
Climate Control Storage

Car Storage

Small, Medium & Large Storage Units

Indoor & Outdoor Storage Units

Property Manager Lives On-site
Office Hours
Mon-Fri 9:30 AM - 6:00 PM
Sat-Sun 9:30 AM - 5:00 PM
Gate Access Hours
Mon-Sun 6:00 AM - 9:00 PM
Storage Facility Features
Climate Control Storage

Car Storage

Small, Medium & Large Storage Units

Indoor & Outdoor Storage Units

Property Manager Lives On-site
Close Location Details
View Location Details
Outside unit

Drive-up access

Climate Controlled

Inside unit

1st Floor

Outside unit

Drive-up access

Climate Controlled

Inside unit

1st Floor
Nearby Self-Storage Locations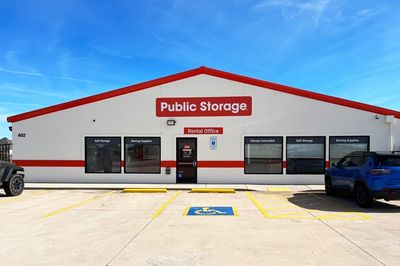 Self Storage Near
602 SW 82nd St
Lawton OK 73505
Resources from the Help Center
See what fits in different storage unit sizes
At Public Storage, You'll Always Find...
Keypad Access

Friendly Staff

Month-to-Month Rent

Moving Supplies Available

Free Parking

Well-Lit Facilities
Reviews
( 241)
My Public Storage representative was extremely helpful and provided great customer service. The process is just how she explained it… thanks Leonard
Absolutely amazing. Jimmy is a wonder to work with. Very positive, quick, and easy! Thank you for being amazing!
Second rental in two different states. Definitely satisfied with great customer service. Both locations are and were near my home.
Went in today and met Kelly & Jimmy they are GREAT place was clean and have the best prices in town! If you need storage at a reasonable price PUBLIC STORAGE on 38th is the place 😊
Kelly was awesome and really helpful. Also has a great personality and really tried to help explain things to me. Definitely recommend to my friends
Kelly has been wonderful helping me get my stuff straighten out and making me maintain to stay on this property to keep my storage unit thank you love you
The facility is clean and well organized. Unfortunarely they aeen to be going through a staffing problem with only 3 people to cover all shifts at their 2 facilities. If you want to pay your monthly rent better call ahead. Don't use the number on the door though, that puts you in touch with a system that costs you money to use over the cost of your rent.
Went in to look at a unit walked in smelled so fresh and clean I was greeted by Kelly with the biggest smile she was so kind friendly and they have a labor sale going on so that's a plus! Need somewhere to store your belongings go to PUBLIC STORAGE on 38th
Jimmy was very helpful and informative and Kelly was friendly. Both were patient with me as a first time storage renter and thorough. 10/10
I went in looked and at a unit, Kelly was amazing very sweet, considerate , and she answered every question and it was so clean and smelled so good . THEY HAVE my business!! if u need storage; PUBLIC STORAGE on 38th is the place!!!
Kelly was amazing super friendly answered every question I had! Place smelled great and was clean if you need storage this is the place 😊
Kelly was great in taking care of what I needed done.
Went to look at a storage unit today. Anthony was very knowledgeable and made it a very good experience.
I continue to be impressed with this facility. It is clean and well-maintained. Jimmy is courteous and professional. Overall a great experience. Highly recommend!
Love this storage facility the staff is kind and caring and is so helpful 10-10 totally recommended
Great service! Very helpful!
Nice and clean facility. Very helpful and friendly.
Jimmy, the employee I spoke with, was fast, efficient, and wasted no time. Great service, I recommend.
Couldn't have been any smoother. No problem at all.
Very friendly and helpful. Awesome customer service!
I have been renting with this company for over a year. I pay 130.00 dollars for a 10x20 non-climate controlled unit. I received a three weeks notice that my storage rent would be raised 130.00 dollars to 172.00 dollars. I would not recommend renting with this company.
Leaving one star is generous! This facility is disgusting from the customer service at the location to the units . The climate control doesn't work at all and let's not forget the roach problem this facility has .
Quick, courteous service. They also asked me what I would be storing so they could help me decide on which sized unit I needed. I am grateful to have climate controlled storage for my delicate items.
One of the more professional storage facilities we have used. The staff has always been available whenever we needed anything. They are understanding of unseen circumstances. All around just a good attitude. I feel safe keeping my families belongings with these people!
My bill has doubled since getting a unit here. I have always paid on time. When I asked the worker on why it happened, she told me they do yearly evaluations in order to stay competitive. How is doubling my bill competitive the opposite? I'm not going to be staying here and I wouldn't bother wasting your time here.
This place is always willing to help, even if they don't have what u need! They will check a sister property to find something or tell u about the online advantage of checking for available units and being able to rent from any where!
facility was clean, easy to access, and perfect location to Ft Sill. Semi Truck was able to access the main entrance for loading. Jimmy was outstanding and cared about his customers for example, he called me to ensure and follow up on my unit request. All in all very happy with the service and will likely do business with this company elsewhere
Very easy and smooth to rent storage. Thanks it's been a pleasure.
The auto-pay system was an issue, but Jimmy helped to resolve the problem in a friendly, professional manner. I'll definitely recommend this place to others. 👍👍👍
Jimmy was a breath of fresh air, in regards to customer service. Didn't expect a storage company to have such an accommodating staff. The auto pay, however, needs a bit of work.
Place has been great with excellent customer service. See Jimmy at the front desk if you need any help.
Jimmy was very helpful in getting me into a storage unit and on my way in minutes. Very pleased with my choice
Jimmy always is please t and knows the ins and outs of the business. I can go in and know I am going to receive top notch service from him
Public Storage is a great place to store your belongings.
Just signed up for my unit and Jimmy was amazing. He answered all my questions I had. Looking forward to leaving my stuff here
Mr. Jimmy was very kind and helpful. Cool fast easy process!
Nice new storage space. Jimmy was very helpful!
Location is great. Prices are reasonable and the facilities are always clean
Mr.Jimmy was very helpful
Jimmy was very helpful and was able to get us into a unit in a short notice. Super helpful and knew what he was doing to make the process super quick.
Great location! Clean facilities! Customer service from Jimmy was friendly and very knowledgeable. Highly recommend this location.
Everything was quick and smooth
Top notch service!!! 👍👍👍👍👍
Love the professional and real legit and space there is
Thank you Jimmy for your help
Friendly, clean & location convenient
Jimmy helped me with securing me a storage at the public storage building. Very nice and professional and knowledgeable, didn't pressure me into purchasing anything , very good worker !!!!
Jimmy helped us very well today couldn't get into our unit and he helped us access it thanks again jimmy.
The only place in Lawton I use for storage!
Thank you jimmy. You were very respectful and professional you knew all your information and can help us out with how much stuff was in our house for what size unit we need. highly recommend talk to jimmy
Very clean and friendly staff.
A little expensive but close to base and gated with keypad entrance
Wonderful customer service from Jim. Very good price
do you auction your units at your site or at a web site if at a web site which one.
Very friendly staff! And great prices! Clean and affordable too!
Good service, secure facility
Very clean inside facility, gated area, and units. The site is well maintained & the storage units are very secure. Reasonably priced for the sizes and the climate control offered.
The second you have questions/issues the customer service is horrendous! They are the most inconsiderate/rude people we have ever dealt with. Liz was the most pretentious customer service rep I think I've ever spoken to in my life. I would honestly put my stuff on the curb before I would ever consider doing business with this company again. Do not do business with the company if you value customer service.
Terrible customer service! I only gave them 1 star because I couldn't give the a 0 star.
My storage unit got broken into less than a week after getting it. The unit wasn't even reported broken into until my husband went to go get something and he saw the lock broken, the workers "didn't notice" when they walked it less than a hour earlier. They made my husband buy another lock like it was his fault they stole the lock. There are no cameras, and there is a door that is broken so anyone can walk in to the inside storage units. My husbands XOs unit got broken into the day before. There is a gap that I didn't notice before in between the door and the roof and you can look in every unit. Please don't get a unit from ANY public storage. There are so many stories.
Great customer service Excellent prices Great selective options Ton of different products to help with storage
Jimmy was amazing to work with!
Front desk ladys gave above 5 start service my company has a business storage unit and would highly recommend them to every one I know they are AWESOME
Jimmy did amazing and was kind and generous. I felt like he took care of me and my needs. I would recommend this location.
I had a wonderful time with this storage business. Great service and excellent unit. Was not over priced and never had a single issue.
Quick and professional services provided. Will recommend to others.
Wonderful place to rent a storage!
I was in with my girlfriend while she made a payment and Liz was very professional, very kind talking.
Great service helped me save alot of money with rebecca today
Great customer service! I would recommend.
Great customer service and very welcoming not to mention a well kept facility.
Not only did Rebecca great me with a smile, but some of the best service I've received from a facility. She made sure all questions were answered, showed me the unit, and interests in makeing sure everything was correct. Great smile, great service!!!
So I had a bad experience with public storage the other day. But the district manager called me personally to fix the situation. She was very concerned with fixing what went wrong and left me feeling way better about the company. I would definitely go back to them again.
Never have visited the storage place. But as for the car wash next door. I have always loved it's location. It's very isolated per say for LFS car washetoriums, and a great unhindered view of the Wichita Mountains and Fort Sill West range. On some good active days on the base you can get great looks at the helicopters flying out west above Hwy 62 Rogers Ln Frwy. The vacuums have great suction power and are covered Incase of rain or like me, I like to clean my car out after it snows. At times of increment weather like snow, WOW! It's great to be out at the car wash or the little park nearby to slid down some little hills or build a snowman.
Great service from Liz! Clean units and climate controlled. Jimmy is awesome! Great experience!
Very clean, and the people are very nice.
It was fast easy and lovely great service
Appreciate the great customer service every time. Even when my boy tries to demolish the bubble wrap area they always joke with him ( he is 3)
Easy signup and great rates!
The girls there will try to help you the best way they can
Public storage is a great place to store all your personal items. They are very helpful and have great places. Very clean and professional.
Super service and very happy! Thanks!!!
For the most part the employees are nice and friendly.
great ppl to work with. Very informative. Spaces and parking lot are clean. If you need a storage this is the best place!!!
All set and ready to go in a flash. Smooth check out process!
Nicest clean storage I've seen and the lady from the office couldn't be nicer.
DO NOT RENT HERE!! Ours was broken into sometime in the last week and I understand it happens, but the reason for the bad review is how the staff here handled it. Can't say for sure when it was broken in too because staff told us they had been too "busy" to do their supposed daily checks. I think it's all a bunch of BS and they probably never do their checks. They were unconcerned and seemed almost bothered by what an inconvenience it was to fix our lock after the thieves ripped it completely off. Almost every other unit in the storage complex was broken into as well and in the pictures I've added you can see how the staff "fix" the locks. They hammer pack down the metal and reapply the same fixture that was originally ripped off! The mandatory insurance is a joke, you go through all of the work and 9/10 your claim will be denied. Public Storage is a SCAM! They shouldn't be allowed in a military town, my husband deployed for 8 months and I moved home with family so we had no choice but to store our stuff. As soon as we rented from them they raised the prices and obviously didn't care to secure people stuff. Do yourself a favor and NEVER rent from Public Storage.
Excellent, no pressure but helpful and knowledgeable place.
RENTERS BEWARE THEY ARE CURRENTLY (June 2019) EXPERIENCING BREAKINS (ours was in the 700 block).THE THIEVES RIP THE WHOLE LOCK PIECE OFF NOT JUST THE LOCK BUT THE WHOLE METAL PIECE! SECURE YOUR BELONGINGS! DONT STORE VALUABLES. That being said... Clean units and very friendly staff! As with all storage units the price went up over time but if you talk to any storage unit facility they all admit that is standard procedure.
Liz was amazing, staff is absolutely wonderful. Couldn't ask for better service!
Liz is GREAT! Has great customer-service skills. Clean units, reasonable prices,... only concern (& ONLY reason for 4 stars, not 5) - you MUST be 'out' by 2100 hrs (9 p.m.) - else you are locked-in! - A storage facility should be 24 hrs., for those on shift-work and odd-hours. I'd give you 5 stars and more,... if you'd go to 24 hrs.
Excellent service all around very helpful with the paperwork and easy to access! Would definitely recommend to others.
Jimmy was very clear and thorough. Helped me through the process, answered all questions, and was very patient with me.
I have had a unit here for a couple months now and am pretty satisfied. I pay $38 a month for the small unit and $11 of that is the mandatory incurrence. The facility is secure and there is Usually a employee there for part of the day. Overall Satisfied with this storage unit.
They were very friendly and helpful! My movers had easy access to my indoor unit! Highly recommend!
Really was impressed with this company. They have great management and quality personnel, not to mention quality units. The doors on the units open and shut easily and lock with no problem. And I really like not having to get out of my car to enter and exit through the locked gates.
Great staff. Jimmy and liz answered all my questions in detail. Very clean facility.
Very friendly and helpful !
Thanks Liz, you're awesome!
They were really nice an funny
Customer service is great even when my lil boy gets into the bubble wrap they tell him they will put him to work lol. Never a problem even when I forgot my code.
Jimmy was superb. His people skills were top notch. He explained every thing in detail.
Very secure and accessable unit. Reserved online b and quickly did paperwork in person. Pleasure to work with Jimmy.
Great friendly service. Best prices in Lawton
It was really easy getting set up I would recommend this location to everyone the prices are great and the location and employees s are a step above the rest when it comes to Lawton
Jimmy was VERY helpful. GREAT customer service!
We are longtime customers. We have had our moments, but the current staff is excellent. Price is higher than average.
Waste of money donate ur stuff don't store it
Jimmy was very professional and helped with our process very well.
Great service! There Ipad system is clear and easy to use. The facility is well maintained and very clean.
Clean facilities, cheapest prices in town, and friendly service.
If, like me, you are reading these reviews trying to make a decision on which storage location to choose, LET ME JUST STOP YOU RIGHT HERE. Look no further. Honestly. Public storage on 38th has not only the best prices of the MANY places I was looking into. They also have the best customer service I may have ever received anywhere. The perfect mix of being extremely helpful and polite, while also not feeling the need to overly explain things. On top of the stellar service, they have a payment and customer management system that should be used as an example for other companies to use. As a millennial, I appreciate when establishments have easy ways to manage accounts I have with them. Truly, this place has the perfect mix of the benefits that come with doing business with a large company, and the customer service of a mom and pop shop. Couldn't recommend it more.
Was looking around for a storage unit and this one was the cleanest. Friendly helpful staff! Very impressed.
Friendly staff, and great location for Lawton. 👍🏼👍🏼
The customer service is beyond perfect AND the sign up/registering aspect of it is done with up to date tech. (iPads). Felt natural. The security is also splendid, the units have room for 2 locks, meaning you could have 2 different locks on it. Good location too.
Excellent service! The place is very clean and Liz was very knowledgeable. Have no problems recommending it to friends and family!
Liz was so helpful and knew the answers to my questions. Will recommend to family and friends
Very friendly ladies will greet you every time you come in to the establishment, facility is very well maintained. Very accessible climate controlled and outdoor units! There are plenty of moving supplies in store to include: small to large boxes, moisture reducers, celefane wrap, free carts to move your stuff around, and locks for sale for your convenience. Overall very good experience at this unit, as I still currently have 2 units here and will continue to have them for some time to come!!
Consistently Going UP on rates and problems with THE GATE...you know that's supposed to be protecting your storage unit!!
Great customer service. Christy and Elizabeth were very helpful and knowledgeable
Christy was very helpful today!!! Extravagant service and very knowledgeable!
Excellent people and very kind and fair give you a chance and im pleased with thete buisness!!
How do I find out if my unit has a lock on it
This place was great helped me out in a pinch. Quick response to calls for a unit. Very friendly, answered all my questions. Made the whole process smooth and easy.
Elizabeth had all the answer I had on the unit I rented today, was very good at her job.
We reserved a unit online and then called the local office to make sure everything was good. The lady on the phone said come on in to get the unit. We made an appointment with her for Monday morning. We also called our movers and scheduled a date to have our things moved. Everything was a go until Monday morning when we came to get the unit. When we showed up to sign the contract the lady at the desk said they already rented the unit we wanted and didn't have anymore in the size we needed. She also in formed us that reserving online did not mean that we got the unit just the price. But they could of told us told us that when we called. The email I received from the company implied that everything was ready for us to move in. It is a good thing we came in Monday and not on our move in date with all our stuff! I will not do business with this company!
Great service. Looking forward to storing needs being met.
Got my unit fine. Just can't access it because they never took their own lock off! And there is no emergency # for after office hours. So, I'm sitting here with a truck full of stuff and no where to put it. Only thing corporate would say is come back tomorrow during office hours. So, I'm out time and gas to travel 30 miles to come back. I get through with this place, I will sure look for a place with after hours emergency number. Not a happy camper here.
Awesome people to work with. A++++++
I went in and Charles and Liz were very helpful with answering any questions that I had the facitily is well kept and I feel very secure with storing my belongings there.
Great prices! Michelle helped me so much!! She answered all my questions. She also recommended products to protect my stuff and make our move easier!! Thank you! Great customer service!!
The experience was extremely pleased with the services. Ms. Liz was very friendly. Her excitement and knowledge of her job was superb. I was left without questions. I will being doing more business here and will tell all of my friends about the excellence of this place.
Great experience at Lindsey was. Rey helpful with my requirements
They helped me out and was well taken care of
Quick and painless registration, and detailed information on setting up online account, and facility highlights. Very professional staff.
Amazing security and friendly staff
Polite but they've already screwed up my billing. Waited til the day before it was due to throw my payment back and change the bill amount. Paid it early the morning after (10am the day after it was due)but they never took the late payment lock off my unit. Charged me a late fee despite their own contract saying A)I have 6 days before incurring a late fee and B) my first month rent would cover 30 days into the next month. I'm already frustrated by the difficulty I've had trying to communicate with them and there is no one to contact about what the hell is going on with their online billing.
HORRIBLE! I DON'T HIGHLY RECOMMEND 38TH STREET PUBLIC STORAGE. AS A FAITHFUL CUSTOMER, I ALWAYS PAY MY STORAGE A MONTH IN ADVANCE. WHEN I CHOSE TO VACATE ONE(1) OF THE FOUR (4) STORAGES THIRTEEN DAYS IN ADVANCE, WE GAVE THE MANAGER NOTICE. SHE HAD US BELIEVING THAT WE OUR PRORATED CHECK WOULD BE MAILED. AFTER WAITING AND SEARCHING OUR MAIL FOR OUR REFUND. ON JAN. 11TH, AFTER APPROACHING HER ABOUT NOT RECEIVING THE CHECK, SHE TELLS US THAT, BECAUSE WE VACATED THE PREMISES PRIOR TO THE 6TH OF THE MONTH, WE WOULD NOT BE ENTITLED TO A REFUND. SHE COULD HAVE BEEN FAIR AND SPARED US WASTED TIME AND, SHE COULD HAVE SHARED WITH US THAT, EVEN THOUGH WE VACATED EARLY, WE WOULD NOT BE REFUNDED. PUBLIC STORAGE POLICY IS UNFAIR! I'M GOING TO TRY SOON TO VACATE AS MANY STORAGES AS POSSIBLE AND RETURN TO A-SECURE. THEY ARE FAIR. IT DOESN'T MATTER WHEN YOU VACATE. YOU WILL RECEIVE A REFUND. NOT HAPPY WITH PUBLIC STORAGE POLICIES!
Anna's friendly helped me find the right storage space I needed, excellent service...Im new to town so i checked prices ,,,Cheapest prices in town.Very clean..
I rented a unit from here the other day. The on site manager stayed to accommodate me running late and close to closing time. She didn't have to stay for me but I'm very impressed with how friendly and pleasant my encounter was. The grounds are very clean and well maintained, the security is 24/7 surveillance and video backup which is great. I highly recommend you store with Public Storage on 38 th street in peculiar,
Ana is very courteous and will explain everything in detail with a great attitude.
To whom may read this, On October 28th, I returned from deployment from South Korea to Lawton, Oklahoma. I had my vehicle in storage for 9 months at this facilities and I was very happy to find my storage unit and vehicle were well maintained and protected. I also want to commend the lovely lady who works at this facilities. She stayed later then she needed to assist me with my vehicle and making sure it worked properly. If you are looking for a reliable, safe, and secure place to store you stuff this is the best place in Lawton, Oklahoma to do it. Their hospitality and desire to give their customers the best service possible is something that is a rarity now in days. Sincerely, Meggs III, Ferdinand E.
Liz did an amazing job very helpful and friendly.storage units are very clean and very affordable. So glad we found this storage unit!
I really needed a great reasonable priced climate control storage unit and I passed by this place and saw $1 for your first month called and reserved a spot I was driving from okc running about 2min late but ms liz assiated me anyways and I was so greatful and her customer service was great! she made sure I understood the agreement thank you ms liz!!!
Clean with the cheapest prices in town!