Public Storage Self-Storage Units at 9100 Postal Drive, Broadview Heights, OH
Address
9100 Postal Drive Broadview Heights, OH 44147
Full Service Kiosk Available
Office Hours
Mon-Sun Self Service - online & on-site eRental
Gate Access Hours
Mon-Sun 6:00 AM - 9:00 PM
Storage Facility Features
Boat Storage

Car Storage

RV Storage

Small, Medium & Large Storage Units

Indoor & Outdoor Storage Units

Property Manager Lives On-site
Office Hours
Mon-Sun Self Service - online & on-site eRental
Gate Access Hours
Mon-Sun 6:00 AM - 9:00 PM
Storage Facility Features
Boat Storage

Car Storage

RV Storage

Small, Medium & Large Storage Units

Indoor & Outdoor Storage Units

Property Manager Lives On-site
Close Location Details
View Location Details
---

5'x15'

Outside unit

Drive-up access

---

10'x10'

---

12'x30'

---

10'x15'

Outside unit

Drive-up access

---

10'x30'

Outside unit

Drive-up access
Nearby Self-Storage Locations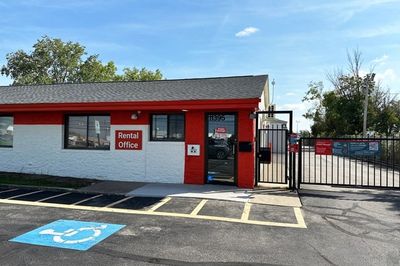 Self Storage Near
11395 Brookpark Road
Parma OH 44130
Self-Storage Near Broadview Heights
Resources from the Help Center
See what fits in different storage unit sizes
Broadview Heights Storage Units Near Route 82 and I-77
Storage units are conveniently located near Route 82 and I-77 for easy storage in Broadview Heights.
At Public Storage, You'll Always Find...
Keypad Access

Friendly Staff

Month-to-Month Rent

Moving Supplies Available

Free Parking

Well-Lit Facilities
Reviews
( 254)
Been with Public storage for 3 years now. Terry help me on 10/27/2023 keep my payments lower. Thank you for your help.
Very nice facility Terry was very nice , professional and helpful!
Terry's efficiency and friendly demeanor made the move-in process smooth from start to finish. She was my first contact when I called in to inquire about a unit and because of her kindness and approachable nature, I chose this facility over a competitor. I was scheduled to tour the Akron location a few days ago and was happy to see Terry helping out there. She truly values the customers and her work and it shows! Thank you, Terry, for your patience kindness and outstanding support!
5 stars hands down! Ashley was amazing. She literally helped me come up with the best solution to fit my needs; was very patient while I was totally indecisive; and is very personable. It's so rare to run into people who want to do their job and actually CARE about whether or not you're pleased with the outcome. The world needs more people like Ashley!!! Thank you Ashley!!!
Terry is such and awesome property manager she help me so many times with my parking space and has me a lot of money public storage needs more mangers like terry we hope to see her for many more years to come
I love the people there terri help me and was so nice and patient with me! I've never opened a storage unit before and terri helped me went through the steps on how to open one!
Terry was extremely helpful in getting the storage unit I wanted. I needed a 10x30 bad and she called me several times to make sure I got what I wanted. Awesome customer service, awesome property, and even more awesome person! Thank you terry!
Terry, the property manager was awesome. She helped us get another storage unit with no problem. She's such a wonderful lady good
Terry was so good at what she does I would really recommend this property to anyone that's a unit awesome.
Very friendly and helpful service
Terri is The Best, great personality..very helpful..she has a great attitude and she makes you feel good about asking any questions, and the best route ( storage spaces)...😎
Ms. Terry was so welcoming 😊😊.. Great customer service.
Terry was very accommodating with us today. She even stopped her lunch break to show us a unit. Then when the site was down she helped us finish our reservation. We need more people like Terry in customer service !!!
Terry was a great lady to work with I need a another unit and she was awesome to find what I needed thank you so much terry was so kind and she was very helpful and got me a better rate then what I was paying I was going to vacate but terry got me a good price so I will keep this one and vacate the other one I have at another place thank you so much for helping me.
Terry was amazing and a ton of help !
So I've heard fantastic things about this particular Public Storage location. I 100% AGREE! CAN definitely say that Terry WAS extremely helpful and patient wuth me She runs a very clean and efficient property. Although I'm not quite ready to decide on the size of the unit I'm going to be getting, i found that Terry was very knowledgeable and helpful with all my questions and concerns. Thanks again for all of your help Terry@ I'll be back soon!
Terry is an incredible woman and a outstanding manager,plus the storage place is amazingly clean!
My husband and I have needed extra storage for the last year. Terry was THE BEST! So kind, happy, friendly snd helpful! I wish everyone in public service had her commitment to customer setvice.
The nicest lady runs the storage facility. She is so helpful she's willing to help people anyway she can nice to see nice people out there in the world and she is one of them. Great place to store your stuff.
I had some issues with my account that the app didn't notify of and I reached out Terri who investigated along with the GM Max and they were able to figure out what happened and then worked with me to make sure I didn't lose my unit. Terri has been amazing with following up to ensure I was taken care of.
My first time using this facility and Terry the property manager was more than accommodating, the facility is neat, clean and well kept. Pricing is very reasonable and I am very happy I chose this location. Highly recommend!
Best Service KOFIGO LLC ever had manager is a very nice lady her name is terry
Terry was a very good manager very nice very helpful we got a unit right away she's a good property manager so you need to make sure that people come here to talk to her and get her your storage needs cool
Exceptional service… Terry is wonderful, I am extremely pleased and definitely recommend to come by and talk to her If In need of storage place.
Terry was great!!!!! Very very helpful and sweet lady!
I chose Public Storage at Broadview Heights after researching for self storage options as I felt very reassured by the previous reviews. I booked in advance on the computer and it was easy to find the unit that I was assigned. The gate code was texted to me and it worked upon arrival! Opening the unit, it was clean, dry, and well maintained and included the lock and a brochure for insurance (which was auto opted in when you book through the website). I brought my own disc lock and insurance and Terry was fantastic in making sure that was taken off my account and also reminded me should anything happen that Public Storage would not be responsible and I understood and signed the form. This is my first time having a non-moving company owned storage unit and it was great to talk with Terry while we got everything completed. She even confirmed the nearby McDonald's location for me as well as my phone was nearly out of battery, which I appreciated a ton. I would recommend this storage site and Terry for anyone else who would be looking for one in the future! Might actually grab additional units in the future, depending on how things turn out.
We had a very easy checkin Nd renting process. Terry is wonderful!
Very friendly workers, easy to get in and out of my unit.
Terry the property was awesome and helpful, A++++
Great service Terry was very helpful and very kind would recommend this place to anyone.
Terry makes life super easy. Great service.
Terry puts the heart in Public Storage. She was there for me during quite a difficult transition time, I will always be grateful that I followed the advice of the good reviews left by other satisfied customers. I kept my entire art studio in a 10x20 unit for more than a year. The hours 6a-9p were great. I loved the ease of use the app gave me. No trouble paying my bill. And it was so fun to gain access, opening the gate, on my phone without getting out of my car. My items were safe & dry, even in an outside unit. What a relief. Big Thanks again to Terry for all her kindness. You won't go wrong storing your precious belongings here until you get to your next home, just like me! I wish all the companies we all have to deal with were like this.
Terry was absolutely amazing with helping me get situated with my storage in Wooster pike
Terry was awesome she help me with. All my needs to she is a very nice manager public storage needs more like her great customer service
I have two units now because I was not happy with my first one at cube smart so I got my second one at public storage in Broadview Heights! Terry is so helpful and always available for help and questions and the deal I received on pricing was the lowest price for better quality! I paid less for my 10x20 storage unit at public storage than for my 10x10 at Cube Smart. So worth it!
Seamless check in and storage - fair prices too!
Worked with Terry she was extremely helpful! Can't get any better customer service.
Terry, the property manager was incredible and helped me solve any issues with my time using a storage unit! Highly recommend the Broadview Height Public Storage location!
Terry was very helpful with my storage needs.
This storage facility is the best and cleanest i have ever come across. Terry explained the process and made it a smooth transition into our space. thank you for your help! I would recommend this to anyone! Update. I needed to find a new place and I called Terri and she helped me with many options. I want to thank her again! She is the best.
This was the first time I went a storage unit and Terry made it a easy process. Terry was very professional, she took her time to explain the process, even when I called with. I will be calling Terry again when I need another unit.
The facility is clean and secure. Terry was so helpful. We really appreciated her assistance.
Very great experience I'm glad I came here good choice and the property manager was very polite nice helpful and friendly
Very helpful, polite and funny staff
Terry was a great and person. She really helped us out and got us a storage place. Great person to work with.
Terry was so nice and pleasant.
I was at Broadview hts public storage today and spoke with Terry. She was very helpful and knowledgeable with the questions we had, and she guided us to the unit that would suit our needs. I highly recommend you stopping by and speaking with Terry so she can guid you to the right storage to suit your needs. Thanks again Terry
Terry was very helpful with getting started on my storage and I am so grateful for her and with her 20 years experience and was so nice.
Terry is very helpful, and it is a nice clean facility. It's nice that the lights turn on automatically when you enter, especially when you're carrying things in! It is also nice that Terry has been there for years--good customer service!
Terry the property manager is BEYOND EXCEPTIONALLY KIND, PROFESSIONAL & ALWAYS Wanting to help in any manner possible. LOVE dealing with Terry…..SUPER AMAZING & love to do business with her!! I would recommend this property to anyone!!
Terry, What a wonderful experience from her call this morning confirming and ensuring I was coming in today. When I got here she provided amazing customer service and truly, was a joy to do business with. Very clean nice location!
Terry was so professional and so helpful. She walked me through every step of the process. I would definitely recommend her and this establishment to others.
Terry is a wonderful host/manager. I had to change spaces and she made the switch effortless. If you want affordable space, great customer service, and no hassles, call Terry at public Storage in Broadview hts.
Terry was very helpful. A delight
Terry was extremely patient, kind and helpful as I was looking for storage for my personal vehicle. She held the unit I was inquiring on for me, allowed me to look at the unit and helped me through the whole process and made everything very seamless and easy. Absolute 10/10 service!
Convenient location, friendly office staff
Nothing but great things to say about this facility. Terry was so nice to us!
Terry was a doll to work with very professional she knows her stuff she's a very good property manager the property was very clean the unit was very clean and I was so satisfied with her service I would recommend her to anyone that wants to rent a unit here.
I highly recommend this location. The property is clean and very well ran. Terry and her staff are not only professional but pleasant. Great customer service is hard to come by these days. It all starts from the top. This is definitely a smooth sailing ship and Terry is a great captain! Thanks again!
The staff is very courteous and helpful. The unit is close to where I am staying so it is very convenient and easy to access. If I have any questions, they are answered for me thoroughly.
Terry was great to work with. The storage unit is exactly what we needed.
Thank you Terry for the extra help you gave by going above and beyond during this challenge time that my family is going through.
Terry was punctual, gracious and helpful. A joy to work with.
Terry was a wonderful help today! I appreciate her professionalism and her excellent customer service skills. She is so friendly. Thank you Terry!
The staff was very friendly and went out there way to help find the correct space that I needed. Terry was very always available for concerns or questions. Was always appreciated by Rich
Easy to book/rent space! Received text with entry code and was able to access the unit without a problem. There was a slight glitch with vacating/ending my account but they were quick to take care of it and were very accommodating! Great experience overall and excellent service!
Easy move in, the units are well labeled & very clean. Terry the property manager called to make sure our move in went well & see if we needed anything! Great customer service!
Met Ms.Terry Today she walked me thru all the particulars like A True Pro! Which made my experience as a first time storage Unit Holder A Breeze..# Very Appreciative Of Her
Carrie (manager) was wonderful, amazing customer service, extremely helpful answering my questions about renting a storage unit and great advice. The place was clean and well maintained. I have no worries about having my items stored there. I recommend this Pubic storage to anyone looking to rent a unit.
Terry is absolutely wonderful! She goes above and beyond for the customer. She is not only a great manager but she also cares about people.
Open at 6am and the guys knocked the job right out 2 hands and a dolly
Terri was very accommodating and helpful! She helped me through process and explained everything! Great lady!
Great service, great customer service! Terry is the best service provider and help! A+++++
Terry provided excellent customer service. I'm Very happy I selected this location.
Terry is AMAZING!!!! Always comes thru from me!!! Love her to death!!! Smile
Terry is wonderful! Very accommodating. Had a vent closure and she put in to have it fixed and it was done very quickly!! Very pleasant. I would recommend BH public storage to anyone!
Terry the property manager is just an angel! she helped me with the process of my storage selection and just had a smooth and pleasant interaction. Highly recommended!!👍
Terry was so great. Helped me with the app feature to have instant access to entering the property. Also made it a smooth rental process and alot if information. Thank you so much Terry!
Terry, this location's property manager, was VERY helpful and kind throughout the process. As a first time customer, I recommend working with her!
Terry was amazing she walk me thu everything I needed to know the company needs more like her
When I came in Property manager Terry was very polite. She talked to me and gave me fantastic advice and made sure I had everything I needed. I would recommend this place to anyone who is new to getting a storage room.
Had a small unit here for a year and 3 months, and other than the price going up every 4 or so months it was a good experience.
Terry the property manager was very nice and friendly. She was very helpful!!!
Terry is very friendly, knowledgeable and helpful. She answered all my questions completely. I have not rented a storage unit before and she helped me to understand the working of this. Thank you for having a wonderful manager here.
The great service i get from this location is wonderful. Terry has always giving me good service and time when i needed her i couldnt ask for a better location to store my property. Great service there
The manager is AMAZING! She communicates with me very well. Informs me of pay dates. Helps me with any question I have and actually listen to any issue that arises. Id recommend them to anyone. Great experience 😇
They helped me have my belongings in a safe location until I was able to get a house. Very safe location for your belongings.
After putting 2 units on hold site manager returned our call promptly and helped us complete the process. We are small buisness owners and was impressed with the customer service
I went to the property to look at some storage units and was welcomed by Terry the property manager. She was very informative and professional. I will be coming back in a few days to get my unit. Thanks Terry! 5 STARS for sure. Even with all the snow we have she drove me around the property to show me exactly the unit that I'm in need of. Thanks you for your assistance!
Staff was friendly, professional, and all around warming. Lots are clean and secure! Glad I chose this place and I highly recommend you do the same!!!
I love public storage they have always been friendly and understanding. Terry Allen is always helpful and amazing whenever we see her. I recommend this storage site to anyone and everyone who wants great friendly and understanding costumer service.
Worked with Terry on getting a storage locker to house a large car. Very accommodating and efficiently run facility, and absolutely a pleasure to work with. Would recommend them highly for any of your storage needs!
I was in a tight bind and they were able to get me in a unit that day! The lady in the office couldn't of been more helpful!
Very convenient location for me. Very reasonable price. Terry is always cheerful and very helpful. She walked me through the original sign up, explained the PS app, and more recently changed my payment setup and auto pay. Very nice!
Do not rent from Public Storage. Charged 2 full months, charged a 3rd month prior to the end of the month cycle and we were not planning on a 3rd month. Been on hold for almost 2 hours trying to get it resolved and cannot get anyone to come to the phone.
Terry has always taken care of me. Excellent customer service everytime!
I cannot say enough about this Public Storage site in terms of the customer service I received while searching for a storage unit. Terry in particular was very helpful and particularly kind - which was especially appreciated during this stressful time for my family. She took the time to provide all the information I needed, worked with me to find a suitably-sized unit, guided me through what I needed to do to reserve it, and was simply a treasure. Although my family decided to use a different facility that was closer (against my advice! :-)), I will definitely use Public Storage and this site in particular for any future needs. Thank you so much, Terry!
When I needed a storage unit I worked with Terry Im Broadview Heights. She was so helpful and did everything she could to set this renting this unit so easy. She is so helpful and Public Storage is lucky to have her.
Terry was beyond helpful and this storage facility is very professionally run. Highly recommend!!!
terri is absolutely splendid! :) she was super fast and helpful and answered any questions i needed and reassured me that all my belongings are safe! the facility is very clean and well taken care of and the staff is amazing.
Terry runs a great facility. She was extremely helpful. Location is perfect off 271 on 82. Highly recommend!
Terri was wonderful! Very informative customer service associate and very patient. Would definitely recommend this facility
I bought my own disc cylinder lock for my unit which is indoors and the lady at the counter said that my lock doesn't fit and I needed to buy their own lock. She said I can't rent a space without buying their lock so I bought it not happy about it. When I get to my unit and place my things in there, I noticed that lots of people had their own disc lock or combination lock and didn't have the supposedly must buy their lock on. That really ticked me off. They are not honest and hopefully their Corporate office will get a hold of me.
Terry was very helpful and made this experience easy for me. She was very thoughtful and made everything go smoothly.
I needed an outdoor storage parking space to store my motor-home & Public Storage was the perfect location. The area is very clean & spacious. When we first arrived at the facility Terry the Property Management was very nice and helpful and she let us go back and see the area where the motor-home would be parked, she also informed me that it would be best to reserve the space online because they were offering online discounts for their rentals and $1 for the first month. She also informed me that I could complete the rental application online too. The application process was very easy to complete and the next morning they sent me my gate code and all I had to do was show up and go directly to my outdoor parking spot. We saw Terry the property manager again when we were dropping off the motor-home she was just as pleasant and as friendly as she was the day prior.
So far so good. We needed to upgrade lockers and it went smoothly. Terry has been very helpful!
Easy to get a unit, easy to change if your needs change. Great service and communication from staff.
Carlina was so helpful when I came in to get my storage unit! Definitely would recommend coming here!
Great personality and customer service
I am pleased to say that I dealt with Carolina and she was awesome and very friendly. Carolina answered all my questions and left me feeling really good about picking this location for my storage needs I highly recommend this facility.
Terry was very accommodating.
Terry at Public Storage in Broadview Hts is great to work with. She gave me an honest opinion on the size of storage unit I needed. She was always helpful, knowledgeable, and kind when I was there. I highly recommend this location.
PLEASE TELL ME WHY THEY ARE SO QUICK TO CHARGE YOU WITH LIEN FEES AND THEY CUT UR LOCK OFF EACH TIME YOU'RE LATE AND MAKE U PAY FOR A NEW LOCK AND A TON OF FEES? PLEASE READ ALL YOUR CONTRACT FINE PRINT OR YOUR STUFF WILL BE HELD HOSTAGE!!!! SCAM
Signing up was so easy. Terry was very thorough. Also very nice. The area and the lockers are very clean. I'll definitely recommend this to others.
Terrible experience here. First I want to start by saying that the actual staff at this location is really nice, I have not had any problem with them. My problem is with the business model. I was not told that the rate would increase... Please understand that the price that is advertised is like a cable introductory price; it absolutely will go up, and not by a small amount. My rent went from $137 per month to $147 for a 10x10 unit, and this was only after 6 months! I do not know if it will go up again after 1 year because I got out of there before that. I know it is only $10, but if you need long term storage, then I would ask about how much your bill will increase. Also, move out at the end of the month and remove your lock from the unit. If you go even 1 day over, you are paying for the whole month! I moved out the last week of May, and since there was no one in the office to ask questions about moving out that day, I left the lock on. I was not able to get to in contact with anyone from public storage until the 3rd of June and they said tough luck. Also, while I did enjoy the staff at this location, the general customer service over the phone is actually terrible. They will not work with you, try to understand you, and are just plain rude. I would look elsewhere.
An amazing customer service. Im from NY State and this place is the only storage place that are really great in everyway. Amazing place for college students..Great price...Also best customer service guy named Geoff an amazing person so nice and understanding. Well do his best to make sure you are good. One thing to the manger make sure you fix the AC system in the office for this hard-working guy. Also should pay him 100K at year. For everyone make sure to bring cooled starbucks coffee amazing guy. 100
I called several storage places, and this place was the best. They were also the only place where someone answered the phone immediately to answer my questions. I didn't need to navigate "press one for..." Terry was absolutely wonderful to work with and helped me get what I needed. We set everything up over the phone, it was quick and easy. I feel good about my things being stored there safely.
This place is wonderful for storing. The agent Terry really helps me a lot. She is really patient and really enthusiastic. She waited for me to call my friends. I'm here alone, she helps me carrying my packages with her own car. I would recommend this place to everybody. It is fantastic!
Terry was very friendly, helpful and professional. The Public Storage space was spotless. Excellent experience.
They sold off my storage while I was out of town. And too expensive
Very professional call center with extremely efficient process. Terry guided us to the right unit and got the details taken care of quickly. She is friendly and a real pleasure to deal with. Great experience overall.
An excellent facility with perhaps the friendliest staff out there. The only downside is the indoor units are not temperature controlled, nor are the main doors locked - it would be nice to have that little extra security. Either way, a solid location and worth it.
Getting our storage unit was simple and Terry was very helpful.
I choose 1 star because i know the customer service at this location is no bueno !! the property manager Terry calls me like i have to come in too make a payment yet online payment is t another option. I pay my rental every month yet she calls my cell like like she dont receive no money.My first encounter with Terry she used upsell and choose another larger unit than what i needed., then she tacked on insurance and fees which made my quoted price over the way higher than my budget.Then she told me i cant cancel insurance unless i walk in too do.it. I.After less than five months I will never do business with a company who will make you pay for lock upfront andd then break your lock and make you pay for another on top of you monthly payments .I see some shady business practices going on at this storage unit or just rascist way of doing business.
Terry did a great job helping us get a unit ready to use! Very informative!
Terry was very helpful and informative compared to other storage facilities
Geoff at Public Storage at the Brecksville Broadview Heights location was so helpful and patient when I went to complete my paperwork for my rental. The facility is clean and well lit and very fairly priced.
Terry is always really nice and easy to work with. Answers all my questions every time 😁.
Terry was very helpful in setting up our rental, and was quick to respond to phone calls requesting info. The price was also quite reasonable, and as Terry explained, if you make a reservation online, there is a price break.
Terry was very helpful with our rental, explained the procedure, payments, and scheduled a walk through to pick a unit size the same day that we called. The price is good, units and grounds are clean. The rental process took very little time, and we were very pleased with the availability of the unit size we needed. Thanks Terry!
Terry is super helpful. She is a joy to work with!!
Spoke to Terry. Extremely helpful. Thankful for her assistance!
Employees are rude, also charged on the last day of the month for the whole next month?
Great price, friendly and helpful staff, convenient location.
Terry is friendly and fantastic! This is the 1st time in my life I've needed a storage unit and I am very happy with my experience. Warning... 5ft is VERY small though 😂🤣
Terry was super friendly, answered all of my questions. Made this such a pleasant experience!
I rented a storage unit, which was clean and secure. But the customer service from Terry & Val exceeded any expectations I would've had from a storage facility. Terry was consistently helpful to me during one of the tougher time periods I have had, understanding, and ensured I understood all the rules and time frames. Thank you again for always going above and beyond!
Terry was friendly, courteous & so professional during the reservation & check in process. The facility is very clean & well secured. I decided on this facility after reading the impressive google reviews. I would highly recommend to anyone looking for a storage facility.
Horrible. Do not go there. They call you over and over weeks before your reservation to try and to get you in early and then call you over and over again before it's your time to come and move in and then when I got there the lady was very rude try to upsell me to a different unit right away telling me that the stuff I had would probably not fit in the unit that I reserved and then didn't tell me about any hidden fees that they had so the reservation was actually double the cost to move in from what they told me over the phone and via email and she was very rude do not go there. If I could read it a zero I would
Geoff was very professional and courteous. Showed us the paved, numbered, parking/storage spot; provided price & payment details; and asked if acceptable before any talk of signing a contract. The contract signing was very straightforward and thorough. Very reasonable monthly rate.
Nice clean storage units at an affordable price
Terry was very helpful and addressed all the concerns I had regarding the units.
My storage unit price keeps going up but when I go up there after office hours the gate is always open. Always. I can't remember the last time I had to put in my code to unlock it and I'm there 2-3 times a month. Lights outside the units sonny always work. The one closest to mine has been out for a year, I mentioned it twice. I just don't go after dark now.
Even when times are hard there are some nice folks that will re-storage the love
Was a wonderful experience! Moving and storage and such a hassle but Terry was so nice and outlined everything perfectly! Facility looks great! Im very happy with everything! Thanks Public Storage!! :)
Friendly staff, safe secure location
Excellence at its Best! I had the most rewarding experience with Terry at Public Storage! Terry was very professional and knowledgeable about the products and services with Public Storage. Terry delivered the best customer service that I have ever received at any storage facility. It was a true blessing to have encountered Terry, I highly recommend the Broadview Heights Public Storage, where as a customer your business is truly valued! ❤️
While speaking to Mallory, I called to close out a storage unit. She gave me all the information I needed, even went out of her way for me. Fantastic customer service!
Terry was amazing. Fast, efficient and put me at ease.
The location is convenient and the customer service was great.
Terry was extremely helpful and offered to Show me several storage lockers so I could chose the best one for my stuff. She was great!
My husband and I just rented a storage unit from Terry at the Broadview Hts. Location. Terry was extremely helpful and I highly recommend Public Storage.
Very easy signing up, Terry was super helpful and made things easy. The space we are renting is clean and very easy to get to.
Terry was a blessing... made my visit go so fast and perfect A++
Terry is friendly and very helpful! I'm happy that i chose public storage and feel like my items are safe in their care.
Very clean facility with the nicest Manager (Terry) on site to welcome you.
Terry is a wonderful( Person) . Just love this place .It's very clean and the smile on her face just says it all . A little love goes a long way !!! A very safe place to store your stuff .I feel so comfortable and welcomed with open arms .
Ms. Terry was great and very professional. Thank you so much for your kind service } The Gamble's
My wife and I chose the Broadview Hts location since it was near our home and we needed temporary storage space while our new home was being built. We never expected to meet such a friendly and helpful manager that we found with Terry. She was an absolute delight to work with and we would highly recommend this location. Thanks again, John & Becky
Terry does a great job managing this facility.
Terry is great. She got me all setup and the supplies I needed in no time. Easy access; clean location.
My wife and I adore Terry, she's the BEST! Always a smile on her face a pleasure to talk to and do business with. I highly recommend this storage facility not only because of Terry but because of its location and price but its well kept compared to some of the other storage facilities in the Cleveland/Akron area.
Went into storage facility and Terry was very patient and very positive and answered all my questions. I would recommend her storage place to anyone so Thanks again Mrs. Terry .
Great service! Will recommend! Terry
Terry and Val are on the ball and understand what customer service means. Not only are they friendly, they understand the business and anticipate what your needs are.
Terry was very helpful and great to work with.
I really enjoyed the atmosphere. Terry was amazing helping me with all of my questions and concerns and did a great job! I would recommend this location.
I have never seen anyone nicer than the lady that works there. Very helpful, super sweet with a huge smile on her face, and very understanding. She helped us find exactly what we were looking for, explained everything very clearly to us and answered all my questions. I don't write a lot of reviews but she really deserves this. Also the place is very clean. Thank you so much.
Terri is very helpful , highly recommended. Easy to reserve , convenient and a great value .
Terry thank you for all your help.
Terry was very helpful with the rental process!!! She is friendly and eager to be of assistance answering every question and expediting our check in !!
Terry called me back to confirm my rental space and time of arrival. When I showed up Terry was waiting for me. The paperwork was effortless and I was in and out in a jiffy. Would recommend this location and Terry.
Terry is the absolute best! Great customer service
It was great to have the storage unit close for my sister to find. Terry was a great help and was always there to answer any questions.
Loved the location and the price . It was close to home and very easy to move are travel trailer around in side. That all changed when there gate would stay open and not close for weeks on end, and are camper was broken into. They advertise locked gate and camera. They wouldn't even fix the gate. We will no longer be storing are camper there any more
Terri is wonderful and she really made me feel good about renting the unit!! She is such a nice person and knows her job well!!! Love love love!
Excellent and professional service. Terry worked with my schedule and the movers to expedite the process. Storage unit was clean and ready for move in.
We could not get the key to turn in the lock. Terry came out with her trusty can of spray for the rust and magically the key turned. They are always helpful.
Valerie was exceptional! She was friendly and fun to set up the unit. Valerie drove us on the golf cart to show us the space! She also stayed after her regular shift to complete our reservation. Kudos to Valerie!
Wow! The friendliest customer service ever!
Terri was friendly, courteous and very helpful with our packing needs
Terry made this experience absolutely amazing! If it was possible to give her 10 stars I would. She was very helpful and explained everything thoroughly. You need employees like her at all of your locations!
Excellent customer service...property is always well kept.
Absolutely terrible customer service. They have a dumpster there just like most storage unit places which USED to be for the customers. As it sits inside the gate unlocked for customers who need to clean out there units. The last time we were there, the dumpster was over filled, I tried to throw out a few small things and before I was even out of my truck who ever the blonde lady is that works there I didn't get her name unfortunately, came running out of her office and started yelling at me and my girlfriend. She said we couldn't put anything there because it was full, I told her we pay for this service and it wasn't my fault that they hadn't collected the garbage. She said "it's not my problem, you cant put that there or I'm calling the police!" I was stunned. Earlier today we went back to move some more stuff around, the dumpster was completely empty, I thought great no reason for anyone to complain. I threw in one bag and here comes the same lady "I done told you last time you was here you can't put anything in there!" To which I responded "that's not what you told me at all, you said we couldn't leave anything here because it was already full." She then proceeded to tell us that the entire dumpster is only for the office staff. An entire dumpster for a 100 square foot, 2 person office. So I asked why it was out here in the middle of the units unlocked where everyone can get to it. She then stormed off back into her office yelling about God knows what. Extremely rude and unprofessional. Working on getting a new storage unit not controlled by Public Storage.
I had a number of issues and Terry is amazing. She went out of her way to be very helpful and solve all of my problems! She is probably the best property manager I have ever dealt with. Thank you again, Terry!
Terry has been a joy to work with... and I haven't even secured a unit, yet! She has answered all of my questions, and asked me ones that I hadn't even considered. She seems very knowledgeable about every aspect of Public Storage. I feel very confident about working with her for my storage needs.
Great service by Terry and very helpful. Will recommend public storage to friends!!!
Terry was super friendly, helpful and proactive. As soon as we walked in Terry greeted us, clearly explained our options, and showed us the storage space. We were finished with the entire process in less than 15 minutes. I 'd highly recommend this location for quick, friendly, and professional services.
I was short on time and needed a small locker for temporary storage. Terry and Ann had me set up and on my way in no time flat. Thanks guys!!
Terry Ashley provided the best customer service I have received in a long time. She offered suggestions and provided us all the materials we needed for our move. We couldn't ask for more. She deserves a raise! Thank you Terry!
Terry was very helpful and kind. Process was explained well.
Front office was very polite and helpful can use more security cameras around the property
Went to the property and spoke with me Terry and she was so nice just was checking prices and she was very helpful in showing me different sizes but I am not using still the first of the year but very nice lady.
I put this in by mistake to show a guest how to put a review in but I am the best in the business.
I visited the property about a week ago and was impressed with the customer service and cleanliness of the property. Terry was very friendly and professional and did a thorough job of explaining the pricing and process for renting a unit at her property. She took the time to show me the different size units as well. I am hoping to maybe rent a unit after the first of the year.
Terry was very friendly and helpful.
Outstanding.*****. Terry has been super. Always helpful, and answers all questions.
Excellent Service, Great Location, Clean Facility, Reasonable Price, Great Personality at Office.
Very helpful and polite!!!!
Terry, was very helpful with me and finding a suitable unit for my needs.
Terry was wonderful!! She made the experience much better than expected!
Fantastic service from start to finish, the staff was fantastic at explaining everything to me.
Terry was such a great help!! Very friendly!!
Wonderful customer service. Terry helped answer all my questions and was able to make the changes that we needed to so that we could get our unit faster.
Terry, the property manager was so friendly and helpful and made this really easy for me. She was accommodating, so kind, and communicated everything we needed to know. And I really enjoyed talking with her as well! I left the office feeling like I made a friend! Thanks so much!
Terry was great help! Super sweet!
Terry was very helpful and did a great job explaining everything.
Terry, behind the counter was friendly, knowledgeable, and patient dealing with my storage unit.
Terry was a fantastic help
I recommend calling before getting too excited about the price quote online. Was quoted $25 online and came in with over $55 in charges. I also very much recommend getting your own lock before coming here and paying $20 for one. The unit isn't the best but it's all I could ask for with the low price. They aren't the cleanest and the door doesn't shut all the way and seal. Beyond that the lady at the desk was kind and was willing to work with me. I got my paperwork signed very quickly and was able to finish up unpacking my stuff into the unit within a decent amount of time. Giving this 4 stars because it's what I needed (besides the crazy lock price) and the lady was nice. But if you are needing a unit that is weatherproof, this may not be for you.
Terry is very friendly and customer focused. Very responsive to my questions.
Tony and Terry were both very helpful. Terry helped me secure the unit and when I arrived Tony was very thorough and efficient in getting the paperwork completed.Tony showed and inspected the unit with me. It was a great size (5x15) and very clean inside. I highly recommend Public Storage in Broadview Heights for great service and great value for the money. All other units I checked were more expensive
Friendly,fast,& thorough.Great experience;clean &easy to access storage unit.
Very good. Amanda was extremely knowledgeable and accomodating.