Public Storage Self-Storage Units at 22800 Miles Road, Bedford Heights, OH
Address
22800 Miles Road Bedford Heights, OH 44128
Office Hours
Mon-Fri 9:30 AM - 6:00 PM
Sat-Sun 9:30 AM - 5:00 PM
Gate Access Hours
Mon-Sun 6:00 AM - 9:00 PM
Storage Facility Features
Climate Control Storage

Car Storage

Small, Medium & Large Storage Units

Indoor & Outdoor Storage Units

Property Manager Lives On-site
Office Hours
Mon-Fri 9:30 AM - 6:00 PM
Sat-Sun 9:30 AM - 5:00 PM
Gate Access Hours
Mon-Sun 6:00 AM - 9:00 PM
Storage Facility Features
Climate Control Storage

Car Storage

Small, Medium & Large Storage Units

Indoor & Outdoor Storage Units

Property Manager Lives On-site
Close Location Details
View Location Details
---

5'x5'

---

5'x10'

Outside unit

Drive-up access

Outside unit

Drive-up access

Outside unit

Drive-up access

Outside unit

Drive-up access

---

10'x30'

Outside unit

Drive-up access
Nearby Self-Storage Locations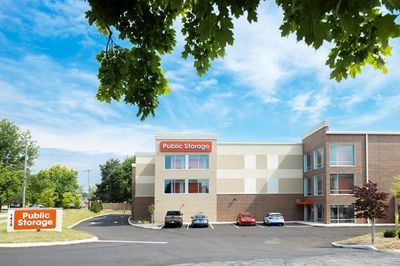 Self Storage Near
1413 Golden Gate Blvd
Mayfield Heights OH 44124
Resources from the Help Center
See what fits in different storage unit sizes
Bedford Heights Storage Units Near I-480 and I-271
We have storage in Bedford Heights near you so you have more time to do what you love, like enjoying time on the water at Lake Eerie, rooting for the Browns at a football game, or brushing up on your music history at Cleveland's Rock and Roll Hall of Fame.
At Public Storage, You'll Always Find...
Keypad Access

Friendly Staff

Month-to-Month Rent

Moving Supplies Available

Free Parking

Well-Lit Facilities
Reviews
( 288)
Amazing friendly customer service from Miss Antoinette.
Great service from Antoinette👍🏾
Ms. Antoinette was great! She got me in and out.
I give Antoinette at five star because her customer service was excellent. she was very helpful when I asked questions and she was very polite.
The Ladies at Public Storage are polite awesome thoughtful clerks very friendly helpful Thank you for everything you all do to help your customers Public Storage
Antoinette had a wonderful attitude and explained everything clearly
Nice work ethic and polite. Reassurance of security. Thx so far Public Storage and Antoinette.
Antoinette was very helpful and very respectful. She deserves more then a 5 star.
Anetoinette was very professional! She took home out to assist me in my payment! She was very patient with me and made sure my items wasn't delayed any further and protected my items and made me feel very secured with the company and professional today! I'm very grateful and will refer this company to more friends and family!
Antoinette and Ashley are great, very professional
ANTOINETTE was a very efficient individual and friendly it was a pleasure doing business with 10 stars would be best for her service
Antoinette help me out today and she was so nice and fast I was in and out!!!
I was amazed by excellent service, thanks Antoinette!!!
All of the workers were extremely nice and the area was very clean, Antoinette made the vacating process very fast and easy
Ms. Antoinette was sweet and very pleasant from the moment I walked in. She help me find the unit affordable for me and the prices are so fair. I appreciate the generosity that was shown to me today in the very short time I had to get things done for myself. Thank you so much!!
Highly recommend this location ! Conveniently located off the highway , super easy to find. Staff is exceptionally nice and outgoing, both ladies make you feel like family. Your company is lucky to have them. Hang on tight to them!!! A special kudos to Ashley, she has been so pleasant and helpful. She helped my aunt with her rental each step of the way and was so very patient. The property is very clean and well lit at night
Great location Ashley and Pam are great
Antoinette was very helpful and professional
Kat was very helpful and nice.
Miss Ashley is the best, she is extremely patient and was very helpful.
A very nice place to store items. Clean, easy access. Staff is very helpful with getting you started and continued help as needed. I called with a question today but did not leave a message. Antoinnette saw I had called while she was with a customer and called me back immediately when she became available. She took care of all my questions. She's amazing. I would recommend renting space here to anyone needing a locker 👍
Clean and nice environment I highly recommend this facility. The staff are very helpful and friendly.
Clean and quiet facility. The property manager Ashley was beyond amazing. She really went above and beyond. She's very knowledgeable, polite, and has excellent customer service. Thank you for making my first unit purchase smooth and pain free. She deserves a raise.
Antoinette And Ashly Has Been So Phenomenal To Me The Both Of Them Made Me Feel Like Family I Love Both Of Them So Much They Both Deserve Promotions,, Superb Customer Service,, Courteous Polite,, And Caring Phenomenal Job Ladies Keep Being Outstanding,,!!!!💯💯💯💪🏼💪🏼🥂👌
Ashley and antwanet…don't Know if I'm spelling tht rt at Bedford heights are the most helpful,kind,and caring workers I have ever met I definitely recommend the public storage unit on miles in Bedford
MS .Antoinette was very pleasant to talk to and knowledgeable in the business at hand. Very Courteous and respectful.
Antoinette is awesome! Couldn't be happier!
antionette did an excellent job keep her her personality was awesome 🤩
Thanks for Antoinette and Ashley!! My experience has been great!!
Ashley & Antoinette are the best !
Highly professional, very safe, clean, hardworking, pleasant. This team deserves raises, you are fortunate to have them!
I store in this place from July to Dec 2022. Everything place in that storage unit was wet and covered in mold. I lost tax forms, books, computers etc. Everything in that storage unit was ruined. I opened storage breathable bags today that have been in my home.. completely full of mold from that location... I didn't expect for those bags to be damaged. Just take your stuff to the dump. I brought all my stuff across the US from Vegas just to throw it all away. I told the manager why I was leaving (They want a notice like it is an apartment) she said she would take care of it. In January I got a late bill. Corporate and I had a conversation that ended in me mentioning legal action
Antoinette is so kind and patient I really appreciate the help she gave me! I would give her more stars if I can.
Clean property and super friendly staff. Ashley was incredibly helpful and super knowledgeable. She even helped me install the app on my phone. She is a wonderful woman and goes out of her way for her customers. It is hard finding employees, so hold on tight to her. 10 stars!!! I will recommend to my family and friends.
Great Staff friendly and easy to work with… made the process seamless!!
Way better than Uhaul!!!!! Antoinette at the Bedford location was very helpful and polite and even gave me some tips about how to organize my stuff. It was very easy too- love using my phone to access my storage.
ashley was awesome and very sweet and a very good help
I didn't plan on moving to this particular storage place today but God has a plan for my life that I wasn't aware of a meeting Antoinette from the face of the public storage I was told Harley convinced that this was a very safe and clean and a place I needed to store my stuff however long I have to store and she was very professional very very upfront with all the information on pricing and terms and conditions and I feel very good about being able to put my stuff here koodles to Antoinette
Antoinette was great at helping with the whole process and answered all of my questions she was very helpful and professional.
Antoinette was very polite and patient with me I really appreciate the help she gave me made me feel right at home thanks
Awesome people and very good spot I rented 2 units from them and the move in, access and move out was ultra easy. Will use them again in future
Wow, Ashley is amazing! So kind, professional and helpful. Happy with the property and the choices of storage sizes. Seems like a quiet property.
Antoinette at Bedford Heights store did an amazing job!
Thank you so much Ashley and Antoinette , the service is phenomenal!!!
Advertised Special was only valid for dates in August 2022. IT'S NOVEMBER!! Click bait.
Ashley at Bedford, OH public storage was very kind & helpful with finding me the perfect unit for my household goods. Bless her.
Miss Ashley was so awesome and professional and I love it.
Great service, best storage ever!
Ms . Dawn was very nice in took very good care of me everything was clean nice customer service
Everyone here has great customer service. Very clean storage units. And the staff Dawn and the upper management Max are very nice and respectful and has excellent customer service and is very helpful in any problems or situation you have. I would recommend this storage to anyone to use.
Very pleasant and prompt help from Dawn when getting my storage units.
I called down to request information at this location and Dawn answered the phone and was an absolute pleasure. She was very patient and answered all of my questions. I stopped in later in the day and she was still there and waiting with a positive attitude and eager to help.
Dawn absolutely went above and beyond by waiting while I ran to get some necessary information to successfully rent storage space. It was 10 minutes prior to closing. I kept her later than normal yet with a smile she said "I'll wait for you to come back." And she did so thank you Dawn. Public Storage is fortunate to have you.
Dawn is an amazing addition to your team with exceptional customer service! She was kind, patient, and very helpful! She was able to answer all my questions thoroughly and made my experience here efficient, super easy, and simple! Give her a raise!!
The manager was very informative patient and polite with me and very efficient with service
Very beautiful person don't mine helping
Always helps me when my lock is frozen.....love them
Okay place to store things at good rates
Fast friendly service. Reasonable prices.
Do you guys have motorcycle storage?
Dawn was very pleasant and helpful even shoveled the entrance herself after the plow company didn't do it I thankful for her help
I have had a storage for 2 years and every time I call I'm lucky enough to speak with The manager Dawn. She is the up most professional and I can tell she loves what she does ! She is great and I appreciate all her assistance!
Came in for storage prices and the staff memeber in the office was amazing she was a wonderful person to work with
Dawn was great, she got me in and out.. very easy to work with..one hand wash the other.... "You know". Thanks Dawn 🌹
Dawn was very pleasant and very helpful she was very knowledgeable with the questions I asked It was a pleasure working with her Would highly recommend.
I am so appreciative of the support I received from Dawn and Melissa during my difficult financial situation. GOD bless you ladies. THANK YOU VERY MUCH!
Melissa was Great! Thanks.
DAWN! IS AN EXCELLENT EMPLOYEE!!
Never used this place but I seen a wonderful act of Charity on their behest and it really impressed me and I know that there was no ulterior motives involved so I just figured I'd get on here and this is my way of letting everybody know these guys are great
I called in for an available unit. Dawn let me know exactly what was available. I went there within the hour and everything was done easily and quickly. We loaded unit that day. Very good service and very personable.
Nice and reasonably priced
I checked in with no problem. Geoff and the other staff is very knowledgeable and attended to my every concern. The prices are very reasonable and not as expensive as the other storages I had called. Public Storage is wonderful. Thank you Public Storage.
This property is ran by Melissa. She is awesome. Property is always clean and she is soooo helpful. I highly recommend!
This place is awesome the manager is great her name is Melissa just ask for her she is very nice and gets things done
Melissa is really great . She works hard to help me out. Great customer service.
Melissa takes quality time and patients making sure customer knows in and out what involves useage ....thanks Melissa
Melissa has the best customer service skills yet. She is patient and worthy of any reward,and acenitives a b available Id recommend her highly
Melissa was very nice and helpful
Melissa has amazing customer service qualities. She helped me with all of my storage question needs.
Melissa was very nice and professional. She was helpful and took care of me without any problems.
This place NEVER answers the phone when you call or anytime i go there the door is locked and no one is there to help. (And the reason is NOT covid they are just never there to assist) I was trying to pay my bill the online was not working, i stopped up on 4 different occasions as i said never anyone there so i called the customer service and they told me they are not surprised to hear me say that no one was there to help me however they still charged me a $20 late fee when i had been trying to pay this bill for over a week prior to due date. UPDATE: I am just giving this review an update as the head boss Max reached out to me and truly apologized for any inconvenience that was caused to me and also made it right with the late fees that I was charged! I really appreciate his effort and that makes a difference when you have a bad experience with a business for the boss to get involved and make it right!! Thank you Max!
Melissa did a wonderful job helping me out with the storage unit thank you so much great customer service!!
Service was horrible he couldn't answer any question correctly. Then gave me a unit with a pulled out door and said it was ok. He didn't offer to fix or nothing. Very unprofessional.
Melissa was excellent and took care of me fast and friendly!
Clean environment, very clean and roomy and right off freeway
Melissa what a great help.. everything went smoothly.. Keep up the good work !
Melissa was a helpful with the storage unit. Great customer service.
Came up there to pay a monthly bill and they left us standing out and never came
Melissa has the best property for public storage. Shes very professional and I would definitely reccomend this property to everyone.
Carlina was great and very helpful thank you.
Area was clean and Maria was very informative.
Carlina is a very caring employee. She takes the time to explain details in a very understanding way. Keep up the good work.
Clean , well-kept facility ; Friendly , helpful staff ; Geoff made it easy to rent a unit ;
The manager Carlina was the best she helped with everything an made me feel so comfortable without her i would of went somewhere else i appreciate her for all the help an info
The property manager Carlina at the Bedford location is the best. She is very helpful and respectful. She makes you feel welcomed.
Carlina at store 26420 Bedford heights location She was amazing today alert and on point. Thank you Carlina amazing job see you soon
Price was good. Friendly and helpful staff. Was able to complete most of the reservation on line. The whole process went very well.
No heat cold as ever in this place liars
Carlina was GREAT! Very informative of cost before showing me the unit and was also very personable. I would recommend this to anyone + would recommend filling out the paperwork online before going in (saved A LOT of time).
Have yall met the new hire Carlina???? Beautiful person inside and out, i really enjoy going inside and conversating with her. Very professional and organized. Met all expectations!!
I love the new hire she was very helpful and very polite. She has great customer service. She will be a great asset.
The new hire, Carlina she was very friendly, very efficient and serviced my every need.
No reps on site to service customers. No returns on phone calls where i left a message. Arrived at property this morning to office door locked and no manager in site. Encountered a customer who wanted to upgrade to a bigger space and another customer whose been here over an hour as well as another customer who wanted to rent a space. Horrible customer service. You guys are missing out on money.
Impossible to reach any one on the phone
It's cool but your attendance their attitudes
The Staff is alway ready to help with any problems you might be having. The knowledge of the moving ideas was quite helpful. Thank you
Sat in the parking lot for over an half hour waiting for someone to come back to the office(which closes at 6)only to see everyone must've decided to leave early. Now I'm late for my second job & still have to come all the way back to pay my bill
I was going to rent a 5x5 unit to store boxes and talking to Val she recommended the next size up which was a 5x10 space and I'm thankful she did because all the boxes I have moved in would have never fit in the smaller unit. Val is super knowledgeable and very friendly.
Got my storage service with valory. She was very very nice. I was quick in and back out with ZERO issues. Thanks
really helping #restoragethelove
Even when times are hard these wonderful people are helping to re-storage the love
Wonderful place to store my things
Very helpful and great customer service.
Valerie is A1!! Awesome staff!!
Excellent customer service from Val Armani, she was very friendly, knowledgeable and very helpful😀
Val had great customer service she took great care of me thank u guys so much for everything
reserved a storage unit here and when i went to move in i was greeted by Val she was very knowledgeable and friendly not to mention there prices were better than everyone else in the area.
Fast service good move in special
Val was wonderful to work with . My new unit is great and clean.
I reserved a unit when I arrived they say there were no more. It would have nice to be cantscted prior to arriving. Plus management did not provide any accommodations for the inconvenience.
Jaid & Russ are amazing! Thank you!
Your representatives Val and Armani were super helpful and very professional. I highly recommend this location for all your storage needs
Val and Armani gave excellent service. Very pleasant and helpful.
Excelente lugar q te alludan entodo lo relacionado atu proxima mudanza pudes conseguir todo tipo de articulos q facilitan tu mudanza muybuena atencion
Thank you jean at public storage for a day that could've turned terrible turn out perfect, your customer service was exceptional thank you!
Professional, polite and efficient. Outstanding service.
My Sunday started off to a great start!!! I needed a storage for my business furniture etc and this location was the perfect spot. Awesome Awesome customer service from Jean (employee) that runs this location. I will definitely refer this location to friends & family.
High price for small spaces
Thank you jean and Val for an awesome experience at ur facility
Val was outstanding, she went above & beyond when helping me. She took the time to research the issue with my rental & made sure I had the best deal for me. Management should be very proud to have a employee with that type of dedication. Thanks Val.....
Clean and secure storage facility. Great service. Jean was very helpful!
I had questions but it was better to kept to myself if I didn't want any inappropriate middle finger my way.
I was at cubesmart and actually left and went down the street to public storage. The facility was cleaner and the JEAN's customer service was excellent. Definitely would recommend.
Jean was very patient with me and very understanding even tho I was having a long stressful day she made it better by being understanding!!! Great hardworker
Jean is so nice she made my move in impossibly easy thank you so much
They cost to much..price went from 1 thing to another and still going up
Love public storage on Miles rd Jean is so helpful, neat, and very smart moving in was so easy thank you
ALL WAS VERY GOOD BY EMPLOYE VALORY H. THANK YOU I WILL COME BACK.
Jean is knowledgeable and she gives top notch customer service! She is a great resource for your storage needs.
Sales associate not helpful. Hard to reach site manager by phone . Regional manger does not return calls..
Ann at the front desk was very helpful and friendly. I recommend public storage for any storage need.
My service was excellent Jean was amazing I highly recommend her!!!
Lies Lies. I have never given a bad review for any company. But I had to for Public Storage. Initially, the sign up was great, friendy, efficient. But 3 years later, the customer service is terrible. The young lady whom waited on me today was absolutely horrible. She made awful comments about customers as if I wasn't there. The company raises your payment evey six months and please don't be late. Public storage will charge all kinds of ridiculous fees. My payment has tripled in three years. I feel as if I am being ripped off. I will be moving my belongings as soon as possible. And will never do business with this company again. I advise you to do the same.
Public Storage is a wonderful facility. The spaces are very clean and have good lighting. Great prices, and the available hours to enter and exit are very reasonable. Also, the staff are friendly, helpful and willing to please the customer.
Jean was professional and awesome!!
Jean was very helpful thanks
Great service, Jean was very helpful! Thank you!
Jean was amazing today very helpful and nice.
I went to purchase my storage unit this afternoon and was greeted by a very pleasant young lady by the name of Jean. Very professional and knowledgeable. I've used this location before and has never had a problem. For your storage needs go see Jean! 👍👍
I definitely recommend this location for your storage needs. Jean was very nice and courteous, and made the process very easy. Thank you guys for everything.
I was told that my new storage units lock would be taken off the night before so I could move my things in before 8am. Well long story short, IT WASNT! It is now 9:45 am and the store still isn't open and we've been sitting out front for almost 3 hours! I will be talking to a manager about a refund. Horrible customer service! I would give them zero stars if I could!
They do not have 24 hours access
Jean and Vanessa are soooooo great. Please please keep them around. They made my experience wonderful. I give them 2 thumbs up (if i had more thumbs they would be up too)
Jean hill property manager of public store in cleveland ohio on miles rd have great customer service thank you so much for your service keep up the great work
The experience at Public Storage today was fantastic! Jean made what could have been difficult extremely easy. Her customer service was exceptional!
Great customer service, thank you very much for the help Jasmine
DO NOT LEAVE A MESSAGE!!! I Left a message on Thursday, September 28th to SCHEDULE a moveout, like their voicemail says to do. I moved ALL my things out that Thursday, except for 2 boxes of fragile belongings. I am going to put in the backseat of my car. I didn't get a return call until Sunday, October 1st. Due to Public Storage taking more than 48hrs to return my call, I had to pay for the whole month of October.
Maria is great! I had just driven from NY to get storage. While she was helping me, everyone seemed to come thru the door at the same time to pay their bill and ask long dumb questions... I wasn't in a hurry so I waited patiently. She was by herself but handled everything and everyone with skill. The only problem is with the parking. It can be a serious issue if more than 5 cars try to park. Maria gets the 5 stars. Parking gets 3 or less. *** READ MY UPDATE*** Maria may get the stars but this place and the company in general does not get 5, I assure you. I'll keep the five stars here as well as everybody else is doing but I'm sure at the end of four five months it's going to go to one like my rating has gone to: 1 star.
Hassle free & amenable staff
I came to this location just looking at pricing of different size units. Jasmine was very helpful and curtious. If I do end up with Public Storage I will definitely come to this location.
My service experience has been exceptional the staff is great they even give costumer reaction a fair thought...especially maria she is always very knowledgeable and pleasant as for every other p.m. ive encountered at this location just my words of encouragement to keep up the good work thanks
I have my storage place in different state. I have come here couple times to make my payment and Maria always give me and amazing customer service.
Very professional and helpful
Maria was outstanding with her customer service skils
Good they give you what u want.
The Sales associate Jasmine was a very great with helping me choose the right size unit.
It's clean and safe & it's accessible to the freeway..
Maria and Jasmin were awsome. Very helpful and friendly. I feel like family now
Awesome customer service!! Maria was very helpful and thorough!
Mary was very helpful with my rental process. Made it fast and easy to get a storage.
I when in for information about storage even i dont need the storage until next month the information i got was excellent Maria was ready helpful. Great customer service.
Great customer service very clear on explaining how Public Storage works thanks again Delon!
Yo! Shouts out to Delan and Amanda and Tatiana. Appreciate da help y'all gave me. Real simple and quick. Keep doin ya thing.
Great service Tatiana was awesome, very helpful. Also very good Price's me and my husband found!!
I had a great visit there Tatiana was so helpful and nice and Very patience even tho the office was very busy she did a great job she deserve a raise for sure
Amanda made it very easy to check out of the storage. She has a great personality and is very friendly and personable. She has excellent customer service skills. I had a great experience.
Thanks to Amanda I am storing
Delon was amazing. He explained everything easy. He made everything fast.
Had a horrible time moving....was lied to then we came to public storage had a wonderful staff Tatiana was very nice and helpful made my day so much better after all the lies I got told the rest of the day
I worked with Rachel. She was excellent! I would have given 5 stars but honestly I got sick in the office from the thick smell of cigarette smoke. Obviously it has nothing to do with the space you are renting but its the first impression of the property. The smell was so bad it made my throat burn. I am not a smoker so this bothered me very much. It was my first impression and last impression since I got home and had to shower because my husband said it smelled like I went to a smokey bar.
Tatiana was great help...service was great!!!!!
Tatiana She was helpful very professional, got me checked in and out. No hassles no problems. I will do business with her any day of the week I wish everyone was like her.
Delon and Tatiana were very friendly and helpful...this location is defintely better than the location on west 117th
Kim and delon are very informative and made sure I unsterstood everything before leaving
Delon was very helpful quick and efficient and friendly
Delon was very helpful he went over everything for me!
Staff is great! Lashawna and Krystal were very helpful, place is clean, and I got in and out with no problems. Great rates too, cheapest I could find and they're always doing promotions.
the service and facility was great. Brinee and Delone were incredibly helpful and professional. Great service, Great people
Brinee was very helpful and friendly and answered my questions about the storage!
Very nice staff, clean facility. Brinee was extremely professional and pleasant to work with.
It was an experience to remember
Brinee's customer service was awesome!
Very nice with reasonable prices, Debbie was a great help. Very good with answering all questions. Nice service👍
Brined was really special. Thanks for help. Be back again if needed. Need carts and trucks though
alison and brinee are great. keep it up ladies@ thanks for helping me out of the moving situation
krystal was very helpful wiht my storage unit. she helped me get into it when it was stuck and told me my code so i can move my friend stuff out it.
THought alison and krystal were awesome. The gate was broke and they fixed it in like 2 mins. thank god. very good prices from shopping around too.
ALison and brinee were very nice and good. used storage unit to move tings into bigger house. locker was very good size and could unload it very easy.
Great experience here. Really enjoyed the setvice at this location.
I came to Public Storage looking for storage space. My experience with customer service was excellent. Alison was my customer service person and she answered all of my questions and concerns. She explained the rules, hours, and payments to me. I am happy with my experience.
Tina made my day easier with the help she provided.
Im here with alanna an Tina now they are renting me a unit at an awesome price thank you girls
Quick, easy, flexible. Exactly what I need for my summer storage!
The service was great and the workers were very knowledgable of all questions I needed asked. Overall, public storage is an excellent place regarding the quality storage goods. I've already recommended 5 friends. Keep up the great work!!
Tina helped me with storing our charites goods today great customer service, fast an friendly
Tina was very helpful and Fast service
I had a wonderful experience at the Public Storage on Miles Road in Bedford. Allison was extremely helpful and delightful!
Alanna help me with the storage of my items she was great and very helpful. I will never have a problem doing business here. Thx alanna
I came in today to acquire about a store unit and alanna was very informative in helping me with my storage needs.
Quick, easy , and efficient
Greart staffd. Andie was wonderful and helpful. She explained the policy so it was understood. A big 5 stars for Andie & the location
my in store representative was warm and friendly and funny and she was just very helpful
SAM WAS VERY WONDERFUL EVERYONE!!!!!!....IAM VERY HAPPY :) THAT I WENT WITH PUBLIC STORAGE!
I'm new to the area and needed a storage unit, it was an easy and pleasant experience. I started the process online the night before and took the time to think about the amount of space I would need and the pricing, It's right off the highway which is convenient for me. I'm big on not wasting anyone's time including mines. I set an appointment up online and the site manager called the next morning before my appointment time which was great customer service I thought. It's been effortless and no hassles, I have no complaints. It was GREAT customer service thanks to Andie, she should get a raise, extremely pleasant to conduct business with!
Encountered a horrible experience with Public Storage at 2719 Morse Rd, Columbus, Ohio and was completely misinformed which ultimately brought me to the Bedford Heights location. Andie was a angel and went above and beyond the call of duty to help solve my issue. After previously spending over an hour of my time and 30 minutes on the highway, Andie was able to help me in two minutes. I wish more of your Public Storage employees possess the customer care attitude that Andie has or at least the desire to attempt to help. She is truly one of your best representatives.
I had a very wonderful experience, the salesperson Andie, sold me on the unit.