Public Storage Self-Storage Units at 80 W Waterloo Rd, Akron, OH
Address
80 W Waterloo Rd Akron, OH 44319
Office Hours
Mon-Fri 9:30 AM - 6:00 PM
Sat-Sun 9:30 AM - 5:00 PM
Gate Access Hours
Mon-Sun 6:00 AM - 9:00 PM
Storage Facility Features
Car Storage

Indoor & Outdoor Storage Units

Property Manager Lives On-site
Office Hours
Mon-Fri 9:30 AM - 6:00 PM
Sat-Sun 9:30 AM - 5:00 PM
Gate Access Hours
Mon-Sun 6:00 AM - 9:00 PM
Storage Facility Features
Car Storage

Indoor & Outdoor Storage Units

Property Manager Lives On-site
Close Location Details
View Location Details
---

5'x10'

---

5'x10'

Outside unit

Drive-up access

---

5'x15'

Outside unit

Drive-up access

---

10'x10'

Outside unit

Drive-up access

---

10'x15'

Outside unit

Drive-up access

---

10'x20'

Outside unit

Drive-up access

---

10'x25'

Outside unit

Drive-up access

Outside unit

Drive-up access
Nearby Self-Storage Locations
Self Storage Near
1561 Brittain Road
Akron OH 44310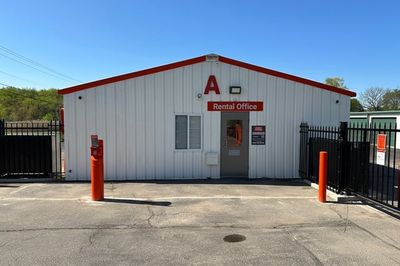 Self Storage Near
660 Silvercreek Rd
Wadsworth OH 44281
Resources from the Help Center
See what fits in different storage unit sizes
At Public Storage, You'll Always Find...
Keypad Access

Friendly Staff

Month-to-Month Rent

Moving Supplies Available

Free Parking

Well-Lit Facilities
Reviews
( 153)
Security sucks. You get a code to enter and exit but don't stay even a minute past 9pm because the gate goes offline. You can call and they will let you out but then you'll get a nasty little email telling you how you're a bad customer.
Very friendly staff on the phone.
They've done some upgrades on the place so it's pretty nice but the prices are getting ridiculous
I was only there picking up something I bought from a guy
Terry was extremely helpful getting everything set up in a simple and easy manner i was in and out in less then 10 min. Thanks terry
Better than tallmadge and brittian road
Awesome service...thanks Stefanie
Stacie helped me get a unit, showed it to me, made is so easy for me. She's the best!!
I rented from American Storage for two years. In 2023 Public Storage bought it. They raised the rent and overcharged on the monthly rent. They "pro-rated" which means they double charged every month for the future month. I was behind one month They tripled charged me and sent me a lien notice via email. I was helping my active duty military daughter out of state and they sent me an email stating that they had auctioned my unit for 70 dollars. My unit contained all personal identity information on myself and my three kids. They sold all of our personal identities for 70 dollars and said so what! That is a federal crime! The founder, B Wayne Hughes ironically has a foundation set up for military, prison, and covid 19 families called, Serving USA. Public Storage destroys families does not support military or families in need. They commit Federal crimes-selling people's identities. The trauma Public Storage has put on my family, already suffering from PTSD is blood on their hands.
Good ppl . Easy to work with .
Pulled in without a lock expecting to have to throw my stuff in and rush to the store for one and they provided one for me. Storage is clean and smooth entry and exit with the app
$97.00 for several years. Public storage bought it, and it went to $130.00 and maybe a year later it jumpt up to $163.00. That is just being greedy!
I have rented a 10x15 unit since 2016. This place used to be great until Public Storage bought it in late 2022 to early 2023. The rent immediately went up after they bought it and just recently went up another $32 monthly for the size unit I have. It wouldn't have been as bad but the price increase was given with very little notice. Plus the price increase is high in my opinion. I called asking about the price increase and the manager told me that I was lucky to be getting it for the price I was. Stated that most places for a unit that size cost $190 plus. I found several with the same size unit that are way cheaper and just as good for a lot less. I'll be taking my business elsewhere. Just another example of a greedy corporate company trying to gouge people.
SO DONE WITH THIS PLACE!!!!!
This place sucks. They tell u one thing and it's not even true. They been charging fake fees to my grandma and telling her one thing and then telling her that's wrong. Even when they told her that. I hate that place. Workers are incompetent and slow. And im pretty sure they pocketed money from my grandma cuz they had her all confused. Would not recommend.
Awesome!!!!!! Real easy to work with. It was a fun and easy transaction.
Under new management thank God! installing cameras finally. Long overdue . No complaints
The best locker place all the way around perfect customer service easy location great people
Excellent customer service from Stacie and Stephanie!!! They explained everything clearly and we're a great help to me.
I have been out of work for awhile and was concerned when the new owners took over I would be sent to auction. I had just started a new job and only received 1 check and begged Stacie, the manager to give me a little extra time…after all I had that unit for 10 years. She talked to the owner for me and I don't know what she said, but she is a miracle worker!! My memories of my deceased husband are safe all because of Stacie, and I have the money to pay my bill. Thank you Stacie and Public Storage for keeping my precious memories safe.
Great ppl and great pricing
Extremely unprofessional and badly run business. I would not recommend to anyone.
UPDATE: Contacted by Customer Service to resolve problems. Seems OK now. We discussed the need for better transition management in the future. Hopefully they take the advice. OLD POST: Recently acquired by Public Storage. Since then, it has been chaos. The billing period keeps fluctuating and no one seems to know how much is due when. On site personnel are given no support.
Excellent customer service. Ashley was very knowledgeable and helpful on my first unit...came in a second time for a second unit and was helped by Stacey. Both ladies were very professional ...
Friendly staff, got my storage shed same day.
Public Storage was so helpful and knowledgeable in helping me set up an account!
Had a unit here for two years.staff friendly and helpful. They have security however our unit was never tampered with.
If you wanna take the risk of possibly losing your belongings. Heres the place to store them. Yea there is a gated entrance that you enter a pin # to gain entrance/exit. The owner/mgmnt will lead you to believe there are security cameras monitoring but the truth is the only camera is located at the gate. Rather than have them in the aisles monitoring the units. Akron police said they have advised them many time to install camera system. Instead they raise the rent recently twice under a year, for what I dont know. The security guard they employ doesnt even stat overnite. So its free to whoever wanders in. APD advised them thant if they had a camera system at least they woukd have smethn to go off of. But they apparently are only interested in collecting rent, not the security of their customers belongings. Learned the hard way. Dont make same mistake. Save yrself the hassle.
I just love my storage facility. The first time I inquired about space, the kindest worker you'll ever meet, will greet you and answer all your questions. The security guards are on the watch and will make sure you belong there.( less theft). I always appreciate their efforts. The prices are some of the lowest around. Clean spaces and marked very well.
I just wrapped up renting a unit from here for the second time. Both times it was affordable, easy, safe and convenient. Staff is so pleasant and kind. On site after hours security guard is comforting. Never had a flood issue. Never had any auction threats. I always recommend American Storage because they are reasonably priced. They have lock options to buy as you need your own and sometimes you don't prepare for that so it's convenient to be able to get a few different options right inside. Paying is suuuuper simple, I can walk in, call or use the website option (they give you instructions when you sign up for your rental). Take care of their unit and you get your refundable deposit back. I never had a bad experience and (even though I hope I don't have to for awhile) I would absolutely return for a third time should I need to store again. Thanks guys!!!!! 10/10 for my personal experience.
Seemed to be ok at first but I was told after a few months that my belongings had been taken out of the unit I rented. When I asked to see the footage of the day it was taken I was told they can't give out that info. Most definitely was an inside job..
Cleanish, security over night
Your stuff seems safe there
Nice people to deal with!
Nice units and friendly staff. Thank you Darlene and Mary!!!👍🏾
I like that it has a security guard and monitored 24 hours a day but I don't like that I get rushed out of there when I'm trying to go through my stuff. I pay over 100 a month here I should be allowed to spend longer then a half hour there. You need to give your customers some time. Stop rushing everyone out of there
Great storage and security
I like this storage facility. The price is the best i could find anywhere around the area and i appreciate being able to access my unit 24 hours a day. With manned security onsite late nights, I feel safe anytime i am there, and i know my belongings are safe when im not there. Its a facility i have recommended to others and will continue to recommend!!
Cheaper storage than most. Have security guard during off hours...
Without ANY notice they supposedly auctioned off my valuable records from City Council ,priceless pictures and other things that were important to me. Claimed they yried to contact me but no calls to my cell phone and no letters to my address where I have lived for over 10 years. Oh and by the way I served as Mayor for over 28&1/2 years so people know where to reach me. They are either lazy, incompetent or just plain corrupt
All the employee's are polite and caring
The staff at American Storage is absolutely top notch. There are no hidden fees and the storage units are the cleanest I have ever used. If you need to rent storage space, I HIGHLY recommend using American Storage.
I was there yesterday helping a friend move. The staff there went out of their way to help is when a local moving company screwed us over royally. A guy by the name of Rick went above and beyond what is expected of a worker to do. He was extremely helpful. I have a couple of friends that are closing a business in Akron and may need a storage and absolutely I have already forwarded them the information. If you ever need storage in the area this is the only place to go!
i moved out of state and used american storage for a lot of my belongings .i came back to town with limited time to retrive my belongeings and transfer into a pod ,before leaving town pod showed up late, and numerous problems with the shipping company .but the nice people at american storage helped me ever step of the way, going above and beyond ,great people and even better rates can't go wrong useing them
American storage is a safe and nice place to store your stuff . Very nice personal great to work with. Great security. I recommend them all the time. If you need shelter for your stuff call them they will treat you right.
I've been a repeat customer and have always had a good experience. I like the convenience of their 24 hour access.
Best place to keep your things safe and the greatest staff in Akron!!!
Probably o e of the best storage unit facility in the area well maintained clean security on grounds different sizes of units great customer service
People are great but keeps getting broken into
Very friendly people clean dry units 24 hour access and sercurity on duty all night
Nice people clean and dry and cheap prices
Used them for ten years, was 1 payment behind and got threatened with auction. No way to treat a loyal customer. Would never use them again. They also flood constantly and don't let renters know until it's to late to do anything. They treated me fine till I got a payment behind then they want to auction off my unit.
It's a place to store your wanted storing need. Customer help is friendly. The lockers you get a car always clean.
I've been with this storage coming sense I moved to Texas great rates and great customer service love it
Easy to access and priced fairly
Dont know why this popped up but 5 stars
I don't really use towards your house I was here with one of my friends he has sheds he has two or three different places but they all seem to be pretty much the same if any money you put yourself in a little garage it seems like security is pretty good there there's a gate you have to have a password to get in so I'm sure it's a good place
I've had a unit here for almost 4 years now with the exception of a few months. The staff has always treated me good and never ever a problem with anything. If you need a storage unit I would highly recommend them.
They allowed somebody to get in my unit and steal my belongings when I told them about it there was no remorse and said I should have bought the insurance... which made me feel like they did it!!! I had a lock on my unit and when I came back the lock was gone and so was touchscreen washer!!! No cameras!!!!!
Love the convenience, cleanliness, security. Well managed facility!
Do not rent here. So many people have had items stolen from there storage . I no from seeing it myself and it's the management . Good luck .
Bills Auto Repair. Great place The best place for work on your car.
Very nice people and storage unit!! If I ever needed to get a storage unit again I would come back and definitely recommend to others.
When it comes to using a storage unit, this is the only place I would trust. I have always dealt with friendly helpful staff and at this point have never had any issues with them. My unit is secure, the gate works, and they even have a dumpster that they let clients use. I know it sounds petty odd, but another place I no longer use wouldn't let you use their dumpster. If you want a secure storage room at a fair price check this place out. ....
Well kept center. Friendly staff. Nice security.
Great storage units secured
Wont give price online and very hesitant over the phone. Made it seem like i had to come in to talk price. I dont trust that!
Five-star establishment excellent service recommend this very highly!
Whomever said they don't get back the security deposit that's not true because they do as long as there's no damage to the doors or like the place was trashed so they do give you your deposit back. I have had great service from everyone here. And they are so easy to work with.this place is great and its secure to.
It's a place to store things nothing special
always had good experience till receantly someone cut the locks off of 2 of our 4 storage units within a month and they said they are not responsible for anything stolen and that we can make a police report but they womt do anything for us. weve had multiple units there for about 3 years now. the cops said it happens all the time there. dont rent from them unless you dont care about your stuff. dont know why you need to enter a code to enter and the guy drives around and watches you but they still have people breaking into them? horrible security and no customer service. not even willing to pay part of rent.
Although I've slipped behind by my own default I haven't really had any issues here I've had storage units for a year-and-a-half just getting rid of them happy with the service
I wish i can give this company 0 stars. My ex fiance who HAD my key broke into my storage center, stole my stuff out of the storage center, and the storage center refuses to do anything about it. AND NEVER will give me a refund, saying I had to go over to Ohio, when I dont feel safe in going to Ohio! Ugh, the nerve of people...Do NOT rent a unit from them at all! They are frauds and I wish there was a way I could sue them! Frauding lying ass people!
For some reason they won't let store some miscellaneous car parts. I feel highly discriminated against considering it's not like I'm storing a whole car. Just some cheap extra parts. I'll be reporting this to the BBB
There nice people it's an ok place
Although clean and climate controlled it is quite pricey.
Been renting there five years now and have had no problems of any kind, the office personnel are always very nice and when we have to stop in the office.
I wish I could rate them 0 stars. Never rent from here if you want all of your stuff to be there when you go back. My mother has had her storage unit there for awhile. Recently we get a call that someone cut the lock on her unit and took "some things". We go to look and OVER HALF of our stuff is gone and the other half is in a huge mess all over the place. When asked about their security guard who is supposed to be on duty 24/7 and checking people getting into the units we were told that he comes and goes as he pleases and they don't know when he will be in or out. Along with this they refused to put another lock on it until my mother could get there to replace the lock that was cut off. My suggestion is if you are looking for a storage unit DO NOT USE THIS BUSINESS, especially if you treasure the things you will be putting in there like my mother and I cherished our items that were stolen.
Reasonable rates and easy access to units.
Awesome place ...friendly and they have always did right by me..I only go here and I recommend them to everyone
Customer service is great and the storage units are priced well.
The customer service for the most part has been fine. However my storage unit is full of stink bugs, spiders, and small frogs. I recently went to my unit which hasn't been opened in months and there is pollen, spider webs, dirt and dust on my things. The furniture that is not covered in plastic will have to be thrown away. It looked like my things have been sitting outside. DONT KEEP YOUR THINGS THERE IF YOU WANT THEM TO BE IN THE SAME CONDITION YOU BROUGHT THEM THERE IN!!!! THEY DO NOT CARE AND THEY WILL TELL YOU THEY ARE NOT RESPONSIBLE!!!