Public Storage Self-Storage Units at 1561 Brittain Road, Akron, OH
Address
1561 Brittain Road Akron, OH 44310
Office Hours
Mon-Fri 9:30 AM - 5:00 PM
Sat-Sun 9:30 AM - 5:00 PM
Gate Access Hours
Mon-Sun 6:00 AM - 9:00 PM
Storage Facility Features
Climate Control Storage

Indoor & Outdoor Storage Units

Property Manager Lives On-site

Small, Medium & Large Storage Units
Office Hours
Mon-Fri 9:30 AM - 5:00 PM
Sat-Sun 9:30 AM - 5:00 PM
Gate Access Hours
Mon-Sun 6:00 AM - 9:00 PM
Storage Facility Features
Climate Control Storage

Indoor & Outdoor Storage Units

Property Manager Lives On-site

Small, Medium & Large Storage Units
Close Location Details
View Location Details
---

5'x5'

---

5'x5'

Climate Controlled

Inside unit

1st Floor

---

5'x10'

---

5'x10'

Outside unit

Drive-up access

Climate Controlled

Inside unit

1st Floor

---

7.5'x10'

Outside unit

Drive-up access

---

10'x10'

Outside unit

Drive-up access

---

10'x15'

Outside unit

Drive-up access

---

10'x20'

Outside unit

Drive-up access

---

10'x30'

Outside unit

Drive-up access
Nearby Self-Storage Locations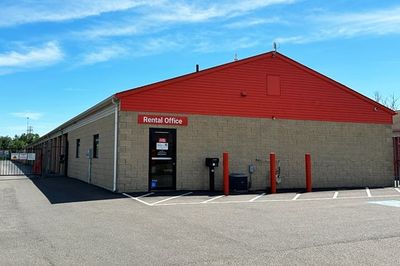 Self Storage Near
80 W Waterloo Rd
Akron OH 44319
Resources from the Help Center
See what fits in different storage unit sizes
Akron Storage Units Near Route 261 and Route 91
With all the time you'll save storing, you'll have more time to enjoy local attractions like the Akron Art Museum, Akron Zoo, and Summit Lake.
At Public Storage, You'll Always Find...
Keypad Access

Friendly Staff

Month-to-Month Rent

Moving Supplies Available

Free Parking

Well-Lit Facilities
Reviews
( 323)
I have been trying to reach management for months. There has been so much damage done to the outside and inside of the building. My entire unit is destroyed yet they won't answer and im locked out so I just keep paying in hopes that I can get through to management and that my One box of family pictures and momentos might still possibly be OK but with as destroyed as everything else is, I don't believe it is if someone could please reach back out. That would be great. I just got a message that they're adding a lean fee to my account even though I'm only one month behind. And also charging me For improvements to the building, but it's a little late all of my things I have been paying multiple hundreds of dollars for a month are destroyed And I have ended up in the hospital with ecoli The last 3 times I have touched anything in that unit.😭😭😭😭😭
Terry was very helpful and friendly. She was quick and responsive to my issues. Definitely a pleasant experience with the customer service side of things.
Great place for our stuff while we move into our new apt
Vanessa is awesome she is so detail-oriented and always makes my experience way more than sufficient
Staff has always been available and willing to help. Vanessa has been such a great help with any issues that have arose for me.
Made a reservation for an inside climate controlled unit. When I got to facility was told they only had outside units left. When I asked how was I able to make a reservation for an inside unit if they don't have it I was told it's first come first serve. That defeats the purpose of making a reservation. Looked at the availability outside unit and when the door opened there was roaches in it. Not even making this up smh. Was then asked if I would want to make another reserve for something else.
Cathy was excellent and extremely helpful and friendly. Made the whole process much smoother.
The associate name Cathy was a tremendous help. She took the time to explain every step of the renting process. So very helpful. Definitely recommend this place as well as speaking with Cathy.
It's a Great Place for Storage
Great place to rent storage, the manager is nice but won't take any dumping of trash on the property.
Very friendly and honest staff. I terminated my contract and sent in my keys and what I thought was my final payment. I immediately received a call and was told I did not owe anything further and that they would shred my last check. It was me who misunderstood the procedure but it was them who did the right thing. I would recommend this location for anyone needing storage.
They run a tight ship and the staff is great !
Vanessa is the nicest person I have talked to at the public storage and as always so courteous to me
Great Place To Rent From!!!!Climate Control To!!!!
Friendly, helpful, clean, reasonably priced, thank you for the help over the years.
Facility is getting old, and needs some maintenance. My unit got water leaking during winter time and roof insulation fell down due to water weight. The manager did not believe there's anything leaking but maintenance guy did cut off the falling down ceiling insulation and manager told me it's all ok. But I do see some water marks on my furniture and water itself.however it's no worth it to file insurance claim. I finally hired moving company to move stuff all out and will not use this place again.
The staff is very professional. And vanessa is Absolutely polite. And can answer any question you may have concerning about using their storage units in an instant. I would recommend them to anybody I give them a 5-star rating
Vanessa was extremely helpful and cordial. She made the initial process very easy. Being provided a lock and free insurance for 30 days is also a plus.
OMG!!! It was dire straits… THANK YOU TO PUBLIC STORAGE!!! I was able to store my belongings in between houses securely, safely, and orderly. The staff was phenomenal and went beyond my expectations. They really cared, ya' know!?! Highly recommend!!!
You can set it up for the gate to open with your phone
Could really do a better job plowing.....seriously
Melissa was an incredible help she hooked me up with exactly what I needed and it was on last minute notice....I really do appreciate her!
Prices are reasonable for the space.
Bad place people are not nice
Great storage facility!!! The units are in good condition. The Facility Manager, Vanessa, is professional and very helpful.
The gates close at 9pm, so you're unable to get to your unit after that time. The office for this location closes at 6pm, so there is no one on-site to handle any issue that may arise. In my opinion the times are just a little too early for my needs, but other than that the facilities are clean, well lit and safe, and the staff is always very friendly, always helpful and eager to make sure that all your needs are met within their company's guidelines. I would recommend this company to a friend, just a friend that doesn't stay up too late. 😊
Great place. Very friendly. Thanks
Just got all my things out of there yesterday. It was a experience using them!
Vanessa help me she was very helpful thank you
I want to thank Vanessa for her service. Her knowledge of her facility and her spirit of excellence and customer service. The storage unit was super clean and her response time to our need was impeccable. She offered us packaging materials. We didn't need them but knowing they were available to us was a plus. My daughter moved her items in and forgot to place her lock on the storage unit. Vanessa noticed it and called me and added a temporary lock on the unit until my daughter could get there to replace it. That level of security makes me feel good about using public storage. Knowing that our items are safe and secure and water free is a great comfort..
First they lie and say it's only tell you it's $1 for the first month but don't mention the 50 something dollars in hidden fees then the worker Geoff was extremely rude first he tried to get us to pay for a month that we wouldn't even be still using the unit she got mad and said most ppl just pay it. Why would I pay for an extra month that I wouldn't be there for ? Then had an attitude about us paying in exact change then when he asked us if we had a 5 star experience I said no then he acted surprised she tried to turn his attitude around ... the When I finally got by stuff out of there got a rude phone call from him then when asked for the district managers number he tried to turn his attitude around again and act like he wanted to help.
The unit I rented wasn't sweep out and the light bulb was broken there was a rat poison pack near the door hole chewed through from the unit on the right side of mine musta been a steel chewer they charge you for there locks an out rageous price rent say in ad first month a $1 they only gave a discount set price but still was over $80 for fist months rent!
Staff not in tune with each other.
Great experience! Vanessa is friendly, efficient, and knowledgable. The units are clean and easily accessible. We have five 10x20 units and have had no issues. This is a great place to rent if you need extra space.
Dealt with Vanessa about my options on a unit, was very knowledgeable, courteous and the ultimate professional. Need more people like her in this world. I would give more stars if I could! I'd highly recommend her expertise to anyone. Thanks!
Using them right now. Very accessible, plenty of storage. Very happy with it!
very good service felicia & vanessa are two of the best employees that public storage could of hired, they go above and beyond customer service .so tell joseph russell i think they deserve a raise a bonus or something for their professionalism.thanks again
Great storage but wish you could have access 24 hours a day in case you need something or have to put something in there
Vanessa was very helpful and kind. She explained everything I wanted to know.
I visited this facility a few days ago inquiring about a unit and had a wonderful experience dealing with Vanessa. Would recommend.
I shopped around for competitive pricing/customer experience/professionalism and public storage rose to the top. Vanessa really was what pushed my decision to public storage.
Wish hours were different they close too early
Safe and secure buildings people make sure you are happy with storage unit getting happiness and security for your money..
So far so good. I did it all online. Completely contactless, which is ideal for me right now. My only complaint is that they take it upon themselves to charge you $19.99 for a lock that literally costs about $7 a harbor freight. Id like to have the choice to get it rather than forced to.
Vanessa and the staff have been absolutely wonderful. They have helped in ways no one ever has. I am so glad I picked here to rent from...Thank you ladies for your time and understanding and for going above and beyond to help. You don't know how much that means to me. I am very hurt and disappointed in how they treat people. The district managers Rachel and Max are very condescending to customers. The center no longer answers the phone to help. They disregard even lawyers. They are scam artist. After selling my units they wanted me to pay them again to keep it. So I wonder who would have gotten the unit myself of the nice gentleman that bought it at auction. I didn't think that was legal. I ended up calling the local news channel. Don know if it will make it on television but my story has been told. They also stated that they "helped" during the pandemic. I was charged and paid all the fees for my unit. I'm sure they helped some but it wasn't their black customer. So no Public Storage you are not here for your customer needs. They acknowledged all phone calls were made by my attorney and still went ahead and tried to double dip. I am appalled at this center after being their for a year and making all my payments. You would do this right at Christmas to someone that has lost so much. It is disturbing that you are still in business but I guess scamming people is how you make money.
Vanessa and Felicia are great. They take great care of the property and answer all my questions. Thank you for your great work.
Vanessa and Felicia are amazing! I would reccomend them to anyone!!!!!!
Tom and the lady that works with him are awesome , sorry i forget her name.
Vanessa and Felicia are amazing!! I came 2 separate times and they both gave me first class treatment!! I would definitely recommend this place to anybody
So far it's a decent place with ok prices. My daughter said the lady was nice then got rude with her because she was getting a little frustrated. I will see how it goes.
Awesome people work here that are friendly
We where out of the place B4 payment due and they still wanted Mays rent. There roofs leak and there are things we put in there that is missing.
It was a very professional and efficient! Vanessa answered all questions and concerns I had. Thank you!
Vanessa so awesome person helped me to find the right storage size ans took care of me all through downloading my staff inside the storage. Thanks a lot.
Ive been with them a year and I'm very pleased with the customer service that they display. Thanks
Very informative Vanessa answered all my questions and showed me a few sizes to help me decide what would work best!
Vanessa was very helpful and respectful in setting us up with the storage unit that ideally met our needs. She gracefully handled a busy office and kept our appointment a priority. Highly recommend!
Felicia and Vanessa are always so freindly and helpful. I come in to make my payment just so I can see them. Would recommend to anyone in need of a storage facility.
Vanessa and Felicia are an amazing team.They helped my little sister get into a unit faster and at a cheaper price than the surrounding public storage places. Keep up the good work!!
Felicia is amazing! Always very informative and considerate of the customers needs! She is a huge asset to your company!
I took a friend of mine's friend are that's all I know about it
Rodents very nasty place .and I had indoor unit and security sucks I don't know how many times I arrived to this place and the gates were wide open I was scared at night time I wouldn't recommend
I dont like any storage robbers
I was very unhappy with how the closing of my account was handled .... I dealt with them upping the rates after the year I had my belongings stored there.... I emptied my unit 5 days into the month, they refused to pro rate me out... saying they didn't do that sort of thing, and I know for a fact it's a bunch of BS because the pro rated me out the previous time I used the same facility .... the district Manager doesn't answer phone calls... or return them for that matter .... so I was scammed for 150$ ... will never use this place again ....
Accommodation nice. Staff excellent. Positive experience.
I'm always promptly taken care of with Vanessa , Felisha ! These ladies really should be considered an evaluation on a raise! The office is always clean, their customer relations are professional every time! We wouldn't want any other ladies to service us ever ! Their the best thank you for providing such wonderful ladies to us! Kerby Brown A19
Looking over the reviews seems like they changed compare to when I used them a few years ago we was never told about the rent goin up on us after a few months but if I half to use storage again I will give it a try again to see how it's changed
Will never go there again. They kept me from my stuff for 3 months and expected to be paid for it.
This place really turned itself around. Previously horrendous customer service is now quite good! Pleasantly surprised!
Do they have 24 hr access?
Vanessa was so nice and very helpful makes storing our stuff easy and fun!
Their management is horrible and disrespectful
Vanessa is a scammer and they will lock you out and not tell you I only had my stuff in there for a month and they said for me to get access they said I had to pay 260 and a 21 dollar late fee and cooperate manager don't even answer the phone
Good customer service!! Nice, clean area.. units a little small for the price!! But very recommendable!!
Great people, helping to re-storage the love even when times are hard
Excellent Customer Service from both Vanessa & Mike!
**2 Thumbs Up** 5 Stars! Excellent Customer Service. Would recommend this facility bc of both Vanessa & Mike the DM
Jeremy and George say to "Restorage the Love
Hate this place 😡😠 very rude and don't go over everything that they should and can't go there late even though u pay and have a code to get in . They don't reply to emails and are very rude over phone and in person like u are inconveniencing them.
Went to get a unit. Spoke with Vanessa. She is very informative. Gives all information clearly and quickly. It was an easy process. Made my day better. Glad I was able to get a unit quickly and given all information with great service.
Watch for hidden fees. Only open certain hours to get to your unit. Employees not helpful or polite. I would recommend finding another storage unit.
They did not give me time to pay my late storage as soon as I was late after once in a yrs they to rush to take my things and sole them.then I read they were doing people like that.
vanessa was awesome helped me through every step of the rental process...the unit was clean and free of trash or others belongings...the property overall was clean and free of any trash...would highly recommend anyone needing a storage unit to call or visit and talk to vanessa...thank you again for helping me as much as you did
They store stuff and they have Gates
Felicia was amazing! She went through every unit price with me and helped me find the best unit for me! I have had issues with previous storage companies in the past but by far this was my best experience EVER!! Will definitely be coming back if I ever need another unit! ❤️❤️❤️❤️❤️
Ok l guess. Just inquired.
Vanessa was very pleasant and informative and detailed about the property I enjoyed the visit.
Very rude, would not recommend you store your stuff there.
manager was fantastic, great customer service, was very polite and explained everything to me. i would definitely recommend this place to others the price and professionalism is a win.
Creepy at night. People living in their storage😡
Do u have 24 hour endther
Storage size was decent for the price but please please check into what you are getting first make sure that you do not absolutely do not have to buy your own lock because they will get you with that!
Don't like the idea of the rent going up on storage should be just 1 flat rate
Felicia is great. She is so helpful and nice .they have had some not so great workers. But felicia and Vanessa are great workers .I do wish they had 24 hr access and I hate the gate entry system . So inconvenient getting in and out of car instead of a drive up. .rented at this storage facility a lot and would recommend it to anyone looking for a unit. The management and workers are great. Reasonably priced .They have added lots of cameras for added security.
My nephew rented a unit and im just saying the customer service from the Vanessa and Felicia was awesome. They both were very helpful. They did a wonderful job. Great personalities.
I rented at this location the other day with Felicia she was very informative and had a anwser for all my questions. I would recommend her and this location to all my friends.
Have to get out of vehicle to enter code when coming in and exiting. No dumpster
Good customer service, the place is clean but high prices for even small units. I had an 8×10 for $90 a month plus insurance and I purchased a $20 lock. Also the area out side had construction and it was inconvenient to get in and out. I only paid $
Vanessa was awesome. Super Friendly and knowledgeable
How much do the storages usually run
Wasn't helpful at all wasn't even willing to open a storage to see how big it was
I called and received a quote for a first time rental they gave me a quote for the first month and even sent me an email with the move in quote then when I got there, I found out you have to buy their lock and insurance which doubles the quote they gave me. I said they should have just told me that upfront and not wasted my time. I'm sure they figure if they can get you there you will just take it anyway. I said no thank you!
Pricey, charge a late fee.....code entry
They are rip off rented storage unit told id get my deposit back clear out my unit went in the office tokd lady who i never beforehand i cleaned out my unit i want my deposit i was told i wasnt getting my deposit back n she wouldnt tell me way this
Ann took time out of her day to show us a couple different units at the akron location. Even though we did not rent a unit at the time, ann showed zero frustration and handled us very professionally. Give this woman a raise! We will gladly come back when we are ready to rent a unit!
Expensive, bugs, leaky roofes and very anxious to lock you out so they can sell out whatever you are storing. I cant wait to get my nearly ruined stuff out of there. Its not the fault of the desk people who run it, clearly corporate raises the rate EVERY year and does not kick back for repairs or fumigation.
Jaid was so kind and patient.
There was a man living in a unit next to mine. I moved to a different unit within the same location and it has a leak from the ceiling.
Do u ever have .storage auctions open to public ..or are u hiring at this time .. Ty for ur time
Prices are high but overall a good place.
When I first originally got my storage unit the people was friendly . I had a unit that was covered with insurance that had my brand new bedroom suit in it. When I came to get the things out my brand new mattress was soaked in water from top to bottom ! I reported this to them because I had insurance on the unit . I took pictures and even proved that I didn't have the bed a year and I had purchased my bed for $800 . I wasn't asking for a new bed all I asked was that they fixed the damages they facilities caused ! They paid $185 for the mattress that wasn't even enough to get it cleaned ! The people was RUDE as if I caused the unit to damage my own property ! If I ever need another storage unit it will NEVER be here ! I have a well paid job so the money was never the problem my problem is the fact they aren't trying to fix the damages done to my mattress ! I'll still come out of pocket !
Jaid was so helpful in moving me in. She was very nice and found me the right size at a great price!
Vanessa was very helpful and it was fun riding on the golf cart!
Good prices great employees
I made several reservations because I didn't know which size I needed and was unable to make it to my appt and the ladies rescheduled me several times before I was finally able to get in and rent a climate control unit. Thank you so much for working with me and making the process painless!
Add on for all sorts of things you could provide your self.
Terrible experience here. We were lured in by the promise of an inexpensive monthly rate. First, Vanessa informed us that the lock we brought was not adequate due to the fact that they have had multiple break ins. Instead of reviewing the video footage to find the thief they took advantage of the opportunity to sell me a $20 lock and insurance. I should have walked away then. Today (2/24/18) I stopped by to check on my belongings and drop an item off. I walked into my supposedly indoor storage to find a growing puddle of water coming from under my door, expanding outward to adjoining doors. My unit was in the lower level of building H.The water was dripping down from the ceiling above my unit. Upon opening my unit we found that our belongings were soaked. When we found Vanessa, her response was, "Well, you got the insurance, didn't you?" When asked for a towel or something to assist in salvaging our items, she advised that we just "pour the water off". She made no offer of assistance, and only said that she does lock check every day and that there was no water there yesterday. With Vanessa's permission, I explored the rest of the building after I rescued my stuff. When I arrived at the spot directly above my unit I discovered an exterior door. The door was in poor repair, and water was pouring into the building from underneath. Clearly this was not a new problem, as someone had placed a sandbag there previously. The sandbag had inches of cobwebs on it, so it had clearly been there for a while. So now, I have several pieces of destroyed wooden furniture and a house full of stuff I already paid to store elsewhere. The only time Vanessa became even remotely engaged in the conversation was to inform me that they do not prorate for a partial month (even when the reason for leaving is that their building was raining on the inside). RUN AWAY
Over priced. Pay almost 80.00 for a 5x10 unit. My unit used to be 51.00.
Just rented a storage unit here. Property manager Vanessa got us in the perfect size unit with the perfect price. I left with no unanswered questions and confusion like the other storage facilities I called. I feel like my items will be safe and secure. Very clean property as well. All around great experience and leaving with a smile.
Only dealt with one rude girl who currently works there in the whole year I have been there.
Great customer service. The girls there were very helpful!!
Love this place employees are very helpful in all categories
good girls to have great job keep customers happy a1 service
Not a fan of the customer service from the manager. She was always rude and short with us. Also we moved out on the 2nd of the month and they made us pay the whole rent for that month! Never again!!
There was a situation where I couldn't access the storage unit due to leakage. I tried calling the office and no one returned my call. Two days later I tried again to access the storage unit and it was now crumbling. I was told that it would be be fixed in 4 days. Four days I still did not have access and wanted to be moved to another unit. I was told that I would be charged more for another unit of the same size and outdoors. When I asked why it was because they were renting me out a unit that should never have been used in the first place. I asked about leaving the storage unit period and I was told that I would be charged the full amount for a unit that I don't even have access to. I will say the people at the Tallmadge storage unit are not helpful and the place always stinks of cigarettes. I also tried calling the manager and never received a response.
Jaid and Nikki were amazing! They showed me many different options and made sure that I got a unit that was a perfect fit for me. I couldn't possibly say enough great things about them.
There was a girl working there that was very disrespectful.
Great customer service. The girls were so friendly and helpful! Recommend this place to friends and family.
Update: After several months here I am moving to Uhaul. I've had several bad experiences including an unfair HUGE no-notice price increase on the second unit I rented because I'm no longer a new customer, and some really disorganized obnoxious and rude customer service. The exit gate does not function making exiting a big pain when people are entering, staff is often out of the office, and my second unit was pretty grubby with a door that won't stay up. I'll be heading to Uhaul on Tallmadge Ave where Jonathan and Christina have been fantastic and the facility is clean and well-maintained. Original review after one week there: I've had nothing but good experiences here! Delon and Nikki are both incredibly nice, professional, and I have had a great experience so far!! Clean, efficient, great prices...Nothing but good things to say!
The staff is always friendly and helpful. I know, I'm usually there every day.
It smelled of cigarettes in the office and did not feel very official
It's not very service friendly.the storage building where some units are is mildew smelling, mold is on floor and ceiling.unit has had water leakage.
Excellent property manager nikki very nice and friendly took me around and showed me different units to make sure i had the right one i needed to store my things great job
Do not rent from Public Storage they sell your stuff and then they send your email saying you owe a payment that is b******* they send you an email saying you owe a payment I am taking legal action against this company and it will be shut down
Nikki was awesome! She took the time to explain everything very clearly! Nikki was extremely knowable and very polite! I truly enjoyed working with her!
Nikki is awesome. She is always there to help and goes above and beyond. Shes very pleasant and helpful.
The storage units get broken into once a year. My storage unit was broken into and they said on the phone "there is no lock your storage unit". When I arrived, 15 people had their units broken into. Another man there told me the same thing happened the year before. I pulled my stuff out on the first of the month, but did not cancel my auto pay in time. District manager literally never returns / answers calls. STAY AWAY
Super duper staff and facility! Everything was quick and hassle free. I would recommend to anyone!
Attendant was very informative and knowledgeable.
Nikki is extremely helpful and friendly. The location has great security and the prices are competetive. I would tell all my friends to rent here.
Super friendly staff, with great prices!
Very friendly and great customer service. Nikki and Nahja were a huge help. I would rent there forever!
FINALLY! ! A storage facility that makes you feel welcome.. Want to give a special thanks to Nikki for being so helpful with all my questions!
Very nice facility and competitive pricing. Nikki was very polite and professional when I had inquired about a storage unit within the facility. All of my questions were answered and I am overall very satisfied with my experience, I highly recommend them.
Customer service is horrible
Appreciate the professional service of Ricky and Emily!
If you have never used public storage before, I would highly recommend using this location. Ricky and Emily helped with everything I needed so moving day went smooth and easy. Prices are reasonable as well.
Been with them for a year. Love it, Emily and Rick are great and will go the extra mile
I really appreciated the customer service that I received. Emily /Ricky was really great @ helping me because I'm a sticler with custom er service.please keep them around.🤗🤗🤗🤗🤗
I live in the Washington DC area and i was recently home for a visit. I was quoting some other storage companies in the Akron/Cleveland area. I came across this public storage and the customet service was EXCELLENT! Both Emily and Ricky were phenominal and courteous and answered all of my questions efficiently and professionally. Thanks guys!
Public Storage is a safe secure, reliable and dependable place to store your goods. Plus the receptionist are great. Ricky and Emily are very helpful and proffesional. Thank you.
Emily and Ricky make me free like a family members of Public Storage. With the prices going up I was thinking about moving but with the great service I received from Emily and Ricky I decided to stay. Keep up the great work, Thank you for being so helpful and nice.
Emily and Ricky were excellent and very polite and kind. They were very helpful. I recommend if you want storage and help, ask for them. Plus they have nice shoes. Prices are great and they have great service... Update. It's October 31 / November 1, 2016 and Ricky and Emily still provide awesome service. I really appreciate them to the fullest. I haven't had an issue with them and probably never will. Thank you Ricky and Emily.
First month free.reasonable prices.
My experience at public at Public storage was great, Emily and Ricky have great customer service, Thank you.
Good customer service. The young lady that I encountered was very polite
My experience at public storage was wonderful! I had never rented a storage unit, and I am so thankful that the front desk staff, Ricky and Emily, were very helpful and patient with me
Emily and Ricky were great! They made the process really smooth for me, and made sure I was aware of online specials :)
Emily was fantastic in showing the property and answering all of our question!
I was very impressed on how polite and courteous Emily and Ricky were at this facility!! Emily explained everything in detail about renting my storage unit, and I left there very satisfied and was very pleased that I chose public storage for my needs!! A big thumbs up to Emily and Ricky!! I would definitely recommend Public Storage to any of my family or friends!!!
My experience in renting a storage unit was unbelievable! Emily has amazing customer service skills and made the entire process smooth and painless. I will definitely recommend this storage facility to all my friends.
20 peoples sheds, including my own, were broken into. Over the phone I was told my lock was not on my shed. Only when I got there did he say that everyone was robbed. Another guy over there who had his broken into said the same thing happened last year, around the same time. Employee says they are not getting cameras for another two months, they don't monitor who comes in and out of the gate, and they are putting the exact same latch on (made of the same material and same design).
Amazing customer service!! Very helpful!! So happy with my experience with Ricky and Emily
Emily and Ricky and were so nice!!! They gave my family so much information and made this stressful move a little easier!!!!!
Ricky was very helpful and informative setting me up for my first storage unit rental. Looking forward to having a friendly property manager to deal with during this move, one less thing I have to be stressed about.
Emily and Ricky helped me get a different unit then the one i reserved because it was too small. Thank you very much
It was Great!!! Emily and Ricky was very helpful . They got me in the right unit with no problem. Thank you for your help. If you are thinking about Storage this is the place for Storage.
Emily was very helpful I was very satisfied with our customer service awesome
Great place friendly staff, Ricky and Emily were very helpful and I would highly recommend this place.
I needed to rent a storage unit for my mother's furniture when she went into the nursing home. I never rented a storage unit before, so I had no idea what size I needed. When I went in for an appointment, I told Emily and Rick what I had to store and they hooked me up with a unit that was just the right size! They were really helpful! A+++
Horrible! Flooded twice. I did not get a call the second time. I ended up with moldy items.Items that I use in business some which can never be replaced. I called corporate, left messages, and was never called back. They obviously did not care. going elsewhere and, i am posting the pictures on YouTube and their Facebook page. Oh, and of course OSHA. Maybe I will get corporates' attention then.
Ricky the office manager was very professional & assisted with all my questions & concerns. I would recommend using their facilities for your future storage needs. Thanks Ricky
Ricky was awesome so professional and just an all around happy person who helped me get everything I needed.Thanks!!!:)
Went in to make a payment and the property manager Emily informed me I could change to a smaller unit. She was very nice and informative. I recommend Public Storage to everyone I know.
Emily was very professional and attentive. I was extremely happy with her assistance and appreciate her courtesy.
love that emily !! so nice and helpful. def come her again and rent from her ! super awesome
Be wise chose another location!!! My experience started great but by the end it was horrible. First I paid to change my locks at $15 . Not only did they give me someone else's key ( the unit next to me) but i was forced to go to home depot to rent a drill and drill out my own lock because she (Erica) couldn't get ahold of maintance. So there I was with the uhaul trick I had paid for and couldn't access my unit, so I paid $50 for the drill rental which i was not reimbursed. The so called management was RUDE. And I would be willing to bet the unit next to me had no idea management had given access to their unit to me and only God knows who else. This was the worst experience I've ever had with storage and the "hidden fees" well just be sure to read the fine print. Go to American storage on Waterloo rd...great place and no crazy antics when it's your check out time . Please heed my warning
Emily has given me a amazing experience at very visit. I have had a storage unit for months and she is very knowledgeable and friendly I appreciate he kind encouraging words and support and assisting me with my needs. thanks Emily
Emily and Erica are some of the best u have! Keep it up, love coming here.
erica was really helpful with my storge unit. she helped me use the handle and was super nice. would send more people to see her too.
Erica and Emily,we're very kind,very detail and knowledgeable of the storage facility. Keep up the good work. :)
erica and emily were great! loved them both and did a great job at letting me store my items there. explained everything real good. thanks again.
The staff were very helpful and courteous. They provided excellent follow up.
Erica and Erika are great! helped me out so much! they helped me with the lease for my elderly mother. so nice.
Erika was quick and thorough with my visit. Thanks, Erika.
Great place to rent. Had issue with lock and CS and management were very nice to me. Kristin really helped me out.
Just loved the storage place here. Mostly just using for summer but will stay long term becaue price is good. Have heated storage which is really nice .
Booked on line 10 x 10, climate controlled. When I got there they said no it's outside. I had email to prove it but lady said I have none inside, then she said her inside had actually flooded. Took outside unit for a month then found a nice inside had at istorage in canton which is closer to where I am staying.
I have had a storage unit on the Brittain Rd. property for over a year and it has been a pleasure to interact with the service clerks there .In particular Erika .Her polite ,understanding and sunny disposition is a breath of fresh air which turns a some what tedious chore into a pleasurable experience.Her knowledge and understanding of the operation is an asset to the company she represent an she should be commended for her efforts.
Loved renting this space. My wife and i used this facility for several years. We recently left to put our things in our new home. There was a young guy names sam that helped us do our lease and always helped remind us of payments too. Overall, really nice people. Rent did go up, but thats expected for what we were paying.
I came in to pay my bill Alanna gave me excellent service
Wonderful and accommodating
I'm happy to have found this storage facility. Erika and Sam have been extremely pleasant and helpful. My storage unit hasn't shown direct signs of rain/weather entry. Overall, I am pleased.
I come back here when I neex them. They have a cart. The storage is nice and clean inside. They keep it locked up. The whole area is just clean.
Made very simple to rent very helpful Erika met all of my needs thanks to public storage
It was a pleasant experience without any un-needed pressure.
Erika was a every good person n a lot of n has amazing service for helping others shawn Guthrie
Erika was amazing. Excellent customer service..go here highly recommend
Sam was very helpful and went through everything in depth and created great understanding. He helped us choose which storage unit we needed and then clearly helped us through the process. Very happy with the service!
Pros and Cons This facility is clean and prices are in line with the pricing for this area, the personnel Sam and Erika are helpful. The only issue was when closing the account in Sept 2013 with Ericka; I was not told or given the lock and keys my son had paid for. I did not know until another family member needed storage and I took them to Sam and Erika that the lock and key is yours to keep. It was 5 months to late for my son so another $19.20 was needed, that's the cost of lock and keys.
I have been to P.S plenty of times and enjoy the company of Sam and his talks
Sam went above and beyond for me. I got there about 2 minutes before the office closed (was too busy that day to even check the hours...). Sam stayed with me for a half hour helping me get everything in order. He's nice, helpful, and very courteous. To management... he's a keeper! (P.S. I tried to make this review a few weeks ago, but I guess I didn't hit publish or something...)
The level of professional help and courtesy I receive from Sam And Erika are without precedent. There is not another storage location I'd rather have for my property to be safely and securely attended to and by.
we came to public storage because they were a a storage facilely open on sun. we reserved our unit online and received a phone call from our storage manager sam as soon as they opened. he was very polite on the phone and in person. he got us set up with our unit very quick and efficiently. when it came time to show us the unit he was talkitive and made us laugh. prices for the unit are a good price and sam is a great employee.
I have been to P.S plenty of times and enjoy the company of Sam and his talks ,
Excellent customer service. Both Erika and Sam were very helpful. The facility was clean and I was able to get the unit sizes I needed for a good price.