Public Storage Self-Storage Units at 605 Lee Road, Rochester, NY
Address
605 Lee Road Rochester, NY 14606
Office Hours
Mon-Fri 9:30 AM - 5:00 PM
Sat-Sun 9:30 AM - 5:00 PM
Gate Access Hours
Mon-Sun 6:00 AM - 9:00 PM
Storage Facility Features
Indoor & Outdoor Storage Units

Property Manager Lives On-site

Small, Medium & Large Storage Units
Office Hours
Mon-Fri 9:30 AM - 5:00 PM
Sat-Sun 9:30 AM - 5:00 PM
Gate Access Hours
Mon-Sun 6:00 AM - 9:00 PM
Storage Facility Features
Indoor & Outdoor Storage Units

Property Manager Lives On-site

Small, Medium & Large Storage Units
Close Location Details
View Location Details
---

5'x5'

---

5'x10'

Outside unit

Drive-up access

Outside unit

Drive-up access

---

10'x20'

Outside unit

Drive-up access
Nearby Self-Storage Locations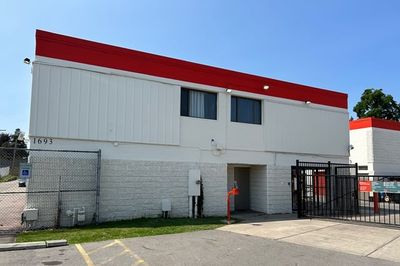 Self Storage Near
1693 East Ave
Rochester NY 14610
Self-Storage Near Rochester
Resources from the Help Center
See what fits in different storage unit sizes
At Public Storage, You'll Always Find...
Keypad Access

Friendly Staff

Month-to-Month Rent

Moving Supplies Available

Free Parking

Well-Lit Facilities
Reviews
( 438)
Eri!! What a blessing to this company!
Cory is great! Knowledgeable, patient, kind and helpful! An asset to the Lee Road Team!
Customer service from Cory was top tier. He made the process so fast and easy with a friendly attitude. I would recommend.
Cory was awesome. He was very personable and explained everything to me, that I needed to know, in full details. Storage unit is clean and a reasonable size for the rental price. I would recommend this Public Storage to friends and family.
I had an amazing experience with public storage at this location. As a single mom I was very grateful at how easy the process was and how much effort went into making sure all my needs were met and all my questions answered. Amanda was an amazing help!
Amanda was amazing to deal with!
My experience with this company was good. The clerk was very nice and answered all my questions. She showed me the unit I am renting. It was very clean and easy to get to the unit. Overall, it was a great experience and would recommend Public Storage to everyone who has a need to use a storage facility.
Eri was sensational, the property is clean and the office is welcoming. I highly recommend dealing with her I'd you're looking to store.
For my first time it is good place to storage
Can you go on to the Premises after hours with/ without your gate code if you forgot your code
Amanda and Corey were extremely friendly and patient. They helped me figure out which size unit I needed and I will 100 percent come back again with all my storage needs. I can't recommend them enough.
Cory was very nice easy going and really funny he answered all my questions with ease. My only issue is I wish it didn't cost me almost 300$ the prices are crazy that took away from the money I had saved to move . Fix y'all prices because should t have to go broke to store some things
Cory was amazing he gave me a smaller unit and when I came back to unload he let me know he just got a bigger unit which was perfect he is very helpful and will present you with great options. I definitely recommend you go see him and book your unit with him. Thanks for all your amazing help and accomodations
I highly appreciate Amanda & Cory's help the other day trying to find me a unit for the summer! Will complete my rental online asap!
Corey helped me and he was very quick and efficient. He made the process super easy. The space was accessible and clean.
Amanda was amazing help! Thank you. Awesome customer service!
Excellent customer service. Thank you Corey you were very helpful.
This places is amazing and Amanda was so helpful, patient and accurate, excellent employee
Great customer service. Cody was a great help.
Amanda made my rental so easy and quick. I appreciate the help and amazing customer service! Thank you
Amanda, was extremely helpful, she answered all my questions, and assisted me with the transaction. Customer service A++!
I am preparing to move and needed som extra storage and went to the Lee Road location and CORY was beyond friendly and helpful! Thanks Cory for coming to work and actually doing a great job it's hard to find these days!
Amanda was soo friendly great customer service thank you so much
Excellent customer service by Cory. Thanks Cory!
Good customer service Amanda
Cory was very pleasant and very helpful upon my first day rental. He answered all my questions and concerns. Storage unit was clean and my move went smoothly. I would recommend this place!
Amazing!! service from Cory at public storage on lee rd definitely 5 stars!!
Customer service was awesome Corey Customer service skills are impeccable I would recommend this location of Publix to anyone I was in-and-out in 20 minutes tabs good job
Cory was great ! Made the rental process easy and stress free.
First time renting a storage space. Cory was great! Answered all of my questions and made signing up a breeze. Very friendly as well! Looking forward to getting my things moved in so I can clear some space.
Cory very helpful and pleasant
I used public storage for about 1 year it was okay but all my stuff had mold after I finally got everything out! The price seemed to not be the same every month I was not told of any monthly fees Increasing and the late fees are expensive I don't think it should be $120 they won't give you an extension I remember asking after the 1st month and they said you have to pay on time every month to get an extension it was my 1st month so yeah besides that it was okay 👍🏾
Amanda was really helpful at lee rd location
Cory was terrific and helped us out so much. We are going through a very stressful time right now with our move and he talked us through all of our options and made us feel very taken care of. Thank you!
Called in regards to storing my furniture for future dates and the guy Cory who answered was very professional and helpful in not only offering to have me come look at spaces sooner rather than later but also explained the online choice perfectly. Will definitely go online and rent asap! Thank you.
Amanda has excellent customer service
Amanda is amazing! She was super friendly and easy to work with. Couldn't ask for a better experience when getting storage
Amanda was extremely helpful and courteous
Just here to say that the reviews are absolutely true. Cory is lovely and he made this stressful move just a little bit easier. I was able to view and secure a unit in less than 20 minutes. Efficient, Clear and Concise. Absolutely fantastic service
Manda , thanks a lot for your help. Awesome customer service 😃.
Absolutely wonderful experience . Attended Cory was Kind , fast ,organized . Solved My issues in 10 mins . Will be referring This Location To Others 😊
I needed a locker quickly and the woman Amanda behind the counter was very friendly and got me the right size locker for my needs.
Great service Amanda was really helpful and insightful about the process would recommend
Amanda was supper helpful and nice
Cory was a great help,, very informative and also,,went to my storage and helped me open it,,
Was looking for a storage unit and found public storage they had the best customer service Cory was super helpful and answered any questions I had if your looking for a storage unit I would recommend them 10/10
Cory was a great help . He gave me a tour of the different size units to assure that I got exactly what I needed . He also explained everything in great detail so that I knew exactly what needed to be done by both the company and myself for a smooth transition .
We're able to access unit with no problem
Amanda was very helpful and got me the better deal and better space for what I need to store! Appreciated a lot.
Thank you Amanda for everything quick and easy
I am thinking about possibly putting some stuff into storage but wanted to shop around first. I have went to many different storage facilities in the last month and was getting pretty upset over the customer service in some of them. I understand it's just a storage place but if I'm trusting u to look over a unti filled with ny precious items, I expect that you'll be respectful and hospitable at least. Public storage was the one I went to this week and I was very impressed by the dedication to customer service I received here. There was a young girl there.. she had reddish brown hair i believe with highlights.. I think her name was Amanda, now that I think of it. She was willing to show me around and help me with any questions I had and boy did I ask alot of questions lol. It wasn't until almost the end of our conversation that I found out she was actually off the clock the whole time she was helping me. That was very impressive to me. Im not sure if I will be going with public storage but I can assure you that if you are looking for a place with amazing customer service this is the place to go because if they all are as dedicated as she is.. you'll be taken care of right.
Cory was the coolest. Answered every question I had and made the process well worth it. Come see Cory and Public Storage for your storage needs.
Excellent customer service, communication and fast process by Cory. I will definitely continue doing business here!
Spoke with Amanda about my needs, She was very nice and showed me all the different options available to me. Building was clean and neat. the outdoor pin pad is pretty nice for the gate to keep people out that shouldn't be there.
Cory was very informative, and a great help with everything.
Amanda's service was excellent friendly and efficient!
Tiffany was very friendly
Great service all the way from NYC herself thank you to Tiffany for her great customer service and hospitality
Uggg. What can I say positively about this place? Pretty much nothing. The inside storage is a joke. Being tire own light source. Most of the hallway lights are out and the rooms have no lights so you pretty much operate in the dark if you forget to bring a flashlight. I could go on but I won't.
I was so impressed by the service I received from Jayne. Not only was she professional, but she was a great people person who made me comfortable with the way she ran the business. I truly appreciate her fir her help and kindness. We need more Jaynes in the world 🌎 It was nice to meet Jayne. And God 🙏 bless her...
Cory was unbelievably kind and helpful during my move-in experience. He explained everything to me in detail and made sure my situation was took care of the most efficient way.
Wow , I had so many question and Cory was very helpful and patient to answer all of them . Great experience!
Lisa was amazing! She went out of her way to help me and walk me through everything!!
Great customer service, clean and affordable.
I came in to acquire about a small unit . And I was helped by a super wonderful and nice lady named yanneris she was so very helpful and made my first experience absolutely perfect and smooth...Thank you
Just moved back to Rochester, and renting two units for now. Called the office to see if I could get units close to each other. Yanneris was SO helpful! Looked up my units to confirm, but also gave me some great info just to make sure my move was seamless. Great service for sure! Thank you!
We are looking to move and are looking for storage units. Ibwent in to the Lee Rd location and both Yaneris and Cory were super nice and informative. We are considering Public Storage as our company to rent from. Thank you Yaneris and Cory
Great customer service very helpful always available overall great experience I would deffenitly use public storage again
I had a great professional experience with the property manager named Cory. He was quick and proficient and very polite. I also how knowledgeable he was in the system with explaining details plus navigating through the applications. Also made sure to tell me to buy environment protection for my property. Good job Cory. P.S. This was solely based off my experience, for this is my first meeting this gentleman
To be honest this was the first time I ever went to a storage place. I'm glad I did chose Public Storage to say the least. I walked in there knowing little to nothing or what to expect. The service I received from Corey was phenomenal! Not only was he helpful in me understanding how storage works and finding the best option for my situation. He took the time to go over the process and was so caring the whole way thru. He really wanted what was best for me! You don't find that much in customer service anymore. Being a customer service experienced employee that was the service I would like to receive anywhere I go and the same service I provide to my customers. Thank you COREY!!! For taking the time to care and help me out with this. Your kind heart and dedication to providing great customer service won't go unnoticed and will take you anywhere your heart desires. He is phenomenal!!!
Corey and Devante were very helpful
Cory was the best works with you to get you in and out quick.. thanks again guys
Very helpful, polite ,clean punctual and on point service, From Tammy Lee, Kamie Vega.
It's always nice to be able to access your storage unit 24 hours a day
Lisa is very informative and a very nice person to work with 10/10!
Lisa was very friendly and helping with my needs, I am overly great full and happy with my experience. I definitely recommend!!
My customer experience was great with Lisa anytime I had an issue or problem she was there to assist 100%
Due to a house fire I had to find somewhere to store my families belongings. When I spoke to Lisa I was not in a good place. She helped me find the appropriate size needed and was very supportive. I highly recommend seeking out her assistance and use of this storage space. Thank you Lisa!!!
Great Customer Service. Even though they could not help me with what I was looking for Lisa was very helpful.
Lisa is always nice and helpful when I visit! Very professional, office and site are always clean.
Very nice kind im happy with my experience..
I thought the pricing was high but the staff was great! I would like to thank especially Andrea for the sense of security in my abstent mindedness during a winter storm I forgot my unit wide open thanks to your staff for securing it for me until I returned. It brought a different meaning of secure property to me to know that unbenounced to me 3000 miles away I was cared for!!! Thank you again!!
Lisa was very helpful and knowledge about her job I'm very please thank you Lisa for your help
Andrea was super helpful in giving me the information I was seeking on rates. I appreciate her friendly service and would recommend!
I stopped in to check on pricing for a unit and was greeted by Andrea! She was fantastic, she answered all of my questions. She was very friendly and a great personality. I'll definitely be renting in the near future!
Amazing and very helpful !!
Andrea showed me around and got me a storage unit just the other day. She is phenomenal! She was so friendly and personable and was so helpful with the renting process. 10/10 recommend her and the storage unit, she's amazing!!!
Front desk the best staff👌
Fast, friendly and found me exactly what I needed
Great customer service would highly recommend anyone looking for storage space to come to the Lee rd location the woman that worked there in the morning is everything a company needs.
With all the craziness going on right now and having to pack up my daughters dorm room with very short notice, Lisa and Andrea showed incredible compassion & professionalism. They made the entire process simple and straightforward. It was a pleasure to work with them. Highly recommend!!
The place is way to much money for a storage place that go up evey 6 months and it's not even got gas to keep your things worm or elect to in your storage space not good or not right that that can make everyone pay so much money for a little tin can tipe place .
Very clean facility.... The staff (Andrea) is very friendly and informational.... In the future if ever in need of storage again, this is where I will go. #recommended
Don't accidentally overstay your welcome
I rented here a few years back. Gate kept getting stuck. Would stop by on Sunday and had to leave a few times without getting in because there was no attendant.
Lisa was amazing and helpful in a stressful time!
She is has been very nice and pleasant. I would let my friends about this and come herr foe their storage
Lisa is awesome always helping when I need it always knows the answers she absolutely goes above and beyond!!!
She helped me and my niece with everything we asked n needed..i would give her a 20 if i could..thanks so much lisa
The manager ms.lisa was very very helpful in this difficult time and loss of my grandmother she made this process very smooth. Job well done
Lisa is a very personal lady I really enjoyed my experience with her
Great customer service definitely would recommend
Great customer service friendly quick service!!! Good clean secure place to rent!!!! Would definitely recommend!!!!!😀😀😀😀😀😀😀😀
Andrea helped me out today and I had an over all great experience! She found a storage unit that would be convenient for my movers & she even found a great discount! She went over all of the details, rules and regulations for everything! She was very pleasant, thank you.
Great people. Took time to show a few units would highly recomend
Andrea was great she explained everything very well got me the unit I need and everything
I came in to inquire about a storage unit and also to pay my aunt's bill the lady behind the desk her name was Andrea and she was so pleasant I was very happy with the way she spoke with me she was very courteous she was very helpful just the type of person I like to deal with when I walk into a business
Service was outstanding. Lisa really was amazing in helping with the self storage experience. I highly recommend this location.
Lisa was very helpful, and very personable!
Very warm and welcoming even with the frigid temperatures outside.
I came in looking for stores been AM at Lisa she was very friendly I enjoyed her atmosphere she got excellent customer service skills I appreciate her thank you and are because of her I would definitely recommend the business
Friendly staff and great service. Lisa and Andrea answered all my questions and were very helpful. I will definitely be back.
Came in looking at prices, representative was very helpful. Almost positive we will be returning for space during our move next month. $1 for the first month! What better deal could there be? I havent found one yet.
She was great explained everything ❤️
Andrea did an awesome job 👍🏼
Lisa was great and helped me out so much Great place to come
Very good customer service Lisa was great at helping me find a perfect storage unit to fit all my stuff in. THANK YOU!!
Great customer service from Lisa..She was helpful by answering my questions and taking her time to explain everything to me
Very helpful. Saved me money and had information on alot of different things. Very friendly. Awsome people to work with!!!
Lisa is Awesome!! But the prices of rent is way too high!!
Nice people to get along with, Loving pe
Lisa was great!!! Very helpful!!!!
Lisa was very helpful & great customer service!!!!
Lisa was amazing with all my needs
Lisa is litttt I love her personality very sweet an helpful thanks lisaaaaa❤️
Great place awesome customer service. Lisa was so helpful. Definitely coming back and recommending friends and family
It's a ridiculous hassle trying to get anything done here
Very professional love it
Amazing customer service from rep Lisa! She is amazing answering all my questions and taking her time to explain everything 🤗
Lisa was extremely helpful with storage rental options. Very friendly. Would use facility again!
First time renting a unit and Lisa and Cory were super helpful they went through everything with us step by step. I would definitely rent from them again.
They were wonderful. Very helpful and informative. Would recommend them to others.
Lisa was beyond great. Thank you so much. We were unsure of storages to begin with. Lisa made us feel comfortable and secure with our choice. Very friendly and knowledgeable. Great ideas too!! Thanks again.
I'm really disappointed. I've rented here a couple times. This last time since March 2019. I've been paying $165 for a 10x10. I see that 10x15s are currently going for $121 and there's an added special for half off right now. I received an email my rent is going up to $195 and there's nothing they can do to help me get a better deal. Doesn't make sense to me
Lisa was great !!! Would do business with her anytime
Lisa & Cory are exceptional staff. Love working with them.
Lisa and Cory are a warm welcome. I am very appreciative of their knowledge of storage. I feel very welcome and comfortable being here. Will really recommend.
Very kind and informative. Great customer service would recommend to all!
Cory was very helpful. This was my first experience renting a storage unit and he made the process easy. Would definitely recommend this location.
Lisa was extremely flexible and helpful when it came to helping our family figure out what was best for us.
My experience was wonderful with Lisa and Cory thank you
Great customerservice very informative
Very clean place to store stuff and very friendly employees!!!!!!!
LISA SAVED ME A BUNCH OF MONEY!. She's great place ❤️
Lisa and her staff were outstanding!!!
If I could post a zero star, I would. This place is ridiculous. When you reach the 800 number, you are told one thing, and when you go to the storage center itself, the workers tell you a completely different thing. One of the employees, Cory, was incredibly rude and demanded that if we vacated the unit early, despite having paid for the whole month, we would have to turn in the key...and let them rent it to someone else. He was so ignorant he could not understand that if we rented it for a month, and paid for it, we had the right to use it for a month. He thought it was acceptable to make us pay for a whole month, to use the unit for one day, and then mandate that they could rent it out to someone else and make twice the money on the same unit for the same period of time! So what does Cory do? He disparages ME on my google review for my business, a business he has never used the services for!!!! Stay away from this place!!!
Lisa and Cory are excellent with everything they do as far as being able to accommodate me with my space thank you
Lisa was great to work with and a HUGE help. Very friendly and understanding. Will choose PS Lee Rd for all my storage needs going forward. Thank you
Lisa was my person and she is very kind informational and sweet
First time here and storing with them. The lady there was very nice. Might stay here longer then I thought. Just love how it's passcode protected
I Love this location Lisa and Corey are always helpful and pleasant. I Love these guys
Rented a unit there for over 4 years. The office staff and manager could not have been better. 5 stars to them only. Really friendly and helpful. Left the unit due to the continuous increase in rent which almost doubled in the time I was there. New renters were paying significantly less. No loyalty to renters who have been there for a while. 1 star for the company itself.
My first experience with public storage was very professional. Lisa was amazing, helpful; answered, all of my questions in fast, if customers could recommend raises/promotions she definitely would get one from me, thanks Lisa, it was a pleasure.
I love the lady in charge Lisa ,she's amazing and have a lot of knowledge, she have my storage ready for my and the paperwork ready for sign 📝
I like the way I got treated Lisa was kind and courtious made my rental experience quick and easy!
Very professional and quick service
Lisa was so awesome, and so friendly and so kind.I would rent again from lisa.
I take back my good review. I was told one price and then charged another. Then when I went in to see what was going on they produced a contract I did not sign. The manager called back only to provide that same bogus contract and to tell me I would not be honor the price I was originally quoted. So be careful when signing documents and screen shoot your actual signature. Even the signature with your initial payment
Cory was just great. I would highly recommend! Very neat and clean.
My first and best experience renting ever ! Between Cory's knowledge, lisa's Kindness and heathers conversation I didn't want to leave . The best customer service I have ever experienced In a long time . I only need one month rental but after metering them I'm thinking of things I can store next month !! Lol RENT HERE !!!!!!!!
The employees were very helpful and informative. We got a tour of our storage unit and the sign up process was quick and easy. I like how all the units are accessible from the outside ground floor so there is no need to lug heavy boxes a long distance during moving.
I have used other storage facilities before this and I found this facility to be well managed, clean, safe, and staffed by very friendly and helpful people. This is my third year storing summer seasonal equipment here, it won't be my last. Well done.
Lisa made the entire process simple and was overall really helpful.
A pleasure wen come in there been very helpful and go way there way to help u out Lisa always have a smile on her face
Lisa was very. Courteous and helped me very much amazing spaces would recommend to any others reasonable rates and very nice person too be in contact with helpful to
Lisa was such a delight. She was not only extremely professional but personable as well. I would highly recommend this company and they are fortunate to have someone like Lisa on the front line making the customer experience outstanding!!!
Very informative ! Quick and easy to get a storage unit and very affordable.
Great experience! Lisa is so nice that she helps us deal with everything and provides clear information about storage.
Relief managers were friendly and courteous, well organized.
Lisa was very helpful, and very knowledgeable of the services and products offered. Very kind😊
Lisa was awesome helped me with everything thank you so much.
Lisa is a nice person to talk to I like doing business with her I will refer her to everybody
Lisa will help you with all your moving and starage needs. She has a smile on her face every time I go in the office to pay rent and ask any questions. Thank God there are employers that will still go out side the box and help.
I was able to come in quickly and get my unit. Everything was explained well to me. The prices are good and the staff are very friendly!
Great customer service. Scottie was really helpful I would rent here again. I would definitely recommend this to friends and family. Thank you.
Lisa and Scott helped me get into a bigger unit and had to change locks out in sub zero temps. Always kind and helpful.
Very professional and Lisa was fantastic
Excellent service very good sales representative! Also helpful do recommend.
Excellent customer service and very people friendly environment. The synergy here is great.
Lisa the best, outstanding customer service 💪👌
The attendant was not pushy. She walked through a few different size storage units with me. Helped me pick the right one for the amount of equiptment i was storing. Great people, and convenient location. Highly recommend.
Not happy about the prices going up but happy with service. Also wont be renting again based on prices and accessibility (should be 24hr access) However, Lisa will listen to any issues and try to help solve it. Great lady to have on board.
Why in the heck if I'm paying them rent I can't access my storage between certain times, if my car breaks down at 2am nd my extra cars are in my storage but I can't get in the gate between some dumb@ss time, like it's my storage im paying for...
Best experience ever! Barbara was great! Very knowledgeable, and explained everything in detail. Cant say enough good things about her and awesome customer service there. Also, very clean office and unit. Thank you!
Lisa Was a Huge Help for me today! Made everything easy. I would recommend getting a storage here the people here are great.
Nice and clean. Friendly service people.
Mission was a very good Hostess thank you
Lisa is the greatest and she is very nice and has great customer service 😍😍😍😍
Lisa is an awesome manger great customer service and cute
Lisa the manager on Lee Road is the best. Amazing service. Very accommodating.
Such a sweetheart...fast and perfessional
Lisa the the best with customer service and a BIG enjoyment to have to deal with at a storage unit. Would recommend this faculty to everyone
The service here was great!
Mark was great explained everything and was nice
Nice and clean and really safe.
The 5 stars isn't necessarily for the company itself but the employee Lisa at desk is freaking AMAZING. She's super friendly, funny, sweet and helpful. They definitely struck gold hiring her. Would rent here again and recommend this place SOLELY because of her. Wish I could give 100 stars.
Barb was a great help. She showed a lot of professionalism with the services. I really appreciate her. Thanks Barbara. Thurston.bs up!
Liza is a outstanding. Worker and very helpful if anyone ever uses poblic storage i strongly recommend liza she gets the job done thank you so much
Very kind awesome service
Enjoyed getting my space from lisa
Lisa is the best was very helpful she made my first experience with storage the best thank u so much momma for the help
Lisa was amazing she is so pleasant and it was such a pleasant experience.
Awesome and awesome! Enjoyed the entire process and laughed a bit too! Thanks muchly!
Great units and wonderful staff!! Lisa at the front desk goes above and beyond even when busy to help all of her customers. We had specific storage needs and Lisa along with other staff members really went the extra mile to make sure our needs were beyond met!! Not to mention the intial unit paperwork is quick, easy, and super stress free. I would highly recommend going here if you are ever looking for a storage unit!!
The staff and Barbara were extremely helpful. They did everything in a timely fashion and helped make an already stressful day run a lot smoother. Ty so much.
Lisa was very friendly and helpful
Very helpful and went over everything so I could understand , thank you so much !!
Lisa was pleasant and kind
Very helpful and went over everything thoroughly to make sure I understood everything definitely happy and feeling secure about my belongings!
Do not get storage with them they are scammers, they promised to refund me if i took down my megative comment and 3mths late they refunded $40 instead of my $133.12. They lied to my bank so i have to reopen my claim.
DO NOT RENT WITH THEM THEY HAVE BED BUGS AND ROACHES!
Why lie to you customers to upsale, ask for Lisa the liar.
Lisa in Mary were very pleasant and experience was great good customer service
She was very good and her personality is very outgoing and explained everything well
Lisa is an awesome saleswoman with a great attitude. It was my first time purchasing a unit and she just made it a breeze. 10/10 would highly recommend
Great customer service, thank you Lisa :).
Lisa was amazing! Huge help and great service!
I was pleased with the wonderful customer service at this location. Mary was very friendly and helpful with all my move in needs!
I was recommended to go to Public Storage after Uhaul overbooked and left me looking. I'm glad they did. When I went to Public Storage I received the best service from their worker Lisa. She was friendly. She explained how the storage worked and even told me the current deal that I was not aware of. She helped me with my unit size. After a horrible experience with the other company, Lisa made my day. Thank you Lisa for your help. Sincerely, Donna Thomas Walker
I rented a space yesterday and from the time i walked in the door I was completely satisfied and Laughed the whole time i was there. Lisa is Amazing keep up the Good work!!!
Hands down the best service I have gotten from anywhere. Lisa has gone unbove and beyond for me. Extremely considerate of my situation. Stellar experience. I would absolutely use public storage on lee rd for all of my storage needs. You guys have a life long customer here and that's no jive.
Public storage rocks yeah!
Lisa was amazing and made me feel comfortable
Lisa was the best she is very helpful and shows a lot of compassion towards her customers ... The other lady Mary was very mean and nasty and very unprofessional I wish I could have dealt with Lisa from the very first time !
I love my service at Public Storage with Lisa. Lisa is such a pleasureable person to work with. I really love her cheerful attitude. She was such a great help to me. Lisa, also made me feel very comfortable. Thanks Lisa Stephanie L
No problems. Got what I needed.
Lisa was very knowledgeable and helpful! She is a great asset to the company.
Lisa was very helpful with all of our needs. Great customer service! Looking forward to continuing working with her.
I have been going to Global Self Storage for the past three year, and they was completely full this year. When I called Global Self Storage to ask them for any availability, they was surprised rude to me and lost my service. I couldn't decide who I wanted to do my storage with, and Lisa at Public Storage was very helpful with me on making the decision. She was patience with me, spoke loud and clear along with recommending me the Damprid Moisture that will keep moisture out of your storage unit. Thank you Lisa!!!
Very helpful and friendly.
Fast friendly efficient! Thanks Lisa!!!
Lisa was a great help. Nice service and friendly.
Talking to it what am I supposed to be all right I'm here at the public storage unit on what is this Lee Road in Rochester New York and my customer service rep Lisa was outstanding she was very cooperative and very helpful very knowledgeable and customer-friendly has a great attitude and I'm not just saying that I'm saying that because it's true every time I come in she has the same attitude and knows how to deal with customers everybody in the location doesn't have that so you should really think about that if you going to be a business you have to be customer friendly and make the people happy and want to do business with you I currently have a unicameral that I rent and long as you have people like Lisa here I'll come and I will support thank you good day
Lisa is fantastic to work with. Easy and painless process.
Awesome experience with lisa.
Why do guys cheat customers out of money when you are in the wrong?
Wow worst place ever to rent from . So very nice and helpful getting you to rent . Once they get that payment they turn so rude dont even try getting a refund because the unit they recommended was too small and they dont have a larger one available . So naturally you get a refund since you brought it to their attention before you were even due to fill the unit . They put you on hold lie to you switch around to different people nobody knows whos in charge then they blame you for their errors oh did i mention take 140.00 dollars off your card then try to give you 25.00 dollars back . Then lie and not even give you that back then talk to the manager and his name is Mathew hes like when you say your going to give us a bad review your not helping me help you in other words if i say great things he might help but if i tell him the truth then he wont help hes the district manager . Find someplace that appreciates their customers this place wants money only .
Why do you guys beg for 5 stars for customer service but are liars?
Great customer service from lisa
Very helpful and informative
Very nice place costermer service great thanks Lisa
Awesome experience with Lisa. Informative all questions and concerns addresses. Easy access to storage unit great price and Location highly recommended!!!
Barb was very helpful and informative thanks for all your help
Iisa was great thanks for the help today
Lisa was very kind and helpfull!!!! Thank you!!!
Very quick and efficient service. Would highly recommend
Mary an lisa great service an very friendly an polite.
Mary had very great customer service and very helpful!
Lalisa is very wonderful person
Great Space and Customer Service...Book with Lisa😊
Saved a bunch of money with my first month. Thanks Barb and Lisa for all the help!
Excellent service and very friendly
The assistant manager was so helpful. I didnt feel rushed or ignored absolutely would recomend to others.
Lisa is so amazing, details we're explained so easily, friendly. Very accommodating!!
Very glad i came. First yime doing this.I love it.Thanks public storage.
Great customer service nice and clean. Lisa was great help. Definitely will do more business here, thanks guys.
We had an issue with our unit Lisa was so helpful and understanding she got us right where we needed to be and constantly kept in touch! She has the best customer service skills and is an awesome manager we definitely give her 5 stars 🌟🌟🌟🌟🌟
The sales rep was amazing. Great customer service. I will be coming to this location from now on for storage and I have already told my friends and family about the service here.
Lisa is great and explained everything fully
Mary is the best!!!!!!!!!!!! She is really good need to stay for ever.
This is the Best storage place in Rochester N.y. They work with u no matter what.
Lisa and Mary were very great today! In and out kept a smile on their face the whole time!
My service was excellent today very helpful from Lisa and Mary they were polite and helpful
Lisa was very helpful had trouble with my unit she helped me get all the information I needed she is friendly caring and out going I couldn't ask for better service. Mary has been patient and helpful.
Had a great experience when i stopped in today,my truck broke down and i am not from the area and mary found a place that would come and do road side service,customer service is great i would recommend this place to everyone
Mary was a delight and very helpful. I will definitely come here again.
Mary (manager) has been integral for helping me get through a bad situation which required me to need a storage unit. I have been pleased with my init and especially her caring customer service. I definitely will recommend Public Storage- Lee Rd to anyone that wants a affordable storage unit and great customer service!!!
I'm sorry I am not gonna lie just to boost ratings. There are roaches, earwigs and possibly bedbugs. Lights flickering not working properly. My unit had no doorknob but duct tape marking an X for antidoorknob. I currently am in a different room waiting for the bomb for the bugs to stop spraying in my current residence. My bed appears damaged, it was a pillowtop but now has inflation in weird places from the bugs or the condensation. Do not place any boxes or bags in your units. Bugs will get in there.
I had a great experience with Mary at public storage today and we had great laughs thanks mary
Mary and her team are great. She took the time to find a special for me since I just moved here from Florida.
They put my stuff out and auctioned it off and now we have nothing I will be in contact with my lawyer I will never use this place again.and the general manager was no help the customer service there is horrible now I have to spend alot of money to replace everything.I will never again use public storage or tell other people about them😣
Very helpful staff. They got me the best rate and when I mistakenly got a storage unit that was the wrong size they helped me transfer to a bigger until and found me the best rate! I will definitely be going back for any future needs.
Great affordable Place. Excellent Customer Service.
Great job to Mary! Very polite, and an awesome worker. Enjoy my 1st rental.
Great A great experience with Mary and Diane
Customer service is not good.
Diane is the greatest employee Public Storage could ask for. The facility has always been clean. Diane Thank You for helping to secure sttorage
Diane did awesome job helping me
Facility is clean and convenient... Diane was very nice and quite helpful .
Very happy with my experience here. Mary and Diane made sure that I had everything I needed and went out of there way to make sure I was taken care before I left. Thank you!!!!!!!
Sales rep was very kind and comprehensive, and gave good advice.
Mary and Diane were very experienced and helpful. They made the experience smooth and painless. I will definitely use them again for all of my children's college foolishness and nonsense. Thanks ladies.
I had the best experience while I was here. Diane was such a help at explaining things to me. She did a very great job and I was beyond satisfied . Thank you Diane .
I had an awesome, experience very professional
The service here was amazing. Diane had such great advice on unit size and merch that I really needed for my long term stay!
Clean facility! Reasonable rates! Friendly staff! :-) Thank You Mary. Would definitely recommend!
The ladies here are lovely! Mary and Diane were both so helpful and welcoming. They were very flexible with my scheduling when it came to finding the time to go and look at the unit. I'll be using them in the future if I ever need aunt again. 😊😊
Diane was great , very easy to work with and very helpful , process was very smooth I would recommend this location to anyone who is looking to have the same experience
Mary and Diane were so helpful. Great service!
Diane was great! She was pleasant, efficient and made for a great customer service experience.
Expensive with hidden fees! When moving out, I was forced to pay insurance for a whole month after only staying for 7 days. Three days prior to my move-out date, the property manager assured me that I'd only pay insurance for the days that I was using my storage space.
Randomly raises price without notification. Happened twice in a two year span. Thanks guys.
They are very nice when I come in
Very convenient, good place to go.
Mary was wonderful. She went above and beyond our expectations. She turned our day around. She was very pleasant and friendly with a sense of humor!!! Highly recommended!!
I want to just say how wonderful the Manager Mary is my mom has been renting at this public storage for awhile now and no one has heen more helpful then Mary she is always very patient with my mom which I know can be challenging. Thanks Mary
I went into Public Storage today after making an online reservation. The staff is nothing short of amazing. Rochelle was kind enough to review all of the necessary paperwork, and explain any costs involved prior to my making a "final decision" - thoroughly explaining the locks and the necessary insurance . Rochelle answered all of my questions to my satisfaction, and was professional and courteous the entire time. Casey, was overly-apologetic as the computer system was slow, and gave an "error" message. I was definitely not in a hurry, but was thankful that he acknowledged that my time was important by apologizing about the computer issues. He was about to do a set of "manual paperwork" when Brittany saw that it was FINALLY processing through. Casey showed me the unit, and patiently explained the lock and the closing/locking mechanism. He took the time for me to actually try it a few times, to insure that I had the hang of it (it's slightly difficult to shut/lock and re-open due to a very close tolerance on the locking mechanism). Thank you both, for representing the Public Storage company so well - the owners must appreciate such kind, considerate, patient employees running their business. It's unfortunately rare these days to obtain that "above and beyond" type of service that Rochelle and Casey provide. Such excellence is something you cannot always "train" new people to have - they are just born with it. Again, I appreciate that you went the extra mile to make my first time renting with Public Storage such a wonderful experience.
Polite and fast service, clean units and great discount for first month. This is ideal for someone like me only looking to store a few weeks.
Storage is not climate controlled at all.
I do a lot of business with this public storage the ladies working the office are wonderful at what they do
Had the best service in the area with Rochelle and mary
I went to this location to find a box for a project my daughter was doing for school and the ladies in the office were a great help.I would recommend this place to all my friends
Great customer service great price for the size unit !! I will recommend public storage to my friends and family
Great prices the management is good and very helpful and nice !!! The place is very clean and I'm happy to keep my property there!!
Went in and rented a unit yesterday, this is the second time I've used this public storage and have been very pleased with the service and the facility
My wife and I were in a rough situation and needed storage immediately, went to this location, and the staff was friendly, and helped us get the best unit for our needs. I would definitely recommend this location to my friends and family.
The people who work here are very polite and always happy to help
Rented there yesterday, unit was clean, the service was fast and very friendly! Good place for storage!
Casey was very patient and helpful
Wonderful fast and quick service. Detail orientated, very patient with college students!
Rented here for years, good place to rent!
Rented there over the weekend, friendly staff and clean units at decent prices.
Staff here is very friendly and knowledgeable. Overall good experience.
Went in to buy some boxes today and the two young lady's there were very helpful in helping me get exactly what I needed to pack my items
I went in to rent a storage space to store some items of my mother's who recently passed away and the young lady working there was very empathetic and understanding to my situation witch was much appreciated and helps to make things just a little bit easier in this rough time.
My first time renting and Rachel was very helpful in explaining all the costs , rules etc. The storage shed was clean and it was overall a very good experience. Thank You
Always polite,fast and knowledgeable service at this location. Awesome customers service!
I appreciate the courtesy of the clerk he was awesome quick and accurate service very informative and professional
Staff was very helpful and efficient. I was in and out in a matter of minutes. I would definently refer my family and friends to this location
Great service today, quick and easy.
I dont actually rent at this location but I have been going there to make my payments for a unit in another state for a long time now. The girl Rochel (spelling may be incorrect) asked me to do a review for her and I told her I would as I feel she is always there to help me and answer any questions I may have, she also goes above her job and answers my questions about the area and local schools as I'm not from this area, I appreciate her and all her help!!!!!! Im happy to do a review for Rochel and the other employees at the lee rd location and when my items are brought to Rochester they will be stored there.
I went in to rent a unit yesterday and the girl that was working was amazing, she greeted me with kindness and did everything she could to get me in the size unit I needed for my belongings. I would definitely recommend this location to my friends and family.good customer service is hard to find these days and that was what I call good customer service.
I went in the other day with my girlfriend and they had great customer service and was very polite.
Was really explanatory and helpful!
Casey was very helpful, he explained everything to my satisfaction. Thank you Casey.
The services was excellent. The sales representative was very helpful and gave great quality service
Casey was very friendly, knowledgeable and professional
When going to this facility, the attendant was excellent, walked me out to my space to show it to me. He was courteous and very helpful and besides that very pleasant person. I would recommend this storage facility to anyone
Locating and reserving a storage shed was very quick and easy. All of the storage sheds located on the website were exactly how they were in person. The male employee was very knowledgeable. Please accept my apologies for not remembering his name. If I had to rent another storage facility, this is where I'd go.
This is a great place for short term storage, everyone is very friendly. there is a young man that works here, Casey, has to be one of the nicest and most patient people in world. He will go to the ends of the earth to explain what needs to be explained even when bombarded by an aggravated customer. If hes not district manager in the next year or two the person in charge of him will need to be fired.
Oh my god, I've never been greeted with such enthusiasm and friendliness! The girls at Lee rd. are so welcoming although I only came in to make payment they both approached me with all smiles!! An of course asked to make a review!! I recommend Public storage with high regards especially lee rd. they will take care of you an your needs quickly
Monday I went took for a storage to rent an the girl in the office was very nice, the office nice. She showed me the unit and explained everything to me she was very courteous and friendly. Overall it was a great experience and atmosphere. Would recommend unto others.
I went in to the property yesterday morning, both girls at the property greeted me n my cousin with all smiles made us feel welcomed. They took care of us right away. They knew what they were talking about they knew their stuff. I rented n will recommend to friends and family.