Public Storage Self-Storage Units at 1600 Southwood Drive, Nashua, NH
Address
1600 Southwood Drive Nashua, NH 03063
Property Open
Mon-Sun 6:00 AM - 9:00 PM
Storage Facility Features
Climate Control Storage

Car Storage

Small, Medium & Large Storage Units

Indoor & Outdoor Storage Units

Property Manager Lives On-site
Property Open
Mon-Sun 6:00 AM - 9:00 PM
Storage Facility Features
Climate Control Storage

Car Storage

Small, Medium & Large Storage Units

Indoor & Outdoor Storage Units

Property Manager Lives On-site
Close Location Details
View Location Details
Climate Controlled

Upstairs/elevator

Climate Controlled

Inside unit

1st Floor

Climate Controlled

Upstairs/elevator

Climate Controlled

Inside unit

1st Floor

Climate Controlled

Upstairs/elevator

Climate Controlled

Upstairs/elevator

Climate Controlled

Upstairs/elevator

Climate Controlled

Inside unit

1st Floor
Nearby Self-Storage Locations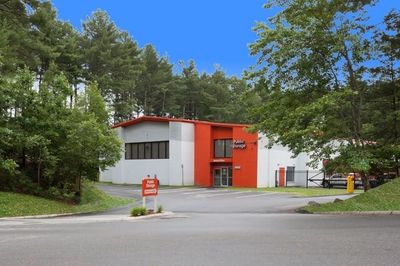 Self Storage Near
596 W Hollis St
Nashua NH 03062
Resources from the Help Center
See what fits in different storage unit sizes
Nashua Storage Units Near Everett Turnpike
Nashua storage units located off the Everett Turnpike and and Somerset Parkway make self storage incredibly convenient for area residents. These mostly indoor units provide climate control storage to help you battle those New Hampshire winters.
We have more than 750 storage units at our Nashua location, so you can be sure you'll find something that works for you. If you've been wrestling with whether to streamline your stuff, compromise and get the best of both worlds with cheap, convenient self storage that will keep your things in your life (while getting them out of your hair). Clean out your closet and fill up one of 5x5 storage units, while our 5x10 storage units can help your clear out a whole room.
We offer keypad entry, free parking, and an array of packing supplies, taking the stress out of storage. Stop in today and leave feeling a little lighter.
At Public Storage, You'll Always Find...
Keypad Access

Friendly Staff

Month-to-Month Rent

Moving Supplies Available

Free Parking

Well-Lit Facilities
Reviews
( 248)
The manager on Saturday December 2nd 2023 was extremely helpful. He gave us exactly the right unit at a good price.
Candice was SPLENDID! Thank you for your help
Stopped by last week with my mother-in-law to add an authorized user to her unit. I wanted to leave a review that Candice is extremely helpful, friendly and patient. 👍She also helped the family in the past by identifying a promotion to lower our expenses.
Candace was very, very helpful and courteous. The facility is clean and tidy.
Candice was very professional and courteous. Pleasure working with Candice.
Dwayne gave me a first rate experience as I signed up.
We had been storing my father's things at this facility for over two years. It is clean, climate controlled, and easy for movers to get in and out. Also Candice in the front office was wonderful when it came time to clear out the unit. Super friendly and helpful service. Thank you again, Candice!
Prices keep going up but facilities still suck. Entrance gate was broken for months...no security. Bathrooms have been out of service for months. Kinda stuck though and they know it..total pain to have to move everything to other locations.
I would just like to say Candice was amazing she was so helpful! She answered all of our questions. I am so happy to be storing my belongings in a safe and clean facility! Thank you again Candice you are doing AMAZING !
Storage works. Been waiting almost 2 years for them to fix my light. Have to use my car to see at night in my 10x30. Rent has gone up by 50% in that time.
Always a pleasure to go to my units, Candice and David are very helpful always so eager to help
The two people that work here are very helpful and keep the place so clean thank you guys
As always everytime I go to this public storage for my aunt Candice is extremely helpful help me with the lock ... thanks again
Easy check-in and great location. Very safe facility gives peace of mind as well. Thanks for your help Dave! Store# 29163
Candice was extremely helpful in setting us up with a storage unit based upon the our description of how much we needed to store. She is a great reflection on the company.
Most of these positive reviews mentioning someone by name are clearly fake. If you read the other reviews in their accounts, they're of other Public Storage units in the region. That alone should give you pause. I rented here for about a year. I pay a decent chunk of money for climate controlled unit but the AC is broken almost every time I go. My items are hot to touch and as I unpack things I would be shocked if there isn't humidity/moisture damage. Every time I've brought up these problems they don't really seem to care and based on reviews this has been an issue for years. There are other climate controlled options in Nashua. I can't vouch for their quality but I can assure you this facility is not deserving of your money and won't fulfill their expectation of providing a climate controlled unit.
Hey all, If you're looking for a clean and convenient self storage unit locally, go check out Public Storage on Southwood in Nashua. Candice is great to work with! She's a great asset to your company, oh Storage Gods! It's secure, climate controlled, and everything you need it to be.
This place is very clean and the woman on duty Candace was very helpful when I went in to buy my moving supplies
Candace was very pleasant and I love the place. It was clean
Candice was very attentive and informative. She was courteous and pleasant. She directed us to download the app for easy access to our unit. When we could not figure out how to open the gate, she saw us and ran outside to give us direction. Candice went above and beyond! The storage place was clean and easy to access. Will use again
Called and asked about a space and Candice was very helpful with finding a location close to me in Colorado I used to rent at this one until last year I would rent there again when and if I move back to newhampshire
This place is always clean and Candice is always helpful
i had a really good experience there Candice was very helpful and helped me with everything that i needed and she was very funny and welcoming makes the place more friendly
Buenas tarde para saber cuanto sale rentar un storage de 5×5
Candice was Great! She assisted my husband with renting a storage unit and then assisted us with purchasing a box and popcorn for mailing my package. This was at 1600 Southwest Drive in Nashua. NH. See Candice, she's friendly, polite and experienced.
This location is clean and convenient. Candice was absolutely amazing and so helpful.
Am new to using storage. Candace checked us in and was very helpful and friendly. She took the time to show us the ropes and make sure we had whatever we needed. Thanks, Candace!
Candice was absolutely awesome and the storage unit is exactly what i need
I wanted to change the name on the account and they said I would have to close the account remove everything from the unit and start over ☹
Fair pricing and easy to quit using.
Candice was so helpful! Space was clean and easily accessible. Would recommend to anyone!
The place was very clean and candice was very helpful i went in to buy boxes with my aunt and she took very good care of us
This property is outstanding! Candice really makes this location one of a kind. Very knowledgeable and friendly.
Sammi is amazing!!!!! Was very helpful. Very friendly. I was satisfied with the service she produced in helping me find exactly what I needed. Thanks a bunch. :)
Way Over charge for temperature control, double the price of where I am now, and every time I went in there I was sweating to death. There's ac at the elevators but the doors to the storage rooms are closed so it's not actually controlled properly. I wonder how much money they over charged me for being there three years... Never again
I never leave these reviews but I've rented storage units from this location twice now. Each time I've been there, the space is clean and well kept. The staff is fantastic, knowledgeable, and nice. This time, Bill got me all moved in and made sure the unit was exactly what I needed. Highly recommend!
I just wanted to let you that I am very pleased with the pleased with the service and the boys are great very helpful and happy and very nice all the time.
Candice has great customer service and she is awesome!
the staff is very helpful and pleasant
Have had to keep my belongings here for over a year now in 2 units and I have to say and from day 1 Candice has been the best
Clean and professional facility, and Candice was fantastic to work with.
I have had numerous experiences with Candace an employee at this location. She always goes above and beyond to help me and aways with a smile. I love her customer service, and should be commended for her excellence !
Candice and Sam are both really helpful and nice. This place is always clean when I come in.
This lady Candice is the most BAD LADY AS HAVE MEET IN MY LIFE... I CALL THE # IS ON THE WEBSIDE WITH THIS ADDRESSES WISH IS NOT THE CORRECT # AND SHE TILL CHARGING ME AN EXTRA MONTH.. WHEN AM TAKING MY STAFF OUT.. IF THE WEB AS THE WRONG # WHOS FAULT IS THAT.... DON'T COME HERE....
Had a great experience with a woman named candace she definitely knew her stuff will be storing in the future with confidence that my stuff will be safe thanks to her.
Sam did an excellent job of explaining all the details of storage requirements at this location and her explanation made it very simple for us to use this Public Storage location, it is very clean, well organized and secure. We were very impressed, thank you for your patience for explaining the details to a person this is doing this for the first time, very happy customer.
Well kept, very clean, very secure. Sam and Candace very helpful.
Samantha was an amazing help to me and my family. Pleasant to deal with and very knowledgeable about the site location 29163
Auctioneer Steve he's awesome people that work at all of them are awesome very pleased with the service Billy Candice Scott David all very friendly people
Samantha is amazing, the store is beautiful and the employees are fantastic!!😊
Candice and the gang are great,i'm in there every month and it's always a pleasant experience
Very clean and staff very knowledgeable and friendly
Talked with Bill very helpful and friendly
Easy in and out. Clean location. In good repair. Really all you can ask for in a storage facility. Used them both during a major move and for everyday storage of seasonal items.
Billie is one of the best members of this team. He was so helpful and answered all my questions! Helped me keep it in my budget. Amazing place. Great staff. So clean.
This a well kept facility been here for 2+ years no problems. Billy is great to do business with.
Place is nice, clean, and employees are knowledgeable. Billy was wonderful and walked me through everything I needed! Thank you Billy!
Nice facility right off the highway. Easy in and out
Bill was super friendly and very thorough when explaining the contracts and using the facility. He was humorous and upbeat!
David was fantastic so very helpful and one of the reason I continue to rent here!
Candice was great in going over all the details of getting in and out. Site is perfectly located and open 9a to 6p everyday! Carts can go outside to your car making for easy loading and unloading. And there's an on-site bathroom too. So happy to have found this place!
Very nice & clean facility. Candice is exceptionally helpful!!
Had a very nice experience today at your Nashua location. Billy was so nice and very attentive. He really made me feel cared for as a customer! Thank you!
Totally love the staff here nice and friendly woman Candice helped me today answered everything on the spot knows her stuff will come back for sure when I'm ready still figuring out exact moving arrangements.
Easy rental process. Everything is upfront and honest. Honored my online booking price with no issues. So far very happy with them
David was very thorough, professional and super kind! He took the time to show us a few different size units. He also took the extra time to show us mattress covers and different boxes. I would defiantly come back and refer him to everyone!
Bill is very friendly, showed me the sizes they had to offer and even let me know about merchandise deals. I didn't even know they sold merchandise lol. Highly recommend coming here.
David was very helpul and He went Above and Beyond Duties his customer service skills are exceptional.
The people at this facility were very professional, accommodating, and friendly. I felt very comfortable asking questions and they went above and beyond to make sure I understood everything. Candice, along with her two coworkers, sorry I did not get his and her name make the place pleasant to visit. I would definitely recommend this Public Storage facility to family and friends.
Perfect location great service at reception. Candice is great with answering questions!
Candace and Virginia are absolutely awesome
Candace was wonderful! Great experience
Went to a rent a storage unit Candice was very helpful and well informed. Got me the unit size I wanted for a great price. The place was very well cleaned and maintained. Highly recommended.
She was very friendly and helpful and she put me it in the right direction
I want to say Thanks to Paul for your patience and help while I was there getting a storage unit! I am very greatful and pleased with public storage and the helpful assistance from Paul! Thanks
Friendly service. Clean facility. Excellent.
Candice was very friendly and great to talk to. She helped us pick out the right unit for us and set us up.
Excellent staff and facilty! Clean, safe and accommodating!
Chris was very professional and very helpful. The intake of information was quick and easy .
Candice is awesome helped us with everything we needed showed us a 10x 20 unit and was really polite
I was moving and needed a place to hold my things during it. Bill was very helpful in letting me know what your company had in terms of storage units.
The staff is very friendly and helpful. They always answer any questions I have
Super friendly staff. Candice was especially helpful with suggestions on downsizing my unit. I highly recommend this store
Staff is very respectful and helpful to me as a customer and Candice was helpful beyond belief
Candice was very pleasant, and helped me out alot
Went into this location today and helped my friend move in his unit the woman that was in the office was so helpful answered all our questions I would recommend this place to my friends and family very clean and secure
I have had a unit here for just over a year now and I have had no major issues. They are secure and have the outside of the property monitored with cameras outside. My only complaints are that the entrance to the storage side of the facility is very run-down and dilapidated. There and broken ceiling tiles with wires hanging out, and holes in the walls. Also, there are never enough carts available for use, and no dumpster provided so people leave trash laying around. Overall for the price it's not bad. I'm not overly impressed but I'm not worried about my belongings either.
Its a clean place . the staff are great and very helpful with any needs . all different sizes storage units for your need . defiantly a play to go. ! Thanks guys . !
Love the people and the place.... Always so clean when i go in
Friendly staff, candice at the front desk is an amazing human and I really enjoyed chatting with her. Thanks lady!!!
Couldn't close the door to my unit. Virginia came up to assist me. Come to find out my vacuum cleaner was blocking the door from closing. She was very helpful and continued to do so until I returned to my car.
I never liked using storage, always had negative experiences. But Bill at the Nashua location made things so easy and created an extremely friendly & welcoming environment for me & my family! I will continue to use Nashua public storage in the future & highly recommend to friends & family. All thanks to Bill! Thank you so much for turning such a sometimes daunting task into a very easy & enjoyable experience!! =D
I had a great experience at the Nashua public storage and highly recommend it. Bill was very helpful and super friendly!
Friendly staff, clean units. Definitely reccomend them
Would highly recommend this place. I spoke with Bill. He had an excellent attitude and was extremely professional. He was very helpful and answer all my questions!
I've had to use storage units before and I've never really had a great experiance so I was hesitant at first but when I stopped in to this location and spoke with Bill about maybe using this storage facility in the future, he made everything so easy for me and he genuinely answer all of my questions. I am glad to say I made the choice to use public storage in the near future and I will highly recommend anyone to see Bill here, he was just wonderful! Thank you again Bill!
I am going to be moving within the next few months and I have been looking around to see which facility in Nashua would be best for me to keep some stuff in storage while in the process. I went by Public Storage with a friend and I have to say it was very clean and clearly well kept. The ladies at the front desk were very polite and very knowledgeable. Knew the answer to every question I had. I will Definitely consider renting here when the time comes !!
Friendly and accommodating staff, convenient location.
I was at this location the other day and a gentleman named bill helped me with my unit and he was very helpful and i recommend visiting this location if you want to rent a unit
Great service. Always takes care of me when i need help. Great personalities.
Candice was very helpful and extremely knowledgeable. Nice clean facility!
Worst storage place ever. Do yourself a favor, go somewhere else.
Convenient, temp controlled, reasonably priced storage. The office manage Candice is a great resource and willing to go the extra mile to help! I would recommend this business.
Storage facilities are usually all the same. This location is top-notch. The staff is awesome. They are very nice, helpful, knowledgable of the available units, recommends the proper size unit to fit your needs. Great location. Secure. Highly recommend.
I came in to get some boxes excellent staff and place is very clean
Doesn't get any better than this facility! Easy access, very secure, very clean and the staff (Candice) was fabulous and very helpful and cared! Wish we had more people like her in this world! Thank you!
Horribly over prived late fees of over hundred dollars for 3 days. My unit it 79 a month i pay 400 every 2 months. The worst place ive ever done business with. There a rip off there over priced for size and will try and sell your stuff at auction EVERY month. Be careful you will regret going here ! Hope this saves some people the trouble ive went through
Property was clean, office was helpful.
Exit 8 southwood dr nashua is the cleanest facility ever and love candas and demi those girls are so helpful.
We stored our things 4 years ago & had no problems ever. We just recently moved our things out to our new home. Candace was very courteous, helpful & professional.
Great company! Employees are always so helpful and the nicest people! Bill was very helpful in answering my questions and he seemed very knowledgeable!
Great experience signing up today. Place is clean and secure. We are very happy we chose public storage.
Great customer service. They were super helpful in choosing the right size unit we would need. Friendly and clean. Glad we chose public storage.
Candice was very helpful and had me checked in and moved in very quick. Highly recommend using Public storage in Nashua if you need extra place to keep your belongings.
Clean and Well Maintained, Candice is always cheerful and was a big help when it came to answering the questions I had about renting a Unit
I was in to look at a couple units & getting information for when I move this summer. I was impressed by the Manager Candice! She was knowledgeable and able to answer all my questions with ease. But what struck me most was that she was personable and made me feel like more than just another customer! Thank you Candice when I am ready to move I will be back!
Candice was great. Transitions are handled with a personal touch. Thanks
This place was great. Made it really easy to move my stuff in. The staff was extremely friendly and helpful. Candice really helped me out with any questions I had or concerns. You guys made moving easy. Thank you!!!
Always had problems with building and staff. Too hot, too cold. Place always filthy. Keep raising rent. Highly recom- mend you go elsewhere.
This place is amazing. Staff is amazing and the place is clean.
Affordable, easily accessible and overall convenient. The staff here is also friendly, like Candice. She's always so helpful and nice.
I had a great experience with both Candice and Demi. They were both very helpful and courteous. I highly recommend their facility.
Had the pleasure of working with Candice and Demi today. Both ladies work together in perfect sync to answer any questions that come up if any hence they're quick to explain the full rental lease in fine detail both always greet customers with a smile and a friendly voice best property I've visited and ive been to Manchester as well no comparison Nashua tops the charts from cleanliness to helpful assioates.
Candice and her staff were very nice and helpful when I was setting up my unit and the moving out process. The facility was clean and felt that my stuff was safe. I would recommend their facility to anyone.
So far so good. I haven't moved my stuff in yet but I went in and saw the unit. Demi was nice and helpful. Wish I had known that you don't have to purchase their lock. I had one at home I could have used. But otherwise its cheaper than anywhere else I've looked and the building seems clean.
My family and I have rented multiple storage units at Public Storage. I have always been pleased with the quality of their service, and have never had a complaint.
Loved this place. Great customer service. Candice went out of her way for us! Thank you all.
Candice has been very helpful as we transition to move to North Carolina.
Had a very helpful experience, I will definitely recommend to friends and family!
Great service great facility
Decent prices, climate controlled, ok loading area but people always park in front of the doors so it's annoying to get around them, undersized doors once you get your stuff inside, far too few carts to move stuff around, thin inside doors and lock levers and no indoor cameras.
I went in on a 1/2 off promotion for the first month. I was told they would honor it on whatever size unit I wanted. I chose a 10x10 but stated that I may need a bigger size once the truck got there to look at the space. I was told that would be no problem they could simply change it if we needed more space. I paid for two months in advance with a promotion for 1/2 off the first months rent. When my truck arrived the same day and after looking at the space they recommended that I chose the larger space. I did and they simply told me told to pay the difference to bring me up to date which I did. When I got a bill in June I called and told them that I had paid through June 30th and I was told that NO I only paid for May. I called customer service and after I explained what happened they told me that they would email the manager and have him adjust my bill for the 1/2 off promotion and I could pay to bring my account balance to zero. I never got a call back. I called and spoke to Candice who stated that the person who helped me initially needed to be properly be trained and she agreed she needed to disclose things properly to the customers and told me to call customer service. Customer service told me not to pay anything on this bill until I got a call from Ron about adjusting my bill. After two weeks I never got a call but I did get a late fee for non payment. I called customer service to get Ron's number and to get the late fee waived. They did waive the fee however, I when I finally called Ron myself and after explaining to him what happened Ron stated that there is nothing he could do and that I lost my promotion when I chose the larger space. he said even if they failed to disclose to me there is nothing he could do or anybody could do even though customer service did say he could adjust the bill. I told Ron that I would be picking up my stuff at the end of the month and that I would inform my over 2500 customers in Manchester and Nashua from my three store locations and that I would have my customers share this through facebook, Ron appeared to have this (I do not care attitude) and was more worried about not honoring a small adjustment rather than having and upset customer over there own mistake. It's not a lot of money we are talking about here and I can afford to pay it but its just that I consider these deceitful practices. I will send this to all my customers and have them share my experience about this store. I truly hope this is an isolated incident. I will not ever recommend this store to any of my customers ever.
The staff here are wonderful, Candice especially. She helped me pick out all the items I needed when I described what I needed to pack. She gathered everything up for me, and she was right on the money with it all.
Candice was great, excerllent customer service. Unit clean.
Friendly service. Informative and helpful. Processed paperwork quickly with no commitment and reasonable service fees.
The gate was broken the whole time I was there. I closed it after being robbed. The mandatory insurance didn't cover any of my losses. To their credit the manager tried diligently to view the footage from when I was robbed. Somehow there was no suspects after viewing the time in question. They also do lock inspections.
Service was fantastic and honest!
Candice and Demi were fantastic today! They are a good team and offer excellent customer service. Candice was very accommodating to our needs!
Thanks so much for your great service!!
Fast and easy. These guys are great!
I love this location. I have had a storage room there for years. Candice and Demi are very helpful and extremely nice. They make it so that I will continue to use public storage-
Mariela was very social and sweet. I got to move in with the 1. Special which was great so I was happy.
Candice was a pleasure to work with, been here before, great location, clean and friendly
WOW! We went in to look at a unit to rent and met Mariela. Our experience was awesome as Mariela showed us several unit that would fit our needs. Once we decided on the size of the unit we were going to rent, Mariela search for the perfect location on the first floor. After we left, Mariela texted me several times letting us know that there were units closer for us to rent. I have to say, what great customer service we received from Mariela. When we went in to actually secure the unit, we had the chance to meet Candice. Like our experience with Mariela, we were treated very well by Candice making this whole experience a good one. This dynamic duo are great. So, if you are looking for storage, this is the place. Thank you Mariela and Candice. Dan & Kathy Mercier
Very happy with my service here at the Nashua public Storage and the ladies Candice and Mariela are extremely friendly, professional and very helpful. They do a very good job keeping my stuff safe and secure.
Fantastic Customer Service, was very thorough and quick
Candice was very helpful great job
Candice was extremely friendly and gave us excellent service with the new rental process.
Mariela was awesome - quick and easy sign-up. Great deal too!
Good facility/ location. Best part is the customer service... Mariela helped set up a unit last minute in a quick and professional manner. I highly recommend her.
I have been renting at this location for years now. Candice would do anything in her power to help and make your day better! The security here is my favorite aspect. I love the convenience to the highway and my residence. I love the accent of Mariela and how easy she is to talk to. Normally, I have difficulty talking with service people but they make me feel comfortable! These girls made it easy and it feels good to get my stuff and know that is safe and in great shape!
Mariela was very nice and informative. She went over the whole process and was upfront and very polite. Also the $1 dollar promotion is a great deal. Would recommend to a friend
Nice facility and was very pleased with the security. Today Mariela opened my account. She was called in on a day off and it was extremely busy. She took everything in stride and gave me excellent customer service. She never missed a beat and kept a smile on her face. Public Storage is very fortunate to have an employee like her. If they had a 10 star rating for customer service, she would get it!
When I came in Candice and Mariela we're awesome... I would most definitely recommend them to everyone!!! I got a dollar for the first month rent and the units are beautiful and great costumer service with staff
Mariela was very nice and helpful and friendly and showed us everything around and explained everything very good!! Also Candice was very great and friendly and good as we'll!! Rent here I recommend this storage place..
Great Friendly service by Candice and inexpensive and clean units.
Renting a unit couldn't have been easier. I walked right in and within minutes was opening the storage unit. Candice was extremely helpful, finding the size that was right for me. I highly recommend storing your stuff here!
Very helpful . Nice place
Great place. Candice was awesome got me a great deal on a unit. Was refered here from Manchester after they didn't have the unit I needed available. Thanks again for the great customer service Mariella!
Wicked nice place. I would definitely recomend this facility. We were provided an excellent customer service. Mariela was very helpful and friendly. She made us feel comfortable and made the process very easy. Candice as well was very informative, knowleadgle and asnwered a lot of our questions. We only paid a dollar for the first month rent, which comes in handy! The location is very convenient and safe. I am very pleased with my storage space and look forward to my experience here. I look forward to seeing Mariela again :)
We had a great experience with the representative at Public Storage. Very thorough and informative when we signed up for a storage unit. We would very much recommend public storage for your storage needs.
I needed storage and public storage in nashua had just what I needed candice and mariela helped me find just what I needed they helped me very much
Just got our 2nd rate increase letter since we moved items in a year and a half ago. The facilities have gone down hill. Extended time with a broken gate. Missing and lack of carts to use. We sent a complaint to the company and never received a response. We are currently looking at other options as the new increase is worth moving our stuff across town.
Stay AWAY!!!! This place is terrible, the bathrooms and water fountains are all out of order, only one elevator works, the place is dirty and very little assistance is given to its issues, there is only one push cart available for people to use and the handle comes off, the automatic doors are coming off the hinges and can be easily pushed open, the gate was opened for over 3 months so anyone could have 24 hours access, they fixed the gate 4 days ago and tonight I was locked inside the property when trying to get out at 8:49pm , when calling customer service they gave me 7 different codes to try when none of them worked they simply told me to leave my car and use the pedestrian gate, when I asked how I would be getting home they tried contacting the property manager and told me to wait a half hour for a call back, then this guy Mark who is the district manager calls and is a complete douche bag, who yells and tries to tell me I shouldn't be at the property past 9pm, which I would not have been had this gate worked properly, finally this girl Candace comes to manually open the gate and let me out after I was left at a pitch black parking lot for over an hour and a half. Terrible experience, very rude people and definitely not worth the $160 a month!! Go elsewhere for your storage needs
Very convenient location and staff is great
Short review: Stay far away. There are lots of hidden fees- we went in believing the $54 a month advertisement, but are now paying upwards of $165 a month for a small unit way in the back on the highest floor. That price has gone up twice with no explanation. The site is complexly unsecured. The front gate has been wide open for months now, and the sliding doors to the building are off their hinges. Anyone with a pair of bolt cutters could drive right in and help themselves. And then there's the little stuff- all of the bathrooms are out of order. Trash cans are all overflowing. Only one elevator works. And there's only a single push cart for everyone to share. Couldn't be more disappointed.
Clean, convenient, quick service, affordable, courteous, and friendly
Well Candice was an awesome representative for your company. She answered all my questions and saved money bye getting me into the correct unit.
Clean and organized. Could use a little more security cameras to keep people in check. People tend to be more courteous when then know they are being monitored. Brian was very nice.
I have been using this company and always get prompt help when needed. I transferred my unit this morning and Candice was probable helping three or four people at once, and remained professional and was absolutely incredible through it all!
We've been doing business with Public Storage since Hurricane Sandy and just upgraded to a bigger unit! Thanks guys!
Everything was super easy and great!
Candice was extremely helpful and took care of everything I needed. Excellent service! Highly recommended!
Candice is great! Very friendly and helpful. Easy access to my storage unit
Excellent customer service, very helpful and informative. Brian knows his job/role and does it wonderfully. Having 365 day access and convenience was a big consideration. Will highly recommend the services for friends/family in need.
Great job! Got rental quickly nice and clean place
Brian was Awesome. good Location and access
This particular location is great! I've rented from Public Storage all across the country and this is one is the best! Staff is great: Brian and Candace are always friendly and understanding and helpful. Location clean and organized! Would recommend to all who need self-storage!!
My experience has been good when I went in to rent the unit the manager was very helpful and polite. He showed us the unit and went over all paperwork with us and also answered all questions we had. I didn't feel rushed and felt welcomed.
Really great service. Candice was easy to deal with and made sure I had exactly what I needed.
They saved my stuff from bring throne out
Great sized and safe units for helping the moving process. Easy instructions provided by employees.
After five months my discounted rental rate was jacked back up to the standard rental. Nothing was ever indicated to me that there would be an increase. I called the location and they directed me to corporate Customer Service saying they could do nothing and all accounts were handled by corporate (The folks at the location have always been helpful despite having their hands tied pretty tightly by corporate.) I called the so-called Customer Service and the only response they gave me was that I was on a month-to-month lease and they could change the rental fee whenever they wanted. As much as I protested I got the standard corporate BS... you're on a month to month lease and nothing holds us to the introductory rate. Again, nothing was indicated to me when arranging the rental that the rate would be increased. Horrible ethics!
Great service. Fast setup. Nice location and security.
Fantastic! Candice at the front desk was very helpful and loaded with info. The transaction was easy and effortless. A nice experience.
Fast easy process clean facility
Quick service, got everything setup in 15 minutes.
Great Service! Brian provided exceptional customer service! I would rent space here again \m/.
Easy to save a unit online, the gentleman working was helpful, and the units were clean.
The 2 employees are easy to talk to. Corey the manager & Kathy. But the Flag of UNITED STATES is in a sad stae of tatters. It looks as if cats & dogs were playing with it! WTF!!
Since I first rented my storage unit three years ago, Candice has been a great help! She walks you to your unit, and takes care of any problems that may come up! I would recommend PS to anyone!
I went in to see what they had available, Candice gave me a tour, and I signed the paperwork, all in about 45 minutes. It's a clean and secure facility, and the staff is very helpful. The hours for both the office and the storage units offer a great deal of flexibility, and the location is extremely accessible off Rte. 3. 9 months later, Brian helped me upgrade to a unit twice the size, and I had all the paperwork signed and my belongings transferred in less than an hour. Couldn't have been easier!
I have been using Public storage in Nashua for the last 5 years. Every year I go at the beginning of November and rent my unit to store my motorcycle. Candice and Brian have been there since I started going and they are both AMAZING! Candice got me all signed in today and took me to see my unit. They ALWAYS make sure I have everything I need. I walked in today and even though I haven't been in since April, Candice still remembered my name! These two are wonderful and keep me coming back every year! Someone should give them both a raise!!
Candice and Brian were very informative helpful and polite
The Call Center where I made my reservation screwed up royally. Cost me my 50% discount on my first month's rental. District Manger "agreed" to give me the discount on my second month rental (but I am hoping not to need the unit for a second month). I would describe my experience as a classic "bait and switch". What I was told by the call center (thank you Mr. Patel) and what I received where not even remotely close. I will give 5 stars to the Property Manager, Candice, though. She tried to make it right over the course of three days, but in the end, her hands where tied by Corporate.
Service was great. Very friendly and knowledgeable.
The site was having computer problems my move in day and couldn't process my reservation. The site manager went above and beyond by calling the Manchester site to get me registered and then filled out manual paperwork so I could move into the unit. Kudos to the level of customer service they gave me.
Great staff, clean, easy access; highly recommend
I've had several storage units since 2004, and have been very happy with how nice and clean the place is always kept at this Nashua location. After looking at other storage places, I like the setup of this building and its units. I feel safe there with its secure coded access. I like the year-round temperature controlled building, easily accessible elevators and hallways with carts provided (my units are on the 3rd floor) and restrooms nearby just in case. People who work in the front area (Candice and Brian) have always been helpful and pleasant- Love this place!
drove to nashua,n.h. a couple of saturdays ago looking for a storage facility to keep my overflow stuff, while i decide on a move location to new hampshire. i was impressed with easy access from major highway short amount of time to get things working rental wise.
Very happy and satisfied. Easy access from route 3. Clean, friendly, courteous service. Thank you Candice
The property itself is nice. The payment methods leave alot to be desired. If you go into the payment and changed your credit card, the auto pay turns off. If you don't notice this they charge you a $20 late fee and it can't be refunded from the local site. Not a fair way of doing business.
It was very expensive to rent a small 5x5 unit- plus they told me I had to pay for renter's insurance in order to rent a unit- I have rented at many Public Storage places all over the country and they would recommend getting insurance, but it was never required- and I rented a unit in Manchester, NH and they did not require insurance- so that tacked on an additional $10 a month. The premises were supposed to be gated/locked- I have been there several times- the gate is always open/broken/covered with a plastic bag- it is not a safe place to store your things. I did not need insurance as I wasn't storing anything of monetary value- only keepsakes like photos and some books. I would not recommend this Public Storage- especially if you are storing valuables.
very polite and helpful. Candice goes out of her way to help with any and all matters. facility very clean and well managed.
I have been with this storage facility for almost 8 years. Candice and Brian are great to work with, helpful and always really nice, They have made the whole experience enjoyable. The site is well-maintained and the office and storage area clean. Overall great experience.
Site managers, Bob and Candice, were very helpful, friendly, professional and made the whole experience enjoyable. The site is well-maintained and the office and storage area clean. Overall great experience.
This was my first experience with a public storage facility. Brian was very helpful in getting me set up, gave me all of the information I needed to decide what type of unit to get, and also informed me about their policies and special offers. The facility itself is very clean and well-maintained, and the fact that the elevators are right next to the loading area means the fact that I got a second-level unit is just about as convenient as one on the first level. It is also helpful that it is very close to the highway, so even though we have to drive all the way across town to get there, it is still a quick and simple trip.
Great experience with Public Storage. I have use them in the past and have come back.
I have been with this storage facility for almost six years. Candice and Brian are great to work with, they're knowledgable, helpful and always really nice. I have this unit with public storage for work. I moved back to Massachusetts two years ago and my boss tried to have me move my storage unit to a facility closer to where I live, which would make it easier for me, but I didn't. The biggest reason is because of Candice and Brian. Working with good people is important to me and they are a great team.
Every time I have interacted with Candice and Brian it has been a great experience. They go above and beyond in terms of customer service. Keep up the good work guys!
Excellent service. Great price!!!
I just want to take the time that I have been using this site for over a year and a half and during this time both Candice and Brian have been more than helpful from answering my questions to helping me get the storage unit size that I needed. They both work hard to make me feel that my business means a lot to them and that they care for my interests, which makes me want to stay with Public Storage.
Had a great experience this past weekend. Brian handled the transaction with ease and got me thru the process quickly. Will use them in future!
I have rented a storage space here for years, and Candace (I believe her name is) has been super helpful with all of my storage necessities. Had some weirdness with my auto-pay system on the website, but the team here at Public Storage as well as the management corrected the issue and got me back on track with the correct payments. Decent facility right off the highway, will continue to rent here.