Public Storage Self-Storage Units at 596 W Hollis St, Nashua, NH
Address
596 W Hollis St Nashua, NH 03062
Office Hours
Mon-Fri 9:30 AM - 5:00 PM
Sat-Sun 9:30 AM - 5:00 PM
Gate Access Hours
Mon-Sun 6:00 AM - 9:00 PM
Storage Facility Features
---

3'x5'

Climate Controlled

Inside unit

1st Floor

---

5'x5'

Climate Controlled

Upstairs/elevator

---

5'x5'

Climate Controlled

Inside unit

1st Floor

---

5'x8'

Climate Controlled

Upstairs/elevator

---

5'x10'

Climate Controlled

Upstairs/elevator

---

5'x10'

Climate Controlled

Inside unit

1st Floor

---

6'x10'

Climate Controlled

Inside unit

1st Floor

---

10'x8'

Climate Controlled

Upstairs/elevator

---

10'x10'

Climate Controlled

Upstairs/elevator

---

10'x9'

Climate Controlled

Inside unit

1st Floor

---

10'x15'

Climate Controlled

Upstairs/elevator

Outside unit

Drive-up access

---

9'x16'

Climate Controlled

Upstairs/elevator

---

10'x10'

Climate Controlled

Inside unit

1st Floor

---

10'x15'

Outside unit

Drive-up access

---

10'x25'

Climate Controlled

Inside unit

1st Floor
Nearby Self-Storage Locations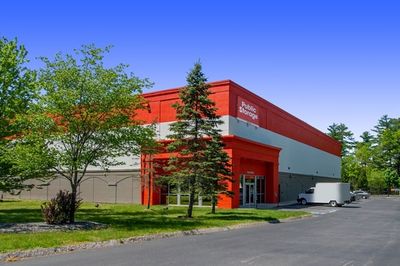 Self Storage Near
1600 Southwood Drive
Nashua NH 03063
Resources from the Help Center
See what fits in different storage unit sizes
Nashua Storage Units Near Route 111
Nashua self storage is easy, with this Public Storage located just off of Route 111, also known as W Hollis St.
Love spending the day at Mill Pond, but hate having to haul equipment around and store it at home? From paddle boating and fishing to ice skating at Conway Arena, there is plenty to do for the whole family. Of course, all those activities can leave your house feeling cramped. If you're stressed about stuff, we have over 450 storage units to take those bulky belongings off your hands.
Families love our popular 5x5 storage units for smaller items like family mementos and sports memorabilia, while our larger 10x10 storage units can hold up to three rooms of stuff, perfect if you're moving or remodeling.
Frustrated by dragging oversized furniture around to make space? Drive up to one of our outdoors storage units and store them away with ease. This location also offers indoor climate control units, to help take the edge off temperatures. Stop in today and let a friendly associate arrange the best storage unit for you.
At Public Storage, You'll Always Find...
Keypad Access

Friendly Staff

Month-to-Month Rent

Moving Supplies Available

Free Parking

Well-Lit Facilities
Reviews
( 106)
sam is the best! Made my transfer easy.
Lisa was fantastic. Answered all our questions, got us set up immediately, and has a great sense of humor. She also called to let us know we didn't quite get the lock on properly, so she's actually actively monitoring the property for issues!
Lisa is the best manager I have delt with at this location. She is very knowledgeable , works with you to help you address your needs, understanding and is always pleasant to deal with.
Lisa is the best . Amazing customer service. With a wonderful and bright sunny attitude!!! Shes always there when I need something at public storage. Thanks again Lisa
I would leave a 0 star if possible. Ordered an outside drive up unit and was given an inside unit. Told when I called to cancel that I would be charged the $30 admin fee if I cancel even though their website states the information incorrect. Do not use this place, their customer service is trash and their website is false. Use storage sense in Nashua instead, they have great customer service and they give you what they promise.
do not use this place. Very poor customer service, at the end of the day it is just an aluminum box so rent from anyone else.
It is a clean and secure facility. The manager is extremely helpful and knowledgable, and very friendly.
I've rented a storage unit for a few years and the fee has almost tripled in price. The threshold coming into the building needs to be repaired. It's very obvious and it makes bringing stuff in and out extremely difficult! I don't think they plan on doing anything about that because it's been well over a year. Other than the giant price increases and risking having your stuff fall all over the ground getting in the door, the building is clean, secured and climate controlled.
Lisa is absolutely the best! She's very accommodating, understanding and means business ! My husband and I got the chance to speak with this lovely lady and work out a plan that worked best for my husband and I during our move in. She's our saving grace, I would recommend renting out a space here because if you know people like I do, she's a great woman who cares about her customers and their belongings! You can just tell by her voice, demeanor, intelligence, wise words that YOU are safe, your belongings are safe, you're in good hands as well as what you have in your own individual space. Coming from the bottom of my heart, best place my husband and I could go to. Thank you!
I had a wonderful experience setting up an additional storage space with Lisa Saunders. She was quite pleasant as well as knowledgeable in her field. Everything went quite smooth and I am very satisfied with the personalized experience. Been a customer for a long while, and she's the best so far. Chet White
Lisa was amazing very polite and more than willing to assist you with anything you need would definitely recommend self storage and self storage should know they are very lucky to have her as an employee
I used this Public Storage for about 4 mon, it was very convinced with easy gates entry and existing. With not long time commitment, plenty of carts to uhul up and down.
Clean, mostly, avoid the bathrooms, they are wretched. Conveniently located. One interaction with staff was courteous. My issues are with the entrance to the main building, where the asphalt has settled over time, and the galvanized steel toe plate is dented, so it is not a smooth transition into the building. You have to lift any thing over that toe plate to enter, a cart, my fat tire dolly, all of them failed, making things massively inconvenient and puts your belongings at risk of falling off and being damaged. The other issue is the fact that they force a lock on you for $20, and due to moving 8 hours from Maryland, I wasn't able to visit during business hours until nearly 20 days in, at which point I was past some mystery date of turning in that lock, so that was a forced expense I didn't need. The app sends constant reminders "use the app to access the building." Coming from a residential building with Latch locks that work reliably, the Public Storage App is garbage, just use your code. It crashed multiple times, so I gave up attempting to use that feature. "Thanks for your feedback" blah blah blah doesn't return my money for the unnecessary lock.
Great storage location! Want to make moving in and/or out of storage easy? Check us out @dedicatedmoving.com
Quick and smooth transaction
It was good and good bye storage
Shoutout to Tom for making the process of renting a space easy and being transparent with how it all works
I really like the place is clean and Tom and Chris are awesome they treat you right always asking if they could help you in anything
Tom was so helpful and nice! The storage restrooms were also clean and accessible. Definitely a great place to patronize.
I had a experience! Really nice guy!!!
Great and friendly staff, excellent facilities and easy access. Highly recommended will use again in the future
Tom was awesome. He helped out with everything we needed. I can't thank him enough. Definitely by far the best experience with a storage facility. Highly recommend storing here. See Tom if you need anything..
The manager Tom was extremely professional and a great assistance. Made unloading the storage unit as easy as possible. Gladly use them again in the future.
Chris was very helpful. Answered all my questions. Clean reception area with all your storage needs. Would highly recommend.
I love this storage place, Chris is amazing, he goes above and beyond for his customers, great service.
Originally being new to the area we weren't sure which Nashua, N.H. location to look at but we chose to go to the West Hollis St. Location first.... because the Gentleman named Paul D. working at the beginning of this week was so informative, reassuring of the safety of our belongings, and helpful with all our options (unit sizes, insurance, etc.) being new to the process of self storage, my fiancee and I felt there was no other storage facility we would feel more comfortable using! We got all our answers met without asking! Thanks Paul D from West Hollis for putting us at ease and helping to make our process a little less stressful and easier!!
David is a very good guy he tryed his best to please every one . Very good job 👏
Clean, well-run and organized, BUT in the 18 months I have been a customer, rates have been raised twice in the last 9 months. I am moving to a new storage facility that respects their customers and wants to keep them. Doing a search, this is the Public Storage way of doing business across the country.
Very clean. and just adore chris he is the best.
David is pleasant everytime my wife and I visit our space. The place is always clean and that's cause David is always seen with a broom and dust pan wondering the halls sweeping every day.
David is always helpful and so nice. It's nice seeing him everytime my husband and I visit our storage space.
The person who helped us, David, was polite and very helpful in getting us a storage unit. The facility itself looks nice and secure. Their prices aren't that bad either.
Everytime I come here David has a smily face and always engages in conversation. Thank up7 for all you do David!
David was very helpful and assisted me a week or so ago getting boxes and supplies for moving and suggest getting a quick pack that comes with a good amount of boxes, bubble wrap and tape for under $40. It helped a lot!
This place is amazing! David is THE example of what customer service should be. He got me signed up for a unit in no time, answered EVERY one of my questions professionally, made me feel as if he really cares and with all that's gong on in the world right now, I wouldn't give my business to any other storage company! David.....Public Storage......thanks
David is always friendly, sweet, outgoing, professional and just all around amazing!
David is Hardingworking, outgoing, sweet, friendly and always has a smile!
We were helped by David today and he is simply the best! Ask for him if you go in, he's super kind and courteous. He really went above and beyond for my sister and I and we can't thank him enough! Outstanding :)
Everyone who works here is very nice! Great service
Honestly nice new facility. Dave is always a joy and super helpful! I would give more stars but you limit me to 5.
Dave is the best. This is an awesome place. Prices are good too. Love it.
Good place to store your stuff and its decently clean and its easy to get started
This is a very clean and professionally run facility. The manager, David, was extremely helpful in reserving and setting up our unit rentals. Great suggestions were made, phone calls returned, and the whole experience was efficient and pleasant. Chis was very helpful on our move in day, too. Thank you both.
We needed a climate controlled unit. We made an appointment. We met with David and he helped us with everything we needed. Very professional young man!
Public storage has always been clean, professional and has provided great customer service. Thanks Chris and Dave. Nice job!
The first time I came into this facility in September to obtain a unit the customer service was incredible and made a daunting day much easier. I was back in there today to transfer to a larger unit, with a very stressful moving situation and David was just the best. He is so knowledgeable and friendly, and very passionate about the company and their services and brand and treating customers well. I think this is an awesome storage facility, clean, comfortable and easy to maneuver. He was just great, and I definitely picked the right place. Thank you!
Very friendly employees, easy access and clean! Highly recommend this location.
great, clean, very friendly associates!
Visited public storage last week with tons of questions about different units and options. I was helped by David, who I have to say is extremely knowledgeable of his job! He made sure that all of my questions were answered and did it with a smile...can't ask for better customer service! Thanks David
Came here a few days ago and had the pleasure of David assisting me. He is very nice and so helpful explaining everything I need to know about storage. I recommend this location to anyone needing storage as it's so clean and the staff is amazing.
Samantha is amazing, the place is clean and I'm very happy with the employees working there😊
The property manager David set up my account and showed me our unit. He is by far the best employee of public storage i have ever had the pleasure of working with at any of their locations. Extremely polite, knowledgeable and over all it was a great experience even while my son was having fun and playing with any thing he could get his hands on. I highly recommend this location to anyone!
David was awesome and helped me with my questions
Very professional, went through the process quickly. Highly recommend
Clean and comfortable environment, staff was more than friendly and helpful. Absolutely lovey.
Great customer service, well maintained storage facility.
Chris was super professional and patient with all the questions I had. Definitely recommending to my friends and family.
David who waited on me the day I moved my stuff in was very helpful He took the time to take me and my movers to the storage unit I had selected to make sure that they could get it all in. He went over the options I had if the movers had not felt that everything would fit. He was fabulous!!!!!
I came in to look at the units for my elderly grandmother. David was ABSOLUTELY amazing and so nice! He explained everything about this facility and took me on a tour. His customer service skills are fantastic! Thank you David, I cant wait for my nana to meet you when we come to rent!
Went with my friends mom to move her in. David explained everything she would need to know regarding the lease. He was very thorough and went in to detail about what she would need to pack certain items. He was very nice and knowledgable about his job. He is the go to guy at this location. Nashua is a little longer of a drive for us since we live closer to Westford and were going to rent there, but Sandra/Sandy'whatever her name is, is completely rude and rushed us out saying she had no units available and to try Nashua. Glad we gave public storage a second chance and were properly taken care of by David.
David was very kind, helpful, knowledgeable, and thorough.
David and Paul are the nicest guys here. Clean facility and not to pricey. Thanks guys!
Took a tour of this facility with my mother. We were both very impressed at Davids professionalism. He gave us some pro tips about how to store items using the merchandise available in store. When we come back next week, we will absolutely be purchasing what he recommended and hope to have him again.
Paul and Chris have been very helpful. I have rented spaces for just over a year now. Clean and easy to get to !
Awesome place great staff possibly going to store waiting on the husband.
Extremely helpful, friendly and accomodating. They went above and beyond to get me exactly what I wanted and needed. Thank you!!!!
Checking in was Quick and easy staff was helpful as well
Chris was very helpful we looked at several options and I was very happy with the one we came up with.
Wonderful experience. The units were very clean, the staff was very helpful. The young gentleman working there named Paul (I believe) was not only helpful but polite and humorous, which was great because My wife and I have been so stressed moving all week. We will be back again when needed, And will recommend this location to friends.
I am delighted to have found the Public Storage facility on Route 111 in Nashua, NH. I spoke to Paul a few days earlier and later rented a storage unit with Chris who was great...extremely helpful, kind, efficient, and an all-around great guy. He took me upstairs to see the unit, to make sure it was want I expected, explained everything, gate and door procedure. I'm looking forward to working with both Chris and Paul in the future and told Chris so. Thank you to everyone at Public Storage. Christine Graham
Chris was a great help, fast and efficient
Excellent customer by John.
Chris was great. He explained all my options to help me make best decision for which unit was right for my needs. Very patient and professional service!
Clean, Easy service. Be sure to check if your homeowners or renters insurance covers outside storage before you go or you will need to get it as you sign up. You don't need to bring any proof, just know if you have it. Also you will need a lock for the storage or they sell you one. It cost 19.99.
Excellent customer service. Very helpful , Chris and Paul are super!
Very secure storage facility. The staff are so helpful too!
Pauls fantastic, always a great help if you need anything. Very clean facility. Reasonably priced. A+
Best storage facility. The location and the place is very clean. The price is great for everything they offer and the staff is very professional, friendly and helpful. Paul helped us in the process of getting our storage unit, our experience with him was amazing, easy and very pleasant.
Friendly and very helpful
Budget friendly and climate controlled, this place is pretty good. Beware the awful bump on the way in (how is this still an issue?) and no way to walk up for a quick drop-off.
Clean space, convenient location and secure, love it.
Sm. Unit.$35A month not unlimited access. Closed by 9. Storage units shoukd have 24 hour access
Staff is extremely nice and very helpful with questions
Very convenient location, staff are helpful and attentive. Area is kept very clean and free of excess clutter.
Great service and great people. Kayla is very helpful! I plan on using them for my storage needs in Ohio.
Kayla is one of the most helpful customer service employees I've ever come across. You can tell she cares deeply about helping customers and clients find what they're looking for. Highly recommend.
Great location with excellent employees to help with storing needs
Great Experience. I had to do a last minute change of my alloted storage space to accommodate my stuff with the moving company guys waiting. Kayla was very helpful and she went above and beyond her job responsibilities to help me out in a quick fashion. Great location, good staff and well maintained.
Today I went to visit this place.The cleanliness & helpful info makes me want to reconsider storing my car for the winter .The ladies in the office definitely went above & beyond to make me feel my car or personal belongings would be safe.i would recommend this place to my friends and family. They were great to work with and a pleasure to do business with. Also the ladies were very patient and understanding to what I wanted in all this.
What great customer service at this location, top notch employees.
This place is awesome all the employees are super friendly
I went in this past Sunday with my cousin mike looking to check out a spot for my motorcycle. Great customer service! Not to mention the location is absolutely perfect for where I just moved to. Thinking about it still but more then likely I will be storing my Harley there for the winter!
my aunt has a unit here and i came in yesterday to help her move some things and i was thinking about getting a storage unit for myself before i had to relocate for work for a little while because the facility looked so clean well kept up and kayla was really helpful with anything my aunt needed when it came to finding a cart and holding doors open for us as well as helping me figure out the best unit to go with..i highly suggest coming to this facility especially where you dont have to worry about your things.
By far one of the easiest experiences with transitioning over to the new company . Kayla was wonderful , answered all my questions in detail . And was very thorough, no complaints . Highly recommend.