Public Storage Self-Storage Units at 125 Grace Church Rd, Salisbury, NC
Address
125 Grace Church Rd Salisbury, NC 28147
Property Open
Mon-Sun 6:00 AM - 9:00 PM
Storage Facility Features
Outside unit

Drive-up access

Outside unit

Drive-up access

Outside unit

Drive-up access

Outside unit

24 Hour access
Nearby Self-Storage Locations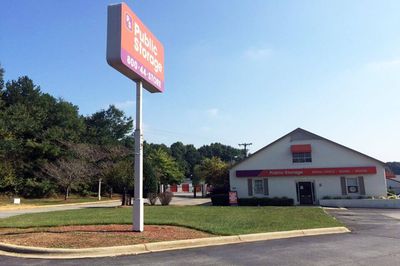 Self Storage Near
1730 Jake Alexander Blvd W
Salisbury NC 28147
Self-Storage Near Salisbury
Resources from the Help Center
See what fits in different storage unit sizes
At Public Storage, You'll Always Find...
Keypad Access

Friendly Staff

Month-to-Month Rent

Moving Supplies Available

Free Parking

Well-Lit Facilities
Reviews
( 27)
2 storage units. More than $500/month now since Public Storage bought out Premier Storage. Rent went from $330 to $516. Office never open now when I stop by. Numbers over my units taken down for painting months ago. Still not back up on some doors. Look elsewhere if you want good service!
My camper was here for less then a week before someone broke in a stole stuff out if it. I prepaid for 2 months and after calling several times and walking in I was only able to get less then half of my money back
Ashley was very helpful in setting up my unit!
Our unit is very clean, the property is very clean and well maintained. The manager is always very friendly and helpful with any questions or concerns that we have. Should we need to ever rent another unit we would definitely use Public Storage on Grace Church Road again!
OMG……. RUN. DON'T PUT ANYTHING YOU OWE HERE THEY DON'T CARE ABOUT US. I JUST HAD MY CAMPER STOLE FROM HERE AND THEY DON'T TRUTHFULLY DONT CARE THAT SOMONE CAME INTO THE FENCE AND STOLE SOMEONE ELSE PROPERTY. THIS COMPANY TOLD ME THERE IS NOTHING THEY CAN DO TO HELP ME GET MY PROPERTY BACK AT ALL. THEY EVEN TOLD ME THE PEOPLE IN THE OFFICE CAN NOT WATCH THR CAMERAS TO HELP SEE WHO STOLE MY CAMPER. TRULY RUN DONT END LIKE ME AND HAVE ALL YOU PROPERTY STOLE FROM YOU.
I was looking for storage for and the staff here were so helpful. Full of guidance and listened to my grips about having to store stuff in a tough situation. Thanks.
Let me just start off by saying that the manger Susan is absolutely wonderful!! She always greets you with a smile and will do whatever she can to help!! This place is very well maintained. They are definitely worth the money, which isnt bad compared to some storage places.
I just leased a storage unit with Susan and Ashley!! They were great with helping me get in very quickly. I spoke with Susan yesterday and she called me back today. Easy peasy lemon squeezy 😊🤙🏽👌🏼Thank you two for doing the best job!
Way better than the old owners. Susan gets stuff done.
Started out good. They will pre rate you to the end of the month then bill for the full month. If you decide to leave before the month is up they will not refund the difference.
Great storage units and service
Hey what's y'all number cause it's not working and do y'all got something bigger then 10/10
Very friendly staff. Owner makes access to buildings very easy.