Public Storage Self-Storage Units at 710 SE 8th Ave, Topeka, KS
Address
710 SE 8th Ave Topeka, KS 66607
Property Open
Mon-Sun 6:00 AM - 9:00 PM
Storage Facility Features
Boat Storage

Car Storage

Indoor & Outdoor Storage Units

Property Manager Lives On-site

RV Storage

Small, Medium & Large Storage Units
Property Open
Mon-Sun 6:00 AM - 9:00 PM
Storage Facility Features
Boat Storage

Car Storage

Indoor & Outdoor Storage Units

Property Manager Lives On-site

RV Storage

Small, Medium & Large Storage Units
Close Location Details
View Location Details
Outside unit

24 Hour access

Outside unit

Drive-up access

Outside unit

Drive-up access
Nearby Self-Storage Locations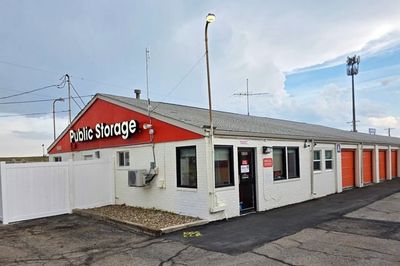 Self Storage Near
1850 SW 41st Street
Topeka KS 66609
Resources from the Help Center
See what fits in different storage unit sizes
Topeka Storage Units near the Airport
Topeka self storage that is clean, just off I-70, and only a couple minutes from Philip Billard Municipal Airport? Dream no more. Blocks from the Kansas State Capitol Building you can find cheap storage and a manager who lives at the location and can help you decide on the exact right storage rental.
This storage facility, with its easy access to major highways, is also ideal for residents of nearby Tecumseh and other communities in Shawnee County.
Fans of the outdoors will love our 10x10 storage units, capable of holding your fishing gear, golf clubs or whatever else you need for a day at Lake Shawnee. And students at Washburn University will appreciate the 5x5 storage units, which are perfect for freeing up a dorm room or holding all your books during a summer break or semester abroad.
At Public Storage, You'll Always Find...
Keypad Access

Friendly Staff

Month-to-Month Rent

Moving Supplies Available

Free Parking

Well-Lit Facilities
Reviews
( 370)
Tina was really helpful and I appreciate it very much.👍😊
This is by far the worst place to have a storage unit. Inside is horrible, they leak, the sides of the unit is pushing in towards mine, Holes in the sides of the unit. Take my advise do not use them, not worth it at all!!
Lady's in office friendly. Good choice for my storage. And i paid less then i was told over the phone. Thank you Lady's for your help
Lorrie was very helpful and good at giving and showing over options thank you job sell done
Lorrie was so nice, friendly and helpful. She answered all our questions
I can honestly say that I had the best experience at public storage when it comes to renting storage until the service that I receive from Lorrie . Was amazing very polite, and patient. Because fii oh r her service I will do all my business at public storage and will refer all my friends to go to Lorrie at 710 se 8th ave . Public Storage
Came in with my girlfriend to rent a storage last minute,and lori got us all taken care of!!!
Went to go get something out of my daughters unit and had problems getting through the gate and Connie came out and helped me get the gate open and walked with me to the unit so I did not have any probelems there
Connie was the most helpful and kind person. She helped me with all my questions and concerns. Thank you for all your help. The unit was as described and I have nothing but good things to say.
Big help, great customer service
Connie thank you so much for helping me resolve the issues that I had, your customer service is awesome!! It's great to have people like you all...
Nice friendly and when need anything try best to help or resolve it
Place was very clean and organized. The lady at the front desk Connie was extremely knowledgeable and helpful in helping me get the right unit for what I needed.
Tina is very professional and very helpful and understanding. Love this lady!!! You all have been blessed with her
Tina was great! She was very helpful
Is access only from 6am to 9pm?? Or can I go anytime?
Went in get great help from Connie thanks so much
Tina has excellent customer service and made my move better than I expected!!! I live in Lawrence and I will drive to this Topeka location because Tina is there!! She is awesome, thank you for your help!!
Stores are in bed pretty clean for the most part can't complain I got somewhere to put my stuff now
Tina was really great today and she showed me my unit with kindness and with a smile she also got us out of the hot sun when we was done looking at the unit . She was a wonderful employee. Love the experience.
Great place to store. Tina the manager is amazing
Tina was so awesome and really helped me and my moving crew immensely providing water on a heat advisory day and not just 1 per person but several at no cost and she kept checking to make sure we didn't pass out in the heat really above and beyond customer service if u ask me, THANKS TINA WITHOUT U WE WOULD BE DEAD FROM HEAT EXAUSHTION, not only that but she was extremely knowledgeable and forth coming in making sure I secured the storage space
Tina was excellent was very personlble i enjoyed talking with her and she keeps that positive attitude
I went to this storage locker to pick up an auction win. I cannot tell you how kind and helpful Tina was it was my first time ever doing a storage auction and she walked me through the process and got us in and out quickly. Was a joy to work with her
Tina was extremely helpful!!
The property manager here is great! She's professional,explains things in detail so it's easy to understand and will help you prevent any unnecessary extra charges. Highly recommended!
Tina was nice and had good customer service.
Spiders, condensation. COVID affected income. If short one month. Their monthly pay schedule would charge fines for partial payment = 1st month . The next month on due date then became 2 months late . Cut my lock . Charged for a lien on my belongings = $260. Plus 2 months of late fees .Took my lock. I paid them for . Put theirs on..called it cutting lock. then had to buy another lock. Had to buy a lock before I could move out. These locks can be reused . It's just a key and cylinder. Rip offs!;!!!
Tina was so nice and helpful I would go back once needed for sure she's friendly and treats people with the utmost respect thank you Tina
Tina was really nice and friendly.
Do not use. Showed up, no one there. Door on sign said back at 2. Waited until after 2. Then came back, sign on door was then was pushed back to 2:30. Tried to call the office, no answer. Forwarded to an 800 number, and the woman on the phone had the worst attitude. Finally someone in the office AF treetops the third time back and now they have to reset the code. Spend your money elsewhere.
Tina was a big help to me. She was very knowledgeable in all of unit size and pricing, she helped figure out what I needed.
Great prompt and polite customer service! Thank you so much Tina!
Love the phone app keyless gate entry, appreciate that greatly in the rain especially! Great manager Tina is awesome....very help full and caring
Tina is very nice and helpful. The unit was also clean and in good shape.
Tina the manager was super nice and helpful made the tedious task of moving a bunch of heavy stuff less stressful
Tina was awesome! She really does care about customer service. :)
Tina was helpful great person would recommend this place to friends place is clean and roomy
Owner charged us more than we agreed upon, and charged us for another month AFTER we had moved out. That caused an overdraft fee so I guess I just have to ear that charge? No I don't think so. This guy is gonna eat it after I contest this fraudulent charge, and my bank decides whether to charge him with fraud or not.
Great experience. Highly recommend. The manager Tina very friendly and helpful
Tina is awful. I would never use this storage unit. They are rude and not there during business when they say they are open. I showed up with my rental truck and could not access my unit with nobody there so I was out 100 dollars and they said oh well my problem... Not willing to help us or work with us at all. This place has gone downhill so badly since Jaye left. I will tell everyone I know to stay away from here!!!
I rented a unit and it was secure safe and all that, 3 months later they automatically raised my rent $25. Just an email telling me they've done so. Did not understand that.
Great place to store items. Wish was open 24 hrs.
I was assisted by Tina at the topeka location. Miss Tina was very professional and well versed. I can't remember when I was treated with absolute kindness. I would recommend her services for anyone I know that needs storage.
Jaye was very friendly and she did an excellent job. Very satisfied with her customer service she explained everything to us and I'm happy we chose this storage unit. I give Jaye 5 stars and more. Thank You Dana Stevenson
The manager here helped me with an issue She was not even responsible for
I got this storage at a price of 68 a month it's a 5 x 10 storage. Got it 5 years ago. I now pay 139. A month. I plan to move my stuff out soon before they raise my rent again. The location is by railroad tracks so it's a bumpy ride to get your stuff in and out.
If I could give it less I would. We have stored our lives here for the past 5 years and they did not tell us that our insurance had run out so that we could renew it. Black mold hit the lockers and pretty much everything in it. Not even an apology, just too bad from them. Then the storage fees were raised! We will never use this place again. I do not recommend to anyone.
Misleading description of what was offered
I would recommend this company, because I called the 800 number and it was like 1 2 3 very good connection, very good communication. The lady at the facility of the storage was very kind, very polite and very professional. I give them 10 Stars.
Was unable to get in the locker and Jaye came out and walked us through it and was soooo nice and helpful. This place is awesome!
Harassment and bad attitude, not to mention the fluff charges!
Over priced trashy and lady was ryde
You guys are awesome youve never done me wrong keep up the good work
I would not recommend going there, not super friendly and they don't seem to understand what you're wanting they show you everything but what you really went there for
This is my first coming to a public storage and i was warm welcome with Tina. I really appreciate her and im thankful for the time being. 😊😊
Clean storage area's. Personable representatives.
Tina was beyond helpful today! So happy with my experience!!
Jaye was incredible! She got me set up with a storage unit quickly. She was funny and polite and created such a pleasant experience!
The manager Jaye was really friendly and accommodating. She helped me out when I really needed help. The pricing was affordable as well. I appreciate great customer service so thank you Jaye.
Cant say to much, helped a friend here but was what it is....not clean but its a storage locker soooo.
The manger Jaye was very helpful. My first time renting a storage and she was beyond amazing. Recommend going here if you need something stored.
Jaye was beyond helpful with answering questions and providing us any information we needed! 10/10
The manager Jaye was very helpful providing a detailed explanation of the facility and pricing information. She was very friendly and courteous. I most definitely recommend Jaye and the services offered by public storage.
I just wanted to write a simple thank you to Jaye. I've had an account with Public Storage for a lot of years. Jaye was kind enough to notify me of a credit I had on my account for years that I knew nothing about. She arranged to have the credit sent to me in Scottsdale. Jaye proved to me, she cares about people and customer service. It really goes beyond the storage part of her business, it's about people and relationships that really matter. Thanks again Jaye, stay amazing!
Had a good experience. Everything was as expected. This is my second storage rental with Public Storage, and will recommend them to others.
Jaye was nice and respectful and explained everything in detail and answered all my questions
Jaye in the office is amazing! When we moved from another state we thought a 10x10 would be enough but quickly saw that we needed something bigger. She jumped into action and found us another unit and had us all switched over really quickly. Months later I came by and didn't have my gate code and there was Jaye ready and willing to help me with that as well. It's kinda hard these days to find people that don't act like you're a pain in the butt when you need help. Jaye certainly doesn't act that way!
Love coming in and seeing Jaye! She's always super sweet and very helpful with anything we need! 10/10!
Public storage is always solid, big thanks to Jaye for helping us out!
Jae is a wonderful person and is always willing to go the extra mile to help you the best way she can. My wife and I have had a wonderful experience renting at this location. Thank you from our family Jae
Very sweet and kind and helpful Thanks Tina
Jaye was awesome and very helpful.
No complaints...night time visits are challenging and some of the gate signage is confusing ( gate access until 10pm) but it's a 24 hour availability unit. ... just saying.
Tina was awesome was in and out in no time they were very professional
Tina is a nice lady and she is a helpful person. I highly recommend this storage because they have a reasonable price on renting a storage. I rented a storage from them and got to keep the storage if I needed it again. Thank you Tina so much.
First person talked to and signed rental agreement was great. The second lady saying she was manager very rude and didn't leave her name. Open to street said we could not be there.
Jaye was very nice and welcoming. She explained everything in an easy to understand way. Very good experience.
The price is decent. I shouldn't have to sweep out the unit before I store things. Still, that's not my issue. Jay, the lady on site most days, blew my cell phone up with calls and texts, I'm assumng from her personal number(DAY AND NIGHT!) about a late payment. Like, outrageously unprofessional. I don't understand how this person is allowed to work in customer service, I'm certainly not the first or last person to deal with this. Unfortunately this is all I can do, as she(illegally) refused to give me her managers contact information I'm forced to leave even 1 star to write this review.
My wife won a bid on a storage unit at the 8th St location. From the beginning of the transaction throughout the entire day she was treated disrespectfully by the lady working in the office named Jay. Even down to not letting her in until she had the exact change after my wife offered to allow her to KEEP the change! My wife remained respectful throughout the day, but she never wavered in her attitude towards my wife. Never again will we do business with or recommend this storage unit to anyone. Terrible. All of this because Jay told my wife that she doesn't like her adult son.
When i arrive to this location it is very uncomfortable and every time i Go to make a payment the lady staff who works tuesday thru saturday is not a very nice staff to me n mines. She also told me she can not print me a reciept and is not able to take two separate payments and there are too many complaints bout her and she is not very nice to me at all and she is very rude and i do not recommend no one to go to this storage location. go to the one on 41st street. Jessie Cummings will take care of you better then this one...I wish my unit was at 41st street. but its at 8th street ave location. Since then i have not went back to 8th ave to make no payments. andd i go to the location on 41st st
Jayne was super helpful and very pleasant
Place closes at 9pm and you can't get to your stuff. Also if even a day late they will charge you like an outrageous fee per day just to get your items back
We like Jaye. Good friendly service.
Very warm and kind. Jaye was very helpful with all my questions and issues. Very excellent employee. 💜
Everything was excellent.
Great place and reasonable pricing and Jay the manager is very kind and helpful
The lady was vary professional and understanding plus vary informational about how to store at their facility
Jaye made the rental process hassle free, and is always helpful when I need access to my indoor storage unit.
Jaye was very welcoming.. She had all the right answers, and was very helpful..
Jaye knew a lot of knowledge about the product and was a overall good person
I loved this place and especially the worker named Jaye she was very helpful and friendly
Jaye was very helpful and funny. Never had that much laughter getting a storage unit!!
Jaye is amazing, she always has a warm welcome smile when greeting customers...she enjoys her job and it shows. Very professional and knowledgeable, I would highly recommend this facility because of her!
I recommend this place whenever someone asks me if I know of a good storage rental facility. Jaye, one is the workers is one of the kindest most heartfelt women I have ever had the privilege of knowing. She is beyond helpful, puts literally everyone and thing before her own needs, and makes someone's day almost instantly whether it's a chance encounter or a planned gathering. Her customer service skills surpass the average clerk these days! Even if someone is unpleasant to her, she handles it with grace, dignity, and love for mankind
I had a lot of questions about the storage facility and Jaye was so helpful. Seemed to really know the answers. Very helpful.
We own a Moving Company in town and have frequented All the Public Storages in town. This one particularly has a very nice lady named Jade who is professional and kind! We highly recommend them and request Jade she is very knowledgeable!!
I have used public storage for several times in the past 10 years and never have had any kind of problems there staff is top notch
Jaye was very awsome thank you so much for your help and showing us a storage she was very funny i cant wait to come in and pay my monthly bill just to see you and hear your jokes
Staff is rude and way over priced
Today was the first time I had ever rented a storage unit. I am beyond happy I went to Public Storage on SE 8th. The area was very safe, lots of space. The unit was easy to locate and was very nice. The woman who was working, Jaye, was beyond amazing. She was very knowledgeable about all details concerning the unit and the renting process. She made me feel very comfortable and made the entire process very enjoyable. I would HIGHLY recommend Public Storage to anyone in need!! Jaye I hope you see this or hear about it, Thank you again for the amazing help you gave me today!! You are an amazing person!! I am definitely one happy customer!
Jaye is friendly and awesome! Easy to work with a always makes the room light up.
Upon our (my family) journey of finding a storage facility, I came across this place. Reading the review this place had received I decided to rent from here. After requesting to see one and having to reschedule our payment a few times, Ms Jaye was awesome. She gives full warnings of everything and makes fun with the tours and all. I definitely would recommend this place to anybody needing to store anything. 😁😁😁
Just want to give a shout out to Tina for helping me get the lowest price possible on my unit she save me hundreds annually. The place is clean and my stuff feels very secure at this facility
Jaye was very helpful and kind! Set me up good..
JAY IS THE BEST! You would think she was the owner! She made things super easy for us even when it was time to give up our storage unit.
Tina was so kind and helpful. It is rare to find this kind of customer service anymore . It was greatly appreciated. Thanks again Tina.
Great service jaye has great customer service
Jaye is a beautiful person she take time out to go threw all the paper work and make sure u understood every thing.
what sizes are available and what are the monthly rates
Ms. Jaye was very nice and polite very professional and made sure all my needs were meet
Jaye is an excellent communicator and property manager. It is a very nice storage facility that is clean and safe.
Jaye was very friendly and extremely helpful with today's experience. A lot easier than expected👍👍👍
Would not allow moving truck into lot. Had to off load in the street and use pallet jack to haul items to storage unit. Real P.I.T.A. after told the lady we had a Ryder truck didn't say anything then. Looking at different location.
This a well kept storage facility. The attendant, is very helpful and is friendly and seems to always have a smile. The prices are very reasonable and units are clean. They also have boxes and other moving items that one may need. I would recommend this facility to anyone.
Jaye was amazing I never met someone who was nice and polite and customer oriented in eager to help
This is my second time getting a unit with public storage but the first time at this location. Jaye, the manager, was so helpful and made the process very quickly considering I needed the unit last minute! She even recommended that I use one of their plastic covers to lay on the floor of the unit to protect my items better! She was very upfront about the humidity and moisture that could happen in that area which I appreciated. I'm glad I came back to public storage!
I've been helping my friend move and she just recently got a unit here. I can honestly say that Jaye was so helpful and very professional yet personal. When I ever get a need for storage I'll be sure to use Public Storage!
Jaye helped us rent today and was impressed by her and the property definitely recommend renting here
They some rip offs tho changed prices on us months in w.o. a notice
The people there are very curtious and friendly
There is NO customer service at either of their locations in our town. If i hadnt alreafy paid down And knew just how run down the facilities look and are and the rudeness of the employees.
Jaye is always awesome to me and has excellent customer service skills.
Excellent customer service. My SUV's battery died right at the front gate. After pushing it out of the way, the very nice and friendly attendant (Jaye) came out of the office and helped to jump started my vehicle for me. That is above and beyond. I will be staying here and telling everyone else to come here. Great customer service and very affordable prices!
Jaye was super helpful! She was really nice and had amazing customer service! She made moving day so much easier
Great attitude and very fast assistance. We were helped by an employee named Jaye, and we were greeted and immediately guided to a storage unit. Definitely recommend for people looking for a cheap and easy way to store their belongings.
Jaye was great. Knowledgeable and fast. Job well done.
Jaye was awesome and walked us thru every step easily and efficiently. Great experience!
Moved from CA to Topeka, KS in April. Totally unfamiliar with area and needed storage while we looked for a house. Jaye at the Public Storage facility was very friendly, made us feel welcome, and very helpful. Good advice about putting plastic on the unit floor because of the humidity, and using moisture control/dehumidifier containers (can purchase there or other stores) to also help keep our items dry and odor free. Really appreciate the help! No problems when we took our items out, all in good shape. Would recommend if in the area and needing storage.
Jaye was very helpful and she was gave good tips on how to store my stuff. The place looks nice and I like the new locks. They also had good customer service. Good job 👍.
Jaye is great. Wonderfulest person we've had. Highly recommended
I STRONGLY RECOMMEND THIS PLACE !! THANK YOU !! "" JAYE "" GREAT CUSTOMER SERVICE YOU THE BEST I WILL COME BACK WITH YOU IF I NEED TOO KEEP UP THE GOOD JOB !!
This is a great storage facility. Jaye, the manager, could not have been more helpful - and the location is perfectly convenient. I didn't realize that there would be an additional charge for a lock, but all of the other fees were clearly explained on the website. Access was a breeze once I got my code and I couldn't be happier with our choice. Thanks!
I have been scrambling to get my house downsized and get a storage unit that is affordable and easy with good amenities. I cam in to this location today to check it out and I was quickly greeted by a very sweet woman. I do not remember her name but she is expecting a baby in a few short months.She was extremely helpful, knowledgeable about the facility and the company policy. To my surprise she was able to ease my stress over finding what i needed. I have been to many places already to inquire about their facility and she, by far, had the most amazing customer service I have ever seen. Please thank her for me and let her know she is appreciated by this Ol' Gal!
Came in to make a payment and the pregnant girl was very nice!!! Awesome customer service!!!
Great service, stored here for years. Highly recommend!
Great location, great prices!
Jaye is a wonderful, happy, and knowledgeable employee. The units are clean and protected. I would use this facility again and highly recommend it.
The worker Jaye was friendly and a great help gave me all the information and was patient with her work the room looked to be in good condition
Jaye helped me get my storage unit and was SO kind!!!! Wonderful customer service! Would definatly reccomend.
jaye was really polite and showed me different units untill we found the right one she has really great attitude and awsome costumer service!!!!
Great service, friendly staff would recommend 10/10
Just rented my unit. Jaye is great to deal with.
Great on every level, couldn't be more pleased
Place was clean and well kept, Jamie was nice and customer service was awesome. Computers were being stupid but was was quick once the computer came up as soon as the system was up and running.
Excellent service.Very friendly.
I really appreciate how the lady was very knowledgeable and patient with even a very rude customer she helped me and made me feel like she was a friend she was sweet and it was reasonably priced. I don't know about the other properties but this one I Loved.
I came in to make a payment and see about getting a bigger unit, and Jamie was an amazing help, very professional, and I was very pleased with my visit today 😁
Jaye is a cool as far as a public storage respective employee and is very cool to work with
The Lady at the Public Storage JAYE is a very nice lady and friendly and she is always smiling. I will always be a friend to her.
Very misleading about move in costs. She told me $25.00 over the phone and it was close to 75 when I went and did the paperwork
This place is great.. Great customer service & safe place to store your belongings.. Jaye really made me feel good about the whole experience & I got my 1st month for only be 1$.... I would strongly recommend this place to anyone.. Charles
Went in to check on some pricing, I am not needing a unit for a month or two. I was greeted by Jamie. She was wonderful. Answered any of the crazy questions I could come up with and was just a pleasure to speak with. I will be back just to see her when I am ready to rent the space.
They were friendly and made my experience super easy.
Jaye was very friendly and helpful. It was a pleasnt experience renting a storage unit . Thank you for your help.
I have never been more impressed with the start of searching online for a storage place, easily reserving the unit, help from 1-800 customer service (I know right), to thea end with last but not least Jaye. She was efficient, knowledgeable, kind personable, and business woman all in one. And yes, some of those characteristics may not seem like they go together, and normally they don't. But when they do you will know you have made the right decision to come work with Jaye at Public Storeage Units at 710 SE 8th in Topeka.
The employees are very helpful. My storage was $18 per month thats a deal!!
Couldn't ask for more! Super easy, super clean.
One of the friendliest and nicest customer service experiences I've ever had! I was having a horrible day and was stressed out to the max. Jaye went above and beyond to resolve any issues i was having. Thank you so much!
The property was fairly nice looking, but the employee Frances was super friendly and made the experience ten times better. I look forward to renting here!
Best storage in Kansas! Was helped by a lady named Frances. It was the most satisfying customer service experience I have ever had.
Wonderful and nicest people to do business with. Happy to answer all my questions. Keep up the great work.
Thank you Lindsey for all your help, really wish there was a deal on the bigger units but I had to have one. Thank you bunches
Very friendly and reasonablly priced.
Friendly clean reasonable.
Jaye, was extremely helpful and nice. The check in process went smoothly, Jaye, made sure we understood the terms and payment information
Jaye is very friendly, personable, and made sure I received the right storage unit for my storing needs. Excellent customer service!
Clean environment quiet and front desk person I believe her name is Lindsey was very helpful and accommodating. Made me feel very welcome. I would recommend if anybody needed a storage unit.
The place is clean and well maintained. I have never rented a unit before, and Lindsey was great to work with.
Storage bins infested with roaches. The small kind. Building F. Wish i woulda took a pic! Didn't think of it at the time. Was busy trying to shake the roaches off my stuff. The roaches were commuting back & forth between the adjacent/neighboring storage bins. Loaded our items onto a moving truck & went straight to walmart to buy a fogger. Set off the roach bomb twice in 2 days in the back of the moving truck. Refuse to bring that stuff onto my property. May have to use one more to make sure they're all gone. Disappointing. I know you can't control what critters the customers bring in, but this infestation had been brewing for a while. Unacceptable. Pest control badly needed. Especially for the rates that they charge!
We were getting a storage site for our sister, moving in from out of state. Jaye talked to her several times on the phone before we did paperwork and checked out the unit. The unit was clean and ready for use. Jaye made sure the lock was working and let us try it. She suggested we try the gate code before leaving to ensure we had no problems if the office was closed when we needed it. She was pleasant and funny. Loved the sense of humor and feeling like we had been customer for years...and we just met.
clean units, good security, helpful staff
I have talked with Jaye on several occasions and I'm impressed with her cheerful attitude and she is also very knowledgeable about all the services.
Jaye, provides excellent customer service. She always greets you with a smile and goes out of her way to make sure you are a satisfied customer.
The staff is helpful and polite. I would recommend to family,friends,and foes alike. Great place!! Jessica Doby thanks for everything!!
Tina was very helpful very knowledgeable very friendly would recommend a hundred percent thank you again five stars
I truly appreciate Jaye going out of her way to make her customers happy. Thank you so much you do a job well done.
Mrs. Jaye was amazing, very patient, very kind, and made me feel like I've known her for years!!
Needed a space while moving to store some things. Was able to get an affordable unit in a pretty secure location. Staff is kind and helpful. Would recommend
Jaye made my process super easy and amazing and quick. made it super easy. give her a raise
It's storage. You store stuff there. Five stars for keeping my boxes dry.
Property is clean and secure! Professional and Very Nice!
Great manager on site. Lela worked hard to get my monthly rent price to a price I can afford .Thank you Public Storage.
Bad customer service problems with drug users living in the units dirty and not enough security measures over priced
Tina was very Helpful, Thank you !
Lela was very nice, knowledgeable and professional and called after my online reservation . The storage unit was a good price, although I wasn't aware that insurance was a requirement when I made the reservation online, which added 11 $ to the price.
Friendly and helpful. Thanks!
I appreciate such a pleasant experience very accommodating... Even helped with my new born put her to sleep awesome space 10x20 was very clean and spacious.
Lela is an amazing property manager! She is super helpful and super nice! I'm glad I chose this location for my storage needs!
Ive used their services a few times. Customer service is great. I enjoyed talking with Lela.
Super easy to get started. Great clean storage units.
Lela was very helpful in making sure we found what all we needed and all paperwork. Very detailed with knowledging us on any paperwork and gave tips on how to even help store more! I do recommend!
Jaye was very helpful and very friendly.
Awesome customer service and very friendly. Kudos!
Every time I come in to make my aunt Elia's payment Lela is always nice and polite. She knows me and always has the account up and ready when i come in. She is great. Thank you Lela
I was coming from Louisiana and Lela was very patient and kind. She was able to get my rental done fast so I could get home and get a nap. The property was clean and secure and Lela went over everything with me. I will recommend this place to all my family and friends.
Stevie was very helpful with setting up my storage unit
Have a great experience with Lela in the Topeka ks location she deserves a raise!
I stopped in to purchase some boxes and Lela was great. She was very helpful.
Great service! Stevie is the man!
Well mannered and very good people skills! Thanks a lot Lela for your time!
It's a great friendly place and love working with Lela she was such a great help!!!!
Very friendly and efficient staff, I will definitely recommend public storage to others.
She got us worked in last minute. Very friendly and helpful. 🙂
Great service thanks Lela
Lela was very helpful and friendly. Great place and wonderful service. Thanks for your help Lela!!!
Person running it was rude and changed the price when we got there
SCAM ALERT! If this Public Storage location notifies you (yearly) that your locker has been burglarized, it probably means that the Topeka Police Department wants a free peek in your locker without the bother of asking for a search warrant.
Its clean and Lela is a great manager and we like her
Lela was super friendly and extremely helpful. Wonderful place can rent
Great staff, clean and secure! I have really enjoyed working with the staff so much so that I've got another storage unit and decided to stay on longer than I had originally planned.
Awesome service and great experience with Lela. She took care of everything I needed quickly and with a smile. Even got me the things I didn't think to get! She was great!
Not truthful about there rental prices
They are really friendly here I would love to rent to rent from them any day of the year
Great People Great Place!!!
Lela is a amazing worker very helpful and kind Ever need a storage unit come see her
i will bare my testimony the public storages are best ran. Lela is very efficient and had me with my storage and my keys in and out in about 15 minutes. sincerely Seatle Charlie the worlds most literate hobo.
Fast friendly service. Excellent at communicating what charges were for. And STILL the cheapest in town!
Lela was great always helpful and goes out of her way to make you feel appreciated. Thanks for your help
Came to rent a unit and Lela was awesome.
Lela and Mariah are great people and they have great customer service skills. Thank you
Lela was fast and courteous and nice and good at explanations about the rules of rentals.
Made to buy monthly insurance through them, as well as made to buy their lock to secure your storage space. They do not allow customers to use the trash d dumpsters located at the facility, it is for their use only.!! WOW....😡 one might think with all the added expenditures , you could maybe at least throw away olds boxes, etc.. . However it its absolutely prohibited.
Lela did a great job showing me sound and it's a Great place to rent from and you even get to ride in a golf cart. I'm satisfied so far with the price also!
Lela has been very helpful. I believe Derrick should not be employed here. He is very rude and lazy. Lela has always gone above and beyond for me.
Fast service. Lela was great.
Lela is the absolute best person I have came across today. I stopped in to make a payment on my sons unit. She smiled and walked me through how to make the paynent with a credit card. She let me talk and talk and she just listened. Today was not a good day for me and Lela just made it a little better. Thank you for hiring such caring people.
Lela assisted me with deciding on what storage unit size was best for my family. She was respectful and very knowledgeable.
Very nice! Lots of patience with my questions!
Lela was great helping me get my code to the gate when I couldn't remember it.
Tyrrell Thomas was fantastic. He answered all my questions, found me the perfect unit. This guy deserves 10 stars 😄😄😄
I stopped by public storage for some boxes and I was helped out by Lela. She was great. I will be back to purchase more from her.
I went to PS to get some boxes. Angie and Lela were super nice and helped me get what i needed
Angie was very helpful through the entire rental and check in process. Everything was quick and painless! Thanks!
I needed some packing supplies and stopped in at public storage. Lela was great and very helpful.
The property is near the County Jail, so plenty of police to respond to a break in. Several units had wall damage that the manager wasn't aware of, but assured me that it would be taken care of. I did notice water damage along the walls in the back units that I was shown. The main gate entrance row where my unit is was clean and none of the above was evident. I did notice that the new lock system appeared to had been tampered with, but the design prevented a possible break in. The gate was damaged from a tenant running into it and it will remain open until it is repair. Hopefully soon! All I all, it is still a safe place to store!
Shannon help me out with a smile and a great attitude. Space I'm thinking about moving and even though I didn't purchase anything today she was happy to help me. I look forward to coming back to seeing her smiling face
Great place and wonderful experience. Thanks to Angie!!
We are moving to Topeka from Calif. we were shopping for a storage facility. And most definitely will be yours. Moving is always frustrating especially a different state. I was so pleased, with the refreshing attitude and helpful information provided to me from a young lady at your store. I have never before wrote a review or made comments on the internet before. But I just had to this time Shannon Lynch . Not only gave us great friendly service. But literally changed a ill tired very bad mood into a wonderful uplifting great mood because of our visit to your store was a very helpful and the best positive experience . We left there with different attitudes and smiles on our face. 100% Absolutely be using you storage
Angie was fantastic, very quick
Angie was great, from the moment I walked in the door an dc greeted wit a smile, I may not have rented a unit but I will definitely be back to get one, property was very clean and secured..would recommend to anyone
Angie the property manager was wonderful she helped me in every way possible..I felt my items were nice a secured..will recommend to all family and friends.
The property manager epitomizes professional customer service. The facility is very clean. Online bill payment is quick and painless. Would highly recommend.
Angie the property manage was awesome, she was very friendly and made sure ibhaf everything I needed. I would recommend her to anyone..I'm so glad I came here to store I know my things will be well taken care of...
I went in to talk about getting a storage unit for the first time by myself. I first talked to Lela, and she was very helpful, polite, and patient with me as I wasn't 100% sure what all I needed to do. She had great ideas and great advice. Along with great customer service skills! Today, I went in to pay for my unit so I can start moving in to it, and I talked to Angie. She was very helpful, polite, and patient as well! She went over everything that Lela had previously gone over with me to make sure I did know everything that I needed to know! Thank you ladies for the help! I'll be looking forward to do business with y'all. :)
Angie the property manager was awesome, I needed a unit for my things from the moment I walked in the door greeted wit a smile I knew I stored my items at the right place. I will recommend public storage to anyone I know.
Everything is safe and in good condition after 7 months staff very friendly
Angie was very sweet and helpfull
what i have found with pub, storage is the fee keep going up while the service I getting much worset,i go too pay or use my unite during the hr's they are to be open and no one in at the office, so I have to leave my check, and if I need to enter my unite, I can't, was told today that my unite has gone from $23,00 to $26.00, if someone had bend at the office for the last two mo's, I would have known it,so I may have to get a unite some where else, for now all I get is poor service and increase in cost for the same unite it started at $16.00 and now it $26.00, the unite I have is not worth that much, jimmy ellis
Just awesome Angie was great
Great and safe storage place
the on site manager is very helpful and nice would definitely recommend this one to anyone
Called for a simple quite and was treated horribly from the first second. Sales staff told me "I don't do customer service!
I went to pay my storage bill yesterday which happen to be the 4TH of July and spoke with Jessica she was very sweet. I didn't expect the office to be open but it was and I was met with a smile. It made my morning. Thank you Jessica!
I stopped by the downtown facility last week and a gal named Jessica was one of the most helpful and personable people I have ever met! In addition to going over what the storage guidelines are, she spent the time to patiently help me figure out exactly what I need. She even gave me directions on how to navigate out of the area while avoiding the many freight trains that frequently pass by. Thank you Jessica!
Good service . Very helpful
Jessica was really great and helpful with everything!!!!
I had a great experience dealing with Angie she was very-professional and honest.
Very good service by Tam,y and Angie
Thank you sooo much for your help! I needed a place to store my furniture and Tammy helped me get it set up. Thank you Tammy!
Angie, the property manager of the Public Storage on 8th ST, is exactly what a good customer relations person should be like. She is friendly, helpful and eager to go out of her way to get you the help you need. I would have no problem renting another unit at this location with her being there.
angie had greeted me with a smile and seemed to be very happy at her place of work. she explained to different sizes and prices and was happy to repeat over again quite a few time. i must say this was my best experience with your company.
Angie and Tammy are fantastic to work with!! Always over the top fantastic!!!
As business, we understand the importance of satisfying customers and clients. We are always pleased when we can interact with other businesses and create satisfying relationships. This was exactly our experience meeting Angie, the property manager at the 710 Se 8th Avenue location in Topeka, KS. She was most professional and efficient in meeting our needs. We are glad to have a relationship with Public Storage.
Angie was wonderful she helped me in every way she was very caring and she was awesome
very pleasant and quick lease agreement Angie was very pleasant and very helpful
Angie is wonderful she was very helpful and nice she answered all my questions. .
Angie was very helpful and understanding. She us doing a wonderul job keep up the good work. I will refer all my friends and family to public storage
Wonderful and great customer service.
I love how friendly and respectfully they were.
They were very nice & helpful really great prices as well! Very happy!
Angie is very kind and hospitable; did a great job explaining everything. The floor is a tad bit dirty, but everything else is lovely!
Had wonderful experience with the property manager Angie she was very fast and has wonderful customer service.
Angie is doing a wonderdul job, she is friendly and very understanding, thank you for the wonderful customer service will recommend to anyone.
The property manager Angie has excellent costumer service! I had a wonderful experience. She is very nice and very helpful. Angie also explains everything as well as answers all questions in great detail. I will recommend Public Storage to all my friends and family!
I had a very great experience with Public Storage the staff are personal and friendly but also very professional. thank you for everything. Ricky
My experience with Public Storage was such a great one. From phone calls to face to face conversations, I was given amazing customer service. Property manager, Kenyatta, was so friendly, helpful, courteous and efficient. It is because of her that I chose to do business with Public Storage. Thank you!!
Angie was awesome, things went smooth
Jessie was Quick and helpful
I had a wonderful experience with Angie, she was very helpful in every way. I will recommand public stotage to anyone. I have never experience good customer service. Great job Angie
Don't get scammed. This place offers an up front discount but you are going to end up paying way more than other storage places in Topeka. Access is very restricted. The units are not in good shape... mine looks like it has been broken into. Bill pay is very inconvenient, especially if you don't want to drive down and physically make a payment. Then, if you're late, they not only charge you a hefty fee, they cut your lock!!! They want you to let them freely bill your bank by signing up for 'automatic pay' but my advice is to find another locally owned storage facility who cares more about keeping happy cutomers. These guys are only going to drain your money.
I went in to get packing materials and had several questions regarding prices for units. Angie not only was helpful but very patient with me as well. She needs to be recongnized for her kindness and hardwork. Thank you.
I have received great service and have had a good experience thus far from Kenyatta she is very helpful
Me and my mother have been renting from here for almost a year now and the manager Kenyatta has been so helpful with any questions or problems we've had. Thanks for the great service!!!!!
I went into the store to purchase some boxes and Angie was wonderful she was very helpful and she saved me money, I was very pleased and happy with the customer service. Keep up the good work..
My girlfriend and I went to move the rest of our things out on New Years Eve. When I went inside it was close to 6pm. I told Carolyn, the woman working that I had a few things left to get out and that I would only be a few minutes. It ended up taking me longer than I thought and when my girlfriend went inside to let her know we were done it was after 615pm. We felt so bad that she had to stay after hours and she still was so very kind and said that she understood things happen. I couldn't believe that a woman who didn't even know us could be so generous to stay and let us move out. It was very thoughtful and appreciated! I will recommend public storage to every one wanting to receive excellent service with a smile!!! 5 STARS
I've rented storage space before, but have never been treated as well as I was at this location today. Kelley personally took me to my unit, made sure it would work for my needs and explained everything I needed to know to make my rental work for me. Thanks Kelley!
I have been renting at this property for some time now and every time I have either been in to pay or called with a question or problem the ladies there have always been very helpful and patient with me. Would recommend to anyone.