Public Storage Self-Storage Units at 1850 SW 41st Street, Topeka, KS
Address
1850 SW 41st Street Topeka, KS 66609
Property Open
Mon-Sun 6:00 AM - 9:00 PM
Storage Facility Features
Car Storage

Outdoor Storage Units

Property Manager Lives On-site

Small, Medium & Large Storage Units
---

5'x10'

Outside unit

Drive-up access

Outside unit

Drive-up access
Nearby Self-Storage Locations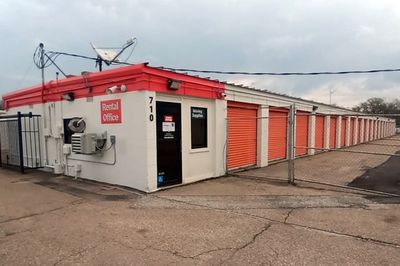 Self Storage Near
710 SE 8th Ave
Topeka KS 66607
Resources from the Help Center
See what fits in different storage unit sizes
Topeka Storage Units by the Kansas Turnpike
Topeka self storage is located just off I-470, Highway 75 and the Kansas Turnpike. This storage facility is great for residents of Pauline and is adjacent to South Topeka and Central Topeka.
Golfers will love being within a short drive of the Topeka Country Club and the Shawnee Country Club. Lovers of the outdoors will appreciate the easy access to Big Shunga Park and Lake Shawnee. And all will appreciate the convenience of being just a few miles from Topeka Regional Airport.
But you are here for storage, of course, and we got you covered. Need to clear out a room in Highland Crest? Our manager, who lives on-site, has a 5x10 storage unit for that. Kids moved out? Repurpose that bedroom and store those mementos in a 10x10 storage unit.
At Public Storage, You'll Always Find...
Keypad Access

Friendly Staff

Month-to-Month Rent

Moving Supplies Available

Free Parking

Well-Lit Facilities
Reviews
( 219)
This is a good place to store your belongings. The manager Jessie on site is a sweetheart and easy to get along with. She cares and is always willing to work with you. I appreciate everything she has done for me!
Horribly ran, I pay several days before the first of the month and it still takes the facility a week to complete the transaction which results in banking problems. Terrible experience when they increased rent without notice.
Great customer service, friendly and helpful.
This place is an absolute gem great prices awesome customer service we'll be staying here for awhile.
Great Experience with Public Storage, Had No issues. Jessie was Amazing with answering my Questions. I'll Definitely be Back if needed, Thank You.
Have used this location for business storage on and off the last few years. They have been amazing. The management is super friendly and professional! The spaces are the most reasonably priced in town and it was nice for what I needed.
Kinda expensive. Loves to hit you with late fees the minute you miss a payment.
Jessie the manager is always kind and professional. The locks that are used for the storage units are excellent and it's always clean
Very nice and clean place to store our family's off season and heirloom possessions. Mgmt, Jessie, is always greeting with a smile and very watchful of who comes around. Makes us feel more secure knowing she cares about our stuff as much as we do.
I called for availability for storage on someone else's behalf. I found they had a unit. But price was to high. HUNG UP. THEN THEY TEXTED A RESERVATION FOR ME I CLEARLY DID NOT MAKE.
Why would you put a unit up for auction that is infested with cockroaches?
Why are my reviews being removed. I purchased a unit at auction. It's infested with cockroaches. I advised staff because I was worried about the roaches scattering to other units. Public storage said to clean it out. Doesn't that defeat the purpose of me requesting their assistance. Believe me I can write a review everyday. Public Storage offered no help. Kept my money. I'm not endangering other units. So you can stick that unit where the sun don't shine. Horrible place
So where did my previous review go? Obviously public storage doesn't want people to know about their cockroaches. Then don't put a unit up for auction that is infested.
Connie showed me a unit that will work for me size and price wise
The security of public storage is less than most of the storage facilities around town. Other places are easily half their price with more security. And their late fees aren't $40+. And most don't have an additional 10 -15 dollars convenience fee if pair by card. Prime example of bare minimum with maximum charge.
Expensive but hey it works
Rachel On 41st Street Was A Great Help & Great Customer Service.
The manager Jesse is an absolute Sweetheart. Highly recommend If you ever need storage.
Couldn't pay my bill at 8th Street went out to the 41st Street store and the lady is very pleasant.
Customer service was friendly and helpful. The facility was clean and accommodating.
Jess is very selfish, not a team player, and
Willing to work with you and make your experience as good as possible.
They were very helpful and quick to get me set up
Great service , very helpful and freindly , would recomend.
I had a great experience the place was clean units were a great size and the lady named Jessie that helped me was very helpful and respectful and based on that alone I would do business here again not so easy to find people willing to be kind and professional these days would recommend to anyone
Jessie was wonderful 1 phone call to her and she happily helped sort out my personal storage unit for what I needed with a little bit of extra room left over thanks for your help :)
Public storage is pretty nice, wish they were 24 hour access but other than that, pretty y awesome
Jaye was so helpful and professional! Great, clean place, close to our downtown home, so it's perfect! Thanks Jaye!
Friendly and professional staff. Would recommend.
The best available customer service out there A+
Price increases are outragous. Pay more for a 10 x 20 storage than my house payment. Their business thrives while ours suffers from COVID19 shut down. They stated to us while they care and understand as they charge full price and don't offer one bit of consession. Think they even managed a price increase. This company is just a heartless vile scavanger and deserve no future business from anyone. UnAmerican says an exVet, volunteer firefighter, EMT, and engineer that gives their all so scavangers like this can take and take.
On February 02,2020 i went to the public storage place on 41st street at 2:08p.m and I was greeted by Jessie Cummings and she was greatful and polite to me when I walked into the door. And she was able to take two separate payments of mines to pay for my storage unit even tho I was told that the 8th street ave place does not take separate payments. Jessie was very understanding and concerned bout me making sure I came in to handle m payment correct and was so awesome and i appreciate that in a employee when it comes to any places.. She has very good customer service skills and very reliable and I thank her for making me feel very comfortable and understanding to someone like me .Thank you Jessie Cummings and I been coming back to 41st location to make my payments.
Tina was a great help and a happy smile on a stressful day. She showed us how to open and close thw storage and recommended the damp checker. She made it possible for me to sit down since i didnt have my wheelchair. All in all she was a wonderful woman. Thank you Tina agian for everything
Went in to see about getting a storage unit and was greeted with a smile by Jessie. She was so kind and caring. Really made me feel comfortable about leaving my things in a storage unit.
Such a great experience!! Definitely my first choice for all my storage needs
Jessie is amazing!! I have used them before and when I needed storage again, knew just where to go. Facility is clean, secure and safe. Staff is friendly. Very satisfied! :)
Jamie and Jessie are great! They are accurate, helpful and wonderfully friendly people.
If you think you are getting a unit for one price and well turns out its another. And the on site manager could really use some people skills. Worst place to rent a storage unit!!!
Jayne is amazing always has a smile on her face and goes the extra mile to help us anytime we need.
FIVE stars for Jessie at Public Storage!!!!! She is AWESOME to work with & I appreciated her friendly & professional manner!!! THANK YOU so very much Jessie!!!!
Tina was awesome and very helpful
Tina was an absolute delight. She was kind and very helpful. I highly recommend her if you ever need storage
Jaye good professionalism and work ethnics
Great price! Jessie is phenomenal!!! Will be here for a long time!!!
Talked a the manager Jessie, she was super professional, nice, very knowledgeable, and seemed to care about my needs. Told me about this cool no damp stuff to protect my things from the Kansas humidity. I asked her how long she's been there because of her knowledge. And no surprise she's been there doing a great job for 10 years plus. Jessie if you're reading this I hope your company recognizes you for what you do.
Price goes up almost $10 every year, no matter how much you are currently paying. So in 10 years your bill each month gets awfully high! First year it was around $52 a month. 4 years later it's now $94. At this rate, in 4 more years, I would be paying $190 a month?!
GREAT help today at this Storage unit by manager "Tina"...I had a problem with my lock & she was the best help!!! Thank you Tina for your professionalism & compassion & all your help!
Great service by Jamie , very well kept business!!!!
Finally decided to get a unit. Jamie was helpful in the process. I had some questions about the online process and she was knowledgeable. she also walked me to the unit so I could view it first. I couldn't believe how clean and well maintained they are.
Came in and had trouble accessing my unit. Jamie was prompt to assist.
Jessica was extremely professional and helpful! Made this whole process less stressful. She went above and beyond to answer all my ridiculous questions and make me comfortable leaving irreplaceable items stored there. THANK YOU SO MUCH!
The storage is cheap at first then they raise the price on you in middle of the year
Public Storage looks professional on the outside but their customer service is worst than anything I have ever seen. Please do yourself a favor and go somewhere else. Poor management that won't pick up your calls, return your calls or assist you over the phone. I even called headquarters, and that was even worse. Good they picked up, but I wish they didn't because she didn't know what she was doing either. They have increased my monthly bill from $120/monthly to $140/monthly and just recently $151/month. All these within one year. This was why I was trying to call them but no one would pick up in Topeka office or give me clear answers from the headquarters in California. Please stay away or experience this nightmare I am going through right now. Biggest mistake I have made.
Friendly staff. Price and location works for me.
Jessie is a great asset. She helped me with all my questions and was very pleasant to talk to. I will be sure to bring my business to this company.
Fantastic customer service with Jessie! She was knowledgeable, friendly, and great to work with!
The facility has issues with rats and mice, and its a hodge podge for leaks and ground level overflow. Notorious for misinforming Clients, they've openly admitted to lying to customers about payment due dates for the purpose of collecting past-due charges. If you're late with a payment, which you will be, they Will Not work with you, they'll expect an entirely new contract to be signed (several months worth of charges, at least 6) or they'll refuse you access to your property. If you refuse, they'll claim all of your belongings (whatever was stored) and charge you an additional months storage. Their collections love repeatedly nailing your account - i.e. resubmitting debt claims monthly, sometimes several times in a few weeks. - In short, there are better, easier to work with facilities less then a mile away from this one. Which won't damage or blatantly steal your belongings while simultaneously destroying your credit score. I'd suggest U-Haul storage, not even a half-mile down the road. Their Team is better prepared to provide clear terms, have never lied to anyone (to the best of my knowledge), and are willing to work with you if there's a snag. Whats more, their on a main road, and their facilities are better maintained, so no real problems with vermin eating your couch fabric, or a heavy rain molding your favorite furniture/belongings.
Get management. Always helpful and nice. Easy process to rent unit.
Jamie did a great job getting is set up. One thing perhaps she could have explained a little better is that you must have either A) your own insurance or B) purchase their insurance. But that's just a minor point as she did explain most everything very well.
Great people to work with, storage units are well-kept
Was a great experience with great outstanding customer service!!
Been storing my son's stuff here for a few months. They are great.
The people in the office are always friendly and very helpful.
Jessie was awesome. Super helpful and friendly
Jamie kalina was terrific,kind,helpfulill she treated me like we where family.
jamie is a wonderful employee, she provided excellent help and answered every question that came to my mind!
Went with a friend and had friendly, wonderful service. Awesome staff met with Jamie.
Our questions never go unanswered with Jessie. She goes above and beyond to make sure you are satisfied and understanding!
Awesome place. Was helping a friend move while in town and we needed a storage place fast. The lady behind the counter was awesome and she got us what we needed quick. Jessy or Jessie or something. Anyway cool place and awesome people working there.
Great customer service by Jessie!
Jessie was very helpful and knowledgeable. I really appreciate her kindness. Jessie was fantastic.
The employee that helped me was fantastic! I am very pleased with getting my stuff out of the way!
Took someone there to get a storage unit it was nice big and small storage units
Jaye is really friendly, courteous and really helpful with the services and products offered. Thanks!
These people are horrible. She opened late for one and then she had an attitude the whole time. HORRIBLE TO THE CORE.
HATE the Hours i always have to hurry from work before they close otherwise i have had No problems
Jessie helped me out with what size i needed. She was very knowledgeable.
Jaye Parkreson has got to be the most cordial and polite individual I have had the pleasure of doing business with.
Jaye was super! Great people! Thanks for your help!
I must say once again that my use of Public Storage has been very incredible and supportive to my needs! My second time at this location, Ms. Jessie, the other guy and Ms. Lindsey has served me well, quick and easy service, just like it was in two other locations outside of Chicago and Oklahoma City! Way 2 Go staff! 07/16/2018, also wanted to add that Ms. Jaye has been very helpful to me as well, public storage under went a minor reconstruction of putting brand new doors and locks on select units, giving me my new keys and always, staff, security and the company whom replaced the doors has done a excellent job of measuring safety and protection of my personal property while in construction.....I don't believe I can go with any other self storage, other than Public Storage, because so far, my experiences with them has been a true blessing to have their support!
Jaye did an amazing job setting us up from the phone call till the time we got there the facility is great and I'm glad to have found this specific public storage
Very clean facility and friendly staff. If I have to use a storage facility again I'll choose Public Storage. The prices are fair also.
This place sucks they discarded my storage after a few days and told me I was 45 days late after they took my payment and by then my belongings were gone they had no remorse even though I paid for the insurance and I was told my stuff was trash anyway!! And that they didn't have to have remorse because they are a business !! I would give them -2000stars if I could they threw away things that I could never get back kids school pics social security cards birth certificates they didn't care bunch of crooks save your money.
Lindsey was very helpful! This is a very people-friendly place and I would recommend it over any other place I attempted to get quotes or service from. Thank you for all your help!
Very painless and quick to get a unit, especially if you have reserved online first which is also a quick and easy process. The people I met were very nice and created a great experience.
Good service, Manager was very friendly got us a unit quickly. Very reasonable price.
You get what u pay for. Will say the staff is really good ppl tho
I don't know where to start....
Love doing business with this location...i absolutely would recommend this public storage to my friends
This storage unit is kept very well maintenanced and the the staff is very well knowledgeable and are very nice and helpful.
I recommend public storage. Jessie is awesome. She is very professional and takes the time to answer all your questions.
I've been a long time resident at this facility & Jessie the manager has always taken great care of me & the other tenants. Great place to deal with.
Frances was very knowledgeable and friendly and helpful. She took time to tell me about everything they offer and basic information to renting storage units.
Don't store ypur things here!! They are unfriendly. Bad customer service. Unyielding in working with you. Terrible gate hours. Talk down to customers. Expensive. And whats worse is that they do not honor your leasing agreement.... Most specifically the agreed unit price!
This was my first time getting a storage unit. Frances and Jessie were awesome. They answered all my questions and explained everything thoroughly. I have absolutely no regrets.
Both Stevie and Jessie were awesome. Great team work got me in and out was in a rush and they made my day worth while. If you are looking for a place to store go visit this team
Stevie is very informative and helpful. The process is smooth and convenient. Price is reasonable and the place is clean and safe. Plus this place is open 7 days a week.
I was helped by Jessie and she was so very helpful. She is a great person and represents this company with so much grace. She is very professional at what she does and does the best job. I will always come to this location and ask for her anytime I an here and need help. Thank you Jessie
This is the third time I've used this location for storage and I wouldn't go anywhere else. Stevie helped me get a unit today and did a great job.
Stevie helped me and was great!!! Will use again when need be.
Some of the storage rooms are small
Never see workers there. Locks are hard to open. The garage doors are hard to lift up alone. Lots of space though, prices are decent.
It was a wonderful experience. Very painless, and with the help of Jessie in the front office, who was extremely helpful, informative, and always smiling, it was a joy for me. Thanks Jessie, and sorry for the late review!
Came in today and was helped by a young lady named Mariah. She was very knowledgeable about supplies I needed in order to pack my belongings for a move. She helped me figure out a cost effective way to get everything pack without going over budget.
Fantastic service! I came to look at packing supplies and Mariah Thompson was extremely helpful :) she knew EXACTLY what she was doing and where everything was. Highly recommend!
Clean and well maintained units. The staff is friendly and works with the customer. Overall great experience
Great staff works very well with the customer. The storage units are clean and well maintained. Overall great experience.
Miss Jessie was absolutely fantastic to work with. She helped us determine the right unit for our needs and budget. The grounds were clean & tidy. We will continue to use Public Storage for all our storage needs!
Nice, clean location & friendly, knowledgeable staff, specifically Jessie! I'll defiantly be returning to these facilities if I need additional storage space in the future!
I was looking for a storage company and coming across some rude people. When I meet Jessie Cummings she was super firnedly, very polite and made this much easier on me. She kept a smile on her face and helped me pick out exactly what I would need. I will never go anywhere else and I will be referring others to her. This world needs more people like Jessie. Thank you for going above and beyond and making this easier on me despite the circumstances.
The woman named Jessie that helped me was the most respectful person i have seen in a long time. Be proud of her, shes a really great person with her customers . Thank You for the help. Ashley Brundige
Great customer service. Polite & very Friendly. Jessie is a sweetheart.
Jessie is absolutely the best. When I went in she was super sweet, and seemed to genuinely care and listen to what I was looking for. She helped me out to get the right storage. Highly recommend you going to see her!
Mariah was amazing. She made everything really simple and helped me get things done so easily and quickly. Would definitely recommend friends
Jesse is absolutely the sweetest most helpful person ever!!! It was my worst day, but her reassuring and professional manner were very calming. She was patient with me and cherfully showed me several units. She made a horrible situation for me, very pleasant with her warm attitude! She is the BEST! She worked with us to get our items moved later. Words are hard to describe just how important a role she played in making my storage experience a positive one. She deserves 100 stars!!!
I came in yesterday and bought 2 mattress covers. Shannon was still very very kind to me, I enjoyed having her help. She showed me everything I needed and was very curtious. I will definitely come back again!
I had the best service at public storage with Shannon she gave me a lot of information and she was very sweet and knew exactly what I needed. I will come back for sure. I am glad she took the time to listen to what I needed when moving is a stressful time, thank you for the best service.
There was no units to rent but I was able to buy some tape and Shannon was such a delight and very helpful. I will for sure be coming back to rent in the future
Great service! The manager is very friendly and was helpful in helping me with my storage needs. I would kindly recommend Public Storage, especially this facility, to all my friends and family.
I was assisted by Lela! I was told about the different offers a promotions there was. The building was nice and clean! Everytime I come to pay my monthly bill, I'm always greeted with a friendly smile. :)
Jessie was fantastic. Really enthusiastic from the time I walked in till the very end. Extremely patient as she worked with me to meet my needs.
Manager Jessie helped me with all my needs. Fast, friendly, and informative. This company should have more locations, with her in them in Topeka!!
I bought 2 small boxes. Shannon showed me around, she was very kind and very helpful. She answered all my questions without any problem. I will surely be back in march to rent!
Very good service by lela, I will be going back .
They are prompt and professional, Lela always handles my needs and I trust them with my valuables
I went in to Public Storage to see a couple of units in different sizes. I walked into the office and was greeted with a smile by Lela. She was very friendly and was able to answer my questions. She walked me to look at the units. She told me about the rent amounts, the vacate policy and the features of the property. She did a great job and I will more and likely be back to rent.
I had some question about pricing and storage sizes. Jessie and the Lila were very helpful. They explained everything to me. I will be renting through Public storage.
Customer service at this location must be their motto, because I've always had a great experience every time! Efficient and friendly is how Jessie deals with her customers. I will always recommend Public Storage!
Had some Questions about storage space and prices. Talked to a Girl Jessie. Super friendly and helpful. Answered all my questions Quickly and with great positive energy. Definitely need to buy some storage now.
Went in for pricing on units and shawna who was in training was very helpful. :)
Jessica was great she made the experience very easy and comfortable.
Jessica was very helpful and full of valuable information. Super polite and curtious
So far so good. Excellent customer service.
Jessie customers service is amazing. She was super friendly and patient with all my needs. Would highly recommend this location.
Jessie was awesome, she answered all my questions and very friendly compared to the others companies I looked at. 5☆☆☆☆☆
41 street office was very helpful. Jessica was the lady that helped me and she was great. She answered all my questions very professional. I WILL use public storage again thanks to the service I received at the office.
I made a reservation for a storage unit for $1 and when I arrived the next day I was told that it would $60-$80 for the storage.The person I spoke with over the phone had messed up my account so I was told I would have to pay an outrageous price knowing that I only needed a storage for less than one week.The woman at the front desk Jessica could tell I was very upset. I had visited other storage units that had a better price after finding out I could not get the storage unit for $1 but they were closed since it was the weekend. Jessica went ABOVE AND BEYOND to get me in a storage unit UNLIKE the two women that she had contacted since she could not get a hold of her district manager. Thanks Jessica your the BEST!!
I had a very pleasant experience when I signed up with Public Storage. Jessica was kind, courteous, knowledgeable, and efficient. I appreciate all of her help. I highly recommend Public Storage.
I had a great experience with the team at this location. While I did not purchase at that time, I will be back. The facility was well kept and the staff personable and knowledgeable. The person I spoke with was named Jessica, she's very professional!
Just got setup with a unit this morning. While I have had a number of different storage sheds in the past, I don't think I've ever had an rental experience as quick, detailed, and courteous as my experience with Tammy this morning. Thanks.
Great location! Whenever I have a question or problem Jessie is always very pleasant and professional to deal with.
I have rented from this particular storage facility off and on over the past 25 years! I will continue to come back when/if I ever have the need to store my personal property. Jessie is not only professional she is courteous, personable, polite and seems to genuinely care about the customers. Well done!
Awesome facility & staff! Easy check in & access.
Tammy was knowledgeable and courteous
The property is very well kept and Jessie the property manager is absolutely fantastic. She is friendly, and she gets you in and out so you can get to moving your stuff into the unit. I wouldn't rent anywhere else! You definitely want to rent here!
Had a great experience! They helped with everything I needed.
Jessie is fantastic to work with would recommend to anyone
Awesome people Tammy and Jessie and great service
Always friendly and very helpful. Thank you Jessie and Tammy
Jessie was very professional and very helpful in getting us set up in our storage unit. We didn't have a lot of time so she made the process seem very fast and timely. I would definately rent from public storage again as I have in the past. They are great .
The clean, well maintained property really made me feel like my stored items were safe and secure! Jessie was always very pleasant & helpful. The convenient location and affordable prices are an added bonus! I'd definitely recommend storing anything here & will definitely return if I need to store my own personal effects again!! Keep us the good work! :)
Had to put some of my stuff in storage while I worked on my house. Jessie took very good care of me and the price was right for the amount of space I needed. I would use this service again. I only give it 4 stars because it was a drive from my house...however they can't control that.
I have recently checked around for a storage facility. Your property manager at your location was, by far, the most courteous, knowledgeable and friendly of all of the places I visited. She really knew the business inside and out which made my decision easy. Will definitely refer your location to others.
I stopped in to get boxes and ask about rates. I spoke with Jessie and she was very polite and informative! I am looking forward to doing business in the future!
The customer service of Jessie at this location is phenomenal. Purely professional and full of knowledge about the storage process.
Jessie was very helpful and didn't stop smiling!!
The manager Jessie is very professional and courteous
Jessie was fantastic and fun! She made renting a unit super easy, and she made sure I got exactly what I needed. :)
Very helpful and secure. Easy access. Didn't appreciate that the instructions told me to select 50-6stars instead of allowing me the freedom to choose for myself. That is why I'm rating this 4 instead of five.
Jessie was amazing, after dealing with a family loss she made everything seamless for us from the moment we made the reservation and down to the day we moved in our stuff, absolutely amazing customer service. In the year we stored items there she went out of her way to be sure and always greet us and ask if we where ok. If I ever need storage again I will recommend this location. Thanks Again!!!
Great service. Jessie helped with all my needs. She had the right size unit and got all my stuff in that day!
I highly recommend this location for storage needs! Customer service was outstanding! Got a call back the same day! They were more than accomodating with my schedule! Also can't beat the price!
Jessie did a wonderful job of handling our order! She went out of her way to make sure that everything was perfect. Great customer service!
Jason was very pleasant and very professional
Got a call the same day I made a reservation to verify that everything was what I wanted, and if I had any questions; went in a few days later to check out the unit, and everything was up to par. Jessie helped me out on the day I went there, she was great help, answered my questions, and made customer service fun and bearable. She was great! Really liked the location (off the beaten path) and the fact that they haven't had any security issues in three years. Got a great deal for the unit.
What a great experience! From the time I was making plans for my move from Connecticut to Topeka. Special thanks to Jessie!
Jason Was the man behind the counter. He was super quick and made the process of renting a locker fun believe it or not. He put me in the right locker and Angie took me to see it before I got it. The people are awesome and Jesse even helped me test my gate code. If I need another locker in the future I'm coming here.
The property was very nice and clean. The staff was very knowledgeable, helpful, and friendly.