Public Storage Self-Storage Units at 1717 W 31st St, Lawrence, KS
Address
1717 W 31st St Lawrence, KS 66046
Property Open
Mon-Sun 6:00 AM - 9:00 PM
Storage Facility Features
Climate Control Storage

Car Storage

Small, Medium & Large Storage Units

Indoor & Outdoor Storage Units
---

5'x5'

Climate Controlled

Inside unit

1st Floor

---

5'x8'

Climate Controlled

Inside unit

1st Floor

---

5'x8'

---

10'x5'

Climate Controlled

Inside unit

1st Floor

Outside unit

24 Hour access

---

8'x10'

Climate Controlled

Inside unit

1st Floor

---

10'x10'

Climate Controlled

Inside unit

1st Floor

---

5'x20'

Outside unit

24 Hour access

---

10'x15'

Climate Controlled

Inside unit

1st Floor

---

10'x12'

Outside unit

Drive-up access

---

8'x20'

Outside unit

24 Hour access

---

10'x20'

Outside unit

24 Hour access

---

10'x20'

Climate Controlled

Inside unit

1st Floor
Nearby Self-Storage Locations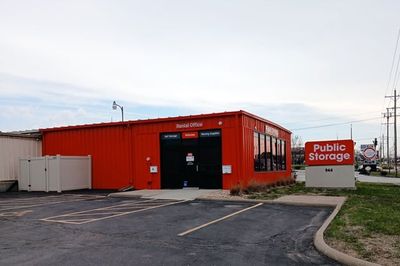 Self Storage Near
2223 Haskell Ave
Lawrence KS 66046
Self-Storage Near Lawrence
Resources from the Help Center
See what fits in different storage unit sizes
At Public Storage, You'll Always Find...
Keypad Access

Friendly Staff

Month-to-Month Rent

Moving Supplies Available

Free Parking

Well-Lit Facilities
Reviews
( 30)
Although the temporary storage unit I was in need of wasn't available. Ivey went above and beyond to try and find a solution. Update: Although I was told my rent would stay the same at Public Storage; they have since raised my rate approx. 30% without my consent. I called cusromer service and got zero support. I will be looking for another storage business that will keep their word.
I went to this location a couple of months ago to inquire about a unit for a family member. I appreciated the outstanding and friendly help I got from Hazel, who helped me decide on the size of unit I needed, informed me about the available deals, and ultimately showed me the unit and how to get access to it. It has worked out perfectly. Thank you, Hazel!
Hazel was so patient with me and helped me setup storage making sure my needs were met. I really really appreciated her help. I cannot say enough about how much I appreciate how she handled me in my time of panicking.
A quick and easy process! Thank you so much Hazel!!
I only rented here for a few months and I have no complaints!! If I needed storage I would have definitely stayed here, but fortunately for me I have moved and have a ton more space now. The staff is so lovely and personable. They also sell moving supplies and they were the only place I could find wardrobe boxes back in July. The only suggestion I would make is to make it 24 hours.
JESSIE WAS ABSOLUTELY AMAZING! SUCH A SWEETHEART AND CUTIE
We used a climate controlled unit for around two months. The staff was very helpful and professional.
Hazel at 31st public storage was very helpful and fast, as I was on my lunch break and was in and out quickly.
I recently had the pleasure of using the services of Public Storage, and I must say, the experience exceeded my expectations in every way. From the moment I walked in, I was greeted by a clean and well-organized facility that immediately put my mind at ease about storing my belongings there. Hazel , played a pivotal role in making my experience seamless and stress-free. Their professionalism and attentiveness truly stood out. Not only did they provide me with all the information I needed, but they also took the time to understand my specific storage requirements and offered tailored solutions that perfectly matched my needs. Their knowledge about the facility, its security measures, and the various storage options available was impressive. Throughout my time using the storage unit, I found the facility to be well-maintained and secure. The climate-controlled units ensured that my belongings were kept in optimal conditions. The 24/7 security measures, including surveillance cameras and access control, further reassured me that my items were in safe hands. What truly sets Public Storage apart is the exceptional customer service. Hazel was always available to answer any questions I had, and their willingness to go above and beyond to accommodate my requests made me feel like a valued customer. It's clear that they genuinely care about their clients' satisfaction. In conclusion, I wholeheartedly recommend Public Storage to anyone in need of a reliable storage solution. The combination of a top-notch facility and an outstanding manager like Hazel creates an experience that is truly unparalleled. I will definitely be returning for any future storage needs and will confidently refer friends and family to this establishment.
Hazel was amazing she was polite courteous and very patient. And empathetic with any concerns we had.
Hazel is very respectful and helpful. A super sweet person that always ready to give a helpful hand. The storage units are always clean and neat as well.
Excellence storage facility, clean, AC, new, staff was very helpful. Public storage App easy and efficient.
I rented a storage unit after searching for available storage units throughout the whole town. The unit at Public Storage was more expensive than others, but I was told after talking to the representative in the store that the first month would be $1. Awesome! I thought as I walked out to the car and discussed the possibility of Public Storage with my wife. My wife said we can't pass up that deal given our current situation. I agreed and went back to sign up for the unit. Well the representative told me that it would be the second month because they needed the first months rent and then the following month would be 1 dollar. This is a deal that is advertised all over their website and i reserved the unit because of what I was told. After realizing that they charged me $141 over what they said they would I called them up. Guess what they told me... That's right! So sorry charlie it sucks to be you. Hmmm, well, that is pretty conniving. I said why would you say that to me if it wasn't true, and why isn't it true if you have it posted everywhere? I don't know why someone would tell you that. It just isn't what is available for your unit. Only specific units get that deal. Hold on a minute why would your employee bring it up then? I don't know who told you that, but it isn't true. There's only 2 people working that store and if you didn't tell me that, guess who did... well 15 minutes of questions the manager couldn't answer and then she says she's sorry, and will have the regional manager call me to see if he can fix this issue. Ok, I'll wait for the regional manager to call me. Thanks. Hours later I get the regional managers phone call. Well not really. a person in training for a regional manager position calls me, and tells me he's busy, so she will help me. She proceeded to tell me that the deal of $1 for the first month wasn't even available the day I reserved and/or rented the unit. What in the world is this scam your company is pulling? A representative of public Storage told me that this $1 a month deal was going to be given to me without me even bringing it up. It is posted all over the websites and anywhere there's an ad. Yet it's for multiple reasons unavailable, depending on who is telling you that they are sorry. Thank you, Public Storage, for everything you did to rob a homeless combat veteran and then deny any responsibility for your employees' actions and then saying there was no way you could make it right.
Buyer beware...Nice facilities, they are new. Friendly staff, but after 50% off, move in discount for the first month and a great rate for the next 3-4 months... apparently, corporate will increase your fees about 58% with very little warning to react, especially if you're using this seasonal as a KU student and don't live in town. This is the ol' Bait n' Switch.
Good help. No Hassel. Please remember your code. Immediately tex it to your preacher.
Excellent staff and storage. Avery showed several units and was super easy to work with. She is patient, knowledgeable and knew exactly the right questions to ask me to find the perfect unit. I feel confident with Public Storage in Lawrence being the right choice because of Avery's salesmanship. Avery really came through with the sale process, and Hazel the manager was there for me with my extra questions. Hazel was just as knowledgeable about the process and was invested in making sure I had all the information I need. She is super friendly and professional. The staff made me feel really confident about my choice, and the facility itself is very clean and easy to navigate. I know that my belongings are safe there.
Hazel was very friendly and professional and helpful.
Hazel at the 31st location is the most absolute best
Hazel was a great help to me in figuring out how to access my unit for the first time, she even walked me directly to my unit so I wouldn't get lost!
Hazel is the most wonderful employee!! She helped me so much, download the app, set the combo on my lock. She is kind, courteous and goes beyond to be helpful. I feel so lucky to have chosen Public Storage and will recommend it to my friends and family.
Hazel is aweasome She was a BIG HELP TO ME
Hazel is awesome! She is courteous, friendly, and proficient. She takes care of the smallest of details. And is very helpful to everyone here.
Hazel is great!!! She will set you up
Everyone here was super friendly and helpful! Showed us multiple units and helped us find the perfect unit for our needs. Special thanks to Lorrie for all your help! We appreciated it very much!
The facility was incredibly clean. And the associate was amazingly friendly. Thank you so much Ivey for your help. You made this really simple!
Super professional and easy to use. Lot's of options, but simple process and friendly associates.
Great place to store our items. Fast set up, safe, secure facilities and Ivey is so kind and welcoming. You won't regret coming to this location
When will 31st Lawrence KS location be open for business and will there be climate control facilities?