Public Storage Self-Storage Units at 2223 Haskell Ave, Lawrence, KS
Address
2223 Haskell Ave Lawrence, KS 66046
Property Open
Mon-Sun 6:00 AM - 9:00 PM
Storage Facility Features
Car Storage

Indoor & Outdoor Storage Units

Property Manager Lives On-site

Small, Medium & Large Storage Units
Property Open
Mon-Sun 6:00 AM - 9:00 PM
Storage Facility Features
Car Storage

Indoor & Outdoor Storage Units

Property Manager Lives On-site

Small, Medium & Large Storage Units
Close Location Details
View Location Details
---

5'x5'

---

5'x5'

Outside unit

Drive-up access

---

5'x5'

Climate Controlled

Inside unit

1st Floor

---

5'x10'

Outside unit

Drive-up access

---

5'x10'

---

5'x10'

---

10'x10'

Outside unit

Drive-up access

Outside unit

Drive-up access

---

10'x20'

Outside unit

Drive-up access

---

10'x24'

Outside unit

Drive-up access

---

10'x30'

Outside unit

Drive-up access
Nearby Self-Storage Locations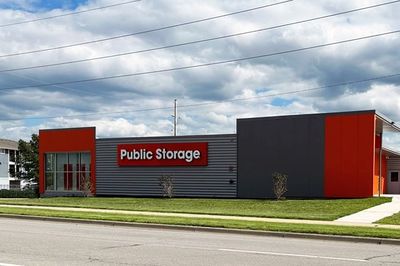 Self Storage Near
1717 W 31st St
Lawrence KS 66046
Self-Storage Near Lawrence
Resources from the Help Center
See what fits in different storage unit sizes
At Public Storage, You'll Always Find...
Keypad Access

Friendly Staff

Month-to-Month Rent

Moving Supplies Available

Free Parking

Well-Lit Facilities
Reviews
( 260)
Really nice she showed me explained things and was very very helpful I think I'm gonna love it here.
Straight forward process, all went smoothly 💯
Busy place with one great employee. She may need a computer upgrade?
Very generous and friendly, very explanatory and answered all questions with details which is great. Thanks
The lady at the counter is very nice. When I rented the unit I explained to her that I only wanted it for one month. She responded with ok and explained nothing else. I was moved out of the unit and did not renew. I received a bill in the mail for an additional month. I called and they said that it is because I did not check out of the unit online. The same lady answered the phone when I called and she remained kind. I reminded her of our previous encounter and she said she recalled. I asked her why she didn't explain the exit procedure to me at the time of renting. She had no answer and they are still holding me responsible for the bill. I realize that I am at fault but I feel she is also liable.
If you want random high price increases this is the place. Started at $190 for a 15 x 30 at 2223 Haskell in Lawrence, KS. Three months later 21% increase to $230. Ten months later 34% increase to $309. Eleven months later a 25% increase to $388. I am guessing there are enough people that will put up with the increases versus going through the effort and cost of moving their stuff. They now are advertising the same unit for $286 online with 50% off first month to lure someone in. I moved and got the same amount of space at another facility in town for $220 a month. They also used corrugated metal for the outside wall, which seemed to create enough of an access for me to find animal droppings at least a couple dead mice.
Spaces will start out affordable then they raise prices. My rate went up 3x in under 6-8 Months from 70 to 120
Quick and easy! Lady in office was great and helped me out on deciding size. So far so good!
Great customer service, incredibly helpful.
Kara was thorough, prompt and professional. She went above and beyond. Excellent
Kara and Bryan were Awwsum!! Very professional and courteous … highly recommend public storage from these two individuals!! Thank you
I appreciate all the help Kara provided when I called this week. She went above and beyond answering my questions. I definitely recommend this location!
Kara was awesome and friendly!
Just wanted to give a shout out to Kara who is an employee at the Lawrence location. She has great customer service and goes above and beyond for all of her customers! Thanks Public Storage for hiring Kara! She's definitely a great assist to your team and has management capabilities too! 👏😁💜
Very helpful with my process on being able to switch over and get me the help I need. One of the most friendliest workers I've had to help me out. I really appreciate her and her kindness. Would definitely recommend this place to my friends and family. A BIG Thank you to Kara!! :)
Kara @ the Lawrence location was extremely helpful with my storage move! I recently retired from the military and needed a space the same day. Kara not only helped me on the spot but also helped me get a larger unit when I underestimated my storage needs. I recommend public storage to anyone in Lawrence!
Kara, was excellent with her customer service. I did have to wait outside in the heat for 20 minutes but, once back she helped me out with a storage unit same day. Awesome 👍👍👍
Tina was very nice and helpful
Tina was very helpful. Really appreciate it.
Misty was awesome!! Her customer service skills are A1 sauce!! Explained everything I needed to know in full and answered all the little questions I had! Thank you Misty!
What us the pay by phone number
Melissa knocked it out of the park 😎
Misty did a wonderful job and she has a positive attitude towards! Thank you for Great Service!!!!!
Misty is the greatest! She went above and beyond to help me she is also very friendly! I think she could easily be my friend out side of her job . She appears to be very knowledgeable as well I think you got a great employee which is very hard to come by these days Misty keep doing what your doing
Melissa helped me find the perfect storage unit, was super knowledgeable and helpful when picking what size I would need and very accommodating to all my needs! Because of her, I would highly recommend these units to anyone needing some extra space!
Misty was extremely helpful and friendly. Service was quick and painless. Thank you!!
I came here to store some stuff when moving and misty was so nice!!! she made things go so smoothly, thank you very much!!
I have had a great experience working with this location. I got my storage the same day I signed up with no problems. The customer service is outstanding! Misty has been a great help every single time I've called or visited the location. She is very knowledgeable about how everything works and has great communication skills. She definitely goes above and beyond her job. She is also very caring. Thank you Misty for all your help and your smiles.
Misty was great, she was very friendly and answered all of my questions!
Top notch service, they understand their customers and are very helpful and patient. If you are looking for a storage unit for your (or your college kid's) stuff this is it.
Good afternoon, I needed to update, and sign my lease agreement. Misty gave me the greatest customer service that anyone could ask for. I really appreciate her help. she answered all of my questions in a professional manor, with care and respect. she made sure that all my paperwork was taken care of, and for that I am deeply thankful.
If I could give zero stars I would, this place is TERRIBLE we have gotten nothing but a run around and terrible customer service, we initially reserved a unit but canceled it less then 24 hours later, they took money from my daughter' s account after being assured they would not AMD even took more then they should have, so now almost a month later she finally gets a check in the mail but only for 1/4 of what they took and we continue to get the run around and a million different stories from each person we speak to! Please beware and do not give them your business
Misty has been really helpful and enthusiastic to get me into the right size unit.
I was helped by Misty and I could not of had a better person to walk me through all the details. I appreciated her sunny disposition and her making the process of getting everything done quick and easy. Thank you!
Easy process, friendly and helpful staff. She went through important details thoroughly and concisely. Good value also.
Misty was great and it was quick and painless getting it set up.
Came in with after dealing with 2 completely incompetent employees that had no knowledge or the intention of helping me with an issue that was cause by an employee. Which was fired for not being able to actually do their job.... I was determined to take my business else where, until Misty actually took the time to assess the issue and solved it. I felt like she actually wanted to help me. I appreciate her professionalism, problem solving skills and kindness. THANK YOU MISTY!!
If there was a way to get no stars I would. I lost track of time and stayed past closing time oddly enough a Secure Storage facility has ours to begin with but for them to let me in and the after-hours attendant gave me 3 codes that wouldn't let me out I had to scale a 9-foot fence for three children by myself as an adult find a ride then come back the next day at 6 a.m..
We don't rent from them but we do have a business close by. The grass is about 4 feet high and there is standing water in parking place for automobiles. A they need to do is clean under the back fence and it would drain. Also no dumpster again. Lots of furniture out where dumpster was. Just and there is people living down on there. Looks trashed.
Called and reserved a unit on Tuesday late afternoon. Leslie called the next day, which was Wednesday, to confirm and set a time to meet on that Friday. Thursday morning she called again asking if we had reserved a unit. I said yes that I had an appointment with her tomorrow and she said oh yeah. I asked her if that time still worked for her. She said yes. An hour later Leslie called and let me know she rented the unit to someone else. Got an email that said we cancelled our reservation and did we want to rent another unit. Funny because that was Public Storage's last unit in Lawrence. Will not rent with them if this is how they treat people.
Very disappointed. When I moved in there were holes in the ceiling from previous water damage. I didn't have the option to sign another contract so I'm stuck and don't trust my couch, boxes and paintings will stay dry. There is no customer service and no one returns calls so I'm looking for another storage place
Great storage place. They use an app now for opening their gates so you don't even have to remember the code. Staff was always friendly and helpful. Prices weren't terrible.
Got my storage unit today and it was quick. Definitely worth it. Make the time to get it done ASAP if you need one. Don't put it off and don't forget if you have a lot to do.
Excellent service. Rony was very kind and professional! Will rent form then again.
I wish access to the gate would be later than 9 pm. Most storage facilities allow access to at least 10 pm but not Public Storage.
The associate that assisted me was very helpful and the units are very spacious, clean, and reasonably priced.
Used public storage multiple times. Customer service is always amazing. Never had any issues with my unit.
$1 for first months rent.... Smh... +25 admin fee +15 for insurance +20 for there locking mechanism... U walk out of there paying almost the full amount for a month... And they cant tell you anything about the locking mechanism other then its a cylinder lock
We're buying a manufactured home at Harper woods mhp and we needed a storage unit and rented one and the unit was very clean and no problems.
so so nice. i was a walk in and tina was more than willing to help me even though she only had a couple minutes.
Great customer service! I forgot to get his name but the gentleman who helped me today was amazing! I observed him helping another customer before me, who was extremely frustrated with her personal situation and she was confused about some of the information he was explaining. He was very patient with her and got her to smile and laugh a little. Thank you for employing such a thoughtful and kind hearted individual.
If i could give 0 stars i would. This place is a joke. I have been there five times in the past month and no one has been there each time. I finally was able to pay my payment today after waiting 45 min for someone to get back to the office. Each month i am charged a late fee and have to pay for a new lock because when i go to the office to pay the payment no one is there. I was able to speak to the manager today. He laughed when i told him i was mad about paying late fees and lock fees because no one is ever in the office to accept my payment. He also stated that there will never be someone in the office for their full office hours. After that he told me i could use the drop box which this location does not even have. I asked for his bosses number which he refused to give me. Please whatever you do, do not store your belongings here. Will be moving my belongings out a soon as possible!!!
Do you have units with electricity?
Prices keep going up don't see why ..units are no different than 3years ago..love the price in the beginning but now prices are getting outrageous..WHY? But must say very nice staff
I had a very positive experience while setting up my storage unit/account today. I worked with the onsite manager (I believe her name was Rebecca) and she bent over backwards to help me take care of everything and informed me very well about the way everything would work. I really feel like she has a personal touch that made me feel at ease that she would monitor the set up of things and that I wasn't just a customer number in the system. I really feel like the staff has a very hands on approach that makes renting more pleasant. The size of unit I had requested was unavailable but she bumped me up to the next biggest unit size for the same price so that was a nice surprise as well.
It was very good to have these storage spaces but I had to take my stuff out today.
Thank you Tina for all your help and for making it easy to rent a storage.
Excellent service, Convenient location, and very easy access. Matt helped me set up my account and answered all my questions and cleared my concerns. Definitely would recommend this location. BTW they are open all week long, which is, surprisingly, very rare for storage business for some reason.
Tina was very helpful assisting me find a great storage unit
Nice facility. They even have a bathroom that has helped because Everytime I go to the storage I have to potty
Warning don't store you're stuff here. Roofs are caving in. They seem friendly at first but dear lord miss a payment and they start tacking on so many fees then sell your property to the highest bidder. Might as well sell your stuff
I had a horrible experience with this particular location. My first appointment was cancelled by them and on the next appointment I almost left because no one was at the office during my scheduled time. Then the unit they showed me was dirty and the insulation from the roof was torn and sagging. Very disappointed but luckily I found a much better location in Lawrence.
Recently, I've been working to clear out a family storage unit, downsizing to a smaller unit. The situation has been personally difficult, but over the last few weeks, Tina and Rebecca have both been extremely helpful, doing their best to help me and my family save money and keep our stuff safe. I've received nothing but excellent assistance at this location.
No good experience to speak of. Will not use this service.
Rebbecca was awesome helpful and when I went to let them know I was done Tina was very polite and respectful. Would highly recommend them
My experience with Rebecca was terrible....just kidding Becca. She is really great tho she really tries as hard as she can to get u wat u need and can afford....a lil crazy lmao but id recommend her to anyone who needs help wit affordable pricing and great customer service!!
Great prices. Clean spaces. Nice helpful staff!!! -WMA
very professional and easy access to the units highly recommend
Rebecca is the best she is super helpful and very knowledgeable. Thanks for your awesome service!!!!!
The office was supposed to he open according to the listed hrs if operation. I had to come back twice, then the lady there said the hrs were "suggested" ...what. then a child, I imagine hers was racing around the lobby on this cart thing. I made one small request from her and she gave me a very flippant answer!!! Go across the street from QT to the other storage place!!!
Outstanding customer service from the manager Rebecca!!! We were also impressed with the reasonable rate that we received. I would definitely recommend Public Storage.
For what people pay per month, why are the roads in the larger area STILL broken and potholes? Why is the area not repaired and to exit is like a race after entering the exit code to run to car and make the gate. Please fix the roads or discount the rent!
Friendly staff and grounds very well kept
Great place. They have worked with me the whole time. And just got a new building with a bigger parking lot, easier to get in and out of in traffic. Onsite management is the best!
Friendly staff. Decent prices on units.
Great customer service! Dustin was very accommodating and polite and went out of his way to make sure our needs were met.
I had a reservation for a 5 x 5 two weeks before I finally came in. Prior to my coming in, I had received several calls. Once I came in, the manager on duty, Aiesha informed me that the promotion and the space reserved were no longer valid. However, she worked diligently to get me another space at a good rate. Her customer service is excellent and superb. Thanks
Since move in December of 2017, my monthly cost has increased from $112/month to $137/month. All of that would be perfectly fine, but the maintenance on the premise is very lackluster. The tarmac has been degrading since fall of 2018 and it is in a much worse condition to where you are unable to drive by the keypad. Furthermore there have been abandoned cars since move in.
Extraordinarily professional customer service! I was in a pinch trying to find storage space for a family member of mine and Rebecca was incredibly helpful, and very personable!
I had a very good experience with your employee Rebecca. She was very helpful by answering my questions about what was and wasn't available,and what to expect if I chose to become a resident. She was very kind and professional.
Informative and friendly staff, I just wish the gates were open after 9pm because it really made it difficult worrying about having enough time to move our items.
Great customer service! And friendly atmosphere! The girl frances anwswered every question i had! She Went above and beyond!
Francis was so friendly and helped me tremendously as I wasnt sure about the size of the unit , thank you again!
Noticed Public Storage after leaving Quick Trip and decided to stop by for pricing before committing to another storage company. Spoke with a lady named Rebecca who was very helpful. Suggested proper size unit and items to purchase to help take care of belongings; Something the other places didn't seem to care about. "Public Storage it is!" Highly recommended.
Rebecca is amazing she was very friendly highly recommend.
Friendly staff and reasonable rates
Clean, brand new storage unit, reasonably priced and appears very secure. Rebecca, the manager, was very friendly and helpful.
The folks here at Public Storage got me squared away and thank you again for helping out a veteran!
Justin was top notch and made obtaining a storage unit enjoyable.
It was place to store stuff
The person that was helping me was very friendly. When I went there, she was about to close, but she stayed open to help me out. She was very sweet and friendly.
Olivia, a property manager, was very knowledgable and helpful in the process of renting a unit. She was there most days and was able to help me with any additional moving supplies I needed.
It's a great place to have a storage
Rebecca and Justin were awesome! They helped me save money by offering a summer special monthly rate. I was so grateful. They provided great and efficient customer service!
They will increase your rate without even notifying you.
My experience with public storage was excellent .. I couldn't have found a better place to store my belongings. Customer service was great as well when I did have questions
Stop in to get some moving supplies and the lady that was in the office was amazing. Thanks for your help Rebecca.
Went in to check out unit prices for my grandfather and Frances was very informative and helpful. Also super nice!
Great staff and location.
I just want to say our experience with public storage on Haskell has been a pleasure to be there due to Rebecca the manager. she has been a fantasic help while be have been there. I would recommend this storage to anybody, but only if Rebecca is still there. thanks again Rebecca for all u have done for us.
I've used this location twice, and I've gotten great service bot times. Rebecca the manager is awesome, and the rates are better than anywhere else I looked. Clean units and facility are a plus as well. Most recently I had to get some stuff into storage quickly, during really terrible weather. Olivia was a gem, she made the experience stress free and really went the extra mile to get me the right unit. Kudos on the excellent customer service!
Easy to get to. Staff is nice to work with.
My family and I stored there not long ago and Rebecca was awesome!! Always smiling and an amazing personality you just don't find anywhere anymore. I've sent a few of my friends there and will continue to do so.
The services are great, reasonable prices, and friendly servicen, convenient location and well maintained. Very friendly staff, Rebecca is awesome.
Great staff. Very helpful..
Great place to store belongings out of the way. Parking lot and drive could use upkeep.
Awesome service, we called one hour ago and already have a unit. Shaunda gave us late access so we could move in everything overnight.
Rebecca was very friendly and helped me get set up with my unit. So far access seems easy and secure.
Nice people nice place check them out today
Tina was patient, personable and helpful and I had a fantastic experience.
Most the units have significant gap under the unit doors which allows water and small pests to get in so bring extra poison and moisture grabbers. UPDATE: after leaving this unit I can tell you it isn't secure. Half the units got broken into including my own, the fence and gate are a joke and no one obviously watches the annex. I had to buy a new mattress because of it place was filled with trash too.
Absolute worst business in Lawrence. The gate never works so any one can walk into the lot and also the doors do not close fully so water gets in. Then once you file an insurance claim they will deny that there was a leak and screw you out of all of the value that was damaged. Absolute worst business
Horrible. Advertise a special then don't honor it and when you cancel you have to fight to get your money back. District and Area Managers won't return call. Scam!!! They know they are dealing with college kids in a bind and they take advantage
I went in a few weeks ago and when I got there their seemed to be some one not happy because they didn't pay or something buy when it was my turn the lady behind the counter helped me like it never happened even with the people outside yelling still. Nikki was here name I think. Very satisfied
The representative that helped me was very knowledgeable and was quick to answer all of my questions. Her name is Amanda. If you are thinking about using public storage, make sure you speak with her, she'll get you all fixed up!
Me and my girlfriend came and rented a space today and Rebecca was very helpful and very nice.....will recommend friends and family to rent from this facility
Tina was sent from heaven!!! Thank you, for all you did for me!!
I was at Public Storage last Saturday, 4/8. Rebecca got me the exact storage unit we were needing. Rebecca's spunky and up beat charm was very pleasant to work with. If anyone is looking for a storage unit, I would highly recommend Public Storage, and if possible, to go while Rebecca is working (very helpful). Rebecca, even helped me with the boxes we still needed and the damp check. Thanks again for all the help, Rebecca. 5 starts for making a complicated process simple.
I have been renting from them now for 3 months and they have been great. Both Tina and Rebecca have been prompt in returning my calls with questions and have done everything they can to help. Lots of folks complaining about rental prices going up, but that's just supply and demand in a college town especially this time of the year.
All Public Storage facilities are corrupt. They will tell you if you don't buy or have the money to buy 'their' insurance, you items might or should I say "will" get stolen. I rented at a PS, didn't have the insurance money that day. The next day I came back to get insurance and my items were gone. These people are THIEVES!!! NEVER RENT FROM PUBLIC STORAGE!!! BEWARE!!! YOU WERE TOLD!!!!
Not very happy. Had my unit broke into and they said it's out of their hands. Have to deal with insurance. This would of never happened if their gate hadn't been broke and wide open for the past 2 to 3 months. Now magically the gate is fixed and working after I get stuff stolen.
Showed up at 4 and no one was there. They were supposed to open.
Quoted one price, then gave me a higher one. Hidden fees! They don't tell you in advance that they require a monthly insurance premium - that you can't decline. They don't tell you that you can't bring your own lock - you have to purchase theirs - $$$$$. Beware!!! Dishonest!!!
Rebecca was outstanding to work with!!
I reserved storage space online while on phone w/customer service and was told unit was available and to arrive 30 minutes before closing. When I arrived I had to wait quite a long time. I gave my reservation number to person behind counter. She started crying and said system went down and she had just rented the only unit(while she made me wait)she could because she didn't have any contracts printed and system was working. I said I have reservation number and a truck packed that I need to put in storage. She also stated the unit I had reserved was available but I couldn't access it cause they poured cement and it wouldn't be available to drive on for 2 weeks. She ended up kicking me out of the office because I wanted a unit stating contract could be written later or hand written then. She started telling me to get out again. During this entire time she kept crying. Really lady?? I am the person who got screwed. I spent two hours packing truck and driving 40 minutes to put stuff in storage all the while knowing I had reservation. Oh yeah BTW I am 61 year old woman and packed the truck myself. It was a lot of hard work. I will never use this company!
Excellent customer service! Property is well lit..and well maintained ! The Galina and Rebecca were very polite and professional! Would recommend to anyone needing a public storage at a fair price!
Super friendly staff, quick and easy to get set up. Good prices, good facilities... overall good!
Derrick was knowledgeable, efficient and very helpful. Facility is well maintained, clean and has very reasonable rates.
Kandice was so helpful with the whole process. She definitely made a stressful situation easier.
Kandice is very helpful and works very hard to accommodate!
The service was very kind. I had Shannon and she helped me with everything I needed and was very polite and curtious. I bought 5 boxes and a mattress covering. Not only that, she helped me bring the stuff to my car. I feel like she went out of her way to help with what I needed and I will definitely be coming back!
Kandice was extremely helpful and knowledgeable about the location units and potential problems for what we needed stored
We surprised them with a walk-in visit and they were really accommodating despite having a packed schedule. Kandice was knowledgeable and friendly, showing us the available units, answering questions, and offering advice. Units are gated and locked; feels like a secure location. The fees were higher than I'd expected, but there's not much the folks working there can do about that, so no reason to dock them points for it. Overall very pleased with my experience.
We had rented storage units last fall and when we needed another space, we went right back to Public Storage to get a new unit. Kandice was again very professional and helpful in helping us through this process. Thanks!!
Walked in to rent a unit and it could not have gone smoother. In and out in 10 minutes. Kandice and Lela answered all questions and were extremely friendly.
Kandice helped my fiancée today and it was a great experience. Thank you!
Kandice is awesome Super helpful and eased a very stressful time for me!
Kandice & Shannon were Awesome!!! Great experience!!!
I needed storage quickly and in a safe place. Kandace quickly showed me the perfect safe place. I am grateful!!!
I've had to use this place a few times and I've never had any issues with the spaces or staff. It's friendly and clean.
Lela and Candace are exceptional. Very helpful best service ever!!!! <3
Good service. Very respectful and helpful.
Friendly staff. Candace was very helpful.
Kandice, the property manager, called me within 30 minutes of making my online reservation. She was very friendly and knowledgeable. Property is well maintained and secure.
Kandice was very helpful and knowledgeable. We were able to reserve, review all the paperwork, and move in within a VERY short period of time. This experience really helped simplify an already lengthy and difficult move. Thanks!
I needed storage last minute and called Public Storage and the manager Kandice was very helpful setting me up with a unit. I would recommend this place to others needing storage
Awesome experience here! Everything went smooth even though my move was delayed a day. Lela is a sweetheart! Thank you all! Highly recommend!
I have been a customer for a couple of years now and am continually impressed with how Kandice treats her customers. She always takes the time to answer any questions that I have and that I am a satisfied customer. You all are very lucky to have her! I have also recommended your company to others. Thanks for all that you do and keep up the good work! Sherita
Kandice was very kind, helpful and knowledgable.
The wife and I were helping our daughter and grandkids move but we weren't familiar with this area or where to go. We decided to check out your place and after speaking with Kandice we decided this was perfect for our daughter and grandkids. Kandice had a pleasant smile and attitude and assured us of the security of their items. Job well done, Kandice! Thank you.
I was dreading having to find a place to store my household goods with many memories but I seen the Public Storage sign and decided to at least inquire about them. My mind was put at ease when I spoke to a young lady named Kandice. She was pleasant and very patient with my many questions. She changed what I was dreading to do into a more pleasant experience. Thank you so much, Kandice!
No security cameras or security of any kind. Holes in the chain-link fence where people broke in. Had 2 car batteries stolen. I no longer store anything with them and wouldn't recommend that anyone else does. If you don't heed my advice, be sure to pay the extra money for their "insurance policy" because you will probably be using it.
I was treated very well my Jessica she told me everything I needed to know and more. She was very honest and we were able to get something worked out for the time I needed the storage unit. Its nice they have 3 diff sizes to choose from on units.
I was so happy to come back to pick up my belongings, and find them safe, secure and not damaged by any type of weather, This is a fantastic Public Storage facility. The security is great, the unit was a perfect fit and the staff is wonderful. Kandice the property manager is a star for this company. She is so helpful and friendly. The other staff members that I've dealt with are equally as good, leaving me to believe that Kandice trains them. I know I;ll be needing storage space on and off over the next 3 to 4 years, and I will return to Kandice and this public storage facility for all my storage needs.
I've been a happy Public Storage customer for two years. Very professional, knowledgeable, friendly staff. The facility itself is clean and secure, with a great set of storage space options to choose from. Look no further for your stress-free storage solution in Lawrence!
My wife and I rented a storage unit to store our granddaughter's "stuff" after moving out of the apartment she rented while attending KU. We talked to Kandice on the telephone while we were still in Kansas City. She set us up to check in the next day. Once we viewed the unit we realized that we had asked for a smaller unit than we would need. Kandice scrambled to find us a larger unit and the whole process took only a few minutes to make the change. We have a storage unit in Kansas City with another company and believe me there is no comparison between the two. Kandice is so professional and helpful ii was an enjoyable experience rather than the struggle we go through with our unit and manager in Kansas City. I would highly recommend PublicStorage and especially the manager of this facility who is a great ambassador for her company. Thanks for all of your courteous and helpful assistance.
I went in to see if they had an opening. Kandice took my name and number. Before the end of the day she called with a unit available. She was fantastic and quick. When I went in to pay she had me in and out quickly, personally showed me the unit and explained everything in detail. Kandice was great.
This is the second time we are using Public Storage Lawrence. Again, Kandice has gone out of her way to take care of our needs. The property is clean and the service is terrific.
Kandice was very professional and friendly.
The property manager was very helpful and has a good memory. She remembered me when I used to share a storage with other college students in the past. I like it that the place is near Haskell campus and this is my third time using this storage place but this is my first time renting one on my own. I like the security that it has and I know I don't have to worry about my stuff when I am back home in Arizona.
The property manager is very professional and knowledgeable. I had an overall positive experience setting my account up, and have had no issues with the unit so far. The property seems well managed and the prices are fair considering this is a college town. If an unit is available is available and is the size you're looking for I'd highly suggest renting it from here.
Excellent, very helpful staff. Clean and well maintained location.
Kandice was extremely professional and helpful. She made me glad that I selected Public Storage.
I store my stuff there with friends during the summer and kandice has always be great!!
Kandice was great at helping me get the appropriate room for what I needed and was very friendly
My experience at this storage location was quite pleasant. Rebecca assisted me with finding the right size unit for my storage needs. I have some family items I wanted to make sure would be protected and Rebecca also helped me pick out the right boxes and packing supplies to ensure my items would be protected while in storage. Rebecca was very helpful and had a great smile. Thank you.
Kandice made everything straightforward and easy. Good office hours and a clean and neat facility bodes well. Also, they sell any supplies you might need.
Kansas and Rebecca were great thanks again helped me today even when it was snowing great staff
Kandice was very helpful. She gave me all the help I needed and I really appreciate her help. Thank you Kandice
Kandice was terrific to work with. Our rental experience with Public Storage has just started, and if she is an indicator of the professionalism and personality of the company, then I am confident the entire experience will be great.
Kandice & Rebecca are a great help when ever i need assistance. I've had a storage unit there for 2yrs & Kandice has been very kind & helpful. Thank You!
Very good customer service Kandice answered all my question and was very helpful. the only place I will use for storage in the future.
Very friendly staff, convenient location and well maintained. I would recommend it.
This was by far the easiest experience Ive had with a storage facility. Professional, clean, and painless. Tammy explained everything clearly and I was booked and unloading with 15 minutes. A very professional and friendly operation.
Both employees I dealt with during my lease were incredibly helpful and personable. My unit worked great and checking out was simple, no hidden fees, everything went better than expected!
Hassle free and great service! Kandice was very personable and did an excellent job of getting me set up with a unit in a timely manner.
Great service. Reasonable.
The customer service at this Public Storage location is great. Kandice was very personable and was pretty helpful in highlighting my options for storing my vehicle.
I found nothing but great service and well priced storage options at this facility. Thanks to Kandice, all my questions were answered, and I was quickly set up with my own storage space in a very friendly manner.
Kandice was a great help and she took care of everything I was looking for!!!!! The prices are awesome and the unit I got was perfect!!!! Thanks again!!!!! :)
Kandice is always friendly, polite and has handled any question or concern I have had in a very timely manner.
I had a very good experience. The manager Kandice was extremely helpful . She is a real asset to the public storage team .
The absolute BEST storage place. Kandace was soooo helpful - even though it was close to closing time, she patiently explained the whole contract to me and answered all my questions without rushing. We also know that storing your items and moving is a pain but she really made the experience much better.
Kandice has always been a great help and works hard to make sure we get the best service possible
Tammy was prompt, helpful, and very informative. I am pleased with my experience thus far with Public Storage.
Kandice and kelsy are great and helpful.
Kandice was very helpful. I recommend this facility to anyone in the area.
The property was nice and clean! Kandice helped me get the paperwork done quickly and answer all my questions.. she is very kind and friendly. She made my experience great.
Friendly, professional, and quick; only if they could now move my stuff too! I needed storage in a hurry and called while I was on the road. Kandice listened to what I was looking for, helped me pick the right unit, didn't try to offer something I wasn't looking for, and followed it all up with a confirmation email within minutes. Awesome!
I am a returning customer for this public storage location. It's well kept, clean and Kandice is amazingly helpful. I will keep coming back :)
Kandice and Kelsy were a HUGE help in trying to get all of my stuff taken care of. I would recommend this place to anyone in a heartbeat.
Kandice was very helpful, friendly, and quick with all of the paperwork. Storage Unit is very clean, secure, and dry (even after a couple of days of heavy rain).
Kandice was super helpful in getting me setup quickly! Facility was clean and well maintained.
Wonderful as always kelsy kandice are always friendly and answer any and all questions with a smile
I had a really good experience here. The ladies, kandice and Kelsey, were very helpful and knowledgable to what I was looking for. They are very sweet. I will for sure be coming back!
I was looking for a place for when we move and Kelsy and Kandice helped us out great and even got us started with some boxes!
I have used this storage facility multiple times and have always had a good experience. The services are great, reasonable prices, and friendly service. If you go ask for Kandice or Kelsey, they are extremely helpful. I would recommend public storage on Haskell to any student.
My experience with Candace and Kelsey have been great. They have been really nice and pleasant to work with. However, it has taken a long time to get my door to my unit fixed when I reported it several months ago.
Kelsey and kandace were phenomenall!! Loved dealing with them both.
I stored some of my home items here while my house was for sale, the staff was always friendly, professional and able to answer any questions that I had. The facility was clean, the location very accessible and I had a safe feeling here. I will use this location again when the need arises.
Kandice and Kelsy were very helpful and welcoming. The facility is well kept and the process was made easy.
I had a very good experience here, Kandice (one of the employees) was very enjoyable to talk to and is extremely helpful. I would definitely recommend this storage facility to anyone looking to store away goods. The rates were reasonable, and they are overall very easy to work with.
Nice units and great service. Kandice is very helpful and friendly. Would recommend this facility.
Everyone was very helpful and informative. The rental process was very easy. I would highly recommend this location.
I have a great experience every time here. Kelsy and Kandice are very helpful with any concerns I ever have. I highly recommend this location essentially based on my experience with Kelsy and Kandice!
This public storage facility is very well maintained and offers great 24/7 - 365 service. Their staff is very friendly and most notably, Kandice is very personable and knowledgable. I would highly recommend this facility.
Kandice and Kelsy were very nice, knowledgeable and helpful. The office is neat, clean and well organized and the prices are quite reasonable. We actually got a larger space than we needed FOR LESS MONEY!!! All in all we were very pleased with our experience and the ease with which we were able to end our contract with payment only for the few days that month.
I am very happy with this facility. It is clean and well maintained. The staff, Kandice and Kelsey have always been very helpful and courteous. I will recommend this location to my friends due in a large part to the staff. Bill Barker
Kandice and Kelsy are very friendly and helpful, very satisfied with there help.
The staff at public storage (Kelsey & Kandice) are Helpful, Courteous and Friendly. They are always there to help with a smile. Its always well kept and welcoming. I wouldn't rent anywhere else!! Thanks Public Storage for making renting so easy!