Public Storage Self-Storage Units at 3100 Murrell Rd, Rockledge, FL
Address
3100 Murrell Rd Rockledge, FL 32955
Office Hours
Mon-Fri 9:30 AM - 6:00 PM
Sat-Sun 9:30 AM - 5:00 PM
Gate Access Hours
Mon-Sun 6:00 AM - 9:00 PM
Storage Facility Features
Climate Control Storage

Boat Storage

Car Storage

RV Storage

Small, Medium & Large Storage Units

Indoor & Outdoor Storage Units

Property Manager Lives On-site
Office Hours
Mon-Fri 9:30 AM - 6:00 PM
Sat-Sun 9:30 AM - 5:00 PM
Gate Access Hours
Mon-Sun 6:00 AM - 9:00 PM
Storage Facility Features
Climate Control Storage

Boat Storage

Car Storage

RV Storage

Small, Medium & Large Storage Units

Indoor & Outdoor Storage Units

Property Manager Lives On-site
Close Location Details
View Location Details
---

5'x5'

Outside unit

Drive-up access

Climate Controlled

Inside unit

1st Floor

Outside unit

Drive-up access

---

5'x10'

Climate Controlled

Inside unit

1st Floor

---

10'x30'

---

10'x10'

Climate Controlled

Inside unit

1st Floor

---

10'x10'

Outside unit

Drive-up access

Climate Controlled

Inside unit

1st Floor

Climate Controlled

Inside unit

1st Floor

---

10'x15'

Outside unit

Drive-up access

Outside unit

Drive-up access

---

10'x20'

Climate Controlled

Inside unit

1st Floor
Nearby Self-Storage Locations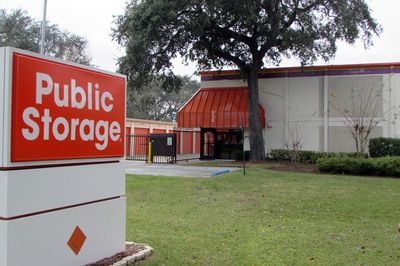 Self Storage Near
245 S Plumosa St
Merritt Island FL 32952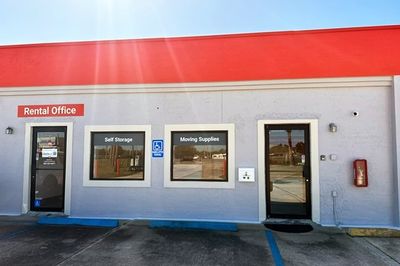 Self Storage Near
2845 W King St STE 303
Cocoa FL 32926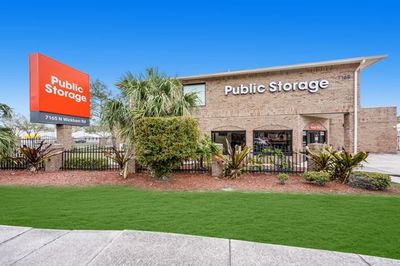 Self Storage Near
7165 N Wickham Rd
Melbourne FL 32940
Self-Storage Near Rockledge
Resources from the Help Center
See what fits in different storage unit sizes
Rockledge Storage Units Near Highway 1
Rockledge Public Storage has a variety of self storage options in a convenient location, sitting on Murrell Road just west of Rockledge Boulevard/U.S. Highway 1.
Customers will find indoor storage units, outdoor storage units and climate controlled storage units in different sizes to handle different storage loads. There are also options for car storage, as well as boat and RV storage too.
A 5x10 storage unit is great for holding outdoor items, whether it's athletic gear and backpacks for trips to the city parks or the River Lakes Conservation Area, or beach and boating gear for trips out to the coast or Merritt Island.
Small businesses along Gus Hipp Boulevard can grab a 10x15 storage unit to keep extra office furniture, equipment and supplies nearby, while residents getting ready for a big move near John F. Kennedy Middle School or along Fiske Boulevard can use a 10x30 storage unit to keep everything packed away in one place during the process.
A quick drive east off of Interstate 95, this gated facility is open 7 days a week and the friendly staff inside the rental office can also assist in purchasing various moving supplies.
As the oldest city in Brevard County, Rockledge has played an important role in the development of the coastal community. With the motto of "Preserving the Past, Planning the Future," look to this Rockledge Public Storage to help when that planning requires some extra storage space.
At Public Storage, You'll Always Find...
Keypad Access

Friendly Staff

Month-to-Month Rent

Moving Supplies Available

Free Parking

Well-Lit Facilities
Reviews
( 254)
Recently rental at Public Storage in Rockledge was extremely efficient, thorough and met all our storage needs. Personnel, Vicky and Whitney, were very helpful during lease process and first move in experience.
I have been storing here for many years, property clean. Joyce and Vicky are friendly and do an amazing job. I recommed this location to my friends and family.
I would definitely recommend anyone to this public storage the service was excellent!
The Staff At Public Storage On Murrell Here In Rockledge, FL Have Been Wonderful Helping Me. I Have Had Trouble Financially These Last Few Months And They Have Been So Kind, Patient, Friendly, Caring, Empathetic, And So Very Understanding With My Situation That Has Been Going On With My Storage Payments. Nowadays, It Has Been Hard For Alot Of Us When It Comes To Finances, But When There Are People Out There Who Are Truly Willing To Work With You To Make Ends Meet, They Have Been A Blessing With Wanting To Help You. Miss Vickie And Miss Joyce Have Been So Understanding And So Patient With Me, And Also Wonderful In Helping Me And Letting Me Know That Everything Is Going To Be Alright. Especially When I Have Been On The Verge Of Losing All My Personal Belongings. They Have Heard Me Cry On The Phone, And Still They Let Me Know And Help Reassure Me That Everything Is Going To Be Alright. Thank You Thank You Thank You So So Much For Being So Wonderful Patient, Understanding And Helping Me By Working With Me On My Storage Unit Miss Vickie And Miss Joyce. I Am Not Out Of The Woods Yet, But I Am One Who Believes In Faith And The Power Of Prayer. And I Believe Positive Things Are Possible. Thank You So Much. I Am Forever Grateful With The Both Of You Ladies For Helping Me. God Bless. Sincerely, Christine D. Valentin
They raised the rent of my 10x10 three times in a year, making it almost $300 a month. They call and ask you to remove bad reviews and give you a three time discount, then just raise your rent to make up for the discounts after they run out. Temp controlled it set to 82 degrees, personally don't find it cool enough. Pest control is mediocre, I often find spiders and dead insects in the hallways. I never see anyone cleaning while I'm there.
Joyce is awesome! Thank you Joyce!!!!!
Easy to reserve, easy to pay, good location, clean units and friendly staff....
Great service. Very honest. Would recommend to anyone.
I rented a climate controlled 10x20 unit. In a year and a half they raised the rent 3 times. I moved my belongings to another place that was even nicer for less than when I originally rented from Public. To top things off, I discovered rats were nesting in the top of one of my bookcases. Will never rent from them again.
Outstanding customer service. Went above and beyond to help me transition to a larger storage unit. She stayed patient and pleasant throughout the whole multi step process. The complex is always clean and well maintained and has the best rates in the area. Highly recommend!
Joyce was super helpful and very friendly, she was able to help me get a unit the same day! Very clean and secure
Ms. Vicki is always very pleasant and helpful if we have any questions or need any help regarding our unit. Would recommend!
Ms. Vicki is awesome, any questions that we had, she answered quickly and efficiently. She helped me with everything I needed.
Vicky was awesome.. Great professional customer service she provided us with 🤙
I want to put a person on blast Vicki T. She my aunt get information amd storage fees and tour of the place. Even gave my aunt a bottle of water. She is pthe property manager there. She went above and beyond for her future customers. I wish there were more people like this in the world.
Normally I wouldn't have much to say as it your normal storage spot but the manager was wonderful. Vickie made sure I had a good experience with two cases specifically. First I accidentally left my unit open. She not only called me concerned but closed and locked it for me as well. Also, she was able to help me get a refund when I moved out and even called followed up to make sure it went through. Vickie gets 5 stars.
Great customer service, always a pleasure workiñg with Joyce
Vicki is absolutely wonderful and incredibly helpful. Love the local storage. Street is nice and wide. Unit was easily accessible.
Best experience ever. Vicki was awesome. Facilities are immaculate.
Great facility! Just got set up here with a unit. Getting our unit set up was very easy, and Vicki was a great help throughout the process! Facility is clean and easy to navigate.
Joyce was very nice and professional explained everything to the T. Highly recommend
Vikki at public storage is the best!! She is always very helpful. She is also very attentive to he customers. Simply the best customer service ever.
A GREAT place to store your belongings. A clean and professional atmosphere. We did the online check-in, which was easy and convenient. Vickie was working on-site when we got there and went over & beyond to make sure that we were taken care of. She walked us to our unit, made sure we could access everything ok, and even brought us a cart to use. I would definitely recommend this place to others. Thank you.
The manager at this facility is very helpful knowledgeable and maintains a very clean location. The parking lots are always well lit clean of any debris but I feel very safe using this unit any time of day. Hats off to the manager Vickie who understands how to run a business. Thank you.
My husband and I were so pleased and thankful with the help that Vicki gave us. She is a great asset to your company. Her personality and thoughtfulness are greatly appreciated. We can't thank her enough for all her help. We will definitely tell others to use Public Storage. Thank you!!
Thank you Joyce and Bridget!!!! You are the best
Vicki and Brigitte were very helpful and got be a great deal!
Storage rental was made easy here! Friendly staff and in secure area. Would definitely recommend to anyone needing a storage unit!
Vicki stayed late to help us even though she didn't have to. A great person who makes storage easy.
Vicki was so helpful and super nice. Getting my storage space setup was super easy and she answered all of my questions. She made me feel like my stuff will be very safe!
Vicky in the Rockledge office was great and so helpful during our rental down sizing.
Vicki made me feel like I was storing my stuff at her personal house. She was welcoming, helpful, and made sure my experience was was far and above my experiences with other storage facilities in the past. Give this woman a raise and a vacation!
Vicki is amazing! Great customer service!
Excellent Service! Joyce goes above and beyond to meet customer needs.
We needed an open air space for the newly purchased travel trailer we got. Vicky was an absolute doll, I had so much trouble with the on line reservations, when we got to Rockledge Public Storage she took the time to get us registered and got us a spot for our travel trailer. She is very highly recommended!
Fred provided excellent customer service and found us exactly what we needed for our upcoming move. We are looking forward to working with the staff at this location while we wait for our forever home to open up!
Clean and organized! Closed my unit because we finished moving houses, Fred at the desk was very nice! Everyone I've encountered has been great, even lost my debit card at one point and forgot that card was on the auto pay and they weren't threatening to kick me out of my unit and very easy and understanding to work with.
Erin was great she helped me do the eRental Great customer service 10 starts
I needed a large unit quickly and Joyce was very pleasant and helpful. She related to me as a mom and her sympathy was exactly what I needed in a stressful moment. It was storming like crazy when I finished the rental documents and she even gave me an umbrella to use for the walk to my car at the end of the parking lot. It was an impressive experience from beginning to end. The unit size was exactly what we needed, I do not know how competitive the price was as we were in such a rush to rent and fill the space same day. The facility was clean, the unit came with a lock/key and the gated entry ensured our belongings would be secure. Overall we could not be happier with Public Storage and their staff.
Many thanks to the top-drawer team at the Rockledge, FL location. To make a long story short I had an administrative issue at another FL location. I shared my predicament and Fred did not hesitate to pull out all the stops to help me find a solution. He made a number of calls on my behalf and found great support. He didn't have to do any of that for us. Today was a very busy last day of the month, and he was able to keep all of the customer's content. Which we know is not an easy task during these troubling times. Bests
Vicki and Joyce were both so helpful! I'd give them 10 stars if I could! They made the process easy during a very stressful time for me and my move. Thank you!
Public Storage has once again gone above to show how accommodating they can be. I mailed my key to Vickie because I forgot to lock my unit. She put it in a safe place until I was able to get back to Rockledge FL. I was running late on a Saturday and got ther just after closing but Joyce was so attentive and she stayed until I showed because she knew I was coming. She checked the key to my unit before she gave it to me as well. She was so kind and helpful. Sincerely, VANFERRELL INC
Vicky was great! She helped me receive my money back. Would definitely recommend if you're in the local area!
6/5 stars. I would definitely come back to this storage place or recommend it to someone. Service and management were wonderful, nice and caring. Thank you very much
Fred was very helpful to get us quickly into a unit after we had a house fire. He was friendly and had great customer service. Thanks for everything Fred!
Vicki is amazing and does a fantastic job! This storage facility and it's attendant Vicki is the best
My fiancé and I were looking for a storage to move his stuff from Tampa, Vicky was very meticulous explaining the rates and offers as well as insurance and the different units. She is always smiling and very polite. I am in the customer service field myself andI was very happy with the service she provided to us. Thank you Vicky and I will recommend to all my friends and family.
We were looking for a place to store our rv for a month and the staff at this location were very helpful. Fred was very friendly and went out of his way to help. We appreciate you very much!
I have been using this Rockledge, Fl Public Storage for several years, and I just want to say a big thank you to Vicki, and Fred for their outstanding personal customer service! Sometimes I need a lot of help, and they always greet me cheerfully! They know what questions to ask and how to help! Greatest place to store your things!
My father-in-law had 2 units here. He passed away, so we needed to clean out his units. Vicki made the process easy and seamless. Thank you for helping make an unexpected, stressful and unfortunate event, just a little easier.
Moving down here from NY. Just had awesome customer service from Vicky; she is very efficient and friendly . I needed to switch units to make it easier for my shipping company to unload when they arrive. Spoke to vicky over the phone early in the afternoon and she had everything ready for me when I arrived before closing. Paperwork was a quick and painless process.
I enjoyed my visit to Public Storage today, I had the pleasure of meeting Vicki and she was a wonderful person as well as very informative about the storage unit process, I would have to give this location 5 stars just based off my experience with Vicki alone.
I love public storage in rockledge. Vicki and Fred are great. They make you feel like family. Me and Mrs. Vicki always talk about football and how great the bucs are. Go bucs !! Fred is a delightful person that reminds me of my uncle. Live this place. Super clean and super nice employees. I always recommend them to my friends. Thank you Vicki and Fred for making public storage the place for me. 👍👍👍
As always great service from the property managers. Super helpful and always kind. 100% would recommend
It's alot of public storages out there, alot of storage units. The one I find most greatful and helpful is Rockledge public storage. Everyone there is so helpful, however Vickie is the most out going one that stands out to me. She is reliable and always go 100 percent to make sure the job done. I wish it was more people like her, good help is hard to find and Vickie is that special someone that will be very hard to replace. Her legacy will be always thought of every time anyone walk through those doors. God bless you Vicky
Mrs. VICKI is one of the most curtious and friendly attendant out there. 2 thumbs up Public Storage.
Easy and seamless online rental of a storage unit. Excellent customer service; Fred & Vicki are outstanding and will help answer any questions and go out of their way to make sure you are satisfied. Very happy with choosing the Public Storage location in Rockledge, FL!
I am very happy with this storage facility. Nice and clean, accessible bathroom. Very friendly people in the office, thank you Joyce, Vicky and Fred or helping me and answering all my questions. Can definitely recommend this public storage location. Thank you for making this a pleasant experience.
I made two payments yesterday and Joyce was really helpful..Although Vicky & all of the workers are really professional and nice..They will always call u as a reminder which is awesome..There are so many things going on in this world. Sometimes we need to be reminded. THANK YOU PUBLIC STORAGE MURRELL RD..ROCKLEDGE..🌼👍🌼
If I could give a lower score I would, sold off my unit after my father had a stroke and was only a month behind..never sent a letter or even bothered to call. DO NOT PUT YOUR STUFF IN THESE PEOPLES HANDS
how much for small unit a month
The staff was always very helpful, the spaces were clean and bug free. I always had the needed equipment available whenever I needed to move my storage in or out. The security gate was always working.
This location deserves more than 5 stars. Vicky was extremely kind and personable. From start to finish, everything was perfect. Highly highly highly recommend this location. Thank you for such a great experience!
Joyce was respectful and kind good employee and wonderful establishment
Wonderful establishment and the staff member Joyce was very helpful and efficient of helping me!! Definitely would do more business here!!!its also super clean here!
Clean and neat space storage. From the moment I walked through the door Vicki helped me find my first storage unit. I felt very welcomed and stressless with my decision thanks to her! Excellent service Vicki! Thank you!
Great workers! Vicki and Joyce were so sweet!
Best storage in the city! Great customer service! Vicky helped me out alot with finding the perfect storage for me. Will definitely recommend anybody to go here! -Shawn
I felt like these facilities are very safe and secure. The check-in process is super simple, and the gals who work there are friendly! I spoke with Vickie, and she was incredibly personable and helped me sort out an issue my husband and I got ourselves into when we had a breakdown of communication and ended up booking three storage units when we only needed one. These ladies gladly reversed our issue and were very kind about it.
This is the second time that I have used your storage at this address.🤩 Vickie, Went out of her way to help us moving day. Smiled all the time. Then today I had a question and needed to update information on my phone and Joyce was very helpful, smiled and patient with me.
Thank you for your patience with me Vicki as I bug you every day for the perfect space to transfer even though there are others available because I am picky and you understand.
Joyce is a delight to work with! She has very extensive knowledge of the business and property. I also discovered that she is a distant relative of mine! Please if you plan on moving to a foreign country or U.S. Territory and need to store your belongings, go see Joyce at the Public Storage located in Rockledge,FL!
Vicki's customer service is always superb! Having just rented my third unit from Vicki, she has always been extremely helpful and informative. I appreciate how she never tries to cut corners and does an excellent job trying to find the best deal to meet my needs. It's not often you meet someone as polite as Vicki, so her calm demeanor is always appreciated. I give the highest recommendation for Rockledge Public Storage and do yourself a favor and ask for Vicki.
Joyce was very professional and friendly, and had exactly what I needed. A very easy process, in and out in no time.
Vicki was very professional and she went above and beyond with assisting me with my move in!!
That place is so clean. There seafood area best in brevard by far i don't give 5 very offen but the deserve it
Marjorie is very customer service oriented. If she says she'll do something—it gets done and she follows up. The whole staff is professional.
I had the best experience here both moving in and out. Vicki was very helpful and kind and made my storage needs a delight in all aspects. Highly recommended.
Workers there are very professional... an thanks Vicky for all ur help .. from natalynn Wynn .
Vicky has excellent Customer Service! She is friendly, helpful and kind. The unit was ready when we needed it and was clean.
Vicky always has a smile on her face and willing to help. Recommend this location most definitely!
Great experience helped me get the right unit for my stuff even after I reserved the wrong unit Thank you Vicki
Walked in with some questions. Left with a great experience and a storage room to allow us to use our garage as a garage.
Always kind helpful and courteous
Great experience with Margie. She was informative, helpful and courteous. Great experience!
So, initially I loved this place but after 6 months of storage my introductory rate was removed to "match" the local rates so that the facility stayed competitive. I was told this was made at a corporate level and not a local level so I could either remove my items or accept the rate change. I didn't have a choice so I kept my things there another 6 months until my home purchase was completed. When I went to remove all my items, the roof had sprung a leak and ruined a book case I had in the unit: you're required to have insurance to rent a unit here and I used Orange Insurance which is offered when renting the unit by Public Storage. The damage I incurred didn't' meet the deductible and so I was out whatever property was damaged. Luckily, I had wrapped all my furniture in plastic so it wasn't damaged but when I was moving out, the unit next to mine had severe water damage and the owner lost several paintings as well as other items. This can happen with storage units, I know, but the company over all was very dismissive with my issues, did nothing to assist me with damages I suffered and upped my rental fees because they could and bypassed the agreement I signed initially with the unit. The ladies who run the location were helpful but corporate will not help you at all should you need it. I began renting from this location in around April 2019 and left in May of 2020; there is more to denote but this post is made to make others aware.
Truly the nicest people I have had business with in a very long time. I just want to thank Joyce and vicki for all their help. Very secure facility and clean. This is the public storage 3100 Murrell rd Rockledge fla. Property number 25853. Thank you!
Great experience at this location. The manager Joyce was absolutely awesome, very friendly and professional. The facilites were very clean. Go check them out. You won't be disappointed.
Great experience and costumer service
Today I went in to Public Storage in Rockledge off of morel thinking I was going to be here forever instead what I got received to me was great customer service a smile on my face and the job done right on a. There was a woman named Miss Joyce another woman name Vicki they were amazing sweet and full of joy. Thank you lady's for your amazing service. I enjoyed this location more than the other around the area.
Clean, well managed and easy access. I had some minor difficulty, and Vicki cleared it up on the spot. Highly recommend.
Walked in to rent a storage unit and was greeted by a lovely lady named Vicki. Very bubbly and outgoing personality which is very rare in these times. Anyway, Mrs Vicki was super helpful and answered every question I had with a smile and laughter. It's very refreshing walking into an establishment and getting treated with A1 customer service as well as being knowledgeable and being super fast while taking your time with and not rushing the customer. Want to thank her for being a ray of sunshine in my day. Thank you Again Mrs Vicki
Love this place and staff !! Very professional and friendly!! I'm glad I have a place that I can't trust my personal and meaningful thing with! Great work keep it up!
What size units do you have and how much are they?
The manager, Vicki, is always helpful, friendly and accommodating of my needs. When I lost keys to our unit she helped me get in, put on a new lock and obtain keys! The place is very clean since it became Public Storage and she took over managing 6 years ago!
Vickie has always been professional and helpful she makes it a pleasure doing business here.
Nice and clean reasonable rates staff is amazing
Joyce and Vickie were fantastic! I felt extremely welcomed; one of the family. Facility and unit are very clean. Highly recommend.
just would like to thank Vicki when we pulled up to the office Vicki had the door open with this amazing smile on her face like she knew us forever really made my husband and feel extremely so comfortable Vicki has done an amazing job both professional and knowledgeable treated us both with such amazing service she has gone above and beyond we would truly thank you over and over again thank you Vicki Patricia and Anthony Scifo
This is a very clean well run facility
Ms. Vicki is amazing great lady
The lady that I met Teresa was so nice and helpful she answered all my questions and showed me the unit and the rest for the storage unit is responsible I would recommend going to public storage to all my friends they're awesome 😁
Vicki was super helpful when I rented a storage unit! The place is clean and the climate controlled units are perfect. Not stingy on the AC so I know my photos will be in the same condition when my rental is over. Bathroom on premises is clean...thank you!!!!
Wonderful friendly service
The staff is friendly and more than willing to help,the property is well kept.
This is only the second time we have had to utilize a storage facility. This facility exemplifies excellence. The sign up process on-line and at the office was easy and seamless. The unit was as advertised, clean and well lit. I heartily recommend Public Storage on Murrell.
Courteous and friendly staff, well informed, and helpful. Best unit I've ever had at the best price.
Even though I was not able to find the unit I needed at the Murrell Road location I was referred to another facility to accommodate my specific needs. I would like to thank Vicki for her outstanding service on 11/19/2019. I recommend this Public Storage facility to others in need of quality service and move accomodation.
We just closed out our rental unit at the Murrell Road (Rockledge) location after 4 years. We were very pleased with the professional and courteous treatment received by the manager, Vickie Bell, and her staff. This facility is very clean and bug free. We highly recommend this location.
Property is very clean and the storage units are great. Service was amazing
Great customer service, service with a smile is so refreshing. Very helpful, and the property is clean and secure.
The staff is very friendly and helpful. Access is smooth and convenient! A very secure location!Excellent customer service. Prices are reasonable.
I have been treated like family at this location. Vicky has such a warm and receptive personality and aims to satisfy your exact storage needs. She goes above and beyond!!! 5 Stars well deserved.
This facility is very near our home, which makes it very convenient. The storage unit and surrounding area are very clean. In the office, Vicki is a pleasure to work with....very professional and friendly. I rate this facility 5 stars!
I went in last week and Vicki was great! She did a great job explainr everything and giving a breakdown of pricing etc. She was really nice and pleasant
Customer service is very important to me, so when you get it, nowadays you should acknowledge it!!! Vicki & Teresa = very polite & professional. Very clean & safe property!
Mrs. Vicki was very helpful to me & my Family. She helped me to find movers to move us less than 24 hours, that was very helpful for us in the time that we had to move. Thank you Vicki for all your help...I would recommend my friends and family to the Rockledge Public Storage. Thank you so very much Vicki you are the best.... :) hi to whom it may concern I want to let you know how Vicki was very one of your employees that was very nice to me and my family and helped us along the way I highly recommend anyone to this public storage.
Teresa & Vicki are great! always great customer service with a smile
Vicki is the Best! Runs a great property!!
Great experience here. Facility is clean and well lit. Hours are reasonable. Teresa gave great customer service.
The people and the facilities are top notch. If you need to find extra storage, this facility is perfect! I highly recommend.
always clean and the office staff, like Vicki, make doing business there a pleasure and not a chore.
Best place in brevard county. Teresa is awesome. Ive been here before they changed the name and always recieved 100 percent satisfaction.
All the folks here were kind and helpful
Great Customer Service! Very professional.
Is there lights in the unit s
Ms Vicki, is very Knowledgeable and always service with a smile.
She was very helpful and knowledgable was a great help
Great place to store your stuff Teresa is an awesome customer service representative would definitely advise coming to this location
Clean. Convenient. Customer service is excellent!
Vicki was awesome and kind! Great service
It's Vicky and her excellent service and caring about what we are storing. Very convenient location to our new home.
Polite and helpful in finding the right unit for our needs.
Clean, secure, and economical storage. Staff was friendly when we started and ended our rental for a climate controlled 5x5 unit.
Teresa was very helpful, friendly, and thorough. The site, location, and storage unit are clean and secure. Just what I was looking for and needed! Thank you!
Outstanding service....moved from outta State...zero issues....we love the girl at the front desk...made our transition nice and easy....we will return or send friends....thank you....:)
Had such a Great Experience renting a storage unit at this facility. Vicki was such a Blessing. She went above and beyond to go over all of the details and show me around property. She thoroughly went through all Information pertaining to agreement and made sure I understood everything. Vicki was extremely kind and made this experience easy and stress free!!
We came in today to rent a storage unit and were helped by Vicki throughout our whole process. She was so helpful and made the experience simple and easy. If you're need of storage space in the Rockledge area, I highly recommend coming to this Public Storage location! Thank you Vicki!
Very clean, gated secure location, staff is friendly and helpful, especially Vicki. I can always expect the same quality and customer care. Entrusting them with my business over the past few years, I feel very comfortable recommending them to anyone!
Do you have 10 X 5 units?
Vicky is a great person to due buisness with
Best storage facility in Florida. Inexpensive and secure.
Neat, clean, and secure. Vicki also made it a great experience! She was very informative and even went out of her way to stay open a little bit longer until I got there because she knew I had just gotten of off work.
The receptionist Vicki was very helpful! Very please that we decided to use this storage company.
Very clean, well maintained, and secure facility with a large variety of units that are easily accessible. Vicki is always very friendly and was extremely helpful in working with me to find additional units that met my needs during an ever changing relocation scenario. She always goes out of her way to say hello and make me feel like an important and valued customer. Thank you for making my challenging relocation much less stressful!
The staff at this location have been nothing short of Awesome!
We were helping somebody it was clean it was nice lights work seem like decent security
Great place to store. Clean facility friendly staff.
The people here have been so helpful and the area is clean. I really enjoyed meeting everyone.
Clerk is awesome, polite, courteous ALWAYS!!!! FACILITY is very clean and well kept.
Outstanding customer service! Vicki is outstanding!!! Facility is well kept and clean. Highly recommend Public Storage Rockledge.
Very rude people in person and on the phone. Changed rate after 30 days. There is plenty of storage units in this area to not have to deal with crooked people like this. FAIR WARNING --- BUYER BEWARE! And almost all the people reviewing this location only have one review to there name, sure sign of fake reviews..............
STAY AWAY!!!!! These people are cooks. They changed the rate after the first month, almost doubled it!
Great staff; especially Teresa. Got a turnaround time from my online requested my reservation within an hour. They took me through all steps (gate code, locks, payment) and ensured all procedures were understood clearly
Vickie was so helpful and they had the best prices for my needs. Highly recommend. Marc G
Very clean an good customer service thanks vicki
The property is really clean and secured. I feel extra comfortable storing my belongings there. Teresa was a big help!!!!
Awesome facility. Great rates, nice location, and the ladies in the office are the best. Highly recommend this storage facility!
Great place to store. Grounds are always clean. And I feel safe storing my goods here.
When I went in to the office during a real bad rain storm the lady behind the counter seen that I was wet, and offered me some paper towels to dry off. I informed Vickie that I was there to get some information about renting a space. Vickie inquired as to what I was going to store, and suggested the right size. Vickie than suggested that the rain had slowed and that we should go and check out a unit. When we returned back to the office Vickie gave me all the price information and what was required to rent that space. She was VERY-VERY PROFESSIONAL in all matters. I left the office feeling GREAT, knowing that Vickie would be there when I need her, and she will be like family when she deals with me.
Very nice to work with, customer service goes above and beyond !
Teresa and Vicki went far out of their way to help me out of a bind and I cannot express how wonderful my experiences at this location has been. The customer service has been second to none and the property has always been very well kept in my experience. They would definitely earn my business again in the future. I would rate 10 stars of I could.
Vicki is professional and friendly.
Vicki was the nicest and kindness person that I have met in a long time. She went above and beyond her job. Thank you Vicki!
Not sure where to start.. the property is clean and Vicky is very friendly and always has a smile.. keep up the hard work.. keep doing what you do..
Excellent services professional customer service.... very clean place.....excellent choice Dinorah was excellent with a professional way of dealing with me. I recommend this facility
Steer Clear ! This place is horrible ! Do Not trust the payment site , it will only processed 1/2 the time ! sends confirmations and doesn't process ! even after bringing them emails and an ENTIRE bank statement they wont remove there mistake ! 3 of the 6 months have been a hassle and now they are raising the rates almost 20 bucks after 6 months and they add fees to the quote price !!! Save your headache go else where !!!
Very clean facility, convenient location. Vicki is professional and super efficient, a friendly face whenever we're there.
I was accommodated quickly, the facility was exactly what I had in mind, I asked for extra local info, and got it though the staff didn't had to help me out. They did anyway.
Very friendly and always extremely helpful!
Excellent customer service and helpful staff. Clean facilities as well
Muy buena atención y sobre todo tienen servicio en español y la señora dinorah es especial y muy profesional
I love how Vicky the property manager is on top on things and explains everything and answers all our questions !! Her customer service is amazing need more of her everywhere !!! Thank You
Vicky she has great customer service. She build a relationship with her customers. I haven't had any problem with the place she keeps the place nice and clean. I just want to say is thanks.
Dinorah and Miss Vicki were very professional and courteous to me and I had a excellent experience dealing with Dinorah and Miss Vicki also if I need another storage unit I would want to deal with Dinorah and Miss Vicki 👍🏻👍🏻 for them !!!!
Called for info on storage. (On Nov.2nd) They (operator) sent us to the Murrell location.(Went in on the same day) The manager that was on duty Vicki, she was awesome. She was very helpful and informative. I am glad that they sent us here. Would happily deal with them or any other public storage again. Thanks again Vicki (sorry took a lil longer than plan to do the review 😊😉
Excellent and highly professional service by Vicki. All aspects fully met my expectations and satisfaction.
I've never had any problems with Public Storage. The manager and assistant manager are extremely nice and friendly. They maintain the facility and always remind me if I forget to lock my unit. Would definitely recommend.
Storage is storage a bit over priced
I Love Love Vickie, She is the best! She provides excellent customer service, abd she's always willing to go the extra mile for the greater productive.
Used this Public Storage for over a year, it's the best! I say that mainly because of Ms. Vicki that runs the place.... that lady helped my family and I out tremendously to ensure our storage experience was user friendly and out items were safe. BIG THANKS TO VICKI!!! whatever it is you pay her, I assure you it is not enough.
Mary and Vicky very friendly, and the property is clean and very well lite, keep up the good job.
Bill was fantastic very helpful. The Public Storage premises are immaculate at this location, very clean. Thanks for the great service!
Vicki's customer service skills are unparalleled! She went above and beyond under difficult circumstances to find me a larger storage unit from the one that I had just rented when I underestimated the amount of "stuff" to be stored. I wish all business' had staff like Vicki!! Thank you from a very appreciative and happy customer!
Bill checked me in quickly and efficiently. The unit was in excellent shape. Won't be giving this one up anytime soon!
The property is clean the staff friendly. I recommend the Rockledge location. Keep up the amazing job..
Amazing customer service! Mary and Vicki could not been more helpful and accommodating yesterday. I stopped in to find a shipping box for a large picture. They took the time to help edit a current box into the perfect picture shipping box so I could go next door to the post office and ship my package. They could have just sold me the very large picture storage box that was way larger than I needed, and would have cost an arm and a leg to ship because of the size. Was there suggestions and help, I left with my picture wrapped safely in a custom sized box, which was very reasonably priced. Thank you, ladies, for a very good customer service experience.
It has been a pleasure dealing with the staff at Public Storage, especially Vicki. The facility is clean and safe. We are happy to have our belongings there
The property is clean and the staff is friendly highly recommend the Rockledge location!! Keep up the good work, will recommend to my friends and family.
Very clean nice people that help
This location is clean and vicki is friendly and the property is always clean and well taken care of.
Worse Place ....I'll NEVER store My Items There... Once It was time to take my items out I found rat Droppings , my things had roaches "BIG AND LITTLE" ....NEVER AGAIN NEVER AGAIN NEVER AGAIN😈! #I've never had a Roach problem ..NEVER!
Love this storage facility! Very proffessional, very clean, awesome! I would highly recommend ! Vickie is awesome! Very helpful! Don't go ANYWHERE ELSE!
My family and I were very pleased with the assistance, checking in and out, along with friendly service in this very neat and tidy facility. Thank you Public Storage!
Always a pleasure stopping in and seeing Mrs. Vicki!! I Love knowing my stuff is safe and secure.
Bill and Vicki was excellent in helping us with our storage needs. Very friendly and just a wonderful experience. I would definitely recommend Public Storage.
Bill was extremely helpful and thorough. He answered all of my questions and guided me through the property to my unit.
Vicki is very customer friendly. A pleasure to meet I look forward to being a public storage customer for a long time.
Vicki at Public Storage (Murrell Location) provides excellent customer service. I've always had great experiences with this facility.
Thanks Vicki for making my decision easy to store my daughters items, the property is clean and well taken care of. Thanks for everything.
The customer service is exelent. Rachael & Vicki who help me with all my questions and request did an amazing job. I will refer and recommend this location to anyone who needs a storage. Good customer service and great attitude make a big difference in this competitive market. Thanks for the experience and your help. ED FERNANDEZ
Wendy was very helpful in getting us in the right sized unit. I tried to hire her but she liked working there. A real keeper!!
Vicki and Rachaele made the transition for my dad easy life I was going from his home to a nursing home he was a little apprehensive as to putting his items in storage these girls eased his worries . Thank you so much..
When I first walk in the door Mrs.Wendy greeted me with a smile. I really felt she was someone who loved her job thanks for the help
Very helpful employees. Made everything easy
I stopped to pick up boxes for a move out of state , Mary and Vicki were very informative as to the type of boxes I would need . Highly recommend this location!!
This property is very clean and well maintained. Wendy found the perfect Unit for my needs and Vicki and Will always are available if I need assistance. If you have Storage needs, This is the place!!
The staff at this location are friendly and always have a smile on their face, Vicki and Mary make a good team. The property is clean and well taken care of. I highly recommend this location.
I searched for a couple of weeks for the size and type of storage facility that I needed. I was getting down to the wire when my mom suggested that place near the Viera Post Office. At first they did not have my size but let me leave my name and phone number, something not all the facilities had let me do. The very next morning I received a call from them and I set up an appointment to see the unit and sign papers. Everything was so clean. The ladies in the office were wonderful. All the paperwork was explained. I have been so pleased to have this part of my move to go so smoothly. Losing my husband and then moving has been hard enough but to add what I had previously experienced in finding storage was more stress than I could handle. Thank you so very much Public Storage for your help in this difficult time. I really appreciate a place where employees treat their customers with respect and understanding. I am happy with the size and location of the unit along with the cleanliness and security. I certainly feel that my storage needs will be in the best of hands. Thanks Again to all the staff at Public Storage.
Amazing facility with outstanding customer service. Thank you, Vicki.
I cannot thank Vicki, Carol and Will enough for all their help! I needed specific size unit with temp control and Vicki made sure to watch daily so I could get it. Even on her day off she checked with the staff to keep a watch for one. They are professional, courteous and compassionate! It was so hot the day I moved my belongings they offered us cold bottles of water. I am going to always use them and am going to recommend them to everyone! The moving is tiresome enough but they made it less chaotic for me and affordable!!!!!! Thank you again for all your services and help. God bless!
The property is neat and tidy. Very well kept. The girls in the office are nice and knowledgeable. I recommend this location.
my hubby and myself dealt with Vicki and she was real gem of a person who helped out our storage problem.Very kind and courteous with solutions to make our transaction simple and easy.We live in Canada and was so pleased to have a complete stranger take care of us with every detail.Thanks Vicky for your kindness.Reg and Helga from Alberta.
Mrs. Vicki was very knowledgeable with storage that I needed. I was looking to store my great grandmothers furniture and she knew what size I needed on point. Very nice and easy to talk to. I found out we have a lot in common. No hassles great service.
Vickey is fantastic she is always so happy when we go into the office, they keep it clean and safe its a nice place.
Great STAFF, Area kept clean,
Thank you Vicki and Savannah for all the help today! Had no idea what I was looking for and they were quick to help!
Excellent. ..service is great thanks Vicki. 25853.......keep up the great work.....kudos
This public storage is truly the best I've seen or been to, not only because how clean and organized it is but Vicky was incredibly helpful, and courteous made me feel very content In making my decision
While looking for storage I contacted the corporate office. Soon after Vicki from the local store contacted me and within minutes she was able to locate the proper storage for my requirements... She was very helpful and professional. Upon my arrival, Linda showed me the property and provided very efficient and professional service to ensure my experience was timely. Both ladies were top=notch!
Vicki and the staff at Public Storage are simply amazing! Every time I go into the office Vicki is always smiling and has a great attitude. I hope the company knows what valuable asset they have in Vicki. I have enjoyed my experience at Public Storage and would refer a friend or family.
Wasn't wild about PS taking over - I like working with home town companies but Vicky is the gem - she makes your corporation feel like a local company. Keep it up Vicky. Buca