Public Storage Self-Storage Units at 245 S Plumosa St, Merritt Island, FL
Address
245 S Plumosa St Merritt Island, FL 32952
Office Hours
Mon-Fri 9:30 AM - 6:00 PM
Sat-Sun 9:30 AM - 5:00 PM
Gate Access Hours
Mon-Sun 6:00 AM - 9:00 PM
Storage Facility Features
Climate Control Storage

Car Storage

Small, Medium & Large Storage Units

Indoor & Outdoor Storage Units

Property Manager Lives On-site
Office Hours
Mon-Fri 9:30 AM - 6:00 PM
Sat-Sun 9:30 AM - 5:00 PM
Gate Access Hours
Mon-Sun 6:00 AM - 9:00 PM
Storage Facility Features
Climate Control Storage

Car Storage

Small, Medium & Large Storage Units

Indoor & Outdoor Storage Units

Property Manager Lives On-site
Close Location Details
View Location Details
Climate Controlled

Inside unit

Locker

---

5'x5'

Climate Controlled

Upstairs/elevator

---

5'x5'

Climate Controlled

Inside unit

1st Floor

Outside unit

Drive-up access

Climate Controlled

Upstairs/elevator

Outside unit

Drive-up access

Climate Controlled

Upstairs/elevator

Climate Controlled

Inside unit

1st Floor

Outside unit

Drive-up access

Outside unit

Drive-up access
Nearby Self-Storage Locations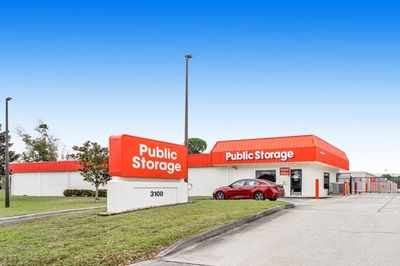 Self Storage Near
3100 Murrell Rd
Rockledge FL 32955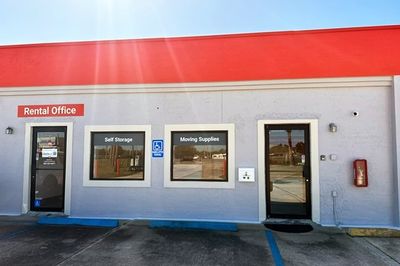 Self Storage Near
2845 W King St STE 303
Cocoa FL 32926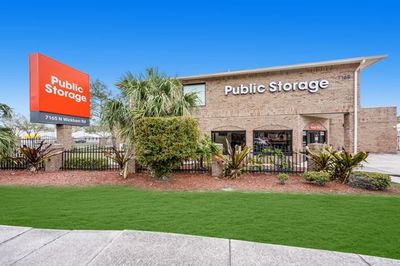 Self Storage Near
7165 N Wickham Rd
Melbourne FL 32940
Resources from the Help Center
See what fits in different storage unit sizes
Merritt Island Storage Units Near S.R. 520
Merritt Island Public Storage is the place to go for affordable self storage just off of State Road 520.
Easily accessible from U.S. Route 1, Highway A1A and the Causeway, this facility features indoor storage units, outdoor storage units and climate controlled storage units in many different sizes.
A rental storage locker is the perfect place to keep a few smaller items when traveling back and forth from the mainland to Cape Canaveral.
For beachgoers, a 5x10 storage unit is great for holding sandy toys, beach chairs, blankets, umbrellas and more for easy access on the way to Cocoa Beach or Seacrest Beach.
Just north of Merritt Island Airport, a 10x10 storage unit is ideal for travelers to keep important items near the runway, while families in the Island Oaks, Skylark Estates or Glen Haven communities can use a 10x30 storage unit to keep extra furniture, old appliances or seasonal wardrobes nearby.
The manager lives on site at the property, which is open 7 days a week. Inside the rental office, customers can purchase moving supplies, including packing tape, packing peanuts, mattress bags and moving boxes in various sizes.
A one-of-a-kind community, with NASA's John F. Kennedy Space Center, the Merritt Island National Wildlife Refuge, Cocoa Beach Pier and so many more local attractions in the area, it's easy to see what makes Merritt Island such a popular destination for residents and visitors.
Public Storage is proud to offer some extra storage space with cheap storage units to customers throughout the Merritt Island area.
At Public Storage, You'll Always Find...
Keypad Access

Friendly Staff

Month-to-Month Rent

Moving Supplies Available

Free Parking

Well-Lit Facilities
Reviews
( 250)
I had a request that could only be taken care of in person, and with the expert help of Lacey, it was a breeze. Lacey understood precisely what it was I needed to do (transfer names and payment on the lease) and the process was zing-zang-zoom in and out. Lacey was a delight to be around and has a professional demeanor that is honestly, quite pleasant. I am in the service industry myself and this was a refreshing experience. FIVE STARS.
Only missing a water fountain near the restrooms overall a good facility. Very secure you'll have to input your code twice, one to enter an then leaving just a heads up.
Lacey was so very helpful. Highly recommend this place for storage!
Clean place, lacey was nice.
thanks lacey for helping us out with our move! Made it simple and easy
Lacey at Public Storage on Merritt Island was great. She got us in quickly, showed us around and was very kind and helpful. Thanks Lacey!
Lacey was great she was very friendly and helpful and did a great job making me feel welcome!
Ms. Lacey is the best part about this place. With no issues on my accounts or showing on their side, their system wasn't able to process the transaction. Ms. Lacey stayed after closing time a full hour without making us feel like we were intruding at all while we figured out how to proceed. Now we are in a storage unit and know that there's someone in the office we can rely on.
Woman at counter was very nice and helpful. Very easy process!!
Mrs Bridget was very helpful. She walk me through everything. She was very polite and patient with me on the phone. I chose your company over the other because of Mrs Bridget professional attitude. She informed me on what I need, plus directions. When I met her in person, she was just as helpful. Your storage place needs more lights and cooler air. Overall you guys gets a 10. Thanks for everything Mrs Bridget.
Great customer service from lacey..she was helpful and extremely knowledgeable about what she had and what would best suit my needs.. this the second time of used this facility clean well maintained
Lacey was awesome and very helpful. She took the time to help me better understand the app, as I am not great with electronics. Oh and her charm is definitely a plus as well!!
Agent was really friendly showed my storage unit explain everything she was great
Lacey was a huge help. Answered all my questions, showed me around, helped me set up the app, and was just very kind.
Outstanding service I was very happy with the information I received and the professional kindness I received from representative Lacey.
Everyone at Public Storage in Merritt Island, Florida has been fantastic. Helpful, efficient and friendly. Thanks!!!
Lacey was amazing help with my storage
Wonderful experience. Office personnel was amazing at helping me get into my unit after losing my keys. Thank you Lacey and Public Storage.
Joyce was absolutely a joy and very helpful… Resolved my issue from a mistake I made on getting too small of a unit…
Incredible customer service. Felt well supported during the life of my rental!
Lacey was very helpful. She gave me a tour of the facility and suggested the proper unit size that I would need according to what I had to store. She even helped carry the boxes to my car. I will definitely recommend Public Storage to my family/friends.
What amazing service! I wasn't really sure if I wanted a small unit or a larger unit but "Lacey" kept her patience with me, explained everything about how to transfer from one to the other at a later date, answered all my questions about the charges. She is very accommodating! The facility is clean, but the A/C wasn't working in the section I rented. I was told that the corporate office tells them it will all be replaced. That's not the fault of the clerk who took care of me, so this facility deserves the 5-stars!
Had to get a storage unit today and Lacey at Public Storage on Merritt Island made the experience so helpful and easy. She showed me the facility and unit I desired and answered all questions I asked. I was in and out in less than a half hour. Thank you Lacey and Public Storage.
Helped my son with his storage after bringing some stuff over to him . Climate control gated
Very clean and secure place!!! Highly recommend!!!
Had a great experience here!! Spacious units! Joyce is the best! She has helped us out multiple times and such a sweetheart! Highly recommended this place for storage!
Best storage facility in Brevard County
Very friendly workers especially Joyce. I was using public storage for a short term rental (18 mo's). It was a great way to store my son's things until he was able to get them. Pricing is competitive and the area secure and clean. Thanks again public storage for helping out when it was needed.😁
Excellent service. Joyce was a big help with my account.
Joyce gives good service and you kept the place!
Joyce at reception was super friendly, courteous, and helpful. The facility was clean and secure, and their prices are reasonable.
Joyce who works here did her best to help me one day where FedEx was attempting to deliver something to me at the storage facility. I was able to hang around long enough parked out front to meet FedEx at the gate in time but I appreciate her calling me from the office when she saw FedEx arrived so that I wouldn't miss the delivery again.
Joyce Whas super friendly very professional and quick. She had me in and out in no time with a smile on her face. Thank you
Clean, and safe, but Fred made this experience so joyful! ThankYou&Gracias Fred, you're awesome!
My experience with customer service was great Joyce helped me today & she was amazing I was greeted with a warm smile I wish that most business had an amazing person like joyce 😉
Fred and Joyce, in Merritt Island, FLorida, were exceptionally helpful. Very easy to work with, even remotely. I have used 100+ Public Storage units in the last 10 years, they two are some of the best managers I have come across.
Joyce was so helpful and friendly and made the registration and move-in process so simple. Highly recommend!
Joyce at the front desk was very helpful and informative with the closing of my storage container. The area was always clean and accessing the Unit was east.
Nobody ever answered the phones and they were there. They never returned calls. Would use again
Will raise your rates over time in hopes you won't feel like moving. Went from $70 to $150 for the exact same unit in a year. A few bucks fine but not over half.
Great customer service Joyce was extremely helpful thank you
Madeline is such a kind and helpful employee. Very happy with service provided.
Clean and well maintained.
It's a great place and Joyce was so awesome such a big help and nice lady
Great public storage rent for month to month.
Joyce provided outstanding service and was very well versed on all the spaces and available products.
Madeline is spectacular! I have been a customer for over 3 years and she always is very helpful when I have had to.move up in size units. She makes it easy.
Madeline was super friendly and helpful in getting us set up with our storage unit.
Very clean. Madeline and Joyce were very helpful and friendly. Would store here again
Madeline was great handling my unit :)
Just moved down from NY and rented a unit here. Margarie helped us and we appreciated her showing us the app
Joyce was extremely knowledgeable, pleasant and helpful with our issue.
I lost my keys and thought i was going ro have the buy another and wait for the old one to be cut. BUTTTTTTTT they found them in their complex and kept them for me. Really looking out.
Friendly service, clean facility. Madeline was very helpful!
Thank you to Joyce for such a great help this morning in securing a unit for my mom. I Really appreciate you taking me to locate the unit!
The mandatory insurance add on then immediately deleted is kinda shady.
The entire experience with Public storage has been amazing. I found them by calling around and needing a storage unit ASAP, they gave me an appointment same day and I got moved in no problem. Great prices in comparison to other storage facilities in the area. My whole experience with them has been stress free and wonderful. I would recomend them for anyone needing storage ASAP.
Madeline was amazing. She was so helpful. Very professional. She made the process very easy.
Madeline was an amazing help, she is very professional. The location is very clean. I definitely recommend and super kind associate!
My unit at Public Storage is conveniently located on the air-conditioned 2nd floor. The facility is clean and well taken care of. I keep a thermometer in the unit—it consistently reads 76 degrees. The one problem, that of the security gate kept open, has been resolved.
This storage unit was clean and climate controlled in the ladies working the front desk were so pleasant and helpful if I ever need storage again I will most definitely use Merritt Island public storage. Very reasonable prices as well
Nice quiet location and great management. Always a smile on there faces
Property is well taken care of and the ladies there always willing to lend a helping hand!! Keep uo the great work!
Not only was this close to home the unit I rented it was very clean. The gentleman behind the counter was very helpful, I was in and out in less than 20 minutes and that included walking down to inspect the unit. Would highly recommend having a look.
Friendly staff and clean facility.
I think I have been with this place for a couple years now and they will work with you with autopay and changing your payment method. The units are really nice there are air conditioned and indoor units if that's what you choose. The indoor units really seem to keep everything clean and I would recommend that definitely!
I have used them before with great results. However, on this occasion, after making a booking, I was told that what I had booked was in fact not available and they attempted to switch me to a different price-point and up-market me without consideration! Very disappointed. This review is done reluctantly as a public service to the community at large so that the same thing does not happen to others. Such a pity!
Price is way too high for what you get. I paid $118 for an air-conditioned 5x10. I moved everything out the day I went in to get 1 box and the hallway had both dead and live roaches in it! Obviously a pig had just moved in, but it was definitely my sign to get out!!
Great customer service, competitive rates, I was able to come in on a Sunday, sign up, and move in, done deal with no hassles. Nice clean storage space. Easy to maneuver a trailer through the lot. 5 star!!!
Friendly, professional, and high quality facility.
Crystalline or staff were nice people and keep the place very nice and clean
The security gate has been broken for several months with no apparent work underway to repair it. The gate has been repaired for several months since it wrote this review. Other than that, it's a run of the mill storage facility..
The lights in the hallway are broken and were broken last month.
Joyce was really great and helped me through the process of getting a new unit seamlessly. She recognized that price was a concern of mine and helped me stay within my budget. I would not have been able to do it without her help.
We are happy with everything The office staff is great,and it's always clean.
Ms. Joyce was a pleasure to work with when renting my unit, she went above and beyond my expectations. I've had a storage unit before and would never recommend them to anyone. I will absolutely recommend Public Storage to friends in need, M I store and Ms. Joyce for her pleasant and efficient work ethics. Thank you so much👍
Joyce was very polite and patient and accommodating for us.
Came in today and received amazing customer service from Ms. Joyce. I couldn't be happier with my time here today!. Thank you for such a great experience!.
Clean place with helpful staff.
Great service and friendly staff
Recently checked out Public Storage in Merritt Island.... Over all it's a good looking property, very clean and the climate control units are cold!!!! As for the employees I dealt with Lacey. She is amazing, she goes above and beyond and got me in and out in record speed!!!! Will definitely recommend this storage facility to my friends and family....
Brian was amazing when I spoke with him, great customer service, and the unit itself was reasonably priced, clean when I entered, and protected.
Mary was awesome. She could answer my questions before i even asked them. Unit was clean and just what we needed. In and out with no issues.
Mary provided excellent service when I secured a storage unit.
I was happy with the service. It was fast and easy so that we could get moved in quickly.
my first month cost me 61$ instead of 12.50 for the small box cause service fee 25$ plus lock 21$ plus tax very busy, you have to wait for hours for cart and elevator
Great place to store goods
Great place friendly, helpful , knowledge clean. Mary was especially helpful .
The facility is well-run and maintained. Walt is great!
Worst public storage facility I've ever dealt with!! From the moment I rented the unit till I removed my belongings from the facility fees upon fees!! Guy shows me unit decides upon himself to put a lock on it doesn't explain I could purchase a lock just puts one on and decides to charge me $27. Umm no. So I went and bought a lock for $3 at Home Depot down the street. I remove my belongings on the 1st he tells me i owe $48.55. Umm another no!! All I was told was to make sure you are out on the 1st of the month. Not before... on the 1st .I am not paying for a full month when I rented the United at 5pm on the 1st and removed my belongings way before. I will be contactibg corporate. So for anyone renting beware they like to add fees upon fees!!
Office staff is friendly and professional the area is safe and secure.
Great place, secure and clean.
Dinorah was very nice. She everything easy for me
Mary was very nice and professional. She gave us a tour and was very helpful. She answered all of our questions and made some great suggestions for our storage needs. Great location and easily accessible. Thank you!
I was taken care of quickly and professionally by Mary given a complete tour and all questions answered, I couldn't ask for anything more. Thank you Wes...
Over priced! They have a problem with mice.
Just wanted to say how happy I am for choosing this location. Dinorah was very friendly and helpful which means a lot when you are under a lot of stress with moving and storing your possessions. Thank you Great job.
Everything perfect. Dinorch Gave us a tour and great service
After making an appointment to lease a storage unit, I met with Dinorah today. I was a bit surprised at the extent of paperwork required. However, Dinorah turned that time into a very pleasant visit. In addition, she was obviously knowledgeable about what was needed, the software and suggestions about how to properly store items. She's a keeper.
Ms.Dinorah is wonderful. If you need to have a storage unit this location is the place to go.
Excellent service! Dinorah welcomed us at the Merritt Island office and was very polite and helpful! Lockers are very clean and the security is very good. Would recommend to anybody!
I very well pleased with my experience and the management was very helpful and made things easy.
Old guy in the office is surprisingly nice and jovial. Appreciated his help in getting the unit I needed and making the move easy.
Would not recommend this or any Public Storage facility. Very rude and not willing to work with disabled people. Will never get my business again. I put my belongings in small unit on May 28th. Paid full month. The next month they doubled the rent amount. So I paid that, but only had my things in there for 8 days, but still had to pay for the whole month. And now they keep calling me, wanting $20 more dollars, after I paid for two full months, and the unit has been empty since July 8th. Never again. Very unprofessional to me and my needs.
On my 2nd rental here. Only issue is they don't appreciate return customers with a discount. Otherwise good, safe place to store goods. Checked out 7/16/18, moving to California. most all was great. A/C issue last month or so, that I noticed. One aisle of a/c was having to cool the next aisle over, (mine). Not sure how effective but I'm sure they're going to fix it soon.
Lady in the rental office was nice
Dinorah was AMAZING!!!!!!!
Great customer service easy people to talk to about the units.
Clean and well maintained price was cheap.
Teresa was very helpful with me on being 1 day late, I thought they were closed on Sundays, so they took care of the late fee i am glad i have my things in this facility where they look out for the customer
Very Clean and well run. Staff was very helpful and knowledgeable.
Dinorah was awesome during my check-in process, very professional and energetic. I had previously gone online to make my reservation for a storage unit and Dinorah was great at following up over the phone before my actual arrival at the facility.
Great location, friendly staff (Thanks for your help Walt!) and a competitive price!
It's a good place. Clean place and nice staff.
Gave me a unit next to a door which make it more difficult to put stuff in. 2nd story storage sucks. Too many fire doors to move through to get to unit. Try to force me to by insurance by lying telling me required when in fact you can decline it. It wasn't until after I was going to walkout did they let me decline the insurance. Added one additional star. The management after reading my review called me up to ask what they can do to improve. I believe they put an honest effort into addressing issues but for me it was too late. Hopefully my feedback will improve a future customers experience I believe they should explain how a middle unit through several fire doors will affect your moving experience.They are experts and should offer that upfront advice when selecting a unit.
Dinorah was very helpful at a time I needed help. Great customer service! I choose Public Storage where the service is awesome🌟
Great place. Walt is very helpfull
We were so happy to find this storage facility. It is very clean and the location is Perfect for us. I also want to say Nicole in the front office is so Great!! She has assisted us from the moment we signed up for our unit. She always has a smile on her face and always makes sure all our storage needs are met. Love Nicole and Public Storage on Merritt Island.
Great storage and helpful. I have been very happy here. I have recommended to my friends before.
Nicole was very friendly and lmformative.Walt was great to. Wil rent again from Public Storage.
How much are the storage 5x10 are the climate control ..?
Great safe place to store your belongings.. Used this location for about 9-10 months. Friendly staff and great location.
I walked in not knowing anything about what I needed. Nicole was awesome. She really knows her stuff. Very friendly and helpful. Thank you for everything Nicole.
Awesome place of business good clean spaces and Walt was A1🌟
Lock broke twice and they refuse to fix it. We must fix their lock
BEWARE! The high ratings are because the manager pays you $5 cash to rate them 5 stars. I planned on having the unit for only 1 month to store some stuff during my in town move. I have now had to pay for an additional month because my unit is INFESTED with cockroaches and cockroach eggs. Now mind you, most of the stuff hadnt even been there a full month. I've bombed the unit because I was told they can't do it. Went again today and it was even worse than before. I was told to call insurance. But this doesn't help me when I am trying to unload my unit. I can't bring any boxes to my new place in this condition. And I was told they don't offer any trash so I can throw the boxes away. I am disgusted. I feel like my life is being held hostage in a cockroach infested storage unit and I'm paying ransom monthly! Please beware and stay away from this place.
Had a great experience with Nicole! Got set up quickly and had everthing explained.
Very professional and helpful.
Very clean inside the storage. Easy access in and out for quick visits. The staff is wonderful as well. Very knowledgeable about what they have ASAP.
Just checked in here with Walt..very pleasant even though i interrupted his lunch. Recommend if you need service..come see him.
Very nice experience here the man in the office was helpful and answered all of the questions that we had. We will be back.
The front office is friendly and very organised. Very clean property
I have been using the micro storage here for years. It is so perfect for what I need. I just need a small space to keep my stuff while I travel. I am only in Florida 3 months out of the year and this is great for keeping my stuff safe. They provide carts so I can get my things off an upper floor and the air conditioning and climate control make it comfortable to get my things. They have cameras so I know my things are safe. I love it.
I was very happy with my experience at the Merritt Island public storage. Very friendly staff. I reserved a unit the day before and came in, setting it up was very quick and smooth. I believe it was Cory who helped me and he was very pleasant. So far very satisfied with my experience. :)
Nick is an awesome customer service representative. He is very courteous and helpful.
Great service from the property manager and great condition of the units!
Friendly service, clean facility, convenient location. Have used before.
Not sure what's going on found a dead rat in our storage and a lot of roaches all over it appears that's the storage is going to HELL! And mold all over my wood furniture. What HELL? Based on the reviews not sure we are talking about the same place. This is disgusting 😖!!!
I'm moving to Merritt island next month and I'm down sizing and needed some extra storage space I went to public storage in Merritt island. They were courteous, professional and helpful in making my decision on what size I needed.thank you Wendy Luther.
I recently lost the keys to my unit. I inquired in the office as to what I needed to do. The gentleman there was very informative. Two days later I went into the office and Wendy was there. She was most helpful and very knowledgeable. She was able to sell me another lock w/keys and actually walked with me down to my unit. She marked the old lock that needed to be cut. While I was there she also took care of a name change for me. Great customer service. Kudos to Wendy! I would also like to add that this place is very clean and well maintained. For me the location is perfect.
Wendy was wonderful and very informative! I'm very happy with the service here and feel safe leaving my belongings here!!
Whenever I visit this facility to get more boxes, Wendy and Walt are so nice and knowledgeable , and so helpful. Thank you guys. Faculty is very clean and organized
Very nice and informative staff. Wendy helped me out with my payment due to Hurricane Matthew. She let me know when to pay by to avoid more charges! Very helpful thanks!
Wendy was very helpful! We had some issues with another Public storage location and she was able to sort it out for us.
I originally secured a smaller unit thinking it would be sufficient to store all my belongings. Once I saw the unit would not be sufficient Wendy went above and beyond making sure I left with a unit that fit my needs. She was very helpful and friendly which made for a great experience!! Thank you Wendy!
Wendy was excellent, very customer focused. My things were being moved across country and I met the moving company at the storage as I was completing paperwork with Wendy. She was quick, pleasant, helpful and thorough. Great hire for Public Storage! Thank you Wendy!! Sincerely, Brandi
Wendy was extremely helpful and professional. I really appreciate her and she was super friendly. Always a pleasure.
Wendy was very very helpful and the place is clean and convienient
They are fast and got us into our storage space so we could have the truck emptied and done in an hour. It made our move easier than we thought it would be.
Clean, fast , very pleasant help.
Clean, secure, and they are always nice when we go in to pay our bill. I make sure to tell everybody who mentions storage about this place.
Very helpful, professional courteous staff
Both Walt and Wendy were both super helpful and very friendly.I was able to fill out all the paperwork super fast and get in and out. I recommend this place to everyone in the area.
Very friendly staff that went above n beyond by staying after close to help us find the right unit for us
Wendy was very nice and friendly! Very helpful!
I had an issue but Walt was very helpful in getting it resolved.
I rented a storage space and the process was very fast and easy. Wendy did a good job of making sure I had everything for my move.
Went in today 2/15/16 to obtain boxes for my employer. & Wendy was SO helpful & what a pleasant attitude! Will def obtain any boxes, etc from her!! Thank u Wendy!!
Wendy was really helpful. We are really pleased with our experience!
Got the storage unit I reserved online. It was simple and fast. The staff promptly got back to me about my reservation. Wendy was very helpful, informative, and able to answer all my questions. Heads up you have to buy the lock used on your storage unit as well as insurance but other than those random expense this place seemed nice.
Carol in the office is great and fun to talk to. One of the reasons I am here.
Close to our house and safe I would recommend it to my friends.
The property manager was very friendly and helpful, this storage facility meets all my needs with available access hours and security.
Very impressed with the associate Will that I worked with. Answered all my questions and presented an excellent orientation to the facility. Will was 1st class all the way
Walt was friendly and professional. He took the time to explain the layout and took me to my locker. The facility is spotless and secure. I was surprised to learn that there is a mandatory insurance fee of at least $11/month on a 5X5 locker so be forewarned. All in all, great people, great service, and am very pleased with the whole experieince.
Will is great, but there is one older gentleman and a middle age woman that work there that are very rude and unfriendly. We were a day late paying our storage and they charged us a $20 late fee. When we first got our storage the older gentlemen charged us full price instead of prorated and charged $20 for a lock without asking if we had our own. Unhappy with this storage place.
I have been using them for a while, and have been very satisfied. I would recommend them to any of my friends.
I went there with my kids for some storage. I was taking care of by some curlyhaired guy name Will. He was really friendly and personable and pretty funny which help with the kids. When I came back to store my things he came up to check up on us and even brought us water. Thanks for all the attention!
Carol and Walter are professional and very helpful. You have great people working for you. Keep them there!!
Will was very helpful. I wasn't sure what size storage i needed or even what kind i should get but he helped me figure it out. He showed me everything i needed and he made offered products that were relevant to what i explained would be put into the unit. So far awesome unit at a great price. Thanks Will!!!!
I had a great experience yesterday in starting my rental out. A new trainee named Will was able to get me going and answer any questions I had regarding the property and access in a prompt manner, and he was interested in getting to know me as well. I recommend this property to others.
The place is CLEAN and it seems like every time I'm here I see Carol or Walt working outside they always say hi and ask how everything is going. I appreciate that.
Good clean place to store excess home items. Convenient and secure location with a very professional and helpful staff. The smaller units are very reasonable I definitely would recommend to others.
Had to use Public Storage for a few days and they were great ! Easy to check-in and to check out. Definitely would use again.
Very good , clean facility and friendly staff! Went there with a friend and was immediately helped. Walt was very knowledge patient and understanding in our moment of crisis. Thank you Walt for all your help you are the best! !!!
We have always been happy here. Nice people who are always happy to help us with anything we need.
Nice place, friendly and helpful, and convenient for me.
I WAS TREATED NICELY WALT AND CAROL HAVE BEEN VERY HELPFUL AND CREATE A FRIENDLY TRUSTWORTHY ATMOSPHERE THEY MAKE ME FEEL SAFER BY ALWAYS KKEPING AN EYE OUT FOR ANYTHING OUT OF ORDER I PERSONALLY TRUST THEM WITH MY STORAGE THEY ARE GREAT !!!
These guys are great. Always helped me with all my problems even though my Storage unit is in Las Vegas!!!
Carol and Walt were very helpful and did everything they could to help make my move easier. Very clean facility
Friendly, clean, and secure. I have been very pleased here.
Recently while I was looking for offsite storage for my business and I contacted Public Storage in Merritt Island. I spoke to Carol, she was extremely helpful and knowledgeable, she answered all my questions and made recommendations as to what options would most suit my needs. I work in a business where customer service is always a priority and based on my experience with Carol, it is clear that Public Storage in Merritt Island puts there clients needs first. I recommend them to anyone in need of additional storage for there business or personal property.
Always clean and staff is great.
Well, I went to Cube Smart first and the quote they gave me for storage were astronomical. I then proceeded to Public Storage, they had exactly what I was looking for at the right price. The friendly sales associate, Walter was super helpful and got me a storage unit quick seeing as I pulled up in a 20ft loaded U-haul truck. Thanks again Walter! Stay cool man. Very helpful, quick fast and easy, very pleased.
Tranisha was very helpful in showing us around the storage unit before we signed. She did a good job explaining the paperwork and made it very easy for us.
I was in today to make a payment and the young lady Tranisha helped me, I called before I came and she was very sweet over the phone and when I got their, she knew who I was and I felt more like family and a customer their.
WE CAME IN FOR UNITS AND TRANISHA WAS GREAT SHE HELPED US FIND THE PERFECT UNIT
Very courteous and friendly. Showed unit and site before contract. Good price
Tarnish helped and saved our units they were great
Great location, friendly staff (Thanks for your help Kevin!) and a good price!!!
Best storage place ever. Customer service is great units are neat and cleaned in addition to it all the price is amazing!