Public Storage Self-Storage Units at 1977 NE 8th St, Homestead, FL
Address
1977 NE 8th St Homestead, FL 33033
Office Hours
Mon-Fri 9:30 AM - 6:00 PM
Sat-Sun 9:30 AM - 5:00 PM
Gate Access Hours
Mon-Sun 6:00 AM - 9:00 PM
Storage Facility Features
Climate Control Storage

Car Storage

Small, Medium & Large Storage Units

Indoor & Outdoor Storage Units

Property Manager Lives On-site
Office Hours
Mon-Fri 9:30 AM - 6:00 PM
Sat-Sun 9:30 AM - 5:00 PM
Gate Access Hours
Mon-Sun 6:00 AM - 9:00 PM
Storage Facility Features
Climate Control Storage

Car Storage

Small, Medium & Large Storage Units

Indoor & Outdoor Storage Units

Property Manager Lives On-site
Close Location Details
View Location Details
---

5'x5'

Climate Controlled

Inside unit

Locker

---

5'x5'

Climate Controlled

Upstairs/elevator

---

5'x4'

Climate Controlled

Inside unit

1st Floor

---

5'x5'

Climate Controlled

Inside unit

1st Floor

Climate Controlled

Upstairs/elevator

---

5'x10'

Climate Controlled

Inside unit

1st Floor

Climate Controlled

Upstairs/elevator

---

10'x15'

Climate Controlled

Upstairs/elevator

---

10'x20'

Climate Controlled

Upstairs/elevator

---

10'x20'

Climate Controlled

Inside unit

1st Floor

Outside unit

Drive-up access
Nearby Self-Storage Locations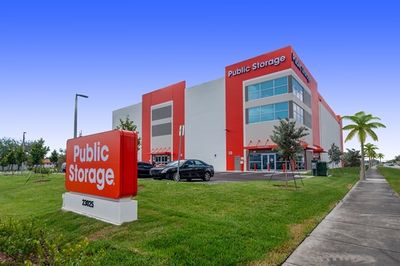 Self Storage Near
23025 S Dixie Hwy
Goulds FL 33170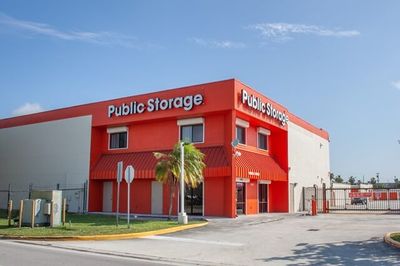 Self Storage Near
10505 Marlin Road
Miami FL 33157
Self-Storage Near Homestead
Resources from the Help Center
See what fits in different storage unit sizes
Homestead Storage Units Near Homestead Air Reserve Base and Route 1
This Homestead storage is the perfect place to find cheap self storage near Homestead Air Reserve Base and Route 1.
At this location, customers will find a large selection of indoor storage units in many different sizes including lockers, as well as outdoor storage units with drive-up access too.
Families looking to take on a home renovation project can use a
5x10 unit
to store furniture, while a
10x10 unit
is perfect for a company looking to store inventory.
At Public Storage, You'll Always Find...
Keypad Access

Friendly Staff

Month-to-Month Rent

Moving Supplies Available

Free Parking

Well-Lit Facilities
Reviews
( 263)
Great Service from this location . The young lady who assisted me with completing my reservation was so helpful, patient and just knowledgeable. I have recommended a few friends to this location because of the great, and efficient service .
Kris was great! Easy and fast
Highly recommend this storage location. Very clean , organized and the staff Mena and Kris were amazing to me they gave me the best price possible showed me what unit I was getting and helped me find my way around thank you guys for being so good to me at my lowest.
Fast and friendly service from kay and Chris 💯
The lady at the front desk was so kind, patient and made the process detailed & quick.
Mina has been so amazing! How patient and caring! Wouldn't think about using a different storage location. Ty so much for all your help! So sweet!
Homestead Public Storgae has amazing customer service.. The front desk staff was tentative & on point thanks to Khris for showing me around in explaining all the details of the unit. Amazing job guys 👍🏿
Kris gave me awesome service and was very helpful
Malik is great customer service and took time to help
All of the storage associates are awesome! Malik is always happy to help with any questions I have!
Malik and Kay are awesome! They helped me find my unit fast. Very nice.
Quick, easy, and efficient. Talk to the representative Malik who assisted me with great courteousy and care. Showed me the different available units. Got it done within the hour. Overall, a 5 star experience.
Place is clean ,but every 6 months they raise their prices from 50 to 65 dollars more . I started paying in 153.00 then 203.00 now 266.00 no warning can't do it
Excellent attention. Thank you very much.
MINA WAS AMAZING. LOVE IT HERE
Great place to rent Mina is the best
Forgot edit. it was resolved. The place is great just man that was one long wait. Worth to store your belongings here
Thank you Malik for keeping us and our belongings safe.
I love the crew they was super nice and helpful, I love this place
Jasmine was very helpful with showing how everything works. I will gladly recommend her and this company to others.
The Manager Malik was very professional and knowledgeable goes above and beyond Thanks highly recommended
Kay and Malik was a great help today .. great storage place !! 5 out of 5
Malik & Kasheema were super helpful with showing and demonstrating how everything works.
Just be prepared to have a price increase. They keep raising the prices on me
The place is very safe but they rise the prices every 6 months
Don't be fooled by their low prices, in a matter of months they will increase your storage rental by almost double! Not to mention when you first reserve your space and move all of your items in they will hit you with additional fees that were never mentioned. If you do decide to leave make sure you leave by the 1st of the month, even if you move out the 2nd they will NOT prorate it and charge you a whole entire month ! the ONLY good thing is about public storage is the manager, I didn't catch his name. PLEASE LOOK ELSEWHERE !!!
We had a good experience with the staff. The place is super clean and well organized. However, we were told we were going to pay $107/mo and now I get a letter stating that the price went up to $123/mo... they didn't provide a reason, but I'm just hoping they don't keep charging us more. I rather fly back to Miami and sell everything.
Great service, attentive and proactive
Big thank you to Mina for helping me get my storage unit ! Great service, super helpful and respectful, will definitely be referring people here.
Mina, Outstanding service!! Awesome attitude. Lovely person.
Excellent attention, exceptional service, nice installations.
Malik and Mina have really good customer service and very helpful and very knowledgeable I will recommend the storage to anyone because it's clean, and the staff here are very friendly and nice and they can answer any question you asked them
Best place to storage. Clean, enough light and great AC. Very secure place to access.
Mina and Malik were awesome. Extremely courteous and attentive.
Decent storage facility, but you can only access your unit during the day. I thought the hours were for office hours, but it's the whole facility including your unit.
Chiquita was amazing she helped me so much and she was very friendly and deserves a raise
Monet & Chiquita muy atentas, super amables..!!!
Great staff, clean and nice
The property was clean. The staff was super professional. Mina was super helpful with me getting started and the onboarding process. She was also very friendly and attentive.
Malik was very helpful & wonderful also gave great customer service
Great customer service and very knowledgeable about their services, Mina was very helpful and professional. I would definitely recommend them for your storage needs.
Mina was so helpful and curious!! I do recommend coming here.
Malik and the crew were great
La mejor atencion super recomendado buen servicio al cliente super profesional gracias a Mina por toda su ayuda un lugar de confianza lo recomiendo 100%
Chiquita made my experience here amazing! She was very informative and went above and beyond with a smile on her face. Definitely makes me feel like I'm valued here and will continue to speak highly of the company because her. Thank you for the help!
Mina helped us in this location. She was wonderful, very efficient and patient with all of our questions and concerns. This storage facility is very clean and secure. Thanks again Mina!
Chiquita is awesome! Great service by her, thank you!
Chiquita at the homestead location was amazing ! Great customer service.
We loved the service, everyone is nice and the facility is very clean.
Went by Public Storage just for some information on renting a unit and was very pleased with your Manager Chiquita very helpful and informative.
Malik gracias por tu atención, nos ayudó mucho! Preguntar por él, sabe spanishhhh💪
Malik was great and made process very easy and smooth! Great customer service
Thanks to Malik for the fast & quick rental service.
Our experience was awesome from start to finish. I was contacted by the manager Mina and she was very professional and detail, knowledgeable with everything from the reservation to making and appointment to touring the facility. She made us feel welcomed and at home. The property was spotless. Mina is doing great things with you guys company
She is the best employee dealing with customers thank you so much for making it easy on me chiquita
Thank you Chiquita for being so helpful and professional!
chiquita is the best ever
Chiquita best customer service. Go to her I highly recommend her.
I had a wonderful experience with your employee Mina. She is very professional and extremely courteous. Made my day so much better.
Very beautiful facility with nice people
Contacted Public Storage to inquire about storage rental and was able to schedule same day appointment/ tour. Arrived at the location and was greeted by employee Chiquita whom was very hospitable. Chiquita's customer service was amazing, she didn't hesitate to give me a tour of the facility. Throughout the tour it was evident that Chiquita primary focus was the myself, the customer. Chiquita explained everything in detail and was able to answer all of my questions. The customer service and overall appearance/ cleanliness of this location was excellent.
Mina was amazing. She helped and explained everything for me. Really appreciate her kindness
Very outstanding storage person Chiquita. Thanks
Amazing customer services you have a great team
Loved it! JR. had an answer for every question I had. Easy access and most importantly very clean!
Made a reservation this morning and was able to move into my unit today! This public storage is very clean and well kept. Chiquita made everything such a smooth and easy process. She is very sweet and very knowledgeable. She's a great asset to your team.
Perfect please for storage
Chiquita is amazing. Top notch professional. Great customer service from the beginning to the end.
JR was extremely helpful during our process!
Jr. Was very helpful and friendly made the process very smooth definitely would recommend anybody who comes here to ask for him!
Chiquita was amazing! Nice friendly and attentive. Great customer service
Chiquita was a great help she was so helpful that I just went in to check prices and sizes of storage and I ended up renting one so yes she is a very helpful, resourceful person. I was so glad that she took care of me today. and hoping to deal with her in the future that I do want to upgrade on my storage once a bigger size comes available. Thanks you again.chiquita.
Prompt and friendly customer service
I have just moved to Homestead with the military, the service provider by Chiquita was outstanding. She was very knowledgeable of all the services the company provided and had answers to every single question I had. Only reason for four stars is because I don't know what services will be carrying forward, will update review within three months. Having read a few 1* reviews I was skeptical to come here at first but majority of which sounded like they were from customers not paying their bills, if your bills are not paid or not paid on time that's not the company's fault but your own… food for thought.
Chiquita, Malik and Jr. they all did an excellent service. Very customer friendly and hard working. I am very satisfied with their good service and I will be recommending this location in Homestead.👍👍
Awesome customer service. Very friendly. Straight to the point. No hassle
Mil gracias a Junior quien me ayudo en el proceso de obtener mi storage personal, el es lo mejor
Mina, was very helpful and pleasant, was a joy talking with her. Very informative.
Very helpful and informative!
It has been a great experience working with Malik and his team!
Mina,and Malik helped us out this morning. I have to say wow!!! Thank you so much for making me feel welcome. Best storage in south FL
Jr fue muy amable cooperativo genial merece 10
Amazing staff, Chiquita was amazing and very helpful through the whole process. She's just amazing inside and out 💜
La atencion de Genesis fue excellente
Malik was very professional and helpful walked me through the process made everything stress free!
Malik was very attentive and knowledgeable. Made getting a storage so easy. Thanks malik
Malik was very helpful the whole process moving to a new storage and had a really good experience will totally recommend going to him for any help. The new crew are also so nice and kind. Thank you guys!
mi vendedora Génesis súper excelente servicio con dos idiomas y buen trato Gracias !👏
Leaving and love the new crew!
Muy atento el Sr. Malik muy amable, servicial, todo bien explicado. Con una gran sonrisa y mucha paciencia.
Malik was great 👍👌customer service 👏
Super nice personnel and helpful
Jr you do a very good job bro
Junior was very helpful and he was very impressed with how he rented the room.
Junior was very helpful perfect service definitely would recommend this storage place
Jr was was great customer service was amazing very helpful
Jr was super helpful in booking a storage unit! The actual facilities are clean which I appreciate!
Malik was very helpful. Excellent customer service skills. Extremely satisfied customer.
Outstanding service and expedient service. Mr. Daniel (JR), provided details and a walkthrough of the facility. If you want a spotless and super clean facility come to this one.
Malik had great Costumer service
Very helpful , took his time to explain everything in detail. Thank you Jr
Now is very expensive get storage I recomend don't pay ever with your debit or credit card they charge you and if you live you receive your money 3 months later and have to waist a lot of your time, horrible go easy were but them the police of this people are horrible you can even trash one bag or they charge you $ 300 something this company are horrible not the employees the company, and they don't told you nothing about that only when you needed is wen you get that you have to take out your trash
Great clean facility & very helpful staff.
Very clean, great condition and very helpful staff! Highly recommend speaking to Malik
Very clean. Thanks Malik!
Junior was very helpful and know the business pretty well. The storage is in great conditions and great prices too.
Just left from renting out a storage unit from Luisa. Check her out...She was friendly and answered all our questions and showed us different options. Extremely helpful.
Jr. Was super helpful & professional! I was very happy with his help! I would recommend if you want to come ask for him!!!
Malik was awesome! He was very informative. He showed different sizes so that we would be comfortable with what we were choosing. Thank you Malik for making this process go smoothly!
Malik was absolutely amazing! He was very thorough and very knowledgeable! Thanks MALIK!!!!!!!
Jasmine was the best thanks for helping me
Malik was the best!! I came in he showed me the storages and helped me pick out the perfect storage!! Thank you
Malik was very friendly, fast and helpful
Malik was the best… He made move in really simple and fast
Junior is the best. Fast friendly knowledgeable and helpful.
Malik took care me and was the bomb! Super professional and friendly.
OPENED A NEW ACCOUNT TODAY WITH MALIK…MALIK WAS VERY RESPECTFUL,VERY HELPFUL SERVICE WAS AWESOME NEED MORE GREAT AND HELPFUL PEOPLE LIKE MALIK‼️
People are rude and they always watching you what are you doing in your space. I feel uncomfortable working in my space orgazing because they come every 5 min to check on you. I feel harassed. If you are late in the payments even 1 day they immediately change the lock of your space , I made the payment 3days after my due day and they still had not removed the lock on my space , while I came to pick up some items that I need and had to wait 45 min for them to come and removed the door lock. And thecalling you every day treat treating youu that if you don't pay they calling you everyday threading you that you will lose your items. Worse service ever
Louisa and JR were great. Easy to talk to and they made the rental process as smooth as can be. Thank you!
It was perfect jr is very helpful he goes all out of his ways to help you through the process and all your needs for storage thanks again . I do recommend this place ... 👍
I very pleased with the services that I received from Jr.
OMG JR was AMAZING!!! Never judge a book by its cover. He was very professional,easy to talk to. He made me feel so comfortable. Even took his time and walked with me (I'm a little slow due to a knee injury). Great location and super clean. Highly recommended ask for JR!!
The team at this location is on point. Happy I stoped in to rent.
Jasmin had good customer service. My firsts rental today and her first day at work.
I love the customer service jr. Was amazing. Very professional place was clean. I would definitely recommend this business.
Fast, easy and great customer service. Jr help me within 5mins of the store time to closed. Highly recommended.
I walked in and was serviced right away had no issues. I was properly provided with excellent customer service and a tour of the property by Malik. I feel safe with my belongings here and I'm glad to bring service here.
New location. Thanks to Junior for helping us. He went out of his way to make sure we had a great experience. Very professional. Looking forward to moving our stuff in there.
Great Customer Service very helpful no complaints thank You Jr for your assistance
Jr. Was the best and explained everything to me so clearly. Was able to get the perfect space for me. Amazing and very clean place !
Malik and Jr were very helpfull n professional very kind and i was very happy and very conftable with the unit.
Malik was very attentive and great customer service, answer all my questions and concern. Great location
Malik was a great help! Highly recommend this location.
Great unit and location, but the woman at the front desks demeanor was off putting enough for me to go somewhere else.
Great staff, clean facilities, and units well maintained. When staff were asked for assistance, great attitudes and customer service.
Friendly staff, place is super clean, you can be in and out within minutes. Only thing that didn't add up was the amount of carts available to use for the amount of storange units in this place... If you come with a full load on a busy day, expect to do a little waiting.
We moved our things into a 20x10 storage, very clean, kept up well. Be careful because the rate might go up.
Maribel the best person in customer service please keep her for ever nice person
Maribel was extremely nice and went out of her way to help and explain all the details to rent storage.She was very patient in explaining all the details.
Maribel was very helpful in answering all my questions and making all my changes and setting up my app on my phone!! 100 STARS!!!
Maribel excelente servicio.
Buen servicio de Maribel ,Empleada recomendada muy atenta, servicial y rápido el servicio,.
do you guys a unit big enough for a car indoors?
Christine @ the Homestead location was the person that signed us up and was the person as we exited our unit. She's definitely the person you need to see if you have any questions or concerns.. She's a rock star. All and all great experience @ this location.
Clean and neat and cheap, Carlos and Kayla( i hope i spell it well... I met her the 11/2/21) have been super great with me since day one with Carlos since my last with Kayla. Your storage is perfect. Never had any issues in a year ! Thanks again and take care.
Very clean low rates and very secure... very friendly staff and helpful.... thank u guys
Carlos is so helpful . He always has a great attitude and willing to help . He's nice and polite . Public storage is lucky to have him .
Carlos who is the building manager was very helpful explaining me everything I needed to know about a storage rental. It was a pleasurable experience!
My experience with this location and business has been awful. The window by my unit was damaged..they told me I needed to remove my stuff so they can repair it. It has been 5 months and the window is not fixed. I had to take a day off of work to do so and after all of that they raised the rate when they said they would compensate me for the inconvenience. Then on top of all of that when I finally moved out now I have roaches in my stuff. I can tell you now have an insurance claim as if anything is wrong they quickly refer you to the insurance company instead of trying to help the customer directly. I am really ashamed that I paid this company for so many months and I will never do business with them again.
This place was awesome with great customer service Christy at the front desk. The building and bathrooms are always clean.
Excelente atención !!!!! 👍🏻👍🏻
Excellent customer service. Carlos the manager is the best he help me out with all my needs.
Excelente servicio. Carlos gracias por tu asesoría y colaboración.
Carlitos es súper nice!!! Me encanta
Such Great service! 10 out of 10
El personal de aqui es bastante amable y atento, Carlos me ayudo con varias cosas y dudas que tenia 100% recomendado.
Fast, friendly service. Kayla was very helpful.
Very clean and secure building. Carlos was extremely helpful and very professional. I definitely recommend this Storage facility. The best!
Dis place was sooooooo clean 🧼 And the manager Christy was nice too Would definitely come back ❤️
We love the place easy access to unload our company will recommend it 7-8-6=2-2-3=3-6-7-5 Ibrahim call us
Super buena atención y el espacio es perfecto
Muy pésimo La recepcionista No pudo ayudarme Me dejo con la palabra en la boca Date : 03/30/21 👎👎👎
Christine was the greatest! Excellent
If I could give zero stars I would! Horrible customer service. DO NOT USE THESE PEOPLE.
I feel like i got great service the kayla and carlos is great i like the insurance it covers everything it's a new buliding with good locks and codes for the doors and elevators
DO NOT BE FOOLED. All good reviews are written on spot and people do not bother yo change them. This company does not explain to you they are a month to month service where they can increase your payment within a 30 day notice. AGAIN dont be fooled I started at $97.00 less than half a year im already at $127.00. DO NOT BE FOOLED BY THESE ON THE SPOT ASKED FOR REVIEWS, they are inaccurate as to the long term satisfaction.
I went to the public storage to ask question about renting a space because I am moving and I need to put something in a safe place. I met the sale rep Kayla she very informative about what I need and very sweet and great customer service skills . And also price was not that bad either. I would recommend people to go and check them out if they need a reasonable storage place.
Cuanto cuesta mensual la renta de un espacio mediano.
Nice and clean Sonya gerson is an amazing person always helpful and proffesional I wish all public storage had employee's like her I'm not saying this because I know her I don't know her personally just from renting my unit there and she's always been nice
Christy and everyone working on this location go above and beyond to help and assist you with everything you might need. This is a new location and the employees keep all the areas clean and safe! Im moving for a long period of time so they were willing to keep an eye on my unit while Im gone! Im beyond amazed and thankful for their customer service and how nice and polite they are. Definitely recommend this location!
Great place friendly staff. Very helpful.
Great counter people, made the experience fast, easy & informative.
Was an extremely pleasant experience. We weren't sure which unit we needed and Christy was more than willing to show us the units and help us find the perfect one. She answered all questions and even gave us a run down off the codes and security. Definitely will enjoy working with her in the future.
Great location and wonderful customer service! I was pretty confused and anxious at first but Carlos did such an amazing job showing me arround and also guiding me throught the process!
Hello, I worked with Christy at Public storage 00123. She was excellent, very friendly and professional. She made everything easy and smooth and I needed that. Thank you Christy. Greg/Miami
Thanks for the help, Especially to Christye she's the most nice person, have empathy, and care about are needs , she put all her effort to do the best on her job and we glad to meet her thank you very much excellent service Att, María Sol y Alberto Gutierrez
Wow this place super clean!! Christine she is super helpful in super nice thanks for you help💐
By far the best customer service I have received at any storage company! Christy and Carlos have such a light about them and are extremely passionate about what they do. This place is like the God's of all storages!
Excellent customer service from Christy and Carlos. Property is well maintained and very secure. Staff is very helpful and I appreciate them answering all of my questions because I had MANY! Thank you guys again for all of your help!!
Justamente hoy necesitaba un asesoría y Carlos fue una enciclopedia. Excelente servicio de su parte y la empresa.
Very happy to have a new unit to move into. Very clean and very secure. Staff is super helpful and Christy is amazing!! Any questions or concerns I had she was able to answer and walk me through the process. I was in and out of there in no time! Prices are reasonable and I'm happy it's clean and new! Thank you!
It was really pleasant to arrive at such a nice looking place. Great staff too, the manager Carlos was very helpful. Good experience overall
Very well located, clean, a/c, very good prices. I just rented a storage unit and i love the place, new building, and very good prices. Everyone was so nice with us.