Public Storage Self-Storage Units at 5910 S US Highway 1, Fort Pierce, FL
Address
5910 S US Highway 1 Fort Pierce, FL 34982
Office Hours
Mon-Fri 9:30 AM - 6:00 PM
Sat-Sun 9:30 AM - 5:00 PM
Gate Access Hours
Mon-Sun 6:00 AM - 9:00 PM
Storage Facility Features
Climate Control Storage

Small, Medium & Large Storage Units

Indoor & Outdoor Storage Units

Property Manager Lives On-site
Office Hours
Mon-Fri 9:30 AM - 6:00 PM
Sat-Sun 9:30 AM - 5:00 PM
Gate Access Hours
Mon-Sun 6:00 AM - 9:00 PM
Storage Facility Features
Climate Control Storage

Small, Medium & Large Storage Units

Indoor & Outdoor Storage Units

Property Manager Lives On-site
Close Location Details
View Location Details
Climate Controlled

Inside unit

1st Floor

Climate Controlled

Inside unit

1st Floor

Outside unit

Drive-up access

Climate Controlled

Inside unit

1st Floor

Outside unit

Drive-up access

Climate Controlled

Inside unit

1st Floor

Outside unit

Drive-up access

Climate Controlled

Inside unit

1st Floor
Nearby Self-Storage Locations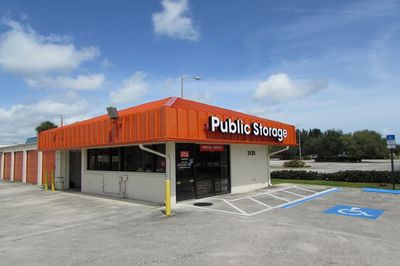 Self Storage Near
3125 S US Highway 1
Fort Pierce FL 34982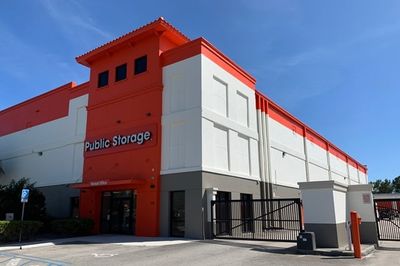 Self Storage Near
530 NW University Blvd
Port Saint Lucie FL 34986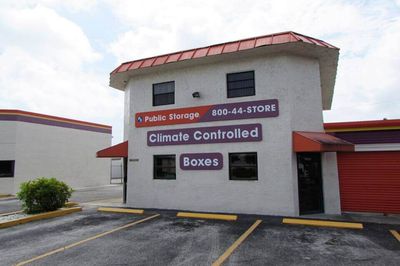 Self Storage Near
5221 Okeechobee Road
Fort Pierce FL 34947
Self-Storage Near Fort Pierce
Resources from the Help Center
See what fits in different storage unit sizes
Fort Pierce Storage Units Near Savannas Recreation Area
Residents and visitors alike enjoy visiting the National Navy SEAL Museum, which is located on the WWII training grounds of SEAL predecessors known as the Frogmen.
Fort Pierce Public Storage has storage solutions to fit your needs.
At Public Storage, You'll Always Find...
Keypad Access

Friendly Staff

Month-to-Month Rent

Moving Supplies Available

Free Parking

Well-Lit Facilities
Reviews
( 434)
Bob was very informative and professional.
Sue was great thank you for your good customer service
Such a delight to work with and very thorough! Would recommend using public storage!
Add another storage facility I have been overcharged and had my rates increased to the point it was almost double I went to Public Storage dealt with Bob and he was awesome to deal with I have a great rate and comfort to know that I will be treated fairly. He was thorough explaining and showing me where my storage unit would be and help me set up the app for ease of access I would highly recommend this place! customer service at its best!
Erin , am excited, she is super excellent 👏, above and beyond. Congratulations on your outstanding employee.
Bob is super helpful and informative! Highly recommend!
I had a wonderful experience getting a unit with Bob! Thank you
What a wonderful staff members by the namif Bob who thoroughly assisted in purchase of a storage unit. I highly recommend the Pubic Storage .
Thanks Carolyn for being there
THANK YOU CAROLYN FOR THE GREAT SERVICE 👍
Brian was the difference in us using public storage. Was unhappy with the size of the 5×10 unit ( bring a measuring tape and you will understand) . Brian got us into a 7.5×10 ( still not 7.5). He wad polite , professional and willing to go the extra to make a customer happy. If it wasn't for him we would be writing this review about another storage facility. Couldn't process our payment online for some reason so Brian showed up on a holiday to help get us into our unit.
Bryan @ the 5910 South US1 Address was very nice, informational, and helped me figure out which size unit would work best for me in my price range. I also noticed this location is clean and very well kept. Thank you for your help.
Excelente lugar para guardar carros muebles y enseres
I have been treated by a very sweet person, her name is , ERIN, the attention and the speed with which she works is fantastic, I am very grateful and happy, I recommend this site
I just called here and spoke a lady named Erin and she was absolutely the best! Super helpful with prices and all the info I needed to get a storage. Definitely recommend her.
I have spoke to a lady name Erin. she was so nice and polite and I would talk to her all the time. she went step to step with me and helped me out thank you so much
Thanks Bryan for all your help today - I love this facility !
I love Public Storage. It's always clean.
Thanks Bryan for helping me complete my eRental!
Best storage facility I have ever used. It's all thanks to one man. I was trying to down grade to a smaller unit by the end of the month to avoid paying a whole other month. Bryan helped me by not only looking out for me in knowing how important it was to me that I got a smaller one by the end of the month but he actually did it! He remained in contact with me and remembered me. Best customer service ever. He was very professional and about just satisfying his customers. Appreciate you so much Bryan!
I've been renting here for a few months, now they want to jump my rent up a 100$ more,also my dad has a unit and they tried to do that to him too but they will not bring it down,very disappointed and now I'm my dad and I are gonna move out and I wouldn't recommend stay there for very long
Thank you Bryan for your help today! Love this facility !
Bryan was very helpful and have awesome customer service. Will recommend this public store to anyone
Bryan was such pleasure and phenomenal in his service and knowledge with informing us about the storage unit
Bryan is the very best! He is so nice on the phone and even nicer in person. Thank you Bryan, for going above and beyond to help us with our unit while we were in town. You have an awesome personality!!! The property manager Thom was our first encounter when we initially rented the unit. He is also very nice and friendly!! Thank you for excellent customer service!!
Bryan!!! You are such a great addition to the team there. Thank you for your help while i was visiting my belongings in the unit there from Miami. You're such a nice person!!
Brian was super helpful and has a great personality. He was willing to go out of his way to make sure I understood all of my options.
Friendly staff, clean and well-kept units, well-lit hallways
Thank you Bryan, very excellent service, friendly, professional and helpful.A+ ask for him . Met him in st Lucie area n the ft Pierce. Awesome human being. Respect 💯
Thank you Bryan for all your help today at the easy street location !
Tansy was great thank you
Carolyn was great help got the ps app on my phone .
Very Friendly and Great customer service
Carolyn helped me with finding right space thank you.
Carolyn was so helpful she great thank you 😊 .
Carolyn was most helpful she got me in the right space and went above for her customer .
easy to sign up online for a storage unit, easy access to the storage unit and everything is always clean and quiet. i love it!
Good service and very clean property.
Great customer service from Tom. This location is very clean and well maintained. Highly recommend this location for storage.
Tom was terrific helping me find the size unit I might need. This property is very clean. I recommend this property if you need a storage unit.
Tom has been more than helpful!
Carolyn was very kind and helpful with everything I needed😁
Tom is a great joy! He helped me so much with my unit and we never even met until today! The best service I could get and mostly over the phone. Thank you all for being so helpful!
Tom is the best, quick & helpful! Thank you!!
I use public storage all over...this is a great location. Good people and the whole place has been painted, shined up and looks brand new.
Tom was very helpful. He took his time to help me with all my needs. I definitely recommend this location ask to speak to Tom.
I definitely recommend Tom if you are in need of a storage room. His customer service was top notch!
Very clean affordable storage
Tom was so great quick, easy and very nice we had to switch units and helped us out greatly. Highly recommend
Excellent service!!very good service, the person who attended me gave the maximum, he helped us a lot, thanks!
Carolyn was great at her job got me in the right space was glad to be a new customer
$46 increase for a 5x10 - no thanks! Got out as soon as I could!
WHAT GREAT SERVICE THANK YOU CAROLYN FOR SETTING UP MY APP .
They took care of me and my things go visit them if you need your things storage
The staff at this facility actually goes out of their way to help you. Specifically, Tom has helped me twice recently; both times were on a weekend, first in looking at and helping with procedures for renting and most recently this morning when he (Tom) once again helped me with a question. He is definitely service oriented and answers questions quickly and accurately. I can't tell you how much this outstanding customer service benefits this particular facility. Thank you, Tom.
Carolyn was awesome very helpful
Carolyn was a pleasure to work with!! Pleasant and professional AND funny!!
Room was awesome! Very willing to show us everything we wanted to see. Very grateful for his friendly professional customer service!! Thank you!!!
Great service from Tom, thank you so much for your kindness...
Really nice! Service was great! Tom ''was very helpful and it looks so nice! Everything I needed done in a few minutes! Very recommendable!
Erin and Holly provided great and quick service!!
I got great customer service at this facility
Great customer service ! Holly was very helpful...
Always a pleasure to do business with them
Everyone is professional, very knowledgeable and team spirited. Check in was a pleasant experience.
Tom& Holly were extremely accommodating & pleasure to deal with & the unit was clean & secure! Thank you for the pleasant experience!!!
Tom is a great asset to public storage he helped link my account with my other storage unit and helped me get one very close to my older unit I had in public storage. He is super friendly and knowledgeable. A++ service
Tom is such a great help. Thank you so much!
We have had a shed there for a while now. Always willing to help us.
The customer service here was great . Tom was very professional and very kind . He helped us get set up with a storage unit rather quick , gave us all the information we needed and we were on our way ! Love this facility and their customer service
Didn't get to receive service because they were closed by the time I got there.
Holly has gone above, and beyond helping me.. Initially, I couldn't close on my home, and all my stuff was in a truck.. Holly found a unit that I could store all my stuff in without difficulty.. I ended up breaking my back, and required major back surgery.. Holly worked with me while I dealt with insurance carriers while I was trying to get paid.. I don't think I could've made it this past year without her help.. She is truly a gem, and you should be honored to have her as an employee... Thank you, Holly! I'm going to miss you..
The storage facility is great and very well maintained. The property manager is wonderful she helps out with any problems right away and is always very polite. I would recommend Public Storage to anyone needing a storage unit.
holly is one amazing employee you have working this property extremely helpful great customer service and just an amazing attitude
Carolyn was awesome to work with. She got me in and out with exactly what I was looking for. It was a pleased to deal with someone knowledgeable and friendly!
To expensive for just storage
Holly is very efficient Excelent service .
Yesterday 8/10/21 Bob was there filling in for Holly. I needed assistance and Bob went beyond the call of duty. I needed a large wardrobe box not only did he assist with the purchase. He delivered the box and helped with assembly. Bob, I really thank you so very much for yesterday. I need to share how of an asset Holly is to Public Storage. I have been a long to client with you. She has shown professionalism, empathy, and care not only to me but all that rents on the property she cares for. As I shared she is an asset to Public Storage. Also, Bob showed me the same yesterday. Thank you Holly, Bob and Public Storage for making my life a lot easier. God Bless you.
Tom and Marsha are extremely polite and helpful! Would recommend to everyone!Definitely a 5 star plus!
Never trust anyone other than Public Storage. The are THE best!! And be sure to ask for HOLLY! THANK YOU ❤️
Holly is amazing always there when needed!!
Holly was very nice. She did everything a 5 star review would entail. She d asked me to leave rate my experience or leave review, and I told her I would. She definitely took the HR addendum and kicked it up a notch w/ her friendliness and efficient communication. She made the experience a good and fast; Prices are good even with the insurance mandate, self storage is competitive, compared to other prices I checked with other unit facilitators priced less than, other facilities prices, w/o insurance. I was glad to hear they have pest control too. And their hours are after business hours so that you can get to your unit post 5 pm. That's nice too.
Very grateful for the experience I left with. Holly is not just great at her job but she is great with people. I was given a variety of options and was able to check out each one. All in all, I was very impressed with the service.
Holly is awesome!! This place is awesome!!
Very clean facility and the staff were amazing to work with.
Holly had great customer service and was very sweet. She had an upbeat attitude and made me want to be there even longer that expected. Thank you holly!!!!
Holly the greatest Help in history with communication skills I thank her alott so I had to give her 5 Stars
It was a clean facility or is it clean facility and they have good access though it's hard to maneuver a big truck through there, it does have easy access and it's always clean and I'm sure that they love to work with you, I would recommend it as a place to rent a storage space
Holly took great care of me today. Moving is never easy, and getting a storage unit is always a tough decision while you move. Holly got me in and taken care of quickly. Thank you.
After going back and forth with 3 locations for reservations and trying to find a unit that would meet our needs, we finally found what we needed at this location. Holly was awesome and went above and beyond to help us get our transaction handled quickly and efficiently. Highly recommend.
Great staff very accommodating and friendly. Property is always clean. Love it here. Manager is amazing!!!
This is a well run and professional business. Holly provides excellent customer service.
Exceptional Service with professional and friendly employees holly was amazing and got my family what they needed in a timely fashion thank you for all you do ..!
Great service! Easy to get a unit!
Amazing unit! Would definitely use again!
Best place for storage! Great staff!
I've been with Public Storage for several years and it's been a wonderful experience. Very friendly, courteous, and attentive staff. Thank you Holly! The property is well maintained, security is top-notch, and units are clean and climate controlled!
Extremely helpful and courteous staff, always willing to go above and beyond. Very clean facility. My only two wishes would be for more carts, and to be open a bit later, perhaps till 10 PM. I had an overall great experience here!
Holly was fantastic, informational and helpful. The prices were right on also
Great service, clean and very safe location. Holly was extremely helpful
Holly is awesome and a hard worker. She made the best welcoming and upbeat attitude.
*****Very professional, organized and friendly.
Holly was very informative,communicative,friendly and very helpful in meeting my needs for a storage unit.
I worked with Holly at public storage on easy Street and US1, she was great, very kind, very considerate, and very helpful. And I look forward to working with her in the future. Thanks.
Holly was awesome. If i needed to rent another locker - it would be from here. Friendly and helpful. Very professional.
Kind and respectful always understanding
Holly is very friendly and the facility is well kept. Never had any issues with bugs or rodents like some other facilities. Would definitely recommend!!! Shatell
It's okay. It would be better if the price is stayed the same instead of going up like a bell curve.
Holly is in fact one of the most professional and helpful people I've ever met I've been dealing with her for over a year and I stay storing my items at public storage at this location because of her she makes it so easy to be able to get things done!!!
I had a woderful experience with shanna at public storage. She was very friendly and professional.
HOLLY was ah-may-zingggggggg! She was super nice over the phone and in person! And By far the best customer service representative I've ever met Lol she was hilarious and you can tell she really knows her stuff 💚
Kelly was the best an she gave us the best prices
I came in to pay my bill and was greeted by Kelly. She helped me get things done and was very nice.
Awesome experience! Tom was phenomenal! Would recommend:)
Great Customer Service. Mr.Tom was Awesome amd Very Helpful with showing everything that I Need to move and Plus more. Also good with suggestions. Greatly Appreciated .
Due to a bad experience at a local branch,I had to post a bad review...but then a wonderful gentleman named Shawn helped me with my bill and took the time to listen to me...can you believe it, a real person spoke to me.😁 Now, I'm happy with my experience. Thanks to the corporate guys, I appreciate you.
Fantastic service! And very clean!
Holly was very friendly and professional. Unit and facility is clean.
Very well run and secure. Clean and well lit.
Good service all around thanks Holly !!!!!
Holly is awesome, she's a public storage professional! Thanks holly!
Great place to storage what you need
Attentive, professional, courteous. Definitely glad to ave chose the location! Tom an Dusty we're very knowledgeable and happy! Highly recommend.
The coolest peoples ever👍👍👍👍 David but not David 🤣🤫
Holly is so professional courteous and efficient . What I thought would take an hour took 5-10 minutes. Clean units well lit facility
Very clean location with a great staff. Holly is always attentive and kind. Always a good experience .
Friendly and speedy service! Great experience and clean facility
Great place! Great managers! Wouldn't go anywhere else!
ABSOLUTELY DISGUSTED!! ((((MY exp+prior customer=4 PRICE HIKES IN 20 MONTHS TIME!!!!))) BEEN HERE NOT EVEN A YEAR. THERE HAS BEEN 2PRICE JACKS FOR $20+DOLLARS WITH 1 BEING ACTIVE NOW ((*DURING HOLIDAY)) INCREASING AGAIN! DURING X-MAS EVEN??! THIS IS 10×8 FOR $168!! I JUST FOUND THE SAME SIZE FOR $60 MONTH ON 25TH STREET DOWN THE ROAD! DO NOT COME HERE!! THIS WAS THE FTPIERCE LOCATION PUB STORAGE! MASSIVELY OVERCHARGING CITIZENS PLUS ALL 5 PLACES I CALLED HAD LOWER RATES TOO BTW
Holly is the best!!! Thanks for all you do!
UPDATE: YOU DON'T NEED INSURNACE TO GET A UNIT, BUT THEY WILL LIE AND MAKE YOU SPENT EXTRA $15 A MONTH. READ THE CONTRACT BEFORE SIGNING IT. "STORE AT YOUR SOLE RISK; INSURANCE (See Insurance Addendum to Rental Agreement). You store property at your sole risk. Insurance is your sole responsibility. If you do not insure the property you store, you bear the full risk of loss or damage. We WILL NOT purchase insurance on your behalf. Any insurance protecting the personal property in Your Space against fire, theft, or damage must be provided by you. 18.1 You may purchase the insurance that we offer as a convenience to you, but you are NOT required to purchase it. IF you elect to purchase that insurance, your monthly payment will include an additional amount for the coverage you select. See paragraph 2.1.3 about how payments are applied. 18.2 You understand that the storage insurance program offered at Public Storage is reinsured by a wholly-owned subsidiary of Public Storage, and we may benefit financially if you purchase that insurance.
Shanna is the bomb. She is very knowledgeable in her business. She was very informative and positive. Storage facility is nice, clean and accessible.
The property Manager was very helpful and knowledgeable, always there when needed. I would highly recommend Public Storage to anyone.
Awesome experience. Holly is a spectacular representative for Public Storage, the transaction went smooth. She explained everything very clearly so we knew exactly what we were getting.
The service was great. Thanks to Holly for answering all the questions that I had and for helping me to make te right decision.
I had a really good experience with the property manager yesterday. She was so helpful and polite to me. I wasn't expecting her to be so concerned about my well-being but SHE WAS. It felt great. If I ever have to use a storage facility again, I would go back to that facility just because of her. The prices too, they are best I found around town.
Very quick and easy, Holly was selling it so well I almost bought boxes that I didn't even need. Would highly recommend.
THIS WAS A GREAT EXPERIENCE FROM BEGINNING TO END. Holly the property manager provided me with great customer service, was polite and very informed. She made sure that the unit that we were looking for was just right for our needs. I will recommend her to all of my friends and family needing storage.
Just rented a unit today. Holly was very thorough and went over everything in detail from hours, pricing, insurance, billing and any other questions I had she had the answer. She was very pleasant and easy to talk to. great experience.
Because you charge me a one time late fee.
Holly is amazing! I would recommend this place to friends and family it's always nice and clean, and the prices for the units are reasonable. If your looking for a great place to store your items come see holly.
Quick and fast and very reliable...The lady in the office is super nice
Very friendly and helpful. Clean and well kept facility.
Holy is very helpful and the storage unit is very clean.
Holly was really helpful and pleasant. When I arrived to the site and viewed the storage unit I had reserved, I wasn't sure if it would be large enough. I was beginning to feel overwhelmed. Holly assured me that everything would be okay, and that she would help me get a storage that I was comfortable with. She did just that!! I was able to get a larger unit at a lower price. The property is located in a nice area of town. I'm very pleased with the customer service and appearance of this location.
Great customer service from Holly, she was helpful and got me the best deal!!
Price was a lil high, but great customer service and security.
Facility was very clean and Tom was great. Thanks for all your help.
I have had the best experiences with the staff at this location! Anytime time I have had an issue, Holly has always been there to answer my questions and help me resolve them. I will be moving to my new house this month and am actually sad that I won't need to be in contact with the employees there much longer. But, if I ever need to store my belongings in the future, this Public Storage location will be my go to!
Holly, who runs the show there, is awesome! She knows how to treat a customer and is always a pleasure to work with!
Holly is amazing, will definitely recommend to others.
Perfect spot love the people here and the storage units are amazing.
I've rented 2 units from here and both times I've had a wonderful experience. Especially this last time. Laura one of the property managers was very accommodating during my vacate when I couldn't be there she went out of her way to remove a few items that were left behind in the unit. If you ever need a storage unit definitely recommend this facility!
Holly is always awesome she has always been there whenever we need her
Dealing with Holly was a pleasure I was going to go to other storage areas but she is an asset to your company she definitely needs to be rewarded for a good work and being conscientious and being polite. Please feel free to contact me at any time again this employee is a benefit to your company as there are many other storage areas around that I could have easily gone to thank you.
Great service, the facility was spotless. Made me feel so secure about leaving my belongings there knowing they would be safe. Laura was such a delight and Holly was wonderful as well. Great customer service. The rest of the industry could take some tips from these ladies on how to treat customers!
Fabulous service, Laura is so sweet and helpful. Thanks much!
Holly was very professional, and such a great help. I'm a little stressed out, with the moving. She made it stress free, and even saved me money! She has such a bright attitude, and spirit! Thank you Holly.
Low class costumer service...👎
Great customer service! It was a very easy process. Laura and Shanna were extremely helpful and made sure we had everything we needed. Seems like a safe and secure storage unit.I definitely recommend them!
Awesome service, Holly was very friendly and professional. Overall great experience with all the stall.
It was my first experience at a public storage and the service I received was phenomenal! I recommend public storage to anyone to anyone who is looking for a safe place to store their belongings. I left there with no worries and the best deal possible.
Holly is a pleasure to work with always helpful and makes storing our items with public storage an easy and pleasant process. Thank you!
Best customer service ever HOLLY was absolutely awesome... so much help and even stayed a couple minutes late to make sure I was good to go !!!! Management should take notice of her !! Thanks again
Great experience. Thanks Shanna.
Ask for Holly she treats you with the upmost respect and is very helpful
Shanna was very helpful and professional.
Professional service and very clean
Good place when you're stuck good personnel okay friendly
Holly was awsome....Thank you very much
Staff is very helpful and pleasant
Great facility and great people!
This place is spotless and Hollie was very professional.She helped me find the perfect unit for my needs. She seamlessly guided me through the process from beginning to end. They were running a great special and the price was very reasonable. Thank you Hollie you exceeded all my expectations
I Love Holly she is The Best Employee
This public storage is very nice and restroom was clean plus the manager Holly was very helpful and notified me on storage information. It was a fast and easy sign up with the manager Holly on getting the storage especially when I had to get everything removed out of the Penske truck to get it back on time. Thank you!
Shanna was a great help! Great customer service. Highly recommend this place and ask for Shanna!
It's okay for a storage place. No frills. Outdoor drive up storage. No contracts, prices are month to month and we've just been told of a second price increase in less than 2 years.
Holly did a great job for me yesterday! Life threw me a bit of a no-notice curve ball, and I was rushed and running to get my car load of stuff into a storage unit! Holly was super nice, thoughtful, and thorough. And the entire place was spotless. 👍👍
The ladies I have dealt with in the past and continue to deal with at this location make me feel like FAMILY very warm welcoming to their business and actually care to listen to you and what is going on to see how they can help and what unit is best for you based on your situation. Thank you very much ladies;)
Shanna was very nice, funny and help alot.
Reserved a unit online and got a unbelivable deal on a 10×10 climate controlled locker. They also have everything you need to pack your things available.right at the front desk. Shanna showed me around and explained everything very clear and easy to understand 👍
Ms Holly was friendly and respectful and was ready for me when I entered the office. The other associate there was very helpful and kind as well. This I appreciated especially after UHaul office I left due to a rude employee made me really appreciate Public Storage employee's for their respectful treatment.
Holly is the best I like her customer services skills and she really made me feel important as a customer
Holly was very nice and sweet and took care of me
Holly provided excellent customer service which also help me save money! Nice clean location.
Shanna was awesome. Love this property, clean buildings and always friendly staff. Rented here before and always recommend it when someone needs storage.
The customers service was very good. The staffs were very helpful they gave me all the information I needed . I would definitely recommend this place to anyone. Awesome customer service both Holly and Shanna were very friendly . Also units were very clean.
Shanna was efficient polite and helpful
I needed to move ASAP. Holly turned a stressful time into a GREAT experience. She was fast and efficient. The property was clean and I had all the information I needed to make a seamless transition to the storage facility. Did I mention she had no water (main break) for 2 days..... She was awesome.
Great customer service! I will be storing here for a while for sure. Thank you Holly!
Awesome customer service !! All of my stuff was well kept with no damage . Thank you !
Shanna was very helpful and I have the perfect storage unit for my stuff! My moving process will be a little easier now! Thanks shanna!
Rented a unit today . She was awesome, and patient to let me make sure I got what I wanted. Thank you!! Usually have some type of move in special.
Shanna was very helpful kind and professional. I have had my unit for atleast or over 3 years now site is maintained and I personally have had no problems or issues
No one ever in office. Always have to wait no less than 15 to 20 min. Return sign time never time they return.
Great experience with this location and the staff. Holly and shanna are both super helpful.
It was very busy the day I got my storage unit with phone calls, people in and out. Shanna did an incredible job handling it all including a disgruntled customer. Her patience and calm manner were admirable. She could not have been more helpful!! If there were 10 stars instead of 5, I would rate her a 10.
The service, courtesy, and enthusiasm to help? Outstanding. Shanna and Holly are exceptionally consistent, cheerful, and professional.
Tonia and Holly were great!
Great rates and fair prices on supplies the staff is always happy and willing to help you and they are open extra hours which is nice
Holly was very pleasant and helpful
Good experience. Prompt and helpful. They have an excellent follow up procedure in place.
Shanna is awesome. She's a keeper. Wonderful experience, easy to talk with. Love her and she's funny.
Shanna was an awesome help & informative.
Tonnia was very nice and awesome!
There are truly kind people in the business world. Holly truly touched my heart as she offered service to me. I rented a storage unit. I had a few items left that could not fit in the unit. She allowed me to use another space freely overnight, so i can remove the excess. These were items to donate to charity. Praise God for Holly's kindness. Her kindness, politeness, courtesy, is truly heavenly.
Great for storing all of our needs. The people are wonderful a bit pricey but it's gate it and air conditioning
Holly made signing up for a storage unit quick and easy. Every time I
Holly did a great job helping me choose the correct storage rental unit that fit my needs. She was very professional, helpful, and took her time to explain everything to me. She went over everything about the property and how everything works. Thanks Again! Chad D.
Thanks Shanna, Customer service at store 25744 in Ft. Pierce is awesome. Employees are personable offering clean spaces for your valuables. Rene jones
HOLLY IS THE BEST AT CUSTOMER SERVICE! SHE IS VERY POLITE,ALWAYS IN A GREAT MOOD. SHE KNOWS THE MEANING TO CUSTOMER SERVICE. IF YOU LIKE BEING APPROPRIATED AS A CUSTOMER STOP BY SEE HOLLY SHE IS THE VERY BEST OUT THERE!!
Excellent customer service so helpful thank you Holly
We downsized our home and needed some space for things... We found this location which is convenient to where we moved. Holly was exceptionally helpful, and the location is very clean and well maintained!
From the introduction process of acquiring the unit Holly was very professional and well trained. She really cares about the customer and answered all my question. If I ever need these services again I will come back to this facility.
I had a lovely experience when I visited public storage julie was so helpful and wonderful would recommend this facility to everyone
Holly was a extreme help and made the process smooth and efficient, and is the reason I chose to go with public storage. Would highly recommend to others.
Holly and Judy professional in dealing with us. However I would not go with Public storage again. They sneak a to raise the price on you while they advertise the same unit at a lower rate. Stay away other storage more professional and thoughtful of there renters. I definitely will not go back
Went and rented a space today at Public Storage and "Holly" was very helpful and kind. Good experience, Friendly service and very clean location.
This is my second time renting this storage place and I would highly recommend this place to anyone in need of great storage. Holly is also amazing and very helpful!
I needed a storage unit asap. Holly and Tonnia helped me find the right unit for a reasonable cost! Highly recommended!
Excellent property. Julie is very knowledgable, pleasant and goes above & beyond in providing customer service.
Great job and very helpful in helping us make the decision to rent the size unit we rented. :)
Great prices and Holly was awesome!!!!
We recently rented a storage space from Holly. Everything went very smoothly. We looked at a few different units, when we decided on one all paperwork was completed very quickly. Holly is very professional, polite and a pleasure to do business with. I must say also the complex was very tidy and neat! If you need extra storage space definitely see Holly.
Some of the best customer service that I've ever received. Tannia was amazing! She was already prepared for my arrival once I walked in the door and getting me squared away. Holly also provided stellar service as we shared a laugh about today's technology. Check out this location if you are looking for a great storage spot to keep your belongings and receive suberb customer service!
Holly @tonnia were amazing and quick in the afternoon rush
Holly was great . .. she always helping me out .. sweet and caring person
Julie, Tonya, and Holly were fantastic in meeting our storage needs. I highly recommend this business
I had a great experience here! Tom was very helpful in getting me set up with a unit that fits my needs and budget. The space was very clean and the process to rent was efficient. Thank you for your help!
The employee, holly, was very polite and professional. She helped us and explained everything wonderful. We really appreciate her
Holly does a great job!! Very helpful and professional.
How much is a 10'×15' unit?
Excellent customer service by Holly! She was helpful and knowledgeable! Nice to have her in your location!
I must say Holly is amazing!! She went above and beyond to make sure I had enough space for what i needed. She was very patient and knowledgeable . This is a great location and they have everything I need including a very wonderful awesome lady named Holly.
Julie was amazing and helped us get everything we needed for a smooth transition.
NOT CLIMATE CONTROLLED YET CHARGED FOR CLIMATE CONTROL! Had to move my stuff out because my unit was like a sauna. Regional director told me they keep the units at 80 degrees and that there were no a/c issues however I watched the a/c personnel literally working on the a/c unit. Also they never have carts to move things and there was a rat that was in my unit. Also no bathroom or trash cans.
Great experience the rep Holly was amazing explained the process well and made me feel comfortable.
Holly, was the person that I've dealt with to get a storage unit she was very professional she did a great walkthrough and she gave me great details explaining everything to my understanding, great personality...😊
Holly is Awesome! The staff at this location is always helpful and friendly. Highly recommend renting a storage unit here!
I need a storage unit because i just down sized and had no room for all my stuff. I live on limted income hollly was so helpful she explaned everything and went above any customer service i have every got will do business with them for a long time
This site is amazing. Holly was the most friendly and knowledgeable person she assisted me with all of my needs and wants. Would recommend to anyone.
Secured access to storage units in climate control buildings.
Very clean facility with extremely polite staff thank you holly :)
Holly was very professional, fast service, and very helpful. Thank you Public Storage.
Always great deals and clean and good service
I am very pleased with the service provided to me this afternoon. Lovely girl Holly was super great. Everything went smooth!!
Just rented a unit yesterday. Holly was extremely professional. It was obvious that she loves her job. Dealing with her was an absolute pleasure!
very reasonable. accomodating staff. very clean
Shanna and Holly provided and over top service for me today. They greeted me at the door as soon as the store opened and made me feel very welcomed. I had this unit for almost a year and every time I come I have never been disappointed with the service provided. Thanks Shanna and Holly
Shanna,Holly were very helpful,so kind.they answer on my questions. Great place.
I was glad to have Kywanda to service me. She answered all my questions even though I was being a little much. I just wanted to make sure I knew what I was getting into. Thanks
Had a great experience at the fort pierce location.. Holly was very nice and knowledgeable and made it very easy for me to make my decisions... I recommend this company for anyone who needs a storage unit... Thank you..
Little too expensive, won't be staying long. Staff is great and efficient. Holly and Shanna were very personable and professional. Appreciate the help!
Great customer service from Holly. She was very courteous and professional and made the check-in process smooth and easy.
This place is absolutely AMAZING! Holly is super sweet, very, very knowledgeable about this place. We moved from Tallahassee Florida, and boy I tell you I needed to see her smile. Moving anywhere is already tiresome and stressful, but Holly made us feel so welcomed! SUPER CLEAN, SAFE, AND QUIET! LOVE IT! I will be sending more people to this place! We love you holly😘
Poor customer service and possible to get someone on the phone. Rude and inconsiderate service after rental of my unit. Prices go up quickly with no warning. Look elsewhere before you go here!!!!!!
I have to say that I have had the best experience with this storage and have had my things there for almost a year now. Sandra is an amazing part of the team. She has helped me so much and is such a joy to work with. I couldn't imagine finding a better place to store my beloved items. The staff are all wonderful!! Go Sandra! You are awesome!!!!
They were very helpful!!!
The interior storage was very clean. Also they had it air conditioned which made it very comfortable to look for different items. And I only had to pay a dollar
Best storage company on the treasure coast fast friendly service. I had a horrible experience with others in the past but this facility I would most definitely rent from again amazing staff n very clean facility
easy to get to from the main highway. very clean. reasonably priced
Very helpful and got me into my storage with no hassle, Thanks Holly for your help!
The experience was nothing why of perfect. I have a unit large enough to store everything inside of and walk without injuring myself. The staff was friendly and ensure that I had no questions. Less than a week later and I received a follow up phone call to ensure that my experience was amazing.
Ashlea was the reason our family decided to rent a unit from P.S. She was professional, helpful and genuinely likes her job. Hopefully the time we need the unit for will be a good experience also.
I had a wonderful experience with this company and their staff. From the very first phone call to the actual rental, it was an excellent experience! I dealt with ashley all the way through the process and she was spectacular! Her follow up was excellent, she kept in communication with me constantly, and she was very thorough in explaining the paperwork and the procedures. The unit was clean, well priced, and easily accessible. I highly recommend Ashley and public storage if you need a storage space. Thank you for making this part of my move such a smooth and easy process.
Helpful and courteous people units are nice and clean and easy to move in
My boyfriend and I rented a space a couple of months ago and never had any issues. We just left since we got our house! The staff was very friendly and professional. They made this transition for us go really smooth! I definitely recommend this facility to everyone! I am unfortunately in the process again of moving! I went into this store once more to get an estimate of how much everything will cost me! The service again was fantastic and knowledgeable! I am not in a position at the moment to get it but I will be back as soon as I can! Thank you so much for all your help!!
Ashley was very helpful in finding us a 2nd location close to our 1st unit.
She seems to no what I am already going to say an leaves question on point' not to lilt my answer en still outlined these things Idivd tolled my self with out repeating. If your whirly about your possessions she gives the up & up Thank You very much our sincerely thorough,... ask for: Jennifer
The staff here is amazing!!! Very courteous and friendly.
Wonderful service. Her name is Elaine.
I've been with public storage for 2 yrs & my storage is inside but yet there are what I think are worms inside. I used the dumpster & got charged $75. What storage place doesn't let the renters use the dumpster. I can't wait to get my stuff out. I will never use them EVER AGAIN NOR WILL I ever recommend my family to them. This is bullshit
Don't believe the $1 pays first month rent. Just for the smallest storage it's gonna cost you $80 for the first month. The fact I was told they would give me a 24 hour notice for when our month was over and to get my stuff turned into a 4 hour notice while I was working and told my stuff would be taken and I would be charged is ridiculous. The inconvenience was unbelievable. Will not return. Staff was friendly and nice, only reason I'm giving it a 2.
Came in to get prices and staff was friendly. Dont need a space till September but was given all options and suggestions on how to protect my stuff. I am confident once I am ready to move that they will take amazing care of me! I am actually looking forward to a stress free move! I went back with my mom to get the storage unit last week and the girls were amazing! Elaine and Ashley made this transition easy. They were both very helpful and understanding. I feel confidient that my items are protected and safe!
Very friendly service and well maintained. My girlfriend is currently renting here and we needed a cart today to move some items. We could not find one. Ashley came at out and got us a cart right away! She was a great help! I have moved now, service was great the entire year! If I move back I know which storage facility I will be using!
The gate never closes during the day. Doesn't feel very secure
Ashlea, tom, and jennifer were a top. Very highly pleased with customer service. Smells good and clean on property. Will recommend! Great job.
They provided great service. Answered all of my questions
Ashlea and Jean were awesome! They know their business and help us sign up very quickly. I recommend this storage facility to anyone in the area.
Ashlea processed my move-in. Extremely friendly and professional. Tom assisted me the next day (locating a hand cart). Likewise, he is friendly, helpful, professional. Facility is very clean, well-lit, well maintained, and very secure.
I kept my items here for as long as possible. Kind people. Well insured! I even got a lock and key. I am satisfied with their business! AWESOME
Great customer service !Great prices👍! Thank you Ashlea for every thing.
Painful,my face hurt from smiling .fabulously person skills. Ashlea, Jenn, Jazzmyn, and Tom did their jobs with professionalism,expeditiously and great follow up.
Just rented a unit. Great customer service.
Ashlea and Jennifer were wonderful. They provided excellent costumer service were very helpful and courteous. Very nice and professional employees. The facility was clean and extremely well kept.
Ashley was great. Unit was clean and decent size and price.
Moving from CT to Fort Pierce Florida, Ashlea was very helpful. It was inspiring to get help from someone so knowledgeable I plan on being a life long costumer!
I went in to look at some boxes. The manager there was so nice! She helped me understand why i needed different size boxes to pack safely and efficiently! I will difinitely go back for any packing stuff i need!!
2 lady's at the front desk were awesome, they helped us our tremendously by suggesting things that would ultimately lower the price and we left very very satisfied!!
Clean, helpful staff, convenient hours and location.
Had the pleasure of meeting the manager today Ashlea. I was very impressed with how clean an well kept the facility is kept! Keep up the good work!!!!
Great place! Staff (mainly see Ashley) is always nice and friendly! Facility is always clean!
I was impressed on how clean and big the facility was. Very nice and professional employees that were very patient with my questions. The employees made renting a unit so much easier than I thought it would be. They took me to look at the size I needed and gave me tips on how to store my things efficiently. Will highly recommend Public Storage.
Rented a unit for over a year while living in an apartment and had a great experience. Everybody was friendly, everything was clean. No problems ever accessing grounds or unit in the A/C building. Thanks!
I got treated like they wanted my business and to make me happy. Was very nicely taken care and was very impressed with the manner I was treated. The associate, Ashlea, was extremely professional and took care of me with a smile. Would definitely suggest to anyone.
Staff is easy to work with. Requested a smaller unit last week they notified me the 31st and was able to transfer stuff to smaller unit on 1st and move the rest out. Clean I have stored stuff there over 6 years from largest to now 5x10. I am finally getting rid of the rest. I am probably like a lot of people from the North that moved down and finally realize this climate is really different. Let's get rid of the old stuff and Simplify. This is the best public storage I have seen in area. I have one across from me but prefer this one. HIGH MARKS!!!
They at great their. Very nice people. And clean.
Ashley was very helpful and courteous. The facility was clean and extremely well kept. You can really tell that their maintenance and property manager love what they do. I would recommend them to everyone I know.
Jennifer, Kristina, and Ashlea are great girls! They are always nice and wonderful. The property is always clean and anytime I ever have a question they are MORE than willing to help me. I never have a problem there. They are courteous enough to even call before my payment is late so I won't get charged a late fee. Wonderful service and feels great that my stuff is stored with wonderful people in a safe environment.
Really had a good experience. Ashley was a big help. She really was helpful and very thoughtful. I'm moving my family down south and it's been tough. Ashley was able to make a bad situation good. Thank you public storage. The area was also very clean and well taken care of.
Tom was wonderful. He provided excellent costumer service to not only me but to the other costumers waiting. He was very attentive to which costumers needed help with what and took care of us in a timely manner. Best service I have had from a storage place and very neat and clean as well. This will be my go to for all my storage needs.
Good, clean facility and friendly efficient staff
Very helpful staff, professional and clean facility, I felt salf leaving my valuables there will definitely recommend them to anyone!
very friendly service. ashley was very knowledge and kind. she offered great service and was very friendly. the facility was very clean and we'll kept. i would recommend using this storage not only for the security but for the friendly staff.
Clean, well lit and the gate hours are good so you can go before work, or after. Bobbi jo and Asley are very friendly and I would recommend this place if storage is needed.
This was my first time renting a storage unit. Ashlea was very helpful and knowledgeable about everything. I would highly recommend this storage facility and Ashlea
Excellent customer service, caring and understanding personnel, and a superb facility. Very clean and very friendly. I highly recommend this location. Go in and see Ashlea. She'll take of everything for you.
Un trato excelente por parte de la Sra margie realmente muy complacidos, el lugar en buenas condiciones
Very prompt and professional service. The conditions of the facility were very good, with good seccurity. Ashlea is very pleasent to deal with, and very well trained with all the knowledge needed.
Moved out recently, been there for a few weeks. Bobbi and all the staff are really nice, I like that you don't have to be there a set amount of time, I only needed it short term. good prices. would go back if I need storage
I've been at this property for over a year. always clean and when I was there this week all of my belongings where just as I left them
Very professional and clean facility! Ashlea and Wendy are always very kind and courteous! I would highly recommend this facility!
I recently rented at this facility and the help I received from Jimmy was amazing. He was knowledgeable and fast. He answered all my questions and got me the perfect size for me quickly since I was in a rush. I highly recommend this facility and its staff to everyone looking for storage or supplies!
Very friendly atmosphere Ashlea was very knowledge and helpful with services and product. Not moving yet but came in to buy packing supplies. If i am ever in need of storage space i will go to see Ashlea. I highly recommend this facility to anyone needing storage or supplies thank very much Kim Martin
Hi there, am going to tell you a lil story, this pass month my life been crazy i was going to move to and apartment and the day i was suppose to move they do not accept my aplicacion did you believe that i feel crush in the inside but the only problem i have already put my stuff in a u-haul truck and now i have no place to stay and with no family member so the firth 3 day me and my family we spend those day in a motel it was 300$ and each day for the truck was $76 the u-haul and after that a friend of my mom tell us to stay a few day with her and we stay there for a week and remember we still got the u-haul truck that month was so bad for me in less that 2 week i use like 1500$ dollar i say is time for a storage so i went and i was so frustrated already because the money and i explain my situation to the lady of the storage and she say don't worry everything is going to be ok. She tell me she going to help me to put my stuff in the storage and i wasn't going to spend that much money and i feel that weight and frustration relief of my shoulder i feel and angel just help me THANK YOU (ASHLEY) U SAFE MY LIFE THANKS YOU u are the best THANK YOU I APPRECIATE IT sign WILLIE GOMEZ THANK YOU
I recently rented at this facility. The grounds are well kept and easily accessible. But the best of all was the staff. I dealt with mostly Ashlea who is a diamond in the rough but also with Jimmy who is as sweet as can be! I could not have asked for better service! They let sunshine in on my stressful situation. I highly recommend this company as well as the very professional employees that have helped during my big tedious move!!
Amazing People Safe place!! Mgr is Awesome!!!
Its great to know that the fabled customer service experience is alive and true. Personal thanks to jimmy for his perseverance and dedication to his work, and for going out of his way to make sure this customer stays happy. Thanks for all your help!
I recently rented a unit at this location and I have to say... Jimmy was absolutely wonderful! He was so kind and went out of his way to help me. He really made my day and it was a day that really could have been a disaster but he figured out a way to avoid having to move my things out during the rain. I am VERY grateful.
Simply the best!!! Jonathan was very helpful in getting my friend frank the storage he needed. Even though it was raining jonathan kept a good sense of humor and was still professional during our move. The facility was very clean and well kept. I'm happy we choose public storage!
STEPHANIE WAS GREAT! VERY PROFESSIONAL. VERY WELL RUN FACILITY, WITH A GREAT STAFF. STEPHANIE EXPLAINED EVERYTHING AND MADE MY PUBLIC STORAGE EXPERIENCE A PLEASURE. SHE'S THE BEST!
Stephanie & Jonathan did a great job taking care of our needs. Thanks
Very attentive staff. Stephanie was wonderful in getting the space I wanted and jonathan was able to resolve our issues without hesitation and pain free. Thank you again.
Stephanie was a great help and covered all my questions.
Stephanie, dominic and John are the best. They coudn't have been nicer or more helpful. They went the extra mile for us. You are very lucky to have them working for you. Thank you.
Excellent service by a friendly staff. Quick and efficient. Clean well maintained facility. Stephanie was super supportive and explained everything clearly and professionally. Couldn't ask for better service. Thanks Stephanie.
Very friendly staff. Good rates. Clean facility. Convenient location. Would recommend and use again for my storage needs.
Stephanie is always a big help when I go to Public Storage. She is also very cute.
Stephanie was really nice made me feel welcome I ask for a big storage and show me one and u love it thanks stephanie
The staff is always friendly and helpful. Facility is well-maintained. An easy in-and-out.
Stephanie was very friendly and professional. We moved here from CT and she helped make this new transition very smoothe. I would definitly recommend this storage facility to a friend.
This is a report from Sharon Gowdie But Im Writing The Review From My Nephew Account.... BUT Stephanie Was Great At Her Job And I Liked It And The Job She Did ..... MY Grade For Her Would Be A (A+) .... GREAT WORK DONE BY STEPHANIE And Her Service.
This Public Storage is a well maintained facility located between Fort Pierce & Port St Lucie. I was unsure about which storage unit I would need but Stephanie was there to re-assured me and explain the details of the storage contract. I would highly recommend this facility!
Have had unit here for 3 years, never had an issue, no bugs, no water damage. Stephanie is the sweetest employee that they have. She has been so helpful. It is very rare to find great customer service these days, she even remembered my name. Defiantly will use them again.
Stephanie was the best...her smile and friendliness and she has great customer service skills.if anyone need a storage please go see Stephanie at public storage.. they will not let you down promise. ...erika jordan sent you
Stephanie was the best and a real sweetheart! Granted her computer was down, and I had issues with my key code, but she went above and beyond to help me with my whole experience! A+++ :)
I have had an amazing experience storing my belongings here. Steph M helped me out a lot! I will definitely come.back if i ever have to use self storage again!
great place. Stephanie M. helped us. great customer service.. she was very helpful.. (:
Wendy and Tabitha are wonderful. I love this facility. I have multiple units with Public Storage and the employees have gone above and beyond to help me out. I reccomend Public Storage to anyone looking for storage.
Thank you for taking the time to help us thru a stressful situation. Nobody enjoys moving but the staff here , especially Tabitha since day one, Shay , and Stephanie M. Have helped significantly. Thanks again.
Have been at this public storage for over 3 years, very happy customer!! Always taken care of and helped in anyway by the employees there. Its clean, safe and affordable!!!
Tabitha is extremely helpful and knowledgeable. She answered any question I had about storing my belongings with Public Storage. This storage facility is very clean, I will never rent elsewhere again. The prices are very reasonable. I highly recommend anyone who is looking for a safe facility to store their items to go to Public Storage in Fort Pierce. A+++ service for me.
Tabitha, sstephanie M , shay and stephanie c were extremely help full. Thank for all your help
Great employees and very clean units! Great price too!
My wife and I have been nothing but please with the service and atmosphere of this Public Storage. We met with a woman at the front desk named Cetoria who explained everything to us, helped assess our needs, and showed us a model unit. When we moved into the unit, it was easy. A very secure area, you will feel safe.