Public Storage Self-Storage Units at 1000 S Gene Autry Trail, Palm Springs, CA
Address
1000 S Gene Autry Trail Palm Springs, CA 92264
Office Hours
Mon-Fri 9:30 AM - 6:00 PM
Sat-Sun 9:30 AM - 5:00 PM
Gate Access Hours
Mon-Sun 6:00 AM - 9:00 PM
Storage Facility Features
Climate Control Storage

Car Storage

Small, Medium & Large Storage Units

Indoor & Outdoor Storage Units

Property Manager Lives On-site
Office Hours
Mon-Fri 9:30 AM - 6:00 PM
Sat-Sun 9:30 AM - 5:00 PM
Gate Access Hours
Mon-Sun 6:00 AM - 9:00 PM
Storage Facility Features
Climate Control Storage

Car Storage

Small, Medium & Large Storage Units

Indoor & Outdoor Storage Units

Property Manager Lives On-site
Close Location Details
View Location Details
Outside unit

Drive-up access

Climate Controlled

Inside unit

1st Floor

Climate Controlled

Inside unit

1st Floor

Climate Controlled

Inside unit

1st Floor

Outside unit

Drive-up access

Outside unit

Drive-up access
Nearby Self-Storage Locations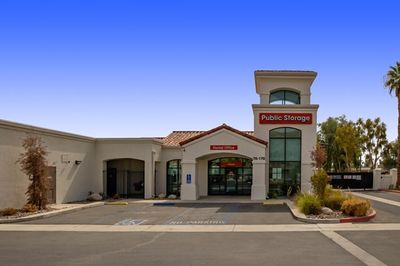 Self Storage Near
70170 Highway 111
Rancho Mirage CA 92270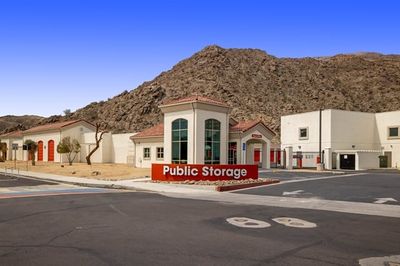 Self Storage Near
72150 Fred Waring Drive
Palm Desert CA 92260
Resources from the Help Center
See what fits in different storage unit sizes
Palm Springs Storage Units Near Highway 111
Palm Springs self storage is easy with this Public Storage, conveniently accessible from Highway 111.
With Tahquitz Creek Golf Resort, Seven Lakes Country Club, and Cathedral Canyon Golf Club in the area, Palm Springs is a golf lovers paradise. If your extra clubs are starting to cramp your style however, we have more than 800 storage units for you to stash them.
Unload your equipment with us easily at one of our drive up outdoor storage units, and get back to the good life. This location also offers indoor storage units, giving you the ultimate in self storage flexibility. Whether you're looking to stash personal mementos, sporting equipment, or a fresh vintage find, we have storage units you can rely on.
Our Palm Springs location is just a stone's throw to Palm Springs International Airport, making it the perfect self storage options for visitors and vacationers who don't want to lug extra things back and forth. If you're packing up a vacation home and heading out for the season, our popular 10x10 storage units can hold up to three rooms of stuff. Fly away knowing your belongings are in good hands until you return.
We love serving the dynamic Palm Springs area, and our friendly staff is waiting to help you find the storage solution that fits today.
At Public Storage, You'll Always Find...
Keypad Access

Friendly Staff

Month-to-Month Rent

Moving Supplies Available

Free Parking

Well-Lit Facilities
Reviews
( 411)
Omg I loved my visit today being welcomed and acknowledge, right when I walked in the door, the front desk receptionist Tanisha greeted me. I felt so welcomed she showed me around give me a tour sign, a contract right there and then I would refer the storage facility to my friends and family.
Wanted to rent a unit Tanisha help me figure out the size I needed. Super helpful and nice definitely one of the better locations
Hello. My name is Latanya an im writing a review about. Tanisha an Betty. I went there to get some information about a storage a these two lady's was so helpful . They are the best customer service lady's I ever n my life seen. Ur property is always nice very clean. If I had a job I would hire them quick they are very nice an helpful just wanted to seen this out so the manager of this storage know he got some nice lady's work for him. Thank u. Tanisha &. Betty…-
I came to see some units yesterday and purchase some boxes. I was blown away with how great the customer service was. The staff was super friendly and helpful with any questions I had. The place was really clean and I felt welcomed from the minute I walked in.
Great storage facility, went yesterday to check out units and it is very clean and the staff was super friendly. Definitely my favorite storage facility in palm springs
Clean, secure, nice people. Easy in and out. Very convenient. One of the best storage facility experiences I have had.
Great service !! Thank you
My husband snd I have 3 Public Storage units. One in the state where we are moving to and 2 where we currently live! Dealing with the live people in the offices is a pleasure! Getting something done via the app is also easy!
I have used the storage facilities at Public Storage at the 1000 South Gene Autry Trail facility for over eight years, and recently I needed to increase the size a d number of storage units I was using. Tanisha and Betty, the customer service reps at the front counter, were helpful, knowledgeable and pro-active in their suggestions and helped me decide which type and size of units I needed; it is a pleasure to recognize their outstanding dedication to assisting their PS Storage customers. Thank you for your help and your wonderful attitudes!
Amazing customer service – Betty and Tanisha are the best. We are finally moving to Palm Springs full time Nov 5th and needed a large climate controlled storage unit. They stayed in touch with us for over 2 weeks and made it happen – What a relief! Thank you ladies for your kind and thoughtful follow ups. ;) Kathy & Jody
Tanisha and Betty was very helpful always nice girls
awesome customer service. Both ladies Tanisha and Betty were super professional and most importantly very helpful and Patient. It was pleasure doing business with.
I went to inquire about a storage unit because I was moving and I spoke to Tanisha. She was very informative and helped me make a decision. Thank you Tanisha, I will surely recommend this place to my friends and family.
I want to thank Tanisha for being so kind today. She was so helpful and patient with me. She explained everything so clearly. She made my day. Thank you so much.
Manager, Tanesha, was very helpful and very professional. I signed an agreement because of her knowledge of the facility.
Great facility for your storage needs. Friendly, knowledgeable staff. Went into the office and purchased so tape and boxes. Girls are always cheerful, polite and knowledgeable. I will always go there and recommend this property
Hey came in here to palm springs public storage and nisha greeted me with kindness and told me about all the deals that they have there. Excellent customer service. The best storage company in town!!!
Came into the palm springs location to see unit sizes and prices since I am moving. Betty was very friendly, and knowledgeable. Great customer service
Tanisha, Betty, And Hali were amazing at Customer Service at this location. Made sure they stayed in touch with customers during storage occupancy. They were patient and kind. Thank you Ladies!!
BETTY AND TANISHA DO IT RIGHT!! TREATED US WELL AND EXTREMELY NICE AND POLITE!...
Betty has been extremely helpful every month when I come in to pay my storage fees.
Amazing customer service & really clean & secure. Tanesha & Betty we're over the top helpful and knowledgeable in getting me all set up. They were professional & friendly and got me situated quickly. The facility is very secure and well maintained.
Tenisha was very helpful and patient.
Betty is awesome and very accommodating, friendly and very helpful. Tanisha is very helpful too. they both deserve a good raise!
I went in today and received amazing customer service, as well as receiving great help from Tanisha I will definitely recommend this property to others.
Betty has been super help in managing the property in general and helping with my personal units in particular.
I've been looking for different storage options here in the desert. So far Betty has been a fountain of knowledge. She has most definitely answered many of my questions and addressed many of my conserns in a friendly knowledgeable way.
Hello I went to the Palm Springs storage recently and tanisha the front desk lady helped me in so many ways and get into a great size storage unit great customer service best service I could ask for
Betty at the Palm Springs public storage was very nice and helpful she answered all the questions I had
Tanisha was very helpful and making my transition as easy as possible. I am glad I had someone helping make everything smooth sailing for me. Very knowledgeable too and made me aware of my surroundings and what available nearby for easy access. Thanks so much!
Betty answered all the questions I had about renting a storage from public storage in Palm Springs if I could give more stars I would great customer service at this location
This staff ladys in the morning are always so nice. They are a pleasure to see laughing and always so helpful. Thank you i will always use this storage place.
Great people work there i would go back!
I went in today to get a quote an Tanisha was very polite her an Betty. Thank you for been good customer service for public storage
Tanisha was extremely helpful setting up closing of 2 unit due to owners death. She facilitated everything even contacting her branch manager to complete within one day since requester was from of state and leaving soon. Thank you so much and I certainly with refer friends to you for storage. Dorothy Duffy Naperville. Illinois
Fenicia, assisted my wife Sherry and me several times resolving a problem with one of the larger units. She spent considerable time with us as we were from Ohio and dealing with issues as they arose. She was exceptional. Very knowledgeable, and patient. My wife was just as impressed as me when she spoke with her. Don Smith, Lima, Ohio
Thank you Betty for your wonderful customer service and for taking the time to showing and advising me which storage unit would work for me to get.
Tanisha was very helpful with account management, been a customer for many years now!
Love this particular storage location! Best and most friendly people ever meet!
Clean and well managed. Betty was charming, knowledgeable and helpful.
I can not THANK YOU enough... Betty and Tanisha for absolutely everything you do for me and how much you assist me. Thank you! Thank you! Sincerely, Eric Fowler
Me and my brother dealt with an amazing woman named Betty she not only helped me with a frustrating situation she did it with pleasure and made my day from a disappointing start to a very amazing experience using her expertise in the storage business to help me make a very smart decision. Thanks Betty you're the reason I decided to stay with public storage (Gene Autry)! 🙏🏼
I rented a unit at the Public Storage on Gene Autry in Palm Springs today. I had some trouble online so I went to the facility. Both of the woman did an awesome job and got the problem resolved. Friendly and professional!! I wish more businesses were like that! Thank you!!
Very professional, friendly,and knowledgeable associate. Tanisha was very informative and patient as I was looking for a unit. She was very helpful answered all my questions and made me feel very secure about renting here. Tanisha made me feel confident in recommending PS Public Storage to family and friends. She is above and beyond. ⭐⭐⭐⭐⭐⭐⭐⭐⭐⭐
On the positive side it is a clean facility, easy access and the on site manager and staff are very helpful. On the negative side, their "computer" automatically raises your rent every few months. I started out at about $150 per month for a 10 x 10 x 10 unit. After 18 months my rent was over $300 per month. When I went online I could see that 10 x 10 x 10 units were available at $160 per month. I tried, to no avail, to get them to match the price they were offering anybody who walked in off the street. Instead, I had to physically move out of one unit to another that was a few doors away in the same building. A really stupid way to treat loyal customers!!!
Betty is very nice and helpful. Thank you. Whenever I go in to make a payment the girls are always friendly, happy and always willing to help. Great place to store your items
Tanisha Williams gets her job done very good she works very hard she make sure the customers are happy and satisfied and make sure they have everything that they need she is friendly nice that's why I like going when she is finished at her job I never when I go should I get help from her
Betty , was excellent and extremely helpful.
Betty helped us at the front desk and she made our day she's a wonderful employee and does her job great she made things less stressful being our moving has stressful a little kindness and help go's a long way thank you Betty 😊!!!
Betty is awesome. Always helpful and kind. Thank you Betty
I came in the other day looked at a storage. The lady in the office Tanisha was very helpful and sweet . Property was clean
Tetiana was very helpful. She helped turn a stressful situation into a very pleasant experience. A very professional caring employee.
Betty helped us. Extremely great service from her. Betty took all the time to get our storage rented and found us a great unit.
Love this place! The lady's that work there are the best and very easy to work with!!!
Been an customer here for some time now and they have the best staffing especially Tanisha. She is is so good to her customers treats them right and goes out of her way for them. Is the best storage unit around town!!!!
Excellent customer service & facility!
Tenesha went above and beyond our expectations. She was very helpful throughout our move in and move out of the storage area. The storage area was very clean and has good security. Thanks to everyone that helped us during a stressful move!
Tanishu is an amazing customer Service representative! She went above and beyond to help me. Promote her immediately!
Great place to store your goods 👌. My experience with this facility has been great. Especially with Betty. Courteous and very respectful. Great service.
What a change has accrued from first storing my belongings there. The ladies in the office are so helpful friendly kind concerned and will do whatever they can to help you out in your needs and resolve any situation. I can't tell you how happy I was to meet the two ladies that took care of whatever came along being very helpful. Highly recommend you use this facility it's five star all the way. Thank you ladies much appreciated.💕
Tanisha and Betty did a great job. They stuck with me and worked to find the best fit for my overall storage needs. Thank you to your great crew!
Hello. Just would like to give Tanisha a big Thank you for helping me this past week. Came inside with a few questions and she was very helpful and answer everything I needed to know.
Amazing service over here. I cannot say enough about Tanisha and Betty. got me booked it into a storage and the prices can't be beat and along to go with that the service was top notch
Staff extremely unhelpful, my phone app didn't work so I politely asked the older lady if she would open the gate, she said, "no, I can't ". Another occasion I was locked in. It was 3:30 pm and my code didn't work so tried to go into office. Office locked, no staff present. Ended climbing over using my ladder. Impossible place, expensive.
I contacted Public Storage to inquire on rates and availability and was very impressed with Tanisha. She was very professional and knowledgeable and had an answer to all questions asked. I will be using in the future for sure!
very helpful and pleasant to deal with - Tanisha is great!!!!
I spoke with Tenesha today at the Public Storage (Gene Autry & Dinah Shore). I had a small issue--she was quick to answer my questions and fully resolved the issue. This is a clean, safe facility, and I highly recommend it. Thank you for your help, Tenesha.
I had some problems with public storage corporation and Tanisha went out of her way to assist me with the help of Betty. On the corporate side they were no help at all but Tanisha got me information that I needed to stay as a customer. Public storage should be ecstatic about having two outstanding employees to make them look good. Keep up the good work guys as I will be staying as a customer because of you. Jim
Tanesha was great to work with. She carefully explained everything, and walked me to the space I am renting. Very clean and secure. Overall, quick and easy. Thank you!
Tanisha and Betty who work at the Public Storage at the 1000 S Gene Autry Trail facility are wonderful, they helped out to pick the unit I needed. She explain everything I need to know throughly. Thanks Tanisha for and Betty for your help you guys Rock!
I've been with them quite awhile and finally down sized a large unit . I worked with Betty and Tanisha to get it done. Great staff , they made it very easy. Thank you
Tanisha was extremely helpful dealing with an outstanding billing issue. She resolved the issue quickly and effectively. Thank you.
The on-site people who work at the Public Storage at the 1000 S Gene Autry Trail facility are wonderful. This a review for them and especially Tanisha. Tanisha is professional, personable, knowledgeable and nice. She was there for me when I needed to transfer to a smaller unit by the end of the month. She found me a smaller, less expensive unit that was close to my old one in the same building so that I could easily move my things without having to go outside. Very grateful and appreciated since it's been 115 this week and going outside for any reason is not nice. Having to go in and out multiple times would have been horrible along with the extra time and energy that would have taken. While I am not happy with Public Storage for raising my rent by $120 in one shot (going from $370 to $490 necessitating the move), I do think that Tanisha and her co-workers should be recognized for the outstanding job they do especially dealing with customers who may not be happy with the corporation that runs the facility. Thank you Tanisha and all of you at Public Storage 1000 Gene Autry Trail for your help and your wonderful attitudes!
Just closed out my rental account with Betty at the PS on gene autry in palm sorings. She's is the best! Promote this women asap and make her ceo of public storage!
Public Storage has been a lifesaver! The facility is secure, clean and amazingly staffed. I have had the pleasure of working with Betty and she is the best - Public Storage is lucky to have her!
I have been a customer for over 20 years and I am requesting a rate reduction please I spoke with your rep About getting another unit Much cheaper than mine same size she was very nice but said nothing she could do to lower my current price after 20 years as a customer and owner of small local business in pal springs I hope you will see the valu in treating loyal local customers with respect thank you
Don't write many reviews, but I just want to say Tanisha was great. She was very knowledgeable and her customer service was awesome. She's a great asset to your company.
I went to Public Storage in Palm Springs , to see about a 10x10, and Tanisha was so amazing she was very aware of the storage and she answer all my questions and doubts that I had about the storage and what I could expect when I get ready to rent a space. I would definitely tell all my friends if they ever need to rent a space, that it would be a great place and very safe to rent there.I was very happy to have talk to Tanisha, and looking forward in renting a storage there. She made me feel very comfortable and that I would never have a problem. Thanks Tanisha and Public Storage!
Hello my name is Latanya an I came.n to look at ur storage an u have a very nice female there her name i believe was Tanisha. Very good person she told me everything I needed to know an very helpful nice .
Tanisha was wonderful help and she has good customer service experience. She answer Everything that I need because I came in look at 10x10 storage unit because I be needed one end of august.
Terrific business with great customer service. The whole complex is beautifully maintained and all of the staff are super helpful. Special shoutout to Adrianne. Highly recommend this business.
Expensive but a safe bet on storage.
Betty has been wonderful. Attentive and quick to respond.
The gate access that was emailed to me didn't work and Betty immediately fixed it and provided a new code that worked. She also showed us where the units were and explained how the locks worked. Betty was very helpful throughout the process.
Betty has been nothing but gracious to us. She was so helpful even on Fourth of July. I really appreciated her help.
I usually don't like to write reviews, but today I received the best customer service ever. I went to the Palm Springs location and spoke with Betty. She was very knowledgeable and informative. She is very professional, answered all my questions without hesitation. Definitely will rent at this location when I'm ready for my move.
Great service. Thank you, Betty! Exceeds our expectations and we really appreciate the new improvements to the facility.
This is not my first space at this Palm Springs Public Storage. Every interaction has been friendly and professional. The spaces have been clean, with gates and doors parts kept in good working order. There are more economical places to store your stuff, for sure, but this is an excellent choice all around. If you need space, go and talk with Betty, who is incredibly helpful, and a very nice person, too!
Betty,Thank you for your patience and understanding when I come to make payments for my Brother's storage you make my unwanted burden tolerable by your kind and helpful words.
The only good thing about this place is Betty. Betty is the best on trying to keep you happy but people if your care about what you put in your storage don't store your things here . My storage got broken into and the district manager doesn't cooperate with police enforcement on handing any footage they might have. THEY DONT WORK WITH THE COPS so any footage they have they will not share it and that is super shady . Rather he's in on it or he found out it was one of his employees either way we pay a monthly fee . We should have access to the cameras on site . By far the worst place to store anything. And they advertise that there storage is an extension of your home . These people are trying to take advantage. LOOK AT THE PICTURES notice how one storage unit has the bar going across and the other storage unit has no bar going across. THEY WILLING KNOW THAT THE UNIT WILL GET BURGLARIZED AND WHEN IT DOES FERNANDO THE DISTRICT MANAGER WILL NOT ASSIST THE COPS IN ANY WAY
Excellent care!!! The space is clean, bright…and the person signing me up was top notch.
Great management. Excellent service. Betty at the location at 1000 Gene Autry in Palm Springs is wonderful to work with. Very friendly and professional. She makes the whole rental process very easy.
Betty was wonderful. She was extremely knowledgeable and very helpful.
This place is great! Betty was awesome, and very helpful. I highly recommend.
This review is for Betty at Public Storage in Palm Springs. I just finished a call with her regarding our storage unit. She was helpful and went out of her way to complete our request. Hope she's able to stay with the company as they found a winner!
Betty was super friendly in helping us secure the right storage for our needs. This location and Betty in particular were highly recommended from friends, so when we needed a little extra room after our move we didn't hesitate to rent from this Public Storage. Facilities were organized, clean and the climate controlled unit was a comfortable temperature for our belongings. If you need storage in PS definitely stop by and chat with Betty!
We worked with Betty to obtain an air conditioned unit at the Public Storage facility at Gene Autry and Dinah Shore. She found us the exact unit we needed and the registration and payment process was flawless and so easy. Thank you so much Betty for your cordial and efficient service yesterday. You helped us find the exact storage unit we needed. Much appreciated.
Thank you for help Betty and Fernando
Alma was very helpful and professional as were the other staff with which I interacted. Thank you.
Great service! Was having trouble with the unit door and Betty was very helpful in helping me learn how to get it closed!! 10/10 reccommend
Wonderful customer service Victor !!! Thank you so much.
Victor was excellent and explaining the rental process and I felt very comfortable and glad that he was the one that was here to help me again he was exceptional thank you have a great day
Buena propiedad y teñían lo k nesesitaba
Victor is a great guy see him everyday during his lock check and I would recommend this compa ny to everyone
Improvements have been made at this facility. The manager (Victor) is responsive to inquiries and things are a lot more efficient than previously. I should know - I've had storage units here for over 11 years. I often see him walking the property to make sure things are going ok. Additionally, the restroom is FAR cleaner than in the past. This is very important, need I mention Covid? I hope management continues to focus on efficiency and cleanliness, plus good customer service.
Betty was a fairly great worker in helping us pick the perfect storage unit. The customer service was fantastic, would definitely come again!
Betty and Cynthia went out of their way to accommodate my storage needs and secure my rental contract. I know my "stuff" will be safe and sound at Public Storage Palm Springs!
Great company and victor has great customer service
Victor was very helpful on our first visit. He went out of his way to ensure that we were happy. Good job!
Victor was extremely helpful with our storage needs He was very professional I highly recommend this place
Victor was extremely helpful to me on the first day of my rental unit. Very professional and great customer service.. Great guy
What public storage has done to me is wrong !!! Now, you pay attention to what i have to say and someone from corporate needs to call to know and actually care about whats going on !!!!
Adam has been an absolutely wonderful team partner for our firms storage needs. He is professional, respectful and attentive- and a joy to work with. Victor has also been a fantastic help with our storage experience. Truly five-star storage in every way!
Adam was great- very personable and helpful! I appreciate good customer service!
Thanks Victor and Adam for a great customer care experience.
Compliments go out to Victor for his great customer service. He always helpful and so polite; a joy these days. The storage unit has been great so far, lucky to have it.
Amazing amazing customer service from Victor!
Adam was such a delight to deal with and so personable!
I was so impressed how Victor and his team made my storage experience so easy. Friendly and helpful ALWAYS! A great place to use for storage.
I received outstanding customer service from both Marcial and Victor. Very knowledgeable and experienced. The place was very clean and well kept.
I was looking into renting a space there but unfortunately there was no space available and that was ok I got alot of information about the spaces either way. Victor and marciel helped me out and provided great customer service. Thank you for trying to help me out.
They have great sefvice here
Victor provided great customer service; however, I was very disappointed (after paying my first month rent and move in fee) that the facility had only ONE HAND TRUCK for all tenants to share. I was told that all other hand trucks and dollies had been stolen and there was no plan in place to replace them. The plan that they did have in place for the one remaining hand truck was for the customers to leave their ID as a deposit for use of the hand truck and wait in line for it to become available if in use by another tenant. UPDATE: After my 2nd visit to the unit, I met Fernando who obtained another hand truck and furniture dolly from the Palm Desert location (after reading my initial review) and is getting approval for additional hand trucks. Once again, very good customer care and service.
Josh was very helpful when I called to ask about the unit size I was looking for and suggested I come in at the end of the month. When my husband and I walked into the office, which was spotlessly clean, we were greeting by friendly faces. Victor showed us to our unit and was very friendly and personable, and helped us fill out the paperwork. What an easy process and good experience!
5 stars isn't enough for the great service I received today! I worked with Adam and he made the experience awesome and even fun. I got just what I was looking for and he helped me get it all set up on their app for easy access and other relevant information. Josh and Victor were also great and they, too, were very helpful. The place is very clean and secure and I'm really glad to know my storage items will be safe and well-monitored. I highly recommend them!
Arturo and Josh were amazing! Very efficient and quick! Definitely the storage place to be. Great experience!
Do you have 10x20 if so how much?
Big shout out to Alma at Gene Autry Public Storage facility! She was informative, thoughtful and professional! A pleasure to work with her! Your facilities here are clean well maintained and the process to apply for and rent a unit was swift and worry free! With all the stress of relocation, we truly appreciated working with Alma! Thank you Alma, you're a gem!
Joshua were great. Very helpful with set up.
I would rate even higher if there were more stars. Best customer experience I've had with any storage business. Josh, in particular, was incredibly helpful. I was in a little bind due to another storage facility that I had originally reserved, but Josh and staff came through. Could not recommend this business enough - they have a life long customer with me!
Alma and Josh are the best! What a great experience!
A Kiel was great help, we were able to get everything done.
We were down sizing my storage unit at this facility and Akiel was so helpful in finding us a new space. Not only was he pleasant, professional and helpful over the phone, he greeted us with a big smile and even walked us to the door when saying goodbye. Ask for Akiel if you need assistance in this location. You won't be disappointed.
Our storage unit was broken into after we'd been renting here a month, and half our things (the valuable things of course) were taken. PS police told me this storage place is broken into regularly. The policeman said "I'm here at least once a week." We've moving out ASAP.
Alma/Akiel gave Great Service also very friendly.
Josh & Alma were fantastic!!!
Joshua at Public Storage is the best. He was so professional, friendly and helpful. I am so grateful for all his assistance. I definitely recommend this location to store your belongings! It is safe, secure and clean.
Josh was great!!! Process was smooth and efficient.
Thank you Ivan and Fernando flr your help my payment.
I outgrew a small unit and wanted a larger one. I think that wanted another unit in the same facility should say a lot about my view of the staff (friendly and professional) and the buildings (clean and well-maintained). Josh made the renting the new larger unit simple and quick. After I moved the contents of the smaller unit to the larger one, Ivan handled the closeout of the rental with the courtesy and efficiency I have come to expect of Public Storage.
Great, personable customer service! Alma & Josh were available for every question!
This public storage is in a very convenient location with great staff that are friendly and helpful. Nice grounds with secure access make this a desirable storage space. Thank you Josh and Alma.
Alma and Josh great service
Alma & Josh have been very helpful. I found everything I needed for packing today.
Alma is awesome come see her!
This location is beautifully maintained and professionally managed. Alma and Josh are fantastic! Great customer service. I highly recommend this location.
Everything went well! Josh and Alma were great !
Alma is great and very helpful
Alma and Josh are sincere persons to deal with.
Alana & Josh were Amazing!!! Thank You! Thank You!
Always Friendly and Professional....
Josh, Alma and Ray are professional, efficient, patient, informative, and great concierge agents when you're brand new to Palm Springs.
Alma and Josh were so helpful and made this a really easy experience!!
Tom and Josh are very helpful. Every. Single. Day!
Tom is one of the most down-to-earth, most friendliest and most no-nonsense people in Palm Springs! I would recommend anyone looking to rent storage space to see these 2 superstars. I'd like to also mention Josh and Alma who I see sometimes when I come in for packing supplies. They're ALL awesome!!! Public Storage All-Stars are in Palm Springs!!!
Tom, Josh and Alma are awesome!
Josh was a great help. Thank you!!
Tom, Josh, and Alma are great!!
BAIT AND SWITCH ARTISTS.I was traveling from Canada with a uhaul trailer with a motorcycle in it. I needed a spot to leave the uhaul for 6 days. I made a reservation on DEC 7th with the central booking for Public storage for $119.00 for Dec 29th to Jan 3rd. I actually called the location on 1000 S Gene Autry trail and wanted to pay up front. They would not do that and stated I would have to pay on arrival. When I arrived they said my reservation had lapsed and the unit was gone. I was offered a unit for $100 more which I refused. They told me to try other storage places which I had no time to do as it was 1 hour before closing. I told them they can not leave me in such a bind. They magically came up with a unit for $180.00 which I was forced to take. When returning to get the haul from the unit and return the key they were doing the same thing to another man who had the movers at his house and had come to get his key. It is a classic bait and switch. I am sure if you are a long term renter you would not have these problems but beware if you are a short term renter. What really bothered me was the lack of care Tom and Josh showed to my predicament.
Friendly, responsive, professional. Very happy with customer service
I'm consistently amazed at the personal service that Josh and Tom provide when I visit this location. How do they manage to know everyone who comes in to do business and always make customers leave with a smile? Thanks guys
Just finished up switching to a smaller unit. Only took 11 years ! Been a satisfied customer fore many years and would recommend this facility without hesitation. Alma, Tom , & Josh do a great job and are a pleasure to deal with. Thanks for all your help. The hot cocoa and scones were a great surprise on a chilly day. Keep up the great work, Chris & Barb Miller
Tom, Josh, Alma gave great customer service. Very friendly. The facility is clean and bright. It's in a convenient secure location in Palm Springs. I'd recommend them if you have extra stuff to store.
Alma and Tom are the best. Efficient. On it. Always helpful. Definite recommend.
Josh and Tom were very helpful on my first day and made things nice and easy! It made the whole process very smooth!
They did it again! Josh and Tom greeted me when I entered and offered up top notch service. I cannot recommend this place enough. Thanks guys!
Tom y Ray me ayudaron con mi cotización con mis carros. Gracias
I'm back in Palm Springs for the season and was so happy to see that Tom is still there. The level of service at this business is the best.
Alma was fantastic to work with! Great experience!
The website directed me to the Palm Desert location. Alma called me back so quick, it was almost like ESP! When I told her I needed the Palm Springs location, she got me redirected AND set up an appointment for me. Josh and Tom at the Palm Springs location were super pleasant and helpful. It made this stop on my long list of to dos fun. It is a bit pricier than other places, but well worth the additional investment. Thanks to Josh, Alma, and Tom!
Josh, Ray-Ray and Tom were very helpful with my rental. I walked in to see what was available and they were fast, efficient and made the rental process smooth and fun.
It's not often that I have to visit this location but I am amazed that Thomas, Joshua and Raymond remember me and greet me by name. Thanks for the personal attention guys.
Alma, Tom and Ray were such great help!
Tom and Alma are always pleasant, always very helpful.
Alma- Great customer service, and lovely personality. Glad to rent a unit from this location. 👍🏼
Do you have 10 ' x 15' storage area available ? if so, what is the rental fee per month ?
Tom was extremly helpful and made our move seemless. I would recommend Public Storage to anyone without hesitation.
Josh was very helpful during my visit he is a nice and considerate person!. Very professional and informative!
Alma great service. Nice employee
Great customer service Raymond was extremely helpful! Very professional as well
Best place ever!! Raymond is the bomb diggity no doubt!!!!
The place is always super clean and the customer service is the best. Alma was very helpful in the process of renting my unit.
I pay for climate controlled storage and the AC has been out for 2 months now. This has been very uncomfortable to deal with in triple degree heat and has ruined some of my contents. Not to mention going through and organizing the unit has been very unbearable. At this point my money should be refunded and I should be reimbursed for my damages and the great inconvenience it's caused.
They raise your rent every year a substantial amount. Every year. It's the pay it or move everything trap. Most stay too long and end up paying 10 times what your property is worth in rent. DON'T STORE IT, GET RID OF IT!
I stored my things at this Public Storage for a little over a year and I received the best customer service ever! Tom always remembered my name and what unit I was in. He displayed a level of customer service I rarely see, and I'm in the hospitality industry. I never had any problems, it is always clean and organized, and Tom take great care of you. I highly recommend this location!
Alma was great. Very professional, quick and easy process.
Josh was amazingly helpful. He was very attentive, professional, and friendly and worked to accommodate our moving needs.
Alma Thanks so much for all your help. Your great.
Felt really blessed with Tom , very great people skills very calm and polite , I highly recommend this place , Storage units are really well-maintained and clean , Ask for Tom , I walk out the door with a smile on face thank you guys !
Alma and Tom have great customer service skills! Great atmosphere! Safe and secure!
Best place ever...return customer because the staff is amazing! Thanks Tom!
It's so comforting to see the same familiar faces here whenever I visit this location. The whole crew of Thomas and Alma and Joshua always take the best care of me and make me feel so secure.
Alma and Josh were wonderful! So easy and fast! Great Job!
From the second Sandra answered the phone, I knew I was safe. She swiftly gave me all the info I needed, Joshua continued to build my trust and Tom, their manager, facilities order in a space that is an important area for people coming to rent a place to put their life. This team makes Public Storage look good and I couldn't feel more secure in my decision to trust my stuff here.
Great storage facility. Tom is the best.
Josh was great! Fantastic customer service.
Alma and Tom were so helpful! The process was simple and very quick. Would definitely recommend :)
If you need storage come see Tom! This place is always clean. He will always go above and beyond for you. If you need boxes he has some greats deals
Josh was exceptionally courteous and knowledgeable and conducted the business with a minimum of time and efforf.
My Husband and I sold our House in allot shorter of a time , than Anticipated.. We chose Public Storage based on my hubby's previous experience in AZ. He was so right!! Tom at #25727 store in PS, Was Incredibly Helpful in Assisting me with getting the best unit to meet or needs at the best price.. That IS Customer service at its Best. An Associate Who listened to my needs and surpassed them!! Public Storage is Lucky to Have an Associate like Tom in their front office who is professional and kind as well!!
Always super friendly and helpful staff
I worked with Alma and she was very informative and provided great assistance for finding the appropriate space in my price range.
Joshua gives great service
Alma has been great with all of our storage unit needs. Very quick and was able to answer all our questions.
I just returned to Palm Springs for the winter from Michigan and stopped in to pay my bill. I was so surprised that Thomas and Joshua at the counter remembered me and greeted me by name after almost 7 month. They actually made bill paying pleasant.
Tom was very nice and helpful with his insight of moving tips and packing supplies. Thank you Tom for such great service!
I have only completed the rental process and moved a few items, but I wanted to write to say that Tom was very knowledgeable, offered several options for the various size units, and was very friendly. I wish all service individuals were like Tom. Thanks...
Tom was extremely helpful in getting me into a large storage unit. Uhaul moved all my things from Seattle to Indio. They were suppose to store it in a climate controlled storage area. They did not provide me with what they said they would. To protect my belongings, I needed to move everything to s safe and temp controlled facility. I was in a jam and Tom got me into a 10X10 unit which met my needs, went over everything with me, made sure I understood everything and really put my mind at rest. Tom went above and beyond help me out. Thank you so much Tom.
Nothing but good things to say about management and the facility. Tom was excellent and the property was clean and presentable, will recommend to family and friends.
Alma was great, friendly, and Knowledgeable! Made an appointment, came in, and the transaction was fast and easy! I had come by last week while out looking at storage facilities , spoke to Tom, he was the reason we decided on this facility! Good store team! Thank you Alma and Tom!
Finally decided enough is enough. I need extra room. I signed up today for a 5x5 climate controlled unit. Tom was awesome with helping me make my decision. He took me through the very clean property to show me the unit I would be getting. I thought about shopping around, but this was close to my home that I could not ask for anything better.
Hey! Tom & Josh we're outstanding help! Thank you for all your help!!
Josh and Tom were great, rented the until no hassles painless, great prices . if you need to rent rent here
Alma was very helpful. I want to thank her for the outstanding service. PS was very professional, moderate rates, and clean. I look forward to my storage there. Thank you
Alma is fantastic! Great job!!!
Very good service from Thomas. Prompt n friendly.
This is my sixth time using the facility and atom is always the most helpful during stressful moves. Even in the heat of the summer. Additionally he always goes above and beyond in being flexible and helpful. Recently I was offered s space elsewhere but chose to return to PS totally because of the great service from Tom. It's PS 25727 on gene Autry and Dinah shore
Alma was very helpful and professional. She got me in and out with no delays.
Alma, very happy with the service
Do you have air cooled or air conditioned units?
Tom and Alma are the best!
Tom could not have made our experience any better! We moved all the way from Chicago and when we arrived he was early, presented me with multiple options and got be the best deal compared to the other storage facilities in the area. After getting set with a unit he then offered and gave us extra water after he saw what we brought, in-case you are also not from here, "it is really hot here, like triple digits hot!" Tom then came and opened up the side entrance, without being asked, and made it easier for us to exit the facility after we finished unloading. Very impressed with both the rates and customer service.
Super friendly and expedient customer service. Got in and out to register a unit. Even arrived close to their closing time and no "exhausted effort" by the really nice guy that helped me! Definitely would recommend, oh and their prices are great too.
After losing my key, Tim and Fernano made replacement quick and easy. Great place.
Josh was awesome!!! He helped me out when I was in a CRAZY mess and needed a storage space right away. He had excellent customer service. I arrived, almost in tears and left feeling relieved and so happy to know there are such great people in this world!! So appreciated!!
great service, quick and efficient check-in, clean and safe facility with convenient access. With choices in storage, my choice is Public Storage.
Love these guys tom & josh all ways remember me and my kids when we come in and pay ur storage
Josh is great, He has amazing customer service!
Both my wife and I have recently retired. After being in our home for 27 years we decided to downsize and move into our Condo located in Palm Springs. Our home sold in 3 weeks and with a 30 day escrow, our downsizing plans escalated. We had the need to store 2 cars and items to we didn't have time to go through prior to moving. We needed a short term solution in assisting us in our downsizing efforts. Tom at the Public Storage Location in Palm Springs listen to our story, calmed us down and with his advice and assistance, we rented two storage units. Now we have the time to go through all our things and decide our best path forward. Thanks Tom for all your help.
I just went for moving supplies, the attendant was very helpful and helped me pick out the best way to purchase what I needed for the best price. Helped me to my car as well! I'd go back again.
I was looking for a short term storage solution and spoke with Tom regarding my needs. I've been a client of Public Storage in many states, but this is the first time I've written a review. Tom greeted me when I walked into the with enthusiasm. His professional image and present was impressive. I explained my needs and he actively listened(with no interruptions) to ensure,he would provide me with the information I needed to make an informed decision. I rented the unit. Every time I visit the unit, and see that Tom is working; I feel confident that if I had questions or needed assistance, Tom would take care of it. Tom, thank you for providing "Knock Your Socks Off" customer service!!! Kudos to you!!
Alma, Josh and Tom are all great at what they do. They've always been very professional each time I visited the Palm Springs location, I have since been buying all my moving items there because of the service they provide. Any questions I might have from friends needing a storage unit to which items I need to pack certain things they always have an answer for me. Alma, Josh and Tom always have such positive attitudes and because of their unique customer service I would not recommend else were for your storage needs. Thanks Guys, keep up the great work!
Alma and Tom are consummate professionals and make everything about storage easy!
Alma and Josh are the best!
I moved to the Desert Area from Los Angeles --- and I needed a Secure Place to Store some Items...So Happy I Chose the Public Storage on Gene Autry Trail ! Thomas (Tom) has been Soooooo Helpful and Patient with me and walked me through the process --- and Cheerfully Explained all the Rules & Regs --- He is always there on time and at his desk with a Smile and a Welcoming Attitude ! It is a Pleasure to do Business with someone like Tom who is Personable as well as Very Professional !
Very clean and modern, climate controlled facility. The staff, Alma and Tom, were great.
Tom the manager was a pleasure to do business with. Friendly and helpful. Very clean facilities. I would rent here again.
Tom was helpful with storage information. Stopped in for prices and to look at storage spaces before my big move. The property was so clean and well maintained. Not to mention tom was so friendly and informative! I am looking forward to doing business with someone who takes pride in their work and gives such great customer service.
Great staff! Thomas a great property manager. Everyone there has been very helpful.
Tom, Alma & Josh provided outstanding and professional services from the move-in to the move-out process. Thank you all for your 5 Star services!!! I made some new friends in the desert, you rock!
Josh was great and very professional..
TOM WAS VERY PROFESSIONAL & PERSONABLE. HE WAS MOST HELPFUL. THE UNIT WAS CLEAN AND WELL MAINTAINED. THE GROUNDS WERE ALSO. SECURITY SEEMS TO BE MORE THAN ADEQUATE. IT WAS WORTH THE COUPLE EXTRA DOLLARS TO GET THIS UNIT OVER SOME OF THE OTHERS NEARBY THAT WERE SUB PAR.
Modern and Secure, but extremely overpriced for the value received.
Alma was VERY Nice and helpful!
Josh was just wonderful. Very genuinely interested in making sure things went well. It's so nice to see his dedication and his happy congenial spirit.
Alma was a great help when I needed to transfer the contents of a storage unit to another. She made the process of signing a new contract seamless. Also I really appreciate the items purchased as a result of her suggestions - they really helped me protect and safely store my items! In addition it was great to see Tom as he helped me with my original rental and has provided great customer service through the years.
alma and Tom are excellent
Fast and efficient! Thanks Alma and Tom.
Alma and Josh are both very helpful and considerate, Marlene and I really appreciated their help in finding us the proper space.
A very clean and well maintained storage facility. The staff (Alma and Tom) is very helpful, friendly, and answered every question I had.
Perfectly clean units, feels very secure and working with Tom was an absolute pleasure. He helped us upgrade our unit with ease and professionalism.
Alma was great to work with, made renting the unit painless and hassle-free.
Public Storage in Palm Springs was the answer to a large storage problem for us. We needed to consolidate 3 spaces at another location into one and Tom had the answer for us. When we needed another space quick and close to the other, he was there for us and made sure everything went smoothly. The facility is clean and well kept. A huge bonus over our previous storage.
Tom And Josh are great! They make sure that you feel safe and secure. The buildings are clean and the service is the best.
Have had a rental unit for almost 10 years. Tom is consistently excellent! I have always felt that my things in storage were safe here. They have gone thrugh a number of managers and Tom is hands down the best! Just downsized after going through and weeding out things we no longer needed. Tom is making the transition smooth and painless as possible. He always has a smile on his face and a positive attitude. During the first day of the move to a smaller unit, he even came out to check on me to make sure I was staying well hydrated in this awful heat. That was beyond his obligation and demonstrates the character make-up of this guy! Thanks !
Tom couldn't have been more helpful. His knowledge and customer service helped make our moving experience go smoothly. Our unit was clean, contents in great condition, and Tom made sure our accessibility fit with our arrival from out of town. 5 stars!
While the staff is friendly...I am very disappointed that our AC unit was broken into as were two others near by. Not happy with the response I got from the district level and corporate office. Not happy at all.
Tom was very helpful, professional, efficient and friendly. As far as I am concerned, this is the best storage place in town. Didn't feel at all creepy being there after dark.
After a flood in my house and being displaced, franticly looking for storage for my possessions, Alma, was so wonderful and walked me through everything and made me feel a little less stress. the property is conveniently located. Thank You Alma!
Friendly staff. Alma was very helpful. Plus temperature controlled units. A+
Tom was a tremendous help with our move-in. Courteous, professional and friendly. It was about 120-degrees that day and he kept checking in on us throughout the process to make sure we weren't overheating. All told, it took us less than an hour from check-in to tail lights to unload a 20' truck into our unit.
Great place and great employees. Tom and Luna were professional and gave us great customer service.
Tom was a great help to me with needs!
Tom and the staff have all been very helpful
I had a very pleasant experience here! Luna and Tom were super helpful and informative! Highly recommend!
If I could give 10 stars I would! Tom and Luna were so nice and professional. They were total problem solvers and I was done in no time. The facility was spotless and well organized. Can't recommend this place enough!
Tom was so beyond nice, professional and down to earth. He made our move-in experience so super easy! Thank you Tom!
Amazing crew .. Tom and Luna always ready to help and answer any question ..
Shout out to Tom who has always provided the most gracious and personal customer service - he is a gem !
Great service! Great prices! Convenient! Easy access! Really awesome staff... much appreciated!
My only experience there was a delight. I was helped with swift customer service and very bubbly and bright young lady behind the front desk by the name of luna. She knew exactly what she was doing and treated me with politeness and respect. I highly recommend this storage facility to anyone who is looking. I will definitely be returning to this place because on this one employee.
Great storage facility!The staff, Luna and Thomas are always so friendly and stop to say hello or talk when I see them outside. You can expect top notch service here every day.
Luna & Mike helped me in my time of need. I got word my mother had passed and was behind on her rent forcing me to store her stuff somewhere. I called and talked to Luna came down and was in the very next day. I thank you form the bottom of my heart!
Alma and Steve were both very helpful . This facilities is one of the cleanest I have ever been to. Highly recommend.
I was referred over to this location and I have to say Tom and Luna are GREAT! They have not only been professional but friendly and courteous. Both colleagues have to stick around! Thank you guys. The PS Storage facilities are in great condition. Very neat. I highly recommend this location. J.
I came in asking questions about storage and Thomas and Luna helped with all my needs. They showed me a super clean 10x15 and even had high-quality boxes for sale to help me with my move. They only took about 15 minutes of my time and made everything so easy for me.
Exellent service by Alma & Tom! I highly recommend! Awesome, great, professional & kind people! :) :)
Great Storage Facility.... convenient, clean and secure. Best of all is the good friendly service and management. I have used the storage facility for over two years now and am completely happy.
Have used this location many times. Great folks to deal with and the facility is spotless. Special thanks to Alma, Una and Tom.
Loved everything about our experience today. Thomas was excellent! Very friendly, professional and made sure the space we rented met our needs. I thought renting a storage unit would be scary but he gave us a lot of peace!
Spoke to luna and tom about storage spaces and they could not have been more friendly. The property is clean and well taken care of. Awesome!
We rented a storage unit here and the service by both Alma and Tom was excellent. The property is very clean and maintained very well. Nicest storage unit we've ever seen!
Alma & Tom did an outstanding job with customer service. The facility is clean neat and well maintained. Great place to keep your stuff away from home.
My finance and I recently moved in together and we needed to store our extra furniture. We are very happy we chose this location for our storage needs. We received great customer service , Tom and Luna were very friendly and answered all out questions. Overall great experience.
A great experince and very knowlegable staff. Really helped me think through how to best store my items!
Great storage facility! Highly recommend! Alma and Tom and very friendly and professional and are able to find you exactly what you need. All the supplies for your move are provided right in the office should you need them, such as moving boxes, tape, dishpacks etc.... There is safety with a gate and gatecode. The ease of getting into your storage unit is great with plenty of driving & unloading room. The way the property is set up is very user friendly and it doesn't get covered with all the sand in the area. If you need storage, you will be very happy with Public Storage!
I've had a unit here for a while now and have had no problems with the unit itself or staff. They are very courteous and professional. Would definitely recommend.
Went in to pay bill on two units at another location and both people working were very helpful and answered all of my questions.
I need a storage unit for several months while preparing my house for sale. A family member had used Public Storage a few years ago and highly recommended it. I stopped by and was greeted by Alma and Tom. They were friendly, courteous and extremely helpful. Alma asked me a number of relevant questions to help me select the right sized unit for my needs. She was knowledgeable and efficient. I don't think that I could have more pleased with the experience.
Our unit was broken into and robbed on Thursday, February 25. Staff walks through the facility once per day; lock was drilled. We were apparently the only unit broken into...that seems quite odd. Staff will not call police...even though THEIR facility was compromised. My stuff was stolen so I have had to contact Palm Springs police to file a police report. Staff will provide record of persons going in and out and will provide video footage. BE SURE TO get insurance for your unit and also have two locks versus one.
Great staff & excellent storage facility! Highly recommended!
Clean and we'll organized. I was assisted by Alma who was very helpful and helped me find exactly what I wanted. Thank you Alma.
Carlos was awesome he helped me log on line
I had such a great customer service experience in Public Storage. I was in hurry to rent a storage and the lady works there, her name was Alma, she was so helpful and quick to get me a storage I need.
Service was awesome from Alma
Alma gave us Exellent service
Great Location. Easy access. Well maintained. Alma was professional, friendly, and helpful. Highly recommend.
I liked this location because it was close to my home and the hours of accessing my unit were flexible (6am-9pm) for me. When I arrived to the store I was greeted by a nice young lady named Leslie. She was very polite and helpful when explaining the breakdown in cost for my unit and provided me with their current promotions. She was nice enough to walk me over to my unit and ensure that it was a perfect fit for my needs. The unit was a decent size 5x10 and clean. Overall, I've been very satisfied with this location.
I am looking for a storage unit that I need in the near future. This is a great location and Tom was very professional and polite, taking his time to explain what I needed to do. Thanks Tom!
LESLIE & ALMA GREAT FRIENDLY COSTUMER SERVICE
I want to commend Leslie who was very attentive and helped me tremendously today. I love the clean, air-conditioned units and my past 3 and 1/2 years of renting a storage unit has been great and a breeze. I HIGHLY recommend this place. Ask for Leslie!!
I was hesitant at first about using a public storage when I had to move but the experience with Public Storage has been great. Everything from setting up the appointment up till leaving with the keys was very simple and easy. The whole complex is spotless and well organized. Tom was a pleasure to work with getting my first storage unit set up and I will definately be a returning customer any time I have excess belongings to store safely.
Such a great experience and I feel safe storing my belongings here. I walked in and Tom was able to help out right away. I explained what I needed and he was able to get me set up and ready to store my stuff right away. I could have gone to many different places but I chose Public Storage because I've stored with them in the past. Thank you for protecting my belongings and the fast and friendly service!
I worked with Leslie and Tom on my move in. Leslie took me and showed me the unit and it was exactly what I needed. This was a smooth and professional transaction and I would recommend it to anybody looking for a storage unit. Thanks Leslie for your special attention. You are a great customer sales person and I would hire you! Thanks again, John
Very friendly employee, name of Leslie.
Worst security I have ever seen in a self storage facility. Electronic gate stays open long enough for anyone to enter and if it's after the office closes anyone has 100% access to your unit. My unit and other units have been broken into. I lost my most valuable property that I thought was secure. I should have gone to a secure facility not public storage.
Leslie and Tom are Great!
Team palm spring, Carlos and Tom did an excellent job helping me today. They are always professional, nice and helpful. If you are looking for storage look no FOW ard than this location.
Leslie was extremely helpful in providing thorough rental information and opening my account.
Excellent service! Carlos was very helpful! He made the process of changing my old storage space into a larger storage space easy and effortless. But the facility itself is super clean and safe - this is why I chose to stay with them. Highly recommended if you're thinking about renting a storage space at 1000 S. Gene Autry Drive, Palm Springs, CA!
My experience has been excellent. Great customer service Mayra and staff are very informative.
We have been very impressed with Palm Springs Storage from the first time we walked in. The staff are always helpful. The facility is clean and very easy to use. We have been helped by all the staff, but Oscar and Sheila are fantastic. CM
Mayra is wonderful, treats her customers with allot of respect, very helpful, always a smile on her face. If she is here I would stop by just to say hello.
Oscar made the check-in process a snap.... He's professional as well as accurate in the steps that were necessary. All in all.... a good experience and I'll be glad to recommend Public Storage to anyone looking for a clean, modern, and assessable storage facility in Palm Springs.
We rented a storage unit and the service was excellent. Couldn't have asked for anything more. Oscar was courteous, professional and knowledgable. His manager Kerry was the same. We liked everything about the experience.
Well this will be the last time I rent from this company. I am in the process of moving and it is easiest to put everything in storage so I can unpack. I rented from this facility in the middle of the month. They charge 30 days no matter what that's fine. Rent is due on the first when I explained to the regional manager they would lock me out if I didn't pay by the first I was assured otherwise. Here it is two days before the 30 day mark and I am paid in full to make sure I don't get screwed and guess what?? The incompetence of their employees locked me out with no balance due and me being a good customer and paying ahead. They need to read up on company policies asap and stop screwing with me before the holidays.
This is my 3rd time using Public Storage. I have always had terrific experiences. Today was really exceptional when I rented a space at this facility. I cannot speak highly enough about Oscar, Kerry, and Janae. Everyone was kind and helpful, knew their business and went about it efficiently and with a sense of humor which was very welcome. Thanks everyone.
After checking several other places both in person and on-line, I found Public Storage to have the best rates and was cleaner than the other facilities I visited. Janae was very helpful and courteous. She made sure I got the right storage size to accommodate my needs. I will tell my friends and colleagues about Public Storage in Palm Springs and of their rates, cleanliness, and great service. You also have just about anything one needs for packing and moving at reasonable rates. Thanks Public Storage.
The staff at this Public Storage was nothing but courteous and professional. They made things quick and painless while moving in and out. Special shout out to Oscar, Janae, and Sheila. Thank you guys for helping make my storage experience easy to deal with. Much appreciation. If I need to store any stuff anytime soon, I'll be coming back to you guys!!!
Sheila always has a great attitude! I've had multiple units at PS Public Storage for about a year and a half and have spoken with Sheila about concerns and issues at the facility. Every time Sheila is interested, offers suggestions and better yet addresses the issues and gets them resolved. She really cares about customer needs and embodies great Customer Service!
We visited Public Storage and chatted with Sheila about a unit. She told us she would watch for just the right thing for us.....4 days later, Sheila called, we signed up DONE!! Easy and efficient! Thanks so much! (After reading all the other GREAT reviews about the clean, efficient work of Sheila, on and on I AGREE!!) Pete and Doug!
I absolutely want to give recognition to Sheila at the Palm Springs Public Storage facility.Sheila is efficient, knowledgeable, courteous, resourceful and very thorough in the ways she handles relaying your policies and procedures to customers. She is excellent on the phones as well as in person. Her mannerisms are highly professional while she also maintains a friendly atmosphere. I have seen Sheila walk in 100+ degree weather to assist customers (including me) to do storage space checks. She resolved a lighting issue that allowed me to see items in my storage unit. Previous to Sheila helping me with the light issue I was ready to relocate to a different facility. Sheila has also assisted me with purchasing items I needed for packing, etc. Because Sheila has helped me so much and is an amazing employee of yours she does deserve recognition. It is rare to find such commitment and dedication. Sheila is a GREAT ASSET to Public Storage and I hope that she is recognized by you. In my opinion she should be in management.
THIS IS FOR THE COMPANY PUBLIC STORAGE...not this particular location. They raise their rates years at 23% or better! Be prepared to get gouged. They suck you in and spit you out. Terrible business practices!!
After visiting 2 other storage facilities, it was a hands down decision to go with Public Storage based on the security, cleanliness, and management. No need to shop around if your looking for quality. Capping off the experience was the overview, attention and care provided by Sheila in selecting the appropriate unit and completing the needed paperwork, not to mention the hospitality in ordering a cab for my ground transportation to the nearby Palm Springs airport.
I've rented a few storage spaces in the Los Angeles market over the years and expected the customer service to be just as mediocre here in the desert, yet went with PS Storage once again, only because I wanted to go with a stable company, not because of customer service. WOW! This particular Public Storage in Palm Springs is by far the best facility I've ever rented space at. They've renewed my faith in customer service. Sheila is GREAT! She is genuinely a nice person. Whenever I speak with her, I feel like I'm talking to someone who honestly enjoys her job and cares about what she does. Sheila goes the extra mile to make sure all my questions are answered, is professional and personable. Truly a nice woman. The facility and grounds are kept extremely clean. I'm very happy with this property. It's a wonderful & safe location. Storage space in Palm Springs is a few dollars more per month than some of the other PS Storages in the desert, (due to property values being a little higher in Palm Springs), however, for the convenience and customer service, I'm staying where I'm at. I recommend this location to anyone looking for a storage space here in the desert.
What a pleasure it is to interact with Sheila. She is so helpful, knowledgeable, thorough and accomodating making the process of renting, maintaining and transfering to a different unit an easy task. It doesn't matter how long it's been since I've been in the office, she always remembers me by name and even knows my unit number. That's customer service above and beyond! Thank you Sheila, you've made my day once again.
Veronica made my storage experience quite pleasant .. Moving is hard to say it kindly .. She made the whole thing much easier ... Thanks so much for everything... Veronica
Just wanted to write a quick thanks to sheila at public storage palm springs. Sheila is very kind and caring, she makes you feel very comfortable with your belongings as if they were her's. The facility is very well kept and professional . 2 thumbs up !
Veronica is great at what she does. She is very professional and is never in a bad mood . She always helps me when i need questions answered. She has always been lovely if you need to rent a storage unit i do recommend you come to Public Storage inPalm Springs and do talk to Veronica she is great and always has a positive attitude . I would not go anywhere else.
I have rented from Public Storage in Seattle at two different locations. So when I needed storage space of course I looked to see if there was a Public Storage in Palm Springs. I registered on line but was immediately contacted by Sheila to make sure everything was in order. She even offered to meet me any time I needed upon my arrival in town. She then called me the day before my scheduled arrival to make sure she would be there when I arrived. Sheila is an amazing employee! In Palm Springs she is he face of Public Storage. I just want to say she made me feel so welcome. After all of the paper work she asked if she could come around the counter and give me a welcome hug! I almost cried. Hugs are my favorite thing!!! Public Storage is very lucky to have this lady working for them. She is the bestest!!!
I needed storage during a move and Veronica was more than helpful. She returned my calls promptly and explained how renting at PS worked. There wasn't a climate controlled unit as large as I wanted but she helped me with an interim solution and put me on a waiting list for a larger space. She even searched the grounds to find a trolly to make my move easier. My contract was fully explained as well. I found the facility to be neat as a pin, well lit and safe. I will certainly refer anyone who needs storage to this location.
Extremely friendly customer service. Unmatched by other storage facilities in Palm Springs. Superb location, air conditioned and secure! I have been renting from them for about 9 years and couldn't imagine anything better elsewhere. I've tried many others. .
I have rented storage units from Public Storage for almost 5 years. I transitioned from a very large unit to a smaller unit with great ease with the diligent assistance of Sheila! Sheila is one of the sweetest and helpful persons that I have every worked with. She works effectively and efficiently on behalf of Public Storage and its image and works with clients as though they are personal friends that she is doing her best to accommodate their needs. I was working with Sheila from out of town and while in PS at the units. Everything about Public Storage was great... cleanliness from the restroom to the grounds! Sheila made sure of that too! Thank you, Sheila. I greatly appreciate you!! char
Excellent experience. We had 2 lockers to begin with starting in May of 2012. Then we only needed one. Veronica of Public Storage was so helpful to us when we closed the last unit. If we ever need to store things again, we would chose Public Storage.
Veronica has a grate help.
Veronica was great and very professional. she answered all of our questions and was very polite. I do recommend this facility. Do talk to Veronica so she can help you.
In sharing my experience with Palm Springs Public Storage, I'm all too happy to communicate the great treatment from the staff there. Sheila, the property manager is not only incredibly nice and helpful, but is very helpful and actually pays attention to what you are advising you're storing to make certain you gain the best unit location. Again, I would absolutely recommend this facility to anyone...absolutely great ....great staff!!!
I don't often write reviews but felt that I should in this case because of the high level of service I received at Public Storage in Palm Springs, CA. The front desk manager, Sheila, is super friendly and makes you feel welcome the instant you come in to the office. I liked how she explained everything I needed to know about renting the space there and how personable she is. I really felt like I was at the right spot. The office, my unit, and the whole facility has been maintained very nicely and is immaculate. If you need a storage unit in Palm Springs, Sheila and her assistants will treat you right at this place. S. Black
i would recommend PS on gene autry trail to anyone with storage needs here in palm springs - the staff is very helpful!
I can't write enough good things to say about my experence renting a 10 X 20 storage unit at Public Storage. There is a reason for this and it is an employee at the office named Sophia, her perfessional conduct, knowledge and polite personality is refreshing and the reason I chose to move my storage contents to Public Storage. She is the single reason I picked this storage facility, I looked at three other storage companies all located close by to Public Storage and the difference was the amazing service from Sophia. For ten years I had multiple storage units at a different place named Extra Space Storage located in Cathedral City just off of Palm Canyon. This storage company was orginaly a small privately owned company and when it was sold to Extra Space Storage it became one of the most greedy companies raising the unit rates huge amounts. At the time of renting my new unit at Public Storage I was paying $98.00 more per month at Extra Space Storage for the same size unit. This was outrageous, but the worst was the bad news attitude of the woman at the front desk, nasty all the time and lazy. The light burnt out in my unit two months ago, I asked her to replace the bulb, she said they did not have a replacement bulb and she had no idea when it would be fixed. I said to her this was not right when I was over paying a large amount for the storage unit, she told me to go buy a bulb myself, this was outrageous and she said if I did not like it I am welcome to move my things out of the storage unit. Guess what, I moved everything to Public Storage today, I am paying $98.00 less per month and have the great joy of polite front office people like Sophia.
First off I wanted to say that both Sophia & Sheila are an absolute pleasure to meet. They make you feel so welcome, they take the time to really get idea's of what you need for a storage unit. And that to me is so appreciated, Everything is very nice there they are willing to help if need be. Give you extra idea's on how to place items in the unit. THANK YOU BOTH SO MUCH. I appreciate it. Now I am a new tenant myself. : o )
II would like to commend Sheila who works at the Palm Springs Public Storage office. She was very helpful to me when I rented unit 452 a month ago. She is very knowageable about the unit available and always tries to get you the best deal so as to keep you coming back to PS when you need another unit. She is always smiling and having a kind word for all she comes in contact with. In fact, this is my second rental over the last couople of years and I waited until Sheila was on duty to remt this space. I knew she would make me happy with the rental and she did. If I ever need another unit I will always come to Puglic Storage and get in contact with sheila! Will Williford III
Extremely helpful and knowledgeable. Sheila was great and very helpful. 5 stars all around. Could not have asked for a better experience or a better person to help me.
Public Storage Palm Springs is a secure, professional, well-managed business. As a repeat customer storing valuable objects there, I have the highest regard for this business. I particularly appreciate manager Sheila who has gone above my expectations to make my experience friendly, professional and reassuring. Sheila places customer needs first and is a great asset for Public Storage. I give her five stars.
In 2007, I retired and set off on a sailboat to see the world. I needed a place to store my things and having met Sheila and toured the facility, I was impressed. Since then, I have sailed 20,000 miles and I've never once worried about my most precious belongings. During that time, issues occasionally arose and whenever I needed assistance, Sheila was always available to assist, not always easy because I was often communicating via satellite phone from the high seas. Upon my recent return, I went to the facility and my goods were pristine, as was the facility. It looked to me like you could eat off the floor. 5 Stars for Public Storage and Sheila.
Shopia and Shiela are such AMAZING and PROFESSIONAL staff members. They made me feel comfortable and at ease in a time of need. They maintain their property very clean. Security is very important for me and they have a great system.
This facility is very well managed and maintained. And Sheila is simply awesome! She is professional, friendly and so accommodating. Who loves going to their storage unit? I do! Because the staff, and in particular, Sheila, make it such a pleasure. I make a point of stopping to say, hello, whenever I'm there. It's such a great crew. Thanks to all the staff! Thank you, Sheila!
As my wife will tell the world, I am the number one guy who does not 'get' the world of storage. That has changed since we started sharing a space at the Gene Autry location. I get it now and I look forward to living a more stuff free life. So today I rented a space just for me. Also, it seems fitting that for the first time in 7 years the Gene Autry location is completely filled up an I am the one to secure the last storage space available! Thanks Gary
Sophia, the on-duty manager provided OUTSTANDING service. It is obvious that she takes great pride in her facility and doing her job well. The facility was imacualte, her positive attitude, capped off a great experience as a new customer.
Sheila at Public Storage is wonderful! She made it so easy to get signed up and get all the forms completed for my storage. I've dealt with other storage companies but NONE made it this easy to get set up. The best part is that I'll be able to store my new RV inside, out of the hot desert sun! Thanks, Sheila! You're the best!