Public Storage Self-Storage Units at 72150 Fred Waring Drive, Palm Desert, CA
Address
72150 Fred Waring Drive Palm Desert, CA 92260
Office Hours
Mon-Fri 9:30 AM - 6:00 PM
Sat-Sun 9:30 AM - 5:00 PM
Gate Access Hours
Mon-Sun 6:00 AM - 9:00 PM
Storage Facility Features
Climate Control Storage

Indoor & Outdoor Storage Units

Small, Medium & Large Storage Units
Office Hours
Mon-Fri 9:30 AM - 6:00 PM
Sat-Sun 9:30 AM - 5:00 PM
Gate Access Hours
Mon-Sun 6:00 AM - 9:00 PM
Storage Facility Features
Climate Control Storage

Indoor & Outdoor Storage Units

Small, Medium & Large Storage Units
Close Location Details
View Location Details
Climate Controlled

Upstairs/elevator

Climate Controlled

Downstairs/elevator

Climate Controlled

Downstairs/elevator

Climate Controlled

Downstairs/elevator

Climate Controlled

Downstairs/elevator

Climate Controlled

Upstairs/elevator

Climate Controlled

Downstairs/elevator

Climate Controlled

Upstairs/elevator

Climate Controlled

Upstairs/elevator

Climate Controlled

Downstairs/elevator

Climate Controlled

Upstairs/elevator

Outside unit

Drive-up access
Nearby Self-Storage Locations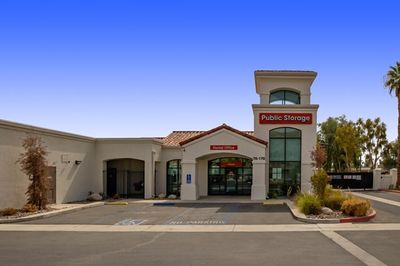 Self Storage Near
70170 Highway 111
Rancho Mirage CA 92270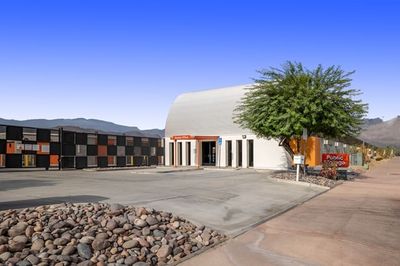 Self Storage Near
1000 S Gene Autry Trail
Palm Springs CA 92264
Self-Storage Near Palm Desert
Resources from the Help Center
See what fits in different storage unit sizes
Palm Desert Storage Units Near Highway 111
Palm Desert self storage helps you stay on top of your organizational needs. We're located just off Highway 111, in the shadow of the San Jacinto Mountains and the San Bernadino National Forest.
We love helping Palm Desert families make space. With over 550 storage units, we have the perfect size for whatever you need to offload. From golf and hiking to shopping, there's more to life than wrestling with your stuff. Get back to what matters by offloading whatever has been collecting dust in one of our convenient 5x10 storage units.
We also offer self storage in sizes up to 10x30, perfect for families renovation or local business owners with offsite storage needs. Students at nearby College of the Desert will appreciate affordable storage units, perfect for stashing their stuff while they work through the transitional period of college.
Desert heat got you down? We offer climate controlled indoor units to help you beat the heat. If your main concern is dealing with heavy or oversized sized possessions, we also have drive-up units that take the struggle out of storage.
Visit us today and let our helpful associates guide you to the right storage unit for your needs.
At Public Storage, You'll Always Find...
Keypad Access

Friendly Staff

Month-to-Month Rent

Moving Supplies Available

Free Parking

Well-Lit Facilities
Reviews
( 334)
It's annoying that after being shut down for over a week then to have restricted hours to now having the new chic literally dive behind the counter to avoid doing her JOB. Or perhaps more importantly the lack of respect this lady just displayed instead of simply saying that I'll have to come back tomorrow since they are closed. Learn customer service or don't work a front facing job.
I have had great experience for 10 years they have always work with me and communicate regularly especially Adrianne and Ben who are the managers at the Public Storage Palm Desert, CA.
I love public storage the property is always so clean and Adrianne is the best. She's always so helpful. We definitely recommend :)
Thanks very fast service today.thumbs up on this place. Very clean
Adrienne and Ben are the best! Always willing to help in any situation! Both are very friendly and knowledgeable! This facility is very clean, secure and in a great location! I'm so thankful I've found Public Storage in Palm Desert on Waring Drive!!
Thank you Adrianne for all your help with my packing supplies
Ben was very professional, helpful and took his time to help me with my storage space .
Worst Storage Company in the Valley, Continues to work Against me after 5 years of continued payments on a storage that is infested with Spiders and 2 feet of dust , Continues threats and Liens on the unit when I've always paid on the same Time of every month- Corporate is the Problem , because the Workers are great People. $360 for a 10×10 with everything ruined
We had a great experience working with Adrianne! She was so positive, efficient, helpful and made everything run smoothly! We are so grateful to have been dealing with her and we can't thank her enough for all her help!
I have been a Public Storage customer for over two years first and Rancho Mirage and now at the Palm Desert stores. The facilities have always been first rate, clean and accessible. But more importantly, is the high-quality customer service I have received first from Nancy and Rancho Mirage, and most recently from Adrianne in Palm Desert. They have both made themselves available to hand, walk me through a variety of processes, including the Public Storage app, which can sometimes be challenging for me. I am very appreciative to both. Who are there consistent high-quality customer service.
Thank so much to Adrianna, Ben, Betty for their professionalism and for helping us move our Palm Springs Storage to their Palm Desert location stress free. We all know moving can be overwhelming. They both made our move very smoothly. I have been a client for 10 years and always been very satisfied. Keep the great Job guys!!
Great staff. Ben I believe his name is was a wealth of knowledge about transferring/upgrading my unit was extremely patient with my million questions… and the young lady who works there truly helped me out a few months back when I needed some grace. Oh the facility is just great too. Pretty new & very very very clean. Elevators and Bluetooth connectivity to get you in faster & easier.
Adreanne and Ben are always so helpful.
Hello Tanisha is a good worker she's a hard worker the best experience she gets the job done she make sure customers are satisfied and happy and make sure they got everything that they need it was the best employee I love going there
The best place and she always help out and make sure the customer is satisfied that they had and that everything that they need she's a hard worker
Came in for information on storage and was met with the 2 kindest people Ben and Adrianne. I will definitely be storing at this storing place
Great customer service from beginning to end. I started with Ben, so kind & helpful, and accommodating as he started the process, Aisha answered next time I called frustrated with the digital glitches trying to make the reservation experience as seamless as possible. She was so sweet & helpful and helped me move to the next step. Lastly but definitely not the least Adrianne finished up the process showed me my space, code & keys and never once did I feel rushed (end of day) I have to say the entire team worked together like a well oiled machine. I also have personal property in WA state public storage, wish the manager there was as warm and accommodating. I always went away frustrated as he's never very helpful.
Always had great experiences here. Went in today to swap units and had the best customer service from Adrianne (I believe that was her name). She took time to make sure everything was set up great for us and that everything would transfer smoothly! Plus she was just a joy to talk to. You don't find this kind of customer service a lot these days. A++
Adriana helped me with a complicated series of moving questions and renting new space. Her follow up was amazing as was her attitude . Could not have been more knowledgeable and helpful.
Thank you for helping with my questions
Excellent customer service, employees are very friendly.
Adrianne is the best. She is always so friendly and extremely helpful!! One of the main reasons our company continues to rent here.
Ben was amazing in helping me in my circumstances. Adrienne was a great help as well. Great customer service . Definitely will recommend this place. My unit was nice and clean. Thank you Ben😉
Adrian & Ben They are really helpful with my questions. I am really appreciated. I hope both of you have a great health every day to bring up your values.
HORRIBLE CUSTOMER SERVICE!!!! I had to stop by the office three time to get the answer, there was no Information if the manager will be back and what time. Then I called the office number, the rep answered and said: " just go to another office 6 miles down the street." Really? I have already spent half an hour going back and forth due to the luck of the information on the web, or the office. I had to call the manager ( Fernando ) to inform of the situation, hoping they will correct it. His answer was:" For the privacy, we don't provide the information if the office rep is out and when will be back. If you don't like it, just find another storage." I consider it total disrespect to a customer and its time!
Adrienne was extremely helpful throughout my check in and I so needed it! Thanks
UPDATED***** In my efforts to speak with someone in regards to the lack of functioning climate control issues in the interior building unit that I have been renting for two years, I spoke with Fernando in Huntington Park. Unfortunately, you do not speak with someone who actually works for your location. Fernando let me know that in my contract I do not have a climate control unit and that you store at your own risk. Unfortunately, I rented a unit in a building that is supposed to be kept at 80 degrees, although there is no direct air into each unit. The AC has been broken for 3 weeks now, ruining my cosmetics which I store for my business. There is no estimated date of repair. We are in Palm Desert, Ca during July/August where the average temperature is over 110 degrees. If I wanted a unit with no temp control, I would have rented an exterior unit, which they do offer. However, that is not what I pay monthly for. I will definitely be contacting the Department of Consumer Affairs and the Better Business Bureau. ORIGINAL REVIEW***** I have been a tenant at this location for two years. In that time the carts have broken, hazards on the property pop up and are not fixed, but they spend the money to paint the building. My main reason for this review is due to the interior units which have a main AC unit has been broken for a week now. Management was notified the day it was noticed, yet nothing has happened as far as repairs go. I have this unit for business purposes to house cosmetic supplies and vintage clothing which are ruined at this point. Rent at your own risk.
I went to Public Storage because I'm planning a big move for next month and I wanted to see if they had any packing supplies and they have literally everything you need for any size move! Although I haven't bought anything yet, Ben was super helpful in suggesting items that I would need for when the time comes. Thank you for making this easy during a stressful time!
Perfect end to end customer sign-on experience. Stellar job.
Ive been here ten years and all the managers are great and super respectful ben the new manager has proven to be a great guy and manager. I look forward to making my payments in the office with ben.
Very nice and clean facility. Ben was great he helped me out with guidance on storage for my move next month. Very kind and professional young man. I hope he stays here long. -Enrique
I am writing this review for my mother, I came into the Public Storage on Fred Waring a couple weeks ago and the young man at the front if I remember correctly his name is Ben. He helped me get the space that best suited my needs, and was very friendly. I own my own little home organizing business and I will be recommending all of my desert clients to Ben for any of their storage requirements. I didn't buy any but they have loads of storage and moving supplies. The office was very clean and cool. I am very happy with the interaction I had and I would have rented elsewhere if ben wasn't so kind and happy. Thank you Ben for your time and I look forward to seeing you soon'
My experience with Public Storage has been AMAZING!! In a time that has been very stressful for me. From the moment I walked in to rent a unit, Ben was so thoughtful and kind and really went out of his way to help me consider all my options. Almost like if it was his home he was storing. He put this much thought and detail into helping me. Highly recommended!!!
Went into the Fred Waring Location to see if they had any 5 x 5 available, unfortunately they didn't but the manager on site Ben was very helpful and respectful, very good customer service! I look forward to storing here someday soon!
This is the third time I relied on Public Storage Palm Desert's location and the service and facilities are top notch. Ben at the front desk is patient and informative, helping me decide the best storage options for the stuff I needed to store. I'll always look here first for future local storage needs.
Facility is clean, cool and well-lit. Ben and his team provided great customer service. We had to get our lock changed and they were extremely helpful and made the process very easy. A great place to store your extra things.
I came to your public storage and talked to a gentleman named be and he was very professional and he helped me find the right sized space and advised me of what size not to go with. I also saw him with another customer and he was very polite with them as well. We need more people like Ben in the world.
Excellent customer service. Very nice clean facility. Reasonable pricing. Climate controlled units available. I would recommend this public storage location in Palm desert to anyone.
Thank you Betty and Fernando
Carlos was very helpful and professional
Great service !! Veronica is so helpful
I had the pleasure to have met Carlos and Veronica they're the most understand people I have ever met to help me out when I did not understood the importance of their business.I will tell all my friends.
Carlos was very helpful. Friendly and showed me both units no problem. He made the experience stress free.
Very clean and maintained propety. Carlos was very helpful.
Veronica is great and helpful. She answered all the question I had about the property and process.
Carlos and Veronica are awesome.
Carlos, is the best person ever. Thank you for all your help!
Carlos and Cynthia were very helpful.
Carlos and Cynthia were outstanding! I appreciate the help and great customer service. I'll never go anywhere else. Thank you again!
Carlos and Cynthia were the best!
Veronica was amazing from start to finish!!! Friendly and knowledgeable. Highly recommend :)
Veronica and Carlos are extremely helpful and very kind. I was able to purchase the proper moving supplies to make my moving process easy and efficiently. They also answered all my questions. Thank you!
Carlos and Veronica are super!
Veronica and Carlos run this storage like a well oiled machine. Highly recommended!
Carlos and Veronica were so extremely helpful and patient with my million and one questions. They made this process easy as pie! Thank you guys!
How much for a 26 footer and can we park our car there when Motor Home is not stored?
Wow! Carlos is the definition of customer service. Walked out with all the packing supplies I needed.
Carlos runs this property very well.
Great place to have storage. Manager is very friendly, efficient, and makes sure storage place runs smoothly.
Carlos made our experience with Public Storage very easy and explained everything that we needed to know. Thanks Carlos. 2 thumbs up.
I had a positive experience. Carlos made the rental process simple and easy. He answered all our questions. Taught us how to access the property, building, and unit. I would recommend this location.
Carlos helped me with their PS app.
Carlos is an outstanding employee. He is patient and unbelievably helpful.
Carlos, the property manager in Palm desert has been very kind.....understanding, and always helpful. I have used Public Storage throughout the years and Carlos has always been courteous and very professional. I have had my recent unit in a different location for the last five years.......but I always take care of the business end at the palm desert office. He has always been there to help with solutions when times have been tough! Carlos is an amazing asset to the Company. Very grateful and thankful for all the positive assistance.
Carlos was amazing with his greeting all the way to the end with his closing I highly recommend this place
Carlos is for sure a professional at what he does here. Super nice courteous nice looking and clean very clean.
Carlos is the bomb! Very professional and friendly. Thank you!
Nice and clean, air conditioning in the smaller inside rooms
Can't say enough good things about Carlos and this facility....clean and efficient
I was looking for a new storage facility as my previous location had upped their pricing. I spoke with a man who was very informative, personable, and provided great customer service. If youre needing someone to talk to, Akiel is your man. He has a great head on his shoulders.
A while back I was going through some extreme hardships. I remember how tired and confused to sift through every storage place and moving company that seemingly had services I needed, but it wasn't till I came here and met Mr. Akiel that I was sure this was the right move for me to make. He was extremely patient with me, took the time to hear me out and gave me every available option and recommendations he had to offer. Afterwards I knew that if anything I would always come back to this place just to work with him. Since then I recommended anyone with issues moving or just needing a place for storage to go through Akiel. He's the best!
I had a wonderful experience! Mr. Akiel Richardson was certainly one of the kindest, upbeat, and most helpful individuals working! He was of magnificent assistance as I searched for packaging materials!! I wholeheartedly recommend!
Carlos runs a well organized and clean facility. Staff is awesome.
Carlos was really helpful and made my storage trip easy
Carlos is one in a million If you look up customer service you will see a picture of Carlos He was helpful knowledgeable and fair in all our dealings with him. I highly reccimend this facility because of Carlos. Plus it's a nice storage area
This place is always spotless!! Carlos is great and keeps the place super clean. If you need to store come see Carlos, he also has great supply of boxes
Visited Carlos, received a great suggestion to ship my mother's urn.
This place is great. Super clean and everything always works. And property management is totally on top of communication!
This place is great, very clean and the Manager Carlos is awesome, very helpful and polite... Highly recommended!!!
From the day I walked into public storage Carlos was attentive and friendly. Always willing and able. 5 stars all day long. Thank you Carlos.
I am proof ... I helped a friend move and was back and forth to this location dozens of times. The facility is clean and well maintained . The staff , Carlos , was always helpful and friendly and knowledgeable . I am so grateful and recommend this location . Thank you for your help especially during a difficult time due to the pandemic and a long HOT Summer. ✔️👏👏👏👏👏😀😷😀
Awesome place! Carlos is very helpful!
Just moved my stuff out of Public Storage Palm Desert to bring it back to Los Angeles. We were in this Public Storage facility for more than 10 years, may have been Shurguard when we started with them. The experience has been great. The facility is super clean, cool and we've always felt very safe there. The people we worked with through the years there have been very good and easy to work with. Carlos, in particular was wonderful and continued to provide top notch service through our last day in the facility. If we have a need for storage in Palm Desert again, we'll be back at Public Storage!
Great customer service. Flexible and understanding.
Alma was super helpful and professional. Great experience!
Carlos and Alma are assets to Public Storage.
Carlos and Alma are very professional, efficient knowledgeable and know the best affordable places to eat in the desert.
Alma is a superstar, holding it down in Palm Desert! Carlos is cool too.
I had a list of odds and ends to pack and Alma displayed plenty of knowledge of how I should pack everything. Thank Alma!
Alma and Carlos, 100% real hospitable. Always the best.
Carlos is the best. If you need storage come see him. He keeps the place spotless!
Alma y Carlos gave great customer service and very polite
We had a great experience with Alma and Carlos. Everything went very smoothly; the unit we rented was cool clean, just what we wanted.
Property Manager Alma was.a great help. She keeps the property very clean and tidy.
Carlos is fantastic! He goes the extra mile and takes time to make sure our questions are answered and we are good to go! Thank you Carlos! Great facility, good location, well lit, clean, outstanding customer service. 5 stars all the way!
VERY impressed with the customer service at this location! I stopped in with a few questions and Alma could not have been more helpful! Will be referring others to rent their units here as well!
Wow, what a bargain in boxes. UPS wanted over twice the price I received from Alma & Carlos at Public Storage. Fast friendly service. A+++++++and saved 💰
Alma, Carlos and Josh gave me excellent service when I needed packing supplies. I came back to this office to get more packing items and as always Alma's customer service was great.
Alma and Carlos, were great. Very thorough and prompt!!!
I stopped by Public Storage looking for packing supplies but not knowing exactly was looking for. Carlos and Alma asked the right questions,helped me make the best choices, and made my move easier. Thanks Carlos and Alma. As matter of fact I just returned to Public Storage recently and I had the same customer service from Carlos. Talk about consistent.
Carlos was SO awesome and helpful! Answered all my questions and very attentive! Company needs his leadership and guidance to continue to run so smoothly!
Alma and Carlos helped me get a storage unit same day! I really appreciated their time and understanding my needs, I called Saturday morning and got a unit that's after noon and was able to move in my stuff that evening. Super affordable if I could give 10 stars I would!!!
Carlos was such a pleasure,he made the whole process so easy, Thank You Carlos
Carlos continues to provide excellent
Carlos and Alma run a great property, professional, and clean.
Alma & carlis graet customer service
Alma and Carlos were excellent on giving us all the information we needed.
Alma and Carlos have just been great. Very personable and go the extra mile to assist us.
Alma and Carlos Good service
Carlos and Alma were fantastic. They went beyond expectations.
I was in a hurry and needed a unit immediately and Public Storage 800 number operator was of extreme help; she connected me to my local Public storage and from there "Alma" assisted me and made the process extremely easy and with no stress! She had me in and out in less than 20 minutes which included going to the locker, showing me it to make sure it is what I needed...great help...great people!! Update: Once again I was in a bind for a locker and made one phone call to public storage and spoke with Carlos who made it all happen and I was able to get a locker at a great price with in a very short time. Excellent location, people who are extremely helpful and courteous and the facilities are very clean. Thank you again Carlos for taking the stress out of moving!
Carlos is great!! Clean place, everything works.
Alma and Carlos great service
Alma and Carlos amazing and personalized service
CARLOS WAS GREAT! AND VERY INFORMATIVE.
Alma and Carlos both extremely helpful
Carlos awesome. The best costumer services thank you .
Carlos was extremely helpful.
Carlos very attentive, always friendly and great customer service overall.
What a pleasure it was to work with Carlos at the Public Storage Palm Desert location. The facility is clean, well maintained and safe. Carlos set up a suitable storage unit for us with the utmost professionalism, efficiency and courtesy.
Carlos made the experience of check-in fast, easy, professional and thorough! Thanks again!
Alma alma was very helpful on paying my bill. And updating info.
MAYA did an amazing job!!!
Alma was great! She answered all our questions and was very helpful!
Great customer service, Carlos was great answered all of our questions, making it easy for us.. super friendly.
Carlos is real Pro and was always helpful and patient w/ our requests. Highly recommended for PD area storage needs.
Thank you for the help and answering my questions
Thank you Carlos for answering my questions about property features and hours of operations. Good to know that the property is well taken care of and clean
Excellent property. Carlos is a great manager.
Carlos provided great customer service.
Customer service here is outstanding! This was my second visit as always Carlos provided the usual great service. I love this location!
Concierge-style service at this location! We received the utmost care and personalized attention from manager, Carlos, in obtaining and setting up the rental of our space. Thank goodness there is someone of his caliber managing this facility. Have not moved in yet but we have high expectations that the cleanliness, security and professionalism will continue into the future under his high standards of quality and guidance.
Great service with easy set up. Clean facilities. Carlos and Ray are very helpful!
This is the one stop for all for storage and moving needs. Carlos is the man with the plan, he will get you set up and going in no time at all.
Just came in to public storage & was greeted by Carlos & his great staff : Raymond & Fernando ,very professional & caring ,excellent service :)
Alma was great! Quick service and very friendly!
Alma was great! Super friendly and helpful!!!
Alma was fast and helpful thank you so much.
I wish there were more than 5 stars.... I have had a storage room for the past year and a half. I can't say enough about Carlos who has answered many of my questions patiently and handles the transactions with a smile always. He is so professional and helpful and I really appreciate his kindness. The facility is well run, clean and well maintained.
Josh and Carlos were very helpful, Rental process was fast and easy
Yes this is Marie Jones and I just wanted to give accommodation to Carlos Castro he was very professional and all the time that I had the public storage and in the future I'll be using it again and I definitely want Carlos to be the one that I signed up with he is so professional he is so helpful and he's so organized I can't say enough about his service and his professionalism. Poster whatever
I have rented units from Carlos (mgr) since 2007, and most recently from Alma. They are very pleasant & patient in dealing with my concerns & made my transfer between units efficient. My one question: I paid my current month's rent and insurance, transferred to a smaller unit, and had to pay the pro-rated insurance (for 28 days) again. Why the double payment? Will I get a credit?
Alma Great and very helpful service .
Alma has helped me find the perfect space. The location is close to my home. The units are kept spotlessly clean
Alma and Carlos are very helpful and generous. We'll check here first for any future storage needs.
Clean facility and convenient location. Alma made the move out process smooth and easy. Recommended.
Carlos is awesome. He goes above and beyond!!!!!!
alma. Always grrat attitude a nd helpful.
Alma buen Servicio y Atención
Alma provided great customer service as I needed a unit at the last minute! Thanks so much for your prompt and professional service!
Carlos is the best! If you need storage come to this location and see Carlos. If you have questions about proptecting your items... this is the man to come see!
An amazing variety of packing supplies and a beautiful and clean storage facility. The managers Carlos and Alma always provide 5 star service.
Alma was great, very kind and very helpfull.
Provided excellent services and met all my needs, Alma very helful!!!
I've used the services of all the Public Storage locations in the Coachella Valley over the years and have to say that every experience has been nothing short of fantastic. The management team of Carlos and Alma have always taken care of me and provided top tier service.
Alma was great she showed us the unit let us lock it and unlock it. Making sure we knew how to work everything no nonsense paperwork. Very smooth. I recommend this storage it is also very clean.
Josh and Carlos helped me with my rental, they made the process seamless and effortless on my part. I enjoyed the experience coming here and will definitely recommend others coming here.
A great well run storage location with top notch service from the manager Carlos.
Nice storage facility. Carlos is always helpful and funny.
Alma is a very professional young Woman. We had a very good experience with her. It is our first time using a storage business and she made it very comfortable and worry free!.
One of the best Public Storage we have ever been too. Carlos was outstanding and was very helpful. Thanks for the great experience.
Alma was very helpful when I bought boxes to pack up my Christmas tree after the holidays.
Thanks to the beautiful Alma I had an excellent experience and answered all the questions that I had so easily. 5 stars without a doubt. Thank you so much public storage.
Carlos was helpful and nice,
Great customer service!!! Alma had a fantastic attitude and was so incredibly helpful!
Carlos was great...he went through the whole process thoroughly
Absolute. service!!!!! Carlos is very professional and answers all questions of relevance to the point.. My sign up time 15 minutes tops I'm telling you it gets no better.. lucky you to find yourself during transition of one home to the next feeling everythings safe and secure with people who care .... FIVE STARS THIS LOCATION... MICHAEL
I rented a storage here, and Carlos was a pleasure to work with. He was helpful with the process, and very nice to work with. I would recommend renting here.
Alma was very professional very helpful she was also a delight to talk to. When I went there I was a little bit confuse, I didn't know how big of a space I need it. She made it easier for me to take the right decisions so now I am so happy. Thank you Alma!!!
Carlos will go out the way to make sure have everything you need! He was very helpful in answering all my questions awesome customer service. Thanks Carlos !!
Carlos gave GREAT service !
Alma muy buena atencion gracias
Alma was very sweet with me. It is my first time renting a storage and the whole process was so much easier because of her! Thank you!!!
Alma: Excellent, professional, and friendly.
Alma and Carlos were very knowledgable and helpful. Alma really took time to explian everything for me. Definatly outstanding customer service.
Carlos is amazing. Super helpful and friendly! Thanks so much!
Carlos helped me when l came looking last week and went online last night reserved a unit and couldn't believe it was still available at noon. Got a super easy to get to and he made it simple for me in my stressed condition of a sudden move. Has everything you need to move. Thanks Carlos!
Carlos always provides excellent customer service. This is my second time needing a storage unit so I was fortunate to return to this facility located in the convenient Palm Desert location since I know it to be secure, well-maintained, and very accommodating of my sometimes complicated arrangements. Two thumbs up!
Alma and Carlos did a great job with setting up my new unit!
Carlos was extremely personable and very helpful and informative. He really took time with me to go thru the process of selecting the best storage units for my needs. He set me up with the perfect climate-controlled spaces to accommodate my furnishings and belongings and he was very professional in guiding me thru the rental application process each step of the way. This is a very secure, clean, well maintained facility with flexible hours as well!
Carlos was proessuonal, took his time. Walked me thru the process and made it seamless. I've used Self Storage facilities for 23 years. He was on point with everything.
I'll admit I dreaded my excursion to this place. I assumed it would take forever and be a pain in the you-know-what. Instead, I came away completely sold -- a customer for life. Their secret? Probably the fact that their manager "Carlos" is competent and professional. He was knowledgeable and made it easy for me to understand my storage options. As a result I chose an inside, climate-controlled unit (accessible by a big oversized elevator). This place is completely secure -- personal codes to open the gate and operate the elevator. A special deadbolt lock. A steel roll-down door. Clean and dry. (Good selection of boxes and moving supplies, too.)
Wonderful storage place. Super clean and safe. Carlos takes great pride in beautiful customer service. Wonderful friendly employees and good hours. Highly recommended.
Carlos was helpful and professional.
Alma was great, thanks for your great customer service
Carlos is the best always available to help out, he is great!!
One of the best customer service experiences I've had in a long time, Carlos is awesome.
Carlos the manager and we have worked together before. So professional and this facility is kept in top condition! Highly recommend
Carlos is very helpful and nice. He is the reason I always return to Public Storage.
Josh and Carlos were great! Helped us get what we needed at a good price. Highly recommend them.
Carlos gives great customer service!
I reserved a 10-14 unit last week. Completed the online process and confirmed with one of the proprietors on the phone. When I call today to arrange the move in, I'm told the unit was given away by his colleague. NOT OK.
Alma was efficient, fast, and helped me with all my needs.
Alma made the process fast and easy. Very patient.
Alma was great. Answered all our questions and quickly processed our storage rental.
Carlos is a great asset to Public Storage. He is always courteous, professional, and friendly. There are times I just stop by to have a chat with him. Thanks Carlos.
Friendly staff, very helpful!
Are your units climate controlled
Great help from the personnel..!!
Alma is great ! Very helpful. Clean facilities. Excellent storage units.
Alma was awesome! Very friendly and so polite. Thank you Alma❤️
Alma was great with customer service. She showed us our storage unit and helped us choose the right unit. It was amazing.
Really great place, very clean. Josh was extremly helpful. Will definitely recommend
Great service. Carlos and Josh are very customer-centric and helped us find the right storage space for our storage needs. Thank you for the great experience!
Carlos Josh and Alma are always accommodating.
Joshua and Carlos are great. Got here and needed more than just the one unit I had on moving day. They hooked me up right away and we're so nice to deal with.
Carlos was very very helpful.
CARLOS AND ALMA ARE THE BEST....THEY MAKE THE OPERATION SEAMLESS AND FUN. I WOULD STORE MY WALLET WITH THEM. TIM BARRY
First and foremost is the amazing customer service! Carlos (and Alma) have continually gone above and beyond for me, handling all of my requests and getting me everything I needed. I can't say enough good things about them. The location is very convenient and building access is open late in the evenings. Units are climate controlled / have air conditioning, which was an important point for me here in the desert.
Carlos is great. Always nice, courteous, and professional. The facility is great too!
Alma was great during the sign-up process. Excellent customer service. Web site should make more prominent the fact that the renter must insure the items in storage. Adds cost to the rental.... Not a big deal for short term renters but adds up for the long-termer.
Alma was a great help, and this is a great place to store your belongings.
I stopped in for packing supplies for my client and Carlos took great care of me. He made my stressful situation easy! Carlos took the time to listen to me and provided me with all the supplies I needed. Thanks Carlos!
Carlos was extremely helpful and sweet to work. The property is really really clean.
Alma was very helpful with getting me set up with my unit!
i really appreciate carlos for all the help he provided to me today. i am moving from florida to california and he assisted me with attaining the perfect sized storage for my needs. no hassle. no fuss. just kind understanding that i needed during a stressful move.
Carlos was a great help, very knowledgeable and professional!
Carlos was awesome friendly informative pleasant to conduct business with
Carlos has always been hospitable.
Carlos was so helpful! He was truly an expert in his ability to assist in choosing the right storage space for our needs. The spaces were clean. Orderly and everything in working order. I appreciated the tips and friendliness from Carlos and everyone I spoke to when purchasing this space. I had Public Storage many years before and was happy that i continued with this company. I highly recommend it- and their knowledgeable staff.
Carlo esmuy bueno me atendio de maravilla estoy muy contenta porq el me atendio nuy bien
My mother had two units at your Palm Desert location for about four years. During that time she was in the units to put in or take out things many times. She had many occasions to interact with Carlos your Manager there. She always had a good experience with him. He was polite, efficient and knowledgeable. She felt he genuinely cared about the safety and condition of her possessions. When it care time to finally move her things out and into our home it was over several visits in a period of about two weeks. We used our personal vehicles and a for hire trucker. Again, Carlos was helpful and considerate. Unfortunately one of her units was on the second floor and due to a failure of the air conditioning on that floor it was very hot in that area . Carlos again warned us to come in early and apologized for the problem. We have all had repeated contacts with Carlos and think you are lucky to have him. He has also trained the women who help out to do a good job, as well. We realize no air conditioning during a heat wave is his worst nightmare; but, Carlos was just as professional as always. If there is an award for Employee of the Month -Carlos Should Qualify!! Sincerely the family of your tenant in Palm Desert. Lorrie Taylor Daughter of Christina Anderson And her grandchildren: Morgan, Mason and Marlo (They helped, too.)
Carlos provided me with EXCELLENT customer service!
I came in last minute right before the office closed for the evening and Alma was very friendly and accommodating.
The service and the facility have been outstanding. We are in and out of the unit and find everything in great shape and clean. Carlos and Alma go above and beyond to help customers they're always in a good mood and treat me in a respectful and friendly manner. Thank you! Unit 1070 : )
Carlos and Alma are great. Very clean storage.
Carlos and Alma are exceptional. They are professional, courteous, and friendly. I come in every month to pay for an account out of the area. They're such a pleasure to do business with.
Alma help in good responsible hands. Easy explain a good details with good customer service. Thank you will always recommend Alma in good business Public Storage
Carlos at public storage is so helpful and kind to the point that I love paying my monthly rent. Thanks Carlos
Nice friendly people but I'm missing quite a few boxes. I know for sure the boxes went into the storage unit and were locked inside for 2 months. I never went back into the unit except for the day I moved completely out. When I moved into my new home (it took a friend and I one day only), I was missing several boxes. Beware of "mysterious disappearance.
Great facilities. Carlos took care of us, very helpful and professional. Thanks!
Carlos was very polite,very knowledgable and about everything. Got us in and out very quickly.
Very clean and very well managed...Carlos is tops!!
I love it When employees go above and beyond for their customers, Thank you Carlos!
Moving from one part of California to the other was pretty intense, but knowing that my belongings were going to be stored safely gave me relief. I'd like to personally thank "Carlos" for taking care of my needs and helping in my transition across the state!
Nice and clean facility. The manager Carlos was a great help.
Great storage facility, safe, clean and secure... Wouldn't use another place.... Highly recommend this place... Ask for Carlos C... Very professional and well spoken young man... He will make sure you are taken care of!
I always use Public Storage, its a very clean facility, safe for all your storage needs. Great service and Carlos is always very helpful and professional with customers. Keep up the good job Carlos.
Alma's customer service is superb! From our initial inquiry about available units to discussing storage needs, Alma communicates well and thoroughly. What a great representative she is to Public Storage. The facility is immaculate and we couldn't ask for a better location and accessible staff.
Carlos always provides excellent customer service
He have very great customer service he remember all his customers by name which make you fell very welcome he need a raise for a job well done
Im a mover and when i arrived carlos was hepful and respectful and i feel a general asset to the workplace
Your employee, Carlos helped me with the rental of my first unit a year ago. He couldn't have been more accommodating, helpful and friendly. He's been a great help year round. Great service, 5 stars all the way.
Carlos is very good at his job and went beyond average service by his excellent knowledge of storage and moving service. Thank you Carlos!!!!
Carlos is very friendly, courteous, and very helpful. The buildings are very clean and I feel that security is very high here.
Alma great service, happy with this storage.
Carlos was great. I store with a Public Storage in Indiana, Carlos by far provided superior customer service. Thank you Carlos.
Went in for shipping supplies, not sure what the size I needed as I was shipping computers. A guy named Carlos came out and helped me with different box sizes and all the packing I needed to get my materials out the door and secured properly. Thanks Carlos! I shall be back when I need more boxes!
Great. Management. Great customer. Service
Carlos if you read this, you were nothing but great! PUBLIC STORAGE on the other hand uses strong arm tactics to make you pay whatever they deem fit. My unit was $ 91 a month, they tried to charge me $40 LATE FEES after my payment had issues going through, due to fraud alert on my acc. Public Storage made no effort to help me out, after explaining my situation she simply said pay or you dont get your stuff.
Carlos is great. Very helpful and courteous.
Very helpful and knowledgeable staff. I believe the gentleman's name was Carlos. He provided a tour of the site and explained the difference between the units. Best storage facility experience we have had so far.
Staff are friendly especially Carlos very accomodating. And I like the location very convenient for me. I will recommend this to my friends.
Great experience. Helpful staff. Carlos went above and beyond.
Carlos is the best. The property is nice, clean, and secure. I'm glad Carlos convinced me to store with PS. 5 stars!
Always helpful....grateful for their help ☺
I came into Palm Desert Public Storage, store #08517 yesterday in need of packing supplies and spoke with Luna, she was very friendly and helpful I got everything I needed and had a pleasant experience in the process.
First class...help, service, products....worth the visit for sure!!
Excellent and friendly customer service, clean facilities, good experience. Frustrated with rent increases however but this should not reflect on great employees!
Carlos was amazing, made sure I saw the he entire facility and helped me choose the right storage for my needs. I'm consolidating my Northern CA., NYC and MS properties which requires a great deal of logistical planning, editing and general craziness in scheduling. I feel safe, choosing this particular facility...because of CARLOS! Also, it's super convenient... my Rancho Mirage home is really close, so I'm much more likely to dig in and get all this organization done😉.
Excellet customer service ... stellar personally.
2nd Time using a rental at this location. The place is clean, safe and in a good location. Carlos has worked there for years, and made it a simple process. I recommend this place if you need storage.
Carlos the property manager is awesome! Greets everyone with a smile and is super helpful. I was having a hard time loading my things into the storage and he gladly helped me. I was looking at other storage places but his customer service sold me on this one!
I really like public storage. I went in to check the prices out and they are very competitive. I have rented here before and they were very helpful the last time. Carlos helped me figure out what size unit I would need this time. Thanks
Alma is a great rep for your company! Very helpful and knowledgeable...when we could not find a space big enough, she immediately called Steve at the Rancho Mirage property and immediately reserved a space he had available! Great teamwork and customer service! Thanks guys!
this is the single best storage facility I have ever seen. and its the best run storage place I have ever seen! the manager, Alma is more than helpful, she is wonderful, I am extremely happy I called this place. thank you Alma, you are the best!
I came in to make my payment they were very helpful. I've been with public storage for a long time
This place is clean and professional. They provided all of the necessary resources to make this move run as smooth as possible. Our specialist Alma is kind and courteous. She answered all of questions with a sincere understanding for our concerns. She is wonderful. We were fortunate to have her work with us.
Public Storage is a convenient place to store your important furnishings. It is a super clean and efficient facility with a warm and friendly atmosphere and employs a first rate staff such as Alma, who with great care and concern has handled my needs professionally and with highest regard. Alma is a true credit to the Public Storage Organization and always greets me with a friendly smile. Kudos to you Alma for all of your excellent service in handling my account and also to the Public Storage Management. for hiring people such as Alma...BRAVO...!!!
Alma is awesome what a smile! Very professional and honest!
Nikki was very friendly and informative in helping me select the right units for my personal and professional storage needs. She always has a smile on her face and a quick joke to tell. I have since rented two units and will continue to refer Nikki and Public Storage.
This facility is clean and well organized. I always enjoy hanging out and having a chat with Carlos when I go in to pay my rent. He is friendly, considerate and helpful with any questions that may arise. Carlos is a great manager and a valuable member of your company.
Carlos has been wonderful each time I've been in. Even when I've been behind in my payments he has always made me feel comfortable. He is professional, efficient, friendly and PS is lucky to have him! Carlos is awesome.
This is my third time renting at this particular PS facility. I love their customer service, especially Carlos. He's always so helpful with suggestions and always goes the extra mile. He is the reason I come back here, even this time with NO SPECIAL. : (
Carlos was a great help in assisting me with my move and got me the boxes I needed to get started.
The fine people at this location are always the most helpful and informative. I have been dealing with Carlos for over 5 years and have always found him to be most helpful and courteous. He is the best! Thanks!
Carlos and Alexandra are the best. They made my experience with Public Storage very easy and convenient.
They were very friendly and helpful. The air conditioned office was nice as well
Mr. Carlos has been a excellent help in providing great customer service since I started renting units here at the palm desert location. I highly recommend renting a unit anytime and please do ask for Mr. Carlos .......and Alejandra.
Carlos, was such a great help. So helpful and we'll knowledge of his products and rates and answer all my questions.
Margaret and Carlos were amazing would definitely recommend them any day of the week.
Great storage facility! Friendly staff, very clean.
Carlos (and trainee) were courteous, friendly, helpful, and made me feel comfortable asking questions and making decisions. The facility is clean, tidy, well organized, and manageable. My customer service experience could not have been better.
Carlos is the pinnacle of friendly service. Always looking out for you! Best experience ever with a storage facility!!
Carlos is always very helpful and courteous. A joy to my day.
Carlos is awesome. Great customer service and professional. Wouldn't store anywhere else because of Carlos.
Rented on multiple occasions with Carlos. Always great service, the facility is quite clean and easily accessible.
Been dealing with Carlos over there and he couldn't be more helpful and nice. Excellent service and always nice and cheerful. I highly recommend this place!
Both Carlos and Veronica were very helpful in guiding us to the right storage unit for our needs. The experience was very professional and we went away pleased with our choice of units and their assistance.
Carlos and Veronica were both extremely helpful, friendly, and knowledgable. They are the best! Their prices are competitive, too. Carlos continues to go above and beyond what is expected. Truly amazing in today's environment of poor service.
Caelos has been very helpful
carlos and veronica helped my grandmother get a unit very quick and easy they're so great and very helpful, great service!
Helpful and friendly staff ask for Carlos
THIS WAS MY THIRD TIME DEALING WITH CARLOS AND HE WAS AS USUAL 10 OUT OF TEN TREVOR WILSON
Carlos and Veronica were exceptional. I was stressing over performing a transfer from my current unit to a smaller unit. Carlos provided great ideas to repack my items so I utilized my space efficiently. The property is also very well kept. Public Storage is fortunate to have Carlos and Veronica working for them....professional and friendly.