Public Storage Self-Storage Units at 1775 Industrial Way, Napa, CA
Address
1775 Industrial Way Napa, CA 94558
Office Hours
Mon-Fri 9:30 AM - 6:00 PM
Sat-Sun 9:30 AM - 5:00 PM
Gate Access Hours
Mon-Sun 6:00 AM - 9:00 PM
Storage Facility Features
Climate Control Storage

Car Storage

Small, Medium & Large Storage Units

Indoor & Outdoor Storage Units

Property Manager Lives On-site
Office Hours
Mon-Fri 9:30 AM - 6:00 PM
Sat-Sun 9:30 AM - 5:00 PM
Gate Access Hours
Mon-Sun 6:00 AM - 9:00 PM
Storage Facility Features
Climate Control Storage

Car Storage

Small, Medium & Large Storage Units

Indoor & Outdoor Storage Units

Property Manager Lives On-site
Close Location Details
View Location Details
---

5'x10'

Outside unit

Drive-up access

---

10'x10'

Outside unit

Drive-up access

---

10'x20'

Outside unit

Drive-up access
Nearby Self-Storage Locations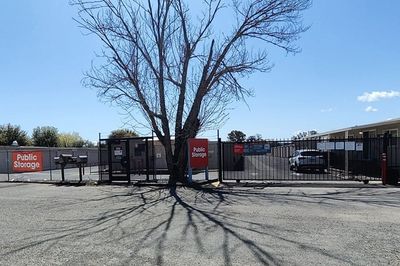 Self Storage Near
19784 8th St E
Sonoma CA 95476
Resources from the Help Center
See what fits in different storage unit sizes
Napa Storage Units Near Highway 29
Napa Public Storage provides customers with a variety of self storage options in a convenient St. Helena Highway location in the heart of Wine Country.
A storage locker rental is a great place for Napa Valley's frequent visitors to keep a few smaller items for easy access throughout the year.
A 5x10 storage unit can easily hold bulky and oversized recreational items, such as bikes, scooters or hiking gear for trips to Alston Park, along with a few boxes of personal items or, of course, a few cases of wine that won't quite fit at home.
For local residents living near Salvador Avenue or Trancas Street, a 10x30 storage unit is large enough to accommodate everything inside a five-bedroom home during a large-scale renovation.
Outdoor storage units provide drive-up access, while indoor storage units offer the comfort of unit access from inside the building. Need somewhere to park a car, truck or vintage vehicle? This facility also offers rental parking spaces for vehicle storage year-round.
The manager of this property lives on site and inside the rental office, customers will find moving boxes, packing tape, bubble wrap and other assorted packing supplies for sale.
So much more than a popular tourist destination, the city of Napa is a hard-working community filled with great people and great businesses that make up the heartbeat of this area. Public Storage is proud to be a part of the Napa community and looks forward to helping customers alleviate their storage space needs.
At Public Storage, You'll Always Find...
Keypad Access

Friendly Staff

Month-to-Month Rent

Moving Supplies Available

Free Parking

Well-Lit Facilities
Reviews
( 395)
Christina was very pleasant and professional. Maintains a clean and secure environment.
Just rented a storage unit for my brother. The app was giving me trouble and Christina came to my rescue.....she helped me every step of the way!! She is amazing and made my experience pleasant and efficient. Grateful she was available to assist me since I was completing the rental from out of town!! Loved doing business with Christina!!!!
My wife and I needed a storage unit last minute. We got everything set up online but went into the office to ask some questions. Christina was extremely helpful and super friendly. We really appreciated all of your help thank you!
Wow!!!!! Been there a while and recently had the BEST experience ever… Christina was INCREDIBLY helpful- offered an only slighter smaller unit for me to save money and made it SO EASY to switch. She helped me get the App which is incredible also, and showed me how to make the most of it!!!! I cannot thank her enough. I have been there a while, and she will definitely be a reason I stay. It's so clean!!!! So safe!!!I LOVE IT! Highly recommend.
Christina was very helpful and made everything clear as to what was needed to get in. Thank you christina
Very attentive and responsible!
Un lugar cerca de tí y barato
Very Friendly, wonderful service!!!
Great customer service very nice people
Christina was very helpful and very lovely. Super easy process and explained well
Great facility. Friendly customer service.
Christina is always there when I need help or have questions.
I love this facility. On of the best storage places I've ever used. It's clean and laid out well and has excellent drainage. Given the rain that was important to me. Christina in the office is amazing. She's been a great help since the day I came looking for a unit. Really nice and helpful. I whole heartedly recommend this location and Christina to anyone looking in Napa.
Public Storage is a great place to safely and conveniently store your extra stuff. Christina at the Napa location is always on site, is always friendly, and can solve any problem you might have.
Christina is always so pleasant when I come in to pay
Very clean property christina was very helpful and professional
Great staff, secure great service
Very friendly and easy transactions Christina was fantastic!
Helpful staff and clean and accessible property
Christina was super helpful and kind. Excellent service!
Christiana was very helpful and patient with helping me get my unit. The property is very clean and well maintained.
Christina is aleays so nice to me
This Public Storage is a great place! It is a very convenient location in Napa…easy to access. I love the app that enables you to open the gate from your car, and pay your bill in a flash! And the manager, Christine is an added asset to the property. Thank you so much! I'd recommend this storage location to anyone.
Christina is so sweet and nice. What a clean and nice environment. Easy access and very convenient.
Christina has been so helpful and is always waiving hi to us when we come to the gate. Love her.
Very clean property! Great service! Very helpful manager! Definitely recommend going there.. thank you Christina
Christina is incredibly helpful.
Christina was so nice tome today
Christina is so friendly and nice
Christina was so patient with me and went above and beyond for me.
Christine is the best! Very informative and helpful. She deserves a raise. 😁😁😁😁
I absolutely love Christina and my dog Bella loves her.
Katy was so responsive, attentive and very helpful in answering all my questions. I would definitely use and recommend this place.
I visited in a bit of hurry trying to get some information on specific rates and the employee there Katie was very nice and knowledgeable. She was able to answer all my questions quickly and I was able to go on my way.
Christina is awesome and very helpful
Two years ago I began my contract in renting my storage unit with Christina. Throughout my process of finding a home, I was able to utilize my storage unit to provide security of my items I could not store in my interim space. Every time I came on property Christina was there, positive and ready to help. With her radiant attitude and ease of use of the service of the unit, it made my experience a very good one! This past season they did many updates to the property including a stunning paint job that made it hard to leave! Everything looks fantastic and the property is clean and peaceful. I am so grateful for such a great experience, as moving over a long period time can be difficult. I would recommend this location of Public Storage AND Christina in particular over and over. Plus, its right across from the best Art store in Napa Valley!!
I have had the most wonderful experience with Christina, the management of this location. I met her about 6 years ago when I first needed to store some stuff for a few months. To my amazement, Christina remembered me! She greeted me as she did back then, with a million dollar smile and that memorable friendly face! She, as well as her staff are always friendly and courteous to me and most helpful. Also, the location is so clean! I feel safe when I'm there, even alone when it's dark! So… if you need a storage space in the area, then this is the ONE! Shira Goldberg
Clean and amazing service.
Christina is always so very helpful! Great service as always!
Christina has really great customer service. Love that she knows me by name and has everything set up for me when I come to pay.
Christina is always so nice and pleasant
Christina and the property are solid!
Tedranique was pleasant and made my experience of renting a storage unit easy and seamless.
Loving the new landscape. Always felt safe here!
The place was extremely clean and Christina was absolutely professional I would recommend anyone to come to this establishment.
Looking for a place to store my truck
Great customer service, was walked to the storage and shown where it was located.
Christina is by far the best manager I've dealt with during my experience with public storage
Melanie was great. Very helpful and very nice.
Christina is a fantastic help and life saver.
Christina is so nice and helpful! I meant to post this two nights ago after she helped me out! Thank you again!
I absolutely love Christina. She's awesome!
Super easy to reserve. Staff was very friendly and the facilities were clean.
Christina is awesone and got me into the rightbsize i needed.
Fast and friendly. Great experience.
Christina is cool and useful.
Christina is great! Many thanks!!
She was very helpful and nice
Service was great very helpful
Christina is amazing! Very helpful!
Haven't needed to rent storage for a while, called day before and was told a unit had just become available. Went down next morning and Marcela was very helpful and took time to explain all details to me. More than Satisfied with service!! Thank you
Rosetta gave 10/10 service!
Very pleasant and surprising service. Christina was very nice and professional, and made my day!! Would recommend!
Christina is Awesome, she is always friendly and welcoming when I come in to pay my bill. I wish all businesses had a Christina working for them
Christina has awesome customer service
Christina is very helpful and friendly any questions sheson it.
Excellent experience and customer service. This location will always be my first option to consider for any future storage needs.
Very clean property. I've rented here before and I'm coming back to rent again. Great customer service too
Christina is very helpful and efficient the place is always clean
I love Christina. Best storage ever. Great personal assistant.
I've had my storage for 2 years now, and let me tell you I've had no issues! Christina, the manager, is super nice and was super helpful when I first started looking for a storage. She walked me around the property and showed me a few of the units that were available; she asked what I would be storing and when I told her it would be boxes, she suggested a smaller unit. (It was actually perfect because I wasn't looking for something super huge.) She let me know that I would need a special kind of lock and she also assured me that she kept everything clean. Like I said I've been there for 2 years now, and I've had no issues with pests (maybe the occasional spider, but that's understandable). They are open from 6am-9pm and you need a code to get in and get out... so you know they take safety seriously. The are reasonably priced, probably one of the cheapest I found in town, considering I didn't need a huge storage space. If you're looking for a clean, affordable, and safe storage place, Public Storage Napa is the place!
Christina was wonderful and answered all my questions
Christina is awesome! I rented a storage unit for 4 years here and would not hesitate to again. Super clean and well taken care of. Thank you Christina for being so kind and helpful!
Christona keeps the place nice
Always a nice smile from the manager.
Christina has been very helpful. It's very enjoyable working with her.
So easy to rent a unit here! A few clicks online and everything is ready to go. Staff was friendly and my unit was clean. Very reasonable rates, ESPECIALLY compared to other storage units in the area.
Christina is Awesome! So helpful and easy to work with. Thanks Public Storage!
I really like the manager she is always available and helpful and works super hard at making sure I am informed about my payments and I don't have to worry on getting behind on my payments
Christina was very accommodating and friendly.
Came to public storage here in Napa. Christina was very nice, friendly, and helpful. She made the paper work very easy by going step by step.
Ashley was great I came late she saved me from going to another storage and gave me time to move in lovely girl I highly recommend this storage A+
Christina is really nice and funny
Great service and super clean facility.
Christina keeps the property clean and always says hi or waves to me when i enter the property.
Christina is very professional and a great communicater. Very helpful.
Christina is great and watches the property like a hawk. Notified me as soon as I left my lock unlocked
Christina is helpful and polite
I hate christina when ever I'm getting thing from storage comes over to check on me everyone else is so nice she also charged me $60 for late fee when we are on state emergency moving out next month
Resident Manager Christinalouise A. Is always there to lend a hand and help straighten out any issues that need help. She is pleasant and keeps the facility sparkling.
Christina has been absolutely awesome
Christina was so helpful when I accidentally broke my key off in my lock. Got it fixed in a day!
Christina is a very nice person and very helpful.
Christina was very nice and had lots of information for me.
I have had things in storage for almost a year now. The best part of Public Storage is their acceptable 6AM to 9PM. 7 days a week. About 5 hrs more a day then others and with me working sometimes 12 hr days it can come in handy. That is the reason I decided to store with them
Christina had been very friendly, helpful, and easy to work with! Highly recommend the storage here in Napa. Convenient location.
Christina is awesome and the property is so clean
Christina is so nice and the place is so cleam
Christina is a pleasure to deal with and always helpful
Christina is very courteous and an asset to your company.
Christina is doing a great job.
Christina is by far the best customer service representative this place could want
The facility is nice and Melody was super cool, unlike people at some other places I've been to. She answered all my questions and was very helpful.
The young girl that helped me, Melody, was phenomenal. I was a bit overwhelmed since I am in the process of moving, but Melody was extremely patient with me and helped put me at ease. I would recommend Public Storage to a friend based on my interaction with her.
My husband and I walked in and were greeted upon arrival by Christina, she was very helpful and answered all of our questions without hesitation. She was professional and attentive. I was a little skeptical of the place at first but the place was very clean and Christina was also very informative. Definitely recommend this place as it was clean and treated us kind.
Bery clean property christina is very helpful
Christina is amazing has an amazing attitude Wasn't rude and was smiling
This is my second time using public storeage in Napa and it's always nice seeing a familiar friendly face with the leasing agent Christina. Always helpful and makes things super easy storing. Great service.
Christina was very nice and informative.
Christina was fast and informative
Christina was the best. Quick, professional and fun.
Christina has the best customer service and is very polite
I just wanted to give a review for public storage here Napa especially for Christina the woman in the office. I made the reservation online and came to the office and interrupted her lunch but she was still more than happy to help me secure the unit. We ended up getting more space and decided to rent another unit and after having such a pleasant experience with her that we didn't hesitate to secure a second unit here. She has made the check-in extremely easy and has been very helpful and friendly and just a breath of fresh air. I wanted to make sure that I got that out there....definitely visit this site if you're looking for storage.
Rosetta is the BEST.... Check her out!?!?! Very helpful and knowledgeable about the units
My client and I just moved into his storage unit. The receptionist was very helpful and informative and ensured that we were taken care of!
Rosetta is the sweetest. Great service. Clean. Thanks for taking great care of me!
Christina is very friendly and ougoing. Property is very clean.
We used this place years ago and were not happy with the services, but due to the (recent) great reviews we decided to go check it out. Christina was great!! This place is SO MUCH cleaner, more organized and all of your questions are answered! She even showed us the different sizes of units to see what suited us best. Very informative, thorough and professional.. Highly reccomend!!
Rosetta & Christina beyond helpful & sweet . Got my unit ready to go . Quick and easy . 100% recommended
Christina was very helpful and friendly! clean and secure place
Thank you Christina you are amazing!!!!
Christina is very friendly and helpful. All arou d good experience
I think christina is wonderful.
Unique did a great job and was very helpful!
Carla is great! Super informative and professional.
Meme is fabulous!! Very sweet & helpful...probably wouldn't have rented a spot If it weren't for her!! She is a valuable addition to your team. She has a very friendly disposition & made the process very easy.
Christina was very helpful. Excellent service. I would recommend this place to all my friends.
Pooja at Public Storage Lincoln rd. Was very helpful, and pleasant to work with.. Her Customer Service was awesome
Christina is great!! I have had a couple different units here over the past 10 years and always had a good experience. Lot is clean and if you have any problems Christina is always helpful.
Christina is very nice and does her job very well
Very good experience. Unique is as good as her name!!
Unique was extremely helpful and professional. Sincerely courteous careful and kind
Christina was helpful and answered all my questions
Kristina was super helpful and a pleasure to work with when finding a unit. Highly recommend this location !!
Chritina is the Best storage lady ever
I love this place and Christina is fantastic.
Unique was very quick and helpful.
Awesome service!!! Very friendly. What I wil use for all my storage needs.
Great and convenient place
Christina was sooo helpfull and friendly. All around great place. Super clean. Secure. I love it.
I love Christina. She's so funny and nice
Christina rocks!! Go get your vacation you earned it
Christina was extremely helpful in dealing with me as a new customer. I was most impressed with the maintenance of the facility. I highly recommend Public Storage!
Christina is so nice and sweet! She was super helpful!
Loved my experience here Unique was a awesome person and had awesome customer service! She made the experience simple fun and comfortable. She was truly awesome!
I love coming here when Christina is here. She has the best attitude about her job.
Amazing costumer service. Christine the manager is knowledgeable and sways pleasant.
Christina is very nice and very helpful!
Very clean property. Christina was great
Very clean property Christina is awesome
Christina is awesome great customer service. Very clean property
How much for rent per month
Christina was very helpful and friendly. Storage Unit was clean and the facility was also. Prices seemed far.
Christina keep the property clean
Helpful, cheerful management.
Christina is always so nice and professional.
Christina runs this place like it needs to be, very friendly, very matter of fact, and always willing to help assis! Communication is important, and she really cares about her customers she goes above and beyond.. thank you for being with public storage! Clean property, safe, good access hours and convenient location..
Great Storage Facility. The Staff Is Really Helpful.
Christina is always friendly and helpful.
Shavasia, wonderful experience and very helpful.
Shavasia was very helpful, happy to show me around. I'm a customer now!!!
Christina is awesome very professional
Ver y crean property Christina ise superb
Shavasia is an epitome of a good leader. He does not need a title or a rank and leads by example and inspires his team to develop their leadership skills and serve their customers better every day.
Shavasia was amazing, everything was perfect. Im glad to be storing at this property.
Christina was extremely professional and friendly.
Cristina was very helpful and pleasure to talk too.
Gabriella is really helpful thanks for everything
Christina is great and was very helpful!
Christina is awesome, I love her!
Shavasia was super helpful with touring available storage spaces! She is professional and courteous. The property is well kept.
Shavasia was absolutely delightful! Very professional and Courteous ! The property is very clean, she showed us our unit , gave us a tour and was very informative about the property. Definitely would recommend this place to a friends and family!!
Shavasia was well informative to any questions I had. Very nice and helpful from the second I walked in to me walking out of that office. Towards the end of me checking in there were no other questions I had left. Shavasia's attitude and professionalism is definitely one to keep me returning as a customer.
Christina is incredibly helpful! She is knowledgeable and made the registration process a breeze. She has such a warm personality and is so hospitable. The grounds are secure, very well kept, and CLEAN. Accessing your unit is easy and seamless. Definitely happy with my choice!
Very friendly very nice very good . Made my reservation online last week got what I needed no hassle, no issues!
At Store 23109 Shavasia ...This young lady has the MOST IMPRESSIVE PERSONALITY... OF BEING PROFESSIONAL AND FRIENDLY SHE IS A DELIGHT TO BE AROUND.
Store 23109. Shavasia was amazing! She clearly explained everything to me and made the process easy and painless. I would recommend Shavasia and public storage to anyone!
Shavasia for store 23109 was awesome and so helpful!
Christina and shavasia were very professional and get to work with!
Friendly staff and a very clean place
It was super neat the manager was very helpful had a great experience 👌🏽👌🏽
Place is very clean and very nice people. love it.
Always friendly, always safe
Christina was fast and professional
Very nice and welcoming employees.
Impeccable space! Cleanly and great service from Christina :)
Christina site manager(2018) improves this establishment with her quality and delightful customer service. Shes beyond competent to operate this facility properly and smoothly for all with her plethora of accurate info. The hostess makes or breaks my opinion of the Napa ca industrial way facility. It's lovely having her friendly personality on-site, she creates an atmosphere of five star hospitality & professionalism. Facility is upkept nicely
Christina was amazing she got me in my storage really fast and it was very clean and safe to keep your stuff I am very pleased.
Christina is very professional and friendly. I highly recommend storing here.
Came in last minute looking for a storage and Cristina was quick to find me a unit and got me set up super fast
fantastic and amazing customer service so far beyond what we were getting before Christina showed up. she's absolutely wonderful!
Great service. Thanks Christina!
Friendly and clean. Nice place to store
Christina did a great job working with us to get the best deal and thorough explanation of policies. Great place!
Wonderful expierance, very helpful and quick expierance.
Christina is so sweet and very professional.
Christina was great to work with! She took her time to show me different size units and helped me pick the one that would work best for me. I definitely recommend this storage facility.
Christina is a very nice person and helpful.
Great customer service verry friendly
New customer and very happy with my experience and i will recommend public storage to my friends .
Christina was very efficient and knowledgeable. My experience was quick and easy.
Great customer service! Very clean facility. Good location. Would recommend!
Very helpful and friendly office staff
Very clean, professional and secure. I thoroughly enjoyed talking to the manager and feel confident my things will be kept safe. 5 stars all the way!
Desiree was awesome, excellent customer service. Thanks !
Good quick service! Thank you!
New customer and very happy with the nice people and excellent service! Was taken care of by Assunta, who also was super friendly and helpful!
Christina was awesome! She gave me the best deal!
I was treated cery fairly. Christina was very nice. She was very cool.
Very efficient check in, amicable front desk staff!
Super easy setup, very friendly associates!
Quick, easy and efficient with a good location.
Manager Chistina is an awesome person.
Good service. Easy access, secure storage.
Christina is great . the place is great.
Christina is so helpful and keeps the place clean.
Christina Is great and getting set up with great customer service made things go by smooth. I recommend this public storage .
Christina was totally awesome!
Christina is the Queen of Storage. Runs a tight, clean ship. Considerate and kind. Thank you
Love this place Christina is an awesome manager, and she maintains the property very well..
My experience was easy and smooth. Keiara was informative and professional and her customer service was excellent! Property is clean and safe.
Christina is doing a great job with this place.
Clean facility. Convenient location. I couldn't be happier with Christina's customer service!
Excellent customer service the manager is a wonderful attendant
Keiara was super nice and very easy to talk to. Great doing business with her.
Christina was extremely helpful in getting a storage unit set up for me. Excellent customer service and would recommend to everyone!
Christina was very fast and great service
Fantastic service, clean property, great location
Christina was very professional and nice. She had a good attitude and knowledge of her business. Thank you Christina! Hector Alfaro
Quick simple and easy process. Management is very nice
The on site manager was awesome. Extremely friendly (in a good way). I would recommend this place to anyone!
The process was easy and quick. The Manager Christina was a huge help in the decision making and explanation of the property, the rules and paperwork. Although the rates are a little higher than I anticipated, I do recommend this storage place.
Service was amazing! From the moment I called the 1-800 number to the speedy follow up by the property manager, Christina. The walk through and the set up was super quick and thorough. Great service!
Christina was awesome! Glad we picked this place. She made our experience seamless
I was supposed to do this yesterday. Sorry christina. Christina was very funny and helped me so much. When I'm ready to move I will go here.
Awesome Customer service! They always work with me when anytime I need extra time paying or with my unit. Unit always clean the.. Dominque is very helpful along with Jennifer
Amazing management by Jennifer
Jen always provides great service!
Went in to pick up boxes and other material. Jennifer was super helpful and accommodating.
Ana was a horrible manager constantly threatening me she was going to kick me out while others stayed for long periods of time. I was limited to how many times I could visit my unit as I was paying full price, the same as everyone else. I was being targeted because of my disabilities from the very begining. The owner never returned my phone calls after law enforcement went through my unit with out my knowledge and they never notified me. Horrible place to rent from. Will never do business there again. Ana the site manager made me write a good review to stay in the unit, which I am now telling the truth about. She has now transferred to a different storage site. Site owner is not responsible enough to store my belongings there. Thanks for not returning my concerned phone calls.
I have used this public storage twice and still currently. Jennifer Binder who works there is amazing and always very professional. I wouldn't go anywhere else! Keep up the good work!
I've been renting a storage unit here for the past 6 months. They just upped the rent by 18% without any warning. Would not recommend for long-term storage.
Fantastic Service - Great solution for storing wine. Oria and her team are very professional and great
Very friendly and helpful. A define recommend.
Jennifer was fantastic, couldn't have made this transaction any easier. Highly recommending this place because of her.
When I visited Public Storage I was met by a clean facility and a very friendly property manager. Despite it being her first day on the job with no help she was able to answer all of my questions and make me feel confident in storing my possessions on the property. 5/5
Dominique and Wendy had excellent costomer service, they care for my needs, fast and easy services thanks ladies
Anna is sweet. She helped out in any way she could. A very pleasant person. Always had a smile on her face.
Rented here before and i came to paid for my daughters unit and manager Ana is awesome i really love this place, and is safe too..
Great customer care and very well maintained
I am renting here and the service is great Ana is such a helpful lady i must say i have rented other places and it is not as good as public storage
Hola soy cliente de esta tienda y la manager Ana es muy amable y muy eficiente estoy muy contento con el servicio.
Great people great place and she remembers you!!!!
Estoy rentando un storage en napa desde mayo del 2012 la manager ana es muy eficiente conmigo dispuesta a ayudarme en lo que necesito
Ana provide an excellent customer service. Property always clean. I'm very happy renting here.
GREAT CUSTOMER SERVICE!! Ana you nd your team do an awesome work
Ana is a amazing ... I had my stuff with her and always feel great !!
Este lugar está muy bonito, limpio y seguro para rentar o comprar todo tipo de cajas y cosas para mudanza lo recomiendo a todo el que necesite un storage. La manager Ana es muy eficiente y amable y dispuesta ayudar en todo gracias.
i recently had to put some things into storage i ended up at public storage in Napa they were professional and courteous with out the rigid feeling of survalence yet i felt my things were safe i will recomend Public storage to friends and family
My stay here has been very pleasant. Anna has been a very big help. She has helped me in some major ways. Also wendy! They have made me want to referral others to this storage. And they offer amazingly awesome customer service.
What a delight to go into the office and be greeted by Ana. She will call in advance as a reminder of due date of payment. The property is always clean. When I was looking to move into the Napa property from San Francisco, It was helpful to have Ana show me the different available units. She did not make me feel rushed and stayed late for my appointment. She is a real asset to Public Storage. She keeps it fresh and welcoming.
My name is Cesar and i love doing bussiness with Manager Ana she is great and who ever needs storage needs or packing supplies this is the right place. thank you. Ana you're the best.
Ana was very helpful and answered all my questions. Thank you for great service
I rent for public storage. Ann has be the best onsite management and a wonderful person to me
Excellent customer service , my mom rents a storage with this company and by far Ana has been the best manager who knows us by first name and is excellent with getting the job done quick!
This property is always clean and has very nice staff. The staff works well with me in all my needs of storage. They dont raise my amount after so many months like other storage units do. Thanks to Anna n her staff for making me feel so safe whenever I come to pay my bill or use my storage. Have a great day!!
Great and excellent customer service from this property Manager is very nice
Ana made me change my mind about staying with Public Storage. If it wasn't for her I would have ceased doing business with PS a long time ago. She gives your corporation a great public face.
Vine a rentar por 6 meses y es un lugar limpio y seguro el personal muy amable y tiene mucha paciencia dando informacion muy completa en especial LA EMPLEADA ANA!!
Went to purchase some boxes and manager gave me a good deal which save me a lot because I got 30% discount. Great place to go buy packing supplies and place looks trustable to rent too. Thank you.
I have had a storage unit for almost 20 years, and had to change locations a few times due to poor management. I have had storage unit managers that did not ever no my name, did not care to maintain their facility, or act grateful for my business. Ana has known my name from day one and has gone above and beyond what I feel her duties are. She insures a good rental experience and provide the secure feeling that's my property is well protected . I had not locked my unit properly one day - and that same evening she called to inform me of this - I am very grateful for her attention to detail and her commitment to safeguard the property. Ana is very personable and always available - if you want the best person to entrust with your storage unit she is the person to talk to!
Estamos.muy.a.gusto.con El.estasionamiento.y.con.la.persona.que.trabaja.ai
This place is great to store your belongings specially customer service is a plus Ana and Wendy are great in everything. Thank you
I came to this place checking for a storage unit manager Ana was Not only efficient but she was also very knowledgeable in what exacly I need for my needs. She is friendly and always has a smile on ver face. I will definately check this place for future needs. I bought three boxes for her. Great placer to store your things.
Storage attendant has been very helpful and welcoming. Area is clean..restroom is always clean and available..highly recommended for storing. ..Much as gracias Ana..Thank you for all Linda Aguirre
Ana at this facility is the best. If you need storage go to this location. Thank you.
My name is brenis my english is not too good but the managers at this place deserve 5 stars not only they speak spanish but also because the customer service is very good . Thank you.
My mom is renting a storage in this location and she loves how the manager has contact with her and everything.. I recommend this public storage for people that need a save place to keep their things save.. and its a really good price too..its a secure public storage.the manager is really nice and sweat
visited this location inquiring for moving supplies and manager was very friendly proffessional and gave a good deal on buying 35 boxes and gave me 15 free I believe was 30% off that was a great deal and ended up buying a few more items bacause of her advise on how to pack my stuff. She definately know how to run her bussiness Thank you Ana.
Great customer service at this location..very friendly staff and clean property too.
My Dad is being renting at this location for a while and he definately like this location specially because of service the manager on site provide..she is awesome and my Dad Jaime Chicas is happy renting there. We going to recommend this experience to who ever needs space.
I visited this location inquiring information to rent a storage Ana was very helpful by giving me the right size and affordable price. She is very professional and efficient person. Always has a smile on her face and I will definitely come back to rent with her and will recommend to all my friends as well.
Anna is excellent great service!!
Very happy with the customer service. Friendly helpful advice.
Un lugar Muy conveniente y limpio, La Manager Ana Es Muy amable, recomiendo este lugar a todos los latinos.
Ana is helpful and ready to help with anything she can the yard is always clean too!
My friend told me a couple weeks ago to went check some storages places in Napa Valley because he wants to move there in a few weeks, so ended up calling the facility and a lady named Ana answered the phone and she was very helpfuly by giving me suggestions about picking up the right size for my friend also she told me to check google if I would like to search for customers feeds back about her facility and I was very glad to find out how great her customer service is that I ended up doing one review for her as well. I will definately call Ana when we are ready to rent.
This place is good, clean and secure specially the customer service that Wendy and Ana provided me with.
I went to check out this facility with my Mom because we are gonna be moving soon, my Mom and I were so glad to talk to manager on site because she gave us an idea of what size we will need,she even showed us a couple of units and all details about how much we will need to move in. She was very professional and efficient person, property looks great and secure, for sure we coming back to Ana when we are ready to rent or if you need packing supplies they also sell those as well.
Love this Public Storage. Great place for anyone who needs extra space to store furniture, clothes, appliances, etc. Love the Customer Service, always have communication with the women who works there. I had no issues nor problems. Honestly, feels like I've known the women who works there for years. I highly recommend this place.
Public storage was great! Units were clean, staff was friendly, and access to my unit was a breeze when I needed it. I would recommend it to anyone, especially for short term storage, as their $1 first month rent really cuts the cost of a short stay. I was there for a little over a month and ended up owing only 35 bucks!
I came to look at packing supplies and renting a storage unit and was helped by Ana. She was so nice and helpful, the kind of employee that I would want representing my company.
Great service with a smile! Very helpful and personal. It is like having a friend in the business helping me out with my storage issues. I always use this Public Storage facility in Napa out of all the choices I have.
Great place to for storage at a really reasonable price for a lengthy period of time. Really great service! I enjoy working with the people here very much.
Have been using this storage facility for over a year and have nothing to say but good things about it. It is well lit, secure, convenient, and has a most friendly and helpful manager in Ana. Not only does she remember my name every time I see her, but she always inquires about how my storage experience is and if there is anything else I might need or that she can do. While the spaces are not inexpensive, you get what you pay for--in this case a secure facility with excellent access, and a staff member who makes the process very, very easy. Two thumbs up!!
Best Service I've ever had in my recent years of being in the Public Storage. The service is great, always prepared, on the clock, no hassle, no complaints or any issues. Great place for storage especially for families. The women who works there is always positive and happy to help me which makes my day. There should be great customer service like this one in other places.
Ana was great. I've been around other storages their customer service was lousy but she was friendly remembers my name and even waves at me when I pass by the gate. The other staff is also very friendly and not mean at all. I really like it here.
I am really happy with the customer service at the Napa Facility. The manager, Ana is great. She is really friendly and helpful. I have been there for a little over a year and she has deffinetly shown trustworthyness. The facility is very clean and secure. This is a great place to store your things! I would deffinetly recommend Public Storage on Industrial Way in Napa. -David C.
Ana was awesome. She really helped me decide what exactly I needed and is super friendly. She remembers my name and waves when I come through the gate. Customer service is huge in my book and this place got my business. Thank you.
Ana was amazing!! I had visited 3 other storage facilities in Napa, and was very disappointed. Ana was a great help in a difficult time... thank you
Every time I go to this site they greet me with a smile. They are very polite and professional. The premises are clean and well maintained. I will strongly recommend this place to people who are looking for storage space.