Public Storage Self-Storage Units at 33275 Antelope Road, Murrieta, CA
Address
33275 Antelope Road Murrieta, CA 92563
Property Open
Mon-Sun 6:00 AM - 9:00 PM
Storage Facility Features
Indoor & Outdoor Storage Units

Small, Medium & Large Storage Units
---

10'x5'

Outside unit

Drive-up access

---

10'x20'

Outside unit

Drive-up access

Outside unit

Drive-up access
Nearby Self-Storage Locations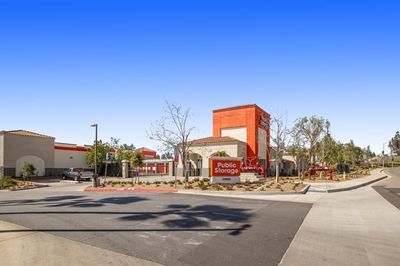 Self Storage Near
24905 Whitewood Road
Murrieta CA 92563
Self-Storage Near Murrieta
Resources from the Help Center
See what fits in different storage unit sizes
Murrieta Storage Units Near I-215
Storage units in
Murrieta
are located just off the Escondido Freeway at the Scott Road exit. Indoor storage units and outdoor units with drive-up access are on-site in a variety of sizes. Just look for our Public Storage Orange rollup doors for self storage not far from Diamond Valley Lake's fishing and wildflower trail, Canyon Lake, and Lake Elsinore.
Small Murrieta Storage Units
Oak Meadows Elementary School families and neighbors looking to declutter can store everyone's recreational gear in a
5x10 storage unit
for play at Spencer's Crossing Sports Park. Behind the athletic equipment, golf bags, kites, hiking gear, picnic coolers and fishing tackle, store holiday decor and off-season garments.
Medium Murrieta Storage Units
Sonoma at Mapleton residents and others sharing a place nearby can store duplicate furniture in a
10x10 storage unit
, including couches, coffee tables, dining sets and extra kitchen ware. It's a great way to keep common areas uncluttered. Bike storage for the whole family is another option for these square storage rentals.
Large Murrieta Storage Units
Homeowners around Liberty High School planning a remodel can store five rooms of furnishings in a
10x20 storage unit
. These large storage rentals can accommodate the contents of a three-bedroom home if you are between residences or new to Murrieta and still house hunting.
Murrieta Public Storage has indoor and outdoor storage solutions to fit a range of needs.
If you are still looking for the right self storage, we have plenty more storage units nearby on
Whitewood Road
.
At this Murrieta Public Storage you'll find:
Indoor storage
Outdoor storage
Drive-up access
Electronic keypad entry
At Public Storage, You'll Always Find...
Keypad Access

Friendly Staff

Month-to-Month Rent

Moving Supplies Available

Free Parking

Well-Lit Facilities
Reviews
( 485)
Chanel was a joy to work with and was very helpful in providing the details in all available units. Her personality shines through and makes what is just a simple rental unit experience one to enjoy and smile through and through.
Staff is very friendly and helpful.
Chanel here at the Antelope Rd Public storage is phenomenal. Very communicative and helpful ! Not to mention her great energy and passion to help. Very grateful for her making my experience nothing less of wonderful at public storage space! I highly recommend this location. The storages are very clean, true to size & they have dolly's to move your stuff also !!!!
I've been with public storage since early this year, and they have been nothing but great!! Outstanding customer service! Especially Chanel, who's been quick to respond and accommodating!! Thank you for all you do!!
Chanel was very helpful at helping me pick a size for the stuff I was storing. She was very nice, professional and made everything so easy!
Chanel is absolutely amazing! Great customer service, extremely patient and understanding. I couldn't thank her enough for all she has done for me. Thank you!!
Chanel is awesome I highly recommend coming here.
Great service, care and thoughtfulness.
Thank you Chanel for being helpful and friendly. I hope you have a great day!!
Great Facility,And the staff here is amazing!! 5+Stars
Nice young lady, Chanel was super helpful. Answered all my questions and went above and beyond showing me the ins and outs with storage tips was patient with paperwork. Very nice customer service.
I really enjoyed the service through this place. They were very welcoming and helped me thoroughly with all of my questions. Chanelle was extremely helpful. I got set up in a locker extremely quickly after entering and I hope to always have this much ease and good customer service with storing my items in the future
Amber was an amazing help to me today. She was patient, understanding and kind. She listened very carefully to everything that I was communicating to her and was able to successfully and professionally accommodate what I needed given my very pressing circumstances. She has a solid understanding of the business and showed to have a great work ethic. There is no doubt in my mind that she is a great asset to Public Storage. I hope the Public Storage executives appreciate her hard work and dedication.
My unit and 10 others were broken in to I suggest you keep your valuables at home and only store stuff you won't miss.
I was hot I was tired and I really couldn't just not have good service and I was pleasantly surprised when Chanel the office manager at Public Storage was available to treat me like I wanted to be treated very quickly very efficient and it got me in got me out so I could just handle my business and be done with it I really appreciate her expediency thank God for Chanel
Clean facility. Chanel has good customer service.
I've had my unit there for almost a year. The manager at Antelope Rd, Chanel, is always super nice and very helpful. She cares about us customers and looks out for us like as if we are her friends. I'm usually late on my rent and she's who I always request to speak with because like I said, she's super nice and takes care of me. Thank you Chanel for being so kind and always looking for us.
Chanel was so great and pleasant to work with!!!
This Facility is amazing it is well kept Chanel has always been so great with any issues that have come up and been able to help me I am so glad we choose Public Storage especially this site just perfect.
Very nice and clean facility. Very affordable and easy to move stuff into the unit. Great customer service. Chanel the manager was very friendly and helpful. Glad I found this place.
Chanel at Public Storage was a most enjoyable experience, in customer service and professionalism. I chose them in addition to the great customer service, but also they are centrally located and easy on and off access from the freeway. The place is clean and quiet. They also have the best rates in the city. I would recommend Public Storage in Murrieta on Antelope road to anyone who's looking for storage units.
Chanel is awesome and always helps me. Thank you again
Chanel is so much help ! Has the greatest attitude & personality .
I'm moving from El Cajon (San Diego) to Winchester CA . Finding storage sight unseen was scary. I spoke with Chanell originally and she was SUPER helpful and kind with helping me find the best way to reserve my storage unit. She saved me $$! July 1 when I was scheduled to move in I had to find the location in an area I was un familiar with. I called while on my way to the storage I wanted to know if someone would be there to help me, guide me etc. and Amber who was working, but due to leave before I arrived,waited 30 min for me to be sure i was comfortable with the process. THAT IS GOING ABOVE AND BEYOND in customer service! Thank you Ladies! Your help these last two days was priceless!! and my storage unit is clean and perfect!
Channel was of great service to me and my family Very informative about the storage unit I rented. She continues to be of great service to me.
Amber is very helpful, whether it's in person or a question over the phone she's got it covered! Overall great experience here.
Chanel is awesome and always helps me out. Great facility and always clean
Came into check out prices Amber was very helpful with information.
It's a very rare occasion in todays world when I come across such excellent genuine customer service like I did with an employee at the front desk by the name of Channel. She truly gave me faith back in the human race regarding her attitude and willingness to help me resolve my account issues. It was a delight to engage with a person who has such a great attitude and desire to help. She is a gem and I hope Public Storage knows what an AMAZING employee they have representing their company. As the saying goes: "The front desk is the director of first impressions" and it doesn't get any better then her! Thank you Channel♥️ Elizabeth Crawford Customer for over 5plus years
Chanel was so sweet! I went in to get the perfect storage unit for our belongings and she went above and beyond to help us. This lady deserves a raise! I see her working hard sweeping and cleaning and making this place great for the customers.
The manager Chanel is by far the best Manger at any storage place I have been to. She is so friendly and really cares about customer service. I don't even care about rate increases because the service here is worth it.
I got a pretty good rental rate. The manager Chanel is very friendly and helpful. The location is near the freeway which is pretty convenient. The restroom is always spotless
Chanel was amazing!!! Our unit was much cleaner than the last storage place we rented from as well big plus!
Miss Chanel, I can't tell you how much I appreciated your calming presence and caring personality. I went just to pay for my storage but I left with much more. The day I saw you was a heavy day for me and somehow you could see through my tough persona. Your warm soul could light a room in complete darkness. What a beautiful woman you are. Thank you for your spirit. Public storage is lucky to have you. U Are Destined For More. Til we see wach other again Whit
Amber made the very annoying moving process smooth and fast. I had my unit in 5 minutes.
Amber was the best!! She went out of her way to come to a different location to make sure we could get a unit that day since no one was working at this location. ABOVE AND BEYOND!
Chanel is the best, she is always so kind and helpful.
Best service ever, very knowledgeable about storage
Highly recommend this place. Chanel was AMAZING. She went above and beyond to answer all my questions and help me find the space I needed. She was a total sweetheart and even my daughter can't stop talking about how sweet she was. I'm recommending this place to family and friends.
I have some furniture I'm thinking about putting in storage so right now I'm just interviewing different places but after talking to Chanel at public storage, I know exactly where I'm going to go. She was helpful, kind, sweet Knowledgeable, and professional. Public storage wins hands-down and everyone knows that it's not the company it's the people that work for the company that makes a big difference
I helped my cousin locate, move and store her belongings after she had an unforeseen "hardship"... I called & visted a few other facilities before I got to this storage facility. The property manager, Chanel, was EXTREMELY helpful, patient and knowledgeable... she showed us what size she needed VS what we thought she needed. She made the process so easy and effortless (as it could be in the situation). This location was well taken care of, clean, secure and affordable. We are absolutely happy & thankful that we came here.
chanel was very helpful polling she showed me the storage space and gave me all the info I needed.. thank you gurl...
Chanel has been the best help thanks to her I was able to store my stuff safely and know my stuff is in good hands!!!
Chanelle gives the best customer service. She always greets me with a smile, and she helps me in anyway she can.
Staff is always helpful, Chanel in particular, between moving units and keeping stickers on our locks her customer service always goes above an beyond. Also has a great smile!
Chanel is such a sweet, dedicated employee. She gets 5 stars from me!!
Had a great experience at the Antelope Location. The front desk person was very knowledgeable and friendly, think her name was Shannel. Facility was clean
Highly recommend. Chanel was exceptional!
Chanel is an amazing property manager. She is kind, patient, empathetic and trustworthy. Thank you for your outstanding customer service and support.
Cheney is awesome, thanks
A lady by the name of Chanel really went out of her way to help figure out what I really needed. Honestly one of the best service experiences I've ever had. Thanks again Hun 🤘
Friendly service. Clean facility
I highly recommend this storage units. I called to get information and prices about the units ,staff member Chanel was excellent , excellent communication skills with her customers ,perfect personality very kind and very professional spoken. Explain prices and location of a units to a T, this is the reason for my five star.
If your looking for a safe and secure storage with actual people, like Chanel, you can talk to, this is the place. Thanks Chanel for helping me out with the setup process. Woohoo!
The best location for storage in Murrieta!! Channel is awesome and very helpful! Highly recommended! 10 stars ✨
Great service from Chanel, she had a lot going on when we arrived but still provided us with exactly what we needed quickly and efficiently! Thank you!
Chanel is out of this world! She goes above & beyond to help you, has amazing customer service skills, & is extremely professional. I highly recommend you have Chanel help you with all your storage needs. Will be telling all my friends & family to come here!
Shout out to channel for always helping me! She's the best.
One of the best places to keep your stuff safe and stored! The staff is friendly and amazing! Shout out to Chanel who helped my family and I through a difficult time!
Professional is the only way to describe your team. The facility is always spotless and the employees are always helpful and courteous. I had a few problems with the automated billing, but Chanel took care of everything right away. Very Knowledgeable and professional staff. 10/10 will recommend
Channel was a great help in explaining the differences on the costs and sizes of each unit... also very friendly
Had a very pleasant experience! Amber was patient and helpful!
Just wanted to say that Chanel was great! She was so nice and helped us find our storage last minute and glad they had one open since we are moving end of month. She was super helpful and honest. Also, her calmness was a plus! Highly recommend this place. It's a little pricey, but its a convenient location for us.
I had the best experience with Charel at Antelope Public Storage in Menifee. She was very informative she help answer a lot of questions I had and I feel this facility is very fortunate to have her representing there company.
Chanel was awesome. She was very helpful, knowledgeable and very personable. Public storage must be proud to have Chanel represent the company! Thank you.
I have used public storage many times over the years, at various different facilities across California. The local staff in the Temecula valley has been the best so far, Chanel is a rockstar, very attentive willing to listen and eager to be helpful. Facilities are in great shape, and it's always been neat and clean every time I stop in to find something I have buried in my storage. I would definitely recommend this outfit your short-term and long-term needs.
We are so big into Halloween, we had to make the decision to get a storage unit for it. We walked in to see if it was the right fit for us and Chanell was amazing at helping us with our decision on a storage unit. She sold us to come here. She went over and beyond. She was very friendly and accommodating to us. If I could give her 10 stars I would. Thank you so much for help!!!!
Channel is awesome. Thank you so much for all your help and care. She made everything is so easy and very helpful. I definitely recommend.
It's kewl Chanel is very helpful, especially navigating the website
Amazing!!! One happy customer
Great company always keep it safe👍
Chanel is literally amazing!! She works so hard and is so friendly!!! I was shocked she doesn't own the place! Thank you for helping me with all my questions and being so friendly!
The staff is awesome . Chanel has always been so helpful and nice . Helped me find the best option for what I needed . Highly recommend.
Chanel was very helpful, fantastic customer service, went out of her way to help me. I would also like to mention she has a great 😊. I would recommend this Public Storage.
Chanel was amazing! After having a horrible experience at the last storage I came here. She helped me with an amazing attitude. She explained everything very clearly and she even helped me when I was having lock issues with my storage (user error). Every month when I come in to pay my bill Chanel is friendly and always willing to help. Overall this is a great storage facility and I highly recommend her and the company.
The management here is some of the best I've had the pleasure speaking to. Polite, kind, and go the extra mile.
Chanel has been amongst one of, if not, the best in her field. Her kindness, eagerness, and helpfulness is exemplary in this day and age. An asset to anyone in need of storage. Just short of helping me unload my unit into her facility, I couldnt have asked for anything more!
I called inquiring about location, prices, and options. Chanel was able to answer all my questions and treated me with the upmost respect and caring attitude. Highly recommend and if you get a chance talk to Chanel she will brighten your day
Chanel wass professional kind and courteous.. The move away from California was hard and we didn't have a lot of options of where to store everything but she helped us find the perfect size storage unit and made things easier on us during this transition in our lives.
Front desk rep AL was very knowledgeable and polite. Exuded great customer service. Helped my husband get our storage unit with ease and lifted our stress level from continuing our search. We are greatful for AL. Thank you.
Thank you Chanel for such a professional, friendly and awesome experience. Thank you for accommodating our storage needs and fixing the issues we were facing. We look forward to doing business with Public Storage because of your great customer service.
Clean storage. The prices are reasonable. An the manager Chanel is wonderful, very kinda, and on point with the information that was needed an provided. Thank you!!
Chanel was amazing in helping me select the right boxes for my move. She was very friendly and was a big help. Thank you!
Chanel was very helpful. I had my unit for 3yrs before closing it. Very clean property, prices were ok. Thank you
Chanel was the person who helped me. She is really hands on, and took a personal interest in my problem. I was impressed with her professionalism and she knew the system in order to make sure I was happy with my storage needs. I would highly recommend this particular storage spot, and Chanel specifically. Thank you! 😁
Customer service is great
Great customer service. Thanks Chanel!
Great customer service from Chanel. Quick easy and reliable. I was in a jam and was taken care of. Thank you
Not only is this location super convenient in location the customer service is out of this world. The good price brought me here but Chanel their employee will keep me coming back, she was so delightful and helpful with my unit. Thanks Public Storage!
Best experience ever when dealing with this place, Chanel was the most helpful manager I've ever encountered in any type of business transaction. She was smart, knowledgeable and very kind. She absolutely loves her job. I wish I could interact people like her in every business I walk into.
Chanel was so helpful. Very good with customer's. Always a pleasure to work with her . Thank you Chanel .😊😊😊
Big Al was super helpful and friendly. Made for a great experience.
Al was a huge help! He provided us with all the information to choose the right unit for us! We'll definitely be referring family and friends to Public Storage!
I was quite pleased with tha help I received from Chanel she was very pleasant communicated well and met my needs for storage Thank You public storage for having employees that go the extra mile Tnx again Chanel👍😎
Channel she is best service
I had a great experience at this place. I spoke with Chanel and she was very kind and helpful!
I put a hold on a unit and was given 2 weeks to get my plans in order. I finally secured my mover and move in date. The hold was supposed to be until Feb. 22 and today Feb 16 they called to inform me the unit was rented out to someone else and they have no others in the size I need. Do not be lulled into a sense of security with these holds. THEY MEAN NOTHING TO THEM.
We came in looking for storage and Chanel assisted us. Very Friendly & knowledgeable and took the time to show us different sizes of storage. Finally we choose one and started the rental process and she was very efficient. The following day we started to move our stuff in the storage and she saw us, she came over to say hello and check in on how we are doing and if there is anything we need to just let her know. we really appreciate that! Thanks Chanel.
Chanel was very helpful and professional. I'm looking forward to coming back
Came in with some questions and the gal that helped me, Chanel, was excellent. Friendly and helpful and was able to get me the answers I was looking for. The location is nice and clean, plus not to far from where I live.
This facility is immaculate and the prices are very reasonable. The customer service here is everything!
Good service done by Chanel!! Smiling, friendly, and Knowledgeable about what she's talking about!! Thanks Chanel for the good work!!
I couldn't get an answer from management and the office staff was untrained apparently because I ended up paying for 3 storage units last month because they couldn't figure out how to transfer me. I. Still waiting 3 weeks later after paying over $700 3 weeks ago when I only needed one unit wich should have been $216. It's ridiculous there are not more options for storage.
Enjoyed the experience as much as one can enjoy something mundane. Shout out to Chanel for making my day a little brighter with her great attitude.
Chanel was great. Super friendly, helpful and informative!
Chanel Greeted me With a Smile. She Was Very Knowledgeable and Able to Help me With all my Questions. She was a Great Help.
Chanel is a wonderful employee and knew everything to help me adequately find the right unit. Very rare these days are the above and beyonders! Would recommend highly
Chanel provided me with great service.
Great location! Chanel was very knowledgeable, polite and helpful! Keep up the great work!
Al was extremely helpful in getting me all squared away for my move and with storage. Means a lot especially being a veteran its always good to have your stuff locked away and secured. Thanks boss!
Excellent choice for storage. Great pricing and sizes to choose from. I also had some personal concerns regarding restricting access. They were super accommodating to my needs. I worked closely with Chanel in particular. She was super helpful and understanding of my particular situation. I highly recommend them and specifically working with Chanel if you have the opportunity. 10/10 Thanks for the excellent service!
Great customer service! Chanel was very helpful and sweet. Our unit was prorated and was upgraded due storage unavailability that we reserved, but the price stayed the same.
Chanel was super helpful. People like Chanel make a difference. 11/10 for customer service.
Great storage facility and very convenient location. I have had 3 different units there while we are waiting for our home to be finished. The other day I was in a pinch we were having appliances delivered and I realized there was no way they were going to fit. I am very grateful Chanel was working she helped us upgrade to a larger unit very late in the day. Thank you again Chanel! I highly recommend this facility to anyone looking.
Super clean and nice looking facility and great customer service, Chanel made things super easy and has great customer service 👍, I highly recommend this place to anyone looking for a storage facility.
Great service! Al is super helpful! Definitely recommend
Service was great it was quick clean and efficient. The units were well maintained and staff was really helpful especially Chanel. She really made sure that all my questions were answered and everything was taken care of. Very happy will use this location again.
Very clean and super friendly staff. Chanel was very helpful and walked us right to our unit. Move in and set up was super easy!
Thank you Chanel. Great customer service and a pretty good facility. Definitely glad I stopped here. Thanks again Chanel
I was pleasantly surprised at the level of honest customer service that Chanel showed me, she was forthright and engaging. Great experience i would highly recommend this storage spot and more so Chanel herself and her professionalism.
So ive dealt with many storage facilities for one reason or another and it never goes as well as you would think it should but coming here and dealing with chanel was a pleasure.....fast and easy and that's huge for me....chanel was friendly and informative....I highly recommend this facility and chanel
Outstanding service Chanel really goes the extra mile to help out she made the process so easy 👏 were do I sign
Great customer service. Also answered any questions I had. Appreciate the help Chanel.
By far the best customer service experience. I reserved a space online and needed to change my move in date, Chanel was super helpful with getting my date changed over the phone. Once I was able to make it to the facility I was immediately greeted by Chanel, she was extremely helpful and very informative. She showed me how to download the app and answered all my questions. Very satisfied with this location and my experience, Chanel is amazing!!!
Chanel is an awesome worker there. She went above and beyond to help me with a few issues I was having with my unit and I greatly appreciated it.
Moving is among the top of my least preferred activities, and finding a team to assist adds to the stress. Thankfully Public Storage helped put my mind at ease. Chanel was so kind, considerate, and patient with my endless questions. I feel secure knowing my valuables are in a safe facility with true professionals at my service. I HIGHLY recommend Public Storage for all of your needs!
Normally I don't write reviews. Especially if the service is mediocre, but today I wanted to take some time out to give thanks to Chanel for helping me make some important decisions in choosing the correct type of storage unit for my needs. I've never needed to rent a storage unit before, and Chanel was happy to give me the correct information I needed to make an informed decision on the unit. Thank you Chanel so much for your help. Really really appreciate it :)
Pleasantly surprised. Most storage places are pretty run down and the employees not too friendly. Chanel was very helpful and accommodating to find the perfect size space that I needed. There a lots of places you can store your stuff with, but I would come here again because of Chanel.
Found Public Storage to be very affordable and have a great helpful staff! Chanel was very attentive and was super sweet to my daughter.
I never leave any reviews but after my experience I felt I needed to. From the moment I walked in and was greeted from a very confident woman. Her name is Chanel and she is very polite and very helpful. She helped me with finding out what size unit I was going to need for my belongings. Also she helped with everything I needed to do to be able to access the unit. Chanel is very well versed on her job and is very knowledgeable on what to do. I couldn't of asked for a better person to help with a stressful situation I was having. I will definitely recommend this storage facility and Chanel to all my friends and family for there moving needs.
The staff are friendly and easy to work with Chanel was super helpful and found the best solution for my storage needs. The facility is clean and well maintained. 5 stars all day!
One of the best public storages I've ever been to was greeted with friendly Customer service and Chanel Made everything smooth and easy.
This place is awesome! Chanel was so nice to work with and made me feel really comfortable. It's a super convenient and safe location. Highly recommended!
Allen did a wonderful job of helping us get set up. Very kind, super informative, 10/10 would recommend!
I have been using public storage services on and off for years. My present place of encounter by far is the best. I've had the pleasure of working with some of the best members of your personnel. Though they present management team are new to me, they make me feel as though we've known each other for years. The kindness, patience and service is impeccable. Channel, with her bubbly attitude is such a delight. She always greets you with a hello and a beautiful smile. Her flawless service speaks for itself. She's makes sure everything is correct and to your understanding, always patient. Tyler has so much energy, and makes work seem fun. He is sure to make your visit to the site comfortable. You almosr forget you're at a storage center and not some place else. I enjoy our conversations as he is busy going to and from doing his chores. Together these two make an incredible asset to the establishment. They go above and beyond the 'call of duty'. They keep the establishment safe and clean as they go through the day to serve each party that comes and goes. It impresses me how well they remember customers by name and most cases where their unit is. I give them an A+, five stars. I even call them family. I'm well satisfied. I thought the former team members Donna, Jordan and even Aaron (another one I call family), could never be suitably replaced. The only thing I dislike is how the site managers are required to float rather then to be given a permanent site.
My name is Tyler, and I have almost never reviewed a business before. Today an angel named Chanel, made a very difficult situation for me, melt away. Her attentiveness and customer service skills were so impressive, that I immediately was assured not only of my own relief, but the relief of my ailing family. I had zero concerns from there on and she made a very problematic situation for me into a easy and affordable solution effortlessly. My entire family cannot thank her enough. Her acute level of knowledge was so keen, I literally thought she might be the owner, when I asked her, she very humbly told me she was in fact, not. I even tried to tip her for going out of her way for over an hour helping me with getting my affairs in order. She gracefully refused, but assured me that she was grateful and would do it anytime for me or anyone! What an outstanding professional! Well done Ms. Chanel and to the entire Public Storage Team. Ohhh, wait there's more! The facilities were immaculate, I could hardly believe it, it looks like new construction! It's a safe and well kept business, to whom I can only infer, yet confidently state the credit deserves to be placed squarely on this amazing woman's, nay, Queen's head like a crown. Well done Public Storage. I plan to do business with you for years to come.
Missing Ms Donna but very pleased with the exceptional work that Mr Aaron is doing. Ms Reginia is very helpful as well.
I came down to get a storage unit and Chanel was very helpful and eager to get me started?! They have very up to date security too which helps put me at ease. Go over there and have them help you out!
Chanel gave great service and I would definitely recommend this location based on my interaction.
This facility is clean and friendly they help people during this pandemic to make sure we don't lose our valuables and memories manager Carla and Aaron are very polite curtious always thank you both for all that you do good job
This place is super clean and wonderful staff🏆
Super clean facility, they are upgrading everything. I stopped in just to speak about pricing for automotive storage. Although I did not end up storing at this moment, I will be soon and I will be coming to this location. I appreciate the customer service I received and the bottled water. Thank you Carly
Good choice for offsite storage. Close to the house and rates are within reason. Staff is helpful and friendly every time we engage. The facility looks to be going through a renovation. Restroom access is always clean. Only wish they would add some type of drink machines for the hot summer days when heavy lifting can get the best of you.
Staff was great, friendly and professional. Site is clean and welcoming!! I definitely recommend this Publuc Storage!!
Very clean and safe storage facility. Staff is friendly and helpful. Great place!!!
manager was very helpful and the store was well kept , great work you have accomplished.
What a great place to store your things. Very clean and secure. The best part is the manager Cayla She is the best and knows what she's doing. I recommend this storage. Thanks Cayla!!
I just want to Thank Chantay for her outstanding job. This was my first time with public storage and she made it a smooth and pleasant experience. Thank you! Looking forward to sticking around.
I've been using this storage facility for a couple of years and think they have great customer service in office. Patrick is so friendly and helpful! I recommend this Public Storage location.
Great service. Patrick was so helpful. Very friendly and knowledgeable. Glad I came to this location.
Excellent service. Very professional. Will absolutely choose this particular brance again for my storage needs
Great Service. Great Facility. Carla was the best. She made the whole process easy, fast and fun. Awesome energy and we were done before I knew it. Thanks 😁
Chantay and Aaron have been ABSOLUTELY WONDERFUL!!! I have enjoyed my experience with Public Storage thus far...
Chantay is awesome, very helpful and friendly. Excellent customer service.
Recently came to this location and I was greeted by a woman named Chantay. She helped answers all the questions I had and her customer service was overall amazing. I would recommend asking for her when you come to this location.
Came from a different storage to make a payment Chantay help and very professional a assisting me to my needs Great employee
I have great customer service with Chantay everytime I have come. Great rates and everything is clean.
Buena atención recomendado 100%
I love the property , it's always clean. The woman in the office , Chantay, was very professional & nice.
It was great! Patrick was very helpful and friendly. I would definitely recommend this location. Thank you.
Great service! Went above and beyond to help assist me with my move. Aaron was amazing, highly recommend
I come to this location to make payments. Jordan was very helpful with everything I had questions about.
Place behind albertsons is very polite and friendly. Always willing to meet me in the middle wen returning equiptment
I always make my payments at this location and the guys here are always helpful.
Good place . People are so nice
Aaron and Jordan were excellent people they both recieve 5 stars a piece. Thank you both for all your Service.
Erin and Chante are very helpful! It was a quick and easy process :)
Jordan Gave terrific service. Was very informative and polite
Natalie was amazing. We've worked with her before and she is very professional and works hard to take care of the facility. Great work and a great place to put yourself
Great place, great friendly service!
I just emptied the storage there, staff accommodating, friendly and helpful. Thanks guys for years of service.
Aaron is very helpful they are located right behind Albertson
Aaron was very professional. Had everything already set up and ready before I came in. He was straight to the point, paperwork process went by fast. Had a great attitude, had great customer service.
Friendly unfussy staff very clean and safe and very comfterble when here
Jordan was awesome very helpful, friendly and quick. Looking forward to renting at this location. Thanks!
Natalie Jordan and Aaron were fantastic. Great service
Aaron was tremendous help. A little hidden behind Albertsons but well worth using. Excellent and clean facility
I Came To Public Storage Because i Was Moving in a Stressful Time. Jordan was the young man that helped me. He was very patient and informative and kept a Great attitude the whole Time. He made a Bad Experience a Good One. Thank you Jordan. I seriously recommend this place when looking for storage
Aaron was super helpful and always makes an intention to say hello when we are there. He asks how the storage unit is and always tells us to let him know if we have any issues. Truly a gentleman and very helpful when needed.
The staff here is excellent. Jordan does his best to keep the place clean and the customers happy. I really appreciate his attitude. He always seems to be a good mood. Location is convenient and the hours work for me too.
This is a notice to Public Storage to verify 30 days notice to vacate unit 496, effective 27 June 2000. -Thomas Payton
Natalie znd Jordan were great
Jordan, aaron, and Natalie were great. Clean place
Staff here is awesome without a doubt Arron made my whole experience easy and comfortable, a very professional young man. Hard to find tho as it is placed behind Albertsons. However well worth finding for sure. This entire place of business is clean well kept and almost every time you come you will see staff walking the grounds checking every lock etc. NICE PUBLIC STORAGE KEEP IT UP.
Places behind Albertsons. Aaron provides excellent custome rservice and property is always clean .
Really Great Service! Aaron Knight even lent me his umbrella so I could get to my unit in the pouring rain.
Awesome staff very helpful excellent customer service and fast service fully informative best storage I ever been too
Places nice and clean professional property manager Aaron help me out to get clean up stuff around and the property looks pretty good and he was prompt and being here when I needed him to be here will recommend public storage always
Aaron is awesome gave us even a better space for same price as a smaller one great to work with!!! very accessible property their behind Albertsons...
Jordan and Aaron are always there to help. Thank you would definitely recommend this location to others.
Jordan showed amazing customer service, the property was extremely clean and up to standers. I just wanted to thank him for assisting me when I was there.
Natalie is Great. Great Deals and service
Jordan & Arron were very informative about the property; assisted me with selecting the perfect unit for my things. They gave me excellent customer service ; they keep a beautiful property.
Prices are fair service was outstanding
Friendly and professional staff. Very helpful!
Jordan is absolutely wonderful, super helpful and great customer service!!
Natalie and Jordan were great
Jordan was a great help. For my storage needs. Thank you.
Jordan was a great help! The service was quick and easy.
Natalie was absolutely Great. Where would this company be without her
Aaron is a cool guy. Helped me and my family move into the storage. This place is very clean place. Super awesome!!!
Public storage in murrieta behind Albertsons is a great place to store and aaron the property manager is super knowledgeable and friendly.👍👍
Very convenient location!!
I always pay for my mother at this location. Aaron is a friendly, helpful and knowledgeable manager. I always enjoy our interactions.
Jordan was terrific. Very easy process
Jordan was very helpful. Thank you
Jordan was awesome! Fast and great service! If you ever need storage I recommend this place!
Aaron, was very helpful and patient with the whole experience from when I reserved online until the day we moved in. He communicated very well. It was very easy to find this location. I would definitely recommend this location to anyone.
Stopped to check prices on storage units
Just brought my stuff over here to public storage facility is very clean and secure. Aaron at the front desk is very professional and looks after the property. When we first came in our U-Haul truck it was kind of tricky to find it's right behind Albertsons but I highly recommend this place. Very secure very professional.
Excellent service with Jordan and aAaron always ready assist. Great guys!
Awesome prices and great staff thank you Jordan
Jordan and team were fantastic. Always helpful
As storage places go, it's storage. We did kill some spiders in our unit and the hallways were not as clean as other storage facilities we've had. The initial sign up experience was quick and the staff courteous.
Great location! Tucked out of the way and closer than I thought!
Jordan helped me out. He was very officiant and really chill. Made me feel safe to leave all my personal stuff there
Aaron and Jordan are just great in helping you with your storage needs. The place is really clean. They are located right behind Ralph's.
Good place to store your goods. Aaron is a great manager and easy to talk to :)
Aaron was wonderful in helping me get set up with a storage unit. Nice location.
Property is nice and clean. Aaron is a good manager :)
Aaron is amazing! He was very helpful, answered all questions I had. Nice.
Nice and clean storage place. Aaron really knows his stuff and provided great customer service. Online price for my space was cheaper than other places too. Will definitely recommend this location to others
Aaron was great! Very helpful, and personable. Very happy with my choice to go with public storage on antelope! Thank you Aaron!
Awesome spot great customer service and awesome specials Aaron is the best!
Arron was very accommodating and professional. Processing of lease went very smoothly and quick. The premises is very clean. I would highly recommend this PS facility. Kudos to Arron for a job well done. Truely a positive customer experience!
Best customer service. Very accomodating and we are very satisfied. Thank you, Aaron! :-)
This location is very clean and Aaron is an absolute pleasure to do business with. He's fast, friendly, and accurate. I really appreciated working with him. I'll definitely be back again in the future.
Aron Has Amazing Customer Service. Thanks For Always Doing An Awesome Job
Aaron keeps this facility EXTREMELY CLEAN, and what a down to earth, very helpful and professional guy.
Clean property and the process was very quick and easy. Will recommend for others
Great fantastic! Good job Aaron.
A great place to store goods, manager Jordan was very helpful and understanding and helped us right away. Would definitely recommend to others.
Great hospitality and service! Jordan was such a great help!
Aaron is an excellent manager and the property is nice and clean.
The property was clean and staff was friendly, would recommend to others that need a storage place.
I am not happy with Public Storage and the rate increase. I was increased by $22.00 monthly just recently. My storage unit is inside and I am seeing damage due to heat, it is suppose to be regulated to not have that happen. The money increases in the time that I started renting there, have accumulated to $70.00 more per month and they force you to take insurance.
Thank you Jordan for all your help on our storage unit! Very informative, professional, and excellent customer service skills!
Aaron is very polite. If I rent again it will be at this location.
space sizes cost availability
Nice place to keep stuff.
I regret engaging in business with Public Storage, at least at the Menifee location. I've witnessed 2 family friends who lost their homes, placed possessions in storage only to later lose them to Public Storage's greed. Their life possessions got auctioned for a few hundred bucks to strangers, very short notice given. Public Storage wouldn't negotiate payment on monthly rental and/or excessive fees owed, demanded all at once. If a customer can catch up with back rental monies owed but it's short to pay the fees added to the bill...why cant you grant a 30 day extension to come up with fees owed even if involves no access to the unit til acct is uptodate?. Are storage biz double dipping? Making profit at the auction and also declaring a loss at the end of the year? Aren't business transactions meant to be beneficial to all parties involved; or at least "protect" all parties involved? Time to get these line of business re-designed and impose stricter regulations.
Great customer service and people skills. Really appreciate the help from Jordan story.
Aaron and Jennifer are very helpful employees. The facility is clean and well kept.
Aaron was friendly and very helpful. Renting a unit was quick and easy.
Aaron keeps the property nice and clean :)
When I came in, Regina answered all my questions thoroughly. She was helpful and friendly! The property was clean and secure. I absolutely recommend!
Thank you to Jennifer! Friendly and helpful. Even though we won't need a unit at this time she treated us like we were all star customers! Definitely would recommend !
Very well kept and very clean. Friendly staff and got exactly what I was told about over the phone. Would definitely recommend this place to others.
Staff was professional, friendly and efficient. I appreciate the cleanliness of the facility and their rates are great!
Super quick and easy to rent a unit. Premises were very clean and staff friendly. Aaron was extremy helpful, knowlegeable, and a pleasure to do business with!
Walked into the place and got some boxes and tape. Aaron was a really nice guy and helped me pick and choose what I needed.
Aaron is awesome. Very kind and helpful to an old lady and keeps the property nice and clean.
Donna always provides good public service every time I come in to pay my bill
Donna gave us excellent service. Great customer service and got us set up quickly with all the info we need. Definitely a great place. Would highly recommend.
Donna is awesome and was very helpful and also got us a great deal we are first timers and we loved the experience we will for sure be using this storage all the time thanks Donna and public storage
Aaron was very informative and helpful! Made the experience great!
Donna helped me out and gave me all the information I needed!!
Excellent customer service from Aaron and Donna.
Donna was very helpful, loved the service!!!!
Donna is a proffesional nice lady that works hard and loves her job.
Thanks Donna for all your help!
Donna is very helpful taking my money each month for rent. She is such a nice person. My stuff is at another place but love coming here to pay great customer service
Donna was really helpful thank you!
Manager very accommodating and understanding. She also explained everything in detail. Great experience so far...
Donna woods was a great help would recomend it
Donna was great! Very thorough on everything you need for storage and very polite! Great place will always try to store my stuff here if possible 😊 thank you for helping us move and keep our items safe!
I Had a storage unit at Public Storage in Murrieta on Antelope. Great place to store stuff and the people working there are the nicest people in the world. Excellent customer service.
Natalie and Donna were amazing. Great service. Professional and facility is clean. Thank you
Natalie and Donna were terrific. Great service
Donna, Aron & Natalie all three are great when I come in to pay my bill.
Donna was so amazing at helping us get a storage unit right away with such a short notice. Super friendly, easy to work with. It's a really nice facility, really secure! I'm really happy we found this place!
Natalie was great. Fast service
Thanks Donna and Natalie.
My wallet was stolen on Saturday and Donna was extremely helpful in assisting me in explaining that my late fee would only be $27 and not some exuberant price. Keep doing what you do your understanding was greatly appreciated.
Donna helped me get storage on my very last day I had to move before I had to move out of my apartment!!! Thanks Donna!!!!!
Just finished renting here. Customer service was beyond amazing. Awesome experience from start to finish. Donna and Natalie are awesome. Wish more businesses had employees like them. Would definitely rent again. Thanks Donna!
Donna was very knowledgeable in the check-in process.
Natalie and Donna were great
Donna is nice to deal with.
Natalie AND Donna were Amazing. The Facility Was Clean and their service Was Great. Definitely Come to Rent here
Donna and Natalie were great
Natalie, Donna, And Aaron were Amazing. Customer Service was outstanding. They Actually Care And Try To Give The Best Service And Deals. Thanks
This place is awesome Donna was amazing
Natalie and Donna were great
Natalie and Donna gave fantastic servive
Found this at the last minute. Thanks Natalie for everything
Natalie gave amazing service. Quick and efficient
Natalie Rocks. Place was clean and has great Deals
Natalie gave excellent service. Highly recommended
Natalie was amazing. Great service and the prices at public storage are good. Thanks Natalie for everything
Natalie gave terrific service. Great job ALL the way Through. Highly recommended
Signing up with Aaron was quick and easy!
We've been a tenant here for 7 yrs and Donna and Natalie are the best. They're very helpful and the storage units are exceptionally clean. Couldn't ask for anything better.
Just rented here and the service was great. Donna And Natalie were super helpful. The facility was clean and the prices were great
Natalie and Donna were Great. Great service
Thank you Natalie, you're great to work with always!!
Natalie And Donna Are Terrific! Great Service. This is my Second Time Renting. I know I can trust Public Storage. Great service
Good customer services both Natalie and Donna were amazing
Natalie and Donna were very helpful. The service was great and the facility was well maintained. We've been to many storage places and Public Storage Rocks
All the Publi Storages are amazing. Natalie was sweet and kind
Natalie and Donna gave great service. Public storage is a great place to rent. They are always polite and helpful. Never any problems
Donna and Natalie were terrific. The price was amazing and the facility was very clean. Thanks Donna and Natalie
Natalie gave terrific service.
Natalie was wonderfu. Came in at the last minute and still helped me
Natalie gave terrific service
Natalie was great. Amazing service
Natalie was amazing great service
Very nice and personal! Thank you for your service!
Thanks Natalie. Great service
Aaron and Natalie were great. Fantastic service
Had a great experience. Getting a storage unit was actually s delightful and pleasurable process.
Donna was extremely helpful and getting a storage was quick and easy.
Natalie and Aaron Rock! Great service
Natalie and Donna were amazing. Prices were great and the process was easy
Donna was great. Excellent customer service. Rental process was very quick and smooth.
Donna and Natalie have great service. You can tell that they care about their jobs and the people they help . I definitely Recommend them
Natalie Donna Aaron were great, I have 3 units with then fantastic
The staff Donna and Natalie are AWESOME. They went beyond their duty to ensure that I was aware that my dad's storage payment was late. They knew that this was unusual because I pay his monthly bill by bill pay through his bank on time. My dad had a this storage since 2008. They referred me to customer service who reversed the $20.00 late fee. Special Kudos to both of them for sincerely caring about my dad. We really appreciate you and the service that Public Storage has provided to us for the past nine years!! Sincerely, Robert and Caprece
Natalie was very helpful. Excellent customer service. Stayed extra to help me. Very professional delivery
So I just finished my check in with PS. Donna and Aaron were great from opening the door and greeting me to showing me the unit, and lastly explaining the paperwork. As a former marine I hate paperwork and Aaron made it super easy. I will definitely mention them to friends and family.
Donna and Natalie was excellent. Prices are great and the service is amazing
I had best customer service with Natalie and Donna
Donna at public storage was the most sweetest and helpful during our move in. She informed us about all specials. She performed great customer service! Thanks again for all your help! :)
Went in to make a payment the other day. The manager Donna was friendly and helpfull. Had a smile and greaterd me as I walked in. I would recommend this place to anyone in need of storage for what ever reason .
Natalie was helpful and kind
Donna and Natalie were very friendly and very helpful when I came to make a payment and buy boxes for my Xmas mailing. Donna suggested the right boxes for me to mail my gifts. Come here to get help with your boxes and get these 2 girls to help you. Thanks Donna and Natalie
Donna and Natalie age wonderful and professional; great Box deals
I've been in here before to buy boxes and the staff was amazing. So it made my decision much easier to pick for storage. I love that it is really clean, the staff is helpful and knowledgeable and i feel like I am not over paying for things I don't need. Camille and Donna were so helpful and friendly and I feel safe storing my belongings here.
Camille was great and did a great job checking us in!
Donna is an amazing property manager! I stopped by today to check out her property and she so was warm and professional! Even though she did not have the space that I need right now she sent me over to another public storage just down the road and I will still be getting a great deal! Thanks Donna! I'll definitely be sending some friends your way! P.s thank you for being friendly and patient with my 3yr old!!!
Natalie was very helpful and the process was easy. Great place
Natalie was amazing. Super efficient in providing great customer service
Natalie and Donna are great
Natalie was very helpful. Everything went smooth and the price was right
Donna and Natalie provided the best service. Prices were very reasonable. Public storage is the only Storage company we use. Great customer service
I moved in a month ago and forgot to mention the great customer service this location has. Aaron helped me and was very knowledgeable of the products. I like that the area is clean and the staff is nice. I was treated well by Aaron and felt very comfortable with his help. I will always recommend this place!!
Natalie was very Helpful. The process and prices Are amazing. Great customer service
Donna was super helpful and knew what she was doing.
Donna and Natalie was amazing. They both took the time to help my husband and I. Thank you
Natalie was great very fast process
Customer service was exceptional! Donna not only was there to take care of our needs, but she went out of her way to ensure that we were making the right choices for our situation. This is the type of quality in service and communication that keeps customers coming back! Thank you for doing things right!!!
Fast! Friendly! And painless! Very accommodating!
Donna is truly a gem! She goes above and beyond! Thank you Donna!
Donna has amazing customer service ! Help me moveed storage units like a breeze. Thank you !
Natalie and Donna are amazing . great teamwork
Dona and Natalie were great
Donna was a very big help! Thankyou Donna showed us the storage was awesome with the kids very good employee!!
Natalie and Donna have great service. I stored with them at different locations and the service is great. Very competitive pricing and awesome security
Donna was such a great help. Made our move less stressful .just picked up another unit .thanks for your help
Donna and Natalie's service was very helpful and informative. They answered all my questions and concerns. Thank you. A good place to rent
Natalie and DONNA were excellent. Came in to make a payment and the 2 ladies were great and funny! Love their service
Donna and Natalie are great. Easy access, great customer service. I come all the way from Norco just to store here. Thanks
Natalie, Donna, And Andrew were really helpful. They made the process easy and the pricing was great. Thanks public storage
Staff is very helpful and friendly thanks Donna and natalie
I just have to say that Natalie has the best customer service. She was patient and I felt like we were her first priority
Natalie was very helpful. She explained everything thoroughly and helped us get the best savings and the unit that was right for me. I actually saved money because I thought I needed a bigger unit but she went over how to pack my unit. Thanks Natalie
Donna Markow has been so very helpful throughout my interstate move. She leaves no stone unturned in her services and always makes me feel at home. Thomas Drummond
Natalie and Donna were very nice. Great deals here
Natalie was very thorough
Donna was very fast and helpful when we where moving out. I'd recommend them to anyone looking to store their item for any length of time.
Natalie helped me out by finding a great deal on a storage unit for and my husband to be. She went above and beyond to make sure I had everything I needed. It made my moving experience a lot easier :)
I went into public storage frustrated and talked to donna and she helped me out and it was such a pleasant experience it put me in a better mood
Easy, Breezy and Wonderful customer service, by both Natalie and Donna. Very nice woman the both of them. I was in and out in record time. Its a Great location to go.
5 Star service does not cover the great service and pleasant staff at this location. I have rented many times from them and always had a great experience. I am now moving out of state and came back for moving supplies due to the great prices and they always have what I need in stock. I recommend them highly.
Natalie was very helpful. She treated me like family and made sure I got the right size unit and got the best deal. Thank you
Donna IS the most customer service oriented person I've ever encountered with reference to my storage needs. She was sincere, and enthusiastic when dealing with me on my quest to renting a storage space. She made sure I had all the information needed to make an informed decision as far as what I needed to rent. Donna provided me all the available storage sizes available and their corresponding prices. She took the time to show me the different storage sizes and answered all my questions. Because of Donna's sincerity and thoroughness showing me the different sizes of available storage, I was able to make the decision right there in the spot thus accommodating my need. I chose Public Storage for my storage need because of what I saw in Donna's leadership. An employee's leadership is a mirror image of a business' management practice.
I needed a storage unit, moving from Mapleton. I made an online reservation. Natalie followed up with me by phone and was very prompt and pleasant. Saturday, I went in and met Donna and Natalie. Both are very nice, professional, and extremely helpful . Donna showed me the unit, Natalie helped with my reservation, Donna completed the paperwork with me. They even helped with advice on how to arrange the space and what packing materials i may need based on tje size of the house i am moving from. I recommend this storage facility to everyone in the area. You will not find a better deal or more helpful people. I am happy with the location, cost, access, times of access, and convenience. It is easy to drive a large moving truck through this facility. No stairs, elevators, second story long dark hallways. This place is well designed.
Donna is a real charmer and the experience was very pleasant. I would recommend people give this place some thought when searching for an easy and reliable storage for rent.
Natalie was nice abd the facility was clean
Natalie and Donna are super sweet. very helpful. facility was clean and gave me a ton of good advice on how to store my unit. merchandise is great priced too!
The customer service demonstrated by Donna was fantastic!I had many questions and she had the answers. I like that! I spoke with Natalie when she called to confirm my reservation and she was very nice also.
Service is awesome, great staff
Very friendly and helpful. Polite and courteous they were able to help me with all my needs and inform me on the best ways to keep my property safe and secure.
My experience with Public Storage was amazing. I received a return call from Donna about my online reservation and she was very helpful. She was attentive and made a follow-up up call to confirm the time I was arriving to pick up my unit. She even stayed during her lunchtime to help me secure my unit. That is the epitome of customer service.
Donna the attendant was awesome. Great experience at the public storage facility. I was helped when I needed and treated with respect and kindness!! I would definitely refer people to store items here!
Service was excellent, efficient and very friendly. Recommend for anyone looking for storage in the Menifee.
Great service, great workers, great storage, deserves a great rating!
A good experience and the person who help me was Victoria she was very helpful and she result all my problems
Very friendly and great customer service!
Great service and awesome people :)
Victoria and Donna where awesome they helped us find just what we needed!
Excellent customer service. Professional, knowledgeable, helpful and friendly. Look no further call this facility first.
Natalie had excellent service! Its nice to know that people still care to do their jobs. Also has great deals
Best place I ever rented a storage unit from simple and easy great service
Very friendly and polite office staff. Clean facility. always ready to help with whatever your needs are.
Donna very is a very sweet helpful and professional woman. I recommend this place to all
Well victoria and donna did an awesome jobs and were very informative and provided me with excellent service.
Been a customer for many years and I appreciate the business and the customer service was great . Thanks Natalie
Victoria was bery helpful and very kind to me i had the best experience ever . tjank you hun
Donna is very nice and helpful. Customer service was wonderful and definitely recommend them if you're looking for secure storage space.
Natalie was super helpful and sweet. they explain everything thoroughly and make sure they get you the right size so you don't overspend. thanks public storage!
I stored with both facilities and Donna and Natalie are completely awesome! The facility is clean and the prices are great.
Donna was a very helpful sweet Lady. Thx for everything.
Natalie did such an exceptional job helping me out. She was super sweet and handled all my needs. The facility has great rates and deals and is super clean. Thanks public storage!
Victorias customer service was great !!!
I came in today and had an excellent experience with victoria and donna. i was able to take care of my concerns and make my payment. thanks!
perfect experience, they accommodate our needs!
Donna and Victoria are very helpful, great experience! :)
These people are great. Always so cheerful and helpful.
Donna was a great help, and she was patient with me as we look for the right unit for me.
I've been to other storage facilitys but this one was the best overall, victoria and Donna were very pleasent and knowledgeable and wasted no time on getting me on my way to move in to a storage unite, instead of a five star I wish there was a six star I could give them, Thanks so much Frank
Victoria made the whole process a joy!
Natalie and Donna have excellent customer service and the facility is well maintained
Very helpful and courteous employees. I spoke with three different persons on three separate occasions in reference to securing a storage unit. And it was handled seamlessly. Natalie, Victoria, and Donna made the process go very smoothly.
Great service from Natalie and Donna!
Natalie was super helpful. She made the process go quick and easy. Facility is very clean.
Natalie was very helpful and very professional and i had a great experience.
Natalie was awesome! Keep up the good work girl :)
Natalie was great and she was extremely helpful. She was very informative and a great help.
Donna was wonderful! I have never rented a storage unit before and she was very informative and helpful. The facility is clean and easy to access. And we got a great Memorial Day deal!! Thank you Donna!
I just want to share my appreciation for all the wonderful help that Donna has been to me since I have been in my unit. Excellent performance!!!!! Thank you Public Storage for letting me share my feelings. Cindy
Friendly customer service from ladies in office, Donna and Alex. Always a pleasure.
This Public Storage location is wonderful. I have to move and store my household furnishings for several mos., and I was so impressed with the office reps and how friendly and helpful they were. Donna was so helpful and showed me a couple sized units. The customer service is to be commended at this location. Thank you Donna!
I go to this public storage to make my payments and have experienced the best customer service ever.
Everytime I come I get fantastic service from Alex!!
I've been using this facility for a couple of months now, Donna and Alex are amazing
The ladies in the office at P.S. Murrieta are always very friendly and helpful. Thank you Donna for your superior service!
Donna helped me out greatly... im diabetic and handicap, so im a little slower. Donna to ok k her time with me and even opened the door for me. Thank you and if I need another storage, im going back to her. Thanks again.
I'm just a regular auction guy and Alex here at your facility is just awesome!!! Always makes me feel welcome. Such a pleasure!!!!
When I decided to use Public Storage to store my property, I was not too sure about renting here. However, upon meeting and talking with Alex, I felt very comfortable and want to say she is a very lovely lady and and very kind. I am happy to say that she is the reason for renting from Public Storage . It is good to know that my property will be well taken care of. From what I can see, It is a very secured facility. Keep up the good work, Alex. ;)
My experience with Public Storage has been absolutely superb. The staff here are amazing. If I have a problem they are always willing to help me out any way possible. They go the extra mile to provide that added customer service, I havent seen at any of my previous storage rentals. Jennifer, the girl in the office is always kind and courteous as well as always smiling. I appreciate that. I will forever be a Public Storage customer.
After having a bad experience at another storage place Victoria helped me get into a new unit with in minutes and on my way. Very professional! I recommend!
The Staff I`ve, met at this facility, notably Donna and Jenifer are great and have been extremely helpful in every way. I reserved on line and received a call back almost instantly, and was informed immediately when there was a change, and was pleasantly & professionally given the options in regards to the type of unit and cost effective for my needs. Always a pleasure to visit. Thanks Guys.
I recently moved and had to use your services. Alex over at your murrieta location was great, she was very friendly and great customer service!