Public Storage Self-Storage Units at 160 Chestnut Dr, Madison, AL
Address
160 Chestnut Dr Madison, AL 35758
Office Hours
Mon-Fri 9:30 AM - 5:00 PM
Sat-Sun 9:30 AM - 5:00 PM
Gate Access Hours
Mon-Sun 6:00 AM - 9:00 PM
Storage Facility Features
---

5'x5'

Climate Controlled

Inside unit

1st Floor

---

5'x10'

Climate Controlled

Inside unit

1st Floor

Climate Controlled

Inside unit

1st Floor

---

10'x12'

Climate Controlled

Inside unit

1st Floor

---

10'x15'

Climate Controlled

Inside unit

1st Floor

---

10'x17'

Climate Controlled

Inside unit

1st Floor

---

10'x18'

Climate Controlled

Inside unit

1st Floor

Climate Controlled

Inside unit

1st Floor

---

10'x25'

Climate Controlled

Inside unit

1st Floor

---

10'x30'

Climate Controlled

Inside unit

1st Floor
Nearby Self-Storage Locations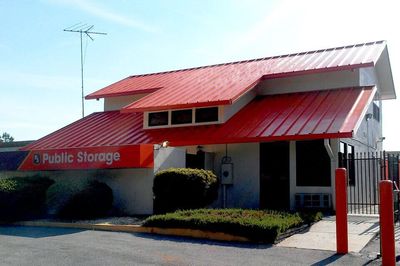 Self Storage Near
1224 Old Monrovia Road
Huntsville AL 35806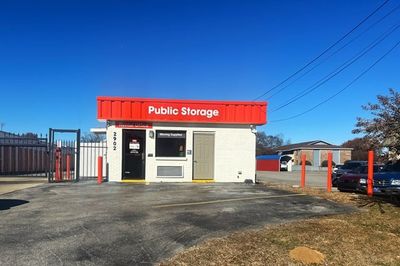 Self Storage Near
2902 Drake Ave SW
Huntsville AL 35805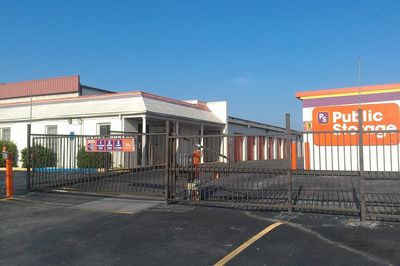 Self Storage Near
3052 Leeman Ferry Road SW
Huntsville AL 35801
Self-Storage Near Madison
Resources from the Help Center
See what fits in different storage unit sizes
Madison Storage Units Near Highway 72
These Madison storage units are located south of Highway 72 with easy access off Wall Triana Highway.
This property offers a mix of indoor,
climate controlled units
. A
10x10 unit
is ideal for families near Discovery Middle School who want to make space in the garage and need a place to store boxes of family memorabilia.
A
10x15 unit
is great for those who are getting ready to move and want to store some belongings while they declutter their home.
Madison is a great city for a young family. Historic Colonial, Craftsman, and Victorian homes can be spotted in downtown core and there are 32 neighborhood parks along with several greenways and trails to explore.
For those looking for metropolitan amenities, Hunstville is less than 30 minutes away.
It's Public Storage's mission to provide Madison customers with a variety of storage solutions and quality customer service. Learn how you can move in to a storage unit contact-free with
our eRental program
.
At Public Storage, You'll Always Find...
Keypad Access

Friendly Staff

Month-to-Month Rent

Moving Supplies Available

Free Parking

Well-Lit Facilities
Reviews
( 64)
Great customer service ! Zaiden was really helpful!!! Recommend 1,000xxxxx
Quick and easy registration. Christina was very helpful and informative. Public Storage never fails to accommodate and satisfy 😊
Christian at this Public Storage was very professional, kind and patient with us. I was so happy to find a public storage that was opened on Sunday.
The property manager is so kind and knowledgeable. Thanks Zaiden!
Christina and Zaiden were wonderful, pleasant and professional! 100% would recommend again!
Christian was awesome with the coupons. Save $1
Very clean facility. Staff was helpful and very professional.
Great service! I sent Amazon packages to my unit and they were helpful with making sure they got inside
Zaiden is great. Very clean and friendly property.
Thanks Zaiden for being so professional and polite!
Christina helped me all the way through the process of getting a storage unit here. Very professional and made the process easy to understand and a breeze to get through. Props to the employees at this location.
Christina gave me the best and fastest service ever! Definitely recommend!
Christina was very professional and she was very helpful in anything that we needed
Miss Christina was outstanding
Christina was patient and kind to me she work with me from start to finish if I had a question she answered it if I had an answer she answered it thank you Christina for all your help and hospitality.
Christina was very helpful when assisting during contractor duties.
My experience with Public Storage has been everything a business should exude. From concern and care, making sure that I had the space that I needed and clearly explaining whole process, made this a breeze for me. The facility is very nice and clean! I even like how thoughtful the construction was made with the overhead. The app is super cool, conveniently providing gate access by using my phone, and pertinent info abt my unit, and my account. I am highly satisfied! Nancy was the best!
Just want to say Thank you To Mrs Christina you were a great assist to me and thank you for listening and understanding my point of view and my situation! I will be referring other family and friends to see you ! Thanks
$1 for the first month is a lie. Do not be deceived. They charge you a $30 admission fee and then the next months rent after you've signed the papers. It's a scam.
I give this a 5 star, Christina was very very helpful and understanding.... Thank you
I absolutely love this Storage space. Very clean and accommodating; especially Zaiden. Appreciate the excellent customer service!!!
I am very pleased with the service provided. Zaiden is excellent at managing the facility and more over he does so kind. He is so very professional, friendly and knowledgeable. He really takes pride in his job. The facility is always well kept. I appreciate him always being so courteous and respectful.
I have had storage here since the facility first opened. The property manager Jennifer is very personable and checked to see if I had any issues or any needs in regards to my unit. I am very pleased. Zaiden is by far one of the best on site service agents, and I have had storage at other facilities and in other states. He listened to a concern, addressed it, and got it resolved. The facilities have an accessible clean restroom, carts for loading and unloading, are well lit, and comfortable temperature wise. Most importantly I have had no issues with pests at the facility. Great Job Public Storage! It is nice to have peace of mind when having to store personal belongings.
I had the most delightful experience with Zaiden at Public Storage in Madison.He is very knowledgeable employee.He is Awesome.
Aiden was very helpful. Returned phone calls within minutes and was very helpful and pleasant. Great service!
Christina was great and very helpful! Clean storage units and easily accessible!
Zaiden was very helpful and gave me amazing service. Definitely recommend!!
Thank you Zaiden for all your help!! Super friendly!!
Zaiden was so helpful! Thank you guys!!!
Sheritta (hope I spelled her name correctly) is Wonderful! She went the extra mile recently to answer a question I had related to payments, which enabled me to make our payment on time with no issues. Great Work, Sheritta! God Bless and Thanks for All Your Kind Help! Public Storage is Blessed to Have You working for them!
Sheritta was soooooo helpful, knowledgeable, professional and wonderful!!!!! So glad she helped me with my storage rental.
My experience today was fabulous with Zaiden..he was there for my overall questions and offer great assistance with my transfer to another unit..thanks again for your help😁
I have been with multiple storages, and this by far has been the absolute best experience ever. In the time of need one of the best team members their Zaiden helped me understand a storage situation relating to my online account, & got everything resolved for me when it seemed to be no other way of hope. I am so happy & grateful that I chose this storage instead of anything else, & plan on keeping it for years to come. I don't even write reviews, but this storage & Zaiden's help was a miracle! Definitely worth it!
Don't rent from public storage. They used to be great but now are just a rip off. Customer service is horrible. First month for a $1 is a joke. I just had to pay for a whole month of storage to get my things out. Then a day later when I needed to put my things back for the rest of the month I paid for I was told my space had been vacated. Really??? So I paid almost 200 dollars for nothing and they refused to refund any fees that were wrongly acquired. Go somewhere else to store your beloved items.
The new owners "Public Storage" apparently don't care as much about this location as the original owners. Stopped I recently and couldn't believe the amount of trash inside the gate and near the doors. Increased prices and less service.
I have multiple storage units at another company, and I'm considering combining them to a larger unit. I went to the Madison location, and was helped by Miranda and Zaiden was such a big help. They took me out to look at the unit, and explained every question I had in wonderful detail. We then went back to the office to discuss pricing, payment options, payment due dates, reservations, and move in confirmation. I am completely satisfied, and will be moving my units after the holidays.
Noah is extremely helpful!!!
Miranda made me feel very welcome and made a potentially stressful situation easy.
Went to property to check out the spaces for a family member and was pleasantly impressed. Both Miranda and Zaiden were very helpful and friendly. Will definitely recommend to others.
Zaiden gave great service!!!
Zaiden was very professional and provided an allstar experience! Thank you Public Storage!
Before this was pulic storage it was space-savers this place was has been very good to me I remind them if need storage their a good place to store your stuff
Pamala was a great help get me set up.
Noah was incredible, he made our experience very easy and simple. The storage is very clean, 5 stars for me!
Very clean and easy to get in and out.
Great Prices. Friendly staff. Very clean units. Easy access. Thank you Pamela for extending great customer service. I highly recommend this company to anyone.
great facility and Pamela who helped us was very nice and helpful would definitely be back
In our situation, we needed to get a storage unit very quickly; Public Storage in Madison was SO amazing in helping us get a storage unit the same day. Beth in the front office showed us some units and within 30 minutes (or less) we had access to our unit and we were able to store our items. We don't plan to store our items long but we will definitely be back if we ever need to store things again in the future.
Very easy process from selecting my unit to actually date of move-in. It was even easy to change my reservation date! The staff was very friendly and helpful and the storage facility is clean and very well lite. Will definitely be using again for future storage needs.
Pamela and Beth are the best. They go beyond and above for there customers.
The facilities were very clean and proper. Beth and Pamela really went above and beyond to assist me when other stores simply told me "how it is." Great rates and the friendliest public storage employees I've met thus far.
Great experience and very clean facility with great customer service from Beth she helped me with all my concerns! Highly recommend
The women at the office were very professional and polite. The storage areas are kept clean and cooled off. Price for the unit were pretty cheap. I recommend this company to anyone who wants a very nice storage unit for a decent price.
Great facility and staff, Beth was super helpful with getting my units sorted out.
The staff at public storage was wonderful and understanding with the logistics of our move. They were kind and more than helpful!
The place is very clean and Pamela was very nice.
Beth was so very helpful to me and answered all of my questions I had for her! I will definitely tell my friends and family about this place!
Beth was so helpful to us!! Thank you!!
Great rates, friendly staff, and clean.