Public Storage Self-Storage Units at 11580 Memorial Pkwy, Huntsville, AL
Address
11580 Memorial Pkwy Huntsville, AL 35803
Office Hours
Mon-Fri 9:30 AM - 5:00 PM
Sat-Sun 9:30 AM - 5:00 PM
Gate Access Hours
Mon-Sun 6:00 AM - 9:00 PM
Storage Facility Features
---

5'x5'

Climate Controlled

Inside unit

1st Floor

---

5'x10'

Climate Controlled

Inside unit

1st Floor

---

10'x10'

Outside unit

Drive-up access

Climate Controlled

Inside unit

1st Floor

Climate Controlled

Inside unit

1st Floor

---

10'x20'

---

10'x15'

Outside unit

Drive-up access

---

10'x40'

---

10'x20'

Outside unit

Drive-up access

Climate Controlled

Inside unit

1st Floor

---

10'x30'

Outside unit

Drive-up access
Nearby Self-Storage Locations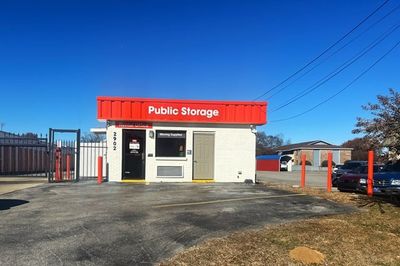 Self Storage Near
2902 Drake Ave SW
Huntsville AL 35805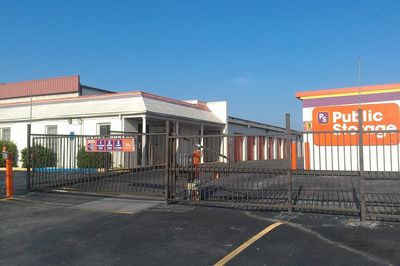 Self Storage Near
3052 Leeman Ferry Road SW
Huntsville AL 35801
Self-Storage Near Huntsville
Resources from the Help Center
See what fits in different storage unit sizes
Huntsville Storage Units Near Highway 231 and University of Alabama in Huntsville
This Huntsville storage offers outdoor and indoor units available in multiple sizes and is a quick drive from Highway 231.
For outdoors-people, this location offers spaces for RV storage as well as covered car storage. With Ditto Landing just four miles away, our boat storage is ideal for easy access to outings on the Tennessee River.
Renters at the Pine-Tree Apartments can use a
10x10 unit
to declutter their space and store boxes and spare furniture. A
10x15 unit
is perfect for University of Alabama in Huntsville students who need to store their apartment belongings between sessions.
Huntsville is the second largest metropolitan in Alabama. It is known for military technology and aerospace industries as the city is home to the NASA Marshall Space Flight Center. Both the Army CCDC Aviation & Missile Center, a military base; and Redstone Arsenal, a US Army post, are adjacent to the city.
After visiting the Huntsville Botanical Garden and the U.S. Space & Rocket Center, head over to your Huntsville Public Storage unit to pick up any season gear or to store some boxes.
Our Huntsville Public Storage friendly staff are ready to offer storage solutions. We offer contact free move ins through our
eRental program
.
At Public Storage, You'll Always Find...
Keypad Access

Friendly Staff

Month-to-Month Rent

Moving Supplies Available

Free Parking

Well-Lit Facilities
Reviews
( 229)
Awesome place! The lady was very kind, took us out to a potential unit that would be ours. Very clean and we are happy to store our items here.
Not to expensive, Very nice facility, no Hassel to rent, very helpful staff. I highly recommend public storage
Great people to work with when dealing with the units.
We had a wonderful experience when renting from this location. The property manager Dooney was so helpful, calm, kind and made us feel comfortable. Most people would just do the contract online, not wanting to deal with people. However being personable with locations and knowing the people makes it that much more supportive when questions or concerns arise. Dooney made sure all our needs were met and went over all the details with us. The storage itself is well kept, secure and had a few issues that we addressed at the time of rental. All in all, very wonderful experience.
Property manager Dooney was very knowledgeable and made my move very easy.
The place is great all together, but the property manager, Dooney was better. She refused to let me review her. But I have to give love where love is due, and I love her. I was in an ugly place and she made my day a lot easier. If you can see this Dooney, thank you for being you 🫡 🫡
I rented because they had a 50% of promotion for memorial day. I am 9 months pregnant and left key in lock by accident! Ended up getting a nasty voice message from Pam saying I must have been holding it for someone and she doesn't want to promote "bad behavior" . Went into labor that day and when I looked my rate had increased more than 40%. Very upsetting. 😢
Christina was very helpful and friendly definitely recommend stopping here for the friendly customer service.
The management is very nice to work with. We stored our boat for 9 months. When we returned to pick it up our gas tank and bilge pump were gone and someone tried to steal our outboard motor as well. Store at your own risk.
Excellent price for the size of unit. Easy, hands free access with the mobile app. Convenient access from the Parkway or by side road on Redstone Rd. Clean and well maintained units. Definitely will use them again for any of my storage needs!
I am writing this review to express my disappointment with Public Storage. When we initially rented a storage unit from them, the cost was $90 per month, which seemed reasonable at the time. However, it didn't take long for our enthusiasm to fade away. In less than a year and a half, Public Storage raised the rental price not just once, but three times! To our dismay, the final monthly cost reached a staggering $169. This price increase was completely unjustifiable and left us feeling taken advantage of as loyal customers. The storage area we rented was a 10x10 space that lacked climate control. Considering the steep price we were paying, we expected at least a basic level of comfort and protection for our belongings. Unfortunately, Public Storage fell short in this regard. Thankfully, we were able to find alternative storage options that were both nicer and significantly cheaper. It became apparent that Public Storage was not providing us with the value we deserved as customers. While it is true that the facility was located in a safe area, this alone does not justify the exorbitant price we were forced to pay. Safety should be a basic expectation, not a redeeming quality. In conclusion, I cannot recommend Public Storage to anyone seeking reliable and reasonably priced storage solutions. The constant price hikes and lackluster facilities have left a bitter taste in our mouths. We have found a much better alternative that not only offers competitive prices but also provides a higher level of service and quality. Save yourself the frustration and explore other storage options instead.
I stored here for years, never had issues and the staff was always very friendly and helpful.
Pamela and team are great. Very flexible in accommodating us and our vehicles to be stored. Easy peasy.
Hey this is larry, I just wanted too thank public storage for their clean and personal service hats off too Pamela
Great place to use for storage,no complaints, great location.
Me and my wife were out looking for a storage so I came across this location and called for some information. Nancy made sure she returned my call twice lol and gave me all the information. I needed and even gave us a tour of the unit. She was awesome her customer service was A1. I highly recommend them. Thank you Nancy for your wonderful customer service ❤️ .
Nancy & Pamela made my experience amazing! So helpful and also communicative! Highly recommend!
Pamela and Sandra were extremely helpful. They made signing up quick and easy also gave full explanation of payment system and account accessibility. THANK YOU‼️
Great place! They treated us good! I really appreciate them Thanks Marvelle Battle
We continue to have a great experience with the team here. Property seems to stay clean. Thanks for the great service.
Nancy has been a huge help!! Thank you all so much for your help!! We appreciate you going above and beyond!
Panela (site manager) is one of the nicest people I have ever had the pleasure of meeting. She had all the answers I needed and was able to connect me with the District manager in order to help me with an issue I had. I would recommend Pamela to anyone with storage needs.
This public storage is truly amazing! I had Pamela and Nancy helping and they were truly dedicated to helping me get the best deal as well as what I needed for my moving needs. Truly professionals, I'd recommend this location to everyone!
The woman working was so nice and helpful and friendly. I wish everyone I encountered was as good as her. Great facility. Clean. Easy access. I will use them again.
I have been a customer for over a year now with Public Storage and I have nothing but great things to say about them!! Always super helpful and the property is always clean!! And big thank you to Pamela and Nancy for helping me transfer units..you ladies are amazing!!
This is a well maintained facility.
Very friendly staff Pamela was very helpful and knew her info I'm very pleased them
The two stars is only because the controlled storage actually worked. It was the only thing that I never had an issue with! They kept jacking the prices up, for a long time had issues with the gates and going into the controlled areas. Good luck calling and getting someone on the phone. And when you move out if you don't do it before the end of the month you pay the full month. I finally got someone and they were on property I assume closing units and I still had to wait almost twenty minutes. I personally didn't have an issue as to friendliness or someone not answering when it was Cube Smart. We even had two units but the second one will be closed soon as well. Very disappointed with the whole package. It's not the lady's fault who's there as she is always running it's the company as a whole!
Pamela, Good customer service
Thank you for a quick and pleasant experience Teresa!!
Stay AWAY! I paid the movers to put all my home goods here a week ago and now the roof has fallen in and drowned my things. They've got plugged gutters but management says I will have to Call My insurance. Meanwhile I'm stuck waiting. DON'T COME HERE!
Great place to rent a storage Pamela Great Customer service And polite to work with ..
Great customer service and clean.
We had THE best experience with South Huntsville Public Storage. Pamela was super helpful every time we needed assistance-- she did everything in her power to accommodate our storage needs. It is a very clean facility, and the employees are kind and professional. Access to the storage unit was secure and easy. Highly recommend-- we will use this facility again.
Great place love the people
Interior and exterior were very clean. Pamela and Miranda were welcoming and helpful on my purchase of boxes and mattress covers. Overall a pleasant experience
Pleasant experience since Public Storage took over from CubeSmart. Friendly staff and good customer service.
Property was really clean and both Pamela and Miranda were really friendly and helpful in answering any questions.
Pamela and Miranda were super helpful and friendly, nice clean property
Visiting the property, it was a very helpful and pleasant experience. I was having a bad day, but the workers made my day. I have to give it to two workers, Miranda and Pamela. They engaged in small talk while helping me. They were very friendly and overall very happy with this place. Plan to share this place with friends!
They were absolutely awesome! Saved our butts and we're the most helpful, friendly, reasonable and dedicated staff. Wouldn't know what to do without you!! Thanks so much!!!
I've experienced very poor customer service, I can never get a live person to speak with, just leave a message. Extremely disappointed with the 25% price increase.
The storage unit itself is very clean and well maintained. The staff were also friendly. , I was given 5-Star for customer service , The process for getting a unit and relinquishing were simple!
UPDATE: they got back with me. They waived the late fee, apologized for the whole thing and worked with me on the rest. Place is clean, but when they changed the owners, I was promised no changes to the contract. Then a few months later HUGE increase in the monthly rate. And no notice, they just whined that my automatic payment was short and charged me a good sized late fee. Called and they said they would try to cut it back some.
The staff here is so friendly and helpful the property is one of the best kept in regards to cleaning I have ever seen and we store at several places! Im not one who typically gives good reviews but Public Storage has gained my business forever based on my experiences at two different properties here in Huntsville. Pamela, Jason, and Noah have been nothing but the best to work with at these facilities.
Clean and easy access. Too easy, since the main gate is broken (always open) and the door to the building is supposed to be secured with an electronic lock and PIN but that's inoperative as well.
Alex was very helpful and friendly as could be!!! I will definitely refer public storage to anyone who needs a great storage place long or short term. Just drop by and Alex will be more than helpful to you!
Service was fast and efficient. Friendly and knowledgeable. Would recommend.
Access control is pitiful. Look at the gate off of Redstone Rd SW, it allows unchecked persons into the "secure property". Also, access control measures into my storage building don't work. Anyone on the property can access my storage building without entering credentials. (Not my specific storage unit, but the building.) I don't expect Public Storage to prevent theft, but I do expect Public Storage to provide access control measures which mitigate opportunity for theft. Access control at this property is a long standing issue, if they say otherwise if disingenuous. Oh, the functional access gate off of S. Memorial opens and closes, but Management must be on-site to open the gate. Property is clean and staff is courteous.
The facility is well maintained. Every time that I have called with a question Alex has been very friendly and had all the answers. This is my second time using Public Storage and I would recommend them to a friend.
Great access & customer service.
Alex was such a great help. Very friendly and helpful.
Alex was such a good help. He walked around the complex to help me find my unit. Being from Ohio getting a storage unit from Public Storage has been seamless. Thanks Alex
The storage unit itself is very clean and well maintained. The staff were also friendly.
Great Customer service ! Jackie is so professional and helpful! She made sure I had all the info I needed and made sure my unit was ready for me and my code worked , just a all around great person we need more people like her on this earth that is for sure!!!
They helped up when we were in a rush to get a storage the lady at the desk was very nice and explained the contract in detail for me.i recommend them highly
Alex was so helpful to day on the phone. He really helped me understand everything.
Had a great experience with with Tyler. He was very helpful and answered all of my questions well.
Tyler was very helpful when I was looking for a place to store my excess business supplies!
Tyler and Alex were so friendly! Made my move in so fast and cheap
Tyler was really nice and helped me! The property was really clean and the whole staff seemed welcoming.
Tyler did an awesome job!!! Great customer service!!!
Teresa was a huge help to my mom and I. She was very patient and thorough and answered all questions we had and made the process of renting a unit very easy and hassle free. Teresa went above and beyond. Thanks for the assistance!
Theresa is WONDERFUL. Easy dealing with her and low key straight forward. Both traits greatly appreciated by me. Thanks again Theresa!
The process for getting a unit and relinquishing were simple! While I've closed out this storage unit, I went with CubeSmart again for here in Tampa. I've had a great experience with everyone I've talked with at CubeSmart. Thank you!
The employees! Also, the building was clean, easy to access and safe.
Kept all my belongings safe and I like their auto monthly payment so I don't have to worry about remembering to pay .. thank you
Love the manager super nice and caring
Efficient, secure and affordable.
Unit was clean, well lit, well maintained, safe and secure. I would happily use Cubesmart again.
The staff was very friendly and helpful.
Very clean climate controlled units.
The friendliness and ease in setting up
The unit was very clean and the property was well maintained. The staff was professional and polite.
Very fast and professional service provided. Units are easily accessible and clean. Highly recommend!
Teresa was who helped me get a unit for my belongings. The original unit I reserved ended up having some problems making it unavailable after the reservation was placed. Teresa was absolutely amazing. I honestly did not expect to get such great customer service from a storage rental facility. Teresa went above and beyond to make sure I had an alternate unit that would work for my needs and made the entire process quick and painless. Great customer service!
Nice people and great location
Great price, great storage area. Very convenient!
Easy access, clean, good service.
Friendly service,very clean facility,conveniently located and reasonable fees
Professional and clean. This is a 5x10 unit. Plenty of room to go up. The staff is very friendly and helpful.
Office personnel were very helpful and friendly. Quality and cleanliness of storage units and facility. Felt there was good security at the unit. Easy to get in and out.
Probably the cleanest storage unit I have ever moved in to.
The lady who assisted me was VERY friendly and helpful.
Friendly clean easy accessible
Check-in was a breeze and the facility looks clean and well kept.
1 star is appropriate for this place. Been with the south pkwy cube smart for over 3 years. Every year the price has increased by $20-30. The company as a whole trys to tell me it is to meet the demand, but other storage places in the local area are cheaper. It is unsettling that every time I went to my storage unit to have someone from Cube Smart driving by looking into my unit as if they need to know what is in the unit. As a disabled veteran with limitations, I have had a hard time moving out of this unit till this month. My wife and child were throwing trash in dumpster which triggered the manager to drive her golf cart out to tell us the dumpster is off limits to everyone except cube smart employees. I found a cleaner storage unit with a friendlier staff for more than half the price. I personally do not recommend this facility. Do your research before signing. Be prepared for massive rate increases yearly.
Great place great people.
Excellent customer service
Very easy to work with and got me setup in a timely manner. Needed a place to put my boat on short notice. Highly recommended.
Great experience renting from them, a small hiccup that got resolved quickly
I was in a pinch and needed to add a storage unit for my last few things that wouldn't fit in my existing unit and Teresa was great. She immediately helped me and made it happen fast. Great customer service and glad I used Cube Smart. Thanks Teresa for the excellent customer service.
Easy to rent, storage cubes are clean , along with friendly service
The staff at CubeSmart in south Huntsville were incredible. They went above and beyond in helping me find the right size and placement for my storage unit. They were also very friendly. I would highly suggest using this facility and company to store the possessions you need!
I used CubeSmart for almost 2 years, and I must say they were the best storage area experience that I have ever had, out of several that I have used over the years for various moves. The facilities are very high quality and easily accessible, and the service is very polite and helpful. They also conveniently sell different types of boxes and packing materials in their front office, which was very helpful for me during 2 different moves. I highly recommend them!
Facility was clean and staff extremely friendly and efficient.
Has all the packing materials I needed. Renting is 1, 2, EZ. Prices are good. Service is great. 24 hour access. I can have UPS deliver my package there and pickup after work, no more stolen packages. I hid the Christmas presents where NOBODY could snoop until Christmas. In a small storage. My kids went crazy thinking they were getting no presents. Well lit facility with security gates and cameras all around.
The GM Laura is great! Friendly, answers any questions and very accommodating. The facility itself is clean and very secure with well lit, accessible units.
The staff has always been friendly and helpful to me. The unit I has was clean when I started renting. I have had a very enjoyable experience renting a storage unit with them.
Very easy to reserve a unit, staff on site helpful and pleasant.
Very nice staff that went above and beyond.
Best rates, fast and professional
Good place with reasonable prices if you're looking for storage
Nice, clean, secure place. Used for temporary storage. Advertised 1st month 1/2 off but by the time they added "required" insurance (which is at a stupid price) admin fees, etc. the 1st month was about full price. Then after only being there a few months got a letter with a price hike! Looking for temporary storage again but wont go here because after doing some comparisons, their prices are MUCH higher than other nearby units.
Theresa was very helpful and knowledgeable about everything with our unit. We reserved it a few weeks ago in preparation for a move and we came a day early, and she allowed us to move in which was great. She was very nice as well when we weren't sure if we would need to reserve an additional parking space. Would definitely recommend this storage unit facility to anyone needing one.
Laura helped me get through the process of renting a climate control unit with clear, precise instructions and professionalism. The unit was very clean. I had a great experience, will be telling family and friends.
Great experience! Clean, well maintained facilities. Great staff. Smooth transaction.
Excellent storage facility, clean well lit with cameras. Staff was very helpful and friendly. And the price was right!
I normally dread having to do this kind of stuff, but Laura made the whole process easy and painless. In a short time she showed me my storage unit, provided me with a lock, and had all the paperwork finished so that I was ready to go in under 30 minutes, and all with a friendly sense of humor. The office and storage areas are also nice and clean and the location is easy to find.
I recommend not using this company. I closed my account on the day The bill was due. I still had to pay a full month. The assistant manager told me they do not prorate and there is nothing she can do. Update: the area supervisor did reimburse the payment.
Super friendly staff and nice new storage units! Plus they had where you could choose either 25% off or your first month free.
Laura helped me get through the process of renting a climate control unit with clear, precise instructions and professionalism. She showed me the unit, helped with the lock and code. Thank you Laura. The unit was very clean and easy to find with Laura's help. Good experience.
My experience at CUBESMART was so pleasant and easy. Laura who helped me was total efficiency. SHE answered all my questions some enen before I knew to ask. She walked me through every thing and offered help anytime I might need it. She gave me electronic as well as paper copies. The entire place is always neat and clean! My only complaint is, she will not let me live in my cube! LOL
I had a very good experience when I went to get a unit. The lady that helped was really nice and professional and was more then happy to help me get the right size unit for what I needed. Will definitely recommend it to my friends and family.
Very nice, clean storage area.
Easy to get signed up and great friendly staff.
Staff was extremely helpful and provide exactly what we needed. Prices are decent and security seems to be top notch compared to many storage facilities.
Decent storage options. Great prices on storage but don't buy your boxes from here, way too pricey.
Laura is great! Facilities are clean and service is fast.Highly recommend!
Clean, well maintained facility. Good security coverage, smart helpful staff! I'm glad I found this space to rent for storage.
Friendly and accurate service, clean and attractive facility, and conveniently located.
Very clean and affordable. Rich gave a very thorough tour and I know my things are safe!!
The staff was very helpful and friendly. She helped us get the best pries for want we needed. The facility is very clean and easily accessible.
Very nice people, nice, safe, and secure facility.
Super friendly and helpful. Customer service and cleanliness are outstanding. Rich made my day after a very long car ride moving to town!
Laura and Rich were both friendly and helpful in my search for a storage unit! Thanks!
Manager very pleasant and helpful. Good location; storage units affordable and clean.
Rich was GREAT! Highly recommend CubeSmart. Rich was very through and made it very easy for me. Give Rich a call if needing storage space
Great customer service and quick to get you what you need.
awesome place! leslie was very friendly and helpful and I enjoyed it!
They made it easy and very helpful setting up our storage. Good people to deal with, very nice and made you feel welcome.
Clean, cool and Rich was really helpful!
I had an amazing experience, even while rushing to get my U-Haul back in time. Staff was professional and courteous even while being short handed.
Super easy and speedy process to get just the cube I needed! I would highly recommend them!
excellent service, clean facilities
This is a nice new clean storage facility compared to others. The only thing I'm unhappy about is the price change. I was told that my price would be the same for 1 year and now it's jacked up by $10... not happy at all. They lied to me when I signed the contract.
Outstanding facility. Very clean and organized. Rich did a great job showing me around and welcoming me to use his facility.
Signed up on-line for our unit. At the office, filing paperwork etc was completely in a minimum of time. We were shown our unit, provided an explanation of gate operations and then proceeded to load our unit. The staff was great.
Rich was kind and friendly. They were even prepared with activities for my 2- year- old while I was working on getting everything set up.
Courteous staff. Clean facility. Easy access with good hours.
Do I need to pay to reserve a storage unit?
Rich is awesome to work it! Thanks for taking a few minutes of your time before closing to assist me with my storage needs.
Clean and safe facilities. Rich was very helpful and informative. Great rates.
Great service & great facility. 1st mo. Free promotion was a great help.
Searched for great customer service, quality facility and best pricing, they so far have meet my expectations.
All around positive experience renting storage space from CubeSmart. Clean modern facility, great introduction to features. Recommended!
Great Customer Service great customer service
Very pleasant experience working with this company! They made a tough move easier!
I made my reservation online and received a phone call when the business opened the next day. Laura was very helpful and the registration process went very smoothly. Facility seems clean and secure and I am comfortable storing my stuff here.
We just rented our unit yesterday, and have not put anything in yet, but Rich made the registration very easy and his customer service skills are to be complimented!
This storage facility exceeded our expectations. It is secure, clean, easy to access, and very well managed. This is a quality operation in all respects. Kudos to manager Rich and the rest of the staff. Bob Boller
Rented a unit today. Rich was very helpful - listened to me and gave me a tour. I was shown different size units (I need visuals on measurement), He was very patient as I gathered info to make my decision. It was painless!
Very clean place and nice helpful staff
I was in a rush to find self-storage for my wife and I and after looking on the web for three days, we came across CubeSmart. It was out of the way for us to store here, but their web special, 15% off + first month free was enough to convince me to use them. We opted for the climate controlled 10x10 interior room (with discounts, it is only going to run us $88.40/month as opposed to $130/month being the closest comparable competitor by finance). Ms. Malone was very helpful in setting up my account, walking me through the process and smiling all the way.
I'm sorry I stopped by this facility. They acted like I was interrupting their day and infringing on their time. Very rude!!!!!! I would like to give them 0 stars, but it is not possible. They get a star they do not deserve.
Wonderful customer service. Clean, well maintained buildings.
The store manager, Laura (no relation) , was very professional and helpful. The facility is super clean and easy to access. Very smooth rental transaction!
Easy and really friendly staff
Extremely easy to work with & an absolute professional staff. I mean that. Seriously. I reserved a 5'x5' storage cube online, drove to the facility, liked what I saw, & signed up. The entire experience took about 30 minutes. Things I liked: - 2 part security system that's keypad password based (car entry, then building entry) + your storage lock - newer facility that's indoors (for most of the cubes) & AC-controlled - friendly & professional staff - military discounts - offers best price per square feet in town If you're in the area short or long-term & need additional storage, this is your place.
Thank you so much to the team at the Huntsville location on South Parkway!! I called over 6 storage facilities in Huntsville and the surrounding area and was extremely pleased with CubeSmart's response to me over the phone and in person!! They were extremely helpfully in helping me with what size I needed, location and climate controlled vs non climate control. Their facility was very modern and clean and secure!! And their prices were the best in town! Thank you to Laura and Rich for helping me find a safe and clean place to store my treasures! Sharon
These guys are simply the best. This facility is new and in a good area. The storage size is exactly what I needed and at a great price. Rich was awesome to work with and I appreciated all his help. I highly recommend this storage facility.
Great New Facility and Service! Love having access to my storage after business hours. Friendly staff.
CubeSmart Opened in (April) 2017, I like the new facility! They are located in the south of Huntsville, past the construction zone (Memorial Pkwy overpasses). Cubesmart offers outside and climate controlled units. The facility is well maintained, very clean and as long as it remains this way, I will be a customer. The whole facility is just one floor (not multi-leveled) and had plenty of area to expand in the current land lot. I would recommend this storage site. Pros: - Location in South of Huntsville - Next to Memorial Pkwy (SW) - New Facility - Very clean with descent security access system - Premises are well maintained - Supplies (Moving) are available at the main office at descent prices. I still prefer buying boxes from Home Depot - Descent parking Cons: - Not many, just found pavement angles used to enter storage facility odd. Not much land filling was used to level property. So just be creative when positioning vehicle for unloading. - Standard residential fencing in property, security is minimal. Overall, the facility is acceptable and most important to me, very clean! which was one of the reasons I decided to check this property out from past customer reviews.
Best staff EVER! Very helpful and friendly. Moving is such a stressful experience. The folks at CubeSmart Huntsville are so kind, courteous, and helpful. If anything made our moving experience better, it was them. The storage units are the cleanest I've personally ever encountered. Thank you!
After researching ALL self-storage organizations in Huntsville, Alabama and going by today to look into signing up for a storage unit, I was given 5-Star WOW customer service by the general manager, Rich, who did more than just sit at his desk. Rather, he took me around the beautiful and NEW storage facility and assisted me in selecting a unit based on my need. CubeSmart has two entries/exits with amazingly WIDE Drive-paths in between the units that makes everything simply PERFECT. The main office looks more like a 4-Star Hotel and the entire organization and its customer service and attention to detail remind me of Apple Computer or Google. So, did you WOW me? YES!!!!!!
Very clean facility. Good security. Knowledgeable manager.
I recently rented a storage unit from CubeSmart and highly recommend others to do so as well. All facilities to include storage units are clean, safe and well maintained. Special thanks to Ms. Laura Malone who was professional, pleasant, and knowledgable. She made me feel welcome and assisted me in an efficient manner. If you are looking for self storage, do yourself a favor and give this CubeSmart location a call.
This is my first time purchasing a storage unit. Staff was extremely friendly and patient with me. They gave me a tour with detailed explanations of each type of unit, warned me about all further costs, and answered every beginner question I had with patience and understanding. The place itself was extremely clean and had a safe/secure feeling to it. I'm moving into it today and the gate access/automatic doors/and the unit itself has been wonderful. Everything opens easily and works as it should. Extremely happy with my decision to go with CubeSmart😊
I have never felt so special and important for just storing storage. Mr. We're was very accommodating and had quick service. He heard my concerns and had a solution for everyone of them. He even remembered me when I came back!! Thank you CubeSmart for making my move from Huntsville easy.
Brand new beautiful facility. Very clean and well lighted. Climate controlled units are nice and cool. Automatic doors to the inside units are very helpful for quick loading and unloading. Rich and Laura are fantastic, very accommodating always helpfull.