How to Move a Refrigerator
Everyone loves a big, glorious refrigerator - until they have to move it. That's why Frank from Public Storage is here to show you how to move a refrigerator and how to get it prepped for storage is just five easy steps.
Step 1 - Unplug the Fridge
The first step isn't exactly rocket science. If you're moving a fridge you're going to need to unplug it. Make sure you unplug your fridge a few hours before you plan to move it to allow time for it to defrost.
Step 2 - Clean the Interior
Time to clear everything out - yes, that means throwing away those 6 month old Brussels sprouts. Be sure to really give your refrigerator and freezer a good scrub down, otherwise, things can get pretty smelly later. Be careful what you clean with - food absorbs odors, so steer clear from soaps and chemical solutions. Also, secure all of the shelves and drawers or remove them completely so nothing moves or breaks in transit.
Step 3 - Prop Open the Door
The worst thing that can happen is that you retrieve your fridge from storage and discover that mold has grown all on the inside. Fortunately, you can prevent this with one easy trick. Simply roll up a ball of tape and place it inside the door to prop it open, so air can travel inside and keep it dry, preventing the growth of mold.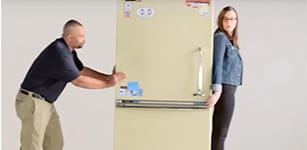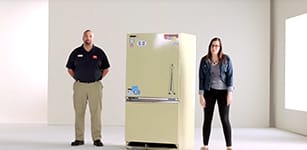 Step 4 - Secure Door in Place
Once you have your tape ball propped in the door (goodbye mildew!), wrap the entire fridge with tape, rope or stretch wrap to ensure that the door doesn't open while you're moving it.
Step 5 - Move the Fridge Using a Dolly
Now comes the part where you actually move the refrigerator. For short distances without stairs, you can use a wooden rolling dolly (although an appliance dolly may make your life easier - but hey, it's your life). If stairs are part of your journey, we recommend using an appliance dolly. There's nothing more heartbreaking (or backbreaking) than a fallen refrigerator. If you don't have a dolly, you can often rent one from your local home improvement retailer.
Okay, you're ready to get your move on. But before you do, enjoy those ice cream bars you found in the back of the freezer and have to eat now -- you got this. Want a little cheat sheet for when you're actually moving the fridge? Download our Tip Sheet PDF and keep it in your back pocket during the big move.