How To Pack A Moving Truck
While it's tempting to just load everything onto the moving truck as you carry it out, improperly packing a moving truck can cause serious damage to your precious cargo. So Frank from Public Storage is here to teach you how to pack a moving truck.
Step 1 - Stack Boxes Against the Back Wall
Boxes are smaller and sturdier than most of the items you will probably pack in the truck. Load them against the back wall so they're secure and don't slide while the truck is in motion.
Step 2 - Strap Items Down As You Load with Motorcycle Straps
It's best to strap items down with motorcycle straps as you load each item rather than going back and trying to do it all at the end.
Step 3 - Place Mattresses and Box Springs Against the Sidewall
Mattresses and box springs take up a lot of space if they're not properly loaded. Place large items like your mattress and box spring against the sidewall of the truck and secure them with motorcycle straps to keep them upright and out of the way.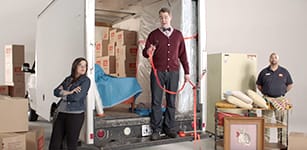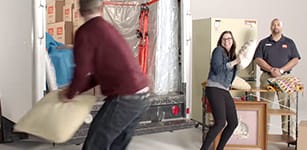 Step 4 - Slide Mirrors and Artwork Between Mattresses/Box Springs
Trucks twist and turn a lot while on the road. Ensure that your mirrors and artwork stay upright and in place by sliding them between your upright mattresses and box springs.
Step 5 - Wrap Furniture with Moving Blankets and Stretch Wrap
Protect your furniture with moving blankets and stretch wrap and load it onto the truck. The blankets and stretch wrap help prevent your items from being dinged or dented if they shift during transport. Don't have any of these materials?
Step 6 - Load Appliances Last
As soon as you get to your new home, the first thing you're going to want to do is hook up your appliances. Be sure to load them last so as soon as they come off the truck you can plug them in. For example, your refrigerator needs some time to get cool before you can use it, so the sooner it's hooked up, the sooner you can store some food in there.
Step 7 - Pack a Bag Of the Items You'll Need On the First Day
When you first move-in, finding all of your stuff can be a real challenge. Be sure to pack a bag or even a small box of essential items you'll need that first night, like clothing and toiletries.
Step 8 - Fill Empty Space with Pillows
Now is the fun part. Use pillows to fill any remaining space in the truck. This will help everything remain tightly packed so nothing becomes dislodged during transport.
Download our Tip Sheet PDF and keep it in your back pocket when you're ready to pack that truck like a pro.