How To Move A Piano
Moving a piano isn't exactly glamorous. Frank from Public Storage is here to teach you how to move a piano properly and make sure you hit all of the right notes.
Step 1 - Close and Lock Piano
First you're going to want to close your piano - Mozart doesn't really sound the same with a few missing keys. If your piano has a lock it's probably a good idea to lock it to ensure that the keyboard cover doesn't fling open while you're moving.
Step 2 - Wrap with Padding
Once you've got that done, find an old blanket or some padding and wrap it around the piano. This will help protect the piano from dings and scratches that sometimes occur during transport. Also, be sure to wrap the entire piano from top to bottom using stretch wrap. If you need any protective materials, they are available for purchase at Public Storage locations.
Step 3 - Move Piano Onto a Dolly
Okay this is the part where you recruit one of your good pals to help you lift the piano onto a dolly - pianos are kind of heavy. Don't forget, injuries can happen pretty easily when moving heavy objects, so make sure you're using proper form. To avoid injury, tighten your core and make sure to lift the piano with your legs, not your back. Few people realize this, but most pianos have handles that are built into the back. Don't be a hero, use the handles. If you don't have a dolly, you can often rent one from your local home improvement retailer.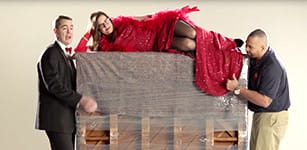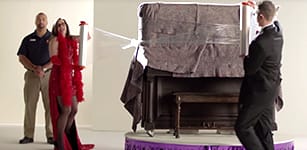 Now you know the best way to move a piano. But remember, if moving a piano is still too daunting or you don't have assistance, you can always hire professional movers.
Worried you'll forget a step? Download our Tip Sheet PDF and stick it in your back pocket to keep your move in tune.