How To Move Heavy Furniture
Just round up your gym-loving friends and push, right?! Not exactly. Moving heavy furniture can be dangerous if not done properly. Frank from Public Storage is here to make sure you move your heavy items without damaging your back, your furniture or your floor.
Step 1 - Empty Contents of Drawers, Shelves, Etc.
Moving heavy furniture is already hard enough, do yourself a favor and empty all of the drawers and clear off all the shelves. This will definitely shed a few pounds of weight and also ensure that things don't go flying if the piece dips or if you encounter the dreaded stairs.
Step 2 - Remove Drawers or Secure Them Closed with Stretch Wrap
You have the choice here of removing all of the drawers and cabinets or using stretch wrap to secure them shut. It can be tempting to just pick the item up and move it, but you risk drawers flying open and nicking walls - and yourself. If you don't have stretch wrap, you can always pick some up at a nearby Public Storage location.
Step 3 - Place a Slider Underneath the Furniture Legs
Meet your new best friends: sliders. What's a slider? A slider can be almost anything: a jar lid, a piece of cardboard, a plastic flying disc or you can buy a furniture slider that's specifically designed for moving. These help you avoid hurting your back when trying to lift or push the heavy furniture - oh, and they help protect the floor. They do this by creating a smooth layer between the legs of the item and the floor.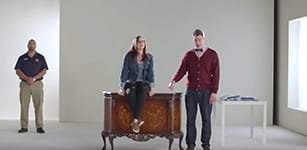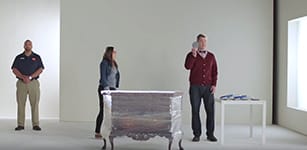 Step 4 - Push or Pull Furniture
Now is when you actually move the furniture. There's some debate about whether pushing or pulling is better for your back, but there's no definitive answer. We say do what feels best, but remember to be careful. If you do need to lift the item don't forget to always lift with your legs, not your back.
If moving furniture up or down stairs:
Step 1 - Wrap Furniture To Protect It
You don't want to ding your furniture as you go up and down those steps. Be sure to drape a moving blanket over it (or if you don't have one a regular blanket will do) and secure it in place with stretch wrap. Pick up these items at a Public Storage location before you get your move on.
Step 2 - Place Wood Boards On Steps Like a Ramp
Take a plank of wood (about 1" thick) and place it flat down on the steps. It's best if you find a piece of wood that covers the length of the stairs.
Step 3 - Lay Item On Ramp and Push Or Pull
Okay, this is the part where you show off those muscles. Lay the piece of furniture on its side on the ramp and push it up or down the steps. If it's easier or more comfortable go in front of the item and pull it up or down the ramp.
Now you're ready to take on that ridiculously heavy piece of furniture - even if it does weigh like a bajillion pounds. At least now you don't have to go to the gym.
Don't want to forget a step? Download our Tip Sheet PDF and stick it in your back pocket when you're ready to move that giant thing.